November, 25, 2012
11/25/12
8:45
AM PT
LOS ANGELES -- Brian Kelly emerged from the Coliseum field flanked by security guards left and right, looking nearly disheveled. He held his white Notre Dame baseball cap up toward the sky in a brief moment of bravado, his ensuing toss falling a good 10 feet short of the fans.
The coach of the nation's No. 1 team was already near his locker room by the time the cap landed, his star player rushing to catch up to him. Kelly and
Manti Te'o
embraced, the 51-year-old bear-hugging the linebacker, looking more excited than any of his players were after they had just pulled off the unthinkable.
"I can't remember what I said," Kelly recalled of the moment. "But what we've been saying all along is that we're in this together. It's really been about both of us, player and coach, driving this thing. And I think we were probably sharing that embrace, that we got it one step closer."
From South Bend, Ind., to Southern California, the Fighting Irish now will march on to South Beach, one step closer to holding up that prized crystal football. They will do it after winning Saturday night at rival USC,
22-13
, to clinch a spot in the BCS National Championship Game, which will be played Jan. 7 in Miami Gardens, Fla.
They will go there under a third-year coach, the standard for all legendary Notre Dame leaders, four of whom won national titles with the Irish in Year 3 and have statues on campus to show for it.
They will go there under the nation's best defensive player, who has emerged as an icon amid personal tragedy, who might or might not have some hardware already in hand after another interception Saturday, his seventh of the season.
"If a guy like Manti Te'o's not going to win the Heisman, they should just make it an offensive award," Kelly said afterward. "Give it to the offensive player every year, and let's just cut to the chase. He is the backbone of a 12-0 football team that has proven itself each and every week, and showed it tonight again with another key interception and a great play in the end zone on
Marqise Lee
to save another touchdown.
"If the Heisman Trophy is what it is, I just don't know how Manti Te'o is left out of that conversation."
With the Irish up 19-10 early in the fourth quarter, Te'o hit Lee, USC's Heisman candidate, in the back of the end zone on a third-and-goal play, forcing the ball to the ground and forcing the Trojans to settle for a field goal.
Te'o and the Notre Dame defense returned to that area of the field on USC's next drive, after a 43-yard Lee kick return and a 53-yard Lee reception. Backs against the wall, a 22-13 lead and a little more than five minutes from a perfect regular season, the Irish lined up, prepared to stop a first-and-goal play from the 2.
Eight plays and three minutes later, the visitors sideline was coming apart at the seams, Notre Dame's fate all but sealed. The Irish had kept USC's lethal attack out of the end zone, again. They had made a remarkable goal-line stand, again.
Six weeks earlier, against Stanford, Notre Dame had kept the Cardinal out of the end zone on four consecutive overtime plays from inside the 5. That was the moment everything came to fruition for athletic director Jack Swarbrick, who confessed Saturday night that this season's title run had come a year earlier than expected.
"Coming into the year, I thought Stanford was the test," Swarbrick said. "I just think in the past two years they were more physical than we were, bigger and tougher than we were. I thought, 'That's going to be our benchmark.' And when we survived that, especially the way we did, I thought this team had a chance."
Swarbrick came to Notre Dame as a student in 1973, just in time for Ara Parseghian's second national title. He graduated in the spring of 1977, just missing Dan Devine's first.
He came back to his alma mater four years ago, before a season that ended in this same building, the reporters that time surrounding him for comment about the status of former coach Charlie Weis after another blowout loss here.
"It's what gets you up in the morning," Swarbrick said of restoring the Notre Dame lore.
He helped do that by hiring Kelly, who now has a 12-0 team for the second time in four years. His previous one, at Cincinnati, did not get to play for the national title. This one, after entering the season unranked, after enduring questions from quarterback play to recruiting methods to injury concerns, will.
"We believed in each other," Te'o said of the journey, which took a detour last season after a loss to USC, leading to Kelly comments that threatened to fracture the locker room. "Our coaches believed in us, and we believed in our coaches. It showed the type of camaraderie we have on our team. It's the camaraderie on our team that has helped us be successful."
Upon reaching the visitors locker room after Saturday's win, Kelly greeted a group of players who were, in his words, singing and dancing and laughing. He said a few words to them before presenting the game ball to
Theo Riddick
, who had carved up the Trojans for 146 rushing yards.
Then Te'o, the leader who spurned USC four years ago for Notre Dame, who spurned the NFL last season for this moment, stood up unexpectedly. He said a few words himself, these ones about his coach, and then he presented Kelly with a game ball of his own. Teammates called it a speechless moment.
Notre Dame is back on college football's grandest stage. Not much else is left to be said.
November, 23, 2012
11/23/12
12:05
PM PT
By
ESPN Stats & Information
| ESPN.com
Matthew EmmonsWith one more win, Manti Te'o (right) and Notre Dame will play for the right to be No. 1.
(USC hosts Notre Dame on Saturday at 8 ET on ABC.)
If the
Notre Dame Fighting Irish
can win on the road against the
USC Trojans
. History could, again, repeat itself.


Four different head coaches have been responsible for Notre Dame's eight national championships in the AP poll era (since 1936). All four captured their first national title in their third season at Notre Dame, and head coach Brian Kelly is in his third season at the helm in South Bend.
Notre Dame is one win from playing for the BCS title thanks in larger part to its defense. The Irish have conceded a touchdown on 6.7 percent of their opponents' possessions, the lowest percentage in FBS this season.
Notre Dame's red-zone defense also is the best in the nation, allowing a touchdown on 24.1 percent of their opponents' drives inside the 20-yard line. (Opponents have seven touchdowns and five turnovers in 29 red-zone possessions.) That's the lowest percentage for any FBS team in the last eight seasons.
The defense is led by senior linebacker
Manti Te'o
. With two more tackles, Te'o will join Bob Crable as the second Notre Dame player with three 100-tackle seasons. Te'o also leads the Irish with six interceptions after not having any in his first three seasons.
Notre Dame's defense will be tested one more time, this time by one of the best wide receivers in the country. USC's
Marqise Lee
has more receiving yards (821) in his last four games than 52 FBS teams during that time span. Lee has gained more yards after the catch (837) than any player from any BCS-AQ school, and leads FBS with eight 100-yard receiving games. However, only one player this season has 100 yards receiving against Notre Dame:
Jalen Saunders
from Oklahoma.
However, Lee will not have
Matt Barkley
throwing to him – the senior QB will not play because of a sprained shoulder. Since 2002, USC's only loss to Notre Dame came in 2010 when Barkley (then a sophomore) had a sprained ankle and did not play.
Without Barkley, USC might turn to its running game. The Trojans are averaging 160 rushing yards per game, and has gained 10 yards or more on almost 17 percent of their rush attempts.
Curtis McNeal
has 324 yards in USC's last two games, but he'll face a Notre Dame defense that has allowed just three running backs to rush for 80 or more yards this season.
November, 22, 2012
11/22/12
11:00
AM PT
1.
Max Wittek
: Talk about your tough beginnings, try getting your first start at quarterback on national television against the top-ranked team in the country. Welcome to the reality for USC's Wittek, a strong-armed redshirt freshman who will step in for the injured
Matt Barkley
against the Fighting Irish. Wittek knows how to follow Barkley -- he replaced him as the starter at Santa Ana (Calif.) Mater Dei -- and he doesn't seem phased at all by the opportunity, he went on ESPN Radio early this week and said, "we're going to win this ballgame."
2. Irish going for the title: It's a bit of a role reversal from the preseason projections, as the Trojans were hoping to be the ones going for a national title. Instead, it's the Irish who roll into town unbeaten and ranked No. 1. USC can point to six previous victories over undefeated Notre Dame teams as motivation, including twice when the Irish were ranked at the top of the polls. Only one of those games featured an unranked USC team, 1964, and the Irish left the Coliseum that day with a loss after Craig Fertig hit Rod Sherman on 84-Z Delay for a late toucdown.
3. USC offense vs Notre Dame defense: It remains to be seen how the presence of Wittek impacts the USC offense, as he has only attempted nine passes this season. The Notre Dame defense is one of the best in college football, led that a strong front seven that features linebacker
Manti Te'o
, a name that is all too familiar to USC fans. The Irish are ranked first in the nation in scoring defense (10.1 points per game), fifth in rush defense (92.2 yards per game) and sixth in total defense (287.8 yards per game).
November, 20, 2012
11/20/12
3:23
PM PT
LOS ANGELES -- The Trojans were back at work on Tuesday morning in full pads, and as USC head coach Lane Kiffin explained, the team appears to have finally moved past the crushing defeat to UCLA this past weekend, with their focus now firmly honed in on preparing for the top-ranked team in the nation, the
Notre Dame Fighting Irish
.
"Great to get back out on the field," Kiffin said. "We have moved on from Saturday, and it's a good thing we have the No. 1 team in the country coming in here and an awesome opportunity for us to go out in front of our crowd and finish the regular season the way that we wanted to all along. I know our players are excited to get back out there. A great day of work today, and we'll continue to plug along all week."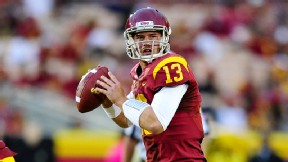 Cal Sport Media/AP ImagesRedshirt freshman quarterback Max Wittek is excited for his first career start against Notre Dame on Saturday.
Wittek in the spotlight
Of course, no one drew more attention from the media following practice than redshirt freshman quarterback
Max Wittek
, who will be making his first career start this weekend in place of the injured
Matt Barkley
, and Kiffin was encouraged by what he saw on Tuesday.
"I thought Max was awesome today, lit it up in team, 7-on-7 and one-on-ones, so it was great to see," Kiffin said.
Showing the zeal and eagerness that you'd expect of a still-young player who has patiently waited his turn, Wittek said that he is more than looking forward to the chance to make his mark on center stage in one of college football's greatest rivalries.
"I'm so excited for this opportunity, to get out there, play in front of the Coliseum, all our fans, No. 1 team in the country -- you really can't ask for a better opportunity to show what you've got," Wittek said. "I think I just want to get that first snap, maybe that first hit out of the way and I'll be ready to go."
The youthful enthusiasm that Wittek exudes is something that Kiffin believes will serve him well.
"I think sometimes what's good is to be so young that you don't know, and it's almost good because it doesn't apply the pressure," Kiffin said. "So I think he's just going to go out and play, and it doesn't matter who you're playing or the rivalry -- it will be about him executing really well."
As far as the skills that Wittek will bring to the table against Notre Dame, Kiffin spoke extremely favorably of the Santa Ana (Calif.) Mater Dei product, comparing him to a former Trojans Heisman Trophy winner.
"I think he is a prototype pro-style quarterback, probably most comparable to Carson [Palmer], you know with the big arm and the size -- he's already 240 pounds just as a redshirt freshman," Kiffin said. "So all of the tools are there. He's very competitive, and so it will be a great opportunity to show the world Saturday."
November, 19, 2012
11/19/12
8:31
AM PT
What:
USC Trojans
(7-4 overall, 5-4 in Pac-12) vs.
Notre Dame Fighting Irish
(11-0)
When:
Saturday, November 24, 5 p.m. PT
Where:
Los Angeles Memorial Coliseum
[+] Enlarge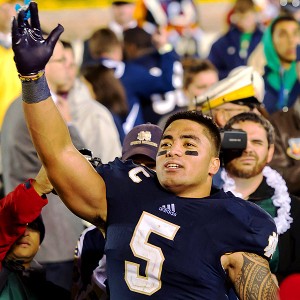 Matt Cashore/US PresswireLinebacker Manti Te'o is the heart and soul of Notre Dame's dominant defense.
TV:
ABC
Radio:
ESPNLA 710 (pregame show begins at 12 p.m.)
Scouting Notre Dame:
As Notre Dame celebrates its 125th year of football, third-year coach Brian Kelly has his squad off to its best start (11-0) since 1993 following last Saturday's 38-0 home victory over Wake Forest.
Sophomore QB
Everett Golson
(151-of-256, 59.0 percent, 1,918 yards, 11 TD, five INT in 2012, plus 80 carries, 258 yards, 3.2 per carry, five TD) has been directing the offense. Top rushers include senior RBs
Theo Riddick
(160 carries, 734 yards, 4.6 per carry, four TD, plus 32 rec for 331 yards, a 10.3 avg and one TD), a converted wide receiver, and
Cierre Wood
(102 carries for 720 yards, a 7.1 average and four TD, plus two receptions for nine yards) and sophomore RB
George Atkinson III
(49 carries for 346 tards, a 7.1 average and five TD, plus 15 kick returns for 307 yards, 20.5 avg). Senior TE
Tyler Eifert
(40 receptions, 555 yards, 13.9 avg, four TD), a 2011 All-American, and junior WR
TJ Jones
(40 receptions, 519 yards, 13.0 avg, four TD) lead the pass-catching corps.
The Irish sport one of the nation's top defenses, as it ranks first nationally in scoring defense (10.1), fifth in rushing defense (92.2), sixth in total defense (287.8), 11th in pass-efficiency defense (104.6), 13th in sacks (2.8) and 24th in pass defense (195.6). ND has held five opponents to single digits and 10 to fewer than 20 points. Senior ILB
Manti Te'o
(98 tackles, 5.5 for loss, 1.5 sacks, six INT, two fumble recoveries) is the heart of the ND defense. Sophomore DE
Stephon Tuitt
(40 tackles, 13 for loss, 12 sacks, three forced fumbles) is tied for eighth nationally in sacks per game (1.0), while junior CB
Bennett Jackson
(55 tackles, 1.5 for loss, four INT) is tied for 19th in interceptions. -- courtesy USC sports information
May, 8, 2012
5/08/12
10:22
AM PT
NEWPORT BEACH, Calif. -- The 42 nominees for the 2012 Lott IMPACT Trophy were announced on Monday at the Pacific Club.
The Lott IMPACT Trophy has been presented each year since 2004 to the college football defensive player who best represents the character traits of Impact, Maturity, Performance, Academics, Community and Tenacity.
Named for Pro Football Hall of Famer and USC All-American Ronnie Lott, the award nominates 42 players in honor of Lott's jersey number.
"Each year we are proud to present a list of college football players who exemplify the things we believe in," Lott said. "This group is no exception. These young men are terrific players and great role models."
The 2012 Lott IMPACT Trophy watch list includes seven players who were nominated last year as well:
Manti Te'o
(Notre Dame),
John Simon
(Ohio State),
Brodrick Brown
(Oklahoma State),
T.J. McDonald
(USC),
John Boyett
(Oregon),
Jordan Kovacs
(Michigan) and
Brandon Jenkins
(Florida State). The 2011 LOTT IMPACT Trophy winner was Luke Kuechly from Boston College.
Several former NFL and college stars gathered on Monday for a luncheon to announce the 2012 watch list.
The first speakers were former Los Angeles Rams offensive linemen Jackie Slater and Doug Smith, who shared memories of their teammate Rich Saul, who passed away recently.
A pair of former NFL quarterbacks -- Jim Everett and Steve Beuerlein -- spoke about the rise of the spread offenses in the league.
Former rival coaches John Robinson (USC) and Terry Donahue (UCLA) spoke and it was mentioned that they played each other 10 times in college, with each coach winning five games. Donahue said he tried to get Lott to be a Bruin and even made a home recruiting trip.
"I have great memories of recruiting Ronnie Lott in high school," Donahue said. "He was wearing a USC sweatshirt when I came to his home on a visit, I knew right away we were in trouble."
Lott was the final speaker at the luncheon and he quickly paid tribute to his fellow Trojan Junior Seau, who died last week at the age of 43.
"Junior played the game the right way," Lott said. "He paid respect to those who came before him and he treated everyone as his buddy. That's what I think when I look out at this room and see people like Rosey Grier, Marlin Briscoe, Sam Cunningham. Guys who have accomplished so much and who have done it right. We can all do great things and that's what this trophy is about, it's about honoring young men who are doing things right, not only on the field but off the field as well. We're very proud of that."
The 2012 Lott IMPACT Trophy will be awarded on Dec. 9 at the Pacific Club with former United State Secretary of State Condoleeza Rice as the guest speaker.
PAC-12 SCOREBOARD
Thursday, 9/3
Friday, 9/4
Saturday, 9/5