USC Trojans:

lane kiffin fired
October, 2, 2013
10/02/13
7:30
PM PT
There's a new sheriff in town and his name is Ed Orgeron.
That much was evident within the first few minutes of the USC practice on Wednesday afternoon when the Trojans broke from their warm-up stretching exercises. Instead of immediately sprinting to their various drills, the players came together in the middle of the field for some "bull-in-the-ring" drills with players hopping up and down with intensity at some early practice contact.
That was but the first sign that things were going to be different with Orgeron as interim head coach. Orgeron stopped one drill when the offense wasn't running the play to his satisfaction and he had them do a walk-through of the play again to make sure they got it right before moving on. Instead of focusing solely on his beloved defensive line, Orgeron tried to move around the field and spread his intensity to the entire team.

"I loved it," Orgeron said with a smile. "I loved being able to get in the offensive linemen's butts, to be able to scream at the quarterbacks. We wanted to work with enthusiasm, be physical and have some fun."
At one point Orgeron challenged freshman defensive end
Kenny Bigelow
by yelling, "We're coming after you 95." Bigelow waved both hands in the air as if to say, "Bring it on."
If there was anything Orgeron was looking to accomplish with the first practice of his USC head coaching tenure, it was to get a change in direction.
"We needed a new start," Orgeron said. "We weren't out here going through the motions, we were being physical and I liked the way we ran the ball. We were really positive and upbeat, having fun. But there's a difference between having fun and being silly, we aren't being silly. We're doing little things like upgrading the desserts at training table. You give an offensive lineman a cookie, you make him happy."
Of course, Orgeron knows that cookies alone aren't going to make a big difference but doing things his way, and in his style, are going to give him the best chance of taking advantage of his opportunity as the interim coach.
"This is my shot," Orgeron said. "This is our shot. I told myself after I got fired at Ole Miss that if I ever got another opportunity I would do it my way. I didn't know if I would ever get another shot but I feel that I'm very well prepared for this. I want this team to compete like Trojans are meant to compete."
Practice Notes
• Orgeron gave several injury updates:
Marqise Lee
(knee sprain, day-to-day),
Morgan Breslin
(hip strain, no update on how long he will be out) and
Silas Redd
(knee, hoping to have ready for Arizona). Redd pronounced himself healthy and said he will definitely play against the Wildcats.
Justin Davis
left practice early with a left ankle injury but Orgeron had no update on the severity.
Kevin Graf
was held out of practice, but no specifics were given.
• Buck Allen and
Ty Isaac
got plenty of reps at tailback with Redd getting limited work and with Davis out.
Nathan Guertler
took the first-team reps at right tackle until he went out,
Nico Falah
took the reps after that.
•
Scott Starr
had a strip and caused fumble on walk-on tailback
Taylor Ross
.
•
Devon Kennard
had a sack on
Cody Kessler
.
•
Kevon Seymour
had a nice pass breakup on a deep Kessler pass to
Victor Blackwell
.
• Former tailback Chauncey Washington was spotted on campus after practice. He is back at school finishing up his last semester for his degree with plans to attend USC film school.
• Orgeron confirmed that Clay Helton will call offensive plays from the field, with Tee Martin in the press box.
October, 2, 2013
10/02/13
2:16
PM PT
Ed Orgeron has eight games to make his case. Eight games to prove that he is the one who should be chosen as the full-time head coach of the USC Trojans, a job he definitely wants.
Those who have been around USC football for both Orgeron tenures -- one under Pete Carroll and one under Lane Kiffin -- have noted that there has been two different sides of Orgeron.
Under Carroll, Orgeron was the fiery and emotional leader of a college football juggernaut while under Kiffin, he seemed to have toned it down a notch. The latter version came at the request of Kiffin, who had a different way of doing things and so Orgeron adjusted.
[+] Enlarge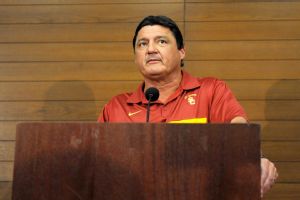 Kelvin Kuo/USA TODAY SportsEd Orgeron definitely wants to be more than the Trojans' interim coach.
Now that Orgeron has been named the interim coach of the Trojans for the remainder of the season, he will have free rein to conduct himself as he sees fit for the benefit of the USC program and his future job prospects.
One more thing that we've seen from Orgeron in recent years is an eye on a return to a head coaching spot. He spent three years as the head coach at Mississippi and had the program headed in a solid direction until the brass at Ole Miss decided it wasn't solid enough.
Orgeron had a taste of being a head coach and he liked it, and he also felt that he deserved another chance. There have never been any questions about his ability to coach the defensive line, even after he was let go at Mississippi he was quickly hired by the New Orleans Saints, then the Tennessee Volunteers and then USC. He is also one of the more relentless recruiters in the college game with an energy and passion that resonates with high school prospects.
There has always been a special connection between Orgeron and USC that in many ways can be traced to Marv Goux, the legendary Trojan assistant coach who set the bar for motivating USC players. From the moment Orgeron stepped on campus there have been comparisons to Goux, as Orgeron coaches with a style and vocal presence that Goux would certainly appreciate.
There is no mistaking the booming voice that can be heard as soon as you step on the practice field as Orgeron is barking orders at his D-line from the corner of Brian Kennedy Field. Pat Haden even referenced the energy with which Orgeron attacked those "stupid sleds" in his practice sessions as one of the reasons that led to Orgeron getting the interim job.
For lack of a better word, these next eight games can be viewed as an audition for Orgeron and he couldn't ask for a better opportunity. He knows these players since he recruited them and has been a part of the program for the past four years. He is familiar with every team remaining on the schedule. He has been the lead recruiter for this class so he won't skip a beat in those efforts. But most importantly, he knows what he wants to be in a head coach.
When Orgeron left USC for Mississippi after the 2004 season, he had never been a head coach before. He had a persona of being the wild man coach, known as much for his voice or his appearance in the movie "The Blind Side" as for any of his coaching skills. As with any experience, he took certain things from his stint at Ole Miss and vowed to be better prepared if another opportunity ever came along. Well, it has come along and it's at a school he knows well, a school where he would love to be the head coach.
It's rare that any coach gets eight full games to prove himself but it's enough of a sample size to show Haden that he is worthy for the job. It doesn't mean that Haden is going to stop looking for other candidates, in fact you can expect Haden to cast a wide net in looking for the best man for the job. But as far as Ed Orgeron is concerned, the man for the job is going to be walking the sidelines for the rest of the year. He just needs to prove that to Haden as well.
October, 1, 2013
10/01/13
12:45
PM PT
With the
search for a new USC football coach
officially underway, it's time for the rumor mill to begin about potential candidates. One person who we know will receive eight games worth of consideration is interim head coach Ed Orgeron, who is familiar to USC fans.
Trojans athletic director Pat Haden will also cast a wide net in vetting other candidates besides Orgeron, and Haden has made it clear he will look to conduct that search as privately as possible out of respect for the current USC players.
[+] Enlarge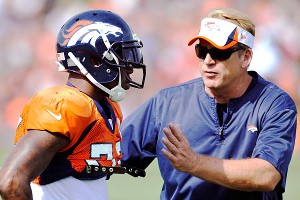 AP Photo/Jack DempseyDenver Broncos defensive coordinator Jack Del Rio, who played at USC, is one of the early favorites to replace Lane Kiffin.
One candidate who has been part of every short list from the media is Jack Del Rio, the defensive coordinator for the Denver Broncos and a former USC linebacker. WeAreSC has confirmed Del Rio has already received vetting from the USC athletic department about his candidacy. It's natural that Del Rio would get a look -- he has a long coaching history, including a stint as head coach of the Jacksonville Jaguars -- but it has been somewhat surprising to see how many USC fans are unfamiliar with his background. To that point, here is a primer on Del Rio and why he will be in the mix for the job.
Del Rio came to USC in 1981 out of Hayward High School in Northern California. He had also been drafted by the Toronto Blue Jays in the 22nd round of the Major League Baseball draft out of high school and ended up playing both football and baseball at USC. As a linebacker on the football team he was a physical presence who was named a consensus All-American as a senior along with being the MVP of the 1985 Rose Bowl win over Ohio State.
Del Rio was drafted by the New Orleans Saints in the third round of the 1985 NFL draft and spent 11 years in the league with five different teams. He made the 1994 Pro Bowl. After he retired from his playing career, Del Rio went immediately into coaching as the strength and conditioning coach of the Saints. His next stop was as a linebackers coach with the Baltimore Ravens, where he was on the staff for the Super Bowl win over the New York Giants.
The next stop for Del Rio came with the Carolina Panthers, where he coached under John Fox, his current boss today with the Broncos. After a year with the Panthers, Del Rio was named the head coach of the Jacksonville Jaguars, a position he held for eight seasons. In the year prior to his arrival, the Jaguars had the No. 25 rush defense in the league; Del Rio coached them to the No. 2 ranking in that category in his first season.
In the end, however, there weren't enough bright moments for the Jaguars under his watch and Del Rio was fired late in the 2011 season with a record of 68-71 and 1-2 in the playoffs.
There will be critics of Del Rio's record with the Jaguars as a .500 football coach who claim that isn't enough to warrant the head job at USC. It would be too easy -- and not entirely accurate -- to point out that Pete Carroll was also a .500 NFL coach before coaching the Trojans. Instead, consideration should be given to the state of the Jaguars franchise, one that has struggled both with Del Rio and without him.
There were many reports from his time with the Jaguars that Del Rio was offered the USC job prior to Lane Kiffin being hired. These reports are simply not true. Almost entirely from the start of his coaching search, USC athletic director Mike Garrett had been focused on bringing in the trio of Lane and Monte Kiffin along with Ed Orgeron.
After being let go by the Jaguars, Del Rio wasn't out of work for long as his old friend Fox was now the head coach of the Broncos and he immediately brought Del Rio on as his defensive coordinator. Del Rio is now in his second season with the Broncos, who appear to be one of the favorites to make a deep run in the playoffs this year. One thing to note is that Del Rio made a two-year commitment to Fox to be on staff, a commitment which would obviously be met at the end of the season.
As far as Del Rio's abilities as a football coach, he was described to me once as a "man's man in the NFL world." That statement means a certain level of toughness, as well as respect from those who play the game. The fact that Del Rio has consistently been employed in the NFL since 1985 -- either as a player or coach -- should say something about how he is viewed at that level.
So if his NFL credentials are there, the next question becomes "how would be translate to the college game?" Obviously there is no way of knowing that because he has never coached in college. There is merit to the question, however, simply because it is an unknown factor. His entire coaching history is with NFL players and it's hard to predict how he would interact with college players.
Those close to Del Rio say he has a personality that would fit well at any level. During USC spring practices in 2011, Del Rio stopped by a Trojans practice with his son, Luke, who is now a walk-on quarterback at Alabama. When practice ended, I watched as a steady stream of USC players from
Matt Barkley
to
Khaled Holmes
to
Matt Kalil
went over to pay their respects to Del Rio. There were wide smiles on the faces of the players as they interacted with him. I've also seen Del Rio on the sidelines at Elite 11 camps, where he was animated and into the on-field action. These small samples of his personality around younger players doesn't guarantee anything but it's notable that he seemed at ease in the environment.
As a side note, when Del Rio was on campus for that spring session, he did go into Heritage Hall afterward for a meeting with Haden. This isn't meant to indicate they were talking about a potential job opening, it's just to say that the two have met and sat down together in a somewhat recent time frame.
As far as his knowledge for the college game, there would undoubtedly be a learning curve because the games are different. One coach who could be of great assistance is Kennedy Polamalu, a former teammate of Del Rio's at USC and the running back coach for the Jaguars for several years. The two are very close and Polamalu could be part of the staff if Del Rio were to end up as coach of the Trojans. From staff selection to recruiting to the nuances of the college game, Polamalu could be a tremendous resource for his old friend.
Then there is the matter of timing. Haden is in no hurry to name a full-time coach but he also doesn't want to let it drag on too long either. Recruits are going to want to know who their next coach is and someone like Del Rio might not be available until early February if the Broncos make a run all the way to a Super Bowl. Of course, Del Rio could be hired prior to that point while staying with the Broncos and allowing USC coaches such as Polamalu or Orgeron to head up recruiting efforts during that time. If that scenario played out, it wouldn't hurt to tell recruits "see that coach on the sideline in the Super Bowl, that would be your next coach at USC."
This is all speculation, of course, as there is a long way to go in this coaching search but there are a lot of check marks in the positive column for Del Rio, not the least of which is that he is a Trojan. That isn't a priority for the next coach but it doesn't hurt if the best candidate also happens to bleed Cardinal and Gold. This isn't a case of an NFL coach looking to return for any college job, it would be an NFL guy considering one college job only, to return to his alma mater. It should be a fascinating process to watch.
October, 1, 2013
10/01/13
11:07
AM PT
By
ESPN.com staff
| ESPN.com
Garry Paskwietz and Darrell Rideaux discuss USC's coaching situation and the impact on the team.
Listen to the podcast here

.
September, 30, 2013
9/30/13
8:00
AM PT
It took USC interim head coach Ed Orgeron less than a minute and a half to utter the word "recruits" during his news conference Sunday following the firing of Lane Kiffin. Given how important recruiting will be for the Trojans the next two years, nobody would have been surprised if Orgeron blurted that word even more quickly.
[+] Enlarge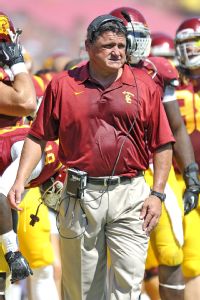 Cal Sport Media via AP ImagesEd Orgeron will try to build some recruiting momentum as USC's interim head coach.
Known as one of the nation's top recruiters, Orgeron figures to play an integral role leading up to national signing day in February. In fact, the energetic, 52-year-old coach had already contacted some top targets Sunday morning.
"We've already spoken to our recruits about the value of USC and what's going on at USC," Orgeron told reporters Sunday. "Recruiting has been one of our strengths here and it will continue to be one of our strengths. We expect to have a great recruiting class and continue to bring some of the best recruits across the country to USC."
Orgeron's pitch, despite his interim status and uncertainty surrounding the coaching situation, will be simple. He will touch on the education, prestige, opportunity and past glory.
"There's a lot of great things about USC still here," Orgeron said. "Nothing has changed about USC."
In this week's WeAreSC recruiting notebook, we touch on the impact Kiffin's dismissal could have on USC recruiting and more:
September, 29, 2013
9/29/13
5:35
PM PT
Lane Kiffin has suffered through the slings and arrows from media and fans during all three of his head-coaching stops, so the distinguishing aspect of USC's news conference on Sunday over his termination was that no one said anything bad about Kiffin.
Athletic director Pat Haden, who deemed it "disrespectful" to talk about his upcoming coaching search, started by thanking Kiffin and lauding his effort. He said he had received no complaints about Kiffin from assistant coaches or players. Interim coach Ed Orgeron said Kiffin was always receptive to him and said he would have handled the early-season QB controversy the same way. The players said they had been 100 percent behind Kiffin.
Haden also again noted that Kiffin had been handed a tough job. Severe NCAA sanctions undoubtedly made it more difficult to win like USC is accustomed to winning.
And yet ...
"I've said all along, we've graded on a curve," Haden said, "but we failed on the curve, too."
Haden said he made his final decision during the Trojans' 62-41 loss at Arizona State, but he also noted that "this has been brewing for a while. It hadn't felt particularly good, even since the Hawaii game."
Haden said he and Kiffin met for 45 minutes at the airport after the USC charter landed around 3 a.m. Haden admitted that Kiffin was blindsided and fought for his job.
"Lane was clearly disappointed," Haden said. "Lane is a great recruiter. He battled me. He really tried to keep his job and I respect that."
There will be changes with Kiffin gone. For one, Orgeron said QBs coach Clay Helton will take over as offensive coordinator and playcaller, though Orgeron added that he didn't think the offense would change much philosophically.
Cody Kessler
will remain the starting QB.
Orgeron also said USC will again open practices to the media.
"I want us to have some fun over these next eight games and let the chips fall where they may," he said.
Of course, the first question is whether Orgeron has a chance to become permanent head coach. Orgeron was head coach at Ole Miss from 2005 to 2007, so he knows the basics of running a program and he has a long history at USC, ranging back to the glory days under Pete Carroll. To this, Orgeron would merely say he is focused on the Trojans' next eight games, but he didn't seem to want to close the door on the possibility.
It will be interesting to see how the players react. Orgeron is as fiery a coach as there is in the nation, and his intensity works on players in practice, games and in recruiting. But can he re-motivate a team that is pretty media savvy when it comes to saying the right things to reporters at news conferences but that also seems pretty indifferent on the field?
We'll get our first impression when Arizona visits on Oct. 10, a Thursday night game.
Said Orgeron, "We're here to answer the bell."
September, 29, 2013
9/29/13
5:14
PM PT
LOS ANGELES -- Less than 12 hours after he fired Lane Kiffin as USC's head football coach, Trojans athletic director Pat Haden talked to the media on Sunday at an afternoon press conference to discuss his decision, while also announcing that assistant Ed Orgeron will take over as the team's interim coach.
Haden made his final decision regarding Kiffin's future during the Trojans' 62-41 loss to Arizona State on Saturday night in Tempe, Ariz., a defeat that dropped the Trojans to 3-2 overall, 0-2 in Pac-12 play, but revealed that it's actually been "brewing for a while."
[+] Enlarge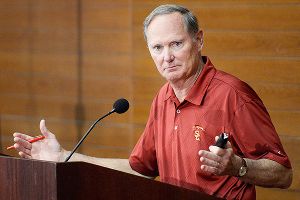 Kelvin Kuo/USA TODAY SportsPat Haden didn't feel as if Lane Kiffin was capable of bring the Trojans back to prominence.
"I haven't felt particularly good even from the Hawaii game," Haden said. "I just felt like we haven't been the consistent team that we need to be at USC. We've played 125 years of some pretty dog-gone good football here at USC. We're just all a piece of the continuum. We're going to be playing football 125 years from now. I was just a tiny little piece of it, Lane was, Pete Carroll was, and we all add up into this continuum of USC football, and we just realized that our history has been great, and we need to be great again."
Kiffin, who was hired in 2010, compiled a record of 28-15 during his time in charge, and the Trojans have lost seven of their last 11 games dating back to last season.
Haden and Kiffin met for approximately 45 minutes in a private room at Los Angeles International Airport following the team's flight home from Arizona at around 3 a.m. Sunday morning. Despite some battling on the part of the embattled coach, Haden stuck with his decision.
"He's a recruiter," Haden said. "He really, really tried to keep his job, and I respect him for that."
In his place, Haden said that the energetic Orgeron, the team's defensive line coach and recruiting coordinator, will now step in as head coach for the remaining eight games of the 2013 season.
"Ed has been here for 11 years in different terms in some very successful runs," Haden said of Orgeron, who also served as head coach at Ole Miss from 2005-07, where he amassed a 10-25 record. "This is supposed to be a game of fun and joy, and I think one of the things that we're looking for from Ed is to bring that fun and joy back into the game of college football."
When asked about the search for a possible permanent replacement, Haden said that it was still too soon, explaining, "This is not the right time," while also noting of Orgeron, "He'll be evaluated just like any other candidate."
Orgeron, who said that offensive coordinator Clay Helton would take over Kiffin's play-calling duties, met with the rest of the coaching staff, as well as the Trojans players, Sunday morning.
"I want to tell you we're here as a staff to answer the bell," Orgeron said at the press conference. "We're all accountable for what happened as a staff and as players. Us Trojans know how to do it."
Orgeron takes over at a somewhat opportune time, with the Trojans currently in the midst of a bye week. USC will next play at home against Arizona on Oct. 10.
September, 29, 2013
9/29/13
11:45
AM PT
The problem with coaching USC is you're coaching USC. If you don't really understand what that means, then you're doomed to fail.
That's the lesson learned by Lane Kiffin, who was fired shortly after the team's charter flight landed in Los Angeles early Sunday morning after his team's 62-41 loss at Arizona State, the school announced before any reporter could claim the news story prize.
[+] Enlarge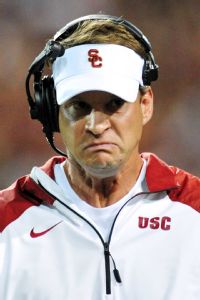 Matt Kartozian/USA TODAY SportsLane Kiffin could never quite live up to USC's lofty expectations.
Kiffin went 28-15 in three-plus years while the Trojans were buried under difficult NCAA sanctions, but the key span is the past 11 games. He lost seven of those, essentially starting a downturn just after folks started to wonder if he actually might be a good coach.
If you can recall USC in December 2011, the Trojans were coming off an impressive 10-2 season that included a win at Oregon. Quarterback Matt Barkley shocked many when he announced in front of a strategically placed Christmas tree during a Heritage Hall news conference that he would return for his senior season to take care of "unfinished business."
That, of course, meant a Pac-12 and national title.
The Trojans headed into the 2012 offseason overbrimming with talent and expectations. They were ranked No. 1 in the preseason AP poll. Yet, little thereafter went well. And that falls, not unfairly, on Kiffin.
He just never seemed capable of getting out of his own way and just coaching his collection of athletes, which in just about every case were more physically talented than the guys on the other side of the field.
Did USC have depth issues due to scholarship reductions? Sure. But that didn't change the fact that the area where USC consistently seemed to be most lacking was coaching, in terms of preparation, motivation and execution. And the offensive play calling, which Kiffin refused to give up despite pointed criticism, was fundamentally flawed in one simple way: The plays Kiffin called more often than not didn't work.
He too often tried to be clever or tricky. He also seemed to react poorly when things weren't going well. An early sack or turnover would seemingly spook him into an overly conservative plan. His complicated schemes seemed simplistic and predictable in execution compared to simpler schemes from other Pac-12 programs that seemed more imaginative and effective.
Further, USC had been eclipsed not only in the Pac-12 by Oregon and Stanford, it also had lost ground to its previously struggling rivals, UCLA and Notre Dame. Trojans fans are demanding as a whole, but losing to the Bruins and Fighting Irish is a deal-breaker.
Kiffin was most consistent as a recruiter, even with scholarship limitations. But the downturn even caught up with that. The Trojans presently have only seven commitments, and they are not ranked among the nation's top 40 classes.
USC remains one of the nation's best college coaching jobs. The high school talent in the surrounding area is among the best in the country. The school also has the resources to make the next coach among the nation's highest paid.
Athletic director Pat Haden likely decided to make a decisive move now so he could get a head start on his search. No sense in allowing the ship to continue to sink. He'll immediately start getting back-door feelers from NFL and college head coaches and top assistants -- many probably already have made inquiries. Lots of names will circulate, from Boise State's Chris Petersen, to St. Louis Rams coach Jeff Fisher, to Denver Broncos defensive coordinator Jack Del Rio, to Washington coach Steve Sarkisian, to Texas A&M coach Kevin Sumlin.
Kiffin was unquestionably burdened with tougher circumstances than many coaches who take over college football superpowers. Yet such an explanation only goes so far in this win-now age.
While he flickered potential during the 2011 season, his ultimate downfall was this: His teams never consistently looked like USC should. And he never consistently looked like a guy who should be fronting USC.
September, 29, 2013
9/29/13
11:37
AM PT
If nothing else, the ugly aftermath of the Lane Kiffin era is clear.
[+] Enlarge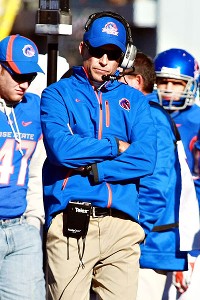 Brian Losness/US PresswireUSC would be wise to give Boise State head coach Chris Petersen a look.
USC should never be a proving ground for head coaches. It should be a place for only a head coach who already has demonstrated the ability to win at this level.
That should be athletic director Pat Haden's mantra as he begins the coaching search that will dictate the Trojans' football future.
Get a proven guy. Don't gamble with someone who looks the part. Go with someone who already KNOWS the part.
Much of the early speculation has centered on Jack Del Rio, currently the defensive coordinator of the Denver Broncos. Del Rio is a former Trojans star with deep USC roots, a ruggedly handsome guy who would look great in front of the TV cameras.
But Del Rio had limited success in his lone head-coaching attempt at Jacksonville and has no coaching or recruiting experience at the collegiate level. This is not to say he couldn't get the job done. Maybe he could. But again, you'd be rolling the dice.
To continue reading this article you must be an Insider
September, 29, 2013
9/29/13
10:14
AM PT
If the collective reaction from prospects who woke up Sunday to news of USC firing coach Lane Kiffin is any indication, the school's recruiting efforts will likely benefit from the midseason dismissal.
In fact, ESPN 300 defensive end
Malik Dorton
(Bellflower, Calif./St. John Bosco), who committed to the Trojans in late August, believes the firing might be exactly what USC needs.
To continue reading this article you must be an Insider
September, 29, 2013
9/29/13
9:30
AM PT
It is a whole new ball game with recruits out West now that Lane Kiffin is out at USC.
The Trojans' Class of 2014 recruiting efforts mirrored the product on the field. There were a few bright spots like highly regarded ESPN 300 defensive end
Malik Dorton
(Bellflower, Calif./St. John Bosco), ESPN 300 linebacker
D.J. Calhoun
(El Cerrito, Calif./El Cerrito) and ESPN 300 offensive lineman
Toa Lobendahn
(La Habra, Calif./La Habra), but it was also a class full of incompletions, fumbles and big misses.
[+] Enlarge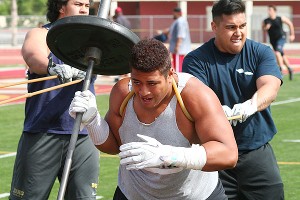 Erik McKinney/ESPN.comThe Trojans hope a new coaching staff will sway recruits like Viane Talamaivao (committed to Alabama) to USC.
The Trojans, in one of the deepest hotbeds of talent in the entire country and with one of the proudest football traditions around, were able to lure only seven commitments and watched conference rivals Arizona, Arizona State, Stanford, UCLA and Washington blow past them on the recruiting trail. Recruits and high school coaches throughout the Southland also raised major concerns about the way Kiffin interacted with -- or some say flat-out ignored -- many top local prospects and coaches when they would come for unofficial visits or wanted to talk shop.
You have to win the recruiting wars in Los Angeles if you're going to dominate at USC. It's something that Pete Carroll figured out the second he stepped into Heritage Hall, but Kiffin was never able to fully embrace.
However, the Trojans now have a chance to reset things.
If USC makes the right hire, there's still a real chance to lure a number of the West's best prospects.
Twenty-seven of the Top 100
and eight of the top 15 prospects in California have yet to make up their minds.
Plus, there will be kids who are committed to other schools that will take a long look at the Trojans again with a new coach in charge. You can bet that players like ESPN 300 offensive lineman and Alabama commit
Viane Talamaivao
(Corona, Calif./Centennial), ESPN 300 athlete and Arizona commit
Marquis Ware
(Los Angeles/Salesian), Elite 11 quarterback and Miami commit
Brad Kaaya
(West Hills, Calif./Chaminade) and many other committed players in California will get calls from the new USC staff.
In recruiting, nothing can erase the errors of the old and give a school some new momentum like a coaching change.
USC now has the chance to right its recruiting wrongs. Coupled with the fact recruits and high school coaches still consider the Trojans Los Angeles' football team, USC's run to signing day in February could alter the Pac-12 for years to come.
September, 29, 2013
9/29/13
9:23
AM PT
Apparently, USC athletic director Pat Haden had seen enough. As USC flew back on its team charter early Sunday morning after a loss to Arizona State, only Haden knew when the plane landed he would fire Lane Kiffin.
The decision came after a game in which the Trojans gave up a school-record 62 points for the second time in as many seasons -- and suffered a seventh loss in the last 11 games -- but this wasn't really about just
one
game. It was about an athletic director who had tried to support a coach, even in the face of overwhelming fan discontent, and finally came to realize that the time had come for him to act.
[+] Enlarge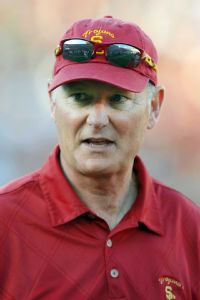 Kirby Lee/Image of Sport/USA TODAY SportsAD Pat Haden will have no shortage of candidates to choose from when he decides who will be USC's next coach.
There is no doubt that there is an element of surprise to Haden's decision to fire Kiffin in the middle of the season. It's been well-documented that Haden had backed Kiffin "150 percent" at the end of the 2012 season. He reiterated that support before the 2013 season began with a video that claimed Kiffin was not on the proverbial "coaching hot seat."
However, in the end, Haden could no longer ignore the reality of what had transpired with his program. No matter how much he wanted to believe that Kiffin was the right guy, the evidence proved he wasn't. There were simply too many issues, too many missteps and not enough good football.
It's no secret that Kiffin was a polarizing figure, but Haden thought he had a solid fundamental football coach as well. Haden talked often about how he thought Kiffin was a "dynamic" playcaller with good recruiting skills. He talked about how Kiffin was still a relatively young coach who could mature on the job, and he asked for patience as Kiffin dealt with NCAA sanctions.
That stance was not a popular one among USC fans. The tailspin from the 2012 season and the numerous distractions brought about by Kiffin (walking out on the media, jersey-switching, ball deflating) were enough for many Cardinal and Gold faithful to make up their minds. The fact that the Trojans became the first team since the 1960s to begin the season ranked No. 1 and finish outside the Top 25 only added fuel to the fire.
By the time the Trojans fell to Washington State on Sept. 7, a game in which they had only 54 passing yards, the fans thought it was time to let Haden know exactly how they felt. There were boos during the game -- that part wasn't surprising -- but the chants of "Fire Kiffin" that reverberated throughout the crowd in the fourth quarter were new. Several longtime observers said they could never remember similar chants in their years of watching Trojans football.
Haden didn't tip his hand on Kiffin, so USC fans had no way of knowing that the end was near. The ASU game was thought to be a good test to see where these Trojans stood. Unfortunately for Kiffin, the test and results weren't positive.
So now Haden is faced with the biggest decision of his USC tenure. Chances are he will name an interim coach for the remainder of the season, and then he will look to place his stamp on the program with the hiring of a new coach. A source told ESPN's Joe Schad that assistant head coach Ed Orgeron will be named interim coach.
There has been talk that the USC job may not be as attractive as it once was, but that theory is about to be proved wrong.
The Trojans are on the tail end of NCAA sanctions, so there is a light at the end of that tunnel.
This is
still
USC football, one of the elite bluebloods of college football which is located in the heart of a fertile recruiting territory with brand-new facilities and the ability to offer a top-notch education.
Haden will have a wide selection of candidates to choose from. One thing we know about Haden -- a thoughtful and intelligent man -- is that he will take his time to make sure he gets the decision right.
PAC-12 SCOREBOARD
Thursday, 9/3
Friday, 9/4
Saturday, 9/5