USC Trojans:

Lamont Simmons
July, 2, 2014
7/02/14
5:00
AM PT
Now that USC's entire incoming freshman class has had an opportunity to get their feet wet in the team's summer workouts, here's a player-by-player look at how those new arrivals have looked so far, and where they're fitting in.
OL Chris Brown
6-foot-5, 295 pounds
High school: Los Angeles (Calif.) Loyola
Lining up as a reserve at right and left tackle, Brown has been at virtually every workout. Having some expected struggles in the one-on-one drills against the veteran defensive linemen initially, he's made strides over the last two weeks. This past Monday he had perhaps his best practice session, drawing cheers from his offensive line-mates when he delivered a fantastic punch move that caught
Scott Starr
by surprise and knocked him back on his heels.
TE Bryce Dixon
6-4, 240
High school: Ventura (Calif.) St. Bonaventure
A big target at tight end, Dixon has been working hard with
Randall Telfer
and
Jalen Cope-Fitzpatrick
to learn the ins and outs of the offense, and it's paid off as he's come on during the last few workouts, hauling in a number of passes. Still fairly lean, it will be interesting to see how he fares in terms of blocking when the pads come on in August.
RE Malik Dorton
6-2, 250
High school: Bellflower (Calif.) St. John Bosco
Another consistent attendee at the workouts, Dorton has been taking reps at the rush-end spot behind Starr and
J.R. Tavai
. He's shown off some nice pass-rush moves already, and he had a big day on Monday when he came up with his first interception of the summer.
WR Ajene Harris
5-11, 180
High school: Los Angeles (Calif.) Crenshaw
Primarily a quarterback and defensive back on the high school level, Harris has been making a name for himself at receiver. Possessing sure hands, he's been surprisingly steady at the spot, providing more than enough evidence to suggest that he can be a valuable contributor -- perhaps sooner than most expected.
[+] Enlarge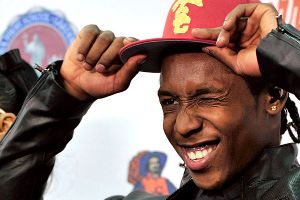 Gary A. Vasquez/USA TODAY SportsAdoree' Jackson's play has stood out at both cornerback and wide receiver.
WR/CB Adoree' Jackson
5-11, 185
High school: Gardena (Calif.) Serra
No player arrived on campus with more hype, and to Jackson's credit, he's lived up to every ounce of it so far. Spending the first few workouts at cornerback, he's been playing at wide receiver as of late, and he's shined at both spots. A unique athlete with outstanding football instincts, he certainly has the look of an instant impact performer at either position, and it wouldn't be a shock to see him get reps at both spots in the fall. Jackson came up with an outstanding 60-yard touchdown reception this past Monday where he outleaped
Ryan Dillard
for a
Cody Kessler
pass.
WR/CB Rahshead Johnson
5-11, 175
High school: Long Beach (Calif.) Cabrillo
Like Jackson, Johnson has seen time at both cornerback and receiver. He's another excellent athlete with plenty of speed, and it will be interesting see which side of the ball he ultimately ends up on.
CB Jonathan Lockett
5-11, 175
High school: Santa Ana (Calif.) Mater Dei
Lockett has been the surprise of this group so far. He's only been at two workouts, but he was the arguable star of both of those sessions. He came up with an interception in each practice, and also broke up a number of passes. Strong in coverage, with a nose for the ball, he's certainly someone worth keeping an eye on.
OL Damien Mama
6-5, 370
High school: Bellflower (Calif.) St. John Bosco
A mammoth-sized lineman, Mama has been taking reps at left guard, where he's performed more like a veteran than a green newcomer. Remarkably nimble for how big he is, he's more than held his own during the one-on-one sessions. The big question with Mama is whether or not he'll be able to keep up with the frenetic pace of the offense when fall camp begins. If he's able to do that, however, look out.
LB Uchenna Nwosu
6-3, 210
High school: Harbor City (Calif.) Narbonne
After spending his first few initial workouts at inside linebacker, the versatile Nwosu saw some time on the outside in the team's most recent practice session. A former high school safety, he's shown a knack for being around the ball when he's dropped back in coverage.
February, 20, 2014
2/20/14
4:04
PM PT
There's definite reason for optimism for first-year USC defensive coordinator Justin Wilcox heading into spring ball. After all, he inherits some key pieces from a unit that finished the 2013 campaign ranked No. 13 in the FBS in total defense (334.9 yards allowed per game) and No. 1 in red zone defense (63 percent scoring percentage).
Still, for the defense to really take off under Wilcox in 2014, there's one position group that will need to elevate its level of play -- the cornerbacks. Plagued by injuries, the USC corners struggled at times in pass coverage, particularly in games against Arizona State, Arizona and Notre Dame. As such, expect Wilcox and defensive backs coach Keith Heyward to hold an open audition this spring as they look to find the most productive starting duo.
[+] Enlarge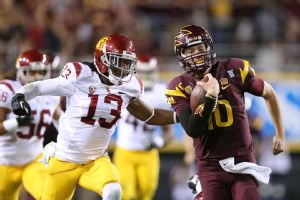 Christian Petersen/Getty ImagesUSC's Kevon Seymour, who was inconsistent in 2013, has challengers for his starting cornerback spot.
Of course, with potential instant-impact freshmen
Adoree' Jackson
,
Jonathan Lockett
,
John Plattenburg
and
Lamont Simmons
all set to arrive this summer, the upcoming slate of spring practice sessions will almost certainly serve as just the first phase of a lengthy competition at cornerback that will extend through fall camp. Without those blue-chippers around to steal valuable reps, the March and April workouts will be crucial for the candidates currently on the roster to make a lasting impression on the new staff.
Josh Shaw
, who started 11 games at cornerback in 2013, stands out as a virtual lock at one of the spots, but with an influx of talent on the way, might we see him make the move back to his more natural free safety position? With
Su'a Cravens
,
Leon McQuay III
and
Gerald Bowman
-- who is coming off shoulder surgery -- serving as the only other scholarship safeties, there is certainly a lack of depth back there, so a potential switch for Shaw seems to make sense. Having proven himself as the team's most dependable cover man last fall, however, the USC staff might not have the luxury of making that change unless other cornerbacks prove that they can be counted on.
The primary starter on the other side in 2013 was
Kevon Seymour
, now entering his junior season. The Pasadena (Calif.) Muir product had his ups and downs, but he did cap off his season with an outstanding performance in USC's Royal Purple Las Vegas Bowl victory over Fresno State. The big question now is, was that an anomaly or just the beginning of something special? The answer will likely determine whether or not he remains atop the depth chart in the long run.
Fifth-year senior
Anthony Brown
has flashed at times, but he has never been able to put it all together on a consistent basis. A veteran with six starts to his credit, it looked like 2013 was going to be his season to make a name for himself. But he suffered a knee injury in the team's opener at Hawaii that would keep him on the sideline for almost the entire season. He actually returned to start against Notre Dame, but his injury hampered his outing, and he wouldn't see the field again for the remainder of the season. Standing 5-foot-9 and weighing 180 pounds, he lacks the size of some of his counterparts, but he makes up for that with his speed and quickness. It hasn't been announced whether or not he'll be available to practice this spring, but if he is, he'll be in the mix.
Devian Shelton
is another player whose status for the spring is still unknown after having foot surgery this past fall, but he too, could factor heavily into the discussion if healthy. Listed at 6-1, he gives the Trojans a taller look, but having redshirted as a freshman, and then missing almost all of 2013, he still lacks experience. Impressing at times last fall in camp with his size, he could even conceivably make the transition back to safety -- where he saw time in high school
One of the more interesting names to keep an eye on is
Chris Hawkins
. Could this be the time when he emerges from anonymity into a major contributor? A highly touted Class of 2013 prospect, he spent his first season on campus learning the tricks of the trade while redshirting. Although somewhat raw, he showed plenty of ability in practice, especially as the season wore on. If his development continues on its forward path, there's reason to believe that he has the skills to push for playing time.
Ryan Henderson
and
Ryan Dillard
are two more contenders who have seen limited action in the past in reserve roles. Henderson's athleticism is undeniable -- he was the 2010 SPARQ Rating National Champion -- but so far that hasn't translated over to the football field at USC. Dillard, meanwhile, is a walk-on who has certainly held his own, but he would still appear to be somewhat of a longshot. This spring will mark an important time for both players as they attempt to make a move up the depth chart for the first time.
February, 6, 2014
2/06/14
2:30
PM PT
LOS ANGELES -- USC Trojans first-year coach Steve Sarkisian stepped to the recruiting class of 2014 home plate on Wednesday and proceeded to wallop asigning day homer, bringing home
Adoree' Jackson
(Gardena, Calif./Serra),
John "Juju" Smith
(Long Beach, Calif./Poly) and
Damien Mama
(Bellflower, Calif./St. John Bosco).
It was a remarkable day for Sarkisian and staff, who had to fend off the likes of Florida, Oregon, Notre Dame, Alabama, and the shadow of UCLA for the trifecta. If anything, Wednesday's successful recruiting results clearly establish that Sarkisian has re-established the recruiting foundation for a program hammered by coaching drama and one that can finally see the light at the end of the tunnel of NCAA sanctions and extraordinary coaching drama.
[+] Enlarge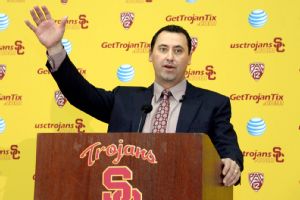 Kirby Lee/USA TODAY SportsSteve Sarkisian will now have to match on-field success to the recruiting heights he accomplished during his first signing as USC's head coach.
Wednesday's signing day had its tensions as Trojans fans held their collective breaths waiting to hear from Southland prep All-Americans Jackson, Smith, and Mama. Most fans would have been pleased with two of the three high-valued talents, but to secure all three prospects was almost worthy of a parade down Colorado Boulevard.
Although it seemed as though most of the drama had subsided by the time Sarkisian stepped to the microphone for a mid-afternoon press conference, the first question posed was like an approaching hurricane.
Had Jackson's letter of intent been received?
The Serra High superstar had made his announcement for USC well before noon, and the press conference arrived with no Jackson LOI confirmation. Rumors began flying that there might be an problem with Jackson's father's approval, but whatever the issue, later that evening in came Jackson's official letter of intent and cardinal and gold smiles stretched all across Southern California.
So what does Wednesday's recruiting victories mean to the future of the Trojans program?
Well, first and foremost it means that the Sarkisian era is off and running and the Trojans are again moving forward in a euphoric manner -- no longer burdened with the doom, gloom and crisis of previous seasons.
If perception is reality, the perception is that Sarkisian and staff have laid the foundation for even greater recruiting success for next season's signing day when they'll have a full complement of 25 scholarships.
The reality is that the Trojans have also served notice to the Pac-12 and the nation that USC will once again be the traditionally tough recruiting customer that they have been.
The future reality is with the 2015 commitment of all-star quarterback
Ricky Town
(Ventura, Calif./St. Bonaventure), Sarkisian's program has positioned itself beautifully for a major recruiting assault on the Class of 2015 in California. The state has, by most accounts, one of its better mother loads in recent memory.
While the 2014 signing of the three prep studs was crucial to this current recruiting class, it's probably the less heralded prep players signed by the Trojans who will provide the true worth of this class.
Sarkisian made a point during his press conference of saying that when he and his staff look at talent, they try to watch what's on film and not how many stars a particular prospect has next to his name. For example, he pointed out incoming defensive back
Lamont Simmons
(Jacksonville, Florida/Raines).
"When you just turn on the film and forget how many stars and forget who else has offered [Simmons] or whatnot, and just watch his film, this guy is a fantastic player," Sarkisian said.
Besides the obvious consensus All-Americans, the Trojans also have a history of recruits that weren't considered high value at the time but became huge contributors.
One of those star-lacking success stories is a former recruit from Winston, Oregon. Perhaps you've forgotten the likes of former strong safety
Troy Polamalu
, a lock for both the College and Pro Football Hall of Fame?
If it wasn't for the constant nagging of former Trojans assistant Kennedy Polamalu to former Trojans head coach Paul Hackett, Troy Polamalu, a 3-star recruit, would never have worn the cardinal and gold.
Then there is former preferred Trojans walk-on linebacker
Clay Matthews
. Talk about being overlooked in the "star system" of recruiting. From his Trojans walk-on freshman season to where he is today, we're talking about an All-Pro with the Green Bay Packers, so you just never know.
And for good measure, there's Trojans All-American linebacker Lofa Tatupu, who graduated from King Philip Regional High School in Wrentham, Mass., with underwhelming offers? Tatupu spent a freshman season at the University of Maine before transferring to USC to prove he was woefully under-evaluated.
It takes more than just 4- and 5-star players to make a successful team. As that famous female politician wrote, "It takes a village." Sarkisian can confirm that.
So next up for Sarkisian is the hard part -- coaching and winning football games. And if Sarkisian can coach like he recruits at USC, he just might be that power hitter who legendary former Trojans coach Pete Carroll once envisioned as his successor.
February, 5, 2014
2/05/14
9:40
PM PT
While it was a terrific day for the Pac-12 overall,
USC
stole the signing day spotlight on Wednesday, hitting for the cycle in landing its top four targets.
The day began well for new coach Steve Sarkisian, as three-star cornerback
Lamont Simmons
(Jacksonville, Fla./Raines) faxed over his signature, but that was only an appetizer for the Trojans. With 19 scholarships available this year -- NCAA sanctions limited the Trojans to just 15 scholarships in this class and USC was able to roll four unused rides over from the 2013 class -- Simmons took the class to 16. Left on the board were a trio of Southern California ESPN 300 prospects in No. 9 overall prospect, cornerback
Adoree' Jackson
(Gardena, Calif./Serra), No. 24 overall prospect, athlete
John "JuJu" Smith
(Long Beach, Calif./Poly) and No. 67 overall prospect, offensive guard
Damien Mama
(Bellflower, Calif./St. John Bosco).
[+] Enlarge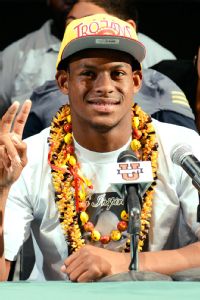 Kelvin Kuo/USA TODAY SportsJohn "JuJu" Smith was part of a huge signing day for USC.
Sarkisian and the Trojans were able to land all three, giving USC one of the best signing days of any program in the country. The signings give USC 19 additions in the 2014 class, including nine ESPN 300 pledges, one ESPN JC 50 prospect and impact players on both sides of the ball. There is really no way to overstate how well Sarkisian and the Trojans closed on signing day, posting what amounted to a perfect day.
The Trojans wound up with the No. 1 class in the Pac-12, but the rankings in the conference were bunched at the top.
Stanford made a huge run late, landing commitments from all six recruits it targeted over the past two months. The Cardinal added signatures from ESPN 300 defensive end
Solomon Thomas
(Coppell, Tex./Coppell) -- at No. 25 overall, the highest rated Stanford addition since ESPN began its rankings in 2006 -- and three-star cornerback
Terrence Alexander
(River Ridge, La./John Curtis Christian). Though the Cardinal lost a late commitment from defensive end
Uriah Leiataua
(Compton, Calif./Dominguez), it was a very strong visit and a terrific class headed to the Farm.
Alexander wasn't the only recruit from John Curtis Christian to commit to the Pac-12, as Oregon and UCLA took their biggest commitments of the day from that program. The Ducks landed ESPN 300 safety
Mattrell McGraw
, while UCLA picked up its lone signing day commit in
Kenny Young
.
Oregon missed out on Smith and defensive tackle
Trey Lealaimatafao
(San Antonio/Earl Warren) but was able to land safety
Khalil Oliver
(Meridian, Id./Rocky Mountain) in a battle against Washington.
UCLA coaches will likely be disappointed with the day. Although the Bruins did reel in Young, UCLA missed on Thomas, No. 1 overall wide receiver
Malachi Dupre
(River Ridge, La./John Curtis Christian) and the Southern California trio, which made matters worse for Jim Mora & Co. by committing to the Trojans. UCLA brought a very good recruiting class into signing day and did a good job of holding onto everybody, but the Bruins took some big swings at some big prospects across the country and didn't get the results they were hoping for.
Arizona State slid a few spots in the national rankings, but the Sun Devils did everything they could on signing day. Todd Graham brought a relatively full class into the day and was able to add two huge signatures in ESPN JC 50 prospects defensive tackle
Dalvon Stuckey
(De Funiak Springs, Fla./Pearl River CC) and cornerback
Kweishi Brown
(El Cajon, Calif./Grossmont). The Sun Devils were also able to hold onto another junior college standout in wide receiver
Eric Lauderdale
(Fayetteville, Ga./Saddleback College), who received a significant late push from Florida.
Arizona was relatively quiet. The Wildcats brought in a huge list of verbal commitments and didn't lose anybody off the top of the class, landing five ESPN 300 prospects. Defensive tackle
Marcus Griffin
(Bellevue, Wash./Bellevue) was the big addition, as the big lineman selected Arizona over Cal, Mississippi State and Washington State.
Oregon State grabbed a signature from offensive guard
Kammy Delp
(Pomona, Calif./Diamond Ranch), who will play defensive tackle for the Beavers. Utah announced defensive tackle
Lowell Lotulelei
(South Jordan, Utah/Bingham) as a part of this class after he attempted to sign with the Utes in 2013.
Washington's big addition came Tuesday night in the form of ESPN 300 safety
Bishard "Budda" Baker
(Bellevue, Wash./Bellevue), but Chris Petersen and the Huskies also received a signing day commitment from intriguing 6-foot-5 receiver
Brayden Lenius
(West Hills, Calif./Chaminade). The Washington State Cougars closed with their second four-star commitment in this class, safety
Deion Singleton
(Paco, Wash./Chiawana).
But the day in the West belonged to USC, which jumped from No. 4 in the conference to landing the Pac-12's top 2014 recruiting class. Nationally, the Trojans moved from No. 24 to No. 15 overall.
Stanford (15th), Arizona State (21st) and Arizona (23rd) all finished among the top 25 recruiting classes in the nation.
February, 5, 2014
2/05/14
10:15
AM PT
Washington and new coach Chris Petersen started the thrills and chills of national signing day
early with a commitment Tuesday evening
from ESPN 300 safety
Bishard "Budda" Baker
(Bellevue, Wash./Bellevue), and Stanford and USC got things going early on Wednesday.
ESPN 300 defensive end
Solomon Thomas
(Coppell, Texas/Coppell) produced a Tree and
donned nerd glasses
as visual aids for his commitment to Stanford. The nation's No. 4 defensive end and No. 25 overall player picked the Cardinal over Arkansas and UCLA.
Finally, USC signed three-star cornerback
Lamont Simmons
(Jacksonville, Fla./Raines). He picked the Trojans over Auburn, Penn State and Arkansas.
Of course, the big battles today will involve USC and UCLA, most notably over five-star cornerback
Adoree' Jackson
(Gardena, Calif./Serra). He will announce his decision on ESPNU today at 2 p.m. ET.
Stay tuned. National signing day is just beginning, and much of today's intrigue is about the West Coast.
January, 30, 2014
1/30/14
4:00
PM PT
By
WeAreSC staff
| ESPN Insider
As signing day approaches, the WeAreSC staffers give their predictions on the remaining targets on the USC wish list, including players who have visited recently.
To continue reading this article you must be an Insider
January, 27, 2014
1/27/14
7:00
AM PT
ESPN 300 prospects
Damien Mama
(Bellflower, Calif./St. John Bosco) and
John "JuJu" Smith
(Long Beach, Calif./Poly) might have headlined the list of official visitors who spent the weekend at USC, but it was a pair of teammates from Ventura (Calif.) St. Bonaventure who stole the spotlight.
Class of 2015 quarterback
Ricky Town
verbally committed to the Trojans on Saturday night, just hours after decommitting from Alabama, and No. 1-rated tight end
Bryce Dixon
re-affirmed his pledge on Sunday morning, capping a monstrous weekend that put USC in great shape with national signing day just over a week away.
To continue reading this article you must be an Insider
January, 23, 2014
1/23/14
10:40
AM PT
The mother of all recruiting weekends has arrived for the USC Trojans.
With less than two weeks remaining until national signing day, seven members of the ESPN 300 are expected to be on campus beginning Friday. Head coach Steve Sarkisian and his staff hope these visits lead to success on Feb. 5.
Heading into the weekend, the Trojans have four empty slots in their 2014 recruiting class.
Here are the expected visitors:
No. 3 ATH John "JuJu" Smith (Long Beach, Calif./Poly)
: The four-star prospect recently narrowed his list to a final four of Notre Dame, Oregon, UCLA and USC, but the Trojans have to believe they are in the lead. Smith dropped by USC last week and, while wearing a Trojans jersey, posed for photographs that have gone viral on social media and message boards. He is being recruited at receiver by the staff, including his uncle Johnny Nansen, but Smith said he wants to sit down with defensive backs coach Keith Heyward this weekend, too. The Trojans have an opportunity to seal the deal.
To continue reading this article you must be an Insider
January, 8, 2014
1/08/14
6:30
AM PT
Coinciding with the emotional departure of fan favorite Ed Orgeron just over a month ago, the naming of Steve Sarkisian as USC's new head coach wasn't initially met with what you'd call universal enthusiasm. With what he's accomplished on the recruiting trail in his short time back on campus, however, it's hard not to be impressed.
Hitting the ground running from the moment he took the job, Sarkisian and the rest of his staff have done a stellar job of not only targeting some elite blue-chippers in the 2014 class -- such as recent tight end commit
Bryce Dixon
(Ventura, Calif./St. Bonaventure) -- he's also recognizing quality prospects who, though not necessarily possessing a five-star rating, are more than capable of filling a vital need. That's something that former coach Lane Kiffin didn't always appear to make a priority, choosing instead to chase high-profile superstars at any, and all costs.
To continue reading this article you must be an Insider
December, 19, 2013
12/19/13
11:30
AM PT
A recent string of commitments heading into the dead period has left USC with only five remaining slots in its 2014 recruiting class. The Trojans have 19 total spots to use, as long as four of them are mid-year enrollees.
Here's a position-by-position look at how USC could allocate those empty spots, with a projection of how many players at each position the Trojans will try to sign:
Offensive line:
6
The Trojans hold five commitments on the offensive line, two of those from mid-year enrollees who already have signed financial aid agreements. They might not be done, though, as a big fish is still out there and possibly leaning toward signing with his childhood favorite. If the coaching staff decides a scholarship would be more important at another position, the Trojans might have to part ways with a prospect from this bunch.
To continue reading this article you must be an Insider
PAC-12 SCOREBOARD
Thursday, 9/3
Friday, 9/4
Saturday, 9/5