USC Trojans:

Kennedy Polamalu
July, 11, 2013
7/11/13
7:30
AM PT
By
WeAreSC staff
| ESPN.com
Here are three all-time greats at USC who were under-recruited.
SS Troy Polamalu:
It's hard to imagine right now, considering that he turned out to be one of the elite safeties in USC history, but there was a point when then-USC head coach Paul Hackett basically had to be talked into offering Polamalu a scholarship. Polamalu had moved to a small town in Oregon for his high school career at Winston (Ore.) Douglas, and the long arm of recruiting coverage wasn't as big then, so there wasn't a lot of hype about him. Polamalu had an offer from Stanford, which he was close to accepting, along with the possibility of playing baseball at USC, but his uncle Kennedy Polamalu was a former Trojans fullback who was then coaching at San Diego State. The elder Polamalu reached out to Hackett and assured him his nephew was worth the ride, and the rest is history. Polamalu ended up an All-American for the Trojans, was a first-round draft choice of the Pittsburgh Steelers and has won two Super Bowls.
-- Garry Paskwietz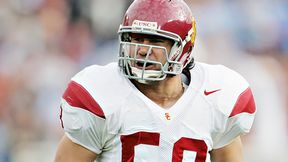 Jeff Gross/Getty ImagesAfter transferring to USC from Maine, middle linebacker Lofa Tatupu helped the Trojans return to national prominence.
LB Lofa Tatupu:
Another hard-to-believe-it-now story, but Tatupu -- a 2004 All-American -- couldn't get a sniff from the Trojans coming out of high school primarily due to the fact that he stood under 6-foot tall and weighed less than 220 pounds at the time. In fact, despite compiling 110 tackles on defense and throwing for 800 yards at quarterback as a senior at Plainville (Mass.) King Philip Regional, the only program willing to take a shot at him was Division I-AA Maine. It was there, as a freshman in 2001, that Tatupu showed that he was destined for greater things, grabbing a starting linebacker job right off the bat and posting 67 tackles. Following that season, Tatupu decided to leave Maine and to do everything that he could to land at a high level college football power. USC, where his father, Mosi, had starred as a fullback in the mid-70s was at the top of his list, and he sent a highlight tape to Pete Carroll with the hopes of getting a look. To his surprise, Carroll -- who was in the process of rebuilding the program -- soon extended a scholarship offer that Tatupu immediately accepted. After sitting out the 2002 season due to NCAA transfer rules, Tatupu would seize the starting middle linebacker job and develop into the heart and soul of a very talented defensive unit. Leading the team in tackles in 2003 and 2004, he helped USC compile a record of 25-1 in his time on the field.
-- Johnny Curren
DL Dan Owens:
The former La Habra (Calif.) High defensive lineman wasn't all that well known outside of prep football crazy Orange County at the time, and he wasn't exactly a household recruiting name, either. Owens was a quick and very physical player, but he was not flashy. In the 1985 Orange County prep All-Star Game, his coach had to restrict him in practice because he was such a disruptive force. Owens work ethic and unrelenting style of play elevated him from a recruiting secret eventually into a major cog along the USC defensive line. Former Trojans All-America defensive lineman
Tim Ryan
and Owens teammate once said that the Orange County was really "underrated" and that he did things on film that were just amazing. Owens' work ethic and non-stop motor turned him into an All-Pac-10 selection his senior season, and he was later rewarded as the 35th player selected in the NFL draft by the Detroit Lions. He started his rookie season with the Lions and later played for the Atlanta Falcons. Not bad for a kid who said at the time upon entering USC that his only goal was to be successful in college.
-- Greg Katz
June, 3, 2013
6/03/13
9:00
AM PT
LOS ANGELES -- For departing USC Trojans football players making that final walk up the storied Coliseum tunnel, it can foreshadow a transition into the NFL, a sports-related career, or an entirely different vocation.

For former Trojans uch as Troy Polamalu, Carson Palmer, Sam Baker, and brothers Ryan and Matt Kalil, making a living in the National Football League makes life a whole lot simpler. The dream continues, complete with hefty paychecks.


February, 19, 2013
2/19/13
9:39
AM PT
If their reactions on social media were any indication, current USC football team members were certainly affected by the departure of assistant coach Kennedy Polamalu earlier this month. A number of them voiced their concerns through Twitter and other networks, adding their two cents on what many considered to be a puzzling move by coach Lane Kiffin.
To continue reading this article you must be an Insider
February, 13, 2013
2/13/13
8:00
AM PT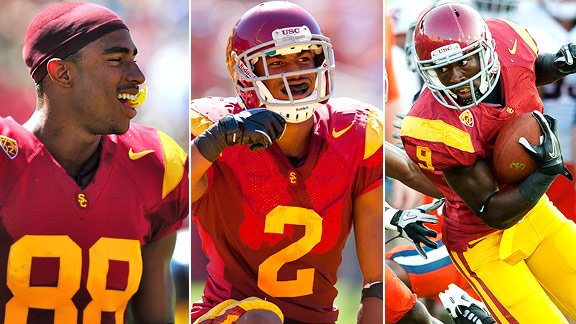 Icon SMI, WeAreSC.comFormer USC running backs coach and offensive coordinator Kennedy Polamalu was a big reason the Trojans secured the Gardena (Calif.) Serra wide receiver trio of George Farmer, Robert Woods and Marqise Lee.
The USC football program received some surprising news in recent days when it was announced that Kennedy Polamalu was released from the staff.
Polamalu was a popular running backs coach -- he also held the title of offensive coordinator but did not call plays -- who was in his second coaching stint with the Trojans. He had a reputation as a coach who cared about his players and preached a physical style of football while also having the credibility of being a former USC player who had coaching experience in the NFL.
To say that the loss of Polamalu from the staff was a shock to the players he had coached would be an understatement. As word began to spread over the weekend that Polamalu was gone, many of the players took to their Twitter accounts to voice their thoughts and support:
• "Not only did we lose the best coach, we lost the only Trojan who was on staff. Real sad day" -- fullback
Soma Vainuku
(@somavainuku)
• "Disappointed" -- recent tailback signee
Ty Isaac
(@TyIsaac)
• "U dont get rid of coach P now how ignorant was that smh he is the best coach there" -- former tailback Stafon Johnson (@stafonjohnson26)
• "Now why would they do that smh" – former wide receiver
Robert Woods
(@robertwoods)
Part of the reason that Polamalu struck a chord with so many players is because of his deep USC ties. The school represented so much in his life after coming to the United States from American Samoa at age 12 as a young man who did not speak English. Yet five years later he was student body president at Santa Ana (Calif.) Mater Dei with a football scholarship to USC.
Polamalu was a hard-nosed fullback for the Trojans from 1982-85. He was part of the 1985 Rose Bowl title team and had career totals of 681 rushing yards (he never lost a yard carrying the ball) along with 23 receptions and a 65-yard touchdown pass. Polamalu earned his bachelor's degree in history from USC in 1987.
January, 8, 2013
1/08/13
9:17
AM PT
Four-star offensive line commit
Khaliel Rodgers
(Elkton, Md./Eastern Christian Academy) had a stellar showing at the U.S. Army All-American Bowl week in San Antonio, Texas, proving himself against some of the best competition in the country. He spoke to WeAreSC about the experience:
[+] Enlarge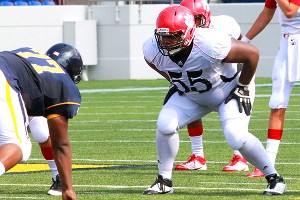 Courtesy Maggie ThomasFour-star OL and USC commit Khaliel Rodgers (55) recaps his experience at the U.S. Army All-American Bowl.
WeAreSC:
There's been a lot of talk about your showing in Texas. How would you assess your performance?
Rodgers:
Every critic and every person that looked at me and evaluated me thought I did excellent. I think I did well. I think I really established myself as the top guard in the nation. I did well against everybody that was there.
To continue reading this article you must be an Insider
April, 7, 2012
4/07/12
5:24
PM PT
LOS ANGELES -- USC tailback
Buck Allen
remained on the Coliseum floor well after the conclusion of the Trojans 'Saturday scrimmage, providing answers to questions posed by the media. But of far more importance to Allen's USC career was the fact that he was finally able to take the field and answer some questions for the USC coaches.
After arriving partway through fall camp last year, Allen served on the scout team throughout the season. This spring, the depleted tailback numbers were going to give Allen an opportunity to prove that he belonged in the rotation. But a hamstring injury early on forced him to the sideline, and Saturday became the first time Allen saw the field for any significant length of time. And while his first opportunity resulted in a muffed handoff, he bounced back with a 12-yard carry on his first successful attempt, and authored several impressive runs throughout the day.
"It felt good," Allen said of his first extended work this spring. "I tried to go hard and give it my all, do what coach asked me to do…Today gave me confidence. Now I can go look at myself on film and work off of that."
To continue reading this article you must be an Insider
March, 21, 2012
3/21/12
3:04
PM PT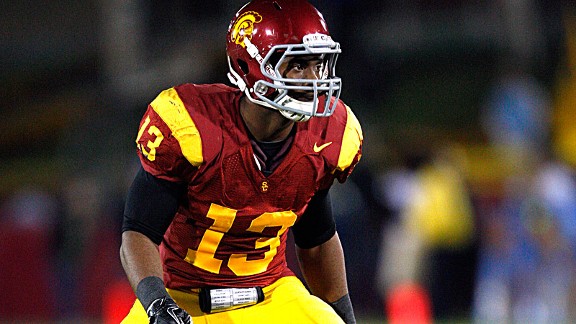 Cal Sport Media/AP ImagesTre Madden's move to running back is drawing raves from position coach Kennedy Polamalu.
It's tough to call the move of Tre Madden from linebacker to tailback a success after just one practice at the position. But it was tougher not to notice the grin plastered across the face of running backs coach Kennedy Polamalu after Tuesday's practice. The normally stoic Polamalu is consistent in tempering expectations and taking things one day at a time. But he couldn't hide his excitement after coaching Madden for only a few hours.
"It was fun watching him," Polamalu said. "Believe me, he looked like a football player back there."
With Buck Allen still nursing a hamstring injury, the Trojans were down to just two scholarship backs before Madden's move, as senior starter Curtis McNeal and redshirt sophomore D.J. Morgan took virtually every rep. Polamalu was grateful that Madden, at 226 pounds, will supply some depth at the position, but he also commented on the fact Madden brings a fairly unique skill set.
To continue reading this article you must be an Insider
March, 20, 2012
3/20/12
9:55
PM PT
Not many college football teams can raid the linebacker meeting room for tailback help, but
Tre Madden
proved Tuesday that the
USC Trojans
have that versatility in stock. After standing out at outside linebacker during the first full pads practice of spring, Madden donned a cardinal jersey on Tuesday, making the move to tailback.
"Having a week to sit around and think about what our team needs, this is a time to try it," said head coach Lane Kiffin.
Kiffin acknowledged that the experiment could end shortly and Madden would be on his way back to strongside linebacker, but he also gave several reasons supporting a possible permanent move.
To continue reading this article you must be an Insider
PAC-12 SCOREBOARD
Thursday, 9/3
Friday, 9/4
Saturday, 9/5