USC Trojans:

Justin Wilcox
December, 6, 2013
Dec 6
2:30
AM PT
The Early Offer is RecruitingNation's regular feature, giving you a daily dose of recruiting in the mornings. Friday's offerings: The battle for the top prospects in the West is going to be fierce, but USC coach Steve Sarkisian is doing all he can to make sure the Trojans have some of the nation's best recruiters on his staff; a major winter storm could hinder the official visit plans of many teams across the country this weekend; and are the Sooners about to steal an in-state recruit away from LSU?
Trojans add ace recruiter

Sarkisian will have to assemble an all-star staff if he wants to win the recruiting wars in the West. So far that's exactly what he's doing. After Tee Martin announced Wednesday night he was sticking around as an assistant for the Trojans, the school announced Thursday that Washington linebackers coach Peter Sirmon would join the staff. Sirmon is considered one of the best position coaches in the Pac 12, but he's also well respected as a recruiter. I visited with him a few weeks back for a story about Husky recruiting efforts, and I instantly can tell he why recruits gravitate toward him. He's very charismatic and should be an excellent fit for the Trojans. It will be interesting to see if USC also can land Washington defensive coordinator Justin Wilcox and defensive line coach Tosh Lupoi. Both reportedly have large buyouts from Washington, but Sirmon, Wilcox and Lupoi are close friends and often go on the road with each other to recruit.
To continue reading this article you must be an Insider
October, 4, 2013
Oct 4
5:02
PM PT
Any chance every game this weekend can be as interesting as UCLA-Utah?
Welcome to the mailbag. If your life needs just a tad more "oomph,"
follow the Pac-12 blog on Twitter
. It's loaded with oomph, as well as many vitamins and minerals.
To the notes!
Daniel from Pullman, Wash., writes:
Ted-Last Saturday morning I was listening to ESPN Radio and they were debating the match-ups of the Pac-12 North and the SEC West (on neutral fields). I believe their match-ups were Al vs. OR, LSU vs. Stanford, Tex AM vs WA, Ole Miss vs OSU, Auburn vs. WSU, and Miss St or Ark vs Cal. One voted these match-ups 4-2 in favor of the SEC, and the other scored it 3-3. (Note: I think both picked LSU over Stanford.) How would you see these match-ups playing out?
Ted Miller
: The first challenge is matching the seven-team SEC West versus the six-team Pac-12 North. To make things easy, goodbye Arkansas.
Further, we don't really know how each division ultimately will stack up. Our speculation is only slightly educated here, as any would be not even halfway through season.
So start with Oregon-Alabama. This is a potential national title game. There are two ways to look at it. Is this a regular season game with just one week to prepare? I'd give a slight edge to Oregon with that. If it was a national title game, with three weeks to prepare, I'd give the Crimson Tide an edge. For this exercise, we'll go with the Ducks.
I'd pick Stanford over LSU. Just like I'd pick Stanford over Georgia, which just beat LSU. Suspect that Stanford would consistently outflank the Tigers with sophisticated schemes. A few years ago, LSU's team speed would have been an issue. No longer.
I'd take Texas A&M over Washington in a barnburner. I'd take a healthy Oregon State -- as in the Beavers after their off week -- over Ole Miss. The Rebels wouldn't be able to handle
Sean Mannion
and
Brandin Cooks
.
Auburn beat Washington State 31-24 on its home field, but the Cougars outgained the Tigers 464 to 394. In a neutral field rematch, I'd go with the Cougs.
Cal would be able to outscore Mississippi State, though I'd feel better with that one if the Bears didn't have so many injuries on defense.
So there you go: 5-1 Pac-12 North.
End of discussion! Right?
---

Andrew from Phoenix writes:
Ted,Why all the volatility in Arizona State's perception? The last 3 weeks the media and PAC fans have gone from "they're ready for the national stage" to "looks like they're not that good" back to "this team can do some damage." The consensus outside of the biggest ASU homers and UA trolls was ASU would be about 8-4, just in or just out of the Top 25, and needing an upset @UCLA to win the South. I have seen nothing on the field this season that should change that. Bottom line is they demolished a poor team, handily beat (with some blemishes) a mediocre team, played a toe-to-toe in a toss up with a good team, and got their mistakes shredded by an elite team. Why so much drama?
Ted Miller
: It's Kevin. He's the man behind the curtain pulling all these levers that make people crazed with drama.
I don't feel like much has changed about the perception of Arizona State, at least among those who esteemed the Sun Devils in the preseason. This is a good team, probably a top-25 team, one that is moving up in the Pac-12 and national pecking order but is not yet on the Oregon/Stanford level. And, yes, it looks like the best challenger for UCLA in the South Division, particularly after USC imploded.
But there is a logical reason for the volatility: The Sun Devils' schedule. How many teams have played three tough, AQ-conference opponents in their first four games? And with such a variety of results.
Wisconsin, 32-30 win: Controversial ending yes, but the game showed the Sun Devils are top-25 caliber.

Stanford, 42-28 loss: The Sun Devils might be a top-25 team, but they've got a ways to go to move toward the top-10.

USC, 62-41 win: An impressive offensive showing against a previously outstanding defense. More positive evidence that the program is taking steps forward under Todd Graham.
Guess what? There will be more drama on Saturday. A win over Notre Dame will provide another uptick. And a loss will add some skepticism, as well as a second fall from the national polls.
---

Kevin from Reno, Nevada writes:
Why is Ohio State ranked ahead of Stanford? After watching ASU play Wisconsin and then Stanford, it was clear that Stanford is on an entirely different level of physicality and talent than Wisconsin. That same Wisconsin team almost beat Ohio State on the road. Also, Cal was completely over-matched against Oregon, but competed almost respectably against Ohio State. Stanford may be better than Oregon this year.
Ted Miller
: At least we'll get an answer with Oregon-Stanford on Nov. 7.
But I hear you.
Obviously your Pac-12 bloggers agree with you
. I'd comfortably pick Stanford over Ohio State, and I suspect a lot of folks would, too. While it's dangerous to use the transitive property in college football, your point about Wisconsin is at least partially valid.
I suspect the reason most folks who are voting Ohio State ahead of Stanford are doing so is because
they did so in the preseason, and the Buckeyes have yet to lose
.
---

Andrew from Agoura Hills, Calif., writes:
Now that Lane Kiffin is out the door, we've started to hear all the names of potential candidates: Kevin Sumlin (my personal favorite), Jack Del Rio, Jeff Fisher, Steve Sarkisian, Chris Petersen, etc. One name that I haven't really seen included in any of these hypothetical lists is Alabama DC Kirby Smart. Do you think he will be considered by Pat Haden and the USC braintrust? He seems to be on track to eventually be a head coach, and his credentials are very impressive for a young coach. The two problems I see are that he 1) has resisted overtures in the past, possibly because he is in line to follow Saban at 'Bama and 2) is devoid of any head coaching experience. What do you think of Smart as a candidate for the Trojans?
Ted Miller
: There certainly are worse choices.
The other knock, fair or unfair, on Smart is that Saban is the ultimate brains behind the Crimson Tide's defense. Still, working under Saban for an extended period of time should overcome that as a downside. He knows Saban's "Process," which is like learning about the stock market from Warren Buffett.
My impression is Smart is shortly going to get an opportunity in the ACC or SEC. He's a child of the South and probably wants to stay down there.
In fact, if you are looking for a darkhorse candidate for USC, what about Alabama offensive coordinator Doug Nussmeier? He calls Alabama's plays, has time learning from Saban and knows the Pac-12, as he was Steve Sarkisian's offensive coordinator at Washington before heading to the SEC. He also has Big Ten and NFL experience.
While USC is surely going after a big-time name with head coaching experience, many, many great hires have been first-time head coaches, such as John McKay, Bob Stoops, Chris Petersen and Chip Kelly.
---

Saul from Los Angeles writes:
I get it, you hate your former home up there in Seattle. Why you instantly think the Washington head coach job sucks is beyond me and Wilcox would rather go to USC to be an assistant coach when he could be a head coach. You are insufferable.
Ted Miller
: Every week, there are angry notes in the mailbag that make me go, "Huh?" I get that when you write about college football, you will make folks mad. Just part of the job. But what always baffles me is when I get an interpretation of one of my positions that is untethered to any actual position I can ever recall taking.
Saul isn't the only one. It appears many Alabama fans
believed this story
on USC's coaching search implied Pat Haden might hire Nick Saban. That conclusion apparently was based on my typing, "What if USC now hires its Nick Saban? Or, to localize it: Pete Carroll, take two?"
I spent 20 minutes trying to figure out what got Saul's feathers raised. Apparently it is this from my chat Thursday:
Ryan (Baja): Hypothetical: Sark goes to USC. Question: What happens to Justin Wilcox?

Ted Miller: THAT is a big question. I was, in fact, thinking about that today. I'd think Washington would give him a hard look. It's just a matter of time before he's a head coach. It might, in fact, be a matter of just a couple of months. He'll have options, including one to follow Sark to LA and get a big raise.
To be clear: I think Washington would seriously consider Wilcox if Sarkisian left for USC and I'm SURE Wilcox would take the job.
If there is an implication my chat comment that Wilcox would rather be offensive coordinator at USC than head coach at Washington, then I humbly apologize. He would not. What I wanted to suggest is that if Wilcox was offered a head coaching job for a non-AQ program, he still might opt to follow Sarkisian to USC and wait for an AQ job. Such as, you know, a place like Washington.
The big hypothetical here is Sarkisian going to USC. It's possible, by the way, that Sark would say no to USC again, just as he did when it went after him before hiring Lane Kiffin.
And, if it needs to be clarified, there is not a person who has ever talked to me about Seattle who doesn't know how much I love that town.
September, 2, 2013
Sep 2
9:00
AM PT
Taking stock of Week 1 in the Pac-12:
Team of the week
: Washington opened fancy, renovated Husky Stadium with a dominant 38-6 win over No. 19 Boise State. Quarterback
Keith Price
was outstanding, and the defense kept the Broncos from scoring a touchdown. It was Boise State's worst loss since 2005.
Best game
: While Oregon State's 49-46 loss to FCS school Eastern Washington was the biggest nail-biter, the Pac-12 blog isn't in the habit of celebrating a conference loss to an FCS team. So we're going with Utah's 30-26 comeback win over Utah State. The Utes trailed 23-14 early in the second half but stormed back after following up a 45-yard field goal with a successful onside kick. It was a gutsy call that led to the Utes' go-ahead points.
Biggest play
: Colorado had taken a 26-24 lead over Colorado State early in the fourth quarter, but the Rams had driven to midfield and looked poised to counter on their next possession. On second-and-8, a
Garrett Grayson
pass to
Kapri Bibbs
looked like it was going to earn a first down, but Buffs defensive end
Chidera Uzo-Diribe
came from behind Bibbs and slapped the ball out.
Greg Henderson
got a nice bounce and scooped and scooted lickety-split down the sideline for a 53-yard touchdown that changed the game.
[+] Enlarge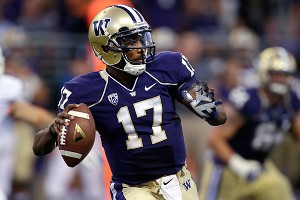 AP Photo/Ted S. WarrenKeith Price was stellar in Washington's win over No. 19 Boise State.
Offensive standout
: Price completed 23 of 31 passes for 324 yards with a pair of touchdown passes and rushed for 25 yards in the win over Boise State. Moreover, he did all that after throwing a pick on his first pass, showing mental toughness by not letting an early mistake in a high-pressure environment get him down. His efficiency rating for the game -- 176.8 -- would have led the nation in 2012. Price also now has 56 career TD passes, a school record.
Defensive standout
: Colorado's Addison Gillam was just the second true freshman to start a season opener at inside linebacker in school history, but that's not why he's noted here. He's here because he recorded 14 tackles, with two coming for a loss, and a sack. He also had a pass breakup and a key tackle on fourth down. The Buffaloes' defense, which was just awful last year, held Colorado State to 295 total yards.
Defensive standout II
: Yes, Washington's Justin Wilcox knows what he's doing as he continues to climb the short list of nation's best defensive coordinators. The Huskies were bend-but-don't-break early against Boise State, and then they took over. Six points was the Broncos' lowest point total since 1997 (a 58-0 loss to Washington State). While Boise State gained some yards -- both teams were running up-tempo schemes, so there were 173 total plays in the game -- the Broncos averaged only 3.9 yards per play. For the sake of comparison, Alabama gave up 4.2 yards per play last year. Boise State's longest running play was 18 yards, and its longest passing play was 16 yards. When you don't give up big plays, you have a chance to win.
Special-teams standout
: Utah kicker
Andy Phillips
, a former U.S. alpine skier who had never played competitive football -- at any level -- before his kickoff against Utah State, kicked field goals of 45, 19 and 38 yards and was perfect on three extra points in the Utes' 30-26 victory. The final two kicks came after the Utes had fallen behind 26-24 in the fourth quarter. Oh, and he perfectly executed an onside kick that might have been the biggest play of the game. His three kickoffs all went for touchbacks.
See this video
.
Smiley face
: The most important thing is to be 1-0 after the opening week, and seven of 10 Pac-12 teams that played can now say that. Two of the teams that lost, California to No. 22 Northwestern and Washington State at Auburn, showed fairly well as underdogs and probably felt they should have won. Washington, Colorado, UCLA, Arizona and Oregon probably feel like they got exactly what they wanted out of the week. USC and Utah are, again, happy to be 1-0.
Frowny face
: Oh, man, Oregon State. That defense.
Oregon State was the week's big loser. More like BIG LOSER. A four-touchdown favorite against Eastern Washington -- an FCS power but an FCS team nonetheless -- the No. 25 Beavers went down 49-46 because they simply couldn't stop Eagles quarterback
Vernon Adams
, who passed for 411 yards and rushed for 107. The Beavers welcomed back seven starters from one of the nation's best defenses, but that unit turned in a miserable performance. What the heck happened to All-Pac-12 defensive end
Scott Crichton
, who had just two tackles?
It was only the third time that an FCS school defeated a ranked FBS team.
Thought of the week
: You can never -- ever! -- take any team lightly. In a week when every Pac-12 team will be favored in nonconference play, that's something to remember.
Questions for the week
: USC and Washington State open Pac-12 play this week in the L.A. Coliseum on Saturday, and this game could be revealing. The Cougars showed they are an improved team at Auburn, while the Trojans are hard to pin down. Will Washington State get the upset? If that happens, the Mike Leach era gains momentum while the Lane Kiffin era takes a notable downturn. A secondary question is whether one or the other USC quarterbacks takes control of the starting job.
September, 1, 2013
Sep 1
9:00
AM PT
Oregon State QB
Sean Mannion
threw for 422 yards, and receiver
Brandin Cooks
had 13 catches for 196 yards in the Beavers' upset loss to Eastern Washington, but you don't get a helmet sticker when your team loses to an FCS foe.
So who does?

Andy Phillips, K, Utah
: This might be the best story of the week, as Phillips, a former U.S. alpine skier who had never played competitive football before his kickoff against Utah State, kicked field goals of 45, 19 and 38 yards and was perfect on three extra points in the Utes' 30-26 victory. Oh, and he perfectly executed an onside kick that might have been the biggest play of the game.
See this video
.
Dion Bailey, S, USC
: Bailey's switch back to his native position of safety from linebacker paid off against Hawaii. He led the Trojans' defense with seven tackles, a sack and an interception in their 30-13 victory.
Keith Price, QB, Washington
: A poor 2012 season is officially old news for Price. In the Huskies' 38-6 win over No. 19 Boise State, he completed 23 of 31 passes for 324 yards with a pair of touchdowns, which gave him 56 for his career, a new school record, eclipsing Cody Pickett. He also rushed for 25 yards. His efficiency rating of 176.8 would have led the nation in 2012.
Washington's defense
: The Huskies held Boise State to their lowest point total since 1997 (a 58-0 loss to Washington State). The Broncos gained only 3.9 yards per play. Their longest running play from scrimmage was 18 yards. The Huskies are paying second-year coordinator Justin Wilcox a lot of money. He is worth it.
Brett Hundley, QB, UCLA
: Hundley completed 22 of 33 passes for 274 yards with two touchdowns and no interceptions in the Bruins' 58-20 win over Nevada. He also rushed for 63 yards on seven carries with two TDs. The Bruins' offense, guided by Hundley, gained 647 yards.
Chris Harper, WR, California
: Harper caught 11 passes for 151 yards and two touchdowns in the Bears' 44-30 loss to Northwestern.
Marcus Mariota, QB, Orego
n: Marriota rushed for 113 yards and two TDs on just five carries -- 22.6 per rush -- and passed for 234 yards and a score in the Ducks' 66-3 blowout win over Nicholls State.
Tra'Mayne Bondurant, S, Arizona
: Bondurant had two interceptions in the Wildcats' 35-0 won over Northern Arizona, including one he returned 23 yards for a touchdown. He also tied for the team lead with seven tackles, adding one for a loss.
November, 29, 2012
11/29/12
5:30
PM PT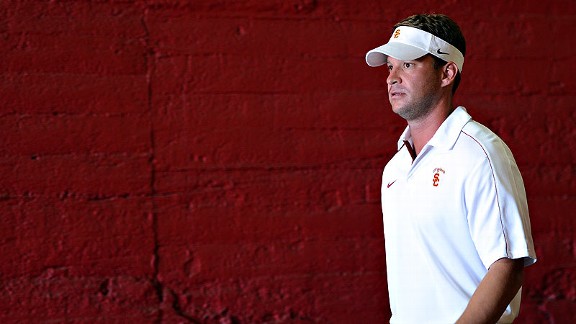 Harry How/Getty ImagesSeveral steps must be taken in order for Lane Kiffin and USC to return to prominence in the future.
Our question this afternoon: "What's next for USC?"
Well, what's immediately next is the Trojans looking up at UCLA in the Pac-12 pecking order and Notre Dame in the national one. How 'ya like them apples, 'SC?
UCLA is the likely pick to repeat as Pac-12 South Division champions in 2013. They've got the QB in
Brett Hundley
and lots of talent coming back on both sides of the ball. And they have a decisively better coaching staff than USC, at least if we are allowed to extrapolate on the evidence we repeatedly saw on the football field this year.
A year ago, while UCLA and Notre Dame were seemingly floundering, it appeared the Trojan colossus was again rising under coach Lane Kiffin, whose bad reputation was undergoing a generous reevaluation. Yet the stratospheric expectations inspired by a 10-2 2011 season have yielded to desperation and recrimination just a year later.
The big 2013 story for USC? Kiffin's hotseat.
And yet.
While USC under Kiffin certainly no longer has a buy rating, it might be premature to sell all your shares.
For one, the team coming back in 2013 certainly won't be untalented, including 17 returning position player starters (though a few with remaining eligibility might opt to enter the NFL draft). QB
Max Wittek
hinted against Notre Dame that the transition to him from
Matt Barkley
might not be too bad. He has a wicked strong arm that could make beautiful music with receivers
Marqise Lee
and
Robert Woods
, if Woods opts to return for his senior season.
Further, you'd think the Trojans would be plenty motivated. They were the biggest punchline in college football this year. Yeah, bigger than woeful teams like Colorado. They were historically bad as a team that was ranked No. 1 in the preseason. They were beaten soundly by archrivals whom they whipped just a year ago.
[+] Enlarge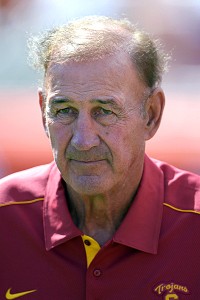 Kirby Lee/Image of Sport/US PresswireShould Lane Kiffin remove his father, Monte Kiffin, as the Trojans' defensive coordinator?
This season was an unmitigated failure.
It might be easier for Kiffin to get his guys focused and motivated when everyone is taking shots at them instead of celebrating their potential awesomeness. The Trojans should be plenty angry heading into 2013. They chiefly should be angry at themselves, but here's a guess that the preseason talk -- regionally and nationally -- will give them plenty of names for an enemies list.
But before we look ahead to USC as angry underdog playing the "us against the world" card in 2013, there needs to be some rigorous backward looking evaluation of what went wrong this fall.
In this column

, Steve Bisheff did an outstanding job of breaking down the difficult decisions ahead for Kiffin. We're about to second much of what he said.
First off, Kiffin needs to hire two new coordinators, which means he must dump two guys by the name of Kiffin: Himself on offense and his dad, Monte Kiffin, on defense.
Monte Kiffin is one of the all-time great defensive minds. His legacy is assured. But his work has been middling-to-poor at USC. He's gotten less from USC's talent than he should have.
If Lane Kiffin needs a role model for tough decisions, he could look to his buddy Steve Sarkisian at Washington, who dumped Nick Holt as defensive coordinator last year. Holt, Kiffin and Sarkisian go way back, but Holt was doing a lousy job. That was made even clearer this fall when new coordinator Justin Wilcox produced substantial improvement with arguable less to work with than Holt had in 2011.
Then, if Kiffin feels guilty about terminating his father, he can take out his ill will toward the responsible party by firing himself. It's not just that Kiffin didn't do a good job calling plays this year -- and he didn't -- it's that he neglected other aspects of his team that, as a head coach and CEO, he should have been on top of.
Oregon's Chip Kelly can micromanage his team and call an outstanding game. Kiffin can't. That's been made clear.
There's also this: USC has the resources to hire just about anyone Kiffin wants. He could pay both coordinators $1 million. If they are worried about job security due to Kiffin's hot seat, Kiffin could give them multiyear contracts. That alone would perk up the ears of just about anyone in the country, including top NFL guys.
Remember that
list of candidates
we made up for the head coaching vacancy at California? Kiffin probably could get a lot of those "hot" coordinators to come work for him.
With good coordinators, the Trojans are a nine- or 10-win team next year. With no changes, the good money would be on there being no Kiffins inside Heritage Hall in 2014.
Kiffin's survival also depends on more than Xs and Os, though.
As Bisheff covered at length, Kiffin often overthinks things, and this often leads to substanceless gestures, such as not allowing teams to do Friday night walkthroughs at the Coliseum, or trying to fool woeful Colorado with players switching jerseys.
Kiffin needs to learn that the USC head coach doesn't need to outsmart his opponents, much less use gamesmanship against them. He simply needs to put a disciplined, focused product on the field with a sound plan. Talent then takes over.
If there are competing simple and complicated ideas for something at USC, about 99.9 percent of the time, the simple one would work best.
What's next for USC? Well, if you are looking three-to-five-years down the road, I'd expect the program to again be in the Pac-12 and national title hunt on a consistent basis.
USC is not going to blow up and go all Paul Hackett Era again. Athletic director Pat Haden is too smart to let that happen.
The question is simply who will be fronting the program: Kiffin or someone else.
If Kiffin clings to the status quo, it will be someone else.
May, 11, 2012
5/11/12
10:00
AM PT
How much can we really learn from spring? Funky scrimmages with backwards scoring systems; depleted depth charts; completely new installs for four teams. Actually, more than you'd think. Here are five things we learned about the Pac-12 during spring.

Quarterbacks are still in limbo: Be it Stanford, Arizona State, UCLA, Oregon or Colorado, almost half of the teams still don't know who is going to be under center when the season starts. Stanford funneled its list of five down to two, Josh Nunes and Brett Nottingham. ASU still has a three-way battle with Michael Eubank, Mike Bercovici and Taylor Kelly -- though coach Todd Graham said they have a better idea than they are probably letting on publicly. The very private competition between Marcus Mariota and Bryan Bennett at Oregon remains in question -- though Mariota was spectacular in the spring game while Bennett faltered. Still, coach Chip Kelly said that one game isn't going to be his basis for comparison. UCLA coach Jim Mora wanted to name a starter by the end of spring, but no one has "grabbed" it, so we'll have to wait until August before learning whether Brett Hundley, Kevin Prince or Richard Brehaut gets the gig. And at Colorado, the competition was put on hiatus when Nick Hirschman broke a bone in his foot and couldn't compete in spring drills. One has to think that was a huge advantage for Connor Wood to get almost all of the reps with the first-team offense.
Not everyone has quarterback issues: Teams thought to have quarterback question marks heading into spring seemed to have resolved them. In Utah, Jordan Wynn is completely healthy, and both coach Kyle Whittingham and offensive coordinator Brian Johnson have declared Wynn their guy. While Mike Leach hasn't officially declared Jeff Tuel his starter, it's hard to imagine anyone else winning the job in the fall, short of Tuel suffering a significant injury or amnesia. He had a splendid spring, and appears to be a great fit for Leach's offense. And at Arizona, Matt Scott seized the job early and left little room for any competition. Coach Rich Rodriguez has been gushing about how quickly Scott has adjusted to the offense. At Cal, Zach Maynard, once thought to be challenged by freshman Zach Kline, appears to not only have held on to the job, but distanced himself from pursuers.
Wide receivers aplenty: And there are plenty of those in the conference. USC has probably the best tandem in the country in Robert Woods and Marqise Lee. Cal's Keenan Allen (though he missed spring drills) should continue to put up big numbers, and Washington State's Marquess Wilson should flourish in the Cougars' new system with Tuel as his quarterback. Markus Wheaton and Brandin Cooks could challenge the USC duo statistically if quarterback Sean Mannion continues to develop. There are stars on the rise at Arizona State (Jamal Miles) and Stanford (Ty Montgomery), and a potential star at Washington (James Johnson). Look out Biletnikoff, the Pac-12 is a comin'…
The conference of defense? The Pac-12 might never bunk its reputation as an offensive-centric conference (especially when it keeps churning out offensive talent). But there is a surplus of talented defenses and defensive players who were on display this spring. Washington seems to have plugged its leaks with new defensive coordinator Justin Wilcox. There's a 3-4 trend sweeping the conference, and with notable playmakers like Star Lotulelei (Utah), John Boyett (Oregon), Dion Jordan (Oregon), Chase Thomas (Stanford), Josh Shirley (Washington), T.J. McDonald (USC) and DeAndre Coleman (Cal), it's easy to see why some of the Pac-12 defenses will get the same kind of love as the offenses do in 2012.
Confidence is at an all-time high: As it should be in the spring. The four new coaches all feel confident about the systems they have installed. Stanford feels as good as it ever has about its running game. USC and Oregon should get lofty preseason rankings, and this is the time of the year when fans go through the schedules game by game and always seem to come up with a minimum of six wins. Sorry to say, there are teams in the conference that won't make it to a bowl game this season. But when you hear the coaches talk about their teams, you'd think the conference is going to go 12-0 in the postseason. This is a magical time for fans filled with hope and possibility. Enjoy it while it lasts.
February, 6, 2012
2/06/12
9:10
AM PT
We like doing Power Rankings at ESPN.com. These are the post-signing day Power Rankings.
If you want to see where your team stood on Jan. 10,
go here
.
The schedule does not factor into these. This is a projected pecking order based on where a team stands right now.

And if you don't like where your team is in the post-signing day Power Rankings, then I'd suggest whining about it until your team plays better.
1.
USC
: The Trojans ranked 13th in the final recruiting rankings with just 12 signees. They will be ranked in the preseason top 5, perhaps even No. 1. If things go according to plan, USC will blow a big raspberry at Paul Dee next January.
2.
Oregon
: The Ducks surprisingly lost QB Darron Thomas to the NFL, but the far more important news is not losing coach Chip Kelly to the Tampa Bay Buccaneers. A strong recruiting class and another likely top-5 preseason rankings sets the Ducks up nicely to enter the national title chase.
3.
Stanford
: Stanford signed the best recruiting class in the Pac-12. It was ranked 12th by ESPN Recruiting and much higher by just about every other recruiting service. While the Cardinal have big holes to fill -- most notably behind center -- a glance through the roster suggests those rooting for the program to topple after a grand rise are going to be disappointed.
4.
Washington
: Much of the recruiting season had been disappointing for the Huskies, particularly losing almost all of the top in-state prospects, including a pair of A-list linemen who would have addressed major needs. But Steve Sarkisian made a series of aggressive moves rebuilding his coaching staff, most notably with the hiring of defensive coordinator Justin Wilcox and ace recruiter Tosh Lupoi. That supplies much of the positive momentum here.
5.
Utah
: The Utes signed a strong recruiting class and welcome back a wealth of starters from a team that won eight games without much production at QB. The promotion of 24-year-old Brian Johnson to offensive coordinator was a surprising move, particularly with fans rooting for a "celebrity" hire. It could prove to be a stroke of genius, but the onus is now on Johnson to make it become so.
6.
UCLA
: The Bruins are the big climbers from our Jan. 10 power rankings -- moving up from No. 10 -- but that's what happens when new coach Jim Mora punches back at skepticism with an outstanding recruiting class. A team that looked like a "neh" is moving closer to a "maybe."
7.
California:
Despite all the hand-wringing over the loss of Lupoi and receivers coach Eric Kiesau to Washington, the Bears still signed a top-25 recruiting class that addresses needs. Still, perception matters, and at present, Bears fans seem more worried than optimistic. Nothing, of course, a few wins in a shiny remodeled stadium can't change.
8.
Arizona
: Rich Rodriguez's recruiting class finished at or near the bottom of the Pac-12, according to most rankings. That said, Rodriguez got his man at defensive coordinator, Jeff Casteel, which is significant because most trace the problems at Michigan to his failure to do so for the Wolverines.
9.
Washington State
: The Cougars didn't soar in the recruiting rankings just because of the hiring of coach Mike Leach. Still, that doesn't appear to be dampening the enthusiasm in Pullman.
10.
Arizona State
: New coach Todd Graham did a solid job salvaging the Sun Devils' recruiting class. But the loss of QB Brock Osweiler to the NFL and the NCAA's rejection of receiver T.J. Simpson's bid for a sixth year of eligibility leave the program with plenty of questions on offense. And just as many on defense.
11.
Oregon State
: The Beavers were victimized by a handful of late recruiting flips that put dents in what was shaping up to be a strong class. And the loss of secondary coach Keith Heyward to Washington also was a blow. On the plus side, the Beavers will see 17 returning starters during spring practices.
12.
Colorado
: The Buffaloes remain at the bottom because the bottom line is this: They welcome back 13 starters from a team that went 3-10 and ranked last in both scoring offense and scoring defense. Still, coach Jon Embree put together a solid recruiting class, one that could become the foundation of his substantial rebuilding project.
January, 10, 2012
1/10/12
1:29
PM PT
It's never too early to look ahead, and even if it is, it's not against the law or anything.
And so we have our way-too-early 2012 power rankings.

By the way, schedule does not factor into these. This is a projected pecking order based on where a team stands right now -- Jan. 10, 2012.
And, by the way No. 2, if you don't like where your team is in the way-too-early power rankings, then I'd suggest whining about it until you get to play better.
By the way No. 3, Nos. 1 & 2 were easy. The rest is pretty darn murky, not in small part due to four new coaches.
1.
USC
: The Trojans welcome back 19 starters from a top-five team, including quarterback
Matt Barkley
. They beat Oregon in Autzen Stadium on Nov. 19. USC might be the preseason No. 2. Or No. 3.
2.
Oregon
: The Ducks have a strong mix of talent coming back from a team that won the Rose Bowl, but it's not just about 16 returning starters. If you want a reason to favor the Ducks over the Trojans, it's depth. Oregon welcomes back most of its
two-deep
. By the way, old Ducks fans probably grin about the idea of their team having better depth than USC.
3.
Utah
: The Utes welcome back 18 starters, though replacing both offensive tackles will be a huge task this spring. The defense has a chance to be beastly. The key? Utah proved it can win eight games with poor-to-middling quarterback play. But does a healthy
Jordan Wynn
-- back to late 2009, early 2010 form -- mean 10 wins?
4.
Stanford
: Many will count out the Cardinal, post-
Andrew Luck
. The Pac-12 blog will not. The over-under with this team is eight wins. Two gigantic holes on the offensive line and at both safeties are major issues, as is quarterback.
5.
Washington
: The Huskies welcome back seven starters on both sides of the ball, including up-and-coming quarterback
Keith Price
. The question is how quickly the defense can improve under Justin Wilcox.
6.
California
: While Cal only welcomes back 11 starters, there's plenty of intriguing talent on the roster, particularly on defense. Will quarterback
Zach Maynard
take a step forward? And what about his receivers after
Keenan Allen
? The pressure is on Jeff Tedford to win inside a renovated Memorial Stadium in 2012. If things come together, he just might do that.
7.
Arizona
: The Wildcats have more potential than most realize, starting with five returning starters on the offensive line and three defensive starters returning from injury, as well as an experienced quarterback in
Matt Scott
, who looks like a nice fit for Rich Rodriguez's spread-option offense.
8.
Washington State
: With 18 starters back, I'll go ahead and type it: New coach Mike Leach will lead the Cougars to a bowl game. And, hopefully, someone tips their cap to former coach Paul Wulff for collecting some solid talent, including two quarterbacks,
Jeff Tuel
and
Connor Halliday
, who appear capable of flinging the rock as Leach likes to, as well as a potential All-American receiver in
Marquess Wilson
.
9.
Oregon State:
The Beavers could be a surprise team if all the young players who were inconsistent in 2011 grow up in 2012, starting with true freshman quarterback
Sean Mannion
. With 17 starters back, experience won't be an issue. But those returning players went 3-9, so it's difficult to project a top-half finish. At least, not at this point.
10.
UCLA
: New coach Jim Mora doesn't start with an empty cupboard -- 16 starters are back. But the overall talent is dubious and, even more challenging, Mora needs to rebuild a culture. Further, taking the Bruins back to a pro-style offense, if that's the ultimate plan, might be a struggle in Year 1. First question: Is
Kevin Prince
the quarterback, or does Mora go with talented redshirt freshman
Brett Hundley
?
11.
Arizona State
: The Sun Devils tumbled in these rankings when quarterback
Brock Osweiler
, curiously, opted to enter the NFL draft. With just 10 starters back, a quarterback with no real game experience -- whoever wins the job -- and a challenging locker room, new coach Todd Graham might find the going rough in Year 1.
12.
Colorado
: The Buffs welcome back 13 starters from a team that went 3-10 and ranked last in both scoring offense and scoring defense. The rebuilding job on offense, in particular, will be significant with the loss of quarterback
Tyler Hansen
, running back
Rodney Stewart
and receiver
Toney Clemons
. The rebuilding job in Boulder won't happen overnight-- or over two seasons -- for second-year coach Jon Embree.