August, 27, 2013
8/27/13
4:00
PM PT
It all seemed so simple before Week 1 of last year. Six quarterback competitions, six resolutions before the first game of the year.
Taylor Kelly
had won the gig at ASU.
Jordan Webb
set foot on campus and was almost instantly Colorado's starter.
Marcus Mariota
outdistanced
Bryan Bennett
. Josh Nunes was Andrew Luck's successor.
Brett Hundley
was an exciting unknown, and Jeff Tuel was the guy to lead WSU's Air Raid.
Of course, simplicity doesn't always last. Be it injury or performance, Webb and Nunes weren't the starters at the end of the season and Tuel went back-and-forth with
Connor Halliday
. Mariota, Kelly and Hundley, however, went on to be three of the four most efficient quarterbacks in the league.
[+] Enlarge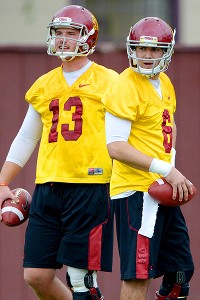 Kirby Lee/USA TODAY SportsMax Wittek (13) and Cody Kessler (6) will both see time at QB for the Trojans.
The moral of the story: Don't fear the unknown. But don't be too comfortable with it, either.
Which leads us to this year's crop of quarterback competitions. It's not as cut-and-dried as it was a year ago. At least two of them are ongoing and will probably stretch into the first weeks of the season.
The No. 24 Trojans open against Hawaii with
Cody Kessler
and
Max Wittek
still in the hunt for the right to replace Matt Barkley. Coach Lane Kiffin, however, said he has zero concerns that the competition hasn't been resolved.
"I see it as completely opposite," Kiffin said during Tuesday's Pac-12 conference call. "I think they have both performed so well. We feel great about both of them running our offense. I see it as a positive. I think they've really worked on their weaknesses … that way we don't have to call the game any different based on who is in. We can do all of our stuff."
Arizona coach Rich Rodriguez hasn't picked his guy yet, either. Though he did say he has seen some recent progress from
B.J. Denker
,
Javelle Allen
and
Jesse Scroggins
. A week ago, it was thought that as many as four or five guys could still be in the mix.
"I'd be more concerned if none of them made progress," Rodriguez said. "In the last week and a half, they have all made some pretty good progress. B.J. Denker and Javelle Allen, the guys that have been in the program, have made pretty good progress. And Jesse Scroggins has gotten better as well. I feel good about that. There's no question there is always more concern when you don't have experience there. B.J. has been in the system for a year and Javelle has been in the system for a year. We feel pretty confident they can run the whole entire offense and with Jesse it's just a matter of time."
And time is on Arizona's side. The Wildcats don't exactly have a pressing first month of the season. They host Northern Arizona this weekend, followed by a trip to UNLV before hosting UTSA on Sept. 14. Then it's a bye week before opening league play at Washington.
One report
last week had Oregon State playing the quarterback shuffle heading into Week 1. But Mike Riley put that to rest yesterday when he named
Sean Mannion
his starter.
"I had told some stories in the past of experience with two quarterbacks playing, but never intended to start a rotation situation here at all," Riley said. "We intended to name a starter and then have kind of left it up in the air … Sean is the starter and we'll go into the game like that."
Connor Wood
won the job at Colorado -- ending a QB competition that started with six but dwindled after injuries and transfers.
"He's big, he's athletic, he's got a strong arm, and he's a talented athlete," said coach Mike MacIntyre, who noted he was also very pleased with the progress of freshman
Sefo Liufau
. "He really started capturing the essence of our offense and understanding where to go with the ball and where to go with our run game. He kept improving."
Cal coach Sonny Dykes took a different approach, naming
Jared Goff
his starter as soon as he could.
"Anytime you have a starting quarterback, I think everyone is more comfortable," Dykes said. "The quarterback is more comfortable. The skill-position players can start to get on the same page. You develop a relationship with the center and quarterback and their ability to communicate with each other and the sense of timing that needs to exist there. I think what it does is settle everybody down."
October, 21, 2012
10/21/12
11:06
AM PT
LOS ANGELES – A look at the positives and negatives from USC's 50-6 victory over Colorado on Saturday.
THREE UP
[+] Enlarge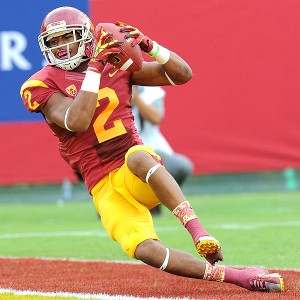 Jayne Kamin-Oncea/US PresswireRobert Woods had eight catches, including four for touchdowns, and became USC's all-time leader in receptions.
1. Matt Barkley
October, 15, 2012
10/15/12
9:59
AM PT
What:
USC (5-1 overall, 3-1 Pac-12) vs. Colorado (1-5 overall, 1-2 Pac-12)
[+] Enlarge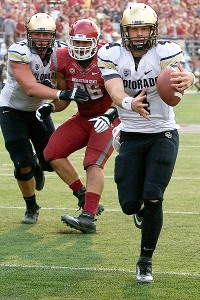 AP Photo/Dean HareQuarterback Jordan Webb is trying to get a struggling Colorado offense going.
When:
Saturday, Oct. 20, 3 p.m. PT
Where:
Los Angeles Memorial Coliseum
TV:
Pac-12 Networks
Radio:
ESPNLA 710 (pre-game show starts at 10 a.m. PT)
Scouting Colorado:
Colorado, under second-year coach Jon Embree (CU's former All-Big 8 tight end), has lost all but once (a 35-34 victory at Washington State) this season, including falling last Thursday against Arizona State, 51-17. Statistically, CU ranks in the bottom 20 nationally in total offense (327.3) and total defense (494.2).
The Buffalo offense is guided by junior QB
Jordan Webb
(109-of-193, 56.5 completion percentage, 1,141 yards, 8 TD, 4 INT in 2012). Freshman FB/TB
Christian Powell
(69 carries, 294 yards, 4.3 avg, three TD, plus three receptions for 16 yards) and sophomore TB
Tony Jones
(39 carries, 218 yards, 5.6 avg, two touchdowns, plus 14 receptions for 55 yards) are the top runners, while redshirt freshman WR
Nelson Spruce
(27 receptions, 291 yds, 10.8 avg, two TD) and sophomore WR Tyler McCullouch (20 rec, 243 yds, 12.2 avg, two TD in 2012) are the leading pass-catchers.
On defense, watch for junior SS
Terrel Smith
(52 tackles, three deflections, two fumble recoveries), junior ILB
Derrick Webb
(48 tackles, four for loss, one sack), freshman CB
Kenneth Crawley
(45 tackles, two for loss, four deflections, plus nine punt returns for 57 yards) and senior OLB
Jon Major
(43 tackles, three for loss, one sack), plus junior DE
Chidera Uzo-Diribe
(24 tackles, eight for loss, six sacks), who is tied for 17th nationally in sacks. Sophomore punter Darragh O'Neill (43.4 avg) is 20th nationally. – courtesy USC sports information
September, 23, 2012
9/23/12
9:00
AM PT
One fantastic upset, one cool, calm quarterback performance and three defensive standouts highlight this week's helmet stickers.

August, 31, 2012
8/31/12
12:00
PM PT
There are five new quarterbacks in the Pac-12 this season:
Taylor Kelly
at Arizona State,
Jordan Webb
at Colorado,
Marcus Mariota
at Oregon,
Josh Nunes
at Stanford and
Brett Hundley
at UCLA.
Our question this week: Which of them will have the most success this season?
[+] Enlarge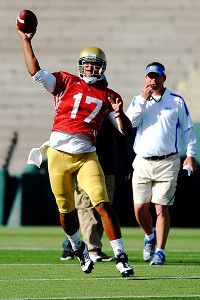 Chris Williams/Icon SMIUCLA quarterback Brett Hundley will be tested often this season.
Kevin Gemmell:
Poor, poor Ted. I know your brain is mush right now. You've been grinding away so hard on the best-worst scenarios that you've got nothing left for a Take 2. Obviously, the easy choice here is Oregon quarterback Marcus Mariota.
I'll tell you what, buddy, since I'm going first this week, I'm going to leave the softball for you and take a different approach. No, no. You don't need to thank me now. Just buy me a Cuban sandwich when we're in Miami for the USC-Oregon national championship game and we'll call it even.
When you're measuring the success of a new quarterback, you have to first look at what's the definition of success. Because I think the measuring stick is going to be a lot different for Mariota than, let's say, UCLA quarterback Brett Hundley.
If Hundley wins eight games and takes his team to a mid-level bowl game, I'd call that a pretty successful debut season. If Mariota wins eight games and takes his team to a mid-level bowl game, Oregon would probably call 2012 a massive failure of a season. Teams that start the year ranked in the top five don't want to end up in San Diego in December -- no disrespect to this beautiful city I'm blessed to call home.
The Bruins, however, I think would be awfully pleased with an appearance in the Holiday Bowl.
Consider what Hundley is up against: a new head coach, who by the way has never coached in college (that's not a knock on Jim Mora, just a fact), a new offensive coordinator with an offense that is a complete 180 from what the Bruins were running previously, and while I think UCLA has some playmakers, Hundley doesn't have the weapons around him that Mariota does. Also, most would agree at this point that Oregon has the superior offensive line.
But I think Hundley overcomes all of that to lead his team to seven or eight wins and a pretty decent bowl game. The reason I think that -- aside from the fact that Hundley is a very talented player -- is because of UCLA offensive coordinator Noel Mazzone and the way he transforms quarterbacks. His system is proven, even if Hundley is not, and it's going to allow Hundley to do what he does best: sling the ball around to a lot of different receivers and make plays with his feet when it's needed.
This was the same offense that produced 33 points per game last year when Mazzone was with Arizona State and dropped 43 on the
USC Trojans
; the same offense that averaged 32 points per game in 2010 that went for more than 40 points four times. Some might remember the 55 they scored on the Bruins that year.
Because of all the immediate factors working against Hundley, people are going to allow him a little more wiggle room to develop than they would Mariota.
And I think you can say the same thing for Josh Nunes at Stanford, Taylor Kelly at ASU or even an experienced newcomer like Jordan Webb at Colorado. They have the luxury of working their way into success, rather than instant success being demanded.
Huh, maybe Mariota isn't such a slam dunk after all. I guess the Cuban sandwiches are on me.
Ted Miller:
Thanks for making things easy on me, Kevin.
[+] Enlarge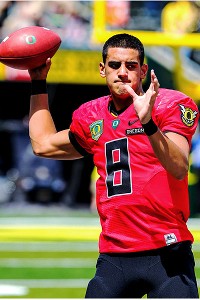 Steve Conner/Icon SMIBetween a stellar supporting cast and a proven coach, the stage is set for Marcus Mariota at Oregon.
I've been reading the tea leaves, and Marcus Mariota is going to be a revelation.
Now it's perfectly fair for someone to point out that I've only see Mariota in action once -- his much-ballyhooed performance in the 2012 spring game. So my -- and anyone else's -- sample size for extrapolating success is extremely limited.
Still, there are three things that make him the pick for immediate success.
First, he beat out
Bryan Bennett
, a guy who has long been touted and who played very well in relief of an injured Darron Thomas last year. If Mariota is better than Bennett, then he's got to be pretty darn good.
Second, his supporting cast will make him look good. He's got plenty of offensive weapons surrounding him as well as a top-notch offensive line. He doesn't have to throw it 40 yards to get a 40 yard completion. He merely needs to dump it to
Kenjon Barner
,
De'Anthony Thomas
or
Josh Huff
and let them do the legwork. The stat sheet doesn't make a distinction.
Third, who's the coach of this team? That's right, Chip Kelly. What's his track record with quarterbacks at Oregon? Let's review.
Oregon fans hated Dennis Dixon -- oh, yes you did! -- until Kelly arrived in 2007. Dixon went from being an infuriating underachiever who threw a lot of interceptions to the nation's top Heisman Trophy candidate until he blew out his knee.
Then, after Nate Costa blew out his knee before the 2008 season, Kelly was left with, well, just about nobody. Recall that Jeremiah Masoli was a summer addition to the roster whom no one had heard of. He led the Ducks to a Holiday Bowl victory and then to the first of three conference titles in 2009.
And when Masoli got the boot, Kelly surprised many when he tapped Thomas over Costa. Thomas then led the Ducks to the national title game and a Rose Bowl victory.
Think how good the Ducks' QB play has been since Kelly arrived in Eugene. Now, how many of these former Ducks quarterbacks had NFL success? It's obvious that Kelly finds ways to make his QB successful.
And guess what: Mariota is the most physically talented signal-caller Kelly has coached. He could become the first Kelly QB to become a high NFL draft pick and then a starter.
Sure, the bar has been set high. Anything less than another BCS bowl appearance would disappoint most Oregon fans. But, as things look at present, the odds are fairly good the Ducks will receive a fourth consecutive BCS bowl berth.
Finally, there is always this: Mariota is a redshirt freshman. He's, inevitably, going to have some boneheaded moments. But his youth also means the Ducks -- and Kelly -- will have him for at least three more seasons. (If he opted to leave for the NFL draft after his redshirt sophomore year, well, he'd probably be pretty darn good).
That's the consolation if he's merely pretty good this year: He's got plenty of time to become outstanding.
But the guess here is Mariota puts up plenty of numbers as a dual-threat this season. And leaves us with plenty of "Wow!" moments.
PAC-12 SCOREBOARD
Thursday, 9/3
Friday, 9/4
Saturday, 9/5