October, 4, 2012
10/04/12
12:00
PM PT
USC and quarterback
Matt Barkley
started the season as the toasts of college football. Or the hated front-runners, depending on how you respond to the Rorschach test that the Trojans are across the nation.
But a loss at Stanford and middling numbers from Barkley have doused much of the hype and knocked them off the college football radar. National championships and Heisman Trophies are no longer associated with the program in 2012, and more than a few seem eager to stick the dreaded "overrated" label on the team and player.
[+] Enlarge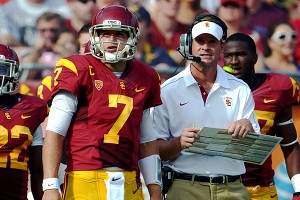 Kirby Lee/Image of Sport/US PresswireQB Matt Barkley and coach Lane Kiffin know that much is still at stake for USC.
"I'm good at blocking all that stuff out," Barkley said. "I know what's significant to us. I know what people who know football are seeing, not just the media and what they are writing. It doesn't get to me or our offense. We've just got to keep our heads down and work for every yard we get."
USC off the radar? Trojans coach Lane Kiffin isn't buying it.
"I don't think at SC you're ever off the radar," he said. "I think that shows in the ratings of games. Even when you're not No. 1, No. 2 or No. 3, all the conversations are about SC and you're always everybody's biggest game. I don't think you ever really come off the radar here."
Backing him up is Utah coach Kyle Whittingham. To him, as well as the Utes fan base, it's a big deal that No. 13 USC is coming to Salt Lake City to play inside Rice-Eccles Stadium on Thursday night (9 p.m. ET on ESPN).
"Without a doubt," Whittingham said. "It's been many, many years since USC was here."
Many years is right. The Trojans' previous visit was in 1917 -- a 51-0 victory.
Still, in the preseason this looked like a game with far more national juice. Most so-called pundits projected this as a likely battle of ranked, unbeaten teams, a game with significance for the Pac-12 South Division as well as the national picture. It was seen as one of just a few potential stumbling blocks for USC as it fired up its engines for a run at the national title game.
Instead, we have USC getting beaten at the line of scrimmage in 21-14 loss to the Cardinal, and Utah getting whipped every which way in a 37-7 humbling at Arizona State.
Both teams are coming off a bye week. The Trojans already had a bounce-back game in their solid 29-7 win over California. The Utes spent the extra week trying to correct the myriad issues exposed by the Sun Devils -- blocking, in particular.
"The offensive line play has been an ongoing project for us. Obviously a priority," Whittingham said. "We had plenty to work on."
The Utes must get the running game going against USC. They need running back
John White
to be fully healthy after an ankle injury -- he didn't look at that way at Arizona State -- because the Trojans have produced a potent pass rush this season (four sacks a game), which could make for a long night for quarterback
Jon Hays
if his play-action fakes aren't working.
The Trojans also have issues on the offensive line, most particularly the health of center
Khaled Holmes
. He's likely out of the game, which means fifth-year senior
Abe Markowitz
will be eyeballing Utah's 325-pound nose tackle
Star Lotulelei
. In last year's meeting, Holmes, probably the best center in the Pac-12, if not the nation, mostly fought Lotulelei to a stalemate. It's difficult to imagine Markowitz won't need a lot of help from his guards.
Utah's hope rests on being able to slow the Trojans' running game and get pressure on Barkley without resorting to a lot of blitzes. While the Utes pride themselves on their man-to-man coverage in the secondary, it's likely they will use a lot of the Cover 2 to help keep Trojans receivers
Robert Woods
and
Marqise Lee
in check. That's what Stanford did, and such schemes have kept Barkley's numbers down because opposing defenses are willing to take chances with alignments that invite Barkley to check into running plays.
"If teams are going to play Cover 2 and just send safeties over the top and double-team both outside receivers, you're going to be forced to run the ball where they can't support the run," Barkley said.
Sure, Barkley would like to go deep every other play, but, he added, "I'm not really worried about being flashy and all that if we're moving the ball."
The problem is the Trojans have been hot and cold moving the ball, through the air or on the ground. They are fifth in the Pac-12 in scoring and pass efficiency, and sixth in total offense, rushing and passing yards. They are 11th in third-down percentage.
Those numbers suggest mediocrity, not the offensive greatness most projected for Barkley and company in the preseason.
Yet, it's still early. A lot can -- and likely will -- happen over the second half of the season. Neither of these teams have permanently set a trajectory for how things will go in 2012.
An upset victory for Utah would be monumental for the program in its second year of Pac-12 play. And an impressive performance by USC could land it back on the national radar.
October, 3, 2012
10/03/12
9:00
AM PT
95: Years since USC and Utah last faced off in Salt Lake City
The Trojans haven't traveled to play the Utes on their home turf since 1917, a game USC won, 51-0. There's a ton of hype for the Trojans' return, and Rice-Eccles Stadium is sold out and expecting a raucous crowd.
8: Games in a row the Utes have won when playing on Thursday
Utah's overall record in Thursday games is 53-25-5, and the Utes are currently in the midst of an eight-game winning streak. The last time the Utes lost on a Thursday was in 2007 at the hands of Oregon State.
9-0: Utah's record when running back John White rushes for at least 100 yards
Rushing for 1,519 yards a year ago, White is one of the most productive running backs in the nation when healthy. Unfortunately for the Utes, the 5-foot-8 senior has been slowed by an ankle injury recently, and he rushed for just 18 yards on 14 carries in last week's loss to Arizona State.
112: Ranking of Utah's total offense out of 120 FBS programs
Utah lost four-year starting quarterback Jordan Wynn in the second game of the season, and the offense hasn't quite come together with
Jon Hays
at the helm, averaging just 298.3 yards of total offense per game. Making things worse has been the decrease in production from White.
27: Ranking of Utah's rushing defense
Led by a stout defensive line unit that rotates in up to 12 players per game, and features 2011 Morris Award winner
Star Lotulelei
, the Utes allow just 111.3 yards a game on the ground.
October, 1, 2012
10/01/12
10:18
AM PT
[+] Enlarge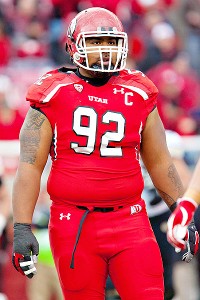 Russ Isabella/US PresswireUtah's Star Lotulelei, a potential top five pick in the 2013 NFL draft, anchors Utah's defense.
USC (3-1, 1-1 Pac-12) vs. Utah (2-2, 0-1 Pac-12)
Time:
Thursday, Oct. 4, 6:00 p.m. PT
Location:
Rice-Eccles Stadium, Salt Lake City, Utah
TV:
ESPN
Radio:
ESPNLA 710
Scouting Utah:
Eighth-year head coach Kyle Whittingham's Utah squad, rested after a bye, is coming off a 37-7 loss at Arizona State in its Pac-12 opener two weeks ago. That came a week after upsetting No. 25 BYU at home, 24-21. Senior QB
Jon Hays
(40-of-68, 58.8%, 467 yards, four TDs, one interception in 2012) has taken over for junior QB Jordan Wynn (25-of-38 passing, 65.8 completion percentage, 247 yards, two TDs, one interception), who had his second straight season cut short by a shoulder injury (the fourth of his career) when he was injured against Utah State. Hays is 7-4 starting in place of Wynn, who retired after throwing for 4,637 yards and 33 touchdowns. Senior RB
John White
(65 carries, 233 yards, 3.6 yards per carry, one TD; five receptions for 36 yards) is the top runner, while senior WR
DeVonte Christopher
(nine receptions, 83 yards, plus four kick returns for 98 yards), sophomore WR
Dres Anderson
(eight receptions, 116 yards, one TD) and sophomore TE
Jake Murphy
(nine receptions, 91 yards, 10.1 avg, two TDs) are among the featured pass-catchers.
The Utes' defense, which is tied for 25th in sacks per game (2.8, sixth in Pac-12), is led by senior DT
Star Lotulelei
(19 tackles, four for loss, one sack, two forced fumbles in 2012), who was an All-Pac-12 first team pick in 2011 when he won the Pac-12's Morris Trophy. Lotulelei is aided by junior LB
Trevor Reilly
(25 tackles, four for loss, 2.5 sacks, one fumble recovery) and senior LB
Dave Fagergren
(23 tackles, one for loss). Senior punter
Sean Sellwood
(47.8 avg) is second nationally in punting.
-- Courtesy USC sports information
September, 16, 2012
9/16/12
7:00
AM PT
What did we learn in Week 3? Read on.
Barkley's, USC's coronation was premature:
There is no certainty in college football, particularly when you're questionable on the line of scrimmage. That's what USC quarterback
Matt Barkley
found out. His offensive line couldn't block Stanford's defensive front seven, which sacked him four times and harassed him constantly. Barkley, even with elite receivers
Robert Woods
and
Marqise Lee
, completed only 20 of 41 passes with two interceptions in a
21-14 loss
. Sure, losing center
Khaled Holmes
to an ankle injury was a major blow -- the Cardinal exploited his replacement,
Cyrus Hobbi
-- but the Cardinal's domination up front wasn't about one spot. And that domination was on both sides of the line. The Cardinal, with a first-year starting quarterback, outgained the Trojans 417 yards to 280. Barkley's Heisman Trophy hopes took a major blow, as did the Trojans' hopes for a national title, that bit of unfinished business that brought Barkley back for his senior year.
Luck had nothing to do with it:
That was a sign in the crowd at Stanford, duly noted by ESPN analyst Robert Smith. Stanford has billed itself as a physical, run-first team, even when it had Luck. So, without him, it figures the Cardinal would remain themselves. Still, many of us doubted whether the Cardinal would be
as physical
without now-NFL offensive linemen Jonathan Martin and David DeCastro. They were. Stanford figured out a way to neutralize the Trojans' flash, and then the Cardinal exploited their superiority on both lines of scrimmage. The most telling number? The Cardinal outrushed USC 202 yards to 26. The Pac-12 game of the year still might be Nov. 3 when Oregon visits USC. But if Stanford takes care of business, it might end up being the Cardinal's visit to Oregon on Nov. 17.
[+] Enlarge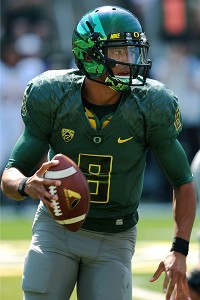 Scott Olmos/US PresswireMarcus Mariota and Oregon have feasted on overmatched foes; perhaps stiffer tests await?
Oregon returns to the top:
Oregon's
63-14 blowout
of Tennessee Tech wasn't terribly relevant. But USC's loss and sudden vulnerability topples it from atop the Pac-12 perception pecking order. Stanford moves up. But the Cardinal can't eclipse the Ducks because Oregon has blown them out in consecutive seasons. USC no longer can be considered a favorite on Nov. 3 when the Ducks visit. But the wiser way to view things is to see a lot of football ahead. The Ducks have yet to play a team with a pulse. It's possible we'll see a few more plot twists before we get to November.
Arizona, UCLA avoid letdown:
Arizona and UCLA posted big upset wins over ranked teams last weekend and became ranked teams themselves. Sometimes teams that do that fall flat the next week while still drunk on the past instead of focusing on the present. The Wildcats and Bruins did not.
They both
rolled big
and improved to 3-0. Sure, both played overmatched foes, a convenient bit of scheduling. Particularly the Wildcats against South Carolina State. But both now head into interesting matchups -- UCLA hosts Oregon State and Arizona visits Oregon -- riding plenty of positive momentum, sitting prettier than most had imagined in the preseason.
Arizona State's reinvention remains a work in progress:
Arizona State had three turnovers in its first two games. It had four in its
24-20 loss
at Missouri. QB
Taylor Kelly
had zero interceptions in the first two games. He had two against the Tigers. The Sun Devils had five penalties for 35 yards in the first two games combined. They had seven for 54 yards at Missouri. The point: As cleanly as the Sun Devils played in the first two games, their becoming a disciplined team on a consistent basis is still a work in progress. That probably shouldn't be surprising. It's hard to completely reinvent a team culture in just two games. And the Sun Devils' fourth-quarter surge, coming back from a 24-7 deficit, showed backbone. That's a positive.
California and Utah can't be overlooked:
Cal lost its opener to Nevada, spoiling the debut of remodeled Memorial Stadium. Utah lost at Utah State in Week 2, ending a 12-game winning streak in the series. Both losses were greeted with gnashing teeth by the respective fan bases. Their performances on Saturday, however, showed that both are certainly not easy outs and could become factors in their Pac-12 divisions.
Utah beat a 25th-ranked BYU team
that waxed Washington State. The Utes' defense remains formidable, no matter the issues on offense. And the Bears were just a couple of plays away from pulling the upset at No. 12 Ohio State before
succumbing 35-28
.
December, 20, 2011
12/20/11
8:11
AM PT
Junior college players are seen as quick fixes. They have less eligibility remaining than that of a true freshman and are often viewed as risky. Some Pac-12 schools barely -- or never -- recruit JC guys. Others recruit a handful every year.
One name: Aaron Rodgers.
OK, a second (and more recent one): John White.
Here's an ESPN recruiting
update on what's going on with some of the top JC guys

in the nation. It's clear that new Arizona coach Rich Rodriguez is looking hard at a couple of top prospects.
Writes Corey Long: "With Rich Rodriguez just coming onto the job, he'd like to get some offensive weapons to come in and run his spread option right away. Look for the Wildcats to go hard after former FSU commit
De'Joshua Johnson
."
Here are some others prospects of note:
Gerald Bowman, S, Los Angeles Pierce
6-foot-1, 215 pounds
Considering
: USC, Oklahoma and Miami
One of the nation's top junior college safeties, Bowman was originally an all-state performer while at Philadelphia Imhotep Prep. Bowman has been a two-time all-conference performer while at Pierce. He has taken visits to his top three schools, and also visited Cal. Other offers include Oregon, Ole Miss, Arizona, Tennessee, UCLA and West Virginia.
De'Joshua Johnson, WR/RS
5-10, 155
Considering
: Arizona, Texas Tech, Mississippi State, Middle Tennessee and Bowling Green
The former Florida State commit wanted to return to Florida to play college football, but it's doubtful that can happen. Recently it appeared like Middle Tennessee was primed to pull a surprise, but Arizona might be the favorite now. Rodriguez recruited Johnson while coaching at Michigan and has a good connection with prospects from Pahokee (Fla.) High School. Oklahoma also offered Johnson, who earned NJCAA All-American honorable mention as a return specialist.
Mike Pennel, DT, Scottsdale (Ariz.)
6-4, 340
Considering
: Arizona State, Kansas State, Arkansas, Texas A&M and Hawaii
Pennel committed to Arkansas earlier in the process but decommitted on Dec. 5. He will not sign until February and that could force him to check out other options. Pennel has taken visits to Arkansas and Texas A&M so far. Pennel had 13 tackles for loss, three sacks and a forced fumble.
Mohammed "Mo" Seisay, CB, Eastern Arizona
6-2, 200
Considering
: Arizona, Nebraska, Ole Miss
Seisay made the Conference USA All-Freshman team in 2010 while enrolled at Memphis. As of November, he had six interceptions and returned two for touchdowns. Other offers came from Indiana, Arkansas, Kansas State, Illinois and North Carolina.
And here are some notable JC guys who have already committed to Pac-12 teams.
Alexandru Ceachir, OL, Santa Monica (Calif.)
6-5, 300
Committed to Utah
Originally from Moldova (a European country located between Romania and Ukraine), Ceachir played European club football before moving to America. He took an official visit to Colorado and also held offers from Arkansas, Fresno State and Utah.
Kyle Long, OL, Saddleback College (Calif.)
6-7, 290
Committed to Oregon
Long, son of Pro Football Hall of Famer Howie Long, originally committed to FSU on a baseball scholarship and later transferred to Virginia to play football. A former ESPNU 150 prospect in 2008 out of Charlottesville (Va.) Saint Anne's-Belfield, Long was a first-team all-conference performer in 2011. He had offers from UCLA, Washington, Auburn, FSU and SMU.
November, 25, 2011
11/25/11
7:19
AM PT
Issues to consider heading into the 13th week of games.
Is QB Matt Barkley going to put on a big show in his final game at USC
? Or is this
not
going to he Barkley's last game at USC? In any event, UCLA's only chance to win this game is if Barkley is off, which he hasn't been of late. And, if Barkley throws another four TD passes or so, does he deserve some Heisman Trophy consideration? Or at least, does he have a chance to steal All-Pac-12 first-team honors from
Andrew Luck
?
[+] Enlarge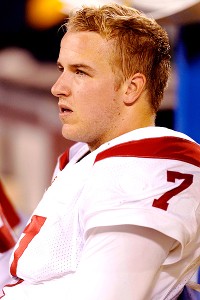 Jason O. Watson/US PRESSWIREWould another big game from Matt Barkley make him a Heisman finalist?
Andrew Luck answers his critics
: Notre Dame is always a big show, so if Andrew Luck turns in a big-time performance after a couple of shaky -- read: merely good -- outings, it's likely he gets his Heisman Trophy campaign back on track. The Irish defense is good enough to challenge Stanford. Barring Oregon losing the Civil War, this will be Luck's last game in Stanford Stadium. Will he put on a show?
Does Oregon State have any chance in the Civil War
? Oregon is a four-TD favorite over Oregon State. The Ducks appear headed to a third consecutive Pac-12 title and BCS bowl game, while the Beavers are headed toward a second-consecutive losing season. That combination has Oregon State fans a tad grumpy. So, can the Beavers come into Autzen Stadium and challenge the Ducks? It will take a perfect game. But Oregon State's beating Washington last weekend showed that the Beavers still have some fight and can't be completely written off.
Does Arizona State have any fight left
? Speaking of teams with dubious fight, there's Arizona State. The Sun Devils collapse has been odd because their three consecutive embarrassing losses, nonetheless, haven't stopped this from being true: The Sun Devils are still in the Rose Bowl hunt. If Arizona State wins and UCLA loses and Utah wins this weekend, the Sun Devils win the South Division and play for the Pac-12 title on Dec. 2. But after three consecutive defeats, it doesn't appear the Sun Devils care much. Maybe they will be motivated by the 50-17 humbling they suffered at Cal last season. Or maybe they'll just wake up and play up to their capabilities. Or maybe they'll just stink it up and watch coach Dennis Erickson walk away.
John White, John White, John White
: At this moment, you could make an argument that Utah running back John White is the best running back in the Pac-12. Yes, better than Oregon's
LaMichael James
and better than Washington's
Chris Polk
. White leads the conference with 1,377 yards rushing and is second with 14 TDs, ahead of both James and Polk. Anyway, suffice it to say, White is really good even though the opposing defense knows White is coming because the Utes don't throw much. Colorado has the worst run defense in the conference. That's trouble. Two hundred rushing yards for White might guarantee him first-team All-Pac-12 status.
Nick Holt vs. Marshall Lobbestael
: Washington's defense was supposed to be good this year. It hasn't been. Nick Holt is the Pac-12's highest paid defensive coordinator not named Monte Kiffin. Marshall Lobbestael is Washington State's No. 3 QB. He started the season as
Jeff Tuel
's backup, played well while Tuel was hurt, then was displaced by talented freshman
Connor Halliday
. But both Tuel and Halliday are hurt for the game, and the gritty Lobbestael now faces Holt's defense. Who wins?
Arizona reaction on Rodriguez week
: Arizona notched a huge win over rival Arizona State last weekend. It was emotional and surely satisfying during a lost season. But now the Wildcats have to get up for another game against Louisiana-Lafayette. How will the Wildcats respond after an emotional win, playing against an opponent that won't inspire much awe, but one that is -- oh, by the way -- 8-3. Will there be any reaction to the hiring of Rich Rodriguez? The Wildcats new coach is watching, and he likely will raise an eyebrow at players who step up. And those who don't.
November, 17, 2011
11/17/11
9:16
AM PT
Issues to consider heading into the 12th week of games.
Barkley's big moment
? While much was made of USC quarterback
Matt Barkley
saying that Oregon didn't seem to be as good this season as the previous two years, a minor tweak won't decide this game. What it did do, however, is brighten the spotlight on Barkley just that much more. He's been the face of the Trojans for three years. This is likely his last college game that will attract national interest. He can secure his legacy by producing a big game on the road in the Pac-12's toughest venue. And even if that isn't enough to produce a victory, it will get the attention of NFL scouts.
Luck rises again
: Not much to say here. Just expect Stanford QB
Andrew Luck
to turn in a tour de force performance in his final Big Game, one that gets him back to the top of Heisman Trophy lists.
[+] Enlarge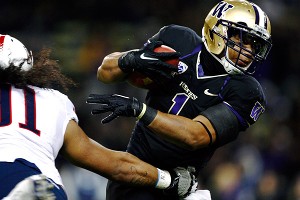 Joe Nicholson/US PresswireDespite rushing for over 4,000 career yards, star Washington RB Chris Polk went undrafted.
Doing the Polk-a
: Even if Washington QB
Keith Price
is 100 percent and starting, the Huskies should give the ball to running back
Chris Polk
and get out of the way at Oregon State. He's surely well-rested after the Huskies had to throw to play catchup during the previous two weekends. And the Beavers are terrible against the run, ranking 11th in the Pac-12, surrendering 183.7 yards per game. Further, if
Nick Montana
is forced to start for Price, you don't want to put too much pressure on him on the road in what might be chilly, wet conditions.
Can the Cougs stop John White
? Utah is fairly simple on offense: RB
John White
. The Utes rank last in the Pac-12 in passing and 10th in passing efficiency, while White ranks second in the conference with 119 yards rushing per game. That he averages five yards a carry despite defenses knowing he's coming is pretty darn impressive. The Cougars have been decent against the run this year, yielding 155.8 yards rushing per game. If they hold the Utes to that, they should be in pretty good shape to notch an upset.
Erickson's last stand
? Arizona State coach Dennis Erickson looked like a Pac-12 coach-of-the-year candidate a few weeks ago. But after consecutive losses to UCLA and Washington State, he's back on the hot seat. Losing at home to Arizona not only would put a big dent in the Sun Devils South Division title chances, it might end Erickson's chances for survival into 2012.
Neuheisel's last stand
? Each time UCLA coach Rick Neuheisel has looked dead this year, he's resurrected himself with a big win. But at some point that stops working and folks simply point at the lack of consistency as being as bad as losing. If the Bruins lose at home to 2-9 Colorado, perhaps blowing their chances to win the South Division and earn bowl eligibility, it's hard to imagine Neuheisel not getting fired, even if he pulls another rabbit out of the hat and beats USC in the season finale.
James makes Heisman statement
: USC is tough against the run, ranking second in the Pac-12 in run defense, but Oregon RB
LaMichael James
did just fine against the conference's No. 1 rushing defense: Stanford. The Trojans are faster on defense than Stanford, but the home crowd should give James some extra juice. If he produces another 150-yard, multiple-touchdown evening, he should sew up another trip to New York for the Heisman Trophy ceremony.
Halliday encore
? What is Washington State QB
Connor Halliday
to do after throwing for 494 yards -- a conference freshman record -- and four touchdowns in an upset victory over Arizona State? Even the confident Halliday admitted it might be impossible to duplicate those numbers. And Utah's defense is a different animal than the Sun Devils'. The key for Halliday is to keep playing within the system and let the game come to him. Don't force throws. Don't hold the ball too long. Don't look for the bomb when the short out is open. The Utes don't have a high-scoring offense. This game doesn't figure to be a shootout. It will be about field position and not making mistakes.
Maynard needs to match up
: California's formula for success during a modest two-game winning streak has been run the ball and play good defense, thereby taking pressure off struggling QB
Zach Maynard
. That might work against Washington State and Oregon State at home, but the Bears will be hard-pressed to make it work against Stanford on the road. Maynard will have to make plays in the passing game and he will have to avoid stupid mistakes. When he gets flustered, his accuracy goes south. It will be interesting to see if the Cardinal can fluster him.
November, 3, 2011
11/03/11
7:41
AM PT
Issues to consider heading into the 10th week of games.
Is Oregon sharp and efficient at QB
? The first question here is: Who? If
Darron Thomas
is healthy, it's almost certain he starts. But is his knee 100 percent? Will he be able to pose a legitimate running threat? Will he be sharp throwing the ball? Even before the injury, Thomas was off-and-on as a passer this year. And then if Thomas gets replaced by
Bryan Bennett
, how will the redshirt freshman react to a potentially competitive game on the road against Washington? He was outstanding against Arizona State at home and solid on the road at Colorado, but this game should be more taxing. Oregon's offense can score so many ways that it doesn't have to be perfect in the passing game. Heck, sometimes it doesn't need to throw at all. But the Huskies chances of recording the upset go up substantially if the Ducks are running at 75-80 percent at QB.
[+] Enlarge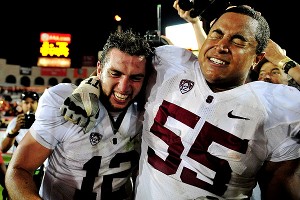 Gary A. Vasquez/US PRESSWIREA letdown is likely for Andrew Luck and Stanford following an emotional triple-overtime victory over USC last week.
Are USC and Stanford going to have letdown games
? After a triple-overtime thriller, it's hard to imagine that USC and Stanford will bring their "A-games" to road dates with Colorado and Oregon State, respectively. For one, both games look like mismatches, so it's possible that players won't be as focused and intense as they normally would. And, second, both could be running on half-tanks of energy after a physical, emotional game. Don't be surprised if they both start slowly and perhaps look a little sloppy. The question is can they pull it together enough to secure a comfortable win or will they allow the Buffs and Beavs to keep things interesting?
Good Cal or bad Cal? Good Maynard or bad Maynard
? California has been all over the place this year, and so has QB
Zach Maynard
. It appeared that he'd found his groove during a 34-10 win over Utah, but then he lost it when he threw four interceptions in a 31-14 loss at UCLA. It's certainly not all his fault. Cal has been fickle for a while, looking like a top-25 team one week, then like an FCS one the other. The Bears should beat Washington State at home. But they will have to show up to do so. And Maynard needs to be on-target or he could lose his starting job.
Will Neuheisel and/or Wulff pick up a signature win
? UCLA and Washington State fans have been waiting for Rick Neuheisel and Paul Wulff to turn their sagging programs around for four years. Neither has produced results that have fans happy. Neither has a meaningful, A-list conference victory that provided a strong indication that better things were ahead (the Bruins beating Texas last year proved a mirage and was a nonconference game). If Neuheisel and the Bruins can beat Arizona State, they will take control of the Pac-12's South Division. That would seem like a win that could resonate. If Wulff and the Cougars could pick up a fourth win at Cal, then it would keep bowl hopes alive and, at worst, show the program was making clear progress.
Foles versus the Utah D
: While Utah's first season in the conference has been disappointing, it's played good, consistent defense. It ranks first in the Pac-12 in total defense and second in scoring. While Arizona's season has been disappointing, QB
Nick Foles
can fling the rock. He ranks first in the Pac-12 in passing yards per game with 366.1, 80 more than anyone else. That matchup alone makes this game worth watching.
Washington's run defense
: Oregon is No. 1 in the conference and No. 4 in the nation in rushing offense (309 yards per game). Washington's defense is best against the run. Of course, that requires qualification. Good running teams -- Nebraska and Stanford -- ran all over the Huskies. And, as a whole, the Huskies defense had been rotten, surrendering 430 yards and 33.4 points per game. If Washington is to have any chance, it must 1. find a way to at least slow down the Ducks running game; 2. force turnovers. Time for coordinator Nick Holt to earn his paycheck.
Arizona needs to run, stop the run
: Utah is second in the conference with 23 sacks. That suggests that it's in Foles' best interest to hand the ball off at least a few times to slow down the Utes' pass rush. So the Wildcats shouldn't abandon the run. Meanwhile, the Wildcats defense has mostly struggled this year, but the Utes offer a limited, one-dimensional offense that relies on running back
John White
. That means Arizona should gang up on the line of scrimmage and force
Jon Hays
to throw the ball. While the Wildcats have been worse against the pass this year than the run -- opponents are completing 69 percent of their throws -- Hays has yet to show he can throw consistently and move his team down the field.
Do Colorado and/or Oregon State have anything left
? Colorado is 1-8. Oregon State is 2-6. Both are coming off blowout losses. Both will be at home in front of uninspired crowds. Both are playing foes with a lot more talent than them. Both look like candidates to take a whipping. And yet. Football is a funny game. If one or the other or both come out playing with fire, they might keep things competitive. And when a game gets into the fourth quarter, crazy things can happen.
October, 13, 2011
10/13/11
9:43
AM PT
Issues to consider heading into the seventh week of games.
Thomas takes over
: With RB
LaMichael James
out, QB
Darron Thomas
becomes the veteran presence inside a young Ducks offensive huddle. He's the guy everyone will look to. Arizona State's defense has rattled some pretty good QBs, most notably USC's
Matt Barkley
. Thomas hasn't put up big numbers this year, but he's thrown 15 TD passes and just two interceptions. It's likely strong passing numbers from Thomas will be a key in this game.
[+] Enlarge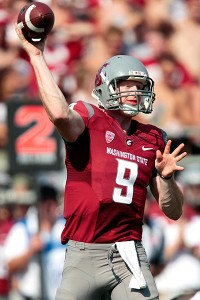 AP Photo/Dean HareMarshall Lobbestael faces a big challenge Saturday in the form of the Stanford defense.
Lobbestael vs. Luck
: It's fun to ha-ha at the absurdity of that -- Washington State's backup QB vs. the most talented QB in college football in a decade -- but that's what we've got Saturday in Pullman: The almost certain No. 1 overall pick in the NFL draft this spring versus a guy who has admirably filled in for starter
Jeff Tuel
but who may be seeing the last football of his career. There's some poetry there. By the way,
Marshall Lobbestael
is good enough to give Stanford's secondary some trouble if he gets time to throw.
Barkley-Woods
: Last year against California, Barkley threw five first-half TD passes, tying a USC -- full-game -- record.
Robert Woods
might be the best receiver in the nation in terms of pure talent. If you wonder what Cal needs to be concerned with tonight, it's Barkley-Woods, Barkley-Woods, particularly with starting CB Marc Anthony out.
Price increases Buffs' secondary costs
: Washington QB
Keith Price
ranks second in the Pac-12 in passing efficiency and first in TD passes. Colorado's patchwork secondary, which has been riddled by injuries and suspensions, ranks 10th in the conference in passing efficiency defense and has yielded 14 TD passes, most in the conference. Not a good matchup for the Buffs. Colorado's solution to a struggling secondary is to attack with blitzes -- see 17 sacks, tied for most in the conference. The Huskies have yielded 11 sacks. If Price gets time to throw, he can make Colorado pay. But will he?
Utes up front
: Utah's strength is its lines, and it needs to lean on that strength at Pittsburgh. The Panthers on offense are mostly one guy: RB
Ray Graham
, the nation's second leading rusher. The Panthers aren't good if they have to pass. They yield 4.67 sacks per game, most in the nation, and rank 96th in the nation in passing efficiency. So it's obvious: Make Pitt throw. On the other side, the Utes probably will faces that same strategy. The Panthers will try to make new Utes starting QB
Jon Hays
beat them. But RB
John White
and a solid offensive line might be good enough to still win that battle in the trenches.
Beavers fall
: Every year is a new year, so past trends don't always matter. Until they do. This year started out particularly bad for Oregon State, but losing Septembers are -- sorry -- standard in Corvallis. That's the bad news. The good news is the Beavers typically seem to get better. They have entered October with losing records eight consecutive years. But since 2004, they are 38-15 in October, November and December. After an 0-4 start, they are now 1-0 in October. Can they maintain their trend of mid-to-late-season improvement?
The 6-8 QB
: Inside Autzen Stadium, everything starts with the opposing QB. How well can he handle the noise? Can he maintain focus and make plays and avoid miscues. Arizona State's
Brock Osweiler
, who it will be noted at least once on Saturday is 6-foot-8, made his first career start at Autzen in 2009 as a true freshman. That evening started badly and ended quickly when he was knocked out of the game. Suffice it to say, he's a different guy these days: Skilled, confident, knowledgeable. It's also impossible to believe the Sun Devils can record an upset without him playing lights out -- as he did against Missouri and USC.
Cougs up front
: While
Andrew Luck
gets all the publicity, Stanford is as much about being physical up front on both lines as it is about Luck. Luck will stress the Washington State secondary, but the real measure of the Cougars' ability to hang with Stanford will be on both lines. Can the Cougs slow down the Stanford running game and force Luck to throw? That doesn't sound like a great thing, but it's critical in terms of slowing down Stanford. And, on the other side of the ball, will the Cougs be able to run well enough that the Cardinal doesn't load up with blitzes on Lobbestael? Playing at home will help. But Washington State's only chance is not getting exploited at the line of scrimmage.
PAC-12 SCOREBOARD
Thursday, 9/3
Friday, 9/4
Saturday, 9/5