October, 7, 2013
10/07/13
9:00
AM PT
LOS ANGELES -- As unfortunate as it was, one of the unfathomable byproducts of the former Lane Kiffin era was the fans' concern regarding the overall commitment by USC athletic director, Pat Haden, and lifetime friend and working associate, senior associate athletic director J.K. McKay, to the Trojans storied football program.

Whoever thought that at some point people would be questioning the devotion, passion, and logic of these two beloved, legendary Trojans football icons?
The Lane Kiffin factor so befuddled and incensed those inside and outside the program, it eventually began to shed a negative spotlight on the fabled Haden and McKay.

Uncertainty arose on whether two of the most recognizable USC football players of all-time still had the passion regarding the program in which they had left an indelible mark. Had managing the Trojans football program as athletic director and football administrator become more recreational than athletic for Haden and McKay?


June, 3, 2013
6/03/13
9:00
AM PT
LOS ANGELES -- For departing USC Trojans football players making that final walk up the storied Coliseum tunnel, it can foreshadow a transition into the NFL, a sports-related career, or an entirely different vocation.
For former Trojans uch as Troy Polamalu, Carson Palmer, Sam Baker, and brothers Ryan and Matt Kalil, making a living in the National Football League makes life a whole lot simpler. The dream continues, complete with hefty paychecks.
To continue reading this article you must be an Insider
April, 12, 2013
4/12/13
7:45
AM PT
The Trojans hit Brian Kennedy-Howard Jones Field one last time on Thursday before they take part in the team's spring game on Saturday in the Coliseum. Donning shorts and helmets, the practice was the least physical of the last four and a half weeks -- a fact not surprising considering a total of 20 players have been ruled out for Saturday's contest including
Randall Telfer
,
Antwaun Woods
,
De'Von Flournoy
and
Jabari Ruffin
-- all suffering injuries within the last week.
"There are some good parts about it," said Kiffin in looking at the pros and cons of the physical way the team has practiced this spring. "I think that our guys that are still healthy are playing more physical than they were at the end of last year, and our front seven on defense is better because of it. But at the same time, obviously, we have a lot of players out."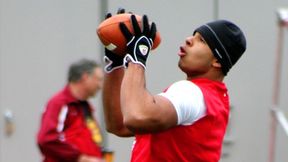 Courtesy of Erik McKinney, WeAreSC.comJalen Cope-Fitzpatrick will be the Trojans' only tight end in Saturday's spring game.
With Woods sidelined, it was
Cody Temple
who saw action with the first unit at nose tackle when the defense went to its base 5-2 look, but it's the injury suffered by Telfer that will make perhaps the biggest impact in regards to Saturday's game. Suffering a torn meniscus in his knee during Tuesday's workout, he underwent surgery on Thursday and figures to be back in action in 4-6 weeks. But with
Xavier Grimble
already out with a chest fracture, the USC offense will have just one tight end at its disposal for the scrimmage in
Jalen Cope-Fitzpatrick
.
"It's been kind of the theme of the spring -- very physical -- as we come down to one practice left here," Kiffin said. "I think you'll still see the stars out there making plays. We're just going to have to be creative because we're not going to be able to go at the same speed in between series, and obviously we can't have two teams with only one tight end, and all of our formations use a tight end, so we'll figure it out -- probably just a little more time in between [each] series."
Agholor and Lee at corner?
March, 16, 2013
3/16/13
3:14
PM PT
The Trojans wrapped up the second week of spring ball with a scrimmage at the Coliseum that featured a strong performance from the defensive front.

"I really thought the front seven on the first-unit defense played well," USC coach Lane Kiffin said. "
Hayes Pullard
played great at linebacker while
George Uko
and
Leonard Williams
were dominant up front. The defense is really picking things up with the new scheme. I can't imagine being more pleased."
Pullard led the way for the defense with six tackles, including one for loss, while
Kenny Bigelow
added two sacks and
Anthony Sarao
had four tackles.
The offense was led by
Cody Kessler
, who continues to split time with
Max Browne
while
Max Wittek
is out with a knee injury. Kessler (13-19, 161 yards, one TD) provided the highlight play of the day with a 75-yard touchdown strike to
Nelson Agholor
while Browne (6-9, 69 yards) added a big play of his own with a 52-yard completion to
Darreus Rogers
.
Buck Allen
was the top rusher on the day with 11 carries for 65 yards.
"Kessler played great today," Kiffin said. "He just continues to make plays. I thought Buck had a good day, too. He's had a good camp overall."
Kiffin confirmed that the injury to Wittek – who is expected to return to the field when the team comes back from spring break on March 26 – likely means that the quarterback competition will not be settled by the end of spring.
March, 6, 2013
3/06/13
6:30
AM PT
LOS ANGELES -- The
USC Trojans
opened up the 2013 spring ball practice session with a spirited workout, which is typical for the first day of spring.

"I thought things looked good today," USC coach Lane Kiffin said. "That is usually the case in spring, guys are fired up to get out here and start going to work. I also liked what I saw from our coaches, especially since some of them have only been with us for a short time. They were really ready to go."
One of the new items to watch for the Trojans this spring is the 5-2 defense which is run by new defensive coordinator Clancy Pendergast. Kiffin said that getting the new defense set is the top priority of spring and the highlight play of the day was an example of how the defense can shine.
Jabari Ruffin
-- who was lined up at defensive end -- had an interception of a
Cody Kessler
pass after dropping back into coverage and leaping in the air to make the play.
Kessler is part of what is expected to be an intense quarterback competition along with
Max Wittek
and
Max Browne
. Kiffin said Kessler was on schedule to be named MVP of the day until the interception and he also liked what he saw from his true freshman.
March, 26, 2012
3/26/12
5:45
PM PT
USC athletic director Pat Haden and senior associate athletic director J.K. McKay are lifelong best friends and -- as is often the case with best friends -- they never pass up an opportunity to poke fun at each other.
Both men recently joined the social media world with twitter handles (@ADHadenUSC and @Jk5524JK) and Haden posted a video from his account today which shows McKay "in action" at the Coliseum practice last Saturday which can be seen
here
.
Haden immediately followed up that post with another message that said "@Jk5524JK Nice to see you haven't lost a step #FightOn"
PAC-12 SCOREBOARD
Thursday, 9/3
Friday, 9/4
Saturday, 9/5