USC Trojans:

Giovanni Di Poalo
August, 19, 2013
Aug 19
9:13
PM PT
As the Trojans enter the final week of fall camp, the team held a high-energy practice Monday with players sensing that game week is near.

"I feel like we have things going in the right direction," USC coach Lane Kiffin said. "It's easy to have good energy when you're in a night practice at the Coliseum but it's another to come out today in the heat and respond the way they did. I thought that was a very good test for our team."
The Trojans moved out of their camp dorms Sunday and into their fall housing. They will get a day off on Thursday and then begin game week practices on Friday in preparation for the matchup with Hawaii next week.
"Yeah, we're getting a little antsy," USC quarterback
Max Wittek
said. "It's human nature at some point to want to play somebody with a different color jersey."
Injuries continue to be an issue as
Aundrey Walker
and
Demetrius Wright
left practice today, but the good news was that
Silas Redd
got the most action he's had all camp and
Marqise Lee
was basically back to normal with a full day of work.
"Hopefully we can get mostly healthy in the next few days," Kiffin said.
For Lee, the yellow jersey was still on but the competition mode was in full effect and he made several plays. He beat
Chris Hawkins
on a pass down the sideline, caught a nice over the shoulder ball from Wittek and had a short touchdown at the end of the day when he caught a screen pass from
Cody Kessler
and got a good block from
Nathan Guertler
on Hawkins to scoot untouched into the end zone.
"I feel great," Lee said. "I was just going out there and catching the ball. I'm ready to play a game, everybody is ready to play a game. I know the defense is ready."
Lee gave a lot of praise to the unit he faces every day in practice and says he has paired with his roommate to try and fire up his teammates.
"The secondary is amazing right now," Lee said. "They are going a great job, starting with AB (
Anthony Brown
). He uses the sideline really well to push you over there. Me and
Josh Shaw
are roommates so we started jawing out here to get guys going. Once we started, he went to
George Uko
and got him going, so I went to
Marcus Martin
on our line. It was on after that."
Lee also gave his thoughts on the pending quarterback battle.
"I'm glad I'm not the coach in this case with the quarterbacks. This one is on Kiff's back," Lee said while smiling.
Kiffin had no announcement on a starting quarterback and gave no indication of when an answer is coming.
As for other news on the injury front,
Kevon Seymour
was back Monday in limited action after leaving the practice on Sunday night.
Scott Starr
,
Morgan Breslin
,
Dion Bailey
,
Torin Harris
and
Ryan Henderson
did not practice.
Marcus Martin sat out after leaving practice on Sunday so
Max Tuerk
took the majority of first unit snaps at center with Aundrey Walker at left guard and
John Martinez
at right guard. Abe Markowitz also took some reps with the first unit at center while
Giovanni Di Poalo
was with the 1's at left guard after Walker went out.
Redd looked solid in his extended reps and he wore a yellow jersey along with fellow tailbacks
Tre Madden
and
Justin Davis
.
Ty Isaac
and Buck Allen were also available so it was a good day for depth at the spot.
The most productive player was
Quinton Powell
, who continues to make his presence felt from the inside linebacker position. Powell started the day with a sack on Kessler, stripped Ty Isaac of the ball after a long run and added a late interception of a ball that had been tipped in the air.
Other highlight plays included nice catches from reserve tight ends
Kevin Greene
and Chris Willson. The Willson grab in particular was a pretty one-handed effort. Wittek hit
Jahleel Pinner
with a 20-yard pass down the middle but Leon McQuay was right there and would have smacked him in a game setting. McQuay also had a blocked kick in a field goal drill, something he has done a few times this camp.
Kenny Bigelow
,
Anthony Sarao
and
Devian Shelton
all had sacks. Shelton also got bulldozed by Tre Madden in the flat and Madden went for about ten extra yards.
Quotebook
"I was scared for a moment. I took my time getting up because they didn't know what was wrong but as soon as I got a chance to get up and move around I was fine. I kept telling coach Kiffin I was ready to go back in. I'm solid now, I'm ready to go." -- Marqise Lee, talking about his bone bruise injury suffered on Aug. 9.
April, 5, 2013
Apr 5
8:05
AM PT
The Trojans are now in the final stretch of spring ball with just over a week of practice remaining on the schedule. As injuries continue to mount and position battles rage on, here's how a potential depth chart just might look if one were released today.
Quarterback
To continue reading this article you must be an Insider
April, 5, 2013
Apr 5
5:46
AM PT
LOS ANGELES -- Injuries continue to be one of the big stories for the Trojans this spring as it was confirmed after practice that both
George Farmer
and
Su'a Cravens
will undergo knee surgeries.
The news was more dire for Farmer after Kiffin confirmed the earlier media reports of a torn ACL and MCL in his left knee, which will force him to miss the 2013 season. For Cravens, he has a torn meniscus in his right knee and will undergo surgery Friday. The injury is the same as the one suffered by
Silas Redd
. Cravens is expected to miss 4-6 weeks and will be back in plenty of time for fall camp.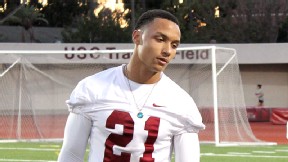 Garry Paskwietz/WeAreSC.comSu'a Cravens is the latest USC player to get dinged in spring practice.
"Whenever there is an injury you hope, like Su'a, that's it's not going to be a long setback," USC coach Lane Kiffin said. "With guys like George, those are the ones you feel really bad for. A guy who battles back and was playing well and then to have this setback."
The Trojans entered the Thursday practice session with 20 players out of action because of injury and two more left practice –
Torin Harris
and
Cyrus Hobbi
.
"I don't see any way we could practice like this in the fall. We wouldn't be able to play a game," Kiffin said. "Of the 22 guys who ended up being out today, 18 of them are scholarship players. With the roster reductions we already have we would not be able to give up that many players. We will start fall camp practicing this way, but I don't think we will end fall camp this way."
There was some good news on the injury front as
Marqise Lee
returned, albeit in a limited role, after missing two-and-a-half weeks with a knee injury. Lee seemed to be running fine with no major issues but he was held out of contact team drills.
Kevon Seymour
and
Jordan Simmons
also returned to action.
"Marqise was back, which was obviously good to see," Kiffin said. "He basically took part in the first hour of practice and we'll add to him as we go."
George Uko
was out today and
J.R. Tavai
took his spot with the first unit at defensive end. During the final team drill,
Aundrey Walker
was out and
Max Tuerk
had moved to center with Hobbi out, so the first unit left side of the line was walk-on
Nathan Guertler
at tackle and
Giovanni Di Poalo
at guard.
Receiver shuffle
With Farmer out, that means opportunities for players such as
Victor Blackwell
and
De'Von Flournoy
along with first-year players
Darreus Rogers
and
Steven Mitchell
. Kiffin also made sure to note the high level of play from
Nelson Agholor
this spring when discussing the receiver group.
March, 30, 2013
Mar 30
5:58
PM PT
LOS ANGELES -- The Trojans held a scrimmage on Saturday at the Los Angeles Memorial Coliseum, with the offense having the most balanced day of the spring.
[+] Enlarge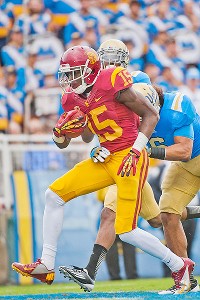 Jonathan Moore/Getty ImagesReceiver Nelson Agholor proved last season that he can be a deep threat for USC.
"I thought this was the best day for the offense in terms of having a good balance of running the ball and throwing the ball downfield," USC coach Lane Kiffin said. "Both of the quarterbacks were accurate, they handled things well, and I thought the offensive line has put together two of their best practices in a row."
There was plenty of scoring in the scrimmage, including two touchdowns each from
Nelson Agholor
(four catches for 93 yards) and
Justin Davis
(11 rushes, 54 yards).
Agholor has scored at least one long touchdown in each of the three spring scrimmages so far. Today, it was a 59-yard effort on the opening series on a pretty pass from
Cody Kessler
down the right sideline.
It was the second eye-opening practice in a row for Davis. Not only did he get into the end zone twice but his most impressive run might have been when he bowled over
Leon McQuay III
on an 11-yard gain in the red zone.
Both quarterbacks did well too. In addition to the opening touchdown to Agholor, Kessler also had a scoring pass courtesy of a great effort from
Victor Blackwell
. With the offense at the 25-yard line Kessler lofted a pass into the right corner of the end zone, where
Torin Harris
had solid coverage on Blackwell, only to see Blackwell simply leap up and get the ball for the score.
As a side note, Blackwell's high school coach, Bruce Rollinson from Santa Ana (Calif.) Mater Dei, was standing on the sidelines near the play and had a big smile on his face for his former star. Kessler ended the day completing five of nine passes for 99 yards and two touchdowns.
Wittek, who also played for Rollinson at Mater Dei, hit Agholor for a 15-yard score, but his best throw of the day came when he threw down the right sideline to
George Farmer
for a 47-yard gain. Wittek completed three of five passes for 84 yards and one touchdown, he also had one potential touchdown pass dropped by Blackwell.
On defense, the two most active players were
J.R. Tavai
and
Josh Shaw
.
March, 25, 2013
Mar 25
8:00
AM PT
One of the primary areas of emphasis for the USC Trojans over the remaining three weeks of spring ball will be solidifying the rotation along the offensive line.
To continue reading this article you must be an Insider
March, 6, 2013
Mar 6
6:30
AM PT
LOS ANGELES -- The
USC Trojans
opened up the 2013 spring ball practice session with a spirited workout, which is typical for the first day of spring.

"I thought things looked good today," USC coach Lane Kiffin said. "That is usually the case in spring, guys are fired up to get out here and start going to work. I also liked what I saw from our coaches, especially since some of them have only been with us for a short time. They were really ready to go."
One of the new items to watch for the Trojans this spring is the 5-2 defense which is run by new defensive coordinator Clancy Pendergast. Kiffin said that getting the new defense set is the top priority of spring and the highlight play of the day was an example of how the defense can shine.
Jabari Ruffin
-- who was lined up at defensive end -- had an interception of a
Cody Kessler
pass after dropping back into coverage and leaping in the air to make the play.
Kessler is part of what is expected to be an intense quarterback competition along with
Max Wittek
and
Max Browne
. Kiffin said Kessler was on schedule to be named MVP of the day until the interception and he also liked what he saw from his true freshman.
March, 4, 2013
Mar 4
8:00
AM PT
With the start of spring practice set for Tuesday, here's a position-by-position look at who you can expect to see lining up for the Trojans on offense.
Quarterback
To continue reading this article you must be an Insider
February, 8, 2013
Feb 8
8:00
AM PT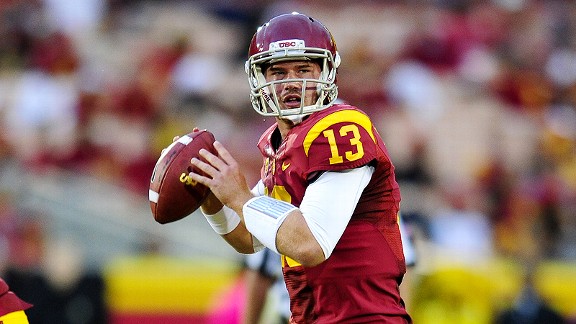 Cal Sport Media/AP ImagesMax Wittek should enter spring ball as the No. 1 QB, but there will be serious competition.
With signing day now in the books, here's a look at where the current USC depth chart might stand on the offensive side of the ball with the new additions factored in.
Quarterback
Max Wittek
(6-4, 235, RS So.) OR
Cody Kessler
(6-1, 215, RS So.) OR
Max Browne
(6-5, 215, Fr.).
To continue reading this article you must be an Insider
January, 4, 2013
Jan 4
8:02
AM PT
With the 2012 USC football season now in the books, it's time to look ahead to what will be an absolutely crucial spring for the program. Here are five key position battles to watch this spring as USC coach Lane Kiffin looks to find the right combination of talent to get the Trojans back on the winning track.
[+] Enlarge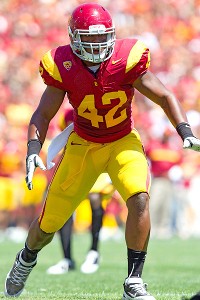 Jeff Lewis/Icon SMIAfter a year lost to injury, Devon Kennard hopes to reclaim his spot on the defensive line opposite Morgan Breslin.
Defensive End
The emergence of defensive end
Morgan Breslin
was the big story on defense for the Trojans in 2012, but with Wes Horton's departure, the other side is wide open with a long list of suitors looking to make their presence felt.
Devon Kennard
-- who has 18 starts under his belt as a linebacker and end -- had a fantastic spring a year ago, but then he tore a chest muscle during offseason workouts and missed the entire season. Now healthy, this is the last chance for the senior to live up to all of the lofty expectations that followed him when he arrived at USC as a freshman in 2009. Challenging Kennard will be
J.R. Tavai
, an extremely athletic and versatile option who can play end or tackle, as well as
Greg Townsend Jr.
, whose larger frame might pair up nicely with Breslin.
Kevin Greene
and
Jabari Ruffin
could also get looks here.
To continue reading this article you must be an Insider