USC Trojans:

Fresno State Bulldogs
December, 23, 2013
12/23/13
9:00
AM PT
When you cup your hands around USC's 45-20 blowout victory over No. 20 Fresno State in the Royal Purple Las Vegas Bowl and assume singular focus on the event itself, it's impossible to not be impressed, to not think, "Now that is USC football."
Then when you put it in the context of the tumultuous season -- a maelstrom of coaching uncertainty and chaotic swings of momentum -- it seems like Trojans fans should officially declare the strangest season in program history at least a moderate success, perhaps as successful as it could have been. Well, other than losses to Notre Dame and UCLA.
[+] Enlarge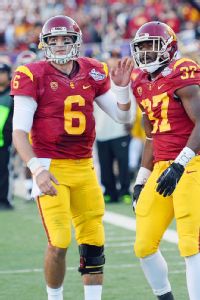 Ethan Miller/Getty ImagesThings seem to be looking up for Cody Kessler, left, Buck Allen and the Trojans.
Still, winning 10 games, including a bowl game, and ending up nationally ranked is pretty respectable when it's produced by an injury-ravaged, scholarship-reduced team that has called four different men its head coach between August and today.
Further, it shows the players have pride. A substantial handful -- both seniors and underclassmen -- are eyeballing the NFL draft, and it wouldn't have been shocking if they gave an indifferent performance against Fresno State, a team that arrived with plenty of motivation. Quarterback
Cody Kessler
told Kevin last week
that the Trojans were focused and motivated, and it proved to me more than empty, tell-the-reporter-something-pretty talk.
Said Kessler, "Getting us to 10 wins puts us in an elite group. We have a chance to finish things off right -- especially for our seniors. These guys have been through everything. Sanctions. Coaching changes. We owe it to them to give it everything we've got to get a win."
So the players who are leaving, which might include leading juniors such as receiver
Marqise Lee
, defensive end
George Uko
, linebacker
Hayes Pullard
, safety
Dion Bailey
and cornerback
Josh Shaw
, can feel good about how they finished things. If this performance was a tribute to former interim coach Ed Orgeron, then you can be sure Coach O was howling with delight somewhere while watching the game.
But what about those who are staying?
The big news coming out of the Las Vegas Bowl other than the final score was that new coach Steve Sarkisian will retain offensive coordinator Clay Helton, who served as the interim head coach for the bowl game. That's probably good news for Kessler, who blossomed once Helton took over the offense from fired coach Lane Kiffin.
Of course, Sarkisian, like Kiffin, calls his own offensive plays, so if another opportunity arises for Helton, particularly one that includes play-calling duties, he might opt to leave.
In fact, who's staying and who's going applies to both the players and coaches. We probably won't get official word on the makeup of Sarkisian's staff until after Washington, his former team, plays BYU in the Fight Hunger Bowl on Friday night. The Huskies under new coach Chris Petersen also have kept their plans quiet.
The big questions: Will Huskies defensive coordinator Justin Wilcox and quarterbacks coach Marques Tuiasosopo follow Sarkisian south? If Wilcox shortly arrives at Heritage Hall, then where does current USC defensive coordinator Clancy Pendergast end up? In one year, he transformed one of the nation's most underachieving defenses into one of its best. Hard to imagine he stays unemployed for long.
This whole blending together of USC's and Washington's -- and Washington's and Boise State's -- 2013 staffs has certainly inspired plenty of gossip among other assistant coaches.
Another question: Tosh Lupoi.
The Huskies ace recruiter and defensive line coach is being investigated by the NCAA following allegations that he paid for private tutoring for Husky football recruit Andrew Basham, with Basham's former high school track coach, Mike Davis, spilling the beans to the Los Angeles Times and Seattle Times last week.
What that means in the short term is that Lupoi won't be hired by USC, and he might be out of a job until the NCAA rules on his case. What it means in the big picture for two Pac-12 football programs in transition is hard to say, as Washington, USC and Sarkisian have significant interests in the matter.
Due to new NCAA rules, Sarkisian could be exposed, which means USC could suffer for violations that occurred in Seattle.
And, yes, feel free to question the timing of these allegations being reported and speculate on where the sour grapes originated that spawned the investigation.
An offshoot of Lupoi's troubles is the Trojans' need for a defensive line coach, which probably is why Sarkisian
told ESPNLA 710
on Sunday that he's going to make another run at Orgeron to see if he's interested in returning to USC.
That could be interesting. Or it could just be idle talk.
Once all the administrative and personnel issues are settled, then we'll start to take a measure of the Sarkisian administration and how things might stack up in 2014. Trojans fans first want to see where their team ends up on Feb. 5, national signing day. Then it's on to spring practice, where Kessler likely will have to prove himself again, though Helton staying on should provide his candidacy a boost.
USC's bowl win was impressive. It surely made Trojans feel good, inside and outside the locker room. But the reality is it was as isolated as a pleasant fan experience can be. A win in the Las Vegas Bowl and finishing in the lower half of the nation's top-25 isn't what Trojans pine for. With this next recruiting class the last one limited by NCAA sanctions, most are ready to see the program regain its footing among the Pac-12 and nation's elite.
Sarkisian officially took the keys of the program on Saturday. By Sunday, the euphoria from the bowl win probably started to waft away inside Heritage Hall.
The real business begins now.
December, 20, 2013
12/20/13
2:30
PM PT
Cody Kessler
promises this year will be different.
For those with last year's Sun Bowl debacle still fresh in their heads, there might be some cause for concern as USC heads into Saturday's Royal Purple Las Vegas Bowl against Fresno State. Motivation, or lack thereof, doomed the Trojans in the 21-7 loss to Georgia Tech. It served as the final "haha" (in the voice of Nelson Muntz) moment for those whose cup was bubbling over with USC schadenfreude in 2012.
Not again, pledges the USC quarterback. Different team. Different chemistry. Different motivation.
[+] Enlarge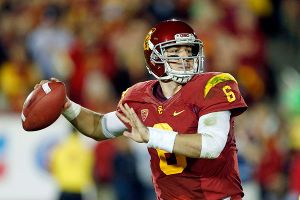 Charles Baus/CSMCody Kessler and the Trojans are on their third head coach this season, but they still have a chance for a 10-win season.
"Obviously last year wasn't the season that we wanted," said Kessler, who only appeared in one game last year and attempted two passes. "It was difficult to see where we finished compared to where we started. A lot of guys weren't into that game. But this season speaks for itself. Getting us to 10 wins puts us in an elite group. We have a chance to finish things off right -- especially for our seniors. These guys have been through everything. Sanctions. Coaching changes. We owe it to them to give it everything we've got to get a win."
Consider Kessler during the first five games, when Lane Kiffin was still the head coach. He was completing 63 percent of his throws, averaging just 166.4 yards per game and had six touchdowns to four interceptions. His raw QBR was 39.9 and his adjusted QBR was 48.9.
Since Kiffin was relieved of his duties and Clay Helton has stepped in to run the team and the offense, there have been significant improvements. He's completing 65 percent of his throws, his yards are up (223.8), his mistakes are down (10 touchdowns to two interceptions) and he's a more efficient quarterback with a raw QBR of 61.8 and an adjusted rating of 70.3.
Part of it has been Helton. Part of it has been the fact that he's got more experience. And part of it was just a change of scenery.
"We've had three head coaches in one season," he says with a gotta-laugh-at-it-attitude. "That's crazy. Coach Helton and I are very close. I'm closer to him than anyone else because he's my position coach. I spend every day with him. We have that connection. I know what he's thinking before he ever calls it.
"But a lot also comes from experience. Playing in tough games like Notre Dame and Oregon State really helped me move forward and feel comfortable. It was hard at first switching between starts because it's tough to establish yourself as a leader. But once I got the job, things started to work out."
He's hopeful things will work out one more time with his friend
Derek Carr
on the other side of the field. Both from Bakersfield, Calif., Kessler and Carr used to train together, so they are friends and familiar with each other's résumés. With 48 touchdowns to just seven interceptions and more than 4,800 yards passing this season, Carr's résumé is a little more polished. But that's not something that concerns Kessler.
"He's a great guy and a great quarterback, but I don't watch a ton of offensive film," he said. "During the game I'll be watching because it's back and forth. If they score, I know we have to go out and score. I know Derek and I know they are capable of putting up a lot of points. Everyone in the country knows that. So we have to eliminate turnovers and finish in the end zone. You can't settle for field goals against these guys."
Of course, another major distraction that they've tried to make a non-distraction has been the presence of new head coach Steve Sarkisian. He replaces popular interim coach Ed Orgeron, who promptly left the program when he wasn't promoted officially to head coach. So far, Kessler said he and his teammates have been fans of Sark's hands-off approach.
"He's been talking to us in team meetings, but we came so far with these coaches and he's letting them finish it out," Kessler said. "He's watching and talking, but his main focus is us getting the 10th win and letting these guys finish it because there was so much time and effort on their part and they deserve it.
"I think he sees how far we've come as a family with these coaches and Sark respects that. I think that says a lot about him. Out of respect for those guys, he wants them to coach us to hopefully what will be that 10th win."
December, 20, 2013
12/20/13
11:00
AM PT
After correctly predicting a Stanford victory in the Pac-12 title game against Arizona State, Kevin took a one-game lead over Ted, as he stands at 75-17 and Ted is 74-18.
Nine bowl games to rule the season!
GILDAN NEW MEXICO BOWL


Kevin Gemmell:
It has been a long drought for the Cougars -- more than a decade -- since they've been to a bowl game. Don't think they'll let this opportunity pass them by. Washington State should win, because it's the better football team, has a more dangerous offense, a more physical defense and the Cougars are far more battle-tested. They've won high-scoring games and low-scoring games. Plus the Pac-12 has dominated the Mountain West this year. A lot of times the Pac-12 team playing in the New Mexico Bowl feel slighted. That shouldn't be the case. I also like what I've seen out of
Connor Halliday
the last four games. He has done a much better job taking care of the ball, throwing for 10 touchdowns and four interceptions. In the first eight games he had 18 touchdowns and 17 picks.
Washington State 41, Colorado State 28
.
Ted Miller:
There should be no question about focus and motivation for the Cougars. They've gone 6-6 against an infinitely tougher schedule than the one the Rams faced in going 7-6. And Colorado State ranks 100th in the nation in pass efficiency defense. That's not a good place to struggle when playing a Mike Leach team. The Cougs should roll and create momentum for a promising 2014 season.
Washington State 45, Colorado State 20
.
ROYAL PURPLE LAS VEGAS BOWL


Kevin Gemmell:
This is a scary game for the Trojans, no doubt. As noted in the New Mexico Bowl post above, the Pac-12 has been dominant over the Mountain West. But Fresno State's motivation is to show that it isn't just another Mountain West team. The Bulldogs are the Mountain West champs. Obviously,
Derek Carr
and
Davante Adams
are a significant threat. But the Trojans had the top pass defense in the conference. They've yielded only 18 touchdowns through the air, and quarterbacks are completing just 57.3 percent of their throws against the USC secondary, which has 16 picks. Plus, I doubt Fresno State has seen a pass rush like USC's.
USC 31, Fresno State 28
.
Ted Miller:
USC is on its third head coach this season, with Steve Sarkisian waiting in the wings to become No. 4, and former offensive coordinator Clay Helton, the second interim coach, replaced the incredibly popular Ed Orgeron. The Trojans clearly were unhappy that Coach O is no longer around. Fresno State is very good on offense, with Carr particularly adept at getting rid of the ball quickly. Further, the Trojans' offensive line will be without two starters, including first-team All-Pac-12 center
Marcus Martin
. Finally, I can't get the dismal 2012 Sun Bowl out of my head.
Fresno State 35, USC 28
.
December, 19, 2013
12/19/13
9:00
AM PT
The Pac-12 plays nine bowl games and every game is important, but here are five players upon whom the spotlight will shine just a bit brighter this bowl season.
USC DT Leonard Williams
Royal Purple Las Vegas Bowl vs. Fresno State on Dec. 21
The skinny
: Williams, an ESPN.com first-team All-American as a true sophomore, will lead the Trojans defense against QB
Derek Carr
and a high-flying Fresno State offense that wants to prove it can score on anyone. The Bulldogs ranked No. 1 in the nation in passing yards and No. 5 in scoring, but it's perhaps most impressive they've yielded just 11 sacks, which is ninth-fewest in the nation. Williams will head into the 2014 season as a preseason All-American no matter what. But he can show folks why and make a resounding statement for himself if he can get to or at least consistently harass Carr in the pocket.
[+] Enlarge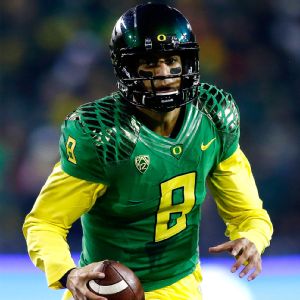 Jonathan Ferrey/Getty ImagesA healthy Marcus Mariota would boost Oregons chances against Texas.
Oregon QB Marcus Mariota
Valero Alamo Bowl vs. Texas on Dec. 30
The skinny
: This is pretty simple: Will Mariota be 100 percent against the Longhorns? If so, will he return to his midseason form, when he was the nation's best player and the leading Heisman Trophy candidate? That means using his legs to stress the Longhorns, both with designed running plays in the read option and scrambling on passing plays. If Mariota is back to his old self, he will put himself firmly in the 2014 Heisman race. And the Ducks should roll.
Arizona RB Ka'Deem Carey
AdvoCare V100 Bowl vs. Boston College on Dec. 31
The skinny
: Another simple one: Carey, the nation's No. 2 rusher, versus
Andre Williams
, the nation's No. 1 rusher and winner of a Doak Walker Award that should have gone to Carey if the award were truly about the nation's best running back (hush, Washington fans). Both offenses rely heavily on their workhorse running backs. Both teams have middling run defenses. The guy who leads the winning effort is probably going to be the guy with the best rushing numbers.
UCLA offensive line
Hyundai Sun Bowl vs. Virginia Tech on Dec. 31
The skinny
: The Hokies are almost always good on defense because coordinator Bud Foster is one of the nation's best defensive minds. This year's unit is A-list, giving up just 17.4 points per game, which ranks eighth in the nation. The Hokies are fourth in the nation in total defense, yielding a meager 4.34 yards per play, and eighth in run defense. The Hokies also have 37 sacks, which ranks fifth in the nation. The Bruins' young offensive line -- three freshmen starters! -- yielded 34 sacks, which ranked 107th in the nation. This will be a tough matchup for UCLA.
Stanford QB Kevin Hogan
Rose Bowl Game Presented by VIZIO vs. Michigan State on Jan. 1.
The skinny
: Hogan has been hot and cold this season but mostly solid. He played well in the Pac-12 championship game victory at Arizona State but threw two interceptions in November games against USC and Notre Dame. The Spartans might offer up the best defense he's seen all year, perhaps the nation's best overall unit, in fact. Most notable: Michigan State owns the nation's best run defense, yielding 80.8 yards per game and 2.7 yards per rush. While the Cardinal probably will challenge the Spartans with perhaps the nation's best offensive line and RB
Tyler Gaffney
, it's difficult to believe the going will be easy. Hogan will need to turn in an efficient, mistake-free performance in what might be a very low-scoring game. The Spartans also rank second in the nation in pass efficiency defense.
September, 12, 2013
9/12/13
9:00
AM PT
Both Ted and Kevin went 9-1 last week, both missing on picking USC to beat Washington State.

For the year, Kevin is 18-2 and Ted is a miserable 17-3.
STANFORD at ARMY
Kevin Gemmell
: The Cardinal thrive on efficiency, and they were very efficient in their season opener. Army is hardly the test San Jose State was. It makes its living by running the ball, averaging 329 yards on the ground through the first two weeks. Guess which team loves for teams to run at them? …
Stanford 38, Army 7
.
Ted Miller
: Army is not going to win this football game, but on a week when we remember 9/11, let's tip our cap to those guys. I'm sure they'll compete hard and make sure Stanford comes back west knowing it played a football game. …
Stanford 35, Army 10
.
FRESNO STATE at COLORADO
Gemmell
: The Buffs probably lose this one. It was a nice couple of games. They got a little momentum, doubled their win total from last season and generated a little excitement early in the rebuilding process. Fresno State has some weapons. Then again, as Ben Bradlee famously said during the Watergate investigation: "[Bleep] it, let's stand by the boys." …
Colorado 31, Fresno State 28
.
Miller
: Colorado has already shown it's a better football team than it was in 2012. Better will make this one closer than last season -- way closer. But Fresno State might be the nation's best non-AQ team. …
Fresno State 38, Colorado 30
.
TENNESSEE at OREGON
Gemmell
: Had he taken the Colorado job, Butch Jones would have had to wait two more weeks to get blown out by the Ducks. At least now he gets it out of the way sooner. Look for those little mistakes Oregon had last week to disappear as the Ducks return home. …
Oregon 48, Tennessee 17
.
Miller
: There is a level of intrigue for this game based on the Volunteers having a great offensive line and the Ducks being somewhat questionable at linebacker. Is that enough to keep it close? Probably not. …
Oregon 44, Tennessee 20
.
OHIO STATE at CALIFORNIA
Gemmell
: The Buckeyes showed some depth against San Diego State last week when
Braxton Miller
went down. That doesn't bode well for a Cal defense that is rife with injuries right now. The Bears can put up points. No one is disputing that. Stopping people is the bigger priority right now. …
Ohio State 38, Cal 27
.
Miller
: The Buckeyes are going to pile up rushing yards, whether Miller plays or not. So can the Bears pile up passing yards to match them, score for score? Maybe for a little while, but not for four quarters. …
Ohio State 40, California 21
.
WISCONSIN at ARIZONA STATE
Gemmell
: Welcome to the desert, where the temperature at kickoff is expected to be a toasty 102 degrees. But it won't be the heat that burns the Badgers. It will be ASU's precision efficiency, which is amplified when
Taylor Kelly
plays at home. In eight career home games, he has 19 TDs to three INTs and is completing 74.2 percent of his throws. …
Arizona State 35, Wisconsin 24
.
Miller
: But it's a dry heat! My question is whether the Sun Devils defense will be able to stand up to the relentless power-rushing attack of the Badgers. My guess is both teams will be pretty darn worn out by the end of the game. Kevin thinks the UCLA-Nebraska game was the toughest pick this week. This was it for me. …
Arizona State 24, Wisconsin 23
.
OREGON STATE at UTAH
Gemmell
: Two weeks ago, I said I would pencil this in as an Oregon State win. Pencils have erasers. The Beavers have all sorts of issues on defense, and the Utes are playing with a confidence we've rarely seen since they joined the league. I think
Sean Mannion
and
Brandin Cooks
have a big day, but I think
Travis Wilson
& Co. have a bigger day. …
Utah 31, Oregon State 27
.
Miller
: This feels like a HUGE game for both teams. As in, neither will accomplish its goals this season if it loses. I like the matchup with a more mature Travis Wilson against the injury-riddled Beavers defense, but I also think Mannion and Cooks have an edge versus the Utes' questionable secondary. The edge for the Utes is playing at home. …
Utah 38, Oregon State 35
.
UTSA at ARIZONA
Gemmell
: The Wildcats still haven't put it all together. But, once again, their schedule allows for tweaking and growing.
Ka'Deem Carey
's return was as spectacular as expected, and the defense continues to show signs of improvement. I suspect we'll learn more about the Wildcats when they open league play on Sept. 28 against Washington. For now, they'll continue to tweak their way to another win. …
Arizona 42, UTSA 21
.
Miller
: I'm with Kevin. I'm ready to see Arizona get tested. The Wildcats' big goal in this game is fleshing out a passing attack that has been poor to middling in the first two games. …
Arizona 48, UTSA 17
.
BOSTON COLLEGE at USC
Gemmell
: A whole week for
Cody Kessler
to take the first-team snaps might do wonders. But, for now, if the Trojans do win, it will continue to be on the coattails of the defense, which has been outstanding, and that's getting lost in all of this quarterback mess. …
USC 31, Boston College 17
.
Miller
: Forget Lane Kiffin for a moment. What about the players? Do they have pride? Or are they ready to wave a white flag on their season and their head coach? I think we'll see USC bounce back, but I'm far from certain of it. …
USC 24, Boston College 17
.
SOUTHERN UTAH at WASHINGTON STATE
Gemmell
: The worst thing in the world would be an emotional letdown. Don't see it happening. The offense gets back on track this week and the defense continues to improve in Year 2 under Mike Breske. The Air Raid should be in full effect this week. …
Washington State 48, Southern Utah 10.
Miller
: Washington State is going to win this game, but the Cougars need to get their offense back in sync. That means enough running game to keep a defense honest and more than 300 passing yards. We'll see both on Saturday. …
Washington State 51, Southern Utah 13
.
UCLA at NEBRASKA
Gemmell
: By far the toughest game to pick this week. It all comes down to which defense can better contain the other's quarterback. I think the bye week was a good thing for the Bruins, though this week will certainly be emotionally trying with the death of receiver
Nick Pasquale
. They have on film what they did right and wrong versus a mobile quarterback from the Nevada game. I think they put that film to good use. …
UCLA 36, Nebraska 31
.
Miller
: Both teams have good offenses, but I think the UCLA defense is better. Further, I like
Brett Hundley
to take control in the fourth quarter and
Anthony Barr
to make some game-changing plays against
Taylor Martinez
. …
UCLA 40, Nebraska 31
.
WASHINGTON at ILLINOIS (in Chicago)
Gemmell
: This is the next big test for the Huskies: Can they be as productive on the road? They come off the bye week healthy and rested, and the return of
Austin Seferian-Jenkins
gives
Keith Price
another outstanding weapon. Looking for the Huskies to take a big step forward. …
Washington 35, Illinois 24
.
Miller
: If the Huskies play like they did against Boise State, they will roll. I expect them to. I also expect Seferian-Jenkins to have a big game, both catching the ball and blocking for
Bishop Sankey
against a middling defense. …
Washington 41, Illinois 20
.
September, 10, 2013
9/10/13
7:00
PM PT
The Pac-12 will establish its national identity on Saturday. Simple as that.
Every Pac-12 team plays
. No byes this week, my friends. There's one conference game, Oregon State at Utah, that is critical to both teams. Eight of the nonconference foes are unbeaten at 2-0. Six of those teams are from AQ conferences, including four matchups with the Big Ten. Three are against ranked teams. Fresno State, which is visiting Colorado, is the equivalent of 28th in the AP poll. Three Pac-12 teams are underdogs.
Three teams are traveling across multiple times zones. Six teams will be televised on either ABC, ESPN, Fox or Fox Sports 1.
It's a big weekend, folks. It's "measuring stick"weekend.
[+] Enlarge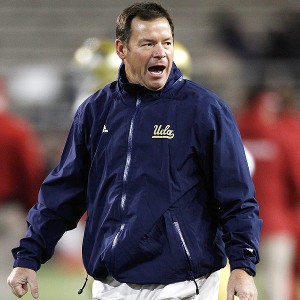 William Mancebo/Getty ImagesJim Mora Jr. leads the Bruins into Lincoln, Neb., in a big game for the Pac-12 and the Big Ten.
Sure, Stanford (Army), Washington State (Southern Utah) and Arizona (UTSA) aren't playing marquee matchups. But nine other Pac-12 teams can make a resonating, national statements about the trajectory of their seasons if they win on Saturday.
The underdogs are Colorado, California, which plays host to No. 4 Ohio State, and UCLA, which visits No. 23 Nebraska.
Colorado is looking to redeem itself for a white-flag performance at Fresno in 2012, a humiliating 69-14 defeat that wasn't even as close as the final score indicates, seeing that it was 35-0 after one quarter. If the Buffs pull the upset, it would establish the Pac-12 as a patsy-less conference with no easy outs.
Cal nearly won at Ohio State a year ago, more than physically matching the Buckeyes, who would go undefeated. That game, in fact, is probably why there's a lot of skepticism -- cough, cough -- about how good the Buckeyes actually are. The good news is Cal is at home. The bad news is the Bears nearly lost there a week ago to Portland State, an FCS team.
Perhaps the most meaningful game for the conference is the Bruins-Cornhuskers matchup, mostly because both teams are ranked. Last year, UCLA prevailed as an underdog, 36-30, in Week 2, and that victory immediately gave the Bruins and new coach Jim Mora national legitimacy and presaged a turnaround season in Westwood. The Bruins also are dealing with the shocking death of receiver Nick Pasquale, who was hit by a car over the weekend.
A victory by the 16th-ranked Bruins could push them close to the nation's top 10 and set them up for a 5-0 start before getting the most arduous road double in the country this fall: at Stanford, at Oregon on back-to-back weekends starting Oct. 19.
UCLA's South Division rival, unranked Arizona State, is favored by 5˝ points over No. 20 Wisconsin, which is interesting. While many still seem to question second-year coach Todd Graham's crew, Vegas apparently does not. But lines only mean so much. The one thing missing from the Sun Devils strong 2012 campaign was a victory over an A-list foe. The burly Badgers are an A-list foe.
Speaking of favorites, Oregon is giving 27˝ points to an SEC team, Tennessee. That's a pretty substantial sign of respect. But, of course, it also establishes an expectation. If the Ducks win, say, 28-17, there will be more than a few smirks in SEC country and among some media folks who fawn on the conference. Style, which Oregon typically has in abundance, matters in this one.
Washington has struggled on the road of late, going 3-10 away from Seattle the past two seasons. Further, Illinois (2-0) might be better than expected; so it's not about style points for the Huskies. It's just about winning and maintaining the positive momentum the program ignited with the opening win over Boise State. Of course, an impressive victory could push the Huskies into the nation's top 15.
USC could use some style -- any at all on offense. The visit from Boston College looked like a walk-over for the Trojans in the preseason, but now it feels like a must-win for coach Lane Kiffin. It's difficult to imagine USC's season turning around after a 1-2 start, which could doom Kiffin.
Then there's Oregon State's visit to Utah. In the preseason, the Beavers looked like a decided favorite for this one, but then they lost their opener to Eastern Washington. Meanwhile, the Utes have surged, getting surprisingly good play from true sophomore quarterback Travis Wilson. An Oregon State win likely would restore confidence and make the Eastern Washington loss look more flukish. A Utah victory would make the Utes look like a bowl team and inspire an edit of preseason expectations.
Finally, there's the three teams playing lesser foes. We have three words for each of you: Don't blow it.
If the Pac-12 wins eight of these 10 nonconference games, it would substantially boost the major preseason storyline for the conference: The Pac-12 is as deep in quality as it has been in years and is in the running for the mythical title of nation's best conference.
But if it wins just five or six games, the measuring stick would be broken in half. The perception of the conference would sink, and there would be little chance to salvage it. At least until the bowl season.
September, 9, 2013
9/09/13
5:00
PM PT
Here's a quick look at Week 3 in the conference. All games are on Saturday and times are ET.


No. 16 UCLA (1-0) at No. 23 Nebraska (2-0), noon, ABC
: Series tied at 6-6. UCLA won 36-30 last year in the Rose Bowl. With 4,014 career passing yards, sophomore QB
Brett Hundley
needs 74 yards to move into UCLA's top-10 list, passing former Bruin and 1967 Heisman Trophy winner Gary Beban (4,087 yards). In the season-opener, Hundley connected with 10 different receivers. In last year's win over Nebraska, the Bruins had 653 yards in total offense (344 rush/309 pass).

No. 5 Stanford (1-0) at Army (1-1), noon, CBS Sports Network
: Series is tied 5-5. Army won the last meeting 17-13 in 1979. Stanford senior FS
Ed Reynolds
had a game-high 12 tackles (9 solo) to go with an interception in Stanford's 34-13 victory over San Jose State. His interception extended Stanford's streak of consecutive games with a takeaway to 25, the longest streak in the nation. Stanford's current streak of being in the top five of the AP poll for three consecutive ranking periods is one week shy of the school's best of four weeks achieved during the 1940 season.


Fresno State (2-0) at Colorado (2-0), 2 p.m., Pac-12 Network
: Colorado leads the series 4-2, but Fresno State stomped the Buffaloes, 69-14, last year. In that game, Colorado was outgained 665 yards to 278. The Bulldogs rolled up 288 yards rushing. It was 35-0 after the first quarter, and it was 55-7 at the half. So, yeah, the Buffs should be motivated. Junior WR
Paul Richardson
grabbed 10 receptions for 208 yards in the season opener, then tallied 11 receptions for 209 yards in the win over Central Arkansas. It's the first time in Pac-12 history that a receiver has posted back-to-back games of 200 or more yards receiving. The Buffs are looking to start the season 3-0 for the first time since 2008.


Boston College (2-0) at USC (1-1), 3 p.m., Pac-12 Network
: USC leads the series 3-0. The Trojans last beat BC 24-13 in the 2009 Emerald Bowl. The Washington State pass defense held USC to 54 yards on 11 completions (4.9 ypc), while limiting All-American
Marqise Lee
to 27 yards on seven catches. Trojans coach Lane Kiffin named
Cody Kessler
the starting QB on Monday. The Trojan defense is playing well. It held Washington State to 7 yards rushing and now leads the nation in rushing defense (allowing 15.0 ypg) as well as sacks with 11 (5.5 per game)


Tennessee (2-0) at No. 2 Oregon (2-0), 3:30 p.m., ABC/ESPN
: Oregon leads the series 1-0. It won 48-13 at Tennessee in 2010. In that game, the Ducks trailed 13-3 before scoring the final 45 points. Through two games, the Ducks have posted five 100-yard rushing performances -- two by
De'Anthony Thomas
, two by
Marcus Mariota
and one by
Byron Marshall
. Mariota is the first Oregon QB to rush for 100 or more yards in back-to-back games. Eight of Oregon's nine scoring drives last week against Virginia were accomplished in under two minutes. That's 17 of 19 scoring drives this season in less than two minutes (the other two drives were 2:11 and 3:08).


No. 19 Washington (1-0) at Illinois (2-0), 6 p.m., Big Ten Network
: Washington leads the series 5-4. The Huskies won the last meeting 52-14 in Champaign. Illinois beat Washington in the 1964 Rose Bowl. The Huskies have now appeared in back-to-back AP polls for the first time since the 2003 season. Senior QB
Keith Price
has 56 TD passes in his career, most in school history, and ranks 25th all-time in the Pac-12. Junior RB
Bishop Sankey
has rushed for 100 or more yards in five of the last six games. He's gained 368 yards over his last two games.


Southern Utah (2-0) at Washington State (1-1), 6:30 p.m., Pac-12 Network
: First meeting between the two programs. With its 10-7 win over Southern Cal, Washington State snapped an eight-game losing streak to the Trojans. It was the Cougars' first win in The Coliseum since 2000. WSU leads the Pac-12, and is sixth in the FBS, allowing just 72.8 passing yards per game.


No. 4 Ohio State (2-0) at California (1-1), 7 p.m., Fox
: Ohio State leads the series 6-1, including a 35-28 win last year in Columbus. Cal freshman QB
Jared Goff
has thrown for 930 yards in two games. His two-game total is just eight yards shy of the Pac-12 record two-game total of 938 yards set by former Cal Bear Pat Barnes in 1996. Barnes posted 435 yards vs. UCLA, then followed with a school-record 503 yards vs. Arizona. The last time Cal hosted a nonconference foe ranked among the top five was No. 4 Nebraska in 1998 (lost, 24-3).


Oregon State (1-1, 0-0) at Utah (2-0, 0-0), 10 p.m., Fox Sports 1
: Oregon State leads the series 9-6-1, including a 21-7 win in Corvallis last year. Oregon State's junior QB
Sean Mannion
threw for 372 yards and four TDs in the win over Hawaii. It was fifth time he's thrown for 350 or more yards in a game, while it was the sixth time he's tossed three or more TD passes in a game. The Utes set a school mark for points in a quarter with 35 in the second of the 70-7 win over Weber State. This is the second time in school history Utah has amassed 100 points in the first two games (1973; 29-22 loss at Texas Tech, 82-6 win vs. UTEP). Sophomore QB
Travis Wilson
has connected on 31-of-47 for 566 yards and 5 TDs this season. His 202.2 passing efficiency rating ranks eighth in the FBS and second in the Pac-12.


UTSA (1-1) at Arizona (2-0), 10:30 p.m., Pac-12 Network
: First meeting. After serving a one-game suspension and missing the first quarter, junior RB
Ka'Deem Carey
rushed 171 rushing yards on 16 carries (10.7 ypc) and 2 TDs, including a 56-yard TD run on his first carry of the season. Carey has 31 rushing TDs, second on the school's career list. (UA record is 44 by Art Lupino, 1953-56). Junior S
Tra'Mayne Bondurant
added his FBS-leading third interception of the season with a pick he returned 52 yards for a TD, his second return this season for a score.


No. 20 Wisconsin (2-0) at Arizona State (1-0), 10:30 p.m., ESPN
: Arizona State leads 2-1, but the Badgers won a 20-19 thriller in 2010. Arizona State is 8-0 vs. the Big Ten at Sun Devil Stadium. The Sun Devils committed just one penalty for 5 yards in their season-opening win over Sacramento State. ASU led the Pac-12 last season with just 55 penalties (4.2 per game) for 454 yards (34.9 ypg). Junior QB
Taylor Kelly
completed 23 of 31 passes for 300 yards and a career high-tying five TDs in the blowout win over Sacramento State. He has a streak of 102 straight pass attempts without an interception dating back to last year, which currently stands fourth nationally. His touchdown passes of 16, 41, 24, 33 and 26 yards, all went to five different receivers. Dating back to the final three games of the 2013 season, Kelly has gone 76-of-102 (.745) with 13 touchdowns and zero interceptions on 1,005 yards.
July, 31, 2012
7/31/12
4:00
PM PT
We've told you about the
preseason Pac-12 media poll
, which projected things as most folks believed it would. But what about all the other media polls out there for teams that cross paths with Pac-12 teams this fall?
Don't worry. We are here to help.

The Pac-12 has dates with the preseason SEC (LSU-Washington) and Big Ten (Wisconsin-Oregon State) favorites, but there also is plenty of mediocrity on the nonconference slate this season. There's only one game between the conference and the ACC (Duke-Stanford) and Big 12 (Oklahoma State-Arizona). There's two between the Pac-12 and SEC because Missouri (Arizona State) switched its affiliation away from the Big 12.
And it's clear the Big Ten, the Pac-12's Rose Bowl rival, is still the chief partner for quality nonconference action. There also are dates with Illinois (Arizona State), Ohio State (California) and Nebraska (UCLA).
There also are seven dates with the Mountain West Conference: Colorado State (Colorado), Fresno State (Oregon, Colorado), Nevada (California), Hawaii (USC), San Diego State (Washington State) and UNLV (Washington State).
BYU and Notre Dame, as Independents, aren't in preseason media polls. FCS teams aren't included
Arizona
: Toledo (first in MAC West Division); Oklahoma State (fourth in Big 12)
Arizona State
: Illinois (fourth in the Big Ten Leaders Division); Missouri (fourth in SEC East)
California
: Nevada (second in Mountain West); Ohio State (second in Big Ten Leaders Division);
Colorado
: Colorado State (eighth in Mountain West); Fresno State (third in Mountain West)
Oregon
: Arkansas State (second in Sun Belt); Fresno State (third in Mountain West)
Oregon State
: Wisconsin (first in Big Ten Leaders Division)
Stanford
: San Jose State (third in WAC); Duke (last in ACC Coastal Division)
UCLA
: Rice (fifth in Conference USA West Division); Nebraska (first in Big Ten Legends Division; Big Ten champs); Houston (first in Conference USA West Division)
USC
: Hawaii (seventh in Mountain West), Syracuse
Utah
: Utah State (second in WAC)
Washington
: San Diego State (fifth in Mountain West); LSU (first in SEC West, SEC champs)
Washington State
: UNLV (ninth in Mountain West)
PAC-12 SCOREBOARD
Thursday, 9/3
Friday, 9/4
Saturday, 9/5