USC Trojans:

Florida State Seminoles
March, 22, 2014
3/22/14
9:15
PM PT
MARIETTA, Ga. -- The Nike SPARQ combines have grown with each passing year, and on Saturday there was a record turnout. If the 1,993 prospects who attended weren't impressive enough, the performances by several top prospects who came to compete certainly left spectators turning heads.
Here is a rundown of some of the event's top performers.
ESPN Junior 300 running back Taj Griffin posted one of the top SPARQ scores of the day. Griffin checked in at 5-foot-10, 174-pounds, ran a 4.41 40-yard dash and a 4.35 shuttle, had a 46-inch vertical leap and a 36-foot power ball toss for a combined score of 124.29. On the recruiting front, Oregon, Clemson, Florida State, Ohio State and Tennessee continue to stand out the most.



2015 RB Taj Griffin @tg__7 with the highest SPARQ score of the day in Atlanta. pic.twitter.com/SaY2QZLPrE

— Gerry Hamilton (@HamiltonESPN) March 22, 2014

No. 3 junior offensive tackle Chuma Edoga posted an impressive score of 94.65. After measuring at 6-4 and weighing 276 pounds, Edoga ripped off a 5.01 40-yard dash, a terrific 4.69 shuttle and had a 33.8-inch vertical jump and 37-foot power ball throw. Following his impressive effort, he said his top four schools in order are Tennessee, Southern California, Georgia and Stanford with a decision likely on May 25, his birthday. The big news might have been that he currently prefers the Volunteers, but his mother is in the corner of the Bulldogs and Cardinal.
No. 252 prospect C.J. Sanders made the trip and did not disappoint. He checked in at 5-9 and 176 pounds, ran a 4.57 40-yard dash, had a blazing 4.09 shuttle run, leaped 36.5 inches and tossed the power ball 41 feet. On the recruiting front, USC, Notre Dame and Georgia are the latest to offer, joining Duke, Northwestern, Stanford, Tennessee, Vanderbilt, Mississippi State and Ole Miss. He visited USC last week, and lists Reggie Bush as his childhood idol. Sanders is the son of former Ohio State and NFL wide receiver Chris Sanders. His mom played basketball at Michigan. He reports his family favors Duke and USC early on with a decision slated for the summer.
Ben Cleveland is already considered one of the top offensive line prospects in the country, and the 6-7, 317-pounder showed why Saturday. He clocked a very impressive 5.22 40-yard dash and 4.87 shuttle, and had a 25.8-inch vertical leap and 41.5-foot power ball throw for a score of 99.78. He has offers from Georgia, Clemson, Florida, South Carolina and Texas with Alabama expected in the near future. He made an unofficial visit to Clemson two weeks ago.
Class of 2016 prospect
Class of 2015 running back Jaylen Burgess posted a 118.44. The 5-10, 214-pounder ran a 4.66 40-yard dash and a 4.38 shuttle, and had a 36.7-inch vertical leap and 42.5 power ball throw. He is receiving interest from Tennessee, Vanderbilt, Clemson, Duke and a number of other ACC schools. Duke and Tennessee are the coaching staffs Burgess talks to the most. He posted more than 1,500 all-purpose yards as a junior.
Class of 2016 linebacker and defensive end Charles Wiley checked in at 6-3, 203 pounds. He clocked a 4.68 40-yard dash and 4.45 shuttle, and also leaped 35 inches and threw the power ball 34.5 feet. He has an early offer from Virginia Tech.
Class of 2015 athlete Jeremiah Mercer is flying completely under the recruiting radar. While he had to sit out the 2013 season due to transfer rules, he made his mark Saturday posting a score of 97.47. The 5-11, 163-pound running back and wide receiver ripped off a 4.48 40-yard dash and 4.18 shuttle, and added a 36.2-vertical leap and 31-foot power ball toss. He is receiving interest from Vanderbilt and Mississippi State and lists Florida State as his dream school.
Class of 2016 inside linebacker Tyler Reed posted a very impressive score of 104.91. After measuring 6-2, 234 pounds, Reed ran a 4.96 40-yard dash and 4.59 shuttle, and had a 35.5-inch vertical leap and 41-foot power ball throw. He recorded 130 tackles as a sophomore.
Class of 2015 running back Eric Montgomery posted a 115.47, one of the day's top scores. The tailback checked in at 5-11, 185 pounds, ran a 4.46 40-yard dash and a 4.19 shuttle, and jumped 36 inches and threw the power ball 38 feet. On the recruiting front, Kentucky, Cincinnati, Ole Miss and Mississippi State, among others, are showing interest.
March, 13, 2014
3/13/14
12:30
PM PT
The new College Football Playoff is supposed to encourage schools to schedule better nonconference games, as teams try to beef up their schedule strength to earn one of the playoff's coveted four spots at season's end.
On Thursday, Texas A&M and UCLA
announced that they'll play each other
during the 2016 and 2017 seasons.
Other schools have announced future marquee nonconference opponents, including Texas A&M vs. USC, Notre Dame vs. Texas, Alabama vs. Michigan State and LSU vs. Oklahoma.
Here are five other nonconference games I'd like to see in the future:
[+] Enlarge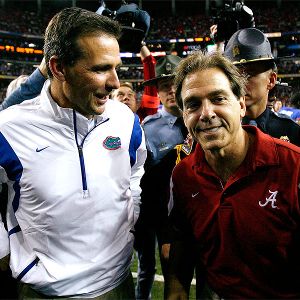 Kevin C. Cox/Getty ImagesUrban Meyer and Nick Saban have faced off for SEC titles, but their current teams, Ohio State and Alabama, have played only three times in history.
1. Alabama vs. Ohio State
: Alabama's Nick Saban and OSU's Urban Meyer dominated the SEC when Meyer was coaching at Florida, combining to win five BCS national championships from 2006 to 2012.
When Meyer was still coaching at Florida, the Crimson Tide and Gators played in two of the most anticipated SEC championship games. The No. 2 Gators beat the No. 1 Tide 31-20 in 2008, and then the Tide turned the tables on No. 1 UF with a 32-13 win in 2009.
Alabama and Ohio State have played only three times in history, with the Tide winning each time, most recently in a 24-17 victory in the 1995 Citrus Bowl.
2. Texas vs. Texas A&M
: Perhaps the biggest casualty in conference realignment, Texas and Texas A&M haven't played each other since the Aggies bolted the Big 12 for the SEC after the 2011 season. Sadly, there are no plans for the in-state rivals to play again in future regular seasons.
The Aggies and Longhorns played each other 118 times from 1894 to 2011, with their annual meeting traditionally being played on Thanksgiving Day. UT won nearly twice as many games as the Aggies (76-37-5), including nine of the last 12 meetings.
With former Louisville coach Charlie Strong taking over at Texas, and Kevin Sumlin building the Aggies into an SEC powerhouse, the game would also pit two of the sport's best African-American coaches against each other.
3. Oregon vs. Baylor
: Two of the game's most explosive offenses -- and two of its best-dressed teams -- would undoubtedly light up the scoreboard if they ever played. In fact, the contest would probably look more like a track meet.
Under coach Art Briles, the Bears have become the Ducks of the Southwest, with their hurry-up, spread offense and myriad flashy uniforms closely resembling what Chip Kelly and then Mark Helfrich built at Oregon. The Bears and Ducks follow the same blueprint on offense: play fast and score fast.
We hoped to see this matchup in the Tostitos Fiesta Bowl last season, but alas, it didn't happen. Oregon and Baylor have never met on the gridiron.
4. Michigan vs. USC
: Two of the sport's traditional heavyweights have faced each other eight times in the Rose Bowl Game Presented by Vizio, but only twice during the regular season -- in 1957 and 1958.
The Trojans won the last three meetings in the Rose Bowl, 32-18 in 2007, 28-14 in 2004 and 17-10 in 1990. USC has won six of the past seven meetings overall and holds a 6-4 advantage all-time.
We might have seen this matchup during the regular season if a Big Ten/Pac-12 scheduling partnership hadn't fallen apart in 2012.
5. Georgia vs. Florida State
: UGA coach Mark Richt was a longtime assistant under legendary FSU coach Bobby Bowden before taking over the Bulldogs, and he recently poached defensive coordinator Jeremy Pruitt off the Seminoles' staff.
The Bulldogs and Seminoles go head-to-head for a lot of recruits every year, and Florida State coach Jimbo Fisher upgraded his roster by effectively recruiting South Georgia and Atlanta.
The Bulldogs and Seminoles have played 11 times and only once since 1984 -- UGA defeated FSU 26-13 in the 2003 Sugar Bowl. Georgia leads the all-time series, 6-4-1.
January, 13, 2014
1/13/14
10:30
AM PT
By
Brett Perrotta, ESPN Stats & Info
| ESPN.com
With the door closed on the 16-year reign of the BCS, we dove into the 72 BCS bowl games to find the 10 most memorable moments of the BCS era.
10. Utah's hook-and-ladder:
The first team ever dubbed a "BCS Buster" was the Urban Meyer-coached and
Alex Smith
-led Utah Utes in 2004. In the 2005 Fiesta Bowl, Utah led Pittsburgh 28-7 late in the third quarter and lined up at the Panthers' 18-yard line. Smith swung it left to Steven Savoy, who lateraled to
Paris Warren
, who ran it in for the score as the Utes completed a 12-0 season.
9. Peerless Price down the sideline:
Tennessee led Florida State 14-9 with 9:29 remaining in the fourth quarter in the 1999 Fiesta Bowl with the first BCS Championship on the line. UT quarterback
Tee Martin
found Price down the right sideline, and Price took it the distance for a 79-yard score. Price had 199 receiving yards for the winning Vols, the most ever in the BCS title game.
8. Ginn's costly return:
Ohio State received the opening kickoff from Florida in the 2007 BCS Championship game, and
Ted Ginn
Jr. wasted no time in getting the game's first score on a 93-yard return. What will always be remembered, however, is that Ginn suffered a foot injury on the ensuing celebration and was out for the rest of the Buckeyes' 41-14 loss.
7. Warrick's juggling score:
Though the championship of the 1999 season was marked by Virginia Tech freshman QB
Michael Vick
, it was Florida State's
Peter Warrick
who was named the most outstanding player. He had a punt return for a touchdown in the second quarter, and his juggling catch on a 43-yard score midway through the fourth served as the dagger.
6. Vince Young, Part I:
Facing Michigan in the 2005 Rose Bowl, Young was responsible for all five Texas touchdowns in a 38-37 win. Though he had runs of 60, 23 and 20 yards, the most impressive was a 10-yard run in which Young escaped the tackle of Michigan lineman Pat Massey before scampering to the right pylon.
5. Dyer isn't down:
Tied at 19 with Oregon with just more than two minutes remaining in the 2011 BCS Championship Game, Auburn running back
Michael Dyer
appeared to be tackled for a short gain at the Auburn 45-yard line. Having rolled over the defender, Dyer was never ruled down, and ended up gaining 37 yards on the play before he was taken down at the Oregon 23-yard line. Auburn would win on a field goal as time expired.
[+] Enlarge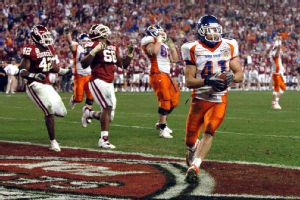 Steve Grayson/WireImageIan Johnson's two-point conversion run in overtime propelled Boise State over heavily favored Oklahoma in the 2007 Fiesta Bowl.
4. Winston to Benjamin:
Trailing Auburn 31-27 in the final BCS Championship Game, Heisman Trophy winner
Jameis Winston
drove the Noles 78 yards in less than a minute to the Auburn 2-yard line. Receiving the snap with 17 seconds left in a wild fourth quarter, Winston threw a perfect pass to
Kelvin Benjamin
, who brought it down for the game-winning score to complete an undefeated season.
3. Was it pass interference?
Some will remember Maurice Clarett's game-saving strip of
Sean Taylor
, but the lasting legacy of the game is the dubious pass interference call in overtime. Miami led 24-17 and Ohio State faced fourth-and-3 from the 5-yard line.
Glenn Sharpe
was called for pass interference, giving the Buckeyes new life in a game they would win 31-24.
2. Boise State's trick plays:
In the 2007 Fiesta Bowl, Boise State trailed heavily favored Oklahoma 35-28 with 18 seconds left and facing fourth-and-18 from the 50-yard line. Jared Zabransky completed a pass to Drisan James just short of the first down, but he lateraled it to Jerard Rabb, who took it the rest of the way for the tying touchdown. In overtime, down 42-35 on fourth down, wide receiver Vinny Perretta completed a 3-yard pass to
Derek Schouman
for a touchdown. Chris Petersen elected to go for two, and Zabransky faked a throw to his right before handing it behind his back to Ian Johnson on the Statue of Liberty play for the winning two-point conversion. Johnson would propose to his girlfriend, a Boise State cheerleader, on the sideline after the game.
1. Vince Young, Part II:
After a Longhorns touchdown and key fourth-down stop, undefeated Texas trailed undefeated USC 38-33 with 26 seconds remaining and faced fourth-and-5 from the 9-yard line, with the 2005 BCS championship on the line. Vince Young dropped back to pass but saw nobody open, and immediately sprinted for the right pylon for the title-winning score in the marquee game of the BCS era.
November, 15, 2013
11/15/13
5:30
PM PT
Happy Friday.
First of all, a big thank you to all Kansas State fans who contributed ideas for my "flip" visit to Manhattan, Kan. My mailbag overfloweth with perspective and suggestions. Dinner at CoCo Bolos last night was solid, as was breakfast at The Chef. If you see me in "Aggieville" tonight, don't hesitate to say "hello."
Follow the Pac-12 blog on Twitter
.
To the notes.
Ian from Salt Lake City:
Why has
Marcus Mariota
dropped nigh completely from the Heisman radar? I understand the loss to Stanford and playing poorly is a huge portion of that, but it seems to me that people, especially the media (not you or Kevin obviously), have fallen in love so much with
Jameis Winston
and
Johnny Manziel
that they brush aside Mariota like a fly. Both Mariota and Manziel lost games to their biggest competition, Mariota is putting up pretty comparable numbers to Winston with less interceptions, and Mariota is a proven winner, so why no, relatively speaking, love?
Ted Miller
: There are three types of overreaction in college football. There's media overreaction, there's fan overreaction and, third, there's fan overreaction to media overreaction.
Do you define "dropped completely from the Heisman Trophy radar" as
falling from No. 1 to No. 3
in media polls? Or
also here
. Do you define Mariota getting brushed aside "like a fly" after he posts his worst game of the season in a loss that knocks his team -- apparently -- out of the national title hunt?
Have I fallen in love with Jameis Winston? Yes. I'm man enough to admit that I am in love with Winston. I swoon at his stratospheric potential. I love the way he taken a program known for its NFL talent and mercurial performances and made it the nation's most consistently dominating team. Clemson's overwhelming performance against a very good Georgia Tech team on Thursday reminded us just how impressive the Seminoles' win in Death Valley was.
That said, if Mariota plays appreciably better than Winston and Manziel over the final three games, he still might win the Heisman. At the very least, the sophomore will get invited to New York for the ceremony.
There was an understandable and justifiable demotion of Mariota in every Heisman poll after the Ducks offense sputtered against Stanford. Three big performances, however, will background that. And if Stanford loses to USC, three big performances likely would give him another shot in the Pac-12 title game.
Those games will give him space to be evaluated over the totality of the season. They will also his toughness, which I think is being overlooked or played down after the Stanford game, to shine. Mariota should be saluted for even being out there because he was clearly playing on one good leg, and Stanford realized early on that he was not going to be a factor on designed runs or even scrambles.
By the way, Mariota still is the nation's
No. 1 rated QB
and has yet to throw an interception. (Throwing that in, Ian, to quell some media overreaction so your fan overreaction to media overreaction might re-react toward a more realistic place).
---
Paul from Vancouver, Wash., writes:
Ted I am a very loyal Oregon Duck fan and was very disappointed with our loss at Stanford. That being said I think a few different bounces of the ball and the end could have played out differently. Regardless, true champions find a way to deal with adversity and we, the Ducks, did not adapt and overcome. My comment/question is this. I agree Stanford has a good team but I think there overall offensive balance is questionable. The ground game is awesome but there passing attack is average at best and tends to be liability. If Stanford gets put behind in a game and has to abandon their ground and pound game plan, they struggle, which is what happened against Utah. I believe in a game against a team that can play with them physically that Stanford will have issues due to their lack of a decent passing attack.
Ted Miller
: I hear you. In fact, I think both Kevin and I have questioned Stanford at times about its middling passing game, which has shown flashes but not advanced as much this season as we anticipated it would in August. The Cardinal ranks last in the Pac-12 in passing offense with just 183 yards per game.
And yet.
Even though Stanford QB
Kevin Hogan
is not putting up big numbers, he ranks 17th in
ESPN Stats & Information's total quarterback rating
. Hogan is running the Cardinal offense efficiently, even if he only ranks fifth in the conference by the old school pass efficiency measure.
Coach David Shaw has said he would never throw if he knew he'd gain four yards every run. The Cardinal is averaging 4.8 yards per run.
Hogan has thrown well at times, and his 8.4 yards per attempt ranks third in the conference. He's accounted for 15 touchdowns -- 13 passing -- and protects the football.
And there's always this annoying tidbit: Shaw is 31-5. His Stone Age, antiquated, hopelessly conservative, 1970s football has Stanford winning 86 percent of his games.
Is Stanford the sort of team that makes a 14-point deficit look like nothing? No. Did Utah mute the Cardinal for three quarters? Yes, though I think the Utes success on offense was a bigger story in that game.
Could a team like, say, Alabama thwart Stanford because it is as big and physical as the Cardinal? Maybe.
One of the things I really wanted to see this season was for them to try.
---
Tony Jones from Chandler, Ariz. writes:
Ted, I've been keeping an eye on the Jeff Sagarin rankings the last couple of weeks, waiting for verbal pitchforks to be hurled from Sun Devils fans ranting about how ASU is barely getting a sniff in the AP (21st), USA Today (22nd) and BCS (19th) polls while hanging out in the Top 10 in Sagarin's metrics (currently 9th). So when I saw your piece discussing the Championship Drive Ratings and Football Power Index, I was curious to see where ASU ranked. The Sun Devils rank higher in both the CDR (6th) and FPI (7th) than in Sagarin's wizardry. I'm an Arizona alum, so it makes little difference to me, but should ASU fans be Michael Crowing about where they are in the BCS and going all in with their disrespect cards? BTW, I think it's also interesting that the Wildcats are ranked 24th by Sagarin and 28th in the FPI, but are 44th in the CDR. Much bigger disparity than the Sun Devils.
Ted Miller
: Kevin has Arizona State
18th and I have them 19th
. And both of us have noticed how the Sun Devils rank higher with the computers, most notably the Championship Drive Rating, ESPN Stats & Information's complex metric that measures a team's resume.
But I also know why the Sun Devils are being held back due to purely human reasons.
No. 1: The controversial ending against Wisconsin. No. 2: The loss to Notre Dame.
Those are not "bad" losses. But those two results tie the Sun Devils to the wagons of the Badgers and Fighting Irish, and both provide drag.
The officiating implosion at the end of Arizona State's win over the Badgers means voters don't feel comfortable elevating the Sun Devils decisively over the Badgers, who in fact rank ahead of ASU in both polls. Voters feel further justified doing so because the Sun Devils lost to the Fighting Irish, who are presently unranked after losing to Pittsburgh.
This is a case of Arizona State's marquee win -- Wisconsin -- not earning them the poll respect it typically would, and that is understandable to a certain degree. The Badgers feel like they might miss out on an at-large invitation to a BCS bowl game because of that loss, one that they put an asterisk beside.
Yet, as I typically think when reading questions like this: Just keep winning. If the Sun Devils win the rest of their regular season games, including a Nov. 23 date at UCLA, they would jump into the top 10. And if they win the Pac-12 title game and Rose Bowl, they might finish in the top-five.
---
Ron from Maricopa, Ariz., writes:
This article I believe is incorrect
. Colorado received a waiver for playing two FCS games and theoretically they can go to a bowl if they win out. Two games are doable: Cal and Utah. USC is probably too much. But Buffs should be motivated this week for at least the possibility of a bowl.
Ted Miller
: Correct. If Colorado wins its final three games -- California, USC and at Utah -- it will become bowl eligible.
And that certainly would be an amazing accomplishment for the Buffaloes in their first season under Mike MacIntyre.
---
Kevin from Oklahoma City writes:
I know there is still plenty of season left and lots can change but out of curiosity if ASU were to win out and Stanford suffers an upset somewhere along the way, allowing Oregon to take the north...who would host the title game? Would Oregon get to host based on overall record?
Ted Miller
: The team
ranked higher in the BCS standings
would host. That almost certainly would be Oregon. (
Answer is the same from last week
!)
November, 1, 2013
11/01/13
5:30
PM PT
Happy Friday -- hey, there's a game tonight!
Follow the Pac-12 blog on Twitter
.
To the notes!
Dave from Neverland writes:
On Tuesday, John Canzano
posted a letter he had purportedly received
from a former Ducks player. This player outlined the abhorrent fan behavior he observed while sitting in the stands. There have been countless other stories about the wretched behavior of Ducks fans, not just at Autzen, but also other stadiums they visit. An article a few years back by one of your competitor websites surveyed fans and the survey concluded that Oregon fans are generally perceived as being the worst in the conference, by far. Reading the comments of the Canzano blog post, the fan comments seemed to substantiate the article. My question: Is the perception about Oregon fans aligned with reality? Are Oregon fans truly as awful as they are made out to be, or are we just hated because we win?
Ted Miller
: I was asked about this in my Thursday chat, and my chief response was to deride the anonymity of the letter writer.
I stand by that. If you're going to attack something, you need to have the courage to step up and identify yourself. That, by the way, is not a slight on Canzano for posting the letter, only on its writer.
[+] Enlarge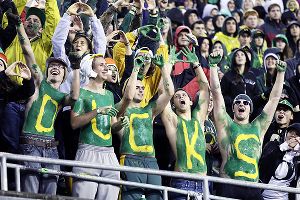 AP Photo/Don RyanAre Oregon fans worse than the rest of the Pac-12?
Are Oregon fans "truly as awful as they are made out to be or are we just hated because we win?"
The short answer is no, Ducks fans are not uniquely awful. At least, I find such a sociological oddity difficult to believe. That said, I am not an expert on this: As a sportswriter, I have not sat in the stands of a college football game since the early 1990s.
Oregon is going through an unprecedented run of winning. That inspires gloating. Lots of it. And plenty of entitlement, too. The stadium is packed and the program is rich. Rivals are jealous, and therefore easy and frequent targets -- in the stands or anywhere else. And, suddenly, a two-loss season sounds like a disaster and everyone is a football expert.
Even without siting in the stands, I have personally witnessed reprehensible fan behavior at just about every Pac-12 venue. Back in my Seattle days,
I wrote about the near-riot in Martin Stadium
after the controversial 2002 Apple Cup and some Washington State fans took exception, often by trying to rewrite the facts of what happened. So I know how things might be for Canzano now.
There are all sorts of fans and each of those sorts roots for every team. Some love cheering and bonding with family and friends. Some find comfort in wide-eyed zealotry, the my-team-right-or-wrong adherence that defies all reasonable counterargument.
As I've previously noted, there are two foundations for fandom: Those who derive most of their joy from rooting for something. And those who most enjoy rooting against something. The first group is looking for something with which to align themselves. The second group is looking for a villain.
Yes, the loudest voices in the Pac-12 blog comment section are typically the latter. And, yes, those often are the sort of fans who can ruin the game-day experience of even folks wearing the same colors.
My belief is that if Washington or Oregon State started winning at the same rate Oregon has for the past four-plus years, its fans would act the same, or at least be perceived to act the same.
Yet there is a clear takeaway from this that is a positive. Reasonable people should have the guts to stand up to bad fan behavior. Don't be a passive onlooker. If someone is acting like a jerk, you should: 1. Calmly and with a minimum amount of confrontation, tell him/her to settle down; 2. Get security.
And Oregon itself should remain as vigilant as possible when it comes to making sure that reasonable standards of behavior are enforced.
---
Duck Fam from Camas, Wash., writes:
There have been quite a few articles this week about "The Eye Test", and which two teams would be most deserving in a three or four-team race. For the sake of this question, let's assume that Oregon, Florida State and Alabama win out.Florida State seems to be getting quite a bit of hype relative to Oregon. Florida State certainly has history behind its program, including a national title, but has been off and on in the last few years. Many voters won't budge on Alabama (with the exception of the intelligent, educated few, such as those that blog for the Pac-12), the rationale being that until someone knocks them off, they deserve to be No. 1. So it seems that many pundits love Florida State THIS YEAR, right NOW, rather than taking the longer view. My question, then, is this: Should not the same logic apply to Oregon? Oregon has been ranked No. 2 much more frequently than Florida State, including last year's final rankings, and has certainly been more consistent. Six losses in four years, and never an NC State kind of upset. The Pac-12 is a tougher conference than the ACC. Why, then, is Oregon not the obvious choice as No. 2, the way Alabama seems to be the obvious choice as No. 1? Is it Oregon's supposed lack of pedigree, or is it the dreaded East Coast Bias?
Ted Miller
: Sigh.
The "eye-test" debate, while always inspiring strong feelings across the country, is irrelevant the first weekend of November. Five weeks remain in the regular season, and Alabama, Florida State and Oregon will each need to then win their conference championship games to remain in the national title hunt.
Every year, we speculate on apocalyptic visions of, say, four unbeaten teams from AQ conferences -- who goes to the title game! And then at least two of those teams lose.
Let's at least wait until we reach late November before beginning the earnest lobbying for prioritizing the specific subjective distinction that favors your team.
Further, Oregon fans, while there's a lot of noise out there, the general consensus from long-time observers of the BCS process, is that if Oregon wins out, it will at least end up No. 2 in the final BCS standings. It could, in fact, end up No. 1 if the SEC continues to cannibalize itself.
The Pac-12 is stronger than the ACC, and it's unlikely voting patterns in the coaches and Harris polls will dramatically change if the present course is maintained.
---
Sad Cougar fan from Bellevue, Wash.,writes:
Ted, real talk for a minute. After over a decade of misery, all Coug fans pointed to Leach as our hope. But after yet another Wulff-like performance from the team last night. They were outcoached in every phase of the game. Was our hope foolish? In today's NCAA,and today's Pac-12, do we honestly EVER have a shot at being relevant again? The glory years were a perfect storm. UW was bad, Oregon wasn't Oregon yet. Stanford wasn't Stanford yet, USC was just getting started. Honestly. We're never going to be good ever again are we? I am slipping into "mariners mindset?" Get excited for opening day, then stop caring by June.
Ted Miller
: No question that was a dreadful performance against Arizona State. And it's been a bad three-week conference run since a 4-2 start inspired optimism.
However, yes, Washington State has a shot at being relevant again. In fact, I'm certain it eventually happen, whether that's about next year or seven years from now. How many programs have played in two Rose Bowls since 1997? It's simply a matter of getting the right players and the right coach together.
Sure, the euphoria after hiring Mike Leach has waned considerably. The mistake with that probably was believing he brought with him some magical elixir that immediately made the program bowl-eligible and then, shortly thereafter, Rose Bowl worthy.
Further, while most of us saw Leach inheriting an intriguing roster from Paul Wulff, he didn't share that view. Leach definitely has his own ideas about how to run a program and the sort of players he wants, in terms of both athletic ability and mental makeup. That he decided to mostly erase what was there and then re-draw from scratch his own plan is making the growing pains last longer. And be more painful.
This is only Year 2 with Leach. Feel free to feel bad. But don't panic yet.
---
Devin from Keizer, Ore., writes:
What would it take for OSU to make it to the Rose Bowl if Oregon goes to the championship game?
Ted Miller
: First, the Beavers need to win out -- other than the Civil War -- and finish 9-3 and earn at least a No. 14 ranking in the final BCS poll. That might require strong finishes from the remaining foes -- USC, Arizona State and Washington -- in order to boost the human and computer rankings.
Then there's the question of Stanford and the South Division contenders.
Stanford, at 10-2 with a win over Oregon State, would almost certainly be ranked higher. Even though the Cardinal played in the Rose Bowl last year, the bowl committee would go with Stanford. This is how the
Pac-12 blog is presently projecting things
. So Oregon State needs the Cardinal to lose again, at least a third game. Maybe a fourth.
As for the South teams, the Beavers could give themselves the edge over Arizona State with a head-to-head win. They don't play UCLA, so they should be rooting for the Sun Devils to beat the Bruins. The South champion also would pick up a loss in the Pac-12 title game, which would boost the Beavers.
A lot of things would have to fall into place. But Oregon State should start with a simple plan: Keep winning.
---
John from Dublin, Calif., writes:
This week, everybody at ESPN has been making a big deal about how the Trojans have not fared well of late in Corvallis, and it's true. However, all these pundits seem to forget the Trojans' record vs. the Beavers in L.A.. Eisenhower was president the last time Oregon State won in the Coliseum. Why can't you guys give equal time to the Trojans' streak?
Ted Miller
: I think the biggest reason is the game tonight is going to be played in Corvallis, not the Coliseum, which makes factoids about Oregon State-USC games played in the Coliseum less relevant.
But I promise that next year, we will note that Oregon State has not won at USC since 1960.
---
Eric from Culver City, Calif., writes:
Eleanor Catton, author of the Luminaries, won the Man Booker prize at the age of 28. Are you excited for her, or sad for Jim Crace and Colm Toibin? Also: please tell Puddles that I can't take another heartbreak.
Ted Miller
: Funny story. Went to buy "
The Luminaries
" the other day, at which point I discovered it was 828 pages. That, my friends, is an offseason read.
Good for Catton, though she might want to
rethink lecturing the world about how she should be received
.
If she really cares about unfairness, she should consider championing the great American male writers who have been unjustifiably slighted by the Swedish Academy when it awards the Nobel Prize to lesser-lights on an annual basis, most notably Thomas Pynchon, Philip Roth, Cormac McCarthy and Don DeLillo.
And Puddles, after he stopped writing letters to Canzano, has been alerted.
December, 30, 2012
12/30/12
2:33
PM PT
LAKE BUENA VISTA, Fla. -- ESPN 150 safety
Leon McQuay III
(Seffner, Fla./Armwood) will be making his college decision at the Under Armour All-America Game on Friday.
December, 2, 2012
12/02/12
12:39
PM PT
GAINESVILLE, Fla. -- The high school career of ESPN 150 safety
Leon McQuay III
(Seffner, Fla./Armwood) came to an end on Friday, as Armwood fell in the playoffs to nationally ranked Gainesville (Fla.) High School.
Though his season is over, things are starting to heat up with McQuay's recruitment. He continues to have a top five of Florida State, Oregon, Vanderbilt, Michigan and USC. Michigan defensive line coach Jerry Montgomery was on hand to watch McQuay on Friday.
[+] Enlarge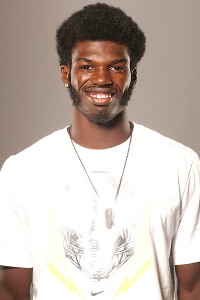 Tom Hauck for ESPN.comLeon McQuay is the No. 3 safety in the nation. He's ranked No. 32 overall in the ESPN 150.
McQuay has taken official visits to all of his favorite schools except for Southern Cal but is planning to visit USC next weekend. Florida State and USC have made a big push for McQuay over the last several months. But with FSU defensive coordinator Mark Stoops taking the head coaching job at Kentucky and USC defensive coordinator Monte Kiffin stepping down this past week, McQuay said he is waiting to see who will replace them before he making any changes with his recruitment.
To continue reading this article you must be an Insider
November, 28, 2012
11/28/12
11:50
AM PT
GAINESVILLE, Fla. -- Despite Florida's impressive 11-1 record this season and likely BCS bowl berth, there are a few committed recruits who are still looking at other options.
Florida linebacker commit
Quinton Powell
(Daytona Beach, Fla./Mainland) has been committed to the Gators since Feb. 18, but is now considering Miami and Southern Cal.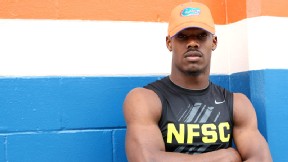 Tom Hauck for ESPN.comFour-star Florida linebacker commit Quinton Powell is ranked No. 80 overall in the ESPN 150. He is the No. 8 OLB in the class of 2013.
"I haven't set any dates or talked to any coaches yet," Powell said, "but I plan on going to USC and Miami."
To continue reading this article you must be an Insider
February, 3, 2012
2/03/12
11:59
AM PT
ESPN The Magazine and RecruitingNation compiled the past five years (2007-11) of ESPNU 150 rankings and then crowned college football's
top 10 recruiting programs
.

Here's how they did it:
Our methodology was simple: We re-tallied the scores following signing day and ranked the schools based on total number of ESPNU 150 recruits (there have been 900) hauled in over the last six years. Of course, like success on the field, recruiting is cyclical -- and fans of programs both on and off this list might look back on Feb. 1, 2012 as the day their team began its rise (or fall) on the trail.
Here's the top-10.
1. Florida
2. Texas
3. USC

4. Alabama
5. Florida State
6. Notre Dame
T-7. Georgia
t-7: LSU
9. Miami
T-10. Ohio State
T-10. Oklahoma
Here's what it says about USC:
Top states: California (36), Florida (six), Arizona (four)
Surprise state: Georgia (three)
Sure, the Trojans have California locked up. But USC has also signed four of Arizona's 12 ESPNU 150 prospects and Georgia's second-best preps in 2008 (WR Brice Butler of Norcross) and 2010 (WR Markeith Ambles of McDonough). In 2012, USC signed seven ESPNU 150 commits -- OT Zach Banner (Lakewood, Wash.) was the lone out-of-state recruit.
(USC actually signed three out-of-state recruits, including receiver
Nelson Agholor
and DT
Leonard Williams
, who are both from Florida).
What's clear from this list: Sometimes teams with lots of ESPNU 150 players produce on the field (Alabama, LSU, Oklahoma, Ohio State) and sometimes they do not (Florida, Texas, Florida State, Notre Dame and Miami).
Florida is 15-11 over the past two seasons, when these highly rated classes should have been peaking. Texas is 13-12 over the same span. Miami has lost fewer than six games just once since 2007. Notre Dame's best years came the past two seasons -- both 8-5. Florida State has averaged 4.8 losses since 2007. Georgia was 10-4 this season, but it was a combined 14-12 in 2009 and 2010. Ohio State probably can be forgiven its 6-7 finish this year, based on the NCAA issues and firing of coach Jim Tressel. Oklahoma's lone blip was an 8-5 campaign in 2009. USC's "downturn" came in 2009 and 2010 when the Trojans went 17-9.
Conclusions?
Well, it's possible that Florida recruiting -- as good as it is -- is overrated. Perhaps the same can be said for Texas. Or at least these four programs -- Florida, Florida State, Miami and Texas -- aren't doing the best job of evaluating their wealth of in-state talent.
December, 27, 2011
12/27/11
7:12
AM PT
GAINESVILLE, Fla. -- Four-star cornerback prospect Tracy Howard (Miramar, Fla./Miramar) will take his fifth and final visit to Florida at the end of January. Howard had previously considered visiting USC with his final visit but decided on Gainesville instead.
Howard's mother, Shaiy, confirmed the plans on Monday. Howard, who will participate in the U.S. Army Bowl on Jan. 7, already has visited Florida State and West Virginia. In addition to the Florida visit, Howard also will visit Alabama and LSU.
To continue reading this article you must be an Insider
PAC-12 SCOREBOARD
Thursday, 9/3
Friday, 9/4
Saturday, 9/5