December, 2, 2013
Dec 2
12:50
PM PT
The Pac-12 has announced its first- and second-team all-conference squads and postseason awards for 2013.
[+] Enlarge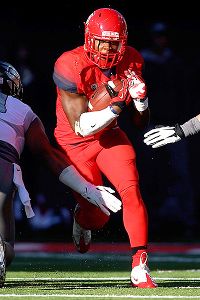 Mark J. Rebilas/USA TODAY SportsPac-12 Offensive Player of the Year Ka'Deem Carey was the only unanimous first-team pick.
Arizona running back
Ka'Deem Carey
has been named the league's offensive player of the year. Arizona State defensive lineman
Will Sutton
joins an elite fraternity, earning his second straight Pat Tillman Defensive Player of the Year award. Washington's Steve Emtman is the only other player to win the league's defensive player of the year award in back to back years (1990-1991).
UCLA's
Myles Jack
earned freshman of the year for both offense and defense with his 70 tackles as a linebacker and seven touchdowns as a running back. This is the first time since the awards were introduced in 2008 that the same player has won both sides.
Arizona State coach Todd Graham is the league's coach of the year for guiding the Sun Devils to a conference record of 8-1 and winning the South Division. The Sun Devils host Stanford this weekend in the Pac-12 championship game.
The team is selected by the Pac-12 head coaches.
Offensive player of the year:
Ka'Deem Carey, RB, Arizona
Pat Tillman Defensive Player of the Year:
Will Sutton, DE Arizona State
Freshman Offense and Defensive Player of the Year:
Myles Jack, RB/LB, UCLA
Coach of the Year:
Todd Graham, Arizona State
First team offense
QB
Marcus Mariota
, So., Oregon (2)
RB
Ka'Deem Carey, Jr., Arizona (2)
RB
Bishop Sankey
, Jr., Washington
WR
Brandin Cooks
, Jr., Oregon State
WR
Paul Richardson
, Jr., Colorado
TE
Chris Coyle
, Grad., Arizona State
OL
Evan Finkenberg
, Grad., Arizona State
OL
Hroniss Grasu
, Jr., Oregon (2)
OL
Marcus Martin
, Jr., USC
OL
Xavier Su'a-Filo
, Jr., UCLA (2)
OL
David Yankey
, Sr, Stanford (2)
First team defense
DL
Ben Gardner
, Sr., Stanford
DL
Trevor Reilly
, Sr., Utah
DL
Will Sutton, Sr., Arizona State
DL
Leonard Williams
, So., USC
LB
Anthony Barr
, Sr., UCLA (2)
LB
Trent Murphy
, Sr., Stanford (2)
LB
Shayne Skov
, Sr., Stanford
DB
Deone Bucannon
, Sr., Washington State
DB
Alden Darby
, Sr., Arizona State
DB
Ifo Ekpre-Olomu
, Jr., Oregon
DB
Robert Nelson
, Sr., Arizona State
DB
Ed Reynolds
, Sr., Stanford (2)
First team specialists
PK
Zane Gonzalez
, Fr., Arizona State
P
Tom Hackett
, So. Utah
RS
Ty Montgomery
, Jr., Stanford
ST
Soma Vainuku
, So. USC
Second team offense
QB
Taylor Kelly
, Jr., Arizona State
RB
Tyler Gaffney
, Sr., Stanford
RB
Marion Grice
, Sr. Arizona State
WR
Ty Montgomery, Jr., Stanford
WR
Jaelen Strong
, So., Arizona State
TE
Austin Seferian-Jenkins
, Jr., Washington
OL
Jamil Douglas
, Jr., Arizona State
OL
Cameron Fleming
, Sr., Stanford
OL
Andrus Peat
, So., Stanford
OL
Isaac Seumalo
, So., Oregon State
OL
Khalil Wilkes
, Sr. Stanford
Second team defense
DL
Scott Crichton
, Jr., Oregon State
DL
Taylor Hart
, Sr., Oregon
DL
Devon Kennard
, Sr., USC
DL
Hau'oli Kikaha
, Jr., Washington
DL
Tenny Palepoi
, Sr., Utah
LB
Carl Bradford
, Jr., Arizona State
LB
Myles Jack, Fr., UCLA
LB
Hayes Pullard
, Jr., USC
LB
Chris Young
, Sr., Arizona State
DB
Dion Bailey
, Jr., USC
DB
Osahon Irabor
, Grad., Arizona State
DB
Marcus Peters
, So., Washington
DB
Rashaad Reynolds
, Sr., Oregon State
Second team specialists
PK
Vincenzo D'Amato
, Sr., California
P
Travis Coons
, Sr., Washington
RS
Nelson Agholor
, So., USC
ST
Erick Dargan
, Jr., Oregon
ST
Joe Hemschoot
, Sr., Stanford
ST
Ryan Hofmeister
, Jr., UCLA
RS: Return Specialist
ST: special teams player (not a kicker or returner)
(2): Two-time first-team selection
Honorable mention
Arizona:
LB
Marquis Flowers
, Sr.; DL
Tevin Hood
, Sr.; WR
Nate Phillips
, Fr.; DB
Jared Tevis
, Jr.; LB
Scooby Wright
, Fr.
Arizona State:
DL
Davon Coleman
, Grad.;
Gannon Conway
, Sr.; ST
D.J. Foster
, So.; ST
De'Marieya Nelson
, Jr.
California:
DL
Deandre Coleman
, Sr.; QB
Jared Goff
, Fr.; WR
Bryce Treggs
, So.
Colorado:
RB
Mike Adkins
, Fr.; LB
Addison Gillam
, Fr.; PK
Will Oliver
, Jr.
Oregon:
WR/RS
Bralon Addison
, So.; WR
Josh Huff
, Sr.; OL
Tyler Johnstone
, So.; DL
Wade Keliikipi
, Sr.; LB
Derrick Malone
, Jr.; RB
Byron Marshall
, So.; DL
Tony Washington
, Jr.
Oregon State:
OL
Grant Enger
, Sr.; TE
Connor Hamlett
, JR.; QB
Sean Mannion
, Jr.; DB
Ryan Murphy
, Jr.; DB
Steven Nelson
, Jr.; ST
Terron Ward
, Jr.
Stanford:
DL
Henry Anderson
, Sr.; DB
Alex Carter
, So.; OL
Kevin Danser
, Sr.; DL
Josh Mauro
, Sr.; P
Ben Rhyne
, Sr.; DB
Jordan Richards
, Jr.; LB
A.J. Tarpley
, Sr.
UCLA:
OL
Jake Brendel
, So.; ST
Jayon Brown
, Fr.; P
Sean Covington
, Fr.; TE
Thomas Duarte
, Fr.; WR
Shaq Evans
, Sr.; WR
Devin Fuller
, So.; DB
Randall Goforth
, So.; QB
Brett Hundley
, So.; DB
Anthony Jefferson
, Jr.; LB
Eric Kendricks
, Jr.; DL
Cassius Marsh
, Sr.; DL
Ellis McCarthy
, So.; DB
Fabian Moreau
, So.; OL
Alex Redmond
, Fr.; DL
Eddie Vanderdoes
, Fr.; LB
Jordan Zumwalt
, Sr.
USC:
P
Kris Albarado
, So.; RB
Javorius Allen
, So.; WR Nelson Agholor, So.; DB
Su'a Cravens
, Fr.; OL
Kevin Graf
, Sr.; TE
Xavier Grimble
, Jr.; QB
Cody Kessler
, So.; WR
Marqise Lee
, Jr.; DB
Josh Shaw
, Jr.; DL
J.R. Tavai
, Jr.; OL Max Turek, So.; DL
George Uko
, Jr.
Utah:
WR
Dres Anderson
, Jr.; OL
Vyncent Jones
, Sr.; DB
Keith McGill
, Sr.; PK
Andy Phillips
, Fr.; LB
Jason Whittingham
, So.
Washington:
OL
Dexter Charles
, So.; PK
Travis Coons
, Sr.; OL
Mike Criste
, Jr.; OL
Micah Hatchie
, Jr.; DB
Sean Parker
, Sr.; QB
Keith Price
, Sr.; DL
Danny Shelton
, Jr.; LB
Shaq Thompson
, So.
Washington State:
OL
Elliott Bosch
, Sr.; WR
River Cracraft
, Fr.; PK
Andrew Furney
, Sr.; DB
Damante Horton
, Sr.;
Some notes on the teams:
By School:
Arizona State and Stanford placed the most players on the first team with six selections each.
By Class:
Of the 27 first-team selections, two are graduate students, 11 are seniors, nine are juniors, four are sophomores and one freshman.
Unanimous:
Only one player was named on the first-team ballot of all 12 head coaches -- RB Ka'Deem Carey of Arizona.
Two-time Selections:
Ten players are repeat first-team selections from last year.
All-Academic:
Two first team All-Pac-12 performers also were named to the Pac-12 All Academic second team -- RB Bishop Sankey of Washington and DB Ed Reynolds of Stanford, while Washington defensive lineman Hau'oli Kikaha was named to the All-Pac-12 second team and Pac-12 All-Academic first team. Arizona State QB Taylor Kelly earned second-team honors on both the Pac-12 All-Conference and All-Academic teams.
November, 17, 2013
Nov 17
1:00
PM PT
Pat Haden has little choice now.
Ed Orgeron,
Andre Heidari
and the football gods have conspired to make his decision for him. Barring a complete meltdown in Colorado or an uncharacteristic lopsided loss against UCLA, the USC athletic director has to remove the interim title from Orgeron and name him the Trojans' new coach.
[+] Enlarge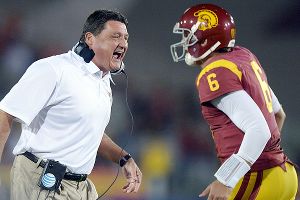 Kirby Lee/USA TODAY SportsInterim coach Ed Orgeron has brought energy and enthusiasm back to the Trojans.
Either that, or face a full-fledged cardinal and gold revolt.
Heidari's clutch 48-yard field goal in the pulsating
20-17 upset of fourth-ranked Stanford
was the clincher. It released a torrent of USC emotion matched only by the thousands of giddy fans who stormed the floor of the Coliseum on Saturday night, making it look like New Year's Eve in November.
It was an unabashed Orgeron love-fest. The fans love him. The student body loves him. The players love him. And maybe most importantly, all those star-struck recruits who were standing on the sidelines seemed ready to fall in love with him.
What has happened here is that Orgeron has ignited some kind of visceral reaction from USC supporters, exacerbated perhaps because he has become, in so many ways, the anti Lane Kiffin.
Orgeron doesn't stand there impassively on the sidelines staring down at a laminated play card that looks more like a restaurant menu. He waves his arms and punches the air and wildly interacts with all the players. The same team that once reflected Kiffin's introverted personality now has taken on Orgeron's bounding, extroverted enthusiasm.
And the people who jammed the Coliseum for the first sellout in a couple of seasons love it. If they hadn't fully embraced this large bear of a man with the Cajun accent before Saturday night, they certainly do now.
It's impossible to not be won over by a coach who stared down at his own big decision, the biggest decision of his career, in the waning minutes of that game. USC had a fourth-and-two at the Stanford 48-yard line with 1:23 remaining, and Orgeron had to decide if he wanted to gamble.
The stakes couldn't have been any higher. The game, the Trojans' season and Orgeron's future all hung in the balance. Would he try for the first down and play for the win in regulation, or punt and hope for a tie and overtime?
Orgeron went for it.
Cody Kessler
, who played his best game of the season, threw a dart to a limping, but courageous
Marqise Lee
for the first down that led to Heidari's dramatic kick.
John McKay would have been proud. I remember a Rose Bowl game against Purdue when McKay went for a two-point conversion and missed, losing the game by one point. Asked about it afterwards, the Hall of Fame coach snapped: "I didn't come here for a tie. I came to win."
Same with Orgeron. How different was his bold gamble for the win compared to Kiffin's reticent play-calling that led to a still hard-to-believe
10-7 loss to Washington State
in the Pac-12 opener?
That's why so many people have fallen for Coach O. He has brought old-fashioned USC football back. He wants to play the tough, physical style that made this program so unique under McKay, John Robinson and Pete Carroll. He might not have all the components yet, as you may have noticed as Stanford dominated the line of scrimmage most of the night, but he fully intends to get the kind of players to make it happen.
One thing that seems to have been forgotten through the early weeks of the USC coaching search is that Orgeron long has been recognized as one of the top recruiters in the country. And if he could carve out that kind of recruiting reputation as an assistant, there is no telling how good he could be as the head guy.
To continue reading this article you must be an Insider
September, 26, 2013
Sep 26
10:15
AM PT
A few things to keep an eye on in the Pac-12 this week.
League play is upon us: Rejoice! Now the Pac-12 teams can gut each other with their nine-game conference schedule and lose all of that national credibility it built up in the first four weeks of the season. This year, perhaps more than any other in recent memory, it doesn't look like there are any easy outs. Would anyone really be shocked if Colorado beat Oregon State based on what we've seen? The only one that would be truly shocking would be Cal beating Oregon -- and we might raise an eyebrow if Washington State beats Stanford in Seattle -- especially sans David Yankey for the game and Ed Reynolds for a half.

[+] Enlarge

Kirby Lee/USA TODAY SportsUSC's Morgan Breslin has recorded four sacks this season for the Trojans.

Nonconference notes: A good tidbit from the folks at the Pac-12 offices regarding the league's 29-4 nonconference record: Since 1934, only one season witnessed the conference capture more than 29 wins in nonleague play; 2002 (32-15), when the league played an eight-game conference schedule, allowing an additional 10 non-conference games to be played. There are three nonconference games remaining (a possible fourth pending Colorado's situation) against Notre Dame. The Pac-12 is contracted with seven bowl games, so there could be as many as 11 more nonconference games.

Battle of elites (1): Two of the league's top running backs will be on the field in Seattle on Saturday -- though not at the same time. That would mean either a bizarre trade or either Ka'Deem Carey or Bishop Sankey playing defense. In terms of rushing yards per game, they are separated by less than a yard (149.5 for Carey, 148.67 for Sankey). Yards per carry? It's even closer (6.97 for Sankey, 6.95 for Carey). Both have four rushing touchdowns. While it's not truly head-to-head, this could be one of those games folks look to when awarding postseason honors.

Battle of elites (2): Two of the league's top wide receivers will be on the field in Corvallis on Saturday -- though not at the same time. That would mean a bizarre trade or either Brandin Cooks or Paul Richardson playing defense. Cooks leads the nation with 43 catches for 639 yards and seven touchdowns. In only two games, Richardson has 21 catches for 417 yards and four touchdowns. Sixty percent of the time Cooks catches the ball, Oregon State either gains a first down or scores a touchdown.

Battle of elites (3): Two of the league's top defensive players will be on the field in Tempe on Saturday -- though not at the same time. That would mean either a bizarre trade or either Morgan Breslin or Will Sutton playing offense (which would be awesome!). Breslin is tied for the conference lead in total sacks (four) with teammate George Uko and leads the league in tackles for a loss per game. Sutton, on the other hand, has nine tackles, no sacks and half a tackle for a loss. The reason? Teams are double- and triple-teaming him like crazy. Plus, ASU has faced more run-based teams in the first few weeks. This week might be a good time for him to break out.

Speaking of USC: How good has the defense been? According to ESPN Stats & Information, none of the four quarterbacks USC has seen has posted a Total QBR above 30. The Trojans are also blitzing a lot more under new coordinator Clancy Pendergast. Last year they blitzed 25 percent of the time. This year it's up to 46 percent. And when they blitz, opposing QBs are completing just 41.9 percent of their throws, throwing it away or ending up on the ground.

All hands: With big quarterback numbers come big receiving numbers. Six Pac-12 receivers have hauled in 10 or more catches in a game eight times this season, led by Cooks and Richardson with two each. Also, 17 different receivers have posted 100 or more receiving yards in a game 26 times, led by Cooks and Utah's Dres Anderson with three games each.

Layoff impact: Colorado is playing for the first time since its Sept. 7 win over Central Arkansas, which seems like months ago, though it actually has been only 20 days. After their Sept. 14 game with Fresno State was called off because of the flooding, the Buffs had a bye in Week 4. This is Colorado's first trip to Corvallis. The previous two meetings (1931, 1963) took place in Portland. This is the last Pac-12 team Colorado is yet to play since joining the league (though the Cal game in 2011 was the back end of a home and home that didn't count in the conference standings).

Tough road: This is the second-straight game against a top-five team for California, which faces No. 2 Oregon this weekend. The Bears have gotten huge numbers out of true freshman quarterback Jared Goff, who leads the FBS with 435.3 yards per game. But the defense has been hammered with injuries. Not good, considering 12 different Ducks have scored touchdowns so far.

Odds and ends: Worth noting that four more Pac-12 receivers were recently added to the Biletnikoff watchlist: Cal's Bryce Treggs, Oregon State's Richard Mullaney and Washington State's Gabe Marks, who are all in action this weekend. Utah's Dres Anderson is the fourth … UCLA and the Utes are off this week in anticipation of their Thursday night showdown next week in Salt Lake City.
September, 26, 2013
Sep 26
9:00
AM PT
Kevin Gemmell went 7-0 last week and improved to a scintillating 33-3. Ted Miller went 6-1, missing with his Holy War pick, a selection he made only to put the stink on BYU. But Utah fans shouldn't send any more checks his way.
Miller therefore fell to 31-5. Gemmel; is already making plans for the $1 million he gets if he wins the season.
All games are Saturday.
Arizona at Washington


Gemmell:
Not sure what to make of Arizona yet. It hasn't been pressed, and the passing game is still a question mark. Taking on a Washington team that has been pushed -- and is at home -- seems like a lot to overcome. And I wouldn't worry about Washington looking over the horizon to the Stanford game next week. It'll be focused on revenge after what happened last year in Tucson.
Washington 38, Arizona 24.
Miller:
The Wildcats have had two weeks to prepare, but a team can't really prepare for an atmosphere like Husky Stadium. While Wildcats QB
B.J. Denker
has played in road games, this will be a new level of extreme. The real issue is how effective Denker is throwing the football. If the Wildcats can achieve efficient balance, the holes will be bigger for RB
Ka'Deem Carey
. It also will be interesting to see how the Wildcats newly stout defense holds up against the Huskies' highly rated offense.
Washington 35, Arizona 20.
USC at Arizona State


Gemmell:
Plenty of great sidebars and storylines in this must-win game for both teams. The Sun Devils are holding on to whatever national credibility they have by a thread. USC is riding the coattails of its defense. If Arizona State can put together 60 minutes instead of 15, I think it wins by a couple of touchdowns. If it doesn't, it could be tight.
ASU 24, USC 21.
Miller
: We know USC's defense is good. Do we yet know if the Trojans' offense is going to be this bad all season? The first question is whether Trojans QB
Cody Kessler
's throwing hand is 100 percent. The passing game went south against Utah State last weekend after he got hurt. And what will Sun Devils QB
Taylor Kelly
be able to do against that tough USC defense?
Arizona State 21, USC 17.
Colorado at Oregon State


Gemmell:
Much like Arizona, I'm waiting to see what Colorado is really made of. I love the start, and everyone feels good about the Buffaloes being 2-0. But Oregon State's passing game has been wickedly efficient and the
Sean Mannion
-to-
Brandin Cooks
connection is one of the best in the country. The Buffs will score points, but before I start picking them in a league game on the road, I need to see just how much they've grown up. The two weeks off is also a wrench in predictions. They could be super rested, or super rusty.
Oregon State 48, Colorado 38.
Miller:
Colorado is a better team than it was in 2012, we know that. But being better and being ready to win on the road in the Pac-12 are two different things. I want to see what Buffs QB
Connor Wood
and WR
Paul Richardson
can do against a suspect Beavers defense.
Oregon State 40, Colorado 28
.
California at Oregon


Gemmell:
Another step in the maturation of
Jared Goff
. Being down defensively isn't where you want to be when playing Oregon -- especially on the road. No reason why the Ducks don't keep things rolling.
Oregon 49, Cal 21.
Miller:
Both teams were off last weekend, and Cal needed a break. But Autzen Stadium isn't a place to go to heal a season. I think this one might get a bit lopsided.
Oregon 50, California 20.
Stanford vs. Washington State (in Seattle)


Gemmell:
Will be interesting to see how the Cougars attack Stanford early with
Ed Reynolds
out for the first half. I'm guessing they go at the heart of the Stanford secondary because running against the Cardinal will be a chore. Turnovers have been Washington State's Achilles Heel (11 total, minus-3 ratio, worst in the league). Stanford will do what Stanford does. And what Stanford does should be more than enough.
Stanford 31, Washington State 17.
Miller:
Stanford will be missing All-American OG
David Yankey
, too, so the Cougs' front-seven will be catching a break. No guard in the country is better at pulling, so that hits the Cardinal's bread-and-butter. But Stanford figures to take this one seriously because the Cougars gave them trouble last year, is an obviously improved team and the Cardinal turned in a woeful fourth quarter last weekend against Arizona State.
Stanford 35, Washington State 22
.
September, 25, 2013
Sep 25
2:30
PM PT
Aging black leather and hospital bills,
Tattoo removal and dozens of pills.
Your liver pays dearly now for youthful magic moments,
But rock on completely with some brand new components.
September, 23, 2013
Sep 23
3:00
PM PT
The Pac-12 has earned national respect during its nonconference schedule. The general consensus is that the conference, which boasts a 29-4 record in out-of-league play, ranks second to the SEC. And there are a few outliers crunching analytics who believe the Pac-12 is, in fact, No. 1.
The conference is elite at the top and boasts high quality from top to bottom. Heck, once-woeful Colorado beat a Colorado State team on a neutral field that took home-standing and top-ranked Alabama into the fourth quarter before yielding.
So let the record show that, on Sept. 22, folks thought pretty highly of the Pac-12.
[+] Enlarge
Harry How/Getty ImagesHow far could Saturday's game at Arizona State go toward determining the future of USC coach Lane Kiffin?
Now that it's shined against the nation, what's the Pac-12 going to do to itself? That's the question as the conference schedule begins to heat up this week.
Will Oregon and Stanford get to their highly anticipated Nov. 7 clash unbeaten? You could make an argument for and against based on what has happened thus far. The Ducks and Cardinal have looked impressive, not unlike national title contenders. But the field also is much improved. Both get No. 16 Washington before their red-letter meeting. Both get No. 13 UCLA, too.
It will be extremely difficult to finish 9-0 in Pac-12 play, which is the only way to (practically) guarantee a berth in the national title game. On the other hand, a one-loss Pac-12 team might receive strong support as a first-among-equals when compared to other one-loss teams, if there aren't two unbeaten AQ conference teams at season's end.
And what about those seemingly second-tier teams, such as the Huskies and Bruins? Both seem capable of winning 10 games. Or winning just eight and still being pretty darn good.
The point is that the depth of the conference will make the nine-game conference schedule even more arduous than in years past. UCLA and Washington might be top-10 or top-15 teams in terms of true quality, but their final records might not make that obvious. And you can't count on East Coast voters to recall where things stood entering the final weekend of September.
Two games stand out this week. The winner of USC's visit to Arizona State might reclaim a national ranking. It also will notch a critical win in terms of the South Division pecking order. The loser will fall to 0-2 in conference play. That will be a really bad thing, though it's a good bet the eventual South champ will have two conference losses.
If the Trojans go down -- and they are underdogs -- coach Lane Kiffin's position might become untenable. The bye-week discussion would be more about who will replace him rather than a visit from Arizona on Oct. 12.
If the Sun Devils fall, it would bring to a skidding stop the positive vibe around the program that fed the entire offseason. The Sun Devils would head to Texas to play Notre Dame with the "Same Old ASU" tag hung around their necks.
Meanwhile, the Sun Devils' friends from Tucson, the
Arizona Wildcats
, will be introducing themselves to the season with a visit to Washington. Last year, the Wildcats manhandled the Huskies 52-17. While the Huskies should be motivated by that game film, Arizona has shown signs of being sneaky good, with a much-improved defense and a rugged running game.
It feels like a revealing matchup for both. The Wildcats are probably the Huskies' toughest opponent to date (yes, superior to Boise State, which lost to Fresno State on Friday), and an Arizona win over a ranked team would give the Wildcats credibility. And their own national ranking.
There also are a pair of "Don't go to sleep, Mr. Favorite" games.
[+] Enlarge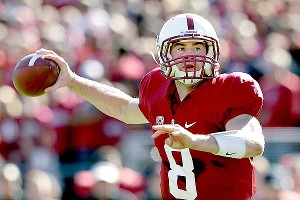 AP Photo/Jeff ChiuStanford quarterback Kevin Hogan has completed 62.9 percent of his passes to lead a high-powered Cardinal attack.
Stanford will take on a vastly improved Washington State team in Seattle. The Cougars' defense ranks among the nation's leaders in just about every category, but Cardinal QB
Kevin Hogan
and the nation's best offensive line will provide a major challenge. The Stanford secondary also will be tested by Mike Leach's Air Raid attack, particularly if All-American safety
Ed Reynolds
is suspended due to his helmet-to-helmet hit against Arizona State.
Oregon State has shown it won't be able to take any foe for granted this year, so a visit from Colorado should inspire urgency, not expectations for an easy win. The Buffaloes might be rusty after two weeks off, or they might have a finely tuned game plan that will fluster the Beavers. A Buffs upset would reasonably inspire bowl talk in Boulder. If the Beavers hold serve, they arrive at a bye week they desperately need in order to get healthy, physically and mentally.
California at Oregon? It's difficult to imagine the Bears winning in Autzen Stadium. Sure, they've put up huge passing numbers, but this will be freshman QB
Jared Goff
's first road start. Autzen is not where you want to do that.
The Pac-12's ideal scenario at season's end is producing an unbeaten team playing for a national title, another top-10 team playing in the Rose Bowl, and three to five other ranked teams. It's reasonable to envision that playing out.
But it's also possible that the Pac-12 will eat itself alive, with a champion with two (or more) defeats, a scattering of underrated 8-4 teams and two or more 5-7 teams that aren't bowl-eligible.
This weekend, we'll start in earnest to see how things will play out. Buckle up.
September, 9, 2013
Sep 9
8:00
AM PT
Taking stock of Week 2 in the Pac-12.
Team of the week
: It was inevitable that Washington State's 10-7 win at USC was going to end up being an archly negative referendum on Trojans coach Lane Kiffin, rather than a celebration of the Cougars' advancement, but the Cougs still had to make the plays to win the game. And they did. Washington State hinted at Auburn in the opener that it would be a tougher out in Year 2 under Mike Leach. At USC, the Cougars showed they are capable of winning Pac-12 games.
Best game
: The Cougars' win at USC was devoid of offense, but it was the only game of the weekend that presented a lot of drama. Even California's closer-than-expected win over Portland State owned a note of inevitability once the Bears settled down on defense in the second half. In terms of good football, Oregon and Stanford certainly provided that in dominant victories.
Biggest play
: Washington State cornerback
Damante Horton
provided the Cougs with their only touchdown when he returned an interception of a
Cody Kessler
pass for a 70-yard TD with one minute left before halftime. That tied the score at 7-7 and seemed to irritate Trojans fans in the Coliseum. Go figure.
[+] Enlarge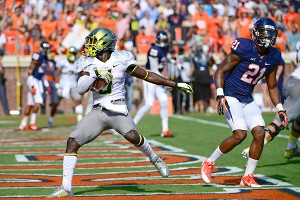 Bob Donnan/USA TODAY SportsOregon RB De'Anthony Thomas rushed for 124 yards and three TDs against Virginia.
Offensive standout
: There were a number of big performances against weak foes, but
De'Anthony Thomas
' work at Virginia stands out the most, in large part because it answered a question: Yes, Thomas can be a lead running back. His 124 yards on just 11 carries -- 11.3 yards per run -- and three touchdowns were not just flash. There were moments of physicality, too. Heck, he threw a couple of effective stiff arms against far larger defenders. He also caught a 28-yard pass, so he's still a weapon in the passing game when Mark Helfrich and Scott Frost want him to be.
Defensive standout
: Horton not only had his pick-six, he also intercepted USC's other QB,
Max Wittek
, on the Trojans' final possession. That would be enough for a tip of the cap, but he also had two tackles for a loss and four total tackles. It's worth noting that he helped limit the nation's best receiver,
Marqise Lee
, to seven catches for 27 yards, though some of that may fall on the guy calling plays for the Trojans.
Defensive standout II
: Stanford All-American safety
Ed Reynolds
had 12 tackles and an interception, leading the Cardinal's dominant defensive effort against
David Fales
and San Jose State. The Spartans had only 251 total yards in a 34-13 Stanford victory.
Trent Murphy
's two sacks also are worthy of note.
Special teams standout
: New Arizona kicker
Jake Smith
set a school record with 16 points via kicking in the Wildcats' 58-13 win over UNLV. Smith was 3-for-4 on field goals with a long of 41 yards and he was perfect on seven extra points. Those 16 points broke the previous single-game record for kickers of 15 held previously by three players. In addition, Smith kicked off 11 times, with five touchbacks and a 63.3-yard average. The Rebels mustered only 16.5 yards per return on six tries, and Smith registered one tackle to stop a potential long return.
Smiley face
: The Pac-12 took care of business and avoided upsets, going 8-0 in the Week 2 nonconference slate. There were some scares, most notably California and Colorado, but winning is the thing. The conference's top two teams, Oregon and Stanford, both posted dominant wins against respectable foes.
Frowny face
: Well, this isn't terribly difficult: USC. Not USC as a whole, because the Trojans turned in a sterling defensive performance against Washington State. New defensive coordinator Clancy Pendergast has done everything asked of him. Maybe more. But the Trojans' offensive ineptitude against the Cougars is inexcusable. You could make an argument that a purely random selection of play calls would have produced more points and yards than what the Trojans got Saturday as boos rained down in the Coliseum.
Thought of the week
: It's measuring stick week, time for the Pac-12 to announce to the country what many started theorizing in the preseason: The Pac-12 this fall is as strong as it has been in recent memory, top to bottom, and should be in the mix when debating the nation's best conference. There are games against three ranked teams: California vs. No. 4 Ohio State, UCLA at No. 23 Nebraska and Arizona State vs. No. 20 Wisconsin. Further, Washington visits Illinois, Colorado plays host to Fresno State, Boston College visits USC and Tennessee is at Oregon. The Pac-12 blog -- and others on the West Coast -- have talked the talk. Now the teams must walk the walk.
Questions for the week
: Was Washington State Kiffin's Waterloo? It's not difficult to ascertain what fans at the Coliseum were thinking after the 10-7 loss to Washington State. After booing throughout the game, they chanted "Fire Kiffin" in the fourth quarter. The Pac-12 blog gets no joy from hot seat talk. Being gleefully snarky about a guy struggling at his life's work is pretty lame. But Kiffin is a big boy. Big-time college football is a bottom-line profession -- winning is the thing. And that's even more true at a place such as USC. Things will have to turn around quickly and dramatically, particularly on offense, for Kiffin to retain his job.
August, 30, 2013
Aug 30
8:00
AM PT
Our countdown of the Pac-12's top 25 preseason players in 2013 concludes.
A lot of good players, as it happens every year, won't make the preseason list. It is in their hands to make the postseason list.
You can review our 2012 postseason top 25
here
.
1
.
Marcus Mariota
, QB, Oregon
2012 numbers
: In his redshirt freshman year, Mariota was the league's most efficient passer and second nationally per ESPN's QBR rating. He completed 68.5 percent of his throws for 32 touchdowns and 2,677 yards with only six interceptions. He also rushed for 752 yards and five touchdowns, averaging 57.8 yards on the ground. And yes, we didn't forget, he caught one ball for two yards and a touchdown. That was the beginning of the end for the dynamic
Bryan Bennett
-to-Marcus Mariota connection.
2012 postseason ranking
: No. 1
Making the case for Mariota
: He ended 2012 as our No. 1, and we see no reason to penalize him for getting better in the off season. Yes, he should be even better in 2013. With an outstanding line and cast of players around him like
De'Anthony Thomas
,
Colt Lyerla
,
Josh Huff
and a surging
Byron Marshall
, expect Mariota to build off his incredible numbers that made him an All-American honorable mention last season. Look for the postseason accolades to increase as well -- maybe even the bronze guy with the stiff arm. It's fun to wonder what his numbers might have looked like last year had he not sat out of the second half of a few games because Oregon couldn't help but put up 40-plus points in the first half. And given Oregon's early schedule in 2013 -- it's possible we could see Mark Helfrich treat his quarterback the same way Chip Kelly did last year. Still, as long as he's running Oregon's offense with fantastic precision, he'll put up the kind of dual-threat numbers that Heisman voters love. The fact that Oregon starts the year ranked in the top five and will be a national championship contender helps. In this quarterback-driven league, Mariota stands at the top of his position and the top of our preseason list.
2
.
Will Sutton
, DT, Arizona State
3.
Marqise Lee
,
WR, USC
4
.
Anthony Barr
, OLB, UCLA
5.
Brett Hundley
, QB, UCLA
6.
Ka'Deem Carey
, RB, Arizona
7.
Trent Murphy
, OLB, Stanford
8.
Ifo Ekpre-Olomu
, CB, Oregon
9
.
David Yankey
, OG, Stanford
10
.
Scott Crichton
, DE, Oregon State
11
.
Ed Reynolds
, S, Stanford
12
.
Taylor Kelly
, QB, Arizona State
13
.
Austin Seferian-Jenkins
, TE, Washington
14
.
De'Anthony Thomas
, RB, Oregon
15
.
Bishop Sankey
, RB, Washington
16
.
Shayne Skov
, LB, Stanford
17
.
Kevin Hogan
, QB, Stanford
18
.
Xavier Su'a-Filo
, OL, UCLA
19
.
Morgan Breslin
, OLB, USC
20
.
Colt Lyerla
, TE, Oregon
21
.
Carl Bradford
, LB, Arizona State
22
.
Brandin Cooks
, WR, Oregon State
23
.
Hroniss Grasu
, C, Oregon
24
.
Marion Grice
, RB, Arizona State
25
.
Ben Gardner
, DE, Stanford
August, 28, 2013
Aug 28
9:00
AM PT
Our countdown of the
Pac-12's top 25 preseason players
in 2013 continues.
A lot of good players, as it happens every year, won't make the preseason list. It is in their hands to make the postseason list.
You can review our 2012 postseason top 25
here
.
3. Marqise Lee, WR, USC
2012 numbers
: Lee caught 118 balls and hauled in 14 touchdowns to go with his 1,721 yards in 2012. He also returned a kickoff 100 yards for a touchdown and carried 13 times for 106 yards.
2012 postseason ranking
:
No. 3
Making the case for Lee
: One of the most dynamic players in the country, Lee returns as the 2012 Biletnikoff winner, and likely the 2013 favorite. The big difference this season is that he won't have Matt Barkley throwing to him. In fact, we're still not sure who his steady quarterback is going to be. Either way, many are projecting his numbers to maybe take a hit from last season. But that shouldn't dampen what Lee is capable of. As quarterback hopeful
Cody Kessler
described it, throwing to Lee is like throwing to a 10-yard net in any direction. And if
Nelson Agholor
emerges as a threatening No. 2, just as Lee did playing alongside
Robert Woods
, it should help Lee escape some double coverage. Yet even when he's double-teamed, Lee should be considered the premier wide receiver in the conference and country.
4
.
Anthony Barr
, OLB, UCLA
5.
Brett Hundley
, QB, UCLA
6.
Ka'Deem Carey
, RB, Arizona
7.
Trent Murphy
, OLB, Stanford
8.
Ifo Ekpre-Olomu
, CB, Oregon
9
.
David Yankey
, OG, Stanford
10
.
Scott Crichton
, DE, Oregon State
11
.
Ed Reynolds
, S, Stanford
12
.
Taylor Kelly
, QB, Arizona State
13
.
Austin Seferian-Jenkins
, TE, Washington
14
.
De'Anthony Thomas
, RB, Oregon
15
.
Bishop Sankey
, RB, Washington
16
.
Shayne Skov
, LB, Stanford
17
.
Kevin Hogan
, QB, Stanford
18
.
Xavier Su'a-Filo
, OL, UCLA
19
.
Morgan Breslin
, OLB, USC
20
.
Colt Lyerla
, TE, Oregon
21
.
Carl Bradford
, LB, Arizona State
22
.
Brandin Cooks
, WR, Oregon State
23
.
Hroniss Grasu
, C, Oregon
24
.
Marion Grice
, RB, Arizona State
25
.
Ben Gardner
, DE, Stanford
August, 21, 2013
Aug 21
11:00
AM PT
Changing the perception of a league is no easy task. And for the Pac-12, bucking its offense-first image may never happen.
As long as Oregon keeps gobbling up points by the minute and yards by the mile; as long as Rich Rodriguez does what RichRod does and there are Air Raids and Bear Raids about, offense will always be associated with the Pac-12. As long as De'Anthony Thomas and Marion Grice can score from anywhere; as long as Marqise Lee keeps turning a 4-yard slant into an 80-yard touchdown; as long as Ka'Deem Carey is running wild and Marcus Mariota and Brett Hundley are burning up stat sheets, Pac-12 defenses will continue to be overshadowed.
And yet …
[+] Enlarge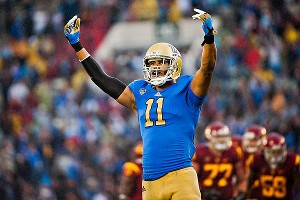 Jonathan Moore/Getty ImagesUCLA linebacker Anthony Barr leads an impressive group of defenders in the Pac-12.
"I would love to see an all-star game with our conference's defensive players on the same team," said Stanford coach David Shaw. "I think it would be phenomenal, and scary. Anthony Barr is borderline unblockable. Will Sutton gets in the backfield seemingly every play, single block, double block, whatever. Morgan Breslin, Sutton and Ben Gardner on the line and Shayne Skov sideline to sideline with Barr coming off the edge.
"Maybe we're getting to a golden era for defensive players in this conference because you've got good defensive units and some really elite standout players."
Last season, five Pac-12 teams ranked in the top 15 nationally in sacks per game including Stanford (first), Arizona State (second), USC (fourth), UCLA (eighth) and Washington State (14th). That's up from three teams in the top 20 in 2011, two teams in the top 20 in 2010 and zero teams in the top 10 in 2009.
ASU and Stanford were first and second, respectively, in tackles for a loss per game, and WSU and USC ranked in the top 11. It's a given that a lot of points will be scored in the Pac-12. But defenses are making it tougher.
"It's been an interesting evolution," said Oregon State coach Mike Riley, the dean of the Pac-12 who is entering his 13th season. "What you're seeing is a premium on speed and guys with a lot of flexibility. There are still big people that need to play on the interior. But your edges -- if you're going to lead the league in sacks -- then having a great edge rusher is always at a premium."
Guys like the aforementioned Barr, Sutton and Breslin, Stanford's Trent Murphy, Oregon State's Scott Crichton, Cal's Deandre Coleman and ASU's Carl Bradford are in that conversation. All of them are expected to rank among the nation's best in sacks and TFLs. That should make for a heated debate when picking the league's defensive player of the year.
And who says it will be someone from the front seven? Four Pac-12 teams were among the top 20 in interceptions last year, and Oregon led the country. The Ducks have the nation's best cornerback duo with Ifo Ekpre-Olomu and Terrance Mitchell, while Stanford boasts the outstanding safety tandem of Ed Reynolds and Jordan Richards. Oregon State's Ryan Murphy, USC's Dion Bailey and WSU's Deone Bucannon are also elite safeties.
Washington might have the best young defensive player in the league in Shaq Thompson.
"You can have a high-powered offense that puts up big points, but if you can't stop anybody, it's anyone's game," said Sutton. "With a great defense, you can accomplish anything."
Those who follow the league know there have been great defenses in the past. Washington in the early '90s and Arizona's Bear Down defense come to mind. Behind all of USC's Heisman quarterbacks a decade ago were outstanding defenses.
"I think what we're starting to see is the individual players and coordinators starting to get some notoriety," said Shaw, whose team ranked fifth nationally against the run last year -- an amazing statistic considering the running backs they faced in 2012. "When Oregon started being really good and scoring a ton of points, people didn't realize they were keeping people from scoring too and playing great defense. To this day I still think they have the most underrated defensive coordinator [Nick Aliotti] in the country."
One of the major challenges of being a defensive coach in the Pac-12 is the diversity of offenses. Oregon's spread is considered run-based, yet the Ducks had the most efficient passing attack in the league. Arizona's spread is considered pass-based, yet its running back led the nation in rushing. Stanford is considered "conventional" with its pro-style, but it'll use personnel groups with seven offensive linemen.
"I don't even know what pro-style means anymore," said UCLA coach Jim Mora. "The perceptions are distorted. You can break down a spread offense or a pro-style and they'll have the same route concepts. There are only so many. But the formations are different. The personnel is different. The motion before the snap is different. The league has so many speed athletes so one of the reasons we play a 3-4 is to get more speed athletes on the field."
It's time, says Bucannon, to let rest of the country know the Pac-12 can play a little defense, too.
"We have fast, up-tempo teams and marquee offensive players. At the same time, there are some great defensive players on that side of the ball," he said. "And we refuse to be overshadowed."
February, 25, 2013
Feb 25
8:48
AM PT
Our countdown of the top 25 players in the 2012 season continues.
You can see the preseason top 25 here
.

No. 3
:
Marqise Lee
, WR, USC
2012 numbers
: Lee caught 118 passes for 1,721 yards with 14 touchdowns. He also rushed 13 times for 106 yards. And returned a kickoff 100 yards for a TD.
Preseason ranking
:
No. 9
Making the case for Lee
: It's pretty simple: Lee, a 6-foot-1, 195-pound true sophomore, was a unanimous All-American because he was the best receiver in the nation this season. Some might argue he was the best overall player in the nation. He ranked second in the nation in both receptions per game (9.08) and receiving yards per game (132.38). His 345 yards receiving at Arizona set a Pac-12 record and also were the fifth-most in FBS history. Lee produced three of the top four receiving games in the conference this year -- the Arizona performance, 197 yards versus Hawaii and 192 yards at Utah. Five times he went over 150 yards receiving. It wasn't like teams didn't know he was coming. He was a 1,000-yard receiver as a true freshman. Further, the Trojans other top receiving target,
Robert Woods
, was a unanimous All-American the year before. You'd think Lee would have had to share the ball more. Yet Lee was so difficult to stop, so tempting to target, that it's possible -- probable perhaps -- that the Trojans strangely inconsistent offense this year looked to Lee
too often
. That, however, isn't Lee's fault. Lee posted a spectacular season that wasn't appreciated enough because his team was so massively disappointing overall.
No. 4
:
Matt Scott
, QB, Arizona
No. 5
:
Ka'Deem Carey
, RB, Arizona
No. 6
:
Kenjon Barner
, RB, Oregon
No. 7
:
Johnathan Franklin
, RB, UCLA
No. 8:
Stepfan Taylor
, RB, Stanford
No. 9
:
Star Lotulelei
, DT, Utah
No. 10
:
Markus Wheaton
, WR, Oregon State
No. 11
:
Anthony Barr
, LB, UCLA
No. 12
:
Jordan Poyer
, CB, Oregon State
No. 13
:
Zach Ertz
, TE, Stanford
No. 14
:
Matt Barkley
, QB, USC
No. 15
:
Brett Hundley
, QB, UCLA
No. 16:
Trent Murphy
, OLB, Stanford
No. 17
:
Chase Thomas
, OLB, Stanford
No. 18
:
Ifo Ekpre-Olomu
, CB, Oregon
No. 19
:
David Yankey
, OL, Stanford
No. 20:
Dion Jordan
, DE/OLB, Oregon
No. 21
:
Scott Crichton
, DE, Oregon State
No. 22
:
Ed Reynolds
, S, Stanford
No. 23
:
Michael Clay
, LB, Oregon
No. 24
:
Taylor Kelly
, QB, Arizona State
No. 25
:
Reggie Dunn
, KR, Utah
September, 13, 2012
9/13/12
12:00
PM PT
No need to rehash all the gory details of the past five USC-Stanford matchups. We know them by now.
We know about Tavita Pritchard's last-minute touchdown to Mark Bradford in 2007, giving the Cardinal (41-point underdogs) a shocking victory and ending USC's 35-game home win streak. We know the Trojans stomped the Cardinal a year later. We certainly remember Toby Gerhart's three-touchdown performance, the 2-point conversion attempt and the Pete Carroll/Jim Harbaugh "what's your deal?" moment.
Well, would you look at that ... we're rehashing the gory details. Oh well, no reason to stop now.
We remember Nate Whitaker's field goal with four seconds left in 2010 and the triple-overtime thriller in 2011.
[+] Enlarge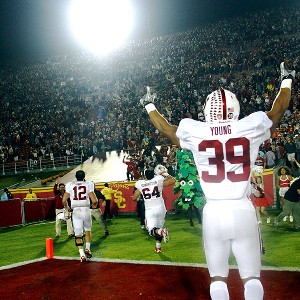 AP Photo/Ben LiebenbergAndrew Luck (12) leads a Stanford stampede after the Cardinal's triple-overtime victory in 2011 -- their third in a row in the series.
In short, Stanford-USC has provided us with some of the most entertaining football -- not just college football, but
football
-- over the past half-decade. From the on-field heroics to off-field jabbering, this matchup has blossomed into one of the better non-traditional rivalries in the conference. And it continues Saturday in the first league contest of the 2012 season at Stanford Stadium.
"I think it's a little more friendly rivalry and respectful rivalry maybe between the coaches than the last couple of coaches," USC coach Lane Kiffin said with a laugh. "Any time you go to the last play of the game two years in a row -- in what I think were extremely well-played games by both teams, very exciting games, great quarterback play -- yeah, it's become a rivalry. ... That's a lot of credit to Stanford. For a few years it wasn't. Obviously, Coach Harbaugh came in and really changed it and Coach [David] Shaw has picked up the flag and ran from there."
You probably won't see any mid-field fireworks between Kiffin and Shaw. The two go back a long time.
"The thing you have to remember about me and Lane, our dads worked together for years and we've known each other for a long time," Shaw said. "I have the utmost respect for Monte and since I've known Lane, he's been nothing but upfront and straight-forward with me. There is no animosity between us except for those 60 minutes on Saturday."
Of course, we also remember the
playful jab Kiffin took at Shaw
in the spring.
The No. 21 Cardinal have won the past three meetings and four of the past five. And it's no surprise that a guy named Andrew Luck was at the helm for those three. But Luck is gone and
Matt Barkley
returns at quarterback for the No. 2 Trojans. He's back to settle that unfinished business. And though he'll never admit it, part of it is probably getting a win over Stanford, the only Pac-12 team he has failed to beat in his career.
And he has as good a chance as any this year. His wide receivers --
Robert Woods
and
Marqise Lee
-- are the best in the country. Something that Shaw is very aware of.
"In all the years I was in the NFL and studied college wide receivers, and since I've been here studying different offenses, I've never seen a college team with two guys like this. There's never been [a pair like them] in the modern era," Shaw said.
"There are three 'explosions' for a receiver. There's explosion off the ball, explosion into the cut, and explosion after the catch. Usually, they decrease, with the last one not as big as the two before. With Woods, all three are explosive. It's like Joey Galloway in his prime. You see the same thing from Marqise Lee, except a bigger version."
Heading into this week the Cardinal are allowing the highest completion rate of any defense in the conference. But that doesn't concern Shaw, who said he'll give up short passes all day. It's about third-down defense, red-zone defense and making tackles.
It's the making tackles part that could be troublesome, especially when dealing with Lee. The sophomore sensation has gained 73.4 percent of his 263 receiving yards this year have come after the catch.* Worth noting, too, that Stanford safety
Ed Reynolds
leads the conference in interceptions (3) and is tied for second in passes defended (4).
And the Cardinal have their own offensive concerns in the post-Luck era. Last year, the Cardinal had the fewest three-and-out drives in all of FBS when Luck was running the show. So far this year, they rank 75th* while converting just 28 percent of the time on third down. The Cardinal have to keep drives alive to keep Barkley off the field. No easy task against Monte Kiffin's defense.
"You can't put him in a box and say he's a Tampa-2 guy because every known blitz to man, he's done at some point," Shaw said. "Whether it's strongside blitz, weakside blitzes, secondary blitzes, three-down nickel blitzes; he's got it all in his bag and it's just what he chooses to do that week. We're preparing for a variety of things."
For Kiffin and the prep-not-hype-motivated Trojans, a lot of them are trying to treat this just like any other game as they continue to make a push toward a national championship.
"I think when you come to a place like SC, you end up being a lot of people's rivals," Kiffin said. "I guess that's the best way to describe it. We end up being everyone's rivalry. Obviously, the most historic rivalry out of conference is Notre Dame. Then UCLA is cross-town. Now Oregon and Stanford within the last few years have become big rivalries as well."
Saturday marks another chapter in what has been a fantastic run between these two teams. Vegas puts the Trojans as a 10-point road favorite. On paper, that makes sense. If you check this morning's blog predictions, I have the Trojans winning by two touchdowns. But just be prepared for anything to happen. Because lately, in matchups between these two teams, anything does.
* ESPN Stats & Information