March, 17, 2014
3/17/14
6:00
AM PT
There was never any question that the defensive line coach succeeding former Trojans defensive line coach Ed Orgeron would be filling some legendary shoes, not to mention that booming Cajun voice.
In fact, it wouldn't be a reach to say that replacing Orgeron -- one of the most beloved and respected football coaches in USC football history -- was a daunting to near impossible task.
Enter former Georgia defensive line coach Chris Wilson, 45, who accepted the challenge of replacing the charismatic and intense Orgeron by focusing this spring on making his own footprint as the new mentor of the Trojans' extremely talented and deep returning defensive line.
So how difficult is it replacing a larger than life figure like Orgeron?
[+] Enlarge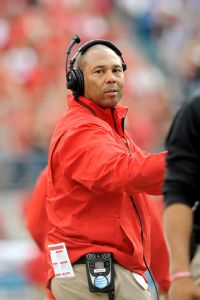 Courtesy UGA Sports CommunicationsChris Wilson says the Trojans' defensive line has a chance to be as good as any other team in the country.
"It's not difficult at all," Wilson said. "Ed Orgeron is Ed Orgeron. He is a tremendous coach, a tremendous teacher and a great recruiter, and I am a pretty good Chris Wilson. I kind of just do me. That's the biggest thing."
And how does Wilson's style compare with the loud and intense Orgeron?
"I am kind of like ribs and chicken; I am a combo," Wilson said with a laugh. "What I do requires of us is to be successful and what that means is that you have to know your players and how they respond and what they respond to. If anything, I am a studier of my guys. I try to find out how they respond and what they do well."
The departure of Orgeron was not exactly a smooth transition, as Trojans first-year head coach Steve Sarkisian first tried to coax him back to his long-time roots at USC. While those efforts didn't come to fruition, the Trojans CEO is excited that he could get a respected SEC coach from another fabled program to come west to Los Angeles.
"We are thrilled to add Chris Wilson to our coaching staff," Sarkisian said. "He is one of the premier defensive line coaches in the country and he is also a great recruiter."
Wilson and his wife, Tina, married for 18 years with two children, are no strangers to Southern California. In fact, one of their recent visits to the Southland actually had some foreshadowing and cardinal and gold connections.
"We've been out here on vacations before, and a couple of years ago we came out here to visit Ted Gilmore, now with the Raiders, who was here as a receivers coach on Coach [Lane] Kiffin's staff," Wilson said. "We're close friends and we came up and spent a day here with him. I thought even then what a neat place. To be here after three years from that moment is pretty different."
Of course, anytime you decide to transplant your family from one end of the United States to the other, it takes some discussion and forethought.
"Any time you move across country, there is a lot of dynamics that go into it," said Wilson, who was a four-year (1988-91) letterman linebacker at Oklahoma and a 12th-round NFL draft selection by the Chicago Bears in 1992. "Just the sheer opportunity to be here are SC, it was a no-brainer. We're excited to be out here and be with Coach Sarkisian and his staff. It was one of those deals when my wife and I sat down and talked about it, it was pretty clear for us."
Of course it didn't hurt for Wilson to know he had some future NFL quality talent at his disposal. But is it the type of talent he saw when he was in the SEC?
"Absolutely," said Wilson. "We're big and athletic."
Then there are those so-called experts that are already proclaiming the Trojans D-linemen the best in the Pac-12 for 2013. Is that a realistic evaluation?
"We have the potential to be, but obviously we haven't played a game yet," Wilson said. "We've got a lot of talent and we've got a lot of unproven talent.
"I like our mindset and I like our work ethic. We have a chance to be as good as anybody in the country if we can just stay the course. We are very big across the board, and what I like about us is that we're able to play on all three downs. They're not just space-eaters."
And what about talented Trojans such as returning junior All-American
Leonard Williams
and intriguing potential of redshirt freshman
Kenny Bigelow
?
"They're very talented and gifted athletes," Wilson said. "They're strong and very explosive. They're what you look for in any conference."
Of course all this perceived defensive talent and the first-year defensive line coach are adjusting to a new system directed by new coordinator Justin Wilcox, who came south with Steve Sarkisian from Washington.
How challenging will the new defensive system be compared to past season's?
"They are similar, but every call we make has specific fundamentals and it's no different here," Wilson said. "For every call that Coach Wilcox makes it requires a certain technique. If we're playing an odd front, there is a certain technique. If we're playing a four-down front there's a certain technique. We have to master every call we have in our arsenal."
In terms of learning, Wilson believes that the Trojans' new defensive system is a necessity with the type of explosive offenses in today's college game.
"Everybody has to be so multiple nowadays, so at Georgia we were a 3-4 and also we were a 4-3 defense," Wilson said. "When I was the defensive coordinator at Mississippi State, we mixed in both the 3-4 and the 4-3, so you have to be very multiple nowadays to stand up to these spread offenses as well as the quarterback run game."
Judging by the early results before this week's spring break, it appears Wilson has successfully instilled the foundation of his own coaching footprint, and Sarkisian and the Trojans defensive linemen thus far couldn't be happier with the fit.
January, 17, 2014
1/17/14
11:00
AM PT
When USC defensive back
Josh Shaw
learned Steve Sarkisian would be the Trojans' new head coach, it was as if a four-year-old wish was finally granted.
[+] Enlarge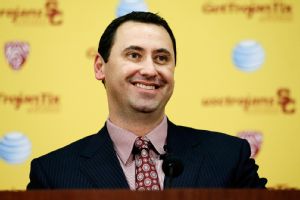 AP Photo/Jae C. HongDespite the familiarity, Steve Sarkisian says it will take some time before he feels "settled" at USC.
During the recruiting process, Shaw, a Southern California native, developed a strong bond with Sarkisian. Shaw liked Sarkisian and so did Shaw's family, but Washington wasn't the right fit. Shaw had his sights set on the SEC and chose Florida.
"I wanted to play for Coach Sark," Shaw said, "but you never choose a school for the coach."
Shaw's career path is a case in point.
He played for two coaches in two years at Florida -- Urban Meyer and Will Muschamp -- three coaches last year at USC -- Lane Kiffin, Ed Orgeron and Clay Helton -- and Sarkisian will become No. 6 in five seasons when the Trojans open at home against Fresno State on Aug. 30.
For Shaw, adjusting to a new head-coaching personality has become old hat, and he said the transition at Florida was similar to the most recent change at USC.
"Coach Muschamp came in, [and] he gained our respect instantly," Shaw said. "We knew he had the team's best interest at heart. He wanted to win; we wanted to win."
And Sarkisian?
"That first meeting [on] the day he was hired, he told us he didn't expect for us to trust him right away and that it's earned," Shaw said. "He said it was going to be a process that he'll work at."
So far, so good.
Despite not having played a game for Sarkisian, he was one of the crutches Shaw leaned on the most after the bowl game and before deciding to return to USC for his final year of eligibility.
"There was already some familiarity with us [because of recruiting], but after several talks, we've grown closer," Shaw said. "We sat in his office, and he looked me right in the eye as we discussed what would be the best decision for my future."
The same guidance was there for the five players who opted to enter the NFL draft --
Marqise Lee
,
Xavier Grimble
,
Marcus Martin
,
George Uko
and
Dion Bailey
-- but Sarkisian said he wasn't caught off guard by any of their decisions.
"For those guys that have been here for three and four years, I knew I wasn't going to win them over in one 30- or 40-minute meeting," Sarkisian said. "I just let them know I would be there for them one way or another. For the guys that decided to leave, we're going to do everything we can to support them, too."
When Sarkisian started meeting with players individually, there were two points he wanted to cover right away.
"I think, first and foremost, they understand why I chose to come to USC," Sarkisian said. "And that's to be the best. I want to coach with the best coaches; I want to coach the best players.
"The second piece is I wanted to learn why they chose USC. A lot of times it's for the the same reason, to win championships."
Winning championships is all Sarkisian knew in his previous stints with the Trojans.
After he was elevated from offensive assistant to quarterbacks coach under Pete Carroll in 2002, USC earned at least a share of the conference title each season Sarkisian was on staff. He took a foray into the NFL as quarterbacks coach of Oakland Raiders in 2004, but aside from that, he was there for six of the seven BCS bowl berths during Carroll's tenure.
His last season on staff before taking over at Washington in 2009 also happens to be the last time USC won a conference title.
Despite being home in Southern California and his familiarity with USC, "settled" isn't the term Sarkisian would use to describe his current situation, and he doesn't expect that to change for some time.
"I don't know in Year 1 if you're ever settled in," he said. "Certainly not in six weeks. There are just so many facets to the job, new problems you have to work through, everything is constantly moving."
Especially when it comes to hiring a coaching staff and recruiting.
Sarkisian's staff appeared to be set before defensive line coach Bo Davis, a week after joining the staff at USC, had a change of heart and opted to
join Nick Saban's staff at Alabama
.
With national signing day on Feb. 5, Sarkisian had to move fast to find a replacement. He
settled on Georgia's Chris Wilson
, a former defensive coordinator at Mississippi State, after contacting "some of the best defensive line coaches in the country."
USC will begin spring practice on March 11.
December, 8, 2013
12/08/13
6:54
PM PT
It was a crazy week for the USC football program with the hiring of a new football coach, the search for his assistants and the departures of former beloved coaches.
Things got started last Monday with Trojans fans still feeling the emotions of the loss to UCLA and wondering how long it would take Pat Haden to settle on a full-time coach. Well, it didn't take him long as the news broke late in the morning that former USC assistant coach Steve Sarkisian, who had been the head coach at Washington for the last five years, would be the choice.
[+] Enlarge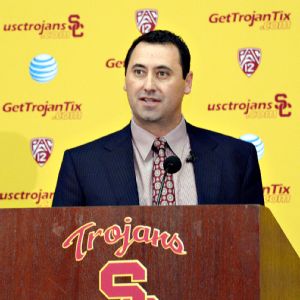 Kirby Lee/USA TODAY SportsNew USC football coach Steve Sarkisian talks with reporters after his hiring was announced.
Unfortunately for Sarkisian, the news came out about the same time that Ed Orgeron -- who had guided the Trojans to a 6-2 record as interim coach -- had resigned effective "immediately." There was a very strong reaction from USC players who had developed a strong connection to Orgeron and the final team meeting when Coach "O" said his goodbyes was filled with tears on both sides.
USC players and fans wondered why Orgeron wasn't being given a shot at the job and, even if he wasn't, what could have happened to bring such a strong reaction that caused him to leave right away. Orgeron had preached a "one team, one heartbeat" motto that resonated with the players and now he wasn't sticking around for the bowl game. The answers likely lie in the conversations between Orgeron and Haden, about what was promised and how the process went, because things certainly didn't go well at the end.
There were also those who felt Haden had generated expectations for a "home-run" hire when he talked about casting a search where "there is no coach we can't call" and the need to set the program up for the next "8-10, 15 years" with the hire.
Into this situation walked Sarkisian, who despite his successful tenure as a USC assistant and status as a one-time baseball player at the school, wasn't exactly being welcomed with open arms. There were questions about his record at Washington, which stood just above .500 at 34-29, and a lack of signature moments that would warrant getting the USC job.
To his credit, Sarkisian met right away with the USC players and admitted that he wouldn't win them over in one day. At his introductory press conference, Sarkisian said that he knew he wasn't entering a rebuilding stage at USC, that the standard is to compete for championships. Haden also outlined the reasons for his choice. Haden said Sarkisian offered "energy and passion" for the job and was "uniquely qualified" to manage the transition of the USC program moving forward.
As the Sarkisian hire began to settle in on the Los Angeles college football landscape, there came news from Westwood that Bruins coach Jim Mora would be staying at UCLA, after listening to overtures from his alma mater Washington. Mora had another one up his sleeve for USC fans with the bombshell that he would be hiring former Trojans running back coach Kennedy Polamalu. This wasn't just any coach that Mora was luring across town, Polamalu was a one-time USC fullback who was among the most passionate coaches and recruiters during his time on the Trojans staff. Polamalu was available, however, after being fired by Lane Kiffin last February.
It was a strange reality for Trojans fans, to see Polamalu heading to Westwood and Orgeron driving home to Louisiana with his family. Two of the most powerful voices within the USC program in recent years, and arguably the two best recruiters, were now gone and it wasn't clear who was going to replace them.
There was a lot of talk when Sarkisian was hired that he might look to bring his entire Washington defensive coaching staff with him. There were certainly some up-and-coming names with DC Justin Wilcox, LB coach Peter Sirmon, DB coach Keith Heyward and DL coach Tosh Lupoi. It was also known that assistant head coach Johnny Nansen --who had coached RB, DL and special teams in his UW tenure -- would also be looking to head south with Sarkisian.
Before he added any new coaches, Sarkisian made the announcement that wide receiver coach Tee Martin would be staying from the current USC staff. That was welcome news to USC fans as Martin has developed a reputation in his short time with the Trojans as being a popular coach with the players and a solid recruiter.
With the news that Mora turned down Washington, there caused a shift which made things unclear for Wilcox and Lupoi. Wilcox was briefly a candidate for the Huskies head job and was then thought to be a possibility to join new Washington coach Chris Petersen -- who he had coached under before at Boise State. Lupoi was also reported to be weighing an offer to stay with the Huskies. He has become known as one of the most successful recruiters on the West Coast in recent years and is a key piece of the coaching puzzle at both USC and Washington.
USC announced the hirings at the end of the week of Sirmon, Heyward and Nansen, which led to speculation that Wilcox and Lupoi would eventually join them. As of the writing of this article on Sunday night that has not happened, but it does bring an end to a crazy week as far as the USC football program is concerned.
December, 1, 2013
12/01/13
9:49
PM PT
By
WeAreSC staff
| ESPN.com
Some selected quotes from USC head coach Ed Orgeron's Sunday night conference call following the Trojans' 35-14 loss to UCLA.
Opening statement:
"All of our coaches except myself are on the road recruiting today. The guys have had a very positive response, and I've been on the phone with a lot of recruits myself … it's been very positive. Having had the chance to watch the offense, defense and special teams on film, we didn't execute the way we wanted to in all three phases. We obviously didn't play very well, but in looking back over the last eight weeks, and looking back at the whole body of work, if you put it all together we've made tremendous improvement as a football team. We played some very good football at a high level most of the time, and we won some very, very big games for the Trojan Family. And for that I'm very, very grateful for our football team and our coaching staff. We're going to have a team meeting tomorrow.
"We'll talk about academics and about getting on the right track. Obviously, we have to wait until next Sunday before they let us know what bowl we'll go to, and we'll make preparations accordingly."
[+] Enlarge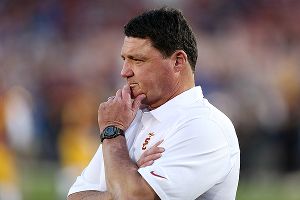 Stephen Dunn/Getty ImagesEd Orgeron said the Trojans coaching staff is getting positive responses from recruits.
Orgeron on if he spoke to USC athletic director Pat Haden on Sunday:
"I did not have a meeting with Pat at all today. I've been busy recruiting most of the day. I spoke to him briefly after the game last night … just a normal talk about the game. Nothing other than that."
On whether he gets many questions from recruits about the uncertainty surrounding his status as USC's interim head coach, and if so, how he approaches those questions:
"Not many questions. … I just talk to them about the game, I talk to them about what we've done the last eight weeks, and I talk about our whole body of work, and the type of energy and the style that they watched us play with for most of the time … where they would fit in within the recruiting class … just the normal positive recruiting stuff that we talk about here at USC. Very few do ask, [and] I say, 'Listen, we don't know what's going to happen.' I just continue to recruit and work on a daily basis as the head coach here until they make a decision."
Has he been told by Haden when a meeting to discuss his status might happen?
"No, not yet. We just talked about going ahead with recruiting, go ahead and do what I need to do, and he'll talk to me when he's ready to."
On what stands out about USC's loss to UCLA that Orgeron wishes he could have changed or done differently:
"The field position hurt us a bunch. We gave up too many return yards in the kicking game. We felt like we started behind the eight ball in field position a whole bunch. Obviously we would do something to adjust that. The quarterback runs really hurt us. We did have a plan, [but] obviously we didn't stop him, so we'd have to do something different against the quarterback runs. I thought [Brett] Hundley had an excellent game. There were some times where there were too many holes, and there were some things we could have done better, obviously. We did not tackle as well as we normally tackle. I thought that our run game would be a lot better … we struggled early in the run game, which really hurt us. And those are the things that we wish we could improve on."
On the pre-game verbal altercation between the teams:
"That's something that we didn't like, and I addressed the team after that. That was something that had nothing to do with the football game, and obviously, if I could have avoided it I would have."
On the status of offensive linemen Marcus Martin (knee) and Aundrey Walker (ankle):
"I believe Aundrey was operated on today, and everything came out fine. And that's all I have today. I'll talk to Russ [Romano] tomorrow and give you an update on the rest of the guys."
On what's next for the juniors who are considering leaving early and declaring for the NFL draft:
"We've had some preliminary talks with the juniors. We'll have a meeting with them this week. I'll have a meeting with the parents … and hopefully [they] go through the whole process. Most of those guys are willing to listen. I don't know if any of them have totally made up their mind whether they're going to go or not. I think they're still in the decision-making process. We're going to give them all of the information that they need so they can make a sound decision."
Other than wide receiver Marqise Lee and safety Dion Bailey, what other juniors are in the mix to potentially leave early?
"I think you have to look at all of them. … They haven't told me if they want to go, if they don't want to go … we won't leave any stone unturned. We will talk to all of the guys …
George Uko
,
Josh Shaw
, Marcus Martin, Aundrey [Walker]. All of the guys that are eligible to go, we're going to make sure that we talk to them …
Hayes Pullard
. We don't want to lose any of them, obviously."
On whether Orgeron has ever been in the position he is now, recruiting for a program with no permanent head coach:
"I was here when Coach [Paul] Hackett was let go, and I was here for two weeks before they hired Pete Carroll. I was out on the road recruiting, and we didn't have a head coach, and we just happened to sign one of the best recruiting classes we've ever had. One of them was Shaun Cody, another was Kenechi Udeze and another was Mike Patterson. That's a pretty good recruiting class. Matt Leinart … those guys helped us win a championship. So, yeah, I've been in that position before. We know what to do."
November, 3, 2013
11/03/13
4:00
PM PT
As the Trojans bask in the glow of the victory in Corvallis, there are many areas of their performance that deserve celebrating.
It was the most complete game that USC has played in years. The defense did a great job against the top statistical passing game in the nation, including three interceptions, which was the total that Oregon State quarterback
Sean Mannion
had coming into the game. The offense had tremendous balance with 242 yards rushing and 247 yards passing. It was the best play calling yet from Clay Helton.
[+] Enlarge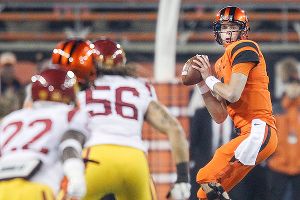 Steve Conner/Icon SMIThe USC defense made things difficult for Sean Mannion and the high-scoring Oregon State offense.
As important as anything, however, was the way in which the Trojans physically dominated on both sides of the ball. For a team that has struggled with injuries and has thrilled in recent weeks to take any win no matter how it happened, this game was one to enjoy for its physical beauty.
It was somewhat unexpected too.
The Trojans defensive front had been solid coming into the game but they were without leading sack-man
Morgan Breslin
and Mannion had proven to be tough to rattle. Not only did the Trojans get two sacks but they added nine pressures in addition to the critical interceptions -- two of them at or near the end zone -- and they also held Mannion and leading receiver
Brandin Cooks
well below their nation-leading averages.
The Trojans offensive line had been in a state of flux after an injury to
Kevin Graf
resulted in three players seeing time at new positions. USC was also limited at tight end. Regular starter
Xavier Grimble
tried to go but for most of the game it ended up being walk-in tackle
Nathan Guertler
filling in and doing a very commendable job in the blocking department.
The USC running game was coming off a net 30-yard performance the week before against Utah and it was clear early on against the Beavers that leading rusher
Tre Madden
was not going to be available due to injury. Not a problem for
Silas Redd
and Buck Allen.
Redd set the tone with his physical runs gaining big chunks of yardage. Then Allen would spring in and use his combination of speed and slashing ability to keep things going.
There was no better example of what kind of day this was going to be for the Trojans on the ground than early in the second quarter after Oregon State had pulled to a 14-14 tie. It was the kind of moment when you need to rely on the run game to settle things down. The Trojans went on a 10-play drive -- eight of them on the ground -- to score what would prove to be the game-winning points.
More importantly, it was the kind of drive where the Trojans realized they could impose their will. Momentum had been completely on the side of the Beavers at the start of the drive but the Trojans stole it right back with a physical ball-control drive.
For the second time this season, the Trojans also saw the emergence of a two-headed weapon at tailback. Early in the year it was Madden and true freshman
Justin Davis
but now, thanks to injuries to both, the opportunity has been presented to Redd and Allen and both took advantage on Friday night.
As the Trojans continue to ride this wave of emotion under interim coach Ed Orgeron, this latest physical performance can only offer encouragement for what is possible in the coming weeks. The next game offers an opponent that is struggling and an opportunity for USC to get back more bodies from the injured list. If the Trojans can build upon what took place in Corvallis, you never know what might be in store for this team in the final stretch of the season
November, 1, 2013
11/01/13
10:42
PM PT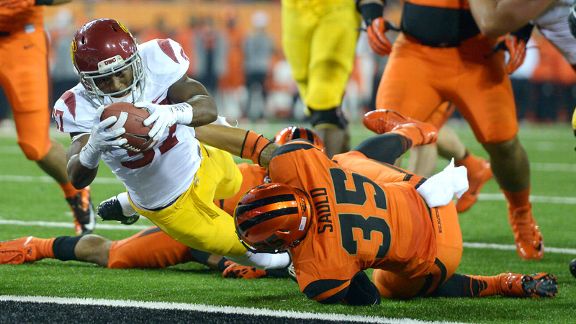 Kirby Lee/USA TODAY SportsJavorius "Buck" Allen wasn't stopped Friday, as the sophomore ran for 133 yards and three TDs as USC defeated Oregon State 31-14 for its first win in Corvallis, Ore., since 2004.
The "Buck" doesn't stop here.
And now, all of a sudden, maybe Ed Orgeron doesn't, either.
Javorius "Buck" Allen
, the sophomore who'd been the forgotten tailback in the first few weeks of this weird, emotional season, rushed for 133 yards and three touchdowns to lead USC to its most impressive and complete victory in at least two years on Friday night.
Allen and
Silas Redd
rumbled through Oregon State's bright orange at will,
Marqise Lee
returned to revitalize the passing game and
Devon Kennard
and the defense shut down
Sean Mannion
and one of the country's most prolific passing attacks on their way to a 31-14 upset over the Beavers.
So much for the pit that Reser Stadium is supposed to be, huh?
Give most of the credit to Orgeron, the huge, teddy bear of an interim head coach who is doing everything in his power to wipe the word 'interim' off his title. He has re-energized a team that was spiraling down the depths toward a full-blown depression after Arizona State dropped 62 in what turned out to be Lane Kiffin's last game.
Look around, the Trojans are having fun again. They're playing loose on the field and flashing some frisky dance moves on the sidelines.
They've earned the right. And maybe Orgeron is earning something, too. He is 3-1 since taking over, only a couple of makeable field goals against Notre Dame away from being 4-0. He is 3-0 in the Pac-12 and, suddenly, USC (6-3 overall, 3-2 Pac-12) is a legitimate contender to win the South Division and get to the conference title game.
The 6-3 Trojans have undermanned California and shaky Colorado still left on the schedule. Oh yeah, then there are those two home games against Stanford and UCLA.
Well, let's say Orgeron wins the two games in which he'll be heavily favored and somehow manages to split the Stanford/UCLA duo. Considering the circumstances, that would give USC a more than respectable 9-4 record and mean that "Coach O," as the kids like to call him, would be 6-2 as the head guy.
If you're a real Trojans optimist and want to fantasize victories over both Stanford and UCLA, then suddenly the record gets to 10-3, 7-1 for Orgeron.
If that somehow happened, USC athletic director Pat Haden would be hard pressed to overlook Orgeron for the full-time job, even over a coach with a more glamorous name.
PAC-12 SCOREBOARD
Thursday, 9/3
Friday, 9/4
Saturday, 9/5