April, 2, 2014
4/02/14
3:15
PM PT
USC junior fullback
Jahleel Pinner
hasn't recorded a single carry up to this point in his career, but if the two most recent practice sessions of the spring are any indication, that just might change in the fall.
[+] Enlarge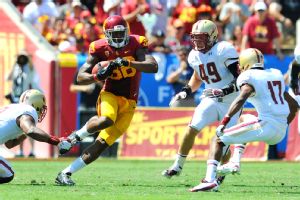 Chris Williams/Icon SMIJahleel Pinner has seven career receptions -- and no rushes -- for the Trojans.
With the running back corps decimated by injuries, Pinner has been relied upon heavily -- both at his normal fullback spot, where, with
Soma Vainuku
sidelined, he has served as the lone scholarship contributor, and at tailback, where he has split reps with
Tre Madden
and walk-on
James Toland
. And to the credit of Pinner, a part-time starter in 2013, he has seized the increased opportunity to make a strong statement with his play -- particularly on Saturday when he put together a string of impressive runs during the team's full-pads workout in the Coliseum.
"You know, Jahleel is a unique player because he is a very smart football player -- he's got a very high football IQ," USC coach Steve Sarkisian said. "On a lot of those runs, he hadn't even carried the ball ever leading up to that Saturday scrimmage, and he had a natural feel for running the ball where the ball was supposed to go, and then taking advantage when our defense was wrong, which is really how the running game works. When the defense is wrong, you have to take advantage of it, and he was in the right spot to do so."
Of course, the fact that Pinner has looked at home toting the ball shouldn't exactly come as a surprise. After all, he did see time at the position -- in addition to fullback -- as a high school standout at Orange County power Mission Viejo in California, amassing more than 1,500 yards on the ground over the course of his final two seasons, despite being hampered by an ankle injury as a senior.
With a rock-solid 5-foot-11, 240-pound frame, however, and a reputation as a punishing blocker, he has made a name for himself exclusively at fullback at USC, where his attributes have proven to be a perfect fit -- both in the Trojans' prior offensive scheme, as well as in Sarkisian's newly installed up-tempo, shotgun-based attack. Throw in the fact that talented tailbacks
Javorius Allen
,
Justin Davis
,
Ty Isaac
and
D.J. Morgan
are all due back in the fold in the future, and a permanent switch from fullback isn't likely to be in the cards.
Still, with the versatility that Pinner has shown this spring, Sarkisian envisions Pinner potentially lining up at tailback on a situational basis for the Trojans in the fall.
"I don't know if he's ever going to be a feature back for us down the road, but he's a guy that we know we can put him in, whether it's in a short-yardage situation, a goal line situation, [or] late to close out a football game," Sarkisian said. "He's a guy that we can have trust in that he can go out and execute the offense from that position."
For Pinner, who has more than enjoyed his time at tailback, that's music to his ears.
"With this offense there's going to be a lot of plays," Pinner said "They're not going to play just one running back all 120 plays you run per game or whatever, so we are going to be rotating backs just like we did last year. So, as long as I keep doing what I'm doing and playing hard, I'm going to get a shot in the games."
And with that prospect of possibly taking on a larger role within the offense spurring him on, Pinner is determined to stay focused on the task at hand, all in an effort to continue in what has already been a productive spring.
"Every day is a golden opportunity here," Pinner said. "I'm just trying to take advantage of every rep I get, and just trying to get better."
January, 25, 2014
1/25/14
10:00
AM PT
Every season in college football there are previously unproven players who rise up to play major roles for their teams. For the Trojans in 2014, here are five players who will be looking to make their mark in a USC uniform for the first time:
1. DL Delvon Simmons:
This 6-foot-6, 300-pound transfer from Texas Tech could have an immediate opportunity to step into the starting lineup to replace
George Uko
. Simmons started 13 games for the Red Raiders in 2012 and has 40 career tackles under his belt, along with two sacks and 7.5 tackles for loss. At the very least, he is expected to be a key part of the interior D-line rotation next fall.
[+] Enlarge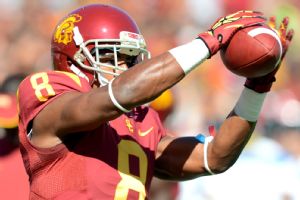 Harry How/Getty ImagesCan highly-recruited wideout George Farmer star for the Trojans in 2014?
2. S Gerald Bowman:
There was a lot of hype surrounding Bowman when he transferred in as a highly-ranked junior college prospect but academic delays and injuries have prevented him from making an impact . There isn't a ton of depth at the safety spot so Bowman will have the chance to get immediate playing time when he returns from a shoulder injury that forced a redshirt year in 2013.
3. OL Jordan Simmons:
It has been a rocky road for Simmons at USC. His freshman year started with knee surgery prior to the season but he came back in the second half of the season and was named offensive service team player of the year. Simmons was showing promise last fall as a road-grading guard until he hurt his knee trying to catch a pass before a practice and will be sidelined for spring.
4. WR George Farmer:
It seems like forever since Farmer came to USC as the top-ranked receiver in the country. It has been so long that his high school teammates --
Robert Woods
and
Marqise Lee
-- have already wrapped up their college careers and will be playing in the NFL next year. Farmer, meanwhile, will be hoping that his knee rehab goes well enough to allow him back on the field to regain the momentum he was showing last spring before suffering the injury.
5. RB D.J. Morgan:
Another player who has battled knee injuries, Morgan has two career starts under his belt with 364 yards on 83 carries and one touchdown. There is a clean slate waiting for Morgan when he returns -- Morgan had fallen in Lane Kiffin's doghouse for fumbling -- but there is also a deep and talented stable of backs to compete with for carries. The one thing Morgan brings to the table is speed and if he is healthy enough to offer that he will have a chance to crack the rotation.
August, 22, 2013
8/22/13
11:00
AM PT
He has only been on campus for a little under eight months, but it's safe to say that
Justin Davis
has made quite an impression in his time at
USC
. Arriving in the spring as an early-enrollee freshman, Davis starred throughout the March and April workouts, emerging atop the post-spring depth chart at the tailback position alongside veterans
Silas Redd
and
Tre Madden
.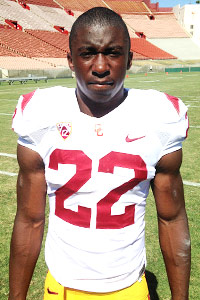 Johnny Curren/ESPNFreshman running back Justin Davis, who suffered an ankle injury earlier this month, says he's "jacked" for the Trojans' opening game vs. Hawaii.
Fast forward to the beginning of fall camp and Davis picked right up where he left off. Showcasing a north-south rushing style marked by power and a knack for hitting the line of scrimmage before the defense knows it, he appeared to be making a strong bid for that starting tailback job -- particularly with Redd slow to return after suffering a torn meniscus in March, and Madden still being eased into the flow of things after tearing an ACL in the spring of 2012.
But just when Davis appeared to be getting into a groove, he went down on Aug. 8 with an ankle injury.
A little over a week later, however, the 6-foot-1 and 201-pound rusher was back in action, and over the course of the last few days he appears to have returned to form, looking just as sharp and in command with the ball in his hands as ever.
"It definitely has been a great feeling to be back out here," Davis said following USC's scrimmage on Wednesday -- one in which he rushed for 21 yards in a non-contact setting. "I'm getting stronger every day and I'm loving it. Having to sit out made me hungrier, because it really hit me that I'm competing for that running back spot. It made me get in my playbook so that when I came back on the field, I was able to pick up where I left off before I got hurt. Once my ankle got better, my legs and everything else followed."
And Davis isn't the only one. Madden has seen his workload pick up dramatically as of late, with Redd gradually beginning to take part in portions of each practice as well. Throw in
Ty Isaac
, who also recently returned from an undisclosed injury, on top of the consistent level of production received from
Javorius Allen
this month, and despite the likely absence of
D.J. Morgan
-- who missed the entirety of fall camp -- the Trojans could have a very deep and talented tailback unit available when the team opens up at Hawaii on Aug. 29.
"Step-by-step everyone is coming back," said Davis, who rushed for 1,806 yards and 23 touchdowns as a senior at Stockton (Calif.) Lincoln last fall. "Tre is back, Silas is coming back in a couple of day ... we have at least four guys who can start, and the offense wouldn't miss a step. I definitely have a bunch of talented guys around me, and it pushes me to work that much harder to keep getting better."
But with just a little over a week to go before that first game, Davis is well aware that he still has more to prove as he makes a push for the role as the Trojans' No.1 tailback.
"I definitely want to come out here and just work hard every day," Davis said. "I'm going to make sure that I keep my head in the playbook so I'm in a position where I know all of my plays, so if the coaches put me in the game, I'll know what I'm doing."
With his mindset focused, in addition to the unique skills as a ball carrier that he possesses, there's reason to believe when the Trojans up in Honolulu, whether he's starting or not, Davis will be ready to make an impact.
"That's going to be my first college game," Davis said. "I'm definitely jacked for it."
August, 9, 2013
8/09/13
7:00
AM PT
Picking right back up where he left off after an eye-opening spring, USC redshirt sophomore tailback
Javorius "Buck" Allen
came through with an impressive performance on Thursday in the Trojans' first scrimmage of fall camp.

With freshman
Justin Davis
going down with an unspecified injury mid-way through the 102-play test run in the Coliseum, on top of the absences of
Silas Redd
,
Tre Madden
,
D.J. Morgan
and
Ty Isaac
from action, Allen was leaned on heavily, making the most of the extended opportunity to put his still-developing talents on display.
Showcasing a no-nonsense rushing style, Allen -- who has been overshadowed at times this August by the likes of Redd, Madden and Davis -- ran fast and with authority on his way to a scrimmage-best 49 yards on 18 carries.
"It felt good out there today," Allen said. "I always want to come out here and make a statement, and that's what I tried to do today. I want to do the best that I can -- hit the holes hard, and just make plays and make an impact on this team. When our backs went down, my number was called, and I knew that I had to step up. I'm here to do my job -- I'm here to make plays."
Thursday's effective outing by Allen was typical of how the former Tallahassee (Fla.) Lincoln star performed throughout much of the spring, but that wasn't always the case. Buried on the depth chart for his first two years on campus, he amassed a total of just 32 yards on six carries.
This past March, however, Allen emerged as one of the revelations of spring drills. Showing tremendous improvement in just about every facet of his game, he gained the trust of his coaches and teammates with his consistently high level of play.
"I got in the playbook and I got confidence," Allen said in discussing the reasons behind his transformation. "And when you get confidence and you know the plays, you play fast. That has been my biggest thing, so I'm making a point of staying in the playbook -- I can always get better."
Bringing that newfound level of confidence into his summer workouts, Allen continued to make strides throughout June and July, and he believes that he's miles ahead of where he was just a few months ago.
"Whatever you put in, that's what you're going to get out of it," said Allen, who stands 6-foot-1 and weighs 215 pounds. "And I feel like I put in a lot of work this summer, and it's starting to pay off. I had guys pushing me, I really stayed on top of things, I stayed in the film room and I just worked really hard."
But as part of a loaded tailback unit that most figure will feature either Redd, Madden or Davis as the starter come the team's opener at Hawaii on Aug. 29, Allen still has much to prove as he makes a bid for playing time. For Allen, who says that he and his running back-mates have developed a bond whereby they're more "like brothers" than just teammates, leap-frogging anyone on the depth chart is less of a concern than it is to simply continue in his progression as a player, with the betterment of the team always at the forefront of his thoughts.
"My goal is really just to come out and to work hard and to get better each and every day," Allen said. "I want to push hard, and in the end, to make the team better as a whole."
June, 3, 2013
6/03/13
8:00
AM PT
With the Trojans hard at work in the weight room and on the field again this June, here's a look at some of the offseason storylines surrounding a position group that appears to possess a much greater level of talent and depth than it did this past season -- the USC running back corps.
Physicality is key
While the USC offense did put up some impressive numbers throughout much of the 2012 season, it also sputtered at times, due in part to a game-plan that placed a dramatic emphasis on the passing attack. With the Trojans compiling 461 passing attempts compared to just 392 rushes, the ground game appeared to lose much of its trademark physicality, and USC ran for an average of just 150.6 yards per game -- the No. 71 mark in the FBS.
[+] Enlarge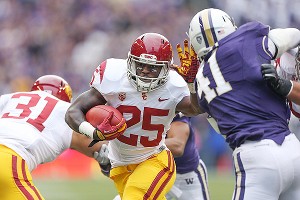 Otto Greule Jr/Getty ImagesRising senior Silas Redd transferred to USC from Penn State last year and quickly established himself as the No. 1 option out of the backfield.
Fast forward to the spring, and USC head coach Lane Kiffin made no secret of the fact that a major priority was to bring the power-run game back as part of what could potentially be a more balanced offense in 2013 -- with a particular focus directed at the running backs and offensive line. With a new position coach leading them through their paces in Tommie Robinson, the running backs appeared to run with a renewed sense of physicality, and virtually every member of the rotation upped their level of play. Whether or not this change in philosophy carries on into the fall remains to be seen. But if this spring was any indication, the USC running backs could be on the cusp of making a real statement in 2013.
Great expectations for Redd
Figuring to lead the way for the USC tailback group will be senior
Silas Redd
. Arriving on campus as a transfer from Penn State just prior to the start of fall camp last August, he made a lightning-quick transition and finished the 2012 campaign as the team's leading rusher with 905 yards and nine touchdowns. And while his spring was cut short due to a torn meniscus in his knee, with what he did show in the little time that he was able to work out, there's every reason to believe that he's primed for an even bigger 2013 season. Equally as important, he's a veteran leader with a blue-collar work ethic who gained the respect of his teammates right off the bat upon his arrival, and he's sure to aid in the progression of the running back corps as a whole.
No shortage of talent
While Redd is the headliner of the unit, thanks to some standout play by a few other tailbacks who took advantage of his absence this spring, he doesn't quite have the starting job locked up just yet.
Early-entrant freshman
Justin Davis
, in particular, was a revelation. Showcasing a tough north-south rushing style, he wowed onlookers with his play on a daily basis, and he was rewarded with a spot atop the post-spring depth chart alongside Redd and redshirt sophomore
Tre Madden
. Madden, who returned to practice in a limited capacity after missing the 2012 season with a torn ACL, showed no ill effects of the injury, and the 6-foot-1, 220 pound athlete certainly appears ready to give the USC offense its best example of a pure power back.
Behind those three, redshirt junior
D.J. Morgan
arguably looked the best that he has in a Trojans uniform, showing impressive speed and explosiveness at times, while redshirt sophomore
Javorius "Buck" Allen
-- a virtual non-factor his first two years on campus -- showed vast improvement, something he attributes to having the playbook down pat for the first time.
And then there's freshman
Ty Isaac
, who just arrived on campus. Standing 6-3 and 215 pounds, he gives this unit a completely different look as a hulking physical presence with a ton of athleticism to boot, and he could possibly also factor into the discussion here.
With so much talent and depth at the position compared to the situation in 2012 -- when the Trojans had just four active tailbacks on scholarship -- the increased level of competition figures to continue to bring out the best in everyone. And if it ultimately does just that, it's safe to say that the Trojans' offense will be in good hands regardless of who it is that gets the bulk of the carries.
Two-headed monster taking shape at FB
One player who certainly didn't have any trouble adjusting to the increased physical nature of USC's practices this spring was the team's primary starter at fullback in 2012, redshirt sophomore
Soma Vainuku
. As smash-mouth as you can get, he's made a name for himself as an imposing lead blocker for the Trojans. But with Vainuku going down with a PCL injury in his knee in the second week, it was the performance by sophomore
Jahleel Pinner
that turned into one of the major stories of the spring. The running back unit's most improved player of the entire slate of March and April practices according to Robinson, the Mission Viejo (Calif.) product asserted himself as a more-than-capable performer at the position. As a result, when the post-spring depth chart was released, he wound up sharing the starting title with Vainuku.
With the Trojans now apparently possessing a pair of standout options at fullback, with
Simione Vehikite
also adding depth, the team appears to be in good shape at the spot, but there is still room for growth. Because while Vainuku and Pinner have established themselves as efficient blockers, neither has made a significant impact in terms of their offensive numbers just yet. In fact, Kiffin noted on more than one occasion this past spring that he wants to see more production from a position that amassed a total of just 26 yards on the ground and 50 yards through the air (all by Vainuku) in 2012. If either Vainuku or Pinner can eventually step into that role this fall as a potential offensive threat coming out of the backfield, it would add a whole new dimension to the USC offense.
March, 29, 2013
3/29/13
8:31
AM PT
After a week away from action, the Trojans hit Brian Kennedy-Howard Jones Field on Tuesday as the spring slate of practices officially picked back up again. With a number of players coming off injuries trickling back into the rotation, not to mention some interesting position changes, there was plenty of movement up and down the lineup.
Quarterback
Max Wittek
(6-foot-4, 235 pounds, RS So.) OR
Cody Kessler
(6-1, 215, RS So.) OR
Max Browne
(6-5, 215, Fr.)
Wittek stepped back into the rotation on Tuesday after missing three practices due to a sprained MCL, and while he showed some rust, USC coach Lane Kiffin is optimistic he'll soon return to his old form, making this competition one to watch once again. Of the trio, Kessler continued to be the most consistent this week, with Browne showing promise at times.
March, 29, 2013
3/29/13
7:25
AM PT
It was a spirited, full-pads practice session for the Trojans on Thursday and one that featured a nice performance from the offense. This was welcome news to USC coach Lane Kiffin, particularly after the defense had dominated a practice earlier in the week.
"The offense did a lot better today," Kiffin said. "It was good to see them bounce back that way after what happened on Tuesday. They came out today with a much better mindset."
[+] Enlarge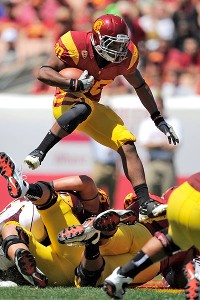 AP Photo/Mark J. TerrillBefore leaving practice with an undisclosed injury, D.J. Morgan was making a case to jump toward the front of USC's RB rotation.
The solid play was spread around through many players but one area that really stood out was the run game. With
Silas Redd
out for spring with injury and
Tre Madden
limited in contact, the tailback work has fallen to the trio of
D.J. Morgan
,
Buck Allen
and
Justin Davis
, and they responded on Thursday.
It was Davis who got things going with a pair of long touchdown runs in a team drill. The smooth freshman, who has provided multiple promising moments in his brief time at USC, took both runs to the left side and showed a combination of speed and moves to get to the end zone.
Morgan followed in the next drill with a 10-yard touchdown run, showing a quick burst through the line. A few plays later, Morgan took a handoff and went down in a pile after a short gain. When he came up, he was limping a little and did not return.
Allen took his turn as the lead runner at the end of the day when the Trojans were in goal-line situations. The chatter between the offense and defense had reached a crescendo as time was running out in practice and both sides were eager for victory. With the ball at the five-yard line, Allen was able to punch in two touchdowns, including the final play of the day to signal a win for the offense. Davis also had a short touchdown run in the goal-line drill.
"I thought D.J. Morgan was having a very good day before he went down," Kiffin said. "Justin Davis had a great day."
It was also a good day at the quarterback spot,
Max Wittek
looked much better than he did on Tuesday, while
Max Browne
had his best practice as a Trojan.
Wittek got things going early with a deep touchdown pass to
De'Von Flournoy
against solid coverage from
Ryan Henderson
.
In a red-zone drill, Browne hit
Nelson Agholor
as
Torin Harris
went for the ball and missed, so Agholor was able to go in for the 20-yard score. Browne also hit a pair of short touchdowns to
Jalen Cope-Fitzpatrick
. The highlight throw of the day for Browne came when he hit Farmer on a 55-yard completion. It was yet another sign of the accurate touch that Browne has shown on the deep ball so far, and of the fact that Farmer is continuing to make plays as well.
"George has stayed healthy and he's doing well," Kiffin said. "We need him to make the hard plays, to be physical, and he's doing that. It's been great to see."
O-line adjusting to coaching changes
One of the primary areas of emphasis for the Trojans this year will be to get more physical, and that starts with the line. To that end, Kiffin has put two coaches on the offensive line, adding Mike Summers and keeping James Cregg, who had been the line coach for the past three years, as his assistant. There was some curiosity as to how the arrangement would work but, through the first three weeks, Kiffin is pleased with what he sees.
"Mike Summers has done a really good job of coming in and capturing the group," Kiffin said. "It's worked out like we had hoped with the two of them in combination, that's why we put two coaches at such an important position."
Injury report
Xavier Grimble
will miss the remainder of spring with a chest fracture. There was no update on Morgan after practice.
Jordan Simmons
missed practice after getting sick earlier in the afternoon.
Defensive highlights
* Ryan Henderson had multiple solid tackles on the day coming up from his corner position. Two of them were on Agholor, including one at the end of the day when emotions were high and his big hit brought a huge roar from the defensive sideline.
*
Anthony Brown
also had a solid tackle for no gain from the corner spot.
*
Josh Shaw
read a screen pass from
Cody Kessler
to Agholor and he was able to bat the ball down.
*
J.R. Tavai
recorded a sack of Browne.
*
Leonard Williams
tracked Davis along the line of scrimmage for no gain.
Notables in attendance
Naijiel Hale
,
David Sills
,
Steven Mitchell
,
Nico Falah
and several members of the Chaminade Eagles program.
Quotebook
"It was a slow adjustment at first for me because things are so different at this level. There were little things I could get away with in high school, some bad habits, but you need to pay attention to those techniques here. I'm getting those little things down right now. The good thing is that I get a first chance to learn everything now in spring and then I will get another camp in the fall. That will really help me learn the playbook. I'm not sure about redshirting, I'll just work hard every day and see what happens." -- Justin Davis
March, 20, 2013
3/20/13
8:30
AM PT
The Trojans are navigating through their share of injuries this spring. But at this time of year, as long as the injuries are not serious, they can offer a mixed blessing of sorts.
When one player is forced to sit on the sideline, it gives another player the chance for extended reps with the hope of showing the coaches he is ready for a bigger role. For the injured player, there is still plenty of time to return either in spring or in fall camp before the season begins. As quarterback
Max Wittek
noted after a recent knee injury, "you never want this to happen, but if it's going to happen, better to have it happen now."
[+] Enlarge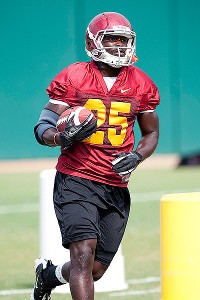 AP Photo/Grant HindsleySilas Redd's knee injury opens the door for other USC tailbacks to impress this spring.
Wittek is perhaps the most notable USC injury right now, primarily because he is engaged in a battle for the starting quarterback spot. Wittek suffered the knee sprain on March 9 prior to a scrimmage at the Coliseum and has been out ever since. He is expected to return when the Trojans practice on March 26.
Cody Kessler
has played well with Wittek out and any small gains by either player can end up meaning a lot in a competition that is so close.
On the same day that Wittek got hurt,
Marqise Lee
also went down with a "minor" knee injury and has been held out as well. There isn't as much of an impact here as Lee certainly isn't in any competition for his starting job. If anything, his absence gave the other receivers a chance to step up and the overall group is doing well from top to bottom. Right now,
Nelson Agholor
appears to be the clear leader for the starting spot opposite Lee.
A recent loss came with the news that
Silas Redd
would undergo surgery this week for a torn meniscus. Redd is the established senior starter at tailback, but he has only been on the USC campus for eight months, so any time spent on the field was beneficial. Instead, Redd will be out until fall camp and the Trojans are further limited at tailback with
Tre Madden
still not cleared for full contact due to his knee rehab. That means the remaining spring practices will be huge for guys like
D.J. Morgan
,
Buck Allen
and maybe even
Justin Davis
, although it remains to be seen how much a recent broken finger will hamper him.
The offensive line had been fairly healthy until the news that
Chad Wheeler
will miss the rest of spring with a knee injury. Wheeler had added bulk and was progressing nicely as the No. 2 left tackle.
On the defensive side of the ball, injuries are really impacting the interior depth on the line and the safety positions.
There are three linemen who have missed all of spring:
J.R. Tavai
,
Greg Townsend
and
Cody Temple
. All three figure to provide important depth at the three interior spots of the 5-2 defense, so it's vital to get them back on the field. Right now, the Trojans have
Kenny Bigelow
as a legit reserve at nose tackle, but the other spots are being manned by players out of position such as
Charles Burks
.
Scott Starr
is also out of action until fall, and he is expected to be a key reserve behind
Morgan Breslin
.
[+] Enlarge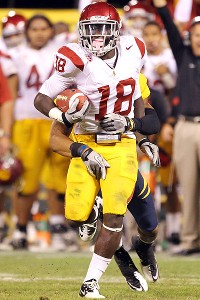 Ezra Shaw/Getty ImagesAs Dion Bailey recovers from shoulder surgery, the question of whether he'll play safety or linebacker in 2013 remains unanswered.
In the secondary, the Trojans have a lot of talent but not much is going to be settled until the coaches figure out where to put
Dion Bailey
. Most speculation centers around Bailey ending up at safety rather than linebacker, but he won't be available for spring after recent shoulder surgery. So
Josh Shaw
,
Demetrius Wright
and
Su'a Cravens
are auditioning for starting spots.
Gerald Bowman
could also be in that mix, but he is also out this spring. This means it's likely the safety rotation won't be determined until well into fall camp.
At corner, the top player through the early part of spring was
Kevon Seymour
, but he has missed the last couple of days with an ankle injury.
Devian Shelton
is also out with a foot injury. That means extended reps for
Torin Harris
,
Anthony Brown
and
Ryan Henderson
, as well as the freshman
Chris Hawkins
.
USC coach Lane Kiffin said after Saturday's scrimmage that the time off for spring break this week was coming at a good time for a team looking to get a few bodies back. The Trojans return to the practice field next Tuesday and having some of those injured players on the field will go a long way toward helping to determine starting spots.
Kiffin also acknowledged that the extra hitting in practices so far this spring -- done to achieve his goal of returning to a more physical style of play -- has played a part in having so many injuries. He said the team will continue to practice with full hitting for the rest of spring but gave no word on if there will be any changes in philosophy beyond that point.
March, 8, 2013
3/08/13
9:37
AM PT
With two spring practice sessions in the books for the Trojans, it's time to take a quick look at how a team depth chart might look if it were released today.
Quarterback
Max Wittek
(6-foot-4, 235 pounds, RS So.) OR
Cody Kessler
(6-1, 215, RS So.) OR
Max Browne
(6-5, 215, Fr.)
[+] Enlarge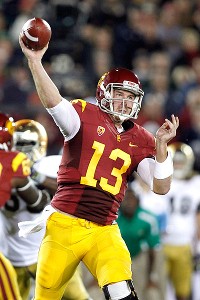 AP Photo/Danny MoloshokMax Wittek has looked strong as part of a three-man competition for the starting quarterback job.
Kessler opened up spring camp with a big performance on Tuesday, but Wittek has certainly had his moments, and even the young freshman, Browne, has caught USC coach Lane Kiffin's eye, making this battle too close to call. And that's the way it could stay throughout the spring, as Kiffin revealed he's in no hurry to name a starter.
Tailback
Silas Redd
(5-10, 200, Sr.);
D.J. Morgan
(5-10, 190, RS. Jr.) OR
Tre Madden
(6-1, 220, RS So.) OR
Javorious Allen
(6-1, 210, RS So.) OR
Justin Davis
(6-1, 215, Fr.)
With a full season under his belt at USC, Redd looks comfortable and focused as the starter. Morgan showcased a couple of big plays this week, while Madden looked much sharper than you might imagine a year removed from his knee injury. Davis, meanwhile, has been perhaps the hit of the early-entrant group so far, making the most of his limited carries in practice.
Fullback
Soma Vainuku
(6-0, 250, RS. So.);
Jahleel Pinner
(5-11, 225, So.)
Two of the team's hardest workers, Vainuku and Pinner alternated as the team's primary fullbacks. It remains to be seen, however, if they'll take on a bigger role in the offense.
February, 22, 2013
2/22/13
8:27
AM PT
To say that this past week has been big for
Tre Madden
would be an understatement.
From the Trojans' first players-only passing session of the winter on Tuesday to the first coaches-led conditioning workout on Thursday, the rising redshirt sophomore running back showcased hints of the power and speed that helped make him the story of last spring -- until he went down with an injury in April.
[+] Enlarge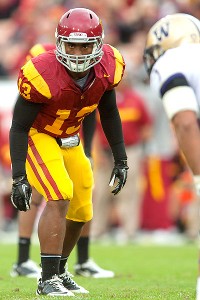 Joe Andras/WeAreSC.comA former linebacker who missed all of 2012 with a torn ACL, Tre Madden is excited to get back on the field as a running back this year.
He suffered a torn anterior cruciate ligament in his left knee that would require surgery, forcing Madden -- who lined up at linebacker as a freshman -- to miss the entire 2012 season.
But after rehabbing and working himself back into shape for the better part of a year, Madden was back in action.
"It feels amazing to be back with the team and running," Madden said. "Running, especially, I appreciate that a lot more now that I went through everything that I did. I really missed being out on the field. It was hard last year to just be on the sideline and watch."
And while Madden already looks good to go as a member of the Trojans' running back corps, every effort is being made to ensure that the former Mission Viejo (Calif.) standout doesn't jump back into the flow of things a little too soon. It's precisely for that reason that he still isn't cleared to participate in the more physical aspects of the upcoming slate of spring practices -- something that isn't likely to change until the start of fall camp.
"I'm cleared for everything but contact, so I'll get out there, catch balls, run routes and get the offense down," Madden said.
Still, after all that he's been through, the fact he's simply taking part in any drills this winter and spring is impressive and reason for optimism when it comes to his potential impact in 2013.
Set to join
Silas Redd
,
D.J. Morgan
,
Javorious Allen
as well as incoming freshmen
Justin Davis
and
Ty Isaac
, Madden figures to be a key component of a much deeper USC running back unit than the 2012 version.
"We've got a lot of guys with specific talents, and we know that our coaches are going to use us to the best of our abilities and help the team," Madden said.
Davis, who is enrolled at USC and taking part in team workouts, has already made a positive impression on Madden.
"He's a great athlete, a hard worker," Madden said. "He doesn't talk too much, but that's good as a freshman. He just wants to learn from everyone and work hard. He just puts his head to work and goes out there."
But not everything has gone smoothly for the USC running backs this offseason. It was less than two weeks ago that they learned of the departure of their position coach, Kennedy Polamalu. And while the loss of one of the most respected members of the staff has affected each member of the unit, Madden is intent on staying focused, and also eager to meet the replacement, who's expected to be named soon.
"We're going to miss Coach Polamalu, but we're not focused on what we're missing -- we're focused on getting ready to meet our new coach on Sunday, and to keep getting out here and working," Madden said.
With that determined mindset, it's no wonder Madden's road to recovery has taken him full circle. And to be sure, no one is more appreciative than he is.
"I'm very thankful," Madden said. "I'm blessed to be able to still play football. It really opened my eyes. I appreciate every play now, every opportunity to work out, to be out here with the team, to be at SC and to be on the field. It's a great opportunity."
PAC-12 SCOREBOARD
Thursday, 9/3
Friday, 9/4
Saturday, 9/5