USC Trojans:

Delvon Simmons
August, 21, 2013
Aug 21
7:51
PM PT
LOS ANGELES -- The
USC Trojans
held their final scrimmage of fall camp on Wednesday at the Coliseum and if you were waiting on a resolution to the quarterback battle, be prepared to wait a little longer.
Both quarterbacks had their opportunities in the scrimmage, which was a different format than normal. Instead of having one quarterback with the first unit and the other with the second, the quarterbacks alternated series with the first unit while going against the service team defense.
[+] Enlarge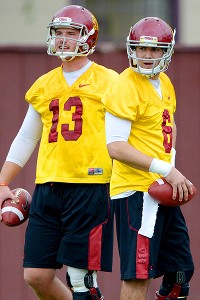 Kirby Lee/USA TODAY SportsThe last scrimmage didn't give any indicator on which QB, Max Wittek (left) or Cody Kessler (right), will start in the season opener.
In the first half, the service team defense held its own by limiting the offense to three field goals, intercepting
Cody Kessler
twice. Those were the first two interceptions Kessler had thrown in the Coliseum this year between spring ball and fall camp but, to be fair, both balls were tipped high in the air before landing in a defender's hands.
The first interception came on the opening drive. Kessler had driven the offense into the red zone -- helped by a nice
Tre Madden
toss sweep behind blocking from
Chad Wheeler
and
Jahleel Pinner
-- but was intercepted by walk-on
Nick Schlossberg
on a slant pass attempt to
Marqise Lee
.
Max Wittek
came in and was promptly sacked by Delvon Simmons. Wittek had a long completion to
Xavier Grimble
on a real strong throw.
Justin Davis
got the ball inside the 5-yard line, but the drive stalled and the offense settled for a 21-yard
Andre Heidari
field goal.
It was supposed to be a non-tackling scrimmage, but
Torin Harris
must not have got that memo because he laid a pretty good lick on walk-on receiver Christian Guzman.
George Uko
added a sack.
Kessler was picked on the next series by walk-on
John Auran
.
Wittek hit Agholor deep on the first play of the next drive. Schlossberg came on a blitz on the next play and was met by a terrific block from
Javorius Allen
.
Kevin Greene
had a sack on third down to force a 42-yard field goal by Heidari.
Marcus Martin
started at center but he went out as a precaution.
Max Tuerk
was moved to center with
Nathan Guertler
stepping in at left guard.
Chris Hawkins
had a nice pass break-up of a Kessler attempt to Lee, resulting in another Heidari field goal.
Lee went out later in the scrimmage and was seen with ice on his shoulder on the bench. By the end of the scrimmage the ice was off, and both Lee and Kiffin said things were "fine".
The rest of the scrimmage basically belonged to
Nelson Agholor
. He caught two touchdowns from Kessler and one from Wittek to end the day with nine catches for 250 yards and three touchdowns. Lee had eight grabs for 107 yards.
There were plenty of players who sat out the scrimmage due to various injuries.
Dion Bailey
,
Morgan Breslin
,
J.R. Tavai
,
Ryan Henderson
,
Marquis Simmons
,
Scott Starr
,
Cyrus Hobbi
,
Cody Temple
,
Silas Redd
,
Jordan Simmons
,
Victor Blackwell
,
D.J. Morgan
,
Jalen Cope-Fitzpatrick
,
Kevon Seymour
and
Randall Telfer
were all sidelinded.
The starting lineups were as follows:
Offense: Kessler, Madden, Pinner, Lee, Agholor, Grimble, Wheeler, Tuerk, Martin,
John Martinez
,
Kevin Graf
.
Defense:
Devon Kennard
,
Leonard Williams
,
Antwaun Woods
, Uko,
Jabari Ruffin
,
Hayes Pullard
,
Lamar Dawson
,
Anthony Brown
, Harris,
Josh Shaw
,
Su'a Cravens
.
August, 5, 2013
Aug 5
6:00
AM PT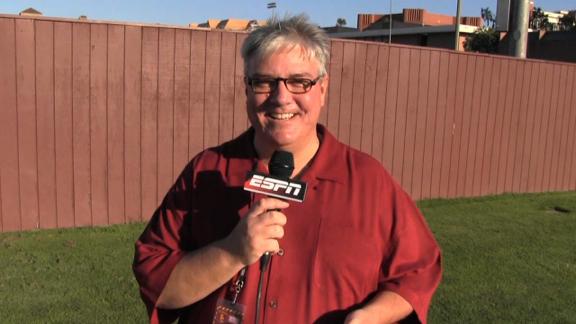 It didn't take long for the new 5-2 defense to show itself Sunday in USC fall camp as Day 2 definitely belonged to that side of the ball.
"It was a really good day for the defense in terms of forcing turnovers," USC coach Lane Kiffin said. "They did it a couple series in a row, too, which was good to see. I thought their energy was really good from the start and they carried it through the end of a long practice."
Su'a Cravens
had the first interception of the day for the defense in a throwing drill. It was an athletic, leaping play on a
Cody Kessler
pass intended for
Marqise Lee
.
"It feels good to make plays," Cravens said. "Especially against a Biletnikoff winner, but Marqise will probably try to head-hunt me tomorrow and go deep on me, so we'll see what happens."
Chris Hawkins
had an interception of
Max Browne
and
Torin Harris
came up with interception No. 3 for the defense in the final team drill of the day when he battled with
Nelson Agholor
and came down with a pass from Browne.
The defense also did a good job creating pressure on the quarterback and came away with sacks by
Devon Kennard
,
Morgan Breslin
,
Leonard Williams
,
Antwaun Woods
and
Quinton Powell
.
Safety rotation
On the first day of camp,
Dion Bailey
and Cravens lined up with the first unit at safety. On Sunday, it was
Josh Shaw
and
Demetrius Wright
. Kiffin said there is nothing to read into who is starting now because nothing is set. This is a very good safety group that can go six deep if you include
Gerald Bowman
and
Leon McQuay
. Kiffin mentioned that depth when discussing special teams; he said it will be important for the safeties and running backs to contribute there because both units have such good depth.
Speaking of special teams
The Trojans did live punt drills at the beginning of practice with
Kris Albarado
and
Joey Krassenstein
alternating as the punter. Albarado was getting some good air under his punts. Marqise Lee and Nelson Agholor were alternating as the return men.
Transferring in
Incoming transfer defensive lineman
Delvon Simmons
practiced and was wearing No. 97. He's got good size and looks like the kind of player who could make an immediate impact, although the 6-foot-5, 290-pound Simmons will have to sit out the 2013 season as a transfer from Texas Tech.
Flipping sides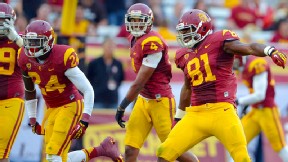 Kirby Lee/Image of Sport/US PresswireKevin Greene (81) lined up at tight end in Sunday's practice.
Kevin Greene
came out for practice in his familiar No. 81 jersey, but he lined up at tight end, instead of his usual outside linebacker spot. It makes sense to give this a look as the Trojans are a little thin at tight end while the outside linebacker spot is looking solid right now. Kiffin said it's not a permanent switch yet, just something the coaches will look at to see how it goes.
Recruits in attendance
Offensive lineman
Jordan Austin
(Claremont, Calif./Claremont) and ESPN 300 defensive end
Malik Dorton
(Bellflower, Calif./St. John Bosco).
More on-field highlights
In a team drill, Kessler had a completion to Agholor that gained roughly 15 yards. ... Leonard Williams fought off a block attempt by
John Martinez
in order to corral
Tre Madden
. ...
Lamar Dawson
and
Michael Hutchings
plugged a hole to stop
Ty Isaac
. ... Madden finished off the reps for the first unit with a long run up the middle. ... Browne came in and hit
Buck Allen
with a swing pass along the right side for 20 yards.
In the final team drill of the day, Demetrius Wright batted down a pass attempt for Lee, Kessler hit Agholor for a first down and
Justin Davis
had a pretty, weaving run along the left side for 20 yards.
Kiffin said after looking at film from the Saturday practice he was impressed with Madden and Davis. He called them "special players with unique skill sets."
Quotebook
Su'a Cravens on coming out with a strong effort on Sunday, highlighted by a leaping interception over Marqise Lee on a Cody Kessler pass:
"Yesterday [Saturday] I had an all-right day. It was kind of slow for me, and I made a couple of mistakes. Today [Sunday] I feel like I was more on myself – I studied a lot with Chris Hawkins in my room before practice and I feel like I was on it."
Marqise Lee on the interception by Cravens:
"At the end of the day, if he's going to do it in the game, then hey, I don't mind him doing it to me. ... But tomorrow is another day and I'm not going to let that happen."
Leonard Williams, on the defense's standout performance during the team period on Sunday:
"The offense got us [Saturday]. We came out kind of quiet, and I feel like the defense really responded [Sunday]."
Williams, on what has been a noticeable emphasis by the defense to attempt to force turnovers so far this fall camp:
"Day 1 of camp, the coaches just told us that the ball is the most important thing in the game, so we've really been emphasizing that with turnover drills with every position on the defense. We're just really working on getting the ball. Not only are we doing it in drills, but we're carrying it over to team when we're going against each other. So every time that one of us is holding somebody up, another guy is coming in and going for the ball. Everyone is going for it."
Williams, on one of the primary factors behind the defensive unit's energetic effort on Sunday, inside linebacker
Hayes Pullard
:
"Hayes is the leader of our defense and he's a really hyped guy, so we all feed off of him. I feel like everyone is really responding to it and feeding off of that energy."
Kevin Greene, on when he found out that he would be lining up at tight end on Sunday:
"They basically told me this afternoon. Coach Kiffin said, 'We're going to try something different today.' So I went out there with a smile on my face. I'm not going to come out here and pout. Whatever the coaches want me to do, that's what I'm going to do."
Greene, on how the first day at tight end went:
"It was basically just about getting my feet wet. Over time I'm pretty sure that I'll feel a lot more comfortable – once I take some more snaps and understand what I'm doing out there."
Greene on the last time that he played on the offensive side of the ball:
"Senior year of high school – when I first started. It's been a while. I started off playing wide receiver. I did that for about a game or two, then I went strictly to defense from there. So, just playing about four or five years of straight defense, and then switching the mindset like that in one day, it could be tough, but at the same time I'm definitely willing to learn."
June, 5, 2013
Jun 5
1:42
PM PT
Former Texas Tech defensive tackle
Delvon Simmons
will transfer to USC, according to a post on his Twitter account.
@delvonsimmons52:
Just made it official I'm gonna be a USC Trojan #FightOn
Simmons (6-foot-5, 290 pounds) had taken visits to USC and Miami in recent weeks and was also known to also be considering Pittsburgh and Penn State. He prepped at McKeeseport (Pa.) High and was ranked as the No. 25 defensive tackle in the nation by ESPN for the class of 2011. Simmons chose Texas Tech after considering USC and North Carolina (he had originally given a verbal to the Tar Heels).
Simmons played in 10 games as a true freshman reserve in 2011 for the Red Raiders and totaled 13 tackles. As a full-time starter in 2012, he had 27 tackles, six tackles for loss and two sacks.
As a transfer, Simmons will be required to sit out the 2013 season for the Trojans and will have two years of eligibility remaining in 2014.
Simmons will count against the class of 2013 for the Trojans as the team did not fill five of their available spots in that class. This now means USC will have 19 spots to bring in during this recruiting cycle, 15 spots on signing day and four spots which will count as early enrollees. USC will also have room for Simmons under the 75-man roster limit imposed by the NCAA sanctions, the Trojans were scheduled to enter fall camp with 69 available bodies after the spring injury to
George Farmer
.