USC Trojans:

Delvon Simmons
April, 25, 2014
4/25/14
8:00
AM PT
With a new coaching staff in place at USC, spring practice represented a time of opportunity more than ever for lesser-known members of the team looking to make a move up the depth chart. With that said, here are 10 players who seized that chance over the course of the 15 workouts, showing that they just might be ready to make a significant impact for the Trojans in the fall.
[+] Enlarge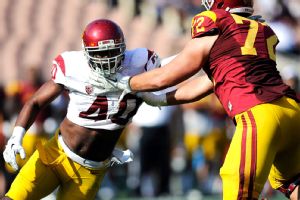 Kelvin Kuo/USA TODAY SportsJabari Ruffin (40) was a force all spring, moving ahead of Quinton Powell at SAM linebacker.
1. TE Jalen Cope-Fitzpatrick (6-foot-4, 255 pounds, Jr.)
With
Randall Telfer
sidelined for this spring because of injury, Cope-Fitzpatrick got the call with the first unit and shined in Steve Sarkisian's tight end-friendly offense. Showcasing sure hands to go along with the ideal size that you want at the position, he caught virtually everything thrown in his direction, providing more than enough evidence to suggest that he's primed for a breakout season.
2. OLB Scott Starr (6-2, 220, RS So.)
After battling a neck injury and being buried on the depth chart during his first two years on campus, a now-healthy Starr materialized as a perfect fit at rush end in Justin Wilcox's new 3-4 multiple front defense. With a nonstop motor and outstanding pass-rush skills, he capped his stellar spring in the Coliseum by making a game-high six stops, including three tackles for loss and one sack.
3. OL Zach Banner (6-9, 345, RS So.)
Missing the majority of the 2013 season after undergoing surgery on both hips, Banner's emergence was one of the big surprises. Moving into the starting lineup at right tackle during the third week of workouts, Banner played the best that he has in a Trojans uniform -- a particularly impressive feat when you consider the fact he said he wasn't even quite back to 100 percent yet. With the promise that he showed, it certainly wouldn't be a shock to see him remain with the first group in the fall.
4. OLB Jabari Ruffin (6-3, 225, RS So.)
Like Starr, Ruffin benefited from the switch to the new defensive system in a big way. Rangy, fast and extremely aggressive at the point of attack, he's tailor-made for the SAM linebacker position in Wilcox's scheme. Beginning camp with the No. 2 unit, he eventually moved ahead of
Quinton Powell
-- another rising player -- and ran exclusively with the first-team defense during the last two weeks of spring drills.
5. CB Chris Hawkins (5-11, 185, RS Fr.)
After spending his first season at USC redshirting, a more physically developed Hawkins came into camp showcasing an improved skill set, jumping in with the No. 1 defensive group opposite
Kevon Seymour
. His development is crucial for a unit that struggled in coverage at times in 2013, and even with the expected return of
Josh Shaw
from injury in the fall, USC will need all of the capable contributors it can come up with as the unit squares off against all of those uptempo, spread-it-out Pac-12 offenses.
6. OLB Quinton Powell (6-2, 220, So.)
The fact Powell was supplanted in the starting lineup during the later stages of spring ball really speaks more about the exceptional camp that Ruffin had than anything that Powell did wrong. On the contrary, the long and athletic former Daytona Beach (Fla.) Mainland star continued to stand out as one of the team's most promising young talents. A force both in coverage and up at the line of scrimmage, the competition between Powell and Ruffin is sure to be one of the most entertaining position battles of fall camp.
7. DL Delvon Simmons (6-6, 300, RS Jr.)
Forced to spend last fall on the scout team as he sat out the season after transferring from Texas Tech, where he compiled 13 starts in 2012, Simmons hit the ground running this spring from Day 1. Surprisingly mobile for a player possessing his size, expect him to make an instant impact up front for the Trojans as a member of what should be an extremely formidable defensive line group.
8. DL Claude Pelon (6-5, 285, RS Jr.)
Transferring to USC from Mesa (Ariz.) Community College in January, Pelon struggled at times early in camp as he adjusted to the lightning-fast tempo of practice, but once he got into shape he really asserted himself as someone to keep an eye on. In fact, perhaps no player improved more during the 15 practices than he did. A powerfully built athlete, he amassed three tackles for loss, including two sacks, in the spring game, and he's only going to get better.
9. OL Khaliel Rodgers (6-3, 310, RS Fr.)
Taking advantage of Aundrey Walker's absence because of injury, Rodgers stepped in at right guard with the starting unit and remained there throughout spring ball. Strong and stout with a nasty demeanor when he's on the field, he performed well enough to show that if Walker doesn't return to form after having been away so long, Rodgers is a steady option who can certainly get the job done.
10. OL Toa Lobendahn (6-3, 290, Fr.)
An early enrollee, Lobendahn neither looked nor played like a player just a few months removed from high school. Lining up as the No. 2 center initially, he moved over to left guard, where he ran with the No. 1 unit throughout the last four weeks of drills. A versatile lineman with strong fundamentals, what was most impressive was the way he was able to hold his own physically against the more veteran players. Things will get a whole lot more interesting in the fall when USC adds injured guards Walker and
Jordan Simmons
back into the equation, as well as a host of freshmen, but Lobendahn got a jump on the competition by making a big statement with his play this spring.
April, 10, 2014
4/10/14
10:00
AM PT
By
WeAreSC staff
| ESPN.com
USC coach Steve Sarkisian said he expects to name a starting quarterback before the end of spring ball. There were other position battles that took place on the field this spring, as well, and the WeAreSC staffers give their thoughts on the following competitions and who they would name as the starter.
WR opposite Nelson Agholor
Garry Paskwietz:
I'll go with
Darreus Rogers
right now, but I'm not going to rule out
George Farmer
being the starter by the season opener. Rogers has all the tools and flashes them often, but the one thing Sarkisian has noted is his inconsistency. Farmer, on the other hand, has been steadily consistent as he continues to come back from a knee injury. He is looking strong and mature right now and if his health holds up, he could make a push for the spot.
[+] Enlarge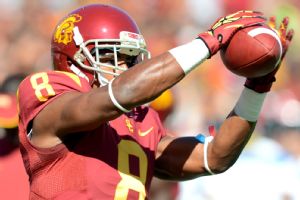 Harry How/Getty ImagesCould former five-star prospect George Farmer be in play as a starting wide receiver?
Johnny Curren:
While the performance of Farmer as of late makes this decision more difficult than anticipated, I would still give the nod to Rogers. With his combination of size, athleticism and sure hands, he really adds a unique dimension to the offense. He's especially dangerous in the red zone -- something he showed last Thursday when he hauled in three touchdowns with the offense in close.
Greg Katz:
Although Farmer and
Victor Blackwell
have made strides, the vote here goes to Rogers, who has made some standout plays and continues to improve on his consistency and concentration.
DE opposite Leonard Williams
GP:
The Trojans have a pair of veteran options to replace
George Uko
in
Delvon Simmons
and
Claudeson Pelon
. Both are big, strong bodies in the middle who will contribute this year, but if I have to name a starter I will choose Pelon. He got praise from Sarkisian this week for the way his conditioning seems to be paying off, and looks to be an impressive run stuffer.
JC:
Simmons is the choice here. Not only does he possess 6-foot-6, 300-pound size, but what has impressed me most this spring is his quickness, and perhaps most of all, his stamina -- something Pelon and
Kenny Bigelow
appeared to struggle with at times. When you throw Simmons into a lineup that will also include Williams and an improved
Antwaun Woods
, there's reason to believe that the Trojans will have one of the nation's most formidable starting defensive line units in 2014.
GK:
Simmons is the choice, having shown his experience of having already played for two seasons at Texas Tech. Simmons, while still striving for consistency on a play-by-play basis, is big and talented and has shown the most progress, which hasn't been entirely unexpected.
SAM linebacker
GP:
There are two really good options with a lot of upside in
Quinton Powell
and
Jabari Ruffin
. I would have said Powell at the start of spring, and while he didn't do anything to lose the spot in my mind, Ruffin has showed me a little more. Any way you look at it, the Trojans are fine here.
JC:
This is the toughest one to choose because Powell and Ruffin have each been stellar this spring. Still, if I have to pick one, it's Powell. An explosive athlete with strong football instincts and the length that the USC coaches look for at SAM linebacker, Powell is really the total package. I think he has the potential to develop into a difference-maker down the line, and I can't wait to see what he does in 2014.
GK:
With
Scott Starr
having been moved to rush end, it's a battle between Powell and Ruffin. Powell has the quickness and the attitude, but as Sarkisian recently pointed out, Ruffin is one heck of an athletic who really brings a physical game. I'll go with Powell for the moment, but the way Ruffin is improving, Powell better do the same if he wants to hold on to the position.
CB opposite Josh Shaw
GP:
Kevon Seymour
is the choice, and he should be, but I don't think you can rule out the possibility of
Adoree' Jackson
making a run in the fall.
Chris Hawkins
has stepped up his game to the point where he is in the mix too.
JC:
A more refined and physically mature Hawkins certainly proved himself to a certain extent this spring, but I'd still give the edge to Seymour here. Not only has he had a solid spring, but with 11 starts under his belt, he has the undeniable edge in experience. I'd need to see more of Hawkins in fall camp before I'd be comfortable putting him ahead of Seymour, who is coming off the best performance of his career in the Las Vegas Bowl against Fresno State.
GK:
There is no reason not to start Seymour, who had an outstanding performance in the Las Vegas Bowl. However, like Ruffin and Powell, the competition gap is closing, and look for Hawkins to continue his quest to unseat Seymour.
March, 31, 2014
3/31/14
8:00
AM PT
Some people plan their travel destination by flying direct while others make a stop or two stops along the way. For
USC Trojans
junior defensive tackle
Delvon Simmons
, his original collegiate travel plan called for a direct route from McKeesport, Pa., to Lubbock, Texas.
[+] Enlarge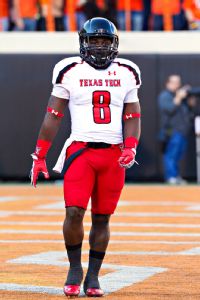 Richard Rowe/USA TODAY SportsDelvon Simmons brings to the Trojans his experience playing at Texas Tech.
However, travel plans don't always go as anticipated, and Simmons found that being a Texas Tech Red Raider deep in the Lone Star State made everybody in his circle of mentors happy but himself, which is why he eventually rebooked to the West Coast and the bright lights of the University of Southern California.
Once recruited hard by Trojans former defensive line coach and recruiting coordinator Ed Oregon, Simmons first listened to those who had their best interests at heart and not necessarily his, according to the 6-foot-5, 300-pounder.
"It's been a long journey," Simmons said.
"Coming out of high school, I didn't have too much background and people watching my back. I had too many other people in my ear telling me where to go.
"For an 18-year-old kid and all these schools coming at you and so many opinions, I made the [Texas Tech] decision for other people, but I made this decision [to transfer to USC] for me. That's how I got from Pennsylvania to Texas to Cali. I felt like this is the best decision for me."
And the Trojans are glad that the personable performer followed his desires and is now a vital piece to the defensive line puzzle, according to the Trojans first-year defensive line coach
Chris Wilson
and is in strong contention for a starting spot along the defensive line opposite Trojans junior All-American defensive lineman
Leonard Williams
.
"Delvon is playing really well and at a high level," Wilson said. "You can tell that he's played in college already. There are moments when you see him flash and do some really neat things. There are also times when you see there is still a way to go because he's still learning a new system. In terms of fundamentals and ability, he'll help us."
Simmons' resume backs up Wilson's comments about experience. As a sophomore with the Red Raiders in 2012, Delvon started 13 games in which he recorded 27 tackles, including six for losses along with two sacks and deflections, respectively. As a freshman, he appeared in 10 games gathering 13 tackles.
So now comes spring ball with the Trojans, and coming off a redshirt year, Simmons knows that he has a great opportunity to contribute to a defensive line that many are predicting will be the best in the Pac-12 next season.
"It's shaping up pretty good," said Simmons when asked about defensive line's progress. "We have a lot of inexperience and experience at the same time. We look up to Leonard [Williams] and all the experienced guys because we want to be as good or better than last year."
As for his own personal progress, Simmons is remarkably objective.
"My strength is stopping the run, but I need to improve on my pass rush," Simmons said. "There are multiple things I need to improve on, but run stopping is one of my strengths."
About as decorated as a prep player can be -- which included playing in the prestigious 2011 U.S. Army All-America Game -- Simmons said that he is a team player, and he'll play any spot along the defensive line to help the team. Most figure he's the logical candidate to replace departed defensive lineman
George Uko
, who left early for the 2014 NFL draft.
"I am playing wherever they've got me," said Simmons without any hint of position preference. "They've got me at end, nose, whatever."
Wilson is noncommittal where Simmons will play in the fall, but knows he will play.
"Actually, I am trying to find eight starters," Wilson said. "With the teams you play nowadays, you've really got to develop a lot of depth. You have to play multiple guys in critical situations. We want eight guys that can help us win the Pac-12."
When asked to compare Wilson with his former defensive line coach Ed Orgeron, Simmons politely dodges the question, but he does have high praise for his new D-line coach and their relationship.
"It's coming along great," Simmons said. "I am learning a lot, working and grinding every day and just listening and paying attention and doing my best."
In talking with Simmons, you get the impression that he is a big-picture type of thinker, and while he knows playing football could develop into be a pretty lucrative profession someday, he knows from experience that sometimes things don't always turn out as planned.
"I going to get my degree in sociology and after that if football doesn't work out, I am going to be a nurse," Simmons said. "In my family, we have a big family of nurses. I would like to work someday at a children's hospital."
As for Simmons' immediate plan for 2014?
"We want to win the Pac-12 championship and go on from there."
And if anybody knows something about destinations, it's Delvon Simmons.
March, 24, 2014
3/24/14
7:30
AM PT
After a break in action, USC returns to Brian Kennedy-Howard Jones Field on Tuesday to pick up where it left off after a promising first week of spring drills under Steve Sarkisian.
Much was revealed during those initial three workouts, and here are three key things to keep an eye on as the Trojans go through the remaining practice schedule in March and April.
[+] Enlarge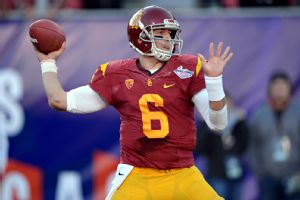 Kirby Lee/USA TODAY SportsCody Kessler has adjusted well to USC's uptempo offense this spring.
The continued development of the players in the new systems
Week 1 was all about an uptempo pace as the players got their feet wet in new offensive and defensive schemes at a frenetic pace. To their credit, they appeared to adapt to it all in lightning-quick fashion.
And so, the big question now is just how much further can they come over the course of the next four weeks?
On offense, the progression of the passing game should be particularly interesting to watch. Both
Cody Kessler
and
Max Browne
performed solidly in Sarkisian's hurry-up, shotgun-based offense. As they continue to grow at ease in the new system and develop more chemistry with their receivers, there's reason to believe the aerial attack has the potential to really take off.
On the other side of the ball, Justin Wilcox's 3-4 multiple-front defense has been a hit so far, due in large part to some outstanding play in the trenches. The front seven shined throughout the first week, even with
Leonard Williams
standing on the sideline due to injury. With unique size on the interior and hulking contributors like
Delvon Simmons
,
Antwaun Woods
,
Kenny Bigelow
and
Claude Pelon
combined with exciting athletes on the outside, this unit should get better and better this spring.
In the secondary, even with
Josh Shaw
out of action, Keith Heyward's group has been making some impressive plays in coverage -- something they struggled to do under the prior regime. Will that trend continue? We'll soon find out.
Competition, competition, competition
When Sarkisian took the reins in early December, one thing he stressed was that virtually every position would be up for grabs. He wanted to create an atmosphere of competition. And with one week of practice in the books, it's safe to say that is precisely what's happened.
A number of tightly contested position battles have taken shape, none garnering more attention than the one at quarterback between Browne, Kessler and early-entrant freshman
Jalen Greene
. With some added bulk to his frame and an increased level of confidence, Browne really opened eyes with his play in Week 1, but that doesn't mean Kessler backed down an inch. A vocal leader of the team, Kessler did a great job of directing the offense down the field with frequent success. He had the poise and command you'd expect from a veteran with 14 starts under his belt. Greene has displayed flashes at times, although he's taken noticeably fewer snaps than his counterparts, both of whom appear to have a sizeable lead on him in this race.
On defense, the competitions for the two spots on the edge of the line have been the highlight so far.
Quinton Powell
and
Jabari Ruffin
are duking it out at SAM linebacker, with
Scott Starr
and
J.R. Tavai
battling at rush end. In Week 1, it was Powell and Starr running exclusively with the No. 1 unit, but, really, all four contenders have stood out at times.
Some previously hidden players have also begun to emerge as they've received somewhat of a golden opportunity to show what they can do in the new schemes. Powell and Starr are two such examples, as are tight end
Jalen Cope-Fitzpatrick
, guard
Khaliel Rodgers
, tackle
Nathan Guertler
, cornerback
Chris Hawkins
and defensive end Simmons.
How physical will Sarkisian allow it to get?
With a new staff in place and a depleted roster (NCAA sanctions) made even more so because of a number of injuries, Sarkisian indicated when he took over at USC that he might not push the envelope too much when it came to live hitting this spring. That was certainly the case in the first week. But as the team progresses through the schedule this month and next, will we see the pads popping with greater frequency at any point?
There are certainly some added benefits that could come with more physical workouts, but there are drawbacks as well. Finding the perfect combination isn't as easy as it might sound. Just ask Lane Kiffin.
Stay away from full-contact drills completely and you risk fielding a defense that could get pushed around and has tackling issues. That was the case in 2012.
But USC still lacks depth, and if you allow more hitting, you also run the risk of more players getting injured. That happened in 2013.
It's a decision that could ultimately play a major role in shaping the identity of the team down the line, so it will be interesting to see which way Sarkisian goes here.
March, 21, 2014
3/21/14
8:15
AM PT
With spring practice set to start back up again for USC next week, here's a look at 10 players who entered the March and April workouts as somewhat hidden commodities but who showed in the first week of spring practice that they just might have the potential to take on a larger role for the Trojans in 2014.
TE Jalen Cope-Fitzpatrick (6-foot-4, 255 pounds, junior):
With
Xavier Grimble
off to the NFL draft and
Randall Telfer
currently sidelined by injury, Cope-Fitzpatrick is the lone active scholarship tight end available for the Trojans this spring, and he's made the most of what has been a golden opportunity to demonstrate what he's capable of doing in USC head coach Steve Sarkisian's new up-tempo, tight end-friendly offense. Cope-Fitzpatrick displayed sure hands and a high level of athleticism in the first week, catching virtually everything thrown in his direction.
OLB Quinton Powell (6-2, 220, sophomore):
Powell was one of the more exciting practice players to watch last fall as a reserve Will linebacker, and now that he's made the move back outside -- where he played in high school -- to Sam linebacker, he looks to have found the perfect spot to showcase his talents. Long, athletic and extremely active, he was equally as strong coming off the edge as he was in pass coverage while running with the No. 1 defensive group.
[+] Enlarge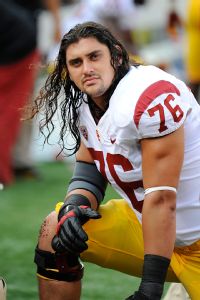 AP Photo / Chris BernacchiFormer walk-on Nathan Guertler earned a scholarship and is in the mix on the offensive line.
Rush end/OLB Scott Starr (6-2, 220, redshirt sophomore):
Hampered by injuries early in his career, Starr is now healthy and it's made a world of difference. Lining up with the starting group at rush end in Justin Wilcox's 3-4 multiple-front defense, he's obviously already gained a level of confidence from the new coaching staff with his ability as a pass rusher and as a disruptive force, in general, near the line of scrimmage.
CB Chris Hawkins (5-11, 185, redshirt freshman):
There's little denial the Trojans need to shore up the cornerback spots heading into the 2014 season, and with
Josh Shaw
sidelined by a stress fracture in his foot, Hawkins got plenty of work during the first three workouts of spring. He was solid, for the most part. After redshirting as a freshman last fall, he looks to be playing with a greater level of confidence than he did just a few months ago. His interception of a
Cody Kessler
pass on the first day of practice was one of the highlights of the week.
DL Delvon Simmons (6-6, 300, redshirt junior):
Forced to sit out the 2013 season after transferring to USC from Texas Tech, Simmons has stepped into the starting lineup this spring at defensive end and looks primed to make an instant impact as part of what should be an outstanding defensive line. Possessing a huge frame to go along with a strong motor, he already has the veteran experience that comes with having started 13 games for the Red Raiders in 2012.
OL Nathan Guertler (6-5, 280, redshirt senior):
Originally arriving at USC as a walk-on in 2010, Guertler was recently awarded a scholarship by the new coaching staff, and it's safe to say it's an honor he more than deserves. A tireless worker who made the switch to tight end last season when the team had low numbers at the position, he's now getting an extensive look with the first team at right tackle. And while it certainly isn't a foregone conclusion that he'll remain there in the fall, he's shown enough to ensure that he's worthy of being in the discussion.
OL Khaliel Rodgers (6-3, 310, redshirt freshman):
Figured by many to be a prime contender for the open center spot going into the spring, Rodgers instead ran with the 1s at right guard and looked to be at home. As an aggressive blocker who possesses a mean streak on the field, he would appear to be a perfect fit as part of an offensive line unit that, under Tim Drevno, has placed an emphasis on being physical. Figuring to face plenty of additional competition in the fall in the form of freshmen
Chris Brown
,
Damien Mama
and
Viane Talamaivao
, the experience Rodgers is gaining now could give him a leg up heading into fall camp.
DL Kenny Bigelow (6-3, 300, redshirt freshman):
Fairly raw when he first arrived on campus a little more than a year ago, Bigelow looks to have made strides in terms of where he is physically, as well as mentally, and it wouldn't be a surprise to see him factor heavily into the defensive line rotation in 2014. With players such as
Leonard Williams
and
Greg Townsend Jr.
sidelined, Bigelow worked with the first team at one of the interior defensive end spots for a majority of the first week of practice.
S Gerald Bowman (5-11, 195, redshirt senior):
Back from a shoulder injury that forced him to miss most of the 2013 season, Bowman has re-emerged this spring as one of only three available scholarship safeties. With the ability to play both safety spots, he served an important role throughout the first three practices as a backup and a key contributor in nickel situations.
OL Giovanni Di Poalo (6-4, 275, redshirt senior):
For Di Poalo, 2014 marks his last shot to make a real impact for the Trojans, and to his credit it looks like he's doing everything he can to try to make that happen. Taking advantage of the fresh start he's gained with a new staff in place, in addition to the fact that USC simply doesn't have a lot of healthy bodies ready to go along the offensive line right now, he took reps exclusively with the No. 1 unit at left guard last week. Things will get a whole lot more interesting in fall camp when those highly touted freshmen arrive, but Di Poalo appears to be making a statement that he won't back down easily.
February, 27, 2014
2/27/14
6:00
AM PT
By
WeAreSC staff
| ESPN.com
WeAreSC staffers give opinions on topics related to Trojans football:
Give your offensive and defensive "spring revelations," guys who will make the biggest noise in spring.
Garry Paskwietz:
These are good times for the USC tailback spot.
Buck Allen
was the 2013 team MVP, and
Tre Madden
and
Justin Davis
were the darlings of the early part of the season. By the end of the year, however, you couldn't help but notice the progress that
Ty Isaac
had made as well. Isaac combines a chiseled, big frame with a natural running style, and it wouldn't be a huge surprise to see him really make a statement this spring.
My defensive revelation is more of a position group than an individual player. The need to replace
George Uko
along the interior of the line is critical, and the Trojans have some pretty good options.
Delvon Simmons
is eligible after sitting out last season as a transfer from Texas Tech. You can't substitute experience, and Simmons has a year as a starter in the Big 12 under his belt.
Kenny Bigelow
redshirted last year and is ready to start showing why he was such a highly rated recruit coming out of high school.
Claude Pelon
offers another big, veteran body as a junior college transfer and then there is always the possibility of
Greg Townsend
, if he can stay healthy.
[+] Enlarge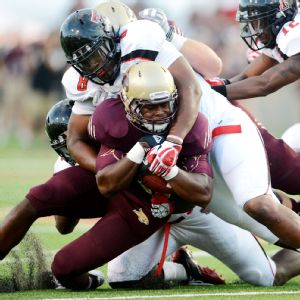 John Albright/Icon SMIDelvon Simmons brings a year of experience from Texas Tech to USC.
Johnny Curren:
With
Marqise Lee
off to the NFL, I really think that wide receiver
Darreus Rogers
has the potential to explode this spring. Possessing a unique combination of size, soft hands and big-play ability, he gained valuable experience in 2013 as the Trojans' No. 3 receiver, hauling in 22 passes. I expect him to slide into the starting spot opposite
Nelson Agholor
and to take on a key role, particularly with USC going to more of an uptempo offense. From what he showed last season in somewhat limited action, he's more than ready for the increase in responsibility.
I also wouldn't be surprised to see
Khaliel Rodgers
potentially make a splash at center. I was extremely impressed with what I saw from him in practice last season, as well as in high school, and I think, given the opportunity this spring, he'll succeed.
On the other side of the ball, I think Simmons is the big name to watch. At a hulking 6-foot-6 and 300 pounds, he's another performer who impressed out on Brian Kennedy-Howard Jones Field on a daily basis last fall. With the added benefit of having started 13 games as a sophomore in 2012 at Texas Tech, he has the ability to step in right away and contribute with no adjustment period. He'll challenge for the starting defensive end spot opposite
Leonard Williams
, and I wouldn't be surprised if he lines up there when the Trojans open up the 2014 season. Linebackers
Quinton Powell
and
Scott Starr
are two more outstanding athletes who could make some noise this spring.
Greg Katz:
Given that it's a position of not only great need but of great interest, a spring revelation from this prospective will be redshirt freshman Rodgers, who has the size (6-3, 310) to be a dominant center. Playing in postseason all-star game competition coming out of high school, Rodgers really established himself as a prospect. Extremely physical and nasty at the point of attack, Rodgers can play two positions: center and guard. Because of the need at center, Rodgers will get every opportunity to show his stuff there, and it will be a revelation just how much potential this kid has to be outstanding. That said, there is still the leadership role of center and that will be one factor to monitor in his bid to be the starter.
The early loss of Uko leaves a real void and opportunity for somebody to step in and take that defensive tackle spot. There are enough candidates, but the one that will be a revelation will be Simmons, the former U.S. Army All-American. That "6-6, 300" is not some number put into a media guide. He has the necessary game experience and also had quality results playing as a true freshman with the Red Raiders. Keep an eye on this up-and-comer.
January, 24, 2014
1/24/14
9:00
AM PT
The Pac-12 has 26 of the 98 early entrants in the NFL draft. That's impressive. Some players are locks to get drafted. Others might have jumped the gun a bit and find themselves on practice squads or brushing up on their Canadian. We'll see.
What we're more concerned about here is who is going to replace them. Some answers are clearer than others. Some teams might have to alter their schemes just to account for a departed player.
Here's a look at the possible replacement players in the Pac-12 South. We'll look at the North later this morning.
Leaving:
Ka'Deem Carey
, RB, Arizona.
The replacement:
Jared Baker
should be in the mix, though an injury will keep him out of spring ball. He's expected to return in time for fall camp.
Pierre Cormier
and
Zach Green
will also get looks. Speaking with folks at Arizona, the word right now is that it's wide open. One player could emerge, or it could end up being a by-committee approach. Nothing is off the table at this point.
Leaving:
Carl Bradford
, LB, Arizona State
The replacement:
There really isn't anyone who has Bradford's skill set in the program yet, so the position is wide open.
Viliami Latu
has potential. So does
Chans Cox
, who was hurt a lot last season. They are also excited about incoming freshman
Ismael Murphy-Richardson
. He might not be ready to jump in immediately, but he could be the Devil backer by 2015.
[+] Enlarge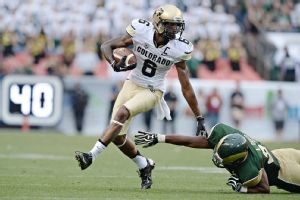 Ron Chenoy/USA TODAY SportsColorado will have a hard time replacing the explosive plays that Paul Richardson provided.
Leaving:
Paul Richardson
, WR, Colorado
The replacement:
It was probably going to be
Jeff Thomas
before he transferred. Now it's probably going to be a rotation of
D.D. Goodson
,
Devin Ross
, or redshirt freshmen
Bryce Bobo
or
Elijah Dunston
.
Nelson Spruce
has been solid, but he's not the breakaway threat Richardson was. This will be a key spring battle to watch.
Leaving:
Xavier Su'a-Filo
, OL, UCLA
The replacement:
Simon Goines
should be back after starting six games at left tackle before an injury forced him out.
Scott Quessenberry
stepped in and played five games at left guard, which is where he'll likely be next season with Goines back at tackle.
Leaving:
Dion Bailey
, LB, USC
The replacement:
Leon McQuay III
saw some playing time and is very highly regarded by the coaching staff. His contributions last season were mostly on special teams, but he'll take on a larger role with Bailey's departure.
Leaving:
Marqise Lee
, WR, USC
The replacement:
Remember
George Farmer
? He's still around and could be in for a big season if healthy.
Darreus Rogers
and
Steven Mitchell
both are promising, but both have missed time with injury. You never truly replace a Biletnikoff winner, but playing opposite a surging
Nelson Agholor
could help boost the production of whoever gets in the regular rotation.
Leaving:
George Uko
, DT, USC
The replacement:
Transfer
Delvon Simmons
is coming off a redshirt season, as is freshman
Kenny Bigelow
. Both should get some serious looks, as this will be one of the hot position battles this spring. Someone will ultimately win the job, but expect a rotation with both next season.
Leaving:
Marcus Martin
, C, USC
The replacement:
Lots of ifs here. It could be
Max Tuerk
moving over from guard, but he'll also be in the mix for right tackle to replace
Kevin Graf
.
Khaliel Rodgers
redshirted and is an option at guard or center.
Giovanni Di Poalo
could also get a look.
Leaving:
Xavier Grimble
, TE, USC
The replacement:
Grimble and
Randall Telfer
were basically co-starters, so all this probably means is Telfer's workload increases as he becomes the clear No. 1.
Jalen Cope-Fitzpatrick
is the only other scholarship tight end on the roster.
Leaving:
Jake Murphy
, TE, Utah
The replacement:
Westlee Tonga
seems like the logical fit. He has been around for a few years and has some experience, but was injured most of last year. He'll get another opportunity to be the lead tight end in the newest installment of Utah's offense.
January, 9, 2014
1/09/14
2:00
PM PT
LOS ANGELES -- After watching both Florida State and Auburn slug it out in a BCS classic final,
USC Trojans
fans are reminded that if they're going to once again challenge for a national title, much less a Pac-12 South Division crown, it will probably come down to having a dominating defensive line.
Historically speaking, the Trojans have generally recruited most of their defensive linemen from California, but that doesn't mean they're averse to making a recruiting push outside of their state -- even if it means long recruiting ventures and time investment into the Midwest and East Coast.
For longtime Trojans fans who have followed the celebrated, modern day history of USC football, it's not hard to recall familiar out-of-state defensive linemen as All-Americans John Grant (Idaho) and Gary Jeter (Ohio) and past all-conference performers like Richard Dimler (New Jersey), Art Riley (Illinois), Walter Underwood (Georgia), and Tony Colorito (New York).
December, 30, 2013
12/30/13
1:45
PM PT
With the 2013 season in the books, here's a look at 10 USC players who have flown under the radar, but who, either through strong performances in their limited opportunities during games, or in practice, have shown that they just might be ready to take on a larger role in 2014.
LB Quinton Powell (6-foot-2, 220 pounds, So.)
An aggressive and heady football player, Powell began turning heads after making the transition from outside linebacker to inside linebacker in fall camp. Compiling 20 tackles in his freshman season, he showed glimpses of his unique abilities in games as a reserve and on special teams. Still, he was caught in a logjam at weakside linebacker, so he remained hidden to an extent. With potential changes coming in regard to the scheme and philosophy of the defense, however, the timing could be right for him to burst onto the scene this spring.
[+] Enlarge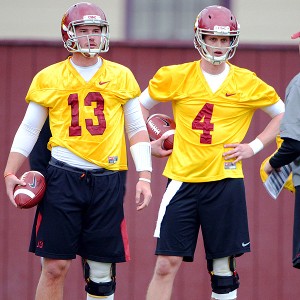 Kirby Lee/USA TODAY SportMax Browne (No. 4) could be the Trojans' starting quarterback in 2014.
OLB/DE Scott Starr (6-2, 220, RS So.)
The departure of
Devon Kennard
-- USC's leader in sacks (9) in 2013 -- creates a void for the Trojans on defense, so there's little doubt that new USC coach Steve Sarkisian and Co. will be holding an open audition to find a capable replacement. It's a competition that Starr could win. His career has been stymied by injuries so far, but he made a huge impression late in the season during practice as a fast and physical performer who always seemed to be around the ball. As long as he stays healthy, this could be his chance to make a move up the depth chart.
OLB/DE Jabari Ruffin (6-3, 225, RS So.)
Like Starr, Ruffin will be one of the primary players to watch in the battle for Kennard's old spot. A terrific athlete who actually started against Hawaii in Game 1 of 2013 but whose playing time ultimately tapered off as the campaign wore on, his ability to add some needed weight and strength this offseason will likely play a role in what kind of spring he has.
LB Michael Hutchings (6-2, 215, So.)
An intelligent football player who helped lead powerhouse Concord (Calif.) De La Salle to three consecutive state titles, Hutchings has developed steadily at USC while learning the tricks of the trade from starting middle linebacker
Hayes Pullard
. More than that, Hutchings has also transformed himself physically over the course of the last six months.
CB Chris Hawkins (5-11, 185, RS Fr.)
With the Trojans plagued by inconsistent play at cornerback for much of 2013, Hawkins will undoubtedly get a long look at the position, particularly if
Josh Shaw
either declares for the NFL draft or makes a move back to his more natural safety spot. Having redshirted this past season, Hawkins went up against the likes of
Marqise Lee
and
Nelson Agholor
on a daily basis, and although raw, his athleticism and playmaking ability was apparent.
OL Khaliel Rodgers (6-3, 310, RS Fr.)
Capable of playing guard or center, Rodgers is a relentless blocker with a nasty demeanor on the field who gained notice for his play against the Trojans' vaunted defensive front in practice. And with the departure of starting center
Marcus Martin
, there's little doubt that USC needs help on the interior on offense.
QB Max Browne (6-5, 215, RS Fr.)
With Sarkisian declaring the starting quarterback job up for grabs shortly after his hiring, Browne has a lot to play for this spring. And while
Cody Kessler
's solid season -- not to mention a fantastic Las Vegas Bowl outing -- certainly gives him the undisputed inside track, it will be interesting to see what Browne can do now that he has been on campus for almost a year. After all, he wasn't the 2012 Gatorade National Football Player of the Year for nothing.
DL Delvon Simmons (6-6, 300, RS Jr.)
Simmons, who transferred to USC from Texas Tech last offseason, stood out at times during practice not just because of his size, but also because of his play. Already possessing a wealth of experience after starting 13 games for the Red Raiders in 2012, he competed extremely well against the Trojans' starting offensive line group, and he could emerge as a factor in the defensive line rotation in 2014.
DL Kenny Bigelow (6-3, 300, RS Fr.)
A hulking defensive lineman who arrived at USC last winter with sky-high expectations surrounding him, Bigelow wound up having a more difficult time adjusting to the college game than most anticipated. Having worked hard to improve where he is in terms of his physical shape, however, there's reason to believe that he just might now have the stamina to match his skills.
OL Nico Falah (6-6, 285, RS Fr.)
Falah is a technician with a tireless work ethic, but like many freshmen offensive linemen, he simply isn't quite where he needs to be when it comes to his size and strength. Possessing all of the other necessary intangibles to succeed, if he adds that necessary bulk to his frame in the coming months, he could push for time.
August, 21, 2013
8/21/13
7:51
PM PT
LOS ANGELES -- The
USC Trojans
held their final scrimmage of fall camp on Wednesday at the Coliseum and if you were waiting on a resolution to the quarterback battle, be prepared to wait a little longer.
Both quarterbacks had their opportunities in the scrimmage, which was a different format than normal. Instead of having one quarterback with the first unit and the other with the second, the quarterbacks alternated series with the first unit while going against the service team defense.
[+] Enlarge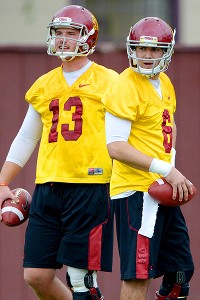 Kirby Lee/USA TODAY SportsThe last scrimmage didn't give any indicator on which QB, Max Wittek (left) or Cody Kessler (right), will start in the season opener.
In the first half, the service team defense held its own by limiting the offense to three field goals, intercepting
Cody Kessler
twice. Those were the first two interceptions Kessler had thrown in the Coliseum this year between spring ball and fall camp but, to be fair, both balls were tipped high in the air before landing in a defender's hands.
The first interception came on the opening drive. Kessler had driven the offense into the red zone -- helped by a nice
Tre Madden
toss sweep behind blocking from
Chad Wheeler
and
Jahleel Pinner
-- but was intercepted by walk-on
Nick Schlossberg
on a slant pass attempt to
Marqise Lee
.
Max Wittek
came in and was promptly sacked by Delvon Simmons. Wittek had a long completion to
Xavier Grimble
on a real strong throw.
Justin Davis
got the ball inside the 5-yard line, but the drive stalled and the offense settled for a 21-yard
Andre Heidari
field goal.
It was supposed to be a non-tackling scrimmage, but
Torin Harris
must not have got that memo because he laid a pretty good lick on walk-on receiver Christian Guzman.
George Uko
added a sack.
Kessler was picked on the next series by walk-on
John Auran
.
Wittek hit Agholor deep on the first play of the next drive. Schlossberg came on a blitz on the next play and was met by a terrific block from
Javorius Allen
.
Kevin Greene
had a sack on third down to force a 42-yard field goal by Heidari.
Marcus Martin
started at center but he went out as a precaution.
Max Tuerk
was moved to center with
Nathan Guertler
stepping in at left guard.
Chris Hawkins
had a nice pass break-up of a Kessler attempt to Lee, resulting in another Heidari field goal.
Lee went out later in the scrimmage and was seen with ice on his shoulder on the bench. By the end of the scrimmage the ice was off, and both Lee and Kiffin said things were "fine".
The rest of the scrimmage basically belonged to
Nelson Agholor
. He caught two touchdowns from Kessler and one from Wittek to end the day with nine catches for 250 yards and three touchdowns. Lee had eight grabs for 107 yards.
There were plenty of players who sat out the scrimmage due to various injuries.
Dion Bailey
,
Morgan Breslin
,
J.R. Tavai
,
Ryan Henderson
,
Marquis Simmons
,
Scott Starr
,
Cyrus Hobbi
,
Cody Temple
,
Silas Redd
,
Jordan Simmons
,
Victor Blackwell
,
D.J. Morgan
,
Jalen Cope-Fitzpatrick
,
Kevon Seymour
and
Randall Telfer
were all sidelinded.
The starting lineups were as follows:
Offense: Kessler, Madden, Pinner, Lee, Agholor, Grimble, Wheeler, Tuerk, Martin,
John Martinez
,
Kevin Graf
.
Defense:
Devon Kennard
,
Leonard Williams
,
Antwaun Woods
, Uko,
Jabari Ruffin
,
Hayes Pullard
,
Lamar Dawson
,
Anthony Brown
, Harris,
Josh Shaw
,
Su'a Cravens
.
August, 5, 2013
8/05/13
6:00
AM PT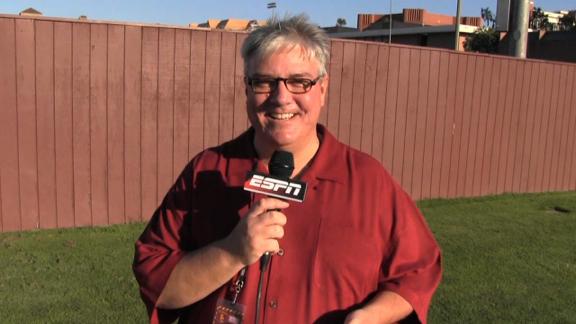 It didn't take long for the new 5-2 defense to show itself Sunday in USC fall camp as Day 2 definitely belonged to that side of the ball.
"It was a really good day for the defense in terms of forcing turnovers," USC coach Lane Kiffin said. "They did it a couple series in a row, too, which was good to see. I thought their energy was really good from the start and they carried it through the end of a long practice."
Su'a Cravens
had the first interception of the day for the defense in a throwing drill. It was an athletic, leaping play on a
Cody Kessler
pass intended for
Marqise Lee
.
"It feels good to make plays," Cravens said. "Especially against a Biletnikoff winner, but Marqise will probably try to head-hunt me tomorrow and go deep on me, so we'll see what happens."
Chris Hawkins
had an interception of
Max Browne
and
Torin Harris
came up with interception No. 3 for the defense in the final team drill of the day when he battled with
Nelson Agholor
and came down with a pass from Browne.
The defense also did a good job creating pressure on the quarterback and came away with sacks by
Devon Kennard
,
Morgan Breslin
,
Leonard Williams
,
Antwaun Woods
and
Quinton Powell
.
Safety rotation
On the first day of camp,
Dion Bailey
and Cravens lined up with the first unit at safety. On Sunday, it was
Josh Shaw
and
Demetrius Wright
. Kiffin said there is nothing to read into who is starting now because nothing is set. This is a very good safety group that can go six deep if you include
Gerald Bowman
and
Leon McQuay
. Kiffin mentioned that depth when discussing special teams; he said it will be important for the safeties and running backs to contribute there because both units have such good depth.
Speaking of special teams
The Trojans did live punt drills at the beginning of practice with
Kris Albarado
and
Joey Krassenstein
alternating as the punter. Albarado was getting some good air under his punts. Marqise Lee and Nelson Agholor were alternating as the return men.
Transferring in
Incoming transfer defensive lineman
Delvon Simmons
practiced and was wearing No. 97. He's got good size and looks like the kind of player who could make an immediate impact, although the 6-foot-5, 290-pound Simmons will have to sit out the 2013 season as a transfer from Texas Tech.
Flipping sides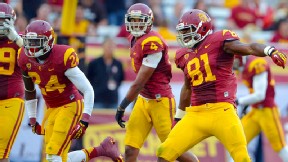 Kirby Lee/Image of Sport/US PresswireKevin Greene (81) lined up at tight end in Sunday's practice.
Kevin Greene
came out for practice in his familiar No. 81 jersey, but he lined up at tight end, instead of his usual outside linebacker spot. It makes sense to give this a look as the Trojans are a little thin at tight end while the outside linebacker spot is looking solid right now. Kiffin said it's not a permanent switch yet, just something the coaches will look at to see how it goes.
Recruits in attendance
Offensive lineman
Jordan Austin
(Claremont, Calif./Claremont) and ESPN 300 defensive end
Malik Dorton
(Bellflower, Calif./St. John Bosco).
More on-field highlights
In a team drill, Kessler had a completion to Agholor that gained roughly 15 yards. ... Leonard Williams fought off a block attempt by
John Martinez
in order to corral
Tre Madden
. ...
Lamar Dawson
and
Michael Hutchings
plugged a hole to stop
Ty Isaac
. ... Madden finished off the reps for the first unit with a long run up the middle. ... Browne came in and hit
Buck Allen
with a swing pass along the right side for 20 yards.
In the final team drill of the day, Demetrius Wright batted down a pass attempt for Lee, Kessler hit Agholor for a first down and
Justin Davis
had a pretty, weaving run along the left side for 20 yards.
Kiffin said after looking at film from the Saturday practice he was impressed with Madden and Davis. He called them "special players with unique skill sets."
Quotebook
Su'a Cravens on coming out with a strong effort on Sunday, highlighted by a leaping interception over Marqise Lee on a Cody Kessler pass:
"Yesterday [Saturday] I had an all-right day. It was kind of slow for me, and I made a couple of mistakes. Today [Sunday] I feel like I was more on myself – I studied a lot with Chris Hawkins in my room before practice and I feel like I was on it."
Marqise Lee on the interception by Cravens:
"At the end of the day, if he's going to do it in the game, then hey, I don't mind him doing it to me. ... But tomorrow is another day and I'm not going to let that happen."
Leonard Williams, on the defense's standout performance during the team period on Sunday:
"The offense got us [Saturday]. We came out kind of quiet, and I feel like the defense really responded [Sunday]."
Williams, on what has been a noticeable emphasis by the defense to attempt to force turnovers so far this fall camp:
"Day 1 of camp, the coaches just told us that the ball is the most important thing in the game, so we've really been emphasizing that with turnover drills with every position on the defense. We're just really working on getting the ball. Not only are we doing it in drills, but we're carrying it over to team when we're going against each other. So every time that one of us is holding somebody up, another guy is coming in and going for the ball. Everyone is going for it."
Williams, on one of the primary factors behind the defensive unit's energetic effort on Sunday, inside linebacker
Hayes Pullard
:
"Hayes is the leader of our defense and he's a really hyped guy, so we all feed off of him. I feel like everyone is really responding to it and feeding off of that energy."
Kevin Greene, on when he found out that he would be lining up at tight end on Sunday:
"They basically told me this afternoon. Coach Kiffin said, 'We're going to try something different today.' So I went out there with a smile on my face. I'm not going to come out here and pout. Whatever the coaches want me to do, that's what I'm going to do."
Greene, on how the first day at tight end went:
"It was basically just about getting my feet wet. Over time I'm pretty sure that I'll feel a lot more comfortable – once I take some more snaps and understand what I'm doing out there."
Greene on the last time that he played on the offensive side of the ball:
"Senior year of high school – when I first started. It's been a while. I started off playing wide receiver. I did that for about a game or two, then I went strictly to defense from there. So, just playing about four or five years of straight defense, and then switching the mindset like that in one day, it could be tough, but at the same time I'm definitely willing to learn."
June, 5, 2013
6/05/13
1:42
PM PT
Former Texas Tech defensive tackle
Delvon Simmons
will transfer to USC, according to a post on his Twitter account.
@delvonsimmons52:
Just made it official I'm gonna be a USC Trojan #FightOn
Simmons (6-foot-5, 290 pounds) had taken visits to USC and Miami in recent weeks and was also known to also be considering Pittsburgh and Penn State. He prepped at McKeeseport (Pa.) High and was ranked as the No. 25 defensive tackle in the nation by ESPN for the class of 2011. Simmons chose Texas Tech after considering USC and North Carolina (he had originally given a verbal to the Tar Heels).
Simmons played in 10 games as a true freshman reserve in 2011 for the Red Raiders and totaled 13 tackles. As a full-time starter in 2012, he had 27 tackles, six tackles for loss and two sacks.
As a transfer, Simmons will be required to sit out the 2013 season for the Trojans and will have two years of eligibility remaining in 2014.
Simmons will count against the class of 2013 for the Trojans as the team did not fill five of their available spots in that class. This now means USC will have 19 spots to bring in during this recruiting cycle, 15 spots on signing day and four spots which will count as early enrollees. USC will also have room for Simmons under the 75-man roster limit imposed by the NCAA sanctions, the Trojans were scheduled to enter fall camp with 69 available bodies after the spring injury to
George Farmer
.
PAC-12 SCOREBOARD
Thursday, 9/3
Friday, 9/4
Saturday, 9/5