USC Trojans:

Craig McMahon
October, 25, 2013
10/25/13
8:00
AM PT
Five things to watch for USC in the upcoming game against Utah:


Injuries:
The long list of injuries for the Trojans is mind-numbing these days and three more players were lost for the season this week; linebacker
Lamar Dawson
(knee), tailback
Justin Davis
(ankle) and offensive guard
Jordan Simmons
(knee). These are not inconsequential losses as Dawson was fourth on the team in tackles and Davis was second on the team in rushing. At the end of Tuesday's practice, only one scholarship receiver was available --
Darreus Rogers
-- and there were no scholarship tight ends. How the USC injury list stands on Saturday may be as important to the outcome of the game as anything.
USC O-line vs Utah D-line:
It was a rough night for the Trojans O-line against the Irish and it doesn't figure to get a whole lot easier this week against a defensive line that paves the way for the conference lead in sacks. The Utes have 22 sacks on the year and 16 come from the line. They are a strong and aggressive group, led by a pair of outside pass rushers in
Trevor Reilly
and
Nate Orchard
. Under normal circumstances the Trojans would use the tight ends to help with blocking assignments so this is yet another area where injuries could come into play.
USC corners vs. Utah pass game:
The Trojans pass defense has been a struggle for the past three games and interim coach Ed Orgeron has decided to address things with a position change.
Josh Shaw
will move from safety to corner, the position he played earlier in the season. Orgeron is confident that the presence of Shaw will help to correct things, noting that the problems were not there earlier when Shaw was at corner. The ability of Utah to attack USC is the passing game will depend largely on the health of Utes quarterback
Travis Wilson
, who suffered a hand injury last week against Arizona but is expected to play on Saturday.
Kicking competition:
After
Andre Heidari
missed two of three field goals against Notre Dame, Orgeron announced that the place-kicker job would be open for competition this week. Heidari, who has been the starter since his freshman year, admitted after Wednesday's practice that he is in "a funk" with his kicking but he is confident he can work out of it.
Alex Wood
and
Craig McMahon
are being given longer looks in practice with a decision expected Friday after Orgeron meets with special teams coach John Baxter.
How do Trojans respond:
It was an emotional scene in the USC locker room after the game in South Bend and it was obvious that was a game the players really wanted. They had fought hard but just weren't able to pull it out. What made it even more interesting is how many players talked about how they wanted to win it for Orgeron. The interim coach has put a much-needed focus on the players, on keeping their spirits up, and that energy will need to continue because there is no time for a letup against Utah. Don't forget that the Utes are the one team this year that has defeated Stanford.
October, 23, 2013
10/23/13
1:15
PM PT
One of the biggest topics for USC fans in the aftermath of the loss to Notre Dame was the impact of the game on the job status of interim coach Ed Orgeron.
It wasn't that fans pinned the loss on Orgeron but the general consensus was that the loss did great damage to his long-term hopes of getting the permanent job. There were some who thought the damage was too much to overcome while others thought there was still a chance Orgeron could go a run to keep the job. There is still time to compete for a spot in the Pac-12 title game although there is very little wiggle room left. The Trojans would simply have to go on an amazing run through the rest of the season and there couldn't be a repeat of what was seen on Saturday.
[+] Enlarge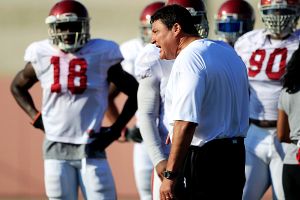 AP Photo/Damian DovarganesUSC interim coach Ed Orgeron has brought some positive energy to the Trojans.
That will be a daunting task for Orgeron to achieve when you consider the schedule that lies ahead for the Trojans, but he seems bound and determined to keep things positive. His postgame quotes following a crushing loss to the Irish were nothing more than gratitude for the players. And that could be the thing that matters as much as anything for Orgeron and athletic director Pat Haden during the remainder of this season.
It's not like the Trojans got blown out or embarrassed in any way. They lost a tough game on the road where the realities of this particular team were on full display -- injuries, penalties, key mistakes, etc. at the wrong time.
One of the consistent praises you heard after the game, however, was for the effort from the team. Even in the face of one of those nights where so many bounces of the ball went against them, the Trojans fought to the end. And that's where Orgeron wants to keep them. He wants to build upon the good energy he has brought during his tenure and not let one defeat put a halt to that momentum.
Kicking open the door of competition
Orgeron announced on Monday that he would be opening up the kicking competition this week in practice after
Andre Heidari
-- for the second time this year -- missed two field goals that could have provided the margin of victory in a game.
Other candidates in the competition will include
Alex Wood
and
Craig McMahon
, both of whom have seen action with extra points and kickoffs but have yet to attempt a field goal for the Trojans. The odds are that Heidari will end up keeping his job at the end of this week but it doesn't hurt to have a little competition to get things kick-started, no pun intended.
Injury woes
There isn't any way to sugarcoat what is going on with the Trojans and injuries right now. A look at the offensive side of the ball during the Tuesday practice showed a veritable MASH unit of sidelined players and a whole lot of walk-ons sprinkled among the active players.
At wide receiver, the Trojans ended the practice with only one scholarship receiver --
Darreus Rogers
-- but that must have seemed like a bonus to the tight end spot, where no scholarship players were available. Add to that a running back position that is dealing with the news that freshman sensation
Justin Davis
will be out for the remainder of the regular season with an ankle injury and you have the makings of a real depletion of talent at the skill positions.
Position switch
It appears as if
Josh Shaw
is on the move again. After beginning his USC career at safety in 2012, Shaw got moved to corner midway through last season and played well. In spring 2013, however, he moved back to safety and seemed to have found a home in a spot where he was comfortable. But injuries and inconsistent play have reversed that course and this week Shaw finds himself back at corner.
It's no secret that the cornerback position has been hit-and-miss this year and for the last three weeks it has been mostly a miss. Opposing offenses have found a recipe for success with attacking the Trojans cornerback spot no matter who was there from
Kevon Seymour
to
Torin Harris
to
Anthony Brown
. No matter how much the coaches preferred to keep Shaw at safety, this latest move is one that makes sense because the other options weren't working. With Shaw now out of the safety rotation, look for
Leon McQuay III
to steadily get more time. McQuay has looked solid lately on the practice field, particularly on special teams as a kick blocker.
October, 21, 2013
10/21/13
1:45
PM PT
USC
will open up the placekicking competition after
Andre Heidari
missed two field goals in the
14-10 loss to Notre Dame
.
USC interim head coach Ed Orgeron announced that they will open up the kicking competition in practice this week.

— USC Trojans (@USC_Athletics) October 21, 2013
Heidari has been successful on 6 of 11 field-goal attempts this year, with two key misses in the loss to Washington State as well.
As a freshman in 2011, Heidari was named All Pac-12 first team after hitting 15 of 17 field goals and all 50 extra points. An early season knee injury in 2012 slowed him a bit and he ended the year by connecting on 10 of 16 field goals and 39 of 41 extra points.
There was hope within the USC program that the knee injury would be behind Heidari in 2013 and that he would get back to the form he showed in 2011. With the news that his job will now be open for competition, other candidates will include junior
Craig McMahon
-- who has 39 kickoffs in his USC career -- and sophomore
Alex Wood
, who connected on all eight extra points while subbing for the injured Heidari last season in games against Syracuse and Stanford.
PAC-12 SCOREBOARD
Thursday, 9/3
Friday, 9/4
Saturday, 9/5