USC Trojans:

Claude Pelon
April, 30, 2014
4/30/14
1:00
PM PT
The introduction of the up-tempo offense to the USC spring practice agenda was an adjustment for everyone, particularly a 6-foot-5, 293-pound junior college transfer who was already dealing with the transition to the four-year level.
Such was the case during spring for defensive lineman Claude Pelon, a midyear transfer from Mesa (Ariz.) College who came to USC with high expectations of being able to contribute right away in the middle of the line.
"The pace is very fast, that was the biggest adjustment for me," Pelon said. "That first week was pretty hard to deal with, but I adjusted and it's going the way I want it to right now."
[+] Enlarge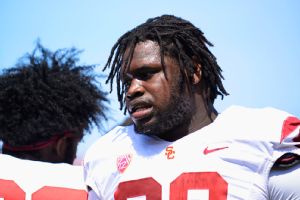 Cal Sport Media via AP ImagesClaude Pelon has moved up the depth chart quickly after enrolling midyear from junior college.
As Pelon got more and more comfortable this spring, the USC coaches noticed his raw strength and ability to move up and down the line. Those second-team reps suddenly became first-team reps and by the time spring ended, Pelon had earned a spot atop the depth chart at defensive end.
"Claude is a guy who made a lot of strides," USC coach Steve Sarkisian said. "We started to see his burst, we started to see him in the backfield more. I just want him to keep fighting hard, all the time, with great technique. I know it's in him."
This spring was a positive start to a USC career for Pelon that began in Florida and took a detour through the junior college route in Arizona. When it finally came time to pick a school last fall, Pelon had USC and Washington among his final choices so when Sarksisian and staff made their way to Los Angeles, it made the decision final for Pelon.
"I had to go to junior college to take care of some academics and grow up as a person," Pelon said. "The situation worked out great for me with USC because I know I'm with the best coaching staff to help get me to the next level. I'm loving everything about this place and I don't feel homesick at all, there's no humidity here!"
Pelon, who had two sacks in the USC spring game session, also has the benefit of having a fellow Floridian on the defensive line in All-American
Leonard Williams
, who sat out the spring with an injured shoulder.
"Leonard and I talk a lot off the field about making sure I'm doing everything right," Pelon said. "I can't wait to see him back on the field, it's just going to make us that much better as a group."
There also has been advice from nose tackle
Antwaun Woods
about what Pelon can expect in the fall when playing home games at the Los Angeles Memorial Coliseum.
"Antwaun tells me I won't believe what it's like for the games," Pelon said. "He said when you walk down the tunnel you can hear the roar of the crowd going crazy. Man, I can't wait to feel that."
April, 25, 2014
4/25/14
8:00
AM PT
With a new coaching staff in place at USC, spring practice represented a time of opportunity more than ever for lesser-known members of the team looking to make a move up the depth chart. With that said, here are 10 players who seized that chance over the course of the 15 workouts, showing that they just might be ready to make a significant impact for the Trojans in the fall.
[+] Enlarge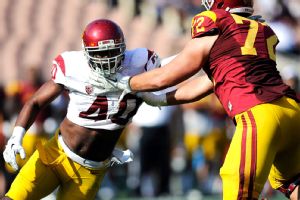 Kelvin Kuo/USA TODAY SportsJabari Ruffin (40) was a force all spring, moving ahead of Quinton Powell at SAM linebacker.
1. TE Jalen Cope-Fitzpatrick (6-foot-4, 255 pounds, Jr.)
With
Randall Telfer
sidelined for this spring because of injury, Cope-Fitzpatrick got the call with the first unit and shined in Steve Sarkisian's tight end-friendly offense. Showcasing sure hands to go along with the ideal size that you want at the position, he caught virtually everything thrown in his direction, providing more than enough evidence to suggest that he's primed for a breakout season.
2. OLB Scott Starr (6-2, 220, RS So.)
After battling a neck injury and being buried on the depth chart during his first two years on campus, a now-healthy Starr materialized as a perfect fit at rush end in Justin Wilcox's new 3-4 multiple front defense. With a nonstop motor and outstanding pass-rush skills, he capped his stellar spring in the Coliseum by making a game-high six stops, including three tackles for loss and one sack.
3. OL Zach Banner (6-9, 345, RS So.)
Missing the majority of the 2013 season after undergoing surgery on both hips, Banner's emergence was one of the big surprises. Moving into the starting lineup at right tackle during the third week of workouts, Banner played the best that he has in a Trojans uniform -- a particularly impressive feat when you consider the fact he said he wasn't even quite back to 100 percent yet. With the promise that he showed, it certainly wouldn't be a shock to see him remain with the first group in the fall.
4. OLB Jabari Ruffin (6-3, 225, RS So.)
Like Starr, Ruffin benefited from the switch to the new defensive system in a big way. Rangy, fast and extremely aggressive at the point of attack, he's tailor-made for the SAM linebacker position in Wilcox's scheme. Beginning camp with the No. 2 unit, he eventually moved ahead of
Quinton Powell
-- another rising player -- and ran exclusively with the first-team defense during the last two weeks of spring drills.
5. CB Chris Hawkins (5-11, 185, RS Fr.)
After spending his first season at USC redshirting, a more physically developed Hawkins came into camp showcasing an improved skill set, jumping in with the No. 1 defensive group opposite
Kevon Seymour
. His development is crucial for a unit that struggled in coverage at times in 2013, and even with the expected return of
Josh Shaw
from injury in the fall, USC will need all of the capable contributors it can come up with as the unit squares off against all of those uptempo, spread-it-out Pac-12 offenses.
6. OLB Quinton Powell (6-2, 220, So.)
The fact Powell was supplanted in the starting lineup during the later stages of spring ball really speaks more about the exceptional camp that Ruffin had than anything that Powell did wrong. On the contrary, the long and athletic former Daytona Beach (Fla.) Mainland star continued to stand out as one of the team's most promising young talents. A force both in coverage and up at the line of scrimmage, the competition between Powell and Ruffin is sure to be one of the most entertaining position battles of fall camp.
7. DL Delvon Simmons (6-6, 300, RS Jr.)
Forced to spend last fall on the scout team as he sat out the season after transferring from Texas Tech, where he compiled 13 starts in 2012, Simmons hit the ground running this spring from Day 1. Surprisingly mobile for a player possessing his size, expect him to make an instant impact up front for the Trojans as a member of what should be an extremely formidable defensive line group.
8. DL Claude Pelon (6-5, 285, RS Jr.)
Transferring to USC from Mesa (Ariz.) Community College in January, Pelon struggled at times early in camp as he adjusted to the lightning-fast tempo of practice, but once he got into shape he really asserted himself as someone to keep an eye on. In fact, perhaps no player improved more during the 15 practices than he did. A powerfully built athlete, he amassed three tackles for loss, including two sacks, in the spring game, and he's only going to get better.
9. OL Khaliel Rodgers (6-3, 310, RS Fr.)
Taking advantage of Aundrey Walker's absence because of injury, Rodgers stepped in at right guard with the starting unit and remained there throughout spring ball. Strong and stout with a nasty demeanor when he's on the field, he performed well enough to show that if Walker doesn't return to form after having been away so long, Rodgers is a steady option who can certainly get the job done.
10. OL Toa Lobendahn (6-3, 290, Fr.)
An early enrollee, Lobendahn neither looked nor played like a player just a few months removed from high school. Lining up as the No. 2 center initially, he moved over to left guard, where he ran with the No. 1 unit throughout the last four weeks of drills. A versatile lineman with strong fundamentals, what was most impressive was the way he was able to hold his own physically against the more veteran players. Things will get a whole lot more interesting in the fall when USC adds injured guards Walker and
Jordan Simmons
back into the equation, as well as a host of freshmen, but Lobendahn got a jump on the competition by making a big statement with his play this spring.
April, 23, 2014
4/23/14
2:00
PM PT
By
WeAreSC staff
| ESPN Insider
Here's our look back at the Trojans' progress during spring.
MVP
[+] Enlarge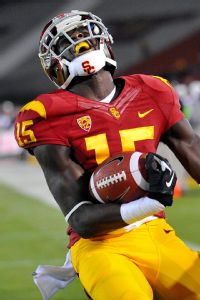 Gary A. Vasquez/USA TODAY SportsWill Nelson Agholor become the latest standout receiver at USC?
Garry Paskwietz:
Nelson Agholor
Johnny Curren: Agholor
Greg Katz: Agholor,
Hayes Pullard
Curren:
From the start of spring ball to last Saturday's finish no other player performed at such a sky-high level, and with such consistency, as Agholor. A practice didn't ever seem to go by without the talented junior coming up with at least one highlight catch that caught everyone's attention. An already solid player heading into the spring, he got even better and appears poised to take his place as the next great USC wide receiver.
Biggest surprise
GP:
Zach Banner
JC:
Scott Starr
GK: Banner
Katz:
It has to be redshirt freshman offensive right tackle Zach Banner, who came out of nowhere -- thanks to the wonders of hip surgery -- to claim the starting position. He probably surprised not only his teammates with his newfound agility but himself as well. Still a work in progress, he is not only turning into a grizzly bear on roller skates but potentially a future All-Pac-12 selection. When Banner is able to stay at pad level, it's like a tsunami of human girth stream rolling a mismatched opponent.
March, 24, 2014
3/24/14
7:30
AM PT
After a break in action, USC returns to Brian Kennedy-Howard Jones Field on Tuesday to pick up where it left off after a promising first week of spring drills under Steve Sarkisian.
Much was revealed during those initial three workouts, and here are three key things to keep an eye on as the Trojans go through the remaining practice schedule in March and April.
[+] Enlarge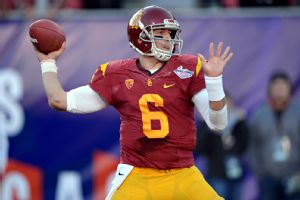 Kirby Lee/USA TODAY SportsCody Kessler has adjusted well to USC's uptempo offense this spring.
The continued development of the players in the new systems
Week 1 was all about an uptempo pace as the players got their feet wet in new offensive and defensive schemes at a frenetic pace. To their credit, they appeared to adapt to it all in lightning-quick fashion.
And so, the big question now is just how much further can they come over the course of the next four weeks?
On offense, the progression of the passing game should be particularly interesting to watch. Both
Cody Kessler
and
Max Browne
performed solidly in Sarkisian's hurry-up, shotgun-based offense. As they continue to grow at ease in the new system and develop more chemistry with their receivers, there's reason to believe the aerial attack has the potential to really take off.
On the other side of the ball, Justin Wilcox's 3-4 multiple-front defense has been a hit so far, due in large part to some outstanding play in the trenches. The front seven shined throughout the first week, even with
Leonard Williams
standing on the sideline due to injury. With unique size on the interior and hulking contributors like
Delvon Simmons
,
Antwaun Woods
,
Kenny Bigelow
and
Claude Pelon
combined with exciting athletes on the outside, this unit should get better and better this spring.
In the secondary, even with
Josh Shaw
out of action, Keith Heyward's group has been making some impressive plays in coverage -- something they struggled to do under the prior regime. Will that trend continue? We'll soon find out.
Competition, competition, competition
When Sarkisian took the reins in early December, one thing he stressed was that virtually every position would be up for grabs. He wanted to create an atmosphere of competition. And with one week of practice in the books, it's safe to say that is precisely what's happened.
A number of tightly contested position battles have taken shape, none garnering more attention than the one at quarterback between Browne, Kessler and early-entrant freshman
Jalen Greene
. With some added bulk to his frame and an increased level of confidence, Browne really opened eyes with his play in Week 1, but that doesn't mean Kessler backed down an inch. A vocal leader of the team, Kessler did a great job of directing the offense down the field with frequent success. He had the poise and command you'd expect from a veteran with 14 starts under his belt. Greene has displayed flashes at times, although he's taken noticeably fewer snaps than his counterparts, both of whom appear to have a sizeable lead on him in this race.
On defense, the competitions for the two spots on the edge of the line have been the highlight so far.
Quinton Powell
and
Jabari Ruffin
are duking it out at SAM linebacker, with
Scott Starr
and
J.R. Tavai
battling at rush end. In Week 1, it was Powell and Starr running exclusively with the No. 1 unit, but, really, all four contenders have stood out at times.
Some previously hidden players have also begun to emerge as they've received somewhat of a golden opportunity to show what they can do in the new schemes. Powell and Starr are two such examples, as are tight end
Jalen Cope-Fitzpatrick
, guard
Khaliel Rodgers
, tackle
Nathan Guertler
, cornerback
Chris Hawkins
and defensive end Simmons.
How physical will Sarkisian allow it to get?
With a new staff in place and a depleted roster (NCAA sanctions) made even more so because of a number of injuries, Sarkisian indicated when he took over at USC that he might not push the envelope too much when it came to live hitting this spring. That was certainly the case in the first week. But as the team progresses through the schedule this month and next, will we see the pads popping with greater frequency at any point?
There are certainly some added benefits that could come with more physical workouts, but there are drawbacks as well. Finding the perfect combination isn't as easy as it might sound. Just ask Lane Kiffin.
Stay away from full-contact drills completely and you risk fielding a defense that could get pushed around and has tackling issues. That was the case in 2012.
But USC still lacks depth, and if you allow more hitting, you also run the risk of more players getting injured. That happened in 2013.
It's a decision that could ultimately play a major role in shaping the identity of the team down the line, so it will be interesting to see which way Sarkisian goes here.
February, 27, 2014
2/27/14
6:00
AM PT
By
WeAreSC staff
| ESPN.com
WeAreSC staffers give opinions on topics related to Trojans football:
Give your offensive and defensive "spring revelations," guys who will make the biggest noise in spring.
Garry Paskwietz:
These are good times for the USC tailback spot.
Buck Allen
was the 2013 team MVP, and
Tre Madden
and
Justin Davis
were the darlings of the early part of the season. By the end of the year, however, you couldn't help but notice the progress that
Ty Isaac
had made as well. Isaac combines a chiseled, big frame with a natural running style, and it wouldn't be a huge surprise to see him really make a statement this spring.
My defensive revelation is more of a position group than an individual player. The need to replace
George Uko
along the interior of the line is critical, and the Trojans have some pretty good options.
Delvon Simmons
is eligible after sitting out last season as a transfer from Texas Tech. You can't substitute experience, and Simmons has a year as a starter in the Big 12 under his belt.
Kenny Bigelow
redshirted last year and is ready to start showing why he was such a highly rated recruit coming out of high school.
Claude Pelon
offers another big, veteran body as a junior college transfer and then there is always the possibility of
Greg Townsend
, if he can stay healthy.
[+] Enlarge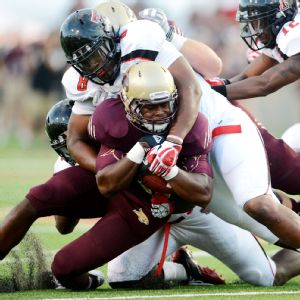 John Albright/Icon SMIDelvon Simmons brings a year of experience from Texas Tech to USC.
Johnny Curren:
With
Marqise Lee
off to the NFL, I really think that wide receiver
Darreus Rogers
has the potential to explode this spring. Possessing a unique combination of size, soft hands and big-play ability, he gained valuable experience in 2013 as the Trojans' No. 3 receiver, hauling in 22 passes. I expect him to slide into the starting spot opposite
Nelson Agholor
and to take on a key role, particularly with USC going to more of an uptempo offense. From what he showed last season in somewhat limited action, he's more than ready for the increase in responsibility.
I also wouldn't be surprised to see
Khaliel Rodgers
potentially make a splash at center. I was extremely impressed with what I saw from him in practice last season, as well as in high school, and I think, given the opportunity this spring, he'll succeed.
On the other side of the ball, I think Simmons is the big name to watch. At a hulking 6-foot-6 and 300 pounds, he's another performer who impressed out on Brian Kennedy-Howard Jones Field on a daily basis last fall. With the added benefit of having started 13 games as a sophomore in 2012 at Texas Tech, he has the ability to step in right away and contribute with no adjustment period. He'll challenge for the starting defensive end spot opposite
Leonard Williams
, and I wouldn't be surprised if he lines up there when the Trojans open up the 2014 season. Linebackers
Quinton Powell
and
Scott Starr
are two more outstanding athletes who could make some noise this spring.
Greg Katz:
Given that it's a position of not only great need but of great interest, a spring revelation from this prospective will be redshirt freshman Rodgers, who has the size (6-3, 310) to be a dominant center. Playing in postseason all-star game competition coming out of high school, Rodgers really established himself as a prospect. Extremely physical and nasty at the point of attack, Rodgers can play two positions: center and guard. Because of the need at center, Rodgers will get every opportunity to show his stuff there, and it will be a revelation just how much potential this kid has to be outstanding. That said, there is still the leadership role of center and that will be one factor to monitor in his bid to be the starter.
The early loss of Uko leaves a real void and opportunity for somebody to step in and take that defensive tackle spot. There are enough candidates, but the one that will be a revelation will be Simmons, the former U.S. Army All-American. That "6-6, 300" is not some number put into a media guide. He has the necessary game experience and also had quality results playing as a true freshman with the Red Raiders. Keep an eye on this up-and-comer.
January, 30, 2014
1/30/14
2:45
PM PT
The news came in twos this week for the
USC Trojans
involving a pair of players, one leaving and one coming, both with two years of eligibility left to pursue their college football dreams.
The first came early in the week when it was confirmed that junior college defensive tackle
Claude Pelon
was enrolled in school for the spring semester. Pelon had committed to USC last month but had not yet qualified to transfer when the semester started on January 13. At the time, USC coach Steve Sarkisian said it was a matter of finishing up one class and that Pelon was expected soon.
[+] Enlarge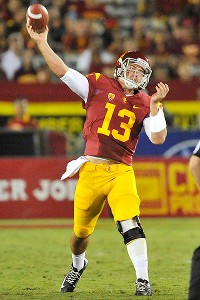 Gary A. Vasquez/USA TODAY SportsMax Wittek's decision to leave USC isn't a complete shock, and it gives him a good opportunity to succeed at another program.
The fact that Pelon is now confirmed is important news for a defensive front that will need to replace a two-year starter in the middle in
George Uko
, who left school early for the NFL draft. Pelon offers a 6-foot-5, 285-pound frame along with two years of junior college experience. He had 9.5 tackles for loss in 2013 at Mesa (Ariz.) Community College.
To continue reading this article you must be an Insider
January, 16, 2014
1/16/14
9:30
AM PT
LOS ANGELES -- Steve Sarkisian hasn't been back at USC long -- just over six weeks to be exact -- but as he spoke to a gathering of reporters inside the John McKay Center on Tuesday afternoon, it became apparent that the new head coach certainly isn't tempering his optimism.
"We've got a plenty talented roster to go out and compete for a championship," Sarkisian said, "and that's what I said [on] Day 1, and I really have not wavered on that."
To continue reading this article you must be an Insider
PAC-12 SCOREBOARD
Thursday, 9/3
Friday, 9/4
Saturday, 9/5