USC Trojans:

Chuckie Keeton
September, 22, 2013
9/22/13
10:00
AM PT
A look at what we learned about the Pac-12 in Week 4.
[+] Enlarge

AP Photo/Marcio Jose SanchezStanford made short work of Arizona State on Saturday, showing that the Sun Devils aren't quite ready to compete with the Pac-12 elite.

The Pac-12 might be the deepest conference: The league wrapped up the majority of its nonconference slate with an impressive 29-4 record, including a mark of 21-3 against FBS teams. With Oregon State's win over San Diego State and USC's victory over Utah State, the Pac-12 moves to 10-0 this season against the Mountain West -- a lower-level conference that gave the league fits last season. Some wins were spectacular, some weren't. But the fact that only Cal had a sub-.500 record out of conference speaks volumes about the league's depth. And even those two losses came against top-25 teams.

Arizona State isn't there yet: After last week's controversial ending against Wisconsin, the Sun Devils were eager to show that they were worthy of their top-25 ranking. But trailing 39-7, ASU simply didn't look like a team ready to contend with a top-five team on the road. Give it credit for fighting back and scoring 28 second-half points. It's not hard to imagine previous ASU teams throwing in the proverbial towel. And the Sun Devils still should be considered contenders for the Pac-12 South. We'll know more when they host USC next week, but for now, the Sun Devils look more like a second-tier Pac-12 team than a group that could challenge Stanford and/or Oregon.

Apples good, potatoes bad (at least in football): Combined points for Washington and Washington State in Week 4: 98. Combined points for Idaho and Idaho State in Week 4: 0. Granted, this wasn't the stiffest of competition. But Washingtonians from Aberdeen to Yakima to Pullman can feel pretty good about the state of football in their state. The Huskies have scored 34 points for three straight games for the first time since 2002. They posted their first shutout since 2009 and the margin of victory was the largest since beating Oregon 66-0 in 1974. And yes, it was very cool seeing Deontae Cooper get his first career touchdown. For the Cougars, it was their first shutout since 2005 -- which also came against Idaho. The defense posted a season-high five sacks.

A W is a W: While Washington, Washington State and UCLA cruised to easy wins, Oregon State, Utah and USC needed all four quarters to get the job done. Of course, there were different reasons for all three. Utah was playing a rivalry game against a team receiving top 25 votes. It was a hard-fought game and a solid victory for the Utes (you're really going to throw a flag on Eric Rowe? For all the extra shoves and questionably late hits that went on in that game, that's what gets the flag!?), USC was facing an extremely dangerous quarterback in Utah State's Chuckie Keeton. But they sacked him four times for minus-15 rushing yards and kept him to just 179 yards in the air. The USC offense, however, continues to be a work in progress. And then there's the Beavers ... oh, those Beavers. Credit them for coming from behind late to beat San Diego State. But don't lose sight of the fact that they had to come from behind late to beat San Diego State. Sean Mannion had another monster game, and Brandin Cooks had another monster game. But the defense and the running game continue to be issues that will get exposed if the Beavers can't fix them as they get deeper into conference play.

We can start thinking about league play! There's only three "official" nonconference games left, and they all involve Notre Dame (still waiting on the possibility of Colorado and Fresno State rescheduling). But by this time next week, every team except UCLA will have played a conference game. Of the three league games we've had so far, the North has gone 3-0 against the South, with Washington State, Oregon State and Stanford all getting victories over USC, Utah and Arizona State, respectively. Next week we get some intra-division showdowns between USC and ASU, California and Oregon and Stanford and Washington State in Seattle. But it's the inter-division matchups that are very intriguing. Undefeated Arizona travels to undefeated Washington -- where we'll learn a little bit more about the Wildcats. And a confident Colorado team visits Oregon State in a game that seemed like a sure thing for the Beavers a month ago.
September, 22, 2013
9/22/13
7:00
AM PT
LOS ANGELES -- A look at the positives and negatives from
USC's 17-14 victory over Utah State
on Saturday:
THREE UP

1. Team defense:
For the fourth consecutive game the USC defense was flat-out stellar, limiting the Utah State offense -- which came into the game averaging 550.3 yards per game -- to 285 yards.
Leonard Williams
and the Trojans' defensive line spearheaded an effort that resulted in four sacks and limited USU quarterback
Chuckie Keeton
-- who entered Saturday's contest completing 78.1 percent of his passes -- to 21-of-39 passing (53.8 percent) for 179 yards and two touchdowns.
2. Kris Albarado
: With the USC offense struggling, and the defense more than holding its own, punter Kris Albarado found himself playing a key role in a battle for field position, and it's safe to say that he came through for the Trojans. The junior from Lake Charles, La., pinned five of his seven punts inside the Aggies' 20-yard line, and he was a primary reason why Utah State's average starting field position in the second half was at its own 16-yard line.
3. Tre Madden:
This wasn't the best outing of 2013 for Madden -- in fact, it marked the first time all season that he failed to eclipse the 100-yard plateau on the ground -- but he performed solidly nonetheless in a game where the rest of the offense was non-existent for large stretches. Carrying the ball 24 times for 93 yards and one touchdown, while also making three catches for 15 more yards, he was especially effective early on before the Aggies switched to an eight-man front on defense.
THREE DOWN
1. Offensive energy and crispness:
After appearing to have made strides in the team's win over Boston College last week, a very stale-looking USC offense took a pronounced step back against Utah State, especially in terms of the passing game. Quarterback
Cody Kessler
completed just 13 of 27 passes for 164 yards and one touchdown, and he received little help from those around him, including his receivers who dropped two key throws. In the second half Utah State provided every opportunity for the Trojans to run away with the game, giving the offense tremendous field position time after time, but USC could only muster one field goal as a result.
2. Offensive line:
One significant contributing factor in the stagnant play of the offense was another less-than-stellar performance by the USC offensive line, particularly when it came to pass-protection -- something it has grappled with throughout the team's first four games. Allowing three sacks on the day, the unit struggled more and more as the game wore on, and Kessler had a steady flow of pass-rushers coming at him late in the contest that made it difficult for him to get a rhythm going.
3. USC third-down conversions:
With the offense failing to move the ball on a consistent basis, the Trojans continued to have a tough time on third down. Coming into the game against Utah State having successfully converted on just 29.7 percent of the team's third-down plays -- the No. 104 mark nationally -- the Trojans were just 3-of-14 (21.4 percent) on Saturday, and 0-for-8 in the second half.
September, 22, 2013
9/22/13
2:49
AM PT
While the Pac-12 versus Notre Dame trilogy has yet to be written, and we still need to see if Colorado-Fresno State gets rescheduled (
it's looking unlikely
), it's safe to say that the Pac-12 as a whole came out of its nonconference slate in impressive fashion.
[+] Enlarge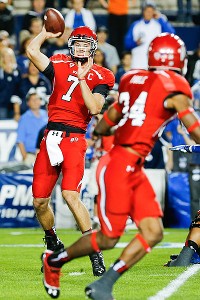 Chris Nicoll/USA TODAY SportsTravis Wilson and Utah ended its nonconference schedule in style with a fourth straight victory over BYU.
Through the first four weeks, the league flexed its muscles against weaker competition, gutted out wins against comparable foes and showed considerable top-to-bottom depth. Oregon and Stanford announced national title intentions without incident and teams like Washington and UCLA have steadily climbed the Top 25 ladder.
After three straight weeks of just one league game, every game in Week 5 will be Pac-12 on Pac-12, meaning the league had the opportunity to put a nice little bow on the bulk of its nonleague schedule in Week 4. And that's exactly what it did, adding six more nonconference wins, headlined by Utah's victory over arch-nemesis BYU.
Not only is it the fourth straight win for the Utes over BYU, but with the teams not playing again till 2016 they now get two extra years to savor the flavor of their 20-13 victory over the Cougars. This year's Holy War had everything we've come to expect from a Utah-BYU showdown. Hard hits, flared tempers and drama right until the final play.
With many wondering if BYU was a Top 25 team after blasting Texas two weeks ago (it was receiving votes in the coaches poll), the Utes proved to be the stronger team, bouncing back from last week's overtime loss to Oregon State to win on the road. And with a 3-0 mark in its nonconference games, Utah is slowly proving that it's making strides as a full-fledged Pac-12 program.
Some nonconference numbers for your consideration:
After going 25-11 out of conference last season (not including bowl games), the Pac-12 is 29-4 against nonconference teams through the first four weeks.

The Pac-12 is 21-3 against FBS opponents.

The league went 3-2 against the Big Ten and 10-0 against the Mountain West.
Why is this important? The Pac-12 will see both leagues a couple of more times in the postseason.
There were signature wins, such as the aforementioned Holy War victory, UCLA's win at Nebraska, Washington's win over Boise State and Oregon's pasting of Tennessee. Yes, even Arizona State's win over Wisconsin qualifies as a signature victory.
The lone stain was Oregon State's loss to Eastern Washington in Week 1. The Beavers survived Saturday against San Diego State after another inexplicably poor performance -- save the two late interceptions. Ironic, I suppose, that it was the much-maligned defense that came up big in the end.
Outside of that, California's losses to Northwestern and Ohio State are nothing to scoff at and Washington State went toe-to-toe with a vastly improved Auburn team. In fact, that's a game the Cougs probably should have won.
In Week 4, the league took care of its business yet again with UCLA, Washington State and Washington all notching easy wins against teams that warrant easy wins.
USC's defense continues to impress, sacking Utah State quarterback
Chuckie Keeton
four times, though the offense still leaves much to be desired. We've already seen how it faltered in a league game against Washington State. It's only going to get tougher for the Trojans with ASU next week.
There are at least three more opportunities for the league to continue its nonconference dominance, starting with ASU's showdown in Dallas with Notre Dame on Oct. 5. USC and Stanford will also see the Irish. Outside of that (or Colorado and Fresno State getting back on the books), the league will have to cannibalize itself in its nine-game conference schedule before it gets another opportunity to show the rest of the country what it can do in the bowl season.
As long as the SEC still holds its seven straight crystal balls, it will continue to be seen as the class of college football. But the Pac-12 stated its case through the first four weeks that, top to bottom, it belongs in the conversation.
September, 21, 2013
9/21/13
7:00
PM PT
LOS ANGELES -- Notes, quotes, and anecdotes from the Coliseum after the Trojans (3-1, 0-1 Pac-12) defeated Utah State (2-2, 1-0 MWC) by a score of 17-14.
USC head coach Lane Kiffin
Opening statement:
"We knew it was a really good team we were going to play. Anytime you have a great player at quarterback (
Chuckie Keeton
) like they do, it's going to be hard to take him out of the game. Their defense has played really tough and really physical."
September, 21, 2013
9/21/13
6:29
PM PT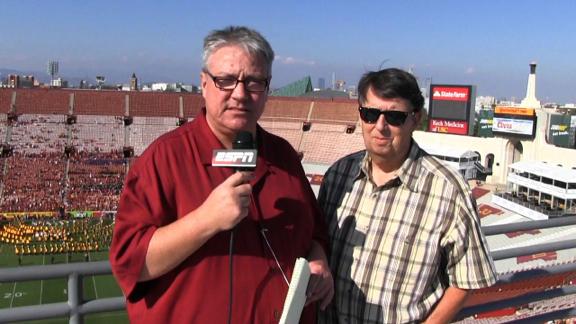 LOS ANGELES -- USC was hoping to use the game against Utah State as a way to build some positive momentum, but the 17-14 victory over the Aggies showed that the Trojans still have a long way to go.
Make no mistake, it's always nice to get the win but this is a game where the Trojans had a huge advantage in field position and also got the usual solid game from the defense. Unfortunately, the USC offense couldn't take advantage of the opportunities to put the game away in the second half and, if not for some special teams miscues by Utah State, the result could have been very different.
"It was a very hard fought game today," USC coach Lane Kiffin said. "Very much like what we anticipated. I felt like there was a rhythm early on when we were able to run the ball, but obviously we wanted to finish better in the second half."
USC started off strong with a
Tre Madden
touchdown run on the second series of the game to go up 7-0. The Trojans defense put good pressure early on Utah State quarterback
Chuckie Keeton
, primarily with defensive linemen
Leonard Williams
and
George Uko
as well as outside linebackers
Devon Kennard
and
Morgan Breslin
. USC dodged a bullet when Utah State clanged a first-quarter field goal off the upright, a miss that would loom large.
[+] Enlarge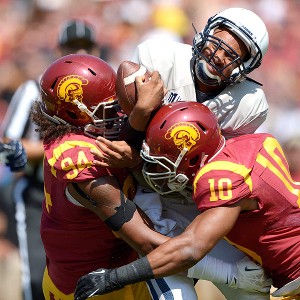 Kirby Lee/USA TODAY SportsLeonard Williams (left) and the USC defense put the crunch on Utah State on Saturday.
Each team added a touchdown in the second quarter, and as the second half started it was clear it was anyone's ball game.
The Trojans had their chances with the Aggies playing an eight-man front, leaving the USC receivers against man coverage. Normally, that would spell a big day for
Marqise Lee
and/or
Nelson Agholor
, but there were some dropped passes and some pressure on
Cody Kessler
which prevented the Trojans from capitalizing. Lee ended the day with six catches for 72 yards, while Agholor had two catches for 38 yards. Neither player reached the end zone.
"I missed some throws and we had some drops, but they are things we can fix," Kessler said. "Thanks for the job our defense did, we were able to come away with the win."
The USC defense is rapidly becoming known as the side of the ball which will win games for this team. Williams led the team in tackles with eight and added three tackles for loss. Uko had five tackles and a sack, Breslin had two sacks and Kennard added a sack. They did a terrific job of limiting Keeton -- who came into the game completing 78 percent of his passes -- to a rather pedestrian stat line of 21-of-39 passing for 179 yards and a pair of scores. Good numbers to be sure, but not enough to get it done against the Trojans.
"We had a good game plan from Coach O (Orgreon) the whole week," Uko said. "We just wanted to angle in and rush tight and keep them in the box"
The battle for field position really started to impact the game in the second half, as the Trojans' average starting field position was the Utah State 45, while Utah State started at its own 16. It didn't help the Aggies that their punter had a shanked 12-yard kick at the end of the third quarter that led directly to a 25-yard
Andre Heidari
field goal, which proved to be the winning margin. There was also a strange fake punt from the Aggies on a fourth-and-11 from their own 34-yard line in the fourth quarter, resulting in an incomplete pass from tight end
D.J. Tialavea
.
If you're looking for bright spots for the Trojans, look no further than punter
Kris Albarado
, who pinned five punts inside the Aggies' 20-yard line to help win the field position battle. Little things like that are big on a day when the two teams are basically even in total yards (285 for USU to 282 for USC).
Madden fell short in his bid for a fourth-straight 100-yard rushing day but did run for 93 yards on 24 carries and a touchdown. Kessler completed 13 of 27 passes for 164 yards and a touchdown, but he was also sacked three times and took several big hits.
Now the Trojans turn their attention to a big road game next week in Tempe against Arizona State. There was hope that things would be clicking after a four-game opening stretch that included three games at home but at this point the offense can best be described as a work in progress. Thankfully the Trojans have their defense, a unit which once again put the team on their shoulders to come away with a tougher-than-expected win.
September, 19, 2013
9/19/13
3:16
PM PT
The dominating performances put on by the USC defense through the first three weeks of the season have been the undeniable highlight so far for a Trojans team that currently sits at 2-1 and looks to be headed in the right direction after an impressive 35-7 bounce-back victory against Boston College last weekend.
With
Hayes Pullard
, a team captain with 28 starts and 201 career tackles to his credit, serving as the leader at middle linebacker, the entire unit has taken off in their first year playing in new defensive coordinator Clancy Pendergast's aggressive 5-2 scheme.
[+] Enlarge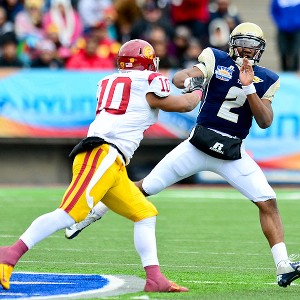 Matt Kartozian/US PresswireMiddle linebacker Hayes Pullard has taken a leadership role on USC's aggressive defense.
A fast and swarming bunch, the first-team Trojans defense has yet to give up a touchdown in 2013 and currently ranks in the top 10 nationally in a slew of categories, including No. 2 in rushing defense (allowing 43.7 yards per game), No. 3 in sacks (four per game), No. 6 in passes intercepted (six) and No. 4 in total defense (allowing 212.3 yards per game).
"I give all the credit to Coach Pendergast, coach [Ed] Orgeron and coach [Mike] Ekeler," said the 6-foot-1 and 230-pound Pullard, who has compiled 13 tackles in 2013. "They put us in the position to be able to play fast. I'm enjoying it so much. It's spread around where people are making plays on the perimeter, in the middle, we're forcing turnovers. ... It's just a fun atmosphere when we're out there. Everybody is just focused on doing their assignments and doing everything they can to achieve our goal -- to be a dominant defense."
And so far at least, it's mission accomplished. But neither Pullard nor his teammates have yet to face an offense this season that resembles anything close to what Utah State (2-1) will bring to the Coliseum this Saturday. The Aggies average a whopping 49.3 points and 550.3 total yards per game, and it's their dual-threat Heisman candidate at quarterback,
Chuckie Keeton
, who engineers it all. Running USU's spread offense to perfection this season, the 6-2, 200-pound junior has completed 78.1 percent of his passes for 923 yards and 12 touchdowns with just one interception, while also leading the team with 187 rushing yards.
"I guess the closest thing would be Oregon as far as how they can hurt you in all aspects," said USC head coach Lane Kiffin earlier this week when asked if there is another team that showcases an offense similar to Utah State's. "They run the ball really well, [Keeton] throws the ball really well, and then he takes off and runs it. So, I guess that would be the closest. ... It's a little bit of a different style, but at the same time they're really explosive, and they have really good players around him, too. ... Good receivers [and] a very veteran offensive line that returns five starters. This is a top-25 team."
And Kiffin isn't alone in his line of thinking, particularly when it comes to Keeton, who led the Aggies to a breakthrough 11-2 record in 2012.
"Oh my gosh, watching him on film, he's a great player," Pullard said. "He can pass, he loves to run [and] he loves to attack defenses. I can't say anything bad about him."
But if there is a defense out there that appears to have the potential to contain Keeton -- which according to Pullard, is all you can hope to do -- it just might be USC. After all, on top of the talent the Trojans have, Pendergast has made a name for himself as an architect of defenses that are geared to shut down uptempo, spread attacks.
And while it remains to be seen exactly how the USC defense does, in fact, plan to slow Keeton and the rest of the Utah State offense down, so long as Pullard and his teammates perform at the same high level that they have all season long up to this point, while also staying disciplined and following the game plan put in place by Pendergast, there's little reason to doubt that they'll be more than up for the challenge.
"We talked about it on Monday, and everybody is taking the initiative, and everybody is being accountable for themselves," Pullard said. "It's just about being responsible for your duty when you're out there and making sure that you do your assignment, and then we'll go from there."
September, 19, 2013
9/19/13
10:30
AM PT
The WeAreSC staff answers questions heading into the Trojans' game vs. Utah State


Which USC defensive player will be most important to help slow Utah State quarterback Chuckie Keeton?
Garry Paskwietz:
Leonard Williams
. I think it's safe to say that any plan to slow Keeton will need to start with pressure. The Aggies quarterback has put up impressive numbers so far this year and his versatility will offer a key matchup for a USC defense that has played well in the first three games. The quickest way the Trojans are going to be able to get to Keeton and disrupt his timing will be from Williams. The sophomore defensive end was consistently applying pressure last week to thwart the Boston College run game, the strength of the Eagles' offense, and now his attention will be shifted to slowing the quarterback for Utah State.
Johnny Curren:
Morgan Breslin
. The USC defense will need to have a constant presence in the Utah State offensive backfield right from the get-go, and it would be ideal for the Trojans if that pressure came from the front level so they don't lose anything in terms of their coverage. After all, Keeton is incredibly accurate, completing 78.1 percent of his passes this season, so he certainly appears to have the ability to pick a gambling defense apart. With that in mind, I think that Breslin, the Predator linebacker on the edge, could play a pivotal role. Possessing outstanding pass-rush skills to go along with the speed and athleticism to hang with Keeton, he'll need to hit the Aggies' passer early and often, thereby getting in his head and preventing him from finding his groove. If Breslin pressures Keeton on a consistent basis, and the rest of the defense plays disciplined and is able to contain him in the pocket, it could be a long day for the talented USU signal caller.
To continue reading this article you must be an Insider
September, 19, 2013
9/19/13
10:00
AM PT
LOS ANGELES -- Maybe it's just the fact that when the name "Chuck E." or "Chucky" is mentioned in these parts, thoughts to turn either a famous pizza chain or that devilish little critter from nearby Universal Studios.
Come Saturday afternoon, Lane Kiffin's
USC Trojans
(2-1) won't be eating a cheese pizza or having a fright night at the movies, but they will be served a steady diet of spread option evil, compliments of Utah State's own version of Chuckie.
[+] Enlarge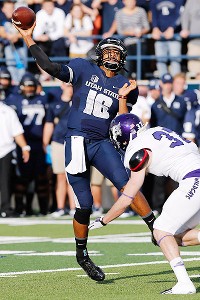 Chris Nicoll/USA TODAY SportsUtah State QB Chuckie Keeton has USC's attention and has drawn comparisons to Seattle Seahawks QB Russell Wilson
Meet Aggies junior quarterback
Chuckie Keeton
, a first-team All-WAC selection in 2012, who has a nefarious ability to run or pass in the dreaded spread option.
To continue reading this article you must be an Insider
September, 19, 2013
9/19/13
9:00
AM PT
Both Ted and Kevin went 9-1 last week, with both missing with a pick of Utah over Oregon State. They picked different teams in the Colorado-Fresno State game, but it was postponed and might not be rescheduled.
So Kevin is 27-3 so far this season and it's California's fault Ted is just 26-4.
Cal! Baaaaa!
Arizona State at Stanford
Kevin Gemmel
: I think ASU will come out firing -- eager to prove it belongs in the top 25 after last week's freakish ending. But Stanford's defense is a lot better than Wisconsin's. This is also ASU's first game on the road, and until we see what it can do outside of Tempe, Ariz., I'm leaning toward the home team.
Stanford 31, Arizona State 24
.
Ted Miller
: The absences of DE
Henry Anderson
and CB
Barry Browning
are a cause for concern for Stanford, but the Cardinal's defense is pretty darn deep. Stanford might not have gone too deep into its playbooks on either side of the ball against San Jose State and Army. This is a big moment for the Cardinal to announce themselves as a national title contender.
Stanford 28, Arizona State 20
.
Utah State at USC
Kevin Gemmell
: Say this for the Trojans, that defense is pretty good. It will be tested against an explosive Utah State offense that puts up nearly 50 points per game behind Heisman dark horse
Chuckie Keeton
. But it looks like the USC offense woke up last week, and the Pac-12 is a perfect 8-0 against the Mountain West this season.
USC 35, Utah State 24
.
Ted Miller
: The Trojans looked good in all areas while stomping Boston College last week. Now can they put together strong back-to-back performances? Keeton is a great matchup for the USC defense because he'll provide plenty of practice for the mobile QBs the Trojans will see this season, but the first question is whether the offense has found its footing with QB
Cody Kessler
.
USC 30, Utah State 17
.
New Mexico State at UCLA
Kevin Gemmell
: After all of the emotion of the past 10 days, the Bruins could use a game where they probably won't get pushed too hard. Get in, get out, stay healthy and take care of their business. No reason the Bruins should have any issues.
UCLA 52, New Mexico State 10
.
Ted Miller
: What Kevin said. Bruins should roll easily and get reserves some valuable action.
UCLA 55, New Mexico State 13
.
Utah at BYU
Kevin Gemmell
: Despite it being only 45 minutes away, Provo, Utah, is still a tough place to play. And rivalry games are always difficult to pick -- especially when you have two very similar teams. My usual approach in this situation is to take the home team. But this Utah team is a lot more explosive than previous editions. I see points and another tight finish.
Utah 38, BYU 35
.
Ted Miller
: BYU has three things going for it: (1) It's playing at home; (2) It's coming off a bye week; (3) Utah lost an emotional home game to Oregon State last weekend. What the Cougars have going against them is me picking them to win. You're welcome, Utes.
BYU 28, Utah 24
.
Oregon State at San Diego State
Kevin Gemmell
: Both teams were predicted to have pretty good seasons. Both teams saw momentum come to a halt with Week 1 losses to FCS teams. The Aztecs are coming off a bye. Which should help. But not enough to overcome the play of
Sean Mannion
, who is playing like one of the top quarterbacks in the country right now.
Oregon State 42, San Diego State 24
.
Ted Miller
: San Diego State's offense has been sputtering, which should help the Beavers' defense regain some mojo. The Aztecs' defense? It gave up 40 points to Eastern Illinois. The Beavers should put further distance between themselves and a bad opening game.
Oregon State 45, San Diego State 17
.
Idaho State at Washington
Kevin Gemmell
: The Huskies overcame a huge maturity milestone by winning a competitive game on the road. Now they close out the nonconference schedule with an FCS team that is 2-0 … but won't provide much resistance. Good tune-up game for the Huskies heading into conference play.
Washington 48, Idaho State 13
.
Ted Miller
: The Huskies should complete a strong 3-0 start. Big test coming Sept. 28 when Arizona comes up for a visit after a bye week.
Washington 42, Idaho State 17
.
Idaho at Washington State
Kevin Gemmell
: There is always bad blood between these schools --
which led to actual blood during the summer
. The Cougs are clicking while the Vandals are in shambles. Feel pretty confident picking WSU in this rivalry game.
Washington State 35, Idaho 7
.
Ted Miller
: Washington State will improve to 3-1. It has won three in a row since 2006. A matchup in Seattle with Stanford awaits.
Washington State 44, Idaho 13
.
September, 19, 2013
9/19/13
5:00
AM PT
By
Garry Paskweitz
| ESPN.com
The USC defense is off to a strong start in 2013, but its biggest test of the young season awaits on Saturday in the form of Utah State quarterback
Chuckie Keeton
, a talented junior who has put up huge numbers in the Aggies spread offense. Keeton is completing 78 percent of his passes with 12 touchdowns to only one interception, and he is also the team's leading rusher.


That kind of dual-threat ability makes Keeton a tough target and one that will receive the full attention of the Trojans defense. So far this year the Trojans have done a good job of playing assignment defense in a scheme that requires attacking from different angles on most every play. That will need to continue on Saturday to prevent Keeton from breaking a big play.
Look for the Trojans to try to get in the backfield quickly in an effort to prevent Keeton from having a chance to make an option decision. This will be especially important for front-line defenders such as
Leonard Williams
,
Morgan Breslin
and
Devon Kennard
.
It will be interesting to see how the Trojans choose to use their personnel groups in the secondary, since they likely will be in a nickel package most of the game. In the first two games against spread teams, the Trojans played a lot of nickel with
Josh Shaw
and
Su'a Cravens
at the safety spots and
Dion Bailey
playing in the slot. Against Boston College and its traditional pro-style scheme, Shaw was at corner with Bailey and Cravens at safety, plus
Antwaun Woods
was at nose tackle on the line. Assuming the Trojans are primarily in nickel against the Aggies, do they keep Shaw at corner? Does Bailey stay at safety or go to the slot? Could
Demetrius Wright
be an option at safety?
Injuries at corner could be a factor in that decision.
Kevon Seymour
was limited in action against Boston College, and USC coach Lane Kiffin said Seymour is continuing to recover from a recent injury.
Anthony Brown
left the Hawaii game with an apparent ankle injury and has not been seen on the field since. The Trojans are fortunate that experienced senior
Torin Harris
-- who has seen his share of injuries in his USC career -- is healthy enough these days to line up as the corner opposite Shaw.
September, 16, 2013
9/16/13
8:00
AM PT
LOS ANGELES - - USC sophomore quarterback
Cody Kessler
might not be Texas A&M's
Johnny Manziel
at the moment, but his impressive performance in a critical 35-7 victory over Boston College brought much-needed hope, if not temporary sanity, to the legions of Trojans fans.
After the previous week's Washington State disaster, the Trojans, thanks to Kessler -- who was supported by standout performances from his tailbacks and an impregnable defense -- looked more like the
USC Trojans
of yesteryear.
But will it last?
To continue reading this article you must be an Insider
September, 16, 2013
9/16/13
6:00
AM PT
Here are some selected quotes from USC head coach Lane Kiffin's Sunday night conference call following the Trojans' 35-7 victory over Boston College.
Opening comments:
"It was just really a great day for our players and fans after the week that they'd been through. I just really was excited for them, and I really saw a lot of emotion in the players throughout the game. … As I said after the game, I really feel like the decisions made in January -- our staff decisions, schematical decisions and practice decisions -- are paying off."
On the performance of the USC defense:
"Our first defense, they go two weeks in a row now where they've only given up one field goal. You really can't play much better than that."
On the play of the USC running backs:
"I thought all the backs ran really well. All four backs averaged over 5 1/2 yards a carry each. Justin [Davis] had two really special runs. Unfortunately, he had another long run that was called back on a penalty. Otherwise, he's well over 100 [yards] on the day, and over 10 yards a carry. And Tre [Madden], three games in a row over one hundred yards -- you can't start much better than that. Unfortunately, he put the ball on the ground for the first time this year toward the end of the second quarter. Luckily we got that back and we were able to not turn the ball over the entire day."
On the improvement of the USC offense on third downs (5-of-10 on third-down conversions) against Boston College, and the play of quarterback Cody Kessler:
"We started slow again on third downs, but really had a good second half with that, and that came from the efficiency of running the ball well and completing balls. You know, when you complete … whatever that is … almost 90 percent of your passes, that's going to help in those situations. It's kind of amazing that [Kessler's] first pass was incomplete, his last was incomplete, and he completed the 15 in between. … So, really a good day by him, and then
Max Wittek
came in and played well."
Kiffin's thoughts on the performance of the offensive line:
"There is some good stuff going on up there. The left tackle (
Chad Wheeler
) played really well in his third college game, and he's going to be a special player. …
Max Tuerk
played really well. Max and Marcus [Martin] had actually been really sick the last part of the week there, including during the game. So, they kind of sucked it up and went out there and played on a hot day, and it was good to see. And
Kevin Graf
played well too."
On where the offensive line is in terms of their cohesiveness and communication-- there were two instances where Boston College defenders appeared to come in untouched due to a breakdown up front:
"Both were communication issues on the right side. We'd like to play perfect, but we didn't."
On the strong production of the USC ground attack so far this season, particularly with last season's leading rusher, Silas Redd, sidelined with an injury:
"I think it's strange … if you would have said that really the only two running backs with experience, not just [Redd] but
D.J. Morgan
-- neither of those guys have been available to play for us. I think it speaks to those other guys working hard, stepping up and seizing the opportunity. And hopefully Silas will play this week."
On the status of Darreus Rogers, who appeared to be injured against Boston College:
"Darreus wasn't able to finish the game. We hope that he plays this week for us. De'Von Flournoy stepped up and had a catch in there,
Victor Blackwell
played a few snaps, so that's what we got."
On the Trojans' 10 penalties on Saturday:
"I thought we did a really good job for the most part of not having penalties, especially the week before. We unfortunately had some yesterday … some poor decisions. We made some poor decisions sometimes there on holding penalties and then on two roughing-the-passers. Those are big penalties … we've got to fix that."
On the impact that running backs coach Tommie Robinson has had in his first season at USC:
"I think he's done a really good job with a very inexperienced group -- the two experienced guys have been down the whole season. To get those guys ready to play as well as they're doing, and all of those guys going over 5 ½ yards a carry in the game … he's done a great job with them. "
When a group is playing as well as the USC defense has been as of late, is it difficult to keep them motivated at times? And what does the coaching staff do to keep them on track?
"We stay really hard on them. There is stuff to improve on. They're going to have a cut-up film ready for them at 6:30 in the morning when they come in here to talk to them about. … We haven't really been challenged yet that much comparable to what's coming. Coming down the road there's some high-octane offenses coming in, and it starts this Saturday. This is a huge test. This is a really, really good football team coming in here, and a great dynamic quarterback."
On what Utah State quarterback Chuckie Keeton brings to the table:
"He does everything. I think he's like the guy up in Seattle. You can't tackle him, he runs around, makes every throw, doesn't seem to get rattled, plays great in big games … he's just a real special player."
PAC-12 SCOREBOARD
Thursday, 9/3
Saturday, 9/5