USC Trojans:

Christian Thomas
May, 28, 2013
5/28/13
7:15
AM PT
With the Trojans inching closer and closer toward the start of fall camp, here's a look at some of the top offseason storylines for a collection of offensive talent that will be hauling in passes from a new signal caller in 2013 – the USC wide receivers and tight ends.
Lee the leader
[+] Enlarge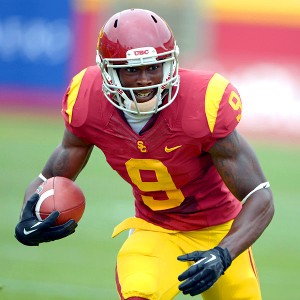 Kirby Lee/USA TODAY SportsMarqise Lee showed good chemistry with USC's new quarterbacks in spring practice.
Marqise Lee
's production on the field for the Trojans over the course of the last two years has been nothing less than spectacular. The 2012 Biletnikoff Award winner, he set single-season Pac-12 records for both receptions (118) and receiving yardage (1,721), and he already ranks sixth on the USC career pass-catching list with 191 grabs.
But with Lee's trusted quarterback Matt Barkley now a Philadelphia Eagle and his receiving counterpart Robert Woods a Buffalo Bill, he has a somewhat unfamiliar cast around him heading into the 2013 season. Fortunately for the Trojans, Lee clicked with the new passers right off the bat and looked better than ever this spring, even after missing several workouts with a minor knee injury. How he continues to mesh with those new faces this offseason certainly figures to play a crucial part in determining how he, and the entire offense, performs this season – particularly early on. Just as importantly, with veterans such as Barkley and Woods gone – not to mention Khaled Holmes and T.J. McDonald – Lee is now the irrefutable face of the program, and he'll need to make his presence felt as the team's unquestioned leader for the first time. It's a role he seemed to embrace this past March and April.
Agholor's time to shine
The departure of Woods certainly dealt a blow to the USC offense, but it also opened the door for someone else to come in and take the No. 2 receiver job, and that's precisely what
Nelson Agholor
did this spring, and in convincing fashion. Building off of a freshman campaign in which he made 19 receptions for 340 yards and two touchdowns, the Tampa (Fla.) Berkeley Prep graduate made highlight play after highlight play on a daily basis, emerging as arguably the most consistent performer of the entire spring. A technician and big-play threat all rolled into one, with what he showed – and assuming he continues to develop through the summer and on into fall camp – there's reason to believe that he's on the verge of breaking out in 2013.
No. 3 WR job up for grabs
With Lee and Agholor firmly entrenched as the starters, everyone else has been left battling for the role as the team's No. 3 receiver, and it's still wide open at this point – particularly with
George Farmer
sidelined for the season with a torn ACL. It's a fierce competition featuring a host of talented candidates ready to make a significant impact for the first time as Trojans, and it figures to heat up even more once fall camp begins in August.
Toward the end of the spring,
Victor Blackwell
seemed to make the biggest statement with his play. Emerging as a reliable pass-catcher with speed to boot, he caught seven passes for 155 yards and one touchdown in the spring game. When the post-spring depth chart was released, however, Blackwell found himself sitting behind promising early-entrant freshman
Darreus Rogers
. Extremely physical and athletic, Rogers has through-the-roof potential, and the coaches are obviously very interested to see how he comes along over the next few months. Veteran redshirt senior
De'Von Flournoy
was another solid, all-around option who showed well. And then there's
Steven Mitchell
, an incoming freshman out of Mission Hills (Calif.) Bishop Alemany. Already making a splash in the team's offseason passing sessions, he has game-breaking ability. He could end up factoring into the discussion here more than people might have previously expected.
Low on depth, high on talent at tight end
With the loss of
Christian Thomas
to medical retirement on top of the uncertain status of
Junior Pomee
because of some off the field problems, the Trojans currently find themselves with just three tight ends on scholarship. Fortunately for Lane Kiffin and Co., all three of those players are extremely skilled. Garnering the lion's share of the attention has been redshirt juniors
Xavier Grimble
and
Randall Telfer
, and justifiably so. Two seasoned players who have split the bulk of the reps at the position for the past two years, they're both phenomenal athletes with standout receiving skills. Throw in the emergence of sophomore
Jalen Cope-Fitzpatrick
this spring and the USC offense now has a formidable trio of tight ends to call upon. The big question is, will it? As a group, the tight ends made just 43 receptions in 2012 – a number that seems glaringly low when you consider the talent at the position. The ball did seem to head their way with greater frequency this spring, particularly in the final scrimmage, when Cope-Fitzpatrick collected six grabs. Whether or not that trend continues into the fall remains to be seen.
March, 6, 2013
3/06/13
6:30
AM PT
LOS ANGELES -- The
USC Trojans
opened up the 2013 spring ball practice session with a spirited workout, which is typical for the first day of spring.

"I thought things looked good today," USC coach Lane Kiffin said. "That is usually the case in spring, guys are fired up to get out here and start going to work. I also liked what I saw from our coaches, especially since some of them have only been with us for a short time. They were really ready to go."
One of the new items to watch for the Trojans this spring is the 5-2 defense which is run by new defensive coordinator Clancy Pendergast. Kiffin said that getting the new defense set is the top priority of spring and the highlight play of the day was an example of how the defense can shine.
Jabari Ruffin
-- who was lined up at defensive end -- had an interception of a
Cody Kessler
pass after dropping back into coverage and leaping in the air to make the play.
Kessler is part of what is expected to be an intense quarterback competition along with
Max Wittek
and
Max Browne
. Kiffin said Kessler was on schedule to be named MVP of the day until the interception and he also liked what he saw from his true freshman.
March, 4, 2013
3/04/13
8:00
AM PT
With the start of spring practice set for Tuesday, here's a position-by-position look at who you can expect to see lining up for the Trojans on offense.

Quarterback

February, 8, 2013
2/08/13
8:00
AM PT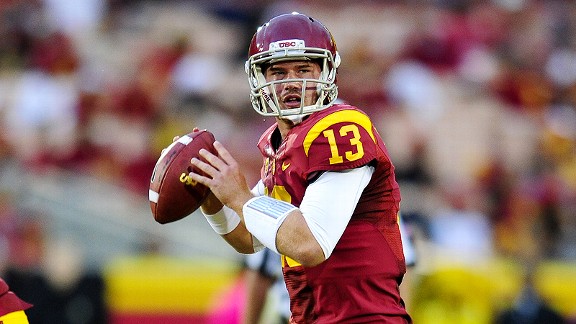 Cal Sport Media/AP ImagesMax Wittek should enter spring ball as the No. 1 QB, but there will be serious competition.
With signing day now in the books, here's a look at where the current USC depth chart might stand on the offensive side of the ball with the new additions factored in.
Quarterback
Max Wittek
(6-4, 235, RS So.) OR
Cody Kessler
(6-1, 215, RS So.) OR
Max Browne
(6-5, 215, Fr.).
To continue reading this article you must be an Insider
September, 26, 2012
9/26/12
4:41
PM PT
By
Pedro Moura
| ESPN.com
LOS ANGELES -- USC coach Lane Kiffin has expressed hope this week that four players who have missed the Trojans' recent games because of injuries could be back by next week's game against Utah.
The foursome -- running back
D.J. Morgan
, receiver
George Farmer
, tight end
Christian Thomas
and defensive end
J.R. Tavai
-- have all missed at least the last two games.
"We're trying to develop all those guys so they can get snaps here and there," Kiffin said.
Morgan carried seven times in Week 1 before undergoing minor knee surgery. Farmer and Tavai played in the first two games before staying home from Stanford for unspecified reasons and staying on the sideline against Cal. (Kiffin said Farmer was not medically cleared as of Sunday.) Thomas still hasn't suited up for a game since September 2011.
Tavai, a sophomore was a starter in games one and two. The other three guys could all presumably help immediately on special teams if cleared for competition.
That's one of USC's goals, then, for the bye this week: getting some crucial special-teamers back.
August, 24, 2012
8/24/12
5:50
PM PT
USC head coach Lane Kiffin announced after practice that linebacker
Marquis Simmons
and cornerback
Brian Baucham
were ruled academically eligible for the 2012 season, but cornerback
Isiah Wiley
did not qualify.
Kiffin said Wiley, a junior college transfer who started the last six games of the 2011 season, will look to play this year and USC will help him do that, which likely means he will transfer.
[+] Enlarge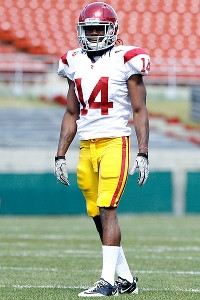 Ric Tapia/Icon SMIIsiah Wiley was ruled academically ineligible and is likely to transfer.
"It's good to get Simmons and Baucham back, those are two veteran guys at positions of need. They can also help with special teams," Kiffin said. "Wiley is a loss but we move forward. We worked all spring without him and his loss will be felt less because we did things that way. Outside of that one guy, we did well academically."
Friday was a light practice, helmets and no pads, as the Trojans begin the process of winding down fall camp. The team will simulate a home-game atmosphere by staying in the team hotel Friday night, holding a situational scrimmage Saturday morning and then attending the annual Salute to Troy event Saturday afternoon.
The scrimmage will not be a physical one, Kiffin said. It primarily will involve substitutions, communication between coaches and players, timing of getting in and out of the huddle, etc. Kiffin said the scrimmage will have no bearing on position battles such as the backup quarterback spot.
Junior Pomee
was out there today working with the tight end group and he looked good in pass patterns.
Christian Thomas
did not have a helmet on but he was out there for early agility drills and even shadowed the other players for a few reps. That was as much as we've seen from Thomas in a while, so that could be an encouraging sign that he's getting closer to a return to the field.
Randall Telfer
did not take part in practice.
Wes Horton
and
Lamar Dawson
also were held out.
When the team got together for 11-on-11 work today, here were the starting lineups:
Offense: Barkley, McNeal, Vainuku, Woods, Lee, Grimble, Walker, Martin, Holmes, Martinez, Graf
Defense: Breslin, Uko, Woods, Greene, Sarao, Pullard, Bailey, Robey, Brown, McDonald, Starling
Barkley led the first unit on a touchdown drive at the end of practice. Kiffin put 1:31 on the clock with the offense on their own 20-yard line. The offense got a couple first downs before facing a third down at their own 45, kicker
Andre Heidari
yelled from the sideline: "I'm in range if you need me, Kiff." Barkley then hit
Marqise Lee
for a first down, then another pass for 22 yards to Lee, and eventually a Barkley sneak for the score.
Robert Woods
had a terrific play earlier in the practice when he took a short bubble screen from Barkley, made Brown miss, and then turned on the speed down the sideline. Kiffin commented after practice that Woods "is in very good shape."
Silas Redd
had a 25-yard run off the left side behind a block from
Marcus Martin
.
Morgan Breslin
made a good play to get in the backfield quickly and hold
D.J. Morgan
to no gain.
De'Von Flournoy
had a nice fingertip catch of a ball across the middle from
Max Wittek
and he outran
Anthony Brown
after the catch for a touchdown.
The team worked on full punt and kickoff return drills. There was also some scout-team work to prepare for Hawaii.
August, 8, 2012
8/08/12
10:01
AM PT
The first thing Lane Kiffin talked about Tuesday after practice was how it was a normal second day of fall camp in which the veteran players do well but the young guys struggle as the coaches are adding more stuff for them to learn.
Kiffin was then quick to start pointing out some second-year players who are examples of guys who are making the transition from their freshmen seasons and are ready for bigger things. Here were some of his comments:
Soma Vainuku: "He's a special athlete. He's 250 pounds and he's faster than most of our tailbacks."
Buck Allen: "He looks different than he did in spring but that's common for a second year player."
Andre Heidari: "He's really made a physical transformation, that's only going to help him."
Aundrey Walker: "He's a 300-pound guy who can run and move. He's definitely shown flashes."
Junior Pomee: "He's got tremendous upside, at some point he's going to be really good."
Tailbacks Shine
To continue reading this article you must be an Insider
April, 23, 2012
4/23/12
11:22
AM PT
LOS ANGELES -- There are still unanswered questions for several reserve skill players on offense who were limited or unavailable in spring ball due to injuries.
George Farmer
couldn't have asked for a better start to spring with the way he looked on the first day. It was only one day, but it was a clear look at the potential he brings to the wide receiver group. Then he got hurt on the second day and didn't return until some brief action at the end.
Lane Kiffin has been clear about stating how good Farmer can be but has also expressed frustration at the injuries that have continued to slow his progression during his first year at USC.
To continue reading this article you must be an Insider
April, 9, 2012
4/09/12
11:29
AM PT
LOS ANGELES -- As the Trojans enter the final week of spring ball practices, it's clear that the spring was impacted by the number of injuries, particularly on the offensive side of the ball.
There was only one major injury -- the knee ligament tear for
Tre Madden
that will sideline him for the year -- while the rest were a series of seemingly minor problems that popped up.
George Farmer
,
Randall Telfer
and Buck Allen have all missed time with hamstrings,
Xavier Grimble
and
Junior Pomee
had foot issues,
Soma Vainuku
had a bad back and
Robert Woods
(ankle) and
Christian Thomas
(hip) both missed the entire spring. All are expected back by the time fall camp arrives.
To continue reading this article you must be an Insider
April, 4, 2012
4/04/12
12:53
PM PT
The USC Trojans have done a tremendous job recruiting the tight end position in recent years, a fact reflected in the depth chart, with
Randall Telfer
,
Xavier Grimble
,
Christian Thomas
,
Junior Pomee
and incoming freshman
Jalen Cope-Fitzpatrick
.
This year, Lane Kiffin and staff once again could have a chance to add the top tight end prospect in California in 6-foot-4, 220-pound
Marcus Baugh
(Riverside, Calif./J.W. North). Baugh, along with coaches and teammates from J.W. North, visited USC on Tuesday and took in the Trojans practice. The tight end doesn't hold an offer from USC at this point, but has collected them from schools such as Ohio State, Florida, UCLA, California and Nebraska.
"I love going to USC," Baugh said. "The campus is beautiful and it's only an hour and a half away."
To continue reading this article you must be an Insider
March, 29, 2012
3/29/12
8:59
PM PT
LOS ANGELES -- The football program generated some buzz Wednesday with the news that this weekend's scrimmage in the Coliseum will be open to the public. But USC fans planning to attend may be forced to temper their expectations a bit, as Lane Kiffin backed away slightly from the promise of a scrimmage. With so many skill position players missing time due to nagging injuries, Saturday might be the second time this spring that a scheduled scrimmage is dialed down to a regular practice.
After Thursday's practice, Kiffin simply said he didn't know if the scrimmage would proceed as planned.
"There are so many guys in question," he said. "We may just practice like we did last Saturday…The problem right now is the offensive skill doesn't allow us to practice the way we would like, but we're going to make the best of it."
To continue reading this article you must be an Insider
March, 29, 2012
3/29/12
8:00
AM PT
By
WeAreSC staff
| ESPN.com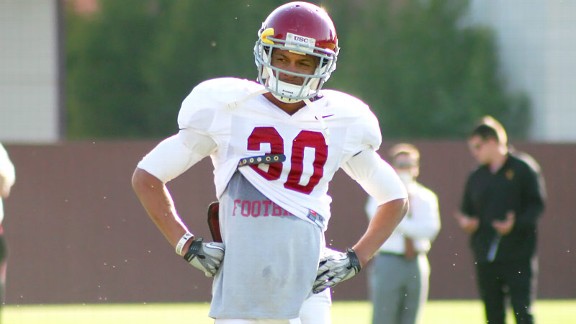 Garry Paskwietz/WeAreSC.comSenior cornerback Brian Baucham has turned heads this spring with big plays, going from a little-used afterthought to a potential player in USC's cornerback rotation.
"Give your top 5 surprises of spring ball"
Garry Paskwietz
1)
Brian Baucham
-- To say that any contribution from Baucham was unexpected would be an understatement. Baucham has been off the radar for years due to injuries and academics and there was no indication that he was ready to make a strong return, but that's exactly what's happened. He's been consistently making plays ever since he came back during the first week of spring.
To continue reading this article you must be an Insider
March, 7, 2012
3/07/12
9:00
AM PT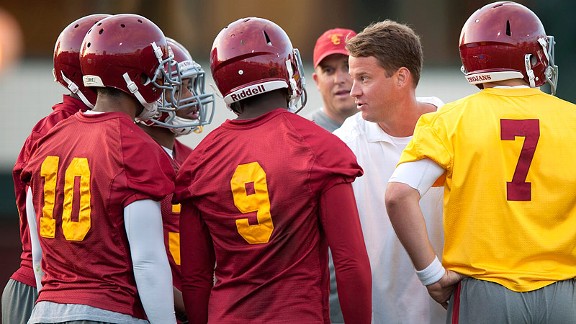 Joe Andras/WeAreSC.comLane Kiffin was in midseason coaching form during the first day of spring practice Tuesday, here instructing the wide receivers and quarterback Matt Barkley (in yellow).
The Trojans hit the field for the opening session of spring ball and WeAreSC was there to provide a practice diary for USC fans to follow the action.
3:37 p.m. --
Matt Barkley
enters the practice field.
To continue reading this article you must be an Insider
March, 6, 2012
3/06/12
7:59
PM PT
* Lane Kiffin called wide receiver
George Farmer
the MVP of day 1 of spring ball. It certainly came as no surprise to those watching. Early on in the day, I wrote next to Farmer's name in my notes: "Locked in." Kiffin said Farmer was playing with confidence and it showed. He made several nice catches, including one on a deep ball down the sideline where he went high over
Isiah Wiley
and came down with the ball while falling to the ground.
* Injury report:
Kevin Greene
(ankle), Josh Shaw (back),
Nathan Guertler
(hamstring),
Jesse Scroggins
(hip),
Robert Woods
(ankle),
Torin Harris
,
Christian Heyward
,
Kyle Negrete
,
Christian Thomas
, Chad Wheeler and DeVante Wilson. Greene and Woods took part in some of Tuesday's practice. Kiffin said Harris, Heyward, Negrete, Thomas, Wheeler and Wilson would all likely be out for all of spring. During practice, tight ends
Xavier Grimble
and
Junior Pomee
were injured and did not return to action.
* Not really any surprises with the starting lineups. Defensively, it was
Wes Horton
,
George Uko
,
J.R. Tavai
and
Devon Kennard
up front,
Dion Bailey
,
Lamar Dawson
and
Hayes Pullard
at linebacker, and
Nickell Robey
,
T.J. McDonald
,
Jawanza Starling
and Wiley in the secondary. Offensively, the line read
Kevin Graf
,
Marcus Martin
,
Khaled Holmes
,
John Martinez
and
Aundrey Walker
from left to right.
Cyrus Hobbi
took a few reps at left guard with the first team, and moved there for good when Martin left early for class.
Matt Barkley
started at quarterback.
To continue reading this article you must be an Insider
PAC-12 SCOREBOARD
Thursday, 8/28
Friday, 8/29
Saturday, 8/30