USC Trojans:

Chris Wilson
April, 14, 2014
4/14/14
12:00
PM PT
So much has been expected from
USC
defensive lineman
Kenny Bigelow
, you'd think his name should already have been etched alongside such former Trojans D-line greats as Shaun Cody, Sedrick Ellis and Mike Patterson.
A mountain of a man at 6-foot-4 and 315 pounds, Bigelow came to Troy in the spring of 2013 with "Conquest" blaring and projections of greatness, having graduated a semester early from Elkton (Md.) Eastern Christian Academy.
A household name in recruiting circles for years, Bigelow was expected to step right in as a freshman and contribute, but sometimes those projections from the recruiting gurus don't come to fruition.
March, 17, 2014
3/17/14
6:00
AM PT
There was never any question that the defensive line coach succeeding former Trojans defensive line coach Ed Orgeron would be filling some legendary shoes, not to mention that booming Cajun voice.
In fact, it wouldn't be a reach to say that replacing Orgeron -- one of the most beloved and respected football coaches in USC football history -- was a daunting to near impossible task.
Enter former Georgia defensive line coach Chris Wilson, 45, who accepted the challenge of replacing the charismatic and intense Orgeron by focusing this spring on making his own footprint as the new mentor of the Trojans' extremely talented and deep returning defensive line.
So how difficult is it replacing a larger than life figure like Orgeron?
[+] Enlarge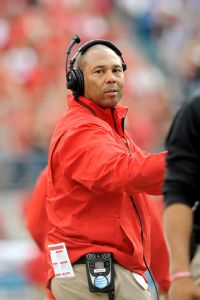 Courtesy UGA Sports CommunicationsChris Wilson says the Trojans' defensive line has a chance to be as good as any other team in the country.
"It's not difficult at all," Wilson said. "Ed Orgeron is Ed Orgeron. He is a tremendous coach, a tremendous teacher and a great recruiter, and I am a pretty good Chris Wilson. I kind of just do me. That's the biggest thing."
And how does Wilson's style compare with the loud and intense Orgeron?
"I am kind of like ribs and chicken; I am a combo," Wilson said with a laugh. "What I do requires of us is to be successful and what that means is that you have to know your players and how they respond and what they respond to. If anything, I am a studier of my guys. I try to find out how they respond and what they do well."
The departure of Orgeron was not exactly a smooth transition, as Trojans first-year head coach Steve Sarkisian first tried to coax him back to his long-time roots at USC. While those efforts didn't come to fruition, the Trojans CEO is excited that he could get a respected SEC coach from another fabled program to come west to Los Angeles.
"We are thrilled to add Chris Wilson to our coaching staff," Sarkisian said. "He is one of the premier defensive line coaches in the country and he is also a great recruiter."
Wilson and his wife, Tina, married for 18 years with two children, are no strangers to Southern California. In fact, one of their recent visits to the Southland actually had some foreshadowing and cardinal and gold connections.
"We've been out here on vacations before, and a couple of years ago we came out here to visit Ted Gilmore, now with the Raiders, who was here as a receivers coach on Coach [Lane] Kiffin's staff," Wilson said. "We're close friends and we came up and spent a day here with him. I thought even then what a neat place. To be here after three years from that moment is pretty different."
Of course, anytime you decide to transplant your family from one end of the United States to the other, it takes some discussion and forethought.
"Any time you move across country, there is a lot of dynamics that go into it," said Wilson, who was a four-year (1988-91) letterman linebacker at Oklahoma and a 12th-round NFL draft selection by the Chicago Bears in 1992. "Just the sheer opportunity to be here are SC, it was a no-brainer. We're excited to be out here and be with Coach Sarkisian and his staff. It was one of those deals when my wife and I sat down and talked about it, it was pretty clear for us."
Of course it didn't hurt for Wilson to know he had some future NFL quality talent at his disposal. But is it the type of talent he saw when he was in the SEC?
"Absolutely," said Wilson. "We're big and athletic."
Then there are those so-called experts that are already proclaiming the Trojans D-linemen the best in the Pac-12 for 2013. Is that a realistic evaluation?
"We have the potential to be, but obviously we haven't played a game yet," Wilson said. "We've got a lot of talent and we've got a lot of unproven talent.
"I like our mindset and I like our work ethic. We have a chance to be as good as anybody in the country if we can just stay the course. We are very big across the board, and what I like about us is that we're able to play on all three downs. They're not just space-eaters."
And what about talented Trojans such as returning junior All-American
Leonard Williams
and intriguing potential of redshirt freshman
Kenny Bigelow
?
"They're very talented and gifted athletes," Wilson said. "They're strong and very explosive. They're what you look for in any conference."
Of course all this perceived defensive talent and the first-year defensive line coach are adjusting to a new system directed by new coordinator Justin Wilcox, who came south with Steve Sarkisian from Washington.
How challenging will the new defensive system be compared to past season's?
"They are similar, but every call we make has specific fundamentals and it's no different here," Wilson said. "For every call that Coach Wilcox makes it requires a certain technique. If we're playing an odd front, there is a certain technique. If we're playing a four-down front there's a certain technique. We have to master every call we have in our arsenal."
In terms of learning, Wilson believes that the Trojans' new defensive system is a necessity with the type of explosive offenses in today's college game.
"Everybody has to be so multiple nowadays, so at Georgia we were a 3-4 and also we were a 4-3 defense," Wilson said. "When I was the defensive coordinator at Mississippi State, we mixed in both the 3-4 and the 4-3, so you have to be very multiple nowadays to stand up to these spread offenses as well as the quarterback run game."
Judging by the early results before this week's spring break, it appears Wilson has successfully instilled the foundation of his own coaching footprint, and Sarkisian and the Trojans defensive linemen thus far couldn't be happier with the fit.
August, 19, 2013
8/19/13
9:13
PM PT
As the Trojans enter the final week of fall camp, the team held a high-energy practice Monday with players sensing that game week is near.

"I feel like we have things going in the right direction," USC coach Lane Kiffin said. "It's easy to have good energy when you're in a night practice at the Coliseum but it's another to come out today in the heat and respond the way they did. I thought that was a very good test for our team."
The Trojans moved out of their camp dorms Sunday and into their fall housing. They will get a day off on Thursday and then begin game week practices on Friday in preparation for the matchup with Hawaii next week.
"Yeah, we're getting a little antsy," USC quarterback
Max Wittek
said. "It's human nature at some point to want to play somebody with a different color jersey."
Injuries continue to be an issue as
Aundrey Walker
and
Demetrius Wright
left practice today, but the good news was that
Silas Redd
got the most action he's had all camp and
Marqise Lee
was basically back to normal with a full day of work.
"Hopefully we can get mostly healthy in the next few days," Kiffin said.
For Lee, the yellow jersey was still on but the competition mode was in full effect and he made several plays. He beat
Chris Hawkins
on a pass down the sideline, caught a nice over the shoulder ball from Wittek and had a short touchdown at the end of the day when he caught a screen pass from
Cody Kessler
and got a good block from
Nathan Guertler
on Hawkins to scoot untouched into the end zone.
"I feel great," Lee said. "I was just going out there and catching the ball. I'm ready to play a game, everybody is ready to play a game. I know the defense is ready."
Lee gave a lot of praise to the unit he faces every day in practice and says he has paired with his roommate to try and fire up his teammates.
"The secondary is amazing right now," Lee said. "They are going a great job, starting with AB (
Anthony Brown
). He uses the sideline really well to push you over there. Me and
Josh Shaw
are roommates so we started jawing out here to get guys going. Once we started, he went to
George Uko
and got him going, so I went to
Marcus Martin
on our line. It was on after that."
Lee also gave his thoughts on the pending quarterback battle.
"I'm glad I'm not the coach in this case with the quarterbacks. This one is on Kiff's back," Lee said while smiling.
Kiffin had no announcement on a starting quarterback and gave no indication of when an answer is coming.
As for other news on the injury front,
Kevon Seymour
was back Monday in limited action after leaving the practice on Sunday night.
Scott Starr
,
Morgan Breslin
,
Dion Bailey
,
Torin Harris
and
Ryan Henderson
did not practice.
Marcus Martin sat out after leaving practice on Sunday so
Max Tuerk
took the majority of first unit snaps at center with Aundrey Walker at left guard and
John Martinez
at right guard. Abe Markowitz also took some reps with the first unit at center while
Giovanni Di Poalo
was with the 1's at left guard after Walker went out.
Redd looked solid in his extended reps and he wore a yellow jersey along with fellow tailbacks
Tre Madden
and
Justin Davis
.
Ty Isaac
and Buck Allen were also available so it was a good day for depth at the spot.
The most productive player was
Quinton Powell
, who continues to make his presence felt from the inside linebacker position. Powell started the day with a sack on Kessler, stripped Ty Isaac of the ball after a long run and added a late interception of a ball that had been tipped in the air.
Other highlight plays included nice catches from reserve tight ends
Kevin Greene
and Chris Willson. The Willson grab in particular was a pretty one-handed effort. Wittek hit
Jahleel Pinner
with a 20-yard pass down the middle but Leon McQuay was right there and would have smacked him in a game setting. McQuay also had a blocked kick in a field goal drill, something he has done a few times this camp.
Kenny Bigelow
,
Anthony Sarao
and
Devian Shelton
all had sacks. Shelton also got bulldozed by Tre Madden in the flat and Madden went for about ten extra yards.
Quotebook
"I was scared for a moment. I took my time getting up because they didn't know what was wrong but as soon as I got a chance to get up and move around I was fine. I kept telling coach Kiffin I was ready to go back in. I'm solid now, I'm ready to go." -- Marqise Lee, talking about his bone bruise injury suffered on Aug. 9.
PAC-12 SCOREBOARD
Thursday, 9/3
Friday, 9/4
Saturday, 9/5