USC Trojans:

Charles Burks
August, 21, 2013
8/21/13
5:30
AM PT
While USC coach Lane Kiffin did praise the way that the defense performed on a hot, balmy Tuesday, the topic of injuries quickly turned into the dominant theme of the post-practice media scrum. Kiffin called the current situation "very concerning," particularly with the team's season opener just a little over a week away.
"We had 21 guys today that didn't practice, [and] there were more that couldn't have contact in the yellow jerseys," Kiffin said. "You start getting into the 20s with guys not practicing at all – we've got some really short lines and some really unfamiliar names playing with the first and second units, so obviously we didn't plan for that to happen."
Among those sidelined were
Dion Bailey
,
Su'a Cravens
,
Kevon Seymour
,
Morgan Breslin
,
J.R. Tavai
,
Scott Starr
,
Victor Blackwell
,
Ty Isaac
,
Xavier Grimble
,
Randall Telfer
,
Jalen Cope-Fitzpatrick
and perhaps most noticeably
Aundrey Walker
, who left Monday's practice early with an undisclosed injury.
"Aundrey wasn't able to practice today," Kiffin said. "We anticipate him practicing tomorrow."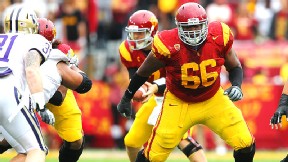 AP Photo/Ben LiebenbergUSC center Marcus Martin returned to practice Tuesday.
On the positive side, center
Marcus Martin
returned Tuesday after getting nicked up during the team's scrimmage on Sunday night, so the offensive line featured a starting lineup that was comprised throughout practice of
Kevin Graf
at right tackle,
John Martinez
at right guard, Martin at center,
Max Tuerk
at left guard and
Chad Wheeler
at left tackle.
With the three top tight ends atop the depth chart out in Grimble, Telfer and Cope-Fitzpatrick, the USC offense relied on the very unlikely trio of Chris Willson, Shane Sullivan and
Kevin Greene
-- a development Kiffin brought up as an example of a position group decimated by injuries.
"One [Willson] was a quarterback a week ago, one [Sullivan] we're just learning his name, and the other one [Greene] was a defensive end a week ago," Kiffin said. "They're doing the best that they can."
Highlights from practice:
The Trojans spent the majority of the day in an extensive 11-on-11 period, with Kessler starting the session with the first unit at quarterback, although Wittek also saw plenty of time with the ones throughout the course of the day.
Defensively, the No. 1 defense was made up of a group that included Torin Harris and Anthony Brown at cornerback, Josh Shaw and Demetrius Wright at the safety spots, Hayes Pullard – in a yellow jersey – and Lamar Dawson at inside linebacker, Devon Kennard and Jabari Ruffin at outside linebacker, George Uko and Leonard Williams at defensive end and Antwaun Woods at nose tackle.
Kessler got things started with a couple of nice quick strikes to Marqise Lee – also in a yellow jersey – right off the bat before connecting with De'von Flournoy for a first-down pick-up. Wittek followed that with a connection to Darreus Rogers for 10 yards. Javorius Allen took a handoff a short while later, but outside linebacker Charles Burks – who has impressed lately – wrapped him up immediately for a loss in the backfield. Justin Davis followed that with a nifty run in which he made a nice cut right after he got past the line for a big gain. Wittek tried to hit Sullivan in the flat, but Dawson came up and nearly picked the ball off. Allen broke off a nice, 10-yard run. Uko, Ruffin and Dawson each racked up sacks. Wittek came up with the play of the day shortly thereafter, hitting Nelson Agholor on a deep throw down the sideline over Harris for a gain of about 45 yards.
A brief red-zone period immediately followed, with Kessler opening things up by connecting with Flournoy for a touchdown. Kessler also connected on short passes to Sullivan, Agholor and Pinner. Wittek hit Agholor for a short gain, but he also had a ball batted down by Hutchings at the goal line. Tre Madden finished the session off by plowing into the end zone from two yards out.
The team finished the day with each quarterback getting a chance to lead the offense in a two-minute drill, but both drives stalled without a score.
Kiffin revealed that Wednesday's scrimmage won't be particularly physical – in fact, there won't be any live tackling – but it could provide a potential look at how certain position battles are shaping up and how the rotations might look. Kiffin plans to break the team into two groups, with one of those being comprised of the players expected to play most.
"We will divide the guys so that we can really practice a game for the first time where, really, the main guys are together on one sideline, so that we can get used to the substitutions on offense, defense and special teams," Kiffin said. "We can get used to the offense coming to the sideline with the coaches, and the defense coming to the sideline, and having a break between series. And then basically a service team will be on the other side."
May, 17, 2013
5/17/13
8:30
AM PT
The surprise position group of the 2012 USC season, and a collection of talent that shined once again this past spring, was the defensive line. Here's a look at some of the top storylines of the offseason for Ed Orgeron's group:
Encore performance
Compiling 38 sacks combined this past fall, the stellar play of the defensive line was one of the highlights in an otherwise up-and-down season for the Trojans. Losing just one key contributor from that group in defensive end Wes Horton, expectations were sky high for the unit heading into spring ball, yet questions remained. After all, with the switch from the team's previous 4-3 alignment to a 5-2 look under new defensive coordinator Clancy Pendergast, many wondered if the Trojans had the personnel and talent to pull it off.
But after 15 practices in March and April, it's safe to say those questions have been erased. Playing fast, aggressive and quick to the ball, the defensive line established itself as the heart and soul of the defense and there's reason to believe they're on the verge of an even more impressive 2013 campaign.
Battle at nose
[+] Enlarge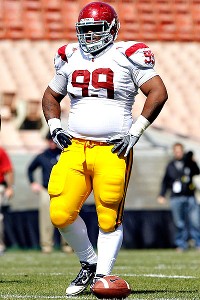 Ric Tapia/Icon SMIAs a redshirt freshman last spring, Antwaun Woods battled for a starting D-line spot. A year later, he has asserted himself as the man to beat at nose guard.
There arguably isn't a more crucial piece of the puzzle in Pendergast's 5-2 defense than the position responsible for controlling the A-gaps, the nose tackle. Stepping up to the challenge to handle those responsibilities with the first team throughout the spring was redshirt sophomore
Antwaun Woods
. Appearing to be in the best shape of his career, he was noticeably quicker and more mobile, and he certainly showed he can be a valuable contributor this fall.
Still, the competition isn't over just yet. In fact, Woods currently shares the top spot on the post-spring depth chart with
Cody Temple
, who made a big statement with his play despite missing the majority of the spring to injury. Also showing promise was early entry freshman
Kenny Bigelow
. Possessing an imposing 6-foot-3, 295-pound build and unique physical skills, he was dominant at times but also inconsistent. A summer in the weight room and out on the field working on his conditioning could pay big dividends, and he just might factor heavily into the discussion here.
Ready to shine on the edge
Making a flawless adjustment from playing with a hand down in the old 4-3 set as defensive ends to standing up as outside linebackers in the new 5-2 look, both
Devon Kennard
and
Morgan Breslin
were standouts in the spring.
Kennard's performance, in particular, was more than welcomed for Orgeron and Co. Showing no ill effects of the torn pectoral muscle that forced him to miss last season, he was a major thorn in the side of the offensive line from his SAM linebacker spot. Breslin, who amassed a team-leading 13 sacks in 2012, looked solid at Predator linebacker, most notably in the spring game, when he came up with 3.5 sacks. With the Trojans now possessing two potential threats off the edge, it should be interesting to see what kind of impact they make on the passing attacks of the opposition this fall.
A star in the making
Nobody made a more eye-popping first-year impression for the Trojans last season than
Leonard Williams
. Starting nine games at the three-technique defensive tackle spot, he amassed 64 tackles and eight sacks on his way to 2012 Pac-12 Defensive Freshman of the Year honors. The best part, however, is that Williams is still getting better -- a fact made evident this spring.
Standing 6-foot-5 with his weight up to 290 pounds, Williams was an incredibly disruptive force throughout the slate of practices, giving the defense what Kiffin has often referred to as an SEC-style lineman on the interior. Having shown so much promise already, there's certainly reason to believe he'll continue to develop this offseason, which would mean more postseason accolades in 2013.
Enough in reserve?
The performance of the Trojans' starting defensive line was one of the leading stories of the spring to be sure, but an element of uncertainty still exists when it comes to whether or not Orgeron's group has the kind of depth necessary to spearhead the defense through the 2013 season, particularly after adding just two new faces to the unit in the most recent recruiting class in Bigelow and outside linebacker
Quinton Powell
.
The return from injury of
J.R. Tavai
midway through the spring workouts, as well as the emergence of somewhat of a surprise in
Charles Burks
, did provide reason for optimism at end behind Williams and
George Uko
, however. The addition of
Greg Townsend Jr.
-- who missed the entire spring while recuperating from 2012 knee surgery -- also will give the team a boost here in the fall. Temple and Bigelow, too, should team up well with Woods to provide stability at the nose position.
On the outside,
Jabari Ruffin
asserted himself as a potential name to watch down the line, and
Kevin Greene
and
Marquis Simmons
also had their moments.
Still, there's little doubt Orgeron would prefer more bodies here, and the Trojans are sure to load up on defensive linemen in the next recruiting class. For now, though, USC will move forward with what is a somewhat thin but talent-laden group.
April, 5, 2013
4/05/13
8:05
AM PT
The Trojans are now in the final stretch of spring ball with just over a week of practice remaining on the schedule. As injuries continue to mount and position battles rage on, here's how a potential depth chart just might look if one were released today.

Quarterback

March, 20, 2013
3/20/13
8:30
AM PT
The Trojans are navigating through their share of injuries this spring. But at this time of year, as long as the injuries are not serious, they can offer a mixed blessing of sorts.
When one player is forced to sit on the sideline, it gives another player the chance for extended reps with the hope of showing the coaches he is ready for a bigger role. For the injured player, there is still plenty of time to return either in spring or in fall camp before the season begins. As quarterback
Max Wittek
noted after a recent knee injury, "you never want this to happen, but if it's going to happen, better to have it happen now."
[+] Enlarge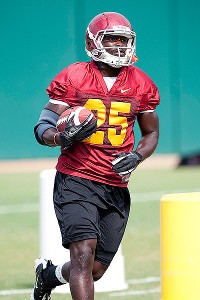 AP Photo/Grant HindsleySilas Redd's knee injury opens the door for other USC tailbacks to impress this spring.
Wittek is perhaps the most notable USC injury right now, primarily because he is engaged in a battle for the starting quarterback spot. Wittek suffered the knee sprain on March 9 prior to a scrimmage at the Coliseum and has been out ever since. He is expected to return when the Trojans practice on March 26.
Cody Kessler
has played well with Wittek out and any small gains by either player can end up meaning a lot in a competition that is so close.
On the same day that Wittek got hurt,
Marqise Lee
also went down with a "minor" knee injury and has been held out as well. There isn't as much of an impact here as Lee certainly isn't in any competition for his starting job. If anything, his absence gave the other receivers a chance to step up and the overall group is doing well from top to bottom. Right now,
Nelson Agholor
appears to be the clear leader for the starting spot opposite Lee.
A recent loss came with the news that
Silas Redd
would undergo surgery this week for a torn meniscus. Redd is the established senior starter at tailback, but he has only been on the USC campus for eight months, so any time spent on the field was beneficial. Instead, Redd will be out until fall camp and the Trojans are further limited at tailback with
Tre Madden
still not cleared for full contact due to his knee rehab. That means the remaining spring practices will be huge for guys like
D.J. Morgan
,
Buck Allen
and maybe even
Justin Davis
, although it remains to be seen how much a recent broken finger will hamper him.
The offensive line had been fairly healthy until the news that
Chad Wheeler
will miss the rest of spring with a knee injury. Wheeler had added bulk and was progressing nicely as the No. 2 left tackle.
On the defensive side of the ball, injuries are really impacting the interior depth on the line and the safety positions.
There are three linemen who have missed all of spring:
J.R. Tavai
,
Greg Townsend
and
Cody Temple
. All three figure to provide important depth at the three interior spots of the 5-2 defense, so it's vital to get them back on the field. Right now, the Trojans have
Kenny Bigelow
as a legit reserve at nose tackle, but the other spots are being manned by players out of position such as
Charles Burks
.
Scott Starr
is also out of action until fall, and he is expected to be a key reserve behind
Morgan Breslin
.
[+] Enlarge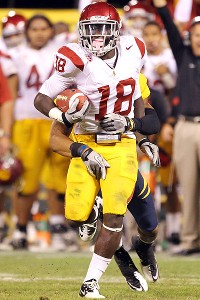 Ezra Shaw/Getty ImagesAs Dion Bailey recovers from shoulder surgery, the question of whether he'll play safety or linebacker in 2013 remains unanswered.
In the secondary, the Trojans have a lot of talent but not much is going to be settled until the coaches figure out where to put
Dion Bailey
. Most speculation centers around Bailey ending up at safety rather than linebacker, but he won't be available for spring after recent shoulder surgery. So
Josh Shaw
,
Demetrius Wright
and
Su'a Cravens
are auditioning for starting spots.
Gerald Bowman
could also be in that mix, but he is also out this spring. This means it's likely the safety rotation won't be determined until well into fall camp.
At corner, the top player through the early part of spring was
Kevon Seymour
, but he has missed the last couple of days with an ankle injury.
Devian Shelton
is also out with a foot injury. That means extended reps for
Torin Harris
,
Anthony Brown
and
Ryan Henderson
, as well as the freshman
Chris Hawkins
.
USC coach Lane Kiffin said after Saturday's scrimmage that the time off for spring break this week was coming at a good time for a team looking to get a few bodies back. The Trojans return to the practice field next Tuesday and having some of those injured players on the field will go a long way toward helping to determine starting spots.
Kiffin also acknowledged that the extra hitting in practices so far this spring -- done to achieve his goal of returning to a more physical style of play -- has played a part in having so many injuries. He said the team will continue to practice with full hitting for the rest of spring but gave no word on if there will be any changes in philosophy beyond that point.
March, 15, 2013
3/15/13
7:23
AM PT
The Trojans put an emphasis on the offensive line during the Thursday full-pads practice, and coach Lane Kiffin liked what he saw.
"I thought the offensive line responded well today," Kiffin said. "We had some issues on Tuesday with fumbled snaps and false starts, but the players came out today with good energy along the line of scrimmage."
Kiffin also noted the continued strong play of quarterbacks
Cody Kessler
and Max Browne, who have been forced to take extra snaps this week as the only two available players at the position.
[+] Enlarge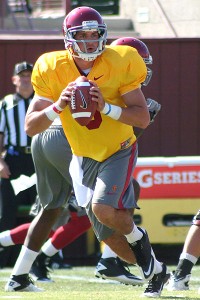 Erik McKinney/WeAreSC.comWith Max Wittek sitting due to injury, Cody Kessler continued to impress in Thursday's practice.
"I thought both the quarterbacks did some good things today," Kiffin said. "Cody [Kessler] is really doing a great job and really comes alive in those team settings. Max [Browne] is moving around probably better than we thought this early from pocket movements and getting out of trouble for a tall, young guy."
Kessler hit
Nelson Agholor
against coverage from
Morgan Breslin
and the play went for a long gain. Browne had his best practice of spring and it included a pair of touchdown passes to Darreus Rogers. There was also a nice sequence for Browne where he had a pass attempt broken up by Leon McQuay III but he came right back on the next play for a nice completion to Buck Allen.
Mr. Rogers' Neighborhood
It was a breakout day for Rogers. The first touchdown from Browne came on a short throw that he caught and put a spin move to get away from
Ryan Dillard
for a 20-yard score. The second touchdown was the highlight play of the day on a 40-yard pass reception at the goal line. He also had an impressive play with a sideline catch where it took multiple defenders to bring him down.
"Darreus Rogers had an unbelievable day," said Kiffin.
Bucking the trend
Buck Allen hasn't made a ton of noise during his USC career so far, but he's quietly put together a pair of strong practices in a row. Allen finished the practice off right, first with a 4-yard TD run and then with a 20-yard touchdown dash off the left side on the final play of the day.
Injury update
Marqise Lee
and
Max Wittek
continued to sit out practice with the knee injuries they suffered last weekend, and Kiffin said both will wait until the first Tuesday practice after spring break (March 27) to get back on the field.
Silas Redd
and
Chad Wheeler
both left the Thursday practice with knee injuries, while
George Farmer
had a shoulder injury. There was no word on the status of those three.
Kevon Seymour
sat out with an ankle injury and is day to day.
MVP
Xavier Grimble
was named the MVP of the day with Rogers a close second. Kiffin gave a lot of praise to Grimble as a guy who is on his way to becoming a potentially great player. Grimble wasn't even supposed to practice due to a rib injury but he went out and performed well, most notably in a blocking drill against the safeties.
Other highlight plays
Anthony Sarao
and
Lamar Dawson
both had pass deflections. Dawson also added a big hit on Justin Davis. Kiffin said Dawson has put together five great practices in a row after changing his body in the off-season.
Sarao,
Devon Kennard
and
Charles Burks
each had a sack.
Leonard Williams
had a pass deflection.
Notables in attendance
Nico Falah, Damien Mama, Rey Maualuga and several players from Upland HS including safety Jeff Farrar, QB Tyler Hilinski and incoming ninth-grade receiver Nathan Telfer (no relation to TE Randall).
Quotebook
"The competition between Xavier Grimble and
Randall Telfer
is good, no issues between the two of them. It's kind of like how it was with Robert (Woods) and Marqise. They are really close, and they just push each other. They are almost exactly the same size, Randall is five pounds heavier and tests better." -- Lane Kiffin
"This has probably been my best day here, but obviously still making a few mental errors. We slowed it down today and didn't install that much, so I was able to go out there and play. I felt like today I was the most comfortable and I think it showed in our offense as a whole." -- Max Browne
March, 4, 2013
3/04/13
7:30
AM PT
With Clancy Pendergast set to unveil an attacking defense that will run primarily out of a new 5-2 base look, more than a few eyes are sure to be focused squarely on this side of the ball this spring. With that in mind, here's a possible look at how the players on the current Trojans roster just might fit, as practice gets under way on Tuesday.
Defensive line
To continue reading this article you must be an Insider
February, 8, 2013
2/08/13
8:00
AM PT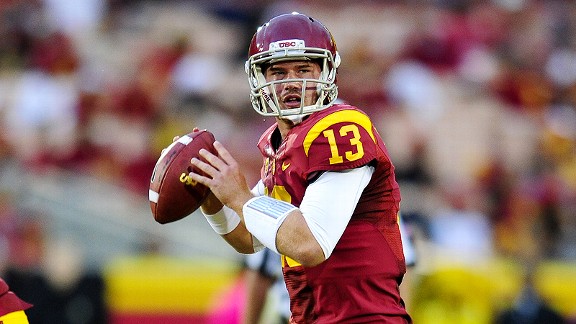 Cal Sport Media/AP ImagesMax Wittek should enter spring ball as the No. 1 QB, but there will be serious competition.
With signing day now in the books, here's a look at where the current USC depth chart might stand on the offensive side of the ball with the new additions factored in.
Quarterback
Max Wittek
(6-4, 235, RS So.) OR
Cody Kessler
(6-1, 215, RS So.) OR
Max Browne
(6-5, 215, Fr.).
To continue reading this article you must be an Insider
November, 20, 2012
11/20/12
5:03
PM PT
By
Pedro Moura
| ESPN.com
LOS ANGELES --
USC
center
Khaled Holmes
and quarterback
Matt Barkley
were named to the Pac-12 all-academic teams Tuesday.
Holmes, a fifth-year senior starting his final home game for the Trojans this weekend against No. 1
Notre Dame
, earned a 3.31 GPA and is now pursuing a post-graduate degree at USC. He earned first-team honors; Barkley has registered a 3.21 GPA in his communications major and was named to the second team.
Two other Trojans, special-teams contributor
Charles Burks
and punter
Kyle Negrete
, earned honorable mention with GPAs over 3.0.
Football players have to post at least a 3.0 GPA and contribute to their teams to earn Pac-12 all-academic honors.
USC's four players on the 108-man list was the second-lowest in the conference.
Oregon
and
Colorado
each had 16 players earn academic honors,
Utah
had 14 and
Stanford
had 12.
Only
Arizona State
, with just one player, had fewer honorees than the Trojans.
February, 17, 2012
2/17/12
2:19
PM PT
There might not be a player on the USC roster who is more anxious for spring ball to start than
Charles Burks
.
The redshirt freshman defensive end has shown his enthusiasm for USC football ever since he accepted the scholarship offer from the Trojans. Burks endeared himself to USC fans by making the drive from his Orange County home for every spring ball practice in 2011 and had no problem accepting a position switch to fullback last fall, even though his background was primarily as a pass-rushing defensive end.
The coaches took a quick look at him in camp last August on offense but to put him back on defense after a couple of weeks. Burks quickly made his presence felt with a multi-sack performance in one of his first sessions, but just as quickly was out of action with a knee injury that would require surgery and sideline him for the season.
To continue reading this article you must be an Insider
February, 14, 2012
2/14/12
8:25
PM PT
The Trojans held the first winter sesson conditioning run with the coaches in attendance on Tuesday afternoon and then the team held a brief throwing session afterwards. Here are some tidbits from the day:
*
Hayes Pullard
and
George Farmer
had a big debate going as they walked off the field about who would win; Pullard's Los Angeles Crenshaw team which also featured
Marcus Martin
and
De'Anthony Thomas
, or Farmer's Gardena (Calif.) Serra team which included
Robert Woods
and
Marqise Lee
. To be honest, it's a pretty good debate, as those were two great teams.
* As Ed Orgeron left the field he said "It's great to be back out here on the grass".
To continue reading this article you must be an Insider
February, 8, 2012
2/08/12
1:47
PM PT
Of the 28 recruits who entered USC last season and are still on the roster, 18 used a redshirt year in 2011 and will be anxious to hit the field for spring ball knowing that the training wheels are off and the competition for playing time truly begins.
WeAreSC offers a rundown of those 18, including the impression they made last season and what to expect in the coming year.
P Kristopher Albarado -
Albarado couldn't overtake
Kyle Negrete
as the starting punter last season and with Negrete returning as a senior after a terrific season, it's difficult to imagine the coaches will make a change this year. Albarado will be ready to step into the role as a redshirt sophomore in 2013.
To continue reading this article you must be an Insider
PAC-12 SCOREBOARD
Thursday, 9/3
Friday, 9/4
Saturday, 9/5