November, 18, 2013
Nov 18
8:00
AM PT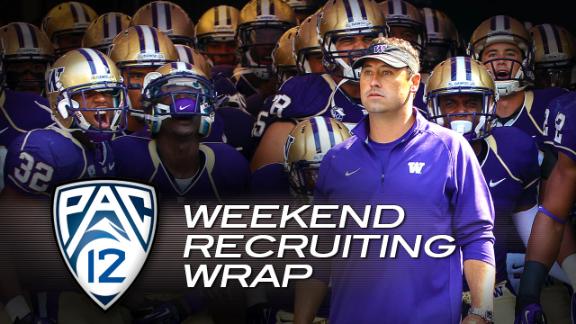 A huge win at USC was witnessed by a number of big-time recruits, while Washington added a second commitment to its 2015 class and UCLA provided another statement to recruits, utilizing the talents of a two-way freshman. Also, a USC commit had a big day, and the top tailback in the West region went even bigger, in this week's Pac-12 weekend recruiting wrap.
To continue reading this article you must be an Insider
October, 22, 2013
Oct 22
8:00
AM PT
After a few weeks of additions and subtractions to the Pac-12's recruiting classes, it's time to take another look at the most important target in the 2014 class for each program. While some schools are still in search of the same recruit from our previous report, others have either missed or reeled in that target and are on to another. A number of local prospects dot the list, while Stanford chases a national prospect -- and the top recruit in the West is heard from several times.
To continue reading this article you must be an Insider
October, 21, 2013
Oct 21
8:00
AM PT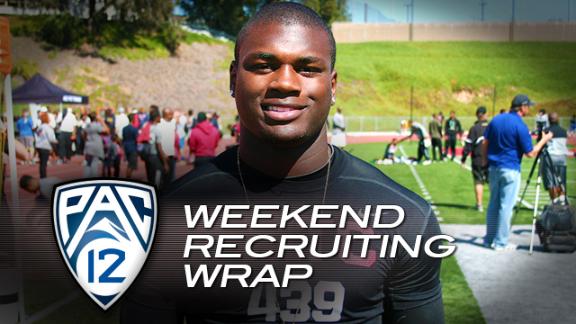 There was plenty of news made in the desert this weekend, as Arizona landed two commitments and Arizona State had a number of visitors on hand. A number of standout performances by Pac-12 targets and positive statements made in losses are also highlighted in this week's recruiting wrap.

Biggest commitment: A nod goes to USC, which landed a commitment from three-star defensive end Olajuwon Tucker (Gardena, Calif./Serra) on Friday night, but focus quickly shifted to Arizona over the weekend, as the Wildcats landed two commitments. Wide receiver Kaelin Deboskie (Tucson, Ariz./Salpointe Catholic) gives the Wildcats another dynamic offensive skill player and a local talent, as he joines teammate and ESPN 300 prospect Cameron Denson in Arizona's class. The Wildcats also grabbed a commitment from offensive tackle Levi Walton (Cape Coral, Fla./Ida Baker), who announced via Twitter that he gave a verbal to Arizona while on an official visit. Arizona now holds 26 verbal commitments in the 2014 class and will continue to recruits its top targets -- including offensive lineman Layth Friekh (Peoria, Ariz./Centennial), who was on an official visit this past weekend -- as academics and late defections have a way of shaping recruiting classes as coaches close in on the right number of signatures.
Best performance by a commit/target: Normally, 123 yards rushing and two touchdowns won't get noticed, but in the case of ESPN 300 safety Bishard Baker (Bellevue, Wash./Bellevue), those numbers came on just three carries and despite a few nagging injuries.
ESPN 300 cornerback
Adoree' Jackson
came within a few flags of running away with this category, as the nation's No. 6 recruit had three touchdowns called back due to penalties, including a brilliant punt return. Instead, Jackson settled for 92 rushing yards and an interception, while showing that he is worth every bit of recruiting effort these programs are pouring into getting his signature. But Jackson's teammates also stood out in a dominating shutout of West Hills (Calif.) Chaminade -- a team that came in averaging 47 points per game. Tucker, along with ESPN 300 linebacker
Dwight Williams
and 2015 ESPN 300 linebacker John Houston were tremendous all game in limiting Miami quarterback commit
Brad Kaaya
and tailback
Donovan Lee
.
Bellflower (Calif.) St. John Bosco is a team to watch every week, as all four members of the secondary are committed to FBS programs, while four members of the front seven will likely wind up signing with BCS programs as well. The Braves also boast the top quarterback in the 2015 class, in Josh Rosen. But there is a new name emerging for St. John Bosco, as 2016 running back Sean McGrew has put together a string of standout games. McGrew rushed for 176 yards and three touchdowns in a comeback win over Orange (Calif.) Lutheran.
ESPN 300 running back and Oregon commit Royce Freeman (Imperial, Calif./Imperial) continues his march toward the San Diego section records for rushing yards and touchdowns. For the first time all year, Imperial was held to few than 37 points, as Freeman's squad scored 29 points on Friday night. Freeman was responsible for all four touchdowns, as the big back rushed for 267 yards. Freeman now sits 51 yards and six touchdowns away from section records in both categories.
Most important visit: Arizona State had several big visitors on campus this past weekend, but none were bigger than getting ESPN 300 offensive tackle Casey Tucker (Chandler, Ariz./Hamilton) in the house. The Sun Devils continue to push for the big lineman and despite finding themselves in a tough battle with Stanford, Arizona State will look to take advantage of every opportunity possible to get some attention from the local standout. Not far behind Tucker in terms of importan visits, Arizona State also had ESPN 300 defensive end -- and Tucker's teammate -- Qualen Cunningham in attendance for this past weekend's big win over Washington.
Biggest answer:
Losers on the field aren't necessarily losers off it. UCLA and Washington had big opportunities to make statements this weekend, as the Bruins traveled to Stanford and the Huskies visited Arizona State. While UCLA and Washington came up short, it was another example of how one game doesn't make or break a recruitment. The Bruins have begun showing interest in 2015 ESPN 300 defensive tackle
Kahlil McKenzie
(Concord, Calif./De La Salle), and the big defender was in attendance at Stanford on Saturday.
"I thought both teams played well," McKenzie said. "Even though they lost, I thought UCLA played well and was impressed with how they played."
For Washington, ESPN 300 safety Bishard Baker remains a top target. Baker wasn't able to watch the game because of homecoming festivities, but he said he was very surprised when he saw the final score. Asked if it did anything to his interest in the Huskies, Baker quickly said that it had no impact.
Biggest question: How much progress did Arizona State make?
With a number of uncommitted prospects and recruits committed to other programs in attendance, Arizona State had an opportunity to gain some serious ground. It's likely that none of the big targets will make a decision anytime soon, but this weekend will likely resonate with a number of them for a while going forward. Whether it was enough to sway committed recruits
Jalen Harvey
(El Cerrito, Calif./El Cerrito) and
D.J. Calhoun
(El Cerrito, Calif./El Cerrito), or make a lasting impression on Tucker and Cunningham will be answered in time.
To continue reading this article you must be an Insider
October, 14, 2013
Oct 14
8:00
AM PT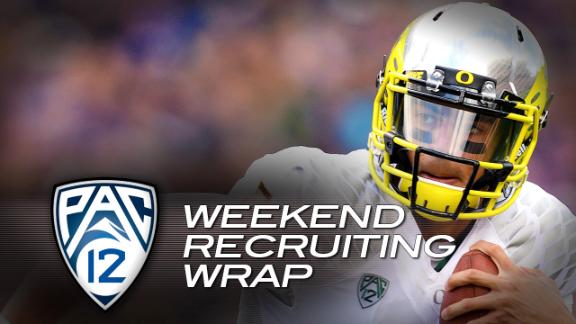 A Pac-12 North showdown went decidedly to the Ducks, while two Pac-12 South programs added impressive commitments this weekend. There also seems to be some positive energy coming from USC, while a number of future Pac-12 signal-callers put together impressive performances this past Friday.
To continue reading this article you must be an Insider
October, 8, 2013
Oct 8
8:00
AM PT
This week's list offers a look through the Pac-12 at the potential best-case and worst-case scenarios that the 2014 recruiting cycle could bring for various programs. While a few of the best-case scenarios might be close to within reach for some programs, many of the worst-case scenarios would take a special brand of bad luck.

Arizona
Best-case scenario:
Arizona doesn't hold onto all of its 24 verbal commits, but keeps all of its priority recruits in the fold. In exchange for some of the decommitments, the Wildcats are rewarded with a big splash from either ESPN 300 prospect
John Smith
(Long Beach, Calif./Poly) or
Bryce Dixon
(Ventura, Calif./St. Bonaventure). A strong finish to the season also helps Arizona clean up in its home state, landing commitments from offensive linemen
Natrell Curtis
(Phoenix/Mountain Pointe),
Andrew Mike
(Tucson, Ariz./Sabino),
Layth Friekh
(Peoria, Ariz./Centennial) and junior college defensive lineman
Claudeson Pelon
(Mesa, Ariz./Mesa College).
To continue reading this article you must be an Insider
September, 6, 2013
Sep 6
12:03
PM PT
WeAreSC recruiting reporter Blair Angulo answers reader questions in his mailbag every week. Have a USC recruiting question of your own? Submit it via Twitter @WeAreSCstaff or @bangulo.
@bangulo baffled by SC missing out in Pickett!! With such a need what's the plan moving forward to add help to the secondary this class?

— I AM KING (@kingrmo) September 4, 2013
WeAreSC:
There have not been many scholarship offers made to Class of 2014 cornerbacks, but that should change with
Adarius Pickett
-- a four-star cornerback from El Cerrito (Calif.) -- committing to UCLA this week and five-star prospect
Adoree' Jackson
of Gardena (Calif.) Serra recently stating his preference for the offensive side of the ball. The Trojans will add corners in this recruiting class, but their top targets are coming off the board quickly.
Still, it's not time to panic. There's plenty of time for USC to make a run at the batch of the local defensive backs. A good season on the field should help with those efforts.



To continue reading this article you must be an Insider
September, 3, 2013
Sep 3
8:00
AM PT
Recruiting for the 2014 class bumped up another notch this past Sunday, when college coaches could begin making their one phone call per week to high school seniors. Today, we take a look at what position group those Pac-12 coaches might consider their most important position to add talent with this class.
To continue reading this article you must be an Insider
August, 23, 2013
Aug 23
11:00
AM PT
Friday means a trip to the mailbag to answer questions you sent in about Pac-12 recruiting. The mailbag will run every Friday, so be sure to send in your questions via Twitter (
@EMcKinneyESPN
) or email (
erik.mckinney@gmail.com
). And good luck to your teams as the high school and college seasons kick off.
@notbartholomew:
Thoughts on Cade Aspay? Also, thoughts on MacIntyre's '14 class 2 date. not rated highly but seems to have some solid kids.
Erik McKinney:
I really like
Cade Apsay
(Canyon Country, Calif./Canyon) as a quarterback and as a person. He is definitely a Pac-12 quarterback and should put up some impressive statistics during his senior season. I don't think he will be seen as being as big of a get as
Sefo Liufau
from the 2013 class, but if the quarterback recruiting stays on this trajectory for head coach Mike MacIntyre, Colorado is going to be just fine at the position.
As for the rest of the class, I think Colorado is doing what it needs to do with what it has right now. I like that it's defense-heavy, as the top five commitments play on that side of the ball. Linebacker
Rick Gamboa
(West Hills, Calif./Chaminade) is a very nice addition. The message MacIntyre and the staff are delivering is hitting recruits, but it will be about taking a step forward on the field this season.
It's a tough spot he was put in, trying to dig out of the bottom of a deep conference, but so far it seems he's doing a very good job of targeting and getting players who can add to the program now, as well as those who can develop for the future.
@SoCalSunDevil:
Is Texas or California more important to recruit from, esp for my #ASU program?
EM:
Is it cheating to say both?
I'd go with California, simply because any player Arizona State takes out of California likely means one less player the Sun devils will have to face in conference play. But if Arizona State is going to challenge for conference and national titles, it can't sit home and only recruit in state. And once the Sun Devils start crossing borders, California and Texas are the two no-brainer states to hit.
It's important for Arizona State to have a presence in both states, but I believe it will always find more success in California, due to proximity and the recruits' familiarity with the program/conference.
@UTSportsAction1:
Have some of the western states recruits caught up to California recruits?
EM:
The short answer is no, but the longer answer might depend more on what you're asking.
The other West states are not likely to catch up to California in terms of producing talent, simply because of population size and the overall number of recruits produced. Of the California recruits ranked No. 90 through 98, seven already are committed to Pac-12 programs. No other state in the region will come close to that kind of depth.
If you're asking whether, say, the top five players in each West state could compete with California's top five, then -- depending on the year -- the answer would be yes.
Bishard "Budda" Baker
(Bellevue, Wash./Bellevue),
Dalton Schultz
(South Jordan, Utah/Bingham),
Kyle Allen
(Scottsdale, Ariz./Desert Mountain),
Casey Tucker
(Chandler, Ariz./Hamilton) and
Connor Humphreys
(Portland, Ore./Central Catholic) absolutely could play with the top players in California, and many of them have shown it this spring and summer.
Four linemen from Hawaii are in the 2015 ESPN 300, and Arizona will be talked about more and more as one of the blossoming talent-producing states in the country.
But even with talent spread throughout the region, there's a reason all the Pac-12 coaches fought to play at least one game in Southern California every year. The depth of talent in that state, and specifically that area, is unmatched by any other in the region.
August, 16, 2013
Aug 16
11:00
AM PT
Friday means a trip to the mailbag to answer questions you've e-mailed or tweeted about the Pac-12 recruiting. The Pac-12 recruiting mailbag will run every Friday, so send in your questions to Erik McKinney, via e-mail or
@EMcKinneyESPN
.
@
choidog00:
who's going to win battle for budda baker -- UW, UCLA or Oregon?
Erik McKinney:
There are a few more teams in that mix now, as
Bishard Baker
(Bellevue, Wash./Bellevue) listed Notre Dame among his favorites, then received an offer from Texas A&M. Baker said he is concentrating on the season right now and hasn't begun to firmly establish official visit plans, but did add that he was considering a trip to see Texas A&M host Alabama.
He's talked about his mom's health being one reason to stay close to home, and allowing his family to make a short trip to see him play as another. I think in the end it depends on what Washington and Steve Sarkisian is able to produce. If the Huskies are competitive and finally race past that seven-win barrier, they'll give the nation's No. 8 safety yet another reason to stay home.
@Stunzeed: Chip left, but now that Oregon has the new facilities, do you see recruiting going up, down, or staying about the same?

EM:
Oregon is getting comfortable as one of the nation's elite recruiting teams, and with or without Chip Kelly, they're going to stay there. Some fans of other programs might knock the Ducks' rolodex of uniforms, but there is a reason just about every program in the country is breaking out alternate jerseys and updating their look. The new facilities speak for themselves and keep Oregon among the trendsetters in the college football landscape.
Recruits also quickly took notice of the fact that the Ducks' offensive and defensive systems are still going to be the same under new head coach Mark Helfrich. The only effect losing Kelly will have on recruiting is if it effects the on the on-field product. If the Ducks keep winning, they'll keep recruiting well.
The only problem Oregon has when it comes to recruiting rankings is a self-imposed one. They don't always go after the consensus top-ranked player, instead choosing to focus on recruits who fit their systems, because they are so unique on both sides of the ball. As long as the Ducks are winning and the buzz continues in Eugene, they are going to get their share of ESPN 300 prospects, though I wouldn't expect them to be battling for the No. 1 class in the country.
@rmcglenn: what is going on with USC recruiting? Very few commits of quality. Is it kiffin turning these kids off?

EM:
First of all, I'd take slight exception to the idea that there are "very few commits of quality" in the USC class. Four of the seven commitments are ESPN 300 prospects, Austin Maloata (Corona, Calif./Centennial) will be playing his first year of high school football in the United States, Jordan Austin (Claremont, Calif./Claremont) is a high-upside tackle with other Pac-12 offers -- a situation reminiscent of Chad Wheeler, who could be the starting left tackle for the season opener -- and
Michael Wyche
(Monterey Park, Calif./East Los Angeles College) will be evaluated as part of the junior college rankings. It's a good start to the 2014 class for USC.
I believe the issue that Trojans fans are hitting on is that when you compare this class to the 2013 class at the same point, they aren't even close. After last July's recruiting haul, the Trojans probably could have stood pat and wound up with the No. 1 class in the country. It was a phenomenal recruiting performance in the summer.
But what happened after that is a big reason why recruits aren't committing to USC right now. They saw what happened on the field. They hear the whispers about Lane Kiffin being on the hot seat and they are waiting to see what happens with USC this fall.
An offer from USC is still a hot ticket, evidenced by the number of ESPN 300 prospect showing legitimate interest in the Trojans. But the type of player USC is after has the luxury to wait and see what happens on the field before making a commitment. If the Trojans put a good season together, they could have another impressive signing day.
August, 13, 2013
Aug 13
6:30
AM PT
The definition of a "must-have" recruit is not created equal for all Pac-12 programs. For some, it's a player who would help the class the most. For others, it's the local recruit who simply can't get away. And for others still, it's the recruit who would give the program the biggest splash in the recruiting world. With a number of West region recruits still undecided, there are "must-have" recruits out there for every Pac-12 program.
Arizona
ATH Marquis Ware
6-foot-2, 210 pounds
ESPN 300 rank: 120
Arizona is off to a terrific start with the 2014 recruiting class and the Wildcats already have commitments from two ESPN 300 prospects. But perhaps more importantly, they also have sincere interest from Ware, who is capable of playing outside linebacker or tight end at the next level. Not only would reeling in Ware give Arizona some serious bragging rights in the recruiting hotbed of Los Angeles, but the big athlete is teammates with linebacker
Jamardre Cobb
, who could join Ware in college.
To continue reading this article you must be an Insider
July, 3, 2013
Jul 3
9:27
PM PT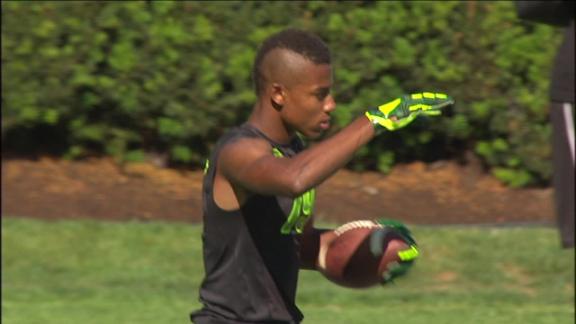 BEAVERTON, Ore. -- The Opening has concluded and it did not disappoint. The top prospects in the nation were invited to Nike headquarters to display their ability and compete against the best of the best.
RecruitingNation was on hand for every event to take in the happenings throughout the week. Here are a few storylines:
Who committed
Florida State landed two in-state prospects during the final day of The Opening on Wednesday: four-star offensive tackle
Corey Martinez
(Tampa, Fla./Tampa Catholic) and three-star safety
Trey Marshall
(Lake City, Fla./Columbia). Marshall was a finalist for the SPARQ national championships where he posted a 40-yard-dash time of 4.34 seconds. ESPN 300 linebacker
Dillon Bates
(Ponte Vedra, Fla./Ponte Vedra), son of former Tennessee Volunteers and Dallas Cowboys safety Bill Bates, verbally committed to the Vols. Four-star linebacker
D.J. Calhoun
(El Cerrito, Calif./El Cerrito) verbally committed to USC over UCLA.
To continue reading this article you must be an Insider