October, 22, 2012
10/22/12
12:04
PM PT
Some selected quotes from Lane Kiffin's Sunday night conference call following the Trojans' 50-6 victory over Colorado.
Open:
"Overall, a really good day -- a really special day for all Trojans I think, [for] all Trojan fans. It was really exciting, and I just thought there were a lot of really neat things with not just the two anticipated records … but then to have on the side, an all-time completion percentage in the history of the conference in a game, and then the most touchdown passes by a USC team ever, and then the most touchdown catches by a single player ever, is pretty special. And I thought it just kind of went along with the day, from the Stanley Cup being there, to the SC championship team being there, to the great tribute after the records -- a lot of credit to Craig Kelley and Mark Jackson on that -- it was really neat and I think it just spoke volumes about L.A. and SC."
[+] Enlarge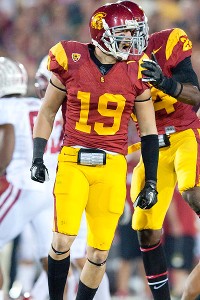 Joe Andras/WeAreSC.comDrew McAllister was one of several reserves to have a big performance against Colorado.
On the team's continuing issue with penalties:
"I don't really have a theory on it. Obviously [it's] very disappointing. I've never spent a halftime like that before, where myself and the coaches -- the entire halftime was on penalties and on composure. Fortunately, we came out in the second half and did a better job, which was good, so hopefully somehow that fixed it.
"What I'm hoping is that we hit rock bottom in the first half. It's one thing when [we're] lined up offsides and stuff like that, but when we have the personal fouls … as I said afterwards, to me that's a disgrace to our university and to all of our great players that have played here before. That's nothing that we want to be associated with. So I think maybe in this one, somehow we had to hit rock bottom, and that locker room was."
On the condition of offensive tackle Aundrey Walker:
"I don't think -- as you guys know -- I'm allowed to say very much on that. But I guess I could say that he was back in meetings today and things seem to be very positive."
PAC-12 SCOREBOARD
Thursday, 9/3
Friday, 9/4
Saturday, 9/5