USC Trojans:

#BlueChipBattles
November, 16, 2012
11/16/12
9:13
AM PT
By
RecruitingNation staff
| ESPN.com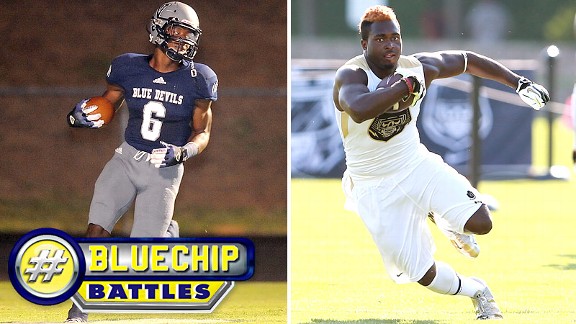 ESPN.comUncommitted 2013 running backs Alvin Kamara and Derrick Green.
ESPN 100 running backs
Alvin Kamara
and
Derrick Green
can score from anywhere on the field thanks to their breakaway speed, an attribute that makes them very attractive recruits to the Oregon Ducks. Oregon's pursuit of the duo headlines
this week's #BlueChipBattles.

Click through for our list to
rank the top 10 recruiting battles

.
Tags:
USC Trojans, Alabama Crimson Tide, Florida Gators, Notre Dame Fighting Irish, Arizona State Sun Devils, Washington Huskies, Oregon Ducks, Michigan Wolverines, Oklahoma Sooners, LSU Tigers, Auburn Tigers, Oklahoma State Cowboys, Georgia Bulldogs, Florida State Seminoles, Tennessee Volunteers, Texas A&M Aggies, Football Recruiting, Michigan State Spartans, Ole Miss Rebels, Clemson Tigers, Vanderbilt Commodores, Baylor Bears, Miami Hurricanes, Texas Christian Horned Frogs, Max Redfield, Robert Nkemdiche, Montravius Adams, Priest Willis, Alvin Kamara, Laquon Treadwell, Derrick Green, Leon McQuay III, Ricky Seals-Jones, Kendell Beckwith, #BlueChipBattles
November, 9, 2012
11/09/12
8:52
AM PT
By
RecruitingNation
| ESPN.com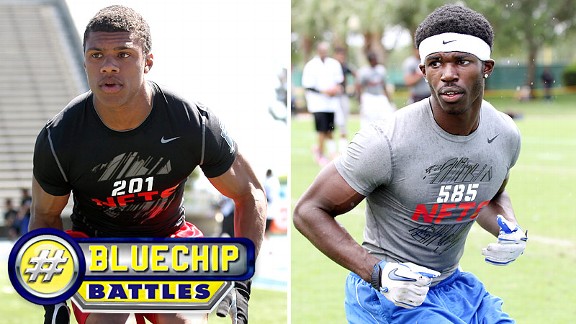 Tom Hauck for ESPN.comMax Redfield is out at USC -- is Leon McQuay in?
Think USC was left reeling after
Max Redfield
(left) decommitted this week? Not really. The Trojans appear to be zeroing in on
Leon McQuay III
(right). And then there's the nation's No. 1 recruit,
Robert Nkemdiche
, who decommitted Thursday. It's an open market in
this week's #BlueChipBattles

.
You can also
rank the battles
this week in SportsNation.
Tags:
USC Trojans, Alabama Crimson Tide, Florida Gators, Notre Dame Fighting Irish, UCLA Bruins, Ohio State Buckeyes, Oregon Ducks, Michigan Wolverines, Oklahoma Sooners, LSU Tigers, Nebraska Cornhuskers, Auburn Tigers, Oklahoma State Cowboys, Georgia Bulldogs, Florida State Seminoles, Tennessee Volunteers, Football Recruiting, Wisconsin Badgers, Michigan State Spartans, Ole Miss Rebels, Clemson Tigers, Virginia Cavaliers, Vanderbilt Commodores, Max Redfield, Laremy Tunsil, Robert Nkemdiche, Montravius Adams, Priest Willis, Leon McQuay III, David Dawson, Ricky Seals-Jones, Kendell Beckwith, #BlueChipBattles
WE ARE SC RECRUITING NEWS
USC FB RECRUITING SCORECARD
PAC-12 SCOREBOARD
Thursday, 8/28
Friday, 8/29
Saturday, 8/30
USC_Athletics USC Trojans
Here's @CoachSark's weekly Q&A previewing USC's @pac12 opener at Stanford: http://t.co/eRpQ4PHW3R
about 11 hours ago

USC_Athletics USC Trojans
JuJu Smith's 123 receiving yards vs. Fresno State is more than any USC true freshman has had in a season opener. #FightOn
about 11 hours ago

USC_Athletics USC Trojans
RT @pac12: #pac12fb Player of the Week honors go to @USC_Athletics Cody Kessler: http://t.co/TN7AQIREzh
about 12 hours ago

USC_Athletics USC Trojans
New coach @Kmcdane leads huge win over ND. RT @USC_WSoccer: And that's the final whistle! USC defeats No. 9 Notre Dame 2-1 in South Bend!
1 day ago

USC_Athletics USC Trojans
Still savoring USC Football's opening day performance? Here's an #UNFILTERED look at win No. 1: http://t.co/rCJIH4oPFt #FightOn
1 day ago

USC_Athletics USC Trojans
By a combined vote on @twitter and @instagram, the #TrojanFamily named @CodyKessler6 the @Ford Trojan of the Game. http://t.co/RCMnVSQujr
1 day ago

JeffEisenberg Jeff Eisenberg
Cody Kessler's big night helped shift the focus from USC's turbulent week off the field to its bright future on it. http://t.co/AdeIa5w1q1
1 day ago

USC_Athletics USC Trojans
Here's your #TunnelVision wrap of USC's season-opening win with locker room sound from @AdoreeKnows: http://t.co/NILdTXOyBB #FightOn
1 day ago

USC_Athletics USC Trojans
Here is @CoachSark's post-game presser with @LWtrojan94 and @CodyKessler6: http://t.co/8GStnN7Syz #USC #FightOn
2 days ago

USC_Athletics USC Trojans
MT @TheMaxMeyer: JuJu Smith (123) had more receiving yds in his debut than Robert Woods, Marqise Lee & Agholor had in theirs combined (84).
2 days ago

USC_Athletics USC Trojans
RT to vote JuJu Smith the @Ford Trojan of the Game. The freshman WR topped the 100-yard mark in his first game. http://t.co/sZGfgkAdAS
2 days ago

USC_Athletics USC Trojans
RT to vote @LWtrojan94 the @Ford Trojan of the Game. The All-American had 7 tackles and an INT. http://t.co/MvYRsrINMI
2 days ago

USC_Athletics USC Trojans
RT to vote @CodyKessler6 the @Ford Trojan of the Game. The QB set a new career-high with 394 passing yards. http://t.co/EHY8479o5B
2 days ago

USC_Athletics USC Trojans
One down, 11 more to go. Here's a visual recap of today's 52-13 victory over the Fresno State Bulldogs. #FightOn http://t.co/CeEsQZmRpP
2 days ago

USC_Athletics USC Trojans
Check out the SnappyTV highlights from today's blowout victory at the Coliseum: https://t.co/De6GtXhbwP #FightOn
2 days ago

USC_Athletics USC Trojans
RT @RandallTelfer: Big thanks to the Trojan family for supporting us tonight! On to the next one. #BeatTheFarm
2 days ago

USC_Athletics USC Trojans
USC ran 104 plays against Fresno State - setting a new Pac-12 record. #FightOn
2 days ago

USC_Athletics USC Trojans
FINAL: USC 52, Fresno State 13. The Steve Sarkisian era begins with a blowout at the coliseum. #FightOn http://t.co/z4W8fBqRit
2 days ago

USC_Athletics USC Trojans
USC has run 97 plays so far tonight, the most by a Trojan team since before 1972. #FightOn
2 days ago

USC_Athletics USC Trojans
End of 3: USC 52, Fresno St. 13. The Trojans turn to QB Max Browne for the 4th quarter.
2 days ago

USC_Athletics USC Trojans
WATCH: FB Soma Vainuku cuts past defenders on his way to the end zone putting the Trojans up 52-13! #FightOn http://t.co/o19MM7ziE6
2 days ago

USC_Athletics USC Trojans
USC 52, Fresno St. 13. Soma Vainuku powers in from 11 yards out and there is still 2:47 left in the 3rd quarter.
2 days ago

USC_Athletics USC Trojans
QB Cody Kessler with a career high 394 yds. Previous career high came against Fresno St in the Las Vegas Bowl (345) http://t.co/4DJjpb525A
2 days ago

USC_Athletics USC Trojans
USC 45, Fresno St. 13. Kessler hits Bryce Dixon for a 22-yd TD. The freshman's first career catch goes for six.
2 days ago

USC_Athletics USC Trojans
USC 38, Fresno St. 13. Buck Allen with a killer crossover in the backfield to score a TD in his 7th consecutive game.
2 days ago

USC_Athletics USC Trojans
USC 31, Fresno St. 13. Bulldogs score on the opening drive of the 2nd half but miss the PAT.
2 days ago

USC_Athletics USC Trojans
Everyone's getting in on the action today - USC has played 9 true freshman and Kessler has hit 6 different receivers through one half.
2 days ago

USC_Athletics USC Trojans
How 'bout that offense? USC ran 62 plays in the first half for 431 total yards. True freshman JuJu Smith leads receivers with 123 yards.
2 days ago

USC_Athletics USC Trojans
HALFTIME: USC 31, Fresno State 7. The Steve Sarkisian Era is off to an impressive start. #FightOn http://t.co/bYKPZUWQV5
2 days ago

USC_Athletics USC Trojans
QB Cody Kessler 19/29 for 310 yards with three TDs so far in the first half...23 seconds remain and the Trojans are in scoring territory!
2 days ago

USC_Athletics USC Trojans
USC 31, Fresno St. 7. Adoree' Jackson catches the first TD pass of his Trojan career from 18 yards out.
2 days ago

USC_Athletics USC Trojans
MT @Pac12Networks: Check out the concentration that @NelsonAgh15 shows while hauling in this pass for @USC_Athletics. http://t.co/AV0vcPi8df
2 days ago

USC_Athletics USC Trojans
USC 24, Fresno St. 7. Bulldogs change QBs and punch it in from the 1 on 4th and Goal.
2 days ago

USC_Athletics USC Trojans
USC 24, Fresno St. 0. Andre Heidari splits the uprights from 27 yards. Trojans have scored on all 4 drives.
2 days ago

USC_Athletics USC Trojans
Freshman JuJu Smith is the first USC WR to break 100 yards this season. He has 4 catches for 123 yards already today.
2 days ago

USC_Athletics USC Trojans
End of 1: USC 21, Fresno St. 0. Standing ovation from the Coliseum faithful for a near perfect opening quarter. #FightOn
2 days ago

USC_Athletics USC Trojans
USC 21, Fresno St. 0. JuJu Smith sprints down the sideline to setup a Kessler TD pass to Agholor, his 2nd of the game.
2 days ago

USC_Athletics USC Trojans
USC 14, Fresno St. 0. Cody Kessler has been lights out early as he lays it up for Nelson Agholor to bring down a 10-yd TD.
2 days ago

USC_Athletics USC Trojans
USC freshman Adoree' Jackson already has a catch on offense and a pass breakup on defense in his first two series.
2 days ago

USC_Athletics USC Trojans
WATCH: Cody Kessler scores the first TD of the 2014 season! #FightOn http://t.co/kdz52opfBS
2 days ago

USC_Athletics USC Trojans
USC 7, Fresno St. 0. Cody Kessler dives into the end zone capping the 1st drive of the season. Darreus Rogers made 3 1st down catches.
2 days ago

USC_Athletics USC Trojans
USC wins the toss and @CodyKessler6 wants the football. Here we go.... #FightOn
2 days ago

USC_Athletics USC Trojans
2014 Game 1: USC vs. Fresno St. - http://t.co/A3ikCGb2vv Our live chat fro...
2 days ago

USC_Athletics USC Trojans
The 2014 USC Football starting lineups for the season opener vs. Fresno State. #FightOn http://t.co/P8OQAQJTsb
2 days ago

USC_Athletics USC Trojans
Tune in to see @KatieLeighBoggs @ShaunCody95 @T_Williams56 & @DPage805 LIVE at the Coliseum. #TunnelVision starts now…hurry to your seats!
2 days ago

USC_Athletics USC Trojans
A new year means a brand new season of Tunnel Vision! New hosts, new look, coming to you LIVE at 3:30 on the video board. Get here early!
2 days ago

USC_Athletics USC Trojans
The long wait is over. Trojan Football is back. Here is your Friday Night Video: http://t.co/KsBBh6LVpe #TurnUpSC #BeatTheBulldogs
2 days ago

USC_Athletics USC Trojans
The walk we've all been waiting for. The Trojans are here. #FightOn #BeatTheBulldogs http://t.co/MUXII0LJji
2 days ago

USC_Athletics USC Trojans
Trojan fans make your way to the peristyle end of the Coliseum, the first Trojan Walk of the 2014 season is about to begin! #BeatTheBulldogs
2 days ago

USC_Athletics USC Trojans
RT @MattBarkley: Go get em today Trojans!! Block out the distractions and play hard, fast football!! @CodyKessler6 @NelsonAgh15 @FightOn10
2 days ago

USC_Athletics USC Trojans
#FightOn RT @LWtrojan94: Wow... It's finally game day I couldn't sleep. I can't wait
2 days ago

USC_Athletics USC Trojans
Happy Game Day Trojan fans! For behind the scenes access, follow us on Snapchat: @USC_Athletics #BeatTheBulldogs http://t.co/j2Nd3frBfF
2 days ago

USC_Athletics USC Trojans
RT @PeteCarroll: Good luck to @CoachSark and the Trojans! All the Trojans in the NW are rooting for you! #FightOn
2 days ago

USC_Athletics USC Trojans
USC head coach Steve Sarkisian is coming up momentarily on ESPN @CollegeGameDay.
2 days ago

USC_Athletics USC Trojans
The wait is over. USC game day is finally here. #FightOn #BeatTheBulldogs http://t.co/U6kIb3N5P7
2 days ago

USC_Athletics USC Trojans
The Trojans final two weeks of preparation are the subject of the last #ProjectTrojan on the eve of the opener. #USC http://t.co/NzX5TDXPCg
3 days ago

KatieLeighBoggs Katie Leigh Boggs
Come 2 the Coli early 2morrow! @ShaunCody95 @T_Williams56 @DPage805 & I are kicking off the pregame show @3:30 #USC #FightOn @USC_Athletics
3 days ago

USC_WSoccer USC Women's Soccer
Check out the final numbers from today's 3-1 victory over Iowa Statw! Up next is Notre Dame on Sunday, Aug. 31! http://t.co/NkdyL06eOH
3 days ago

USC_TAF Trojan Athletic Fund
First jock rally of the season from Heritage Hall! #FightOn #BeatTheBulldogs #USC http://t.co/C9NdkR8ZWr
3 days ago

USC_Athletics USC Trojans
Under 24 hours to kickoff… USC vs. Fresno St. preview and full size infographic: http://t.co/pdAZg2Simy #FightOn http://t.co/jx3ABUs9JX
3 days ago

USC_Athletics USC Trojans
The Coliseum is ready for game day. #FightOn http://t.co/ruHAKZnh2f
3 days ago

USC_WSoccer USC Women's Soccer
Katie Johnson puts the Trojans on top in the 58'! Assist Mills as USC takes a 2-1 lead. http://t.co/YjyqLV18jN
3 days ago

USC_Athletics USC Trojans
The traditional @USCTMB Jock Rally is today at 5pm on the patio behind Heritage Hall. Come salute the Trojans! #FightOn
3 days ago

USC_Athletics USC Trojans
The Coliseum locker room and tunnel have a new look for the 2014 season. #FightOn http://t.co/sGv7nPB4zn
3 days ago

USC_Athletics USC Trojans
Spend $25 or more @RalphsGrocery (and save your receipt!) for FREE admission into #RalphsTailgateUSC at the Coliseum including food/drinks.
3 days ago

USC_Athletics USC Trojans
The @CoachSark era begins tomorrow! #FightOn #AudiDrive2Kickoff http://t.co/919HCzEbT2
3 days ago
BLOG ARCHIVE:
CATEGORIES: