November, 3, 2012
11/03/12
2:45
PM PT
LOS ANGELES -- In August, the thought was USC-Oregon and LSU-Alabama would give the college football nation an epic Nov. 3 weekend featuring a simultaneous matchup of four unbeaten, top-five teams in college football's two best conferences. It didn't quite work out like that.
Alabama and Oregon held serve, and LSU is fifth in the BCS rankings, the top-ranked one-loss team. But USC has flopped, losing a pair of games and often playing sloppy and inconsistent football.
USC is last in the nation in penalties, and it gave away five turnovers in a loss at Arizona last weekend. That's not what anyone expected from a team that welcomed back 19 starters from a 10-2 team.
"Everybody is really disappointed in Saturday," USC quarterback
Matt Barkley
said this week. "There were so many times when we could win the game, and we really screwed up time and time again."
And yet, Barkley adds, there is still plenty for the Trojans to play for. While the national title is no longer in play, the Pac-12 title and the Rose Bowl are respectable consolation prizes.
Barkley and the Trojans, if they play smart, efficient football, have the talent to beat the Ducks. Heck, they have the talent to beat anyone.
The question is whether it all comes together this evening.
On the other side of the football, is Oregon quarterback
Marcus Mariota
, a redshirt freshman. He's passed every test this season with flying colors, mostly because no team has really tested the Ducks, who have yet to play a game with any second-half intrigue. It's fair to wonder how he might react in front of 94,000 fans in the fourth quarter of a tight game.
After playing a soft early schedule, Oregon hopes to announce itself as a full-on national title contender, the best team to play Alabama or the eventual SEC champion. USC, which dumped the Ducks' national title hopes a year ago, is playing the role of spoiler, trying to position itself for the South Division title.
That would mean a spot in the Pac-12 title game, and perhaps in a rematch against Oregon, with the Rose Bowl on the line.
While this game no longer lusters, it certainly will be revealing. Or unmasking.
October, 25, 2012
10/25/12
10:00
AM PT
Last weekend, Arizona's
Matt Scott
and USC's
Matt Barkley
led their teams to victory and played well. And you heard a lot more about Barkley than Scott.
Barkley was brilliant, and Scott was just very good. Barkley completed 19 of 20 passes for 298 yards with six touchdowns and zero interceptions against Colorado. It was the most efficient performance in the country this season and the most efficient in the history of the Pac-12. He now has 102 career TD passes, a Pac-12 record.
[+] Enlarge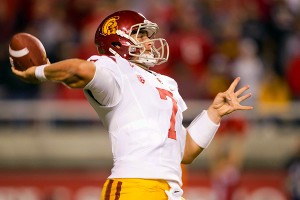 Russ Isabella/US PresswireSenior QB Matt Barkley has the Trojans sitting at 6-1 (4-1 Pac-12) entering Week 9.
Scott, who leads the Pac-12 in passing yards per game with 336.4, played a more supporting role while throwing for 256 yards and four touchdowns and rushing for 43 yards and a score in a blowout win over Washington.
Yet it felt familiar. USC is always big news, even when it's not winning championships. And Barkley is the most famous college quarterback in the country, even if he's not going to win the Heisman Trophy.
Scott? His outstanding numbers and quick adoption of new coach Rich Rodriguez's offense resonates only regionally, if at all.
That might change. These two seniors meet Saturday in Tucson, Ariz., with Barkley, a four-year starter, trying to lead the Trojans back into the national title picture, which means not overlooking Scott and the Wildcats because of their Nov. 3 date with Oregon.
These two did meet once before. Let's hope this one is as fun as the first time: Oct. 4, 2007. That's when Barkley, a junior at top-ranked Mater Dei in Santa Ana, Calif., and already highly celebrated, and Scott, a senior at No. 2 Centennial High of Corona, clashed in front of roughly 10,000 fans in the Santa Ana Bowl.
[+] Enlarge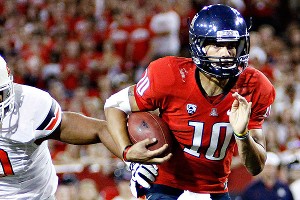 AP Photo/Wily LowSenior QB Matt Scott and the Wildcats are 4-3 (1-3 Pac-12) entering Week 9.
Mater Dei
won 51-37
in a game that featured 58 first downs and 1,295 yards of offense, a California high school record that didn't fall until this season.
"The fans definitely got their money's worth," Mater Dei coach Bruce Rollinson told reporters after the game. "That was some show."
Scott passed for 176 yards and rushed for 178. Barkley was 21 of 31 for 364 yards and two touchdowns. The Centennial defense featured Vontaze Burfict,
Brandon Magee
, Shelly Lyons and
Will Sutton
, who all signed with Arizona State. In a joint interview in 2011, the Pac-12 blog asked Burfict, Magee and Lyons about this game, and they all became a bit grumpy. It's fairly well-known that Barkley and Burfict
are not exactly close
.
Barkley was a five-star prospect in 2008, the nation's highest-rated quarterback. He signed with USC, which was on a dynastic run atop the then-Pac-10, with a 6-1 record in BCS bowl games over the previous seven years and two national titles.
So what does Rodriguez think of Barkley?
"He's obviously been one of the best quarterbacks in the history of the Pac-12," he said. "He's likely to be the first pick in the NFL draft. We're facing one of the all-time greats and also a tremendous leader."
Scott, a year ahead of Barkley, was a three-star prospect who picked Arizona over California, Boise State and Utah. The Wildcats went 5-7 in 2007, their ninth consecutive non-winning season. He beat out Nick Foles for the starting spot in 2009 but lost the job to Foles three games into the season. When Foles was hurt in 2010, Scott came off the bench and played well, but he opted to redshirt in 2011 so he could finally inherit the keys to the offense as a fifth-year senior.
When asked about Scott, USC coach Lane Kiffin's first word is "Wow."
"He's a phenomenal player," Kiffin said. "I didn't realize he is as fast as he is -- accurate, arm strength. He's playing great, doing an unbelievable job with the system."
So there's plenty of admiration for both quarterbacks.
Scott said he and Barkley know each other from football camps and recruiting and get along well, but, yes, it would be meaningful to best Barkley on Saturday.
"They are the No. 9-ranked team, so it's going to mean a lot more," Scott said. "It's a big stage. A great quarterback is coming in here. It would mean a lot to outplay him."
If Take 2 is anything like Take 1, this one figures to be pretty interesting.
August, 2, 2012
8/02/12
10:00
AM PT
USC wasn't eligible for the coaches' poll in 2011 due to NCAA sanctions, but it will start 2012 almost at the top.

The Trojans
are ranked third
, behind No. 1 LSU and No. 2 Alabama, the two SEC teams that played for the BCS national title last season.
The vote at the top was tight. USC, with 19, and Alabama, with 20, actually got more No. 1 votes than LSU (18). That should be your first warning of the "What the heck" nature of the poll. LSU, which welcomes back 15 starters from a 13-1 team and upgraded at quarterback with
Zach Mettenberger
, seems like a clear No. 1 to the Pac-12 blog.
LSU, with 1,403 points, was just ahead of Alabama, at 1,399. USC got 1,388.
It's a little surprising that USC isn't No. 2. Alabama only has 11 position players returning, including just five from last season's outstanding defense. But coaches tend to tip their caps to defending champs, and it's not unlikely that each of the seven SEC coaches in the poll -- the Pac-12 had six -- voted the SEC teams one-two. I also have a hunch a Pac-12 coach -- or two -- didn't vote USC either No. 1 or 2.
And, of course, the coaches poll, though it is unfortunately included in the BCS standings, is the least respected of all polls due to its regional biases, obvious conflicts of interest, lack of transparency and the simple fact that few coaches pay attention to teams they don't play. Oh, and many of the coaches hand off their votes to sports information directors.
Oregon comes in at No. 5, 18 points behind No. 4 Oklahoma. Stanford is 18th, just ahead of the Oklahoma State team that nipped the Cardinal in the Fiesta Bowl.
And that's it for the Pac-12 in the top-25. Washington came in at No. 26 and Utah at 32nd, based on the "others receiving votes" tally.
The SEC led all conferences with seven ranked teams. The Big 12 had six, including new members West Virginia and TCU. The Big Ten had four, the ACC three.
It's also evident that the voters ran out of steam in the top 25. Florida, Notre Dame and Auburn combined for 16 losses in 2011, but were ranked Nos. 23, 24 and 25, respectively.
As we noted, "What the heck!"
Here are the coaches who voted, per USA Today, including the six Pac-12 coaches, who are bolded:
The USA TODAY Board of Coaches is made up of 59 head coaches at Bowl Subdivision schools. All are members of the American Football Coaches Association. The board for the 2012 season: David Bailiff, Rice; Frank Beamer, Virginia Tech; Tim Beckman, Illinois; Bret Bielema, Wisconsin; Terry Bowden, Akron; Art Briles, Baylor; Troy Calhoun, Air Force; Matt Campbell, Toledo; Gene Chizik, Auburn; Dave Christensen, Wyoming; Mark Dantonio, Michigan State; Tim DeRuyter, Fresno State; Dave Doeren, Northern Illinois; Sonny Dykes, Louisiana Tech; Jimbo Fisher, Florida State; Kyle Flood, Rutgers; James Franklin, Vanderbilt; Al Golden, Miami (Fla.); Jim Grobe, Wake Forest; Darrell Hazell, Kent State; Brady Hoke, Michigan; Dana Holgorsen, West Virginia; Skip Holtz, South Florida; Mark Hudspeth, Louisiana-Lafayette; Curtis Johnson, Tulane; Ellis Johnson, Southern Miss; Butch Jones, Cincinnati; Brian Kelly, Notre Dame; Lane Kiffin, Southern California; Mike Leach, Washington State; Pete Lembo, Ball State; Tony Levine, Houston; Mike London, Virginia; Rocky Long, San Diego State; Dan McCarney, North Texas; Mike MacIntyre, San Jose State; Ruffin McNeill, East Carolina; Gus Malzahn, Arkansas State; Bronco Mendenhall, BYU; Les Miles, LSU; George O'Leary, Central Florida; Paul Pasqualoni, Connecticut; Bo Pelini, Nebraska; Chris Petersen, Boise State; Joker Phillips, Kentucky; Paul Rhoads, Iowa State; Mark Richt, Georgia; Mike Riley, Oregon State; Rich Rodriguez, Arizona; Nick Saban, Alabama; Steve Sarkisian, Washington; Frank Solich, Ohio; Steve Spurrier, South Carolina; Rick Stockstill, Middle Tennessee; Bob Stoops, Oklahoma; Dabo Swinney, Clemson; Jeff Tedford, California; Tommy Tuberville, Texas Tech; Kevin Wilson, Indiana.
June, 28, 2012
6/28/12
9:00
AM PT
By
WeAreSC staff
| ESPN.com
Give your initial thoughts on the new NCAA football playoff system.
Garry Paskwietz
Based on an early understanding of the college football playoff model, there are more pros than cons.
To continue reading this article you must be an Insider
November, 6, 2011
11/06/11
12:55
PM PT
What did we learn from Week 10 of Pac-12 action?
Stanford and Oregon reached their destination
: In the preseason, Oregon-Stanford looked like the Pac-12 game of the year. Things often don't go as planned in college football, but this one did. The only way it could be better is if the Ducks had opened with a win against LSU. Stanford could play itself into the national title game, but at the very least the Pac-12 North and BCS bowls are at stake.
[+] Enlarge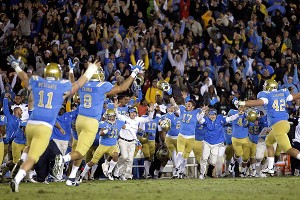 AP Photo/Jae C. HongUCLA controls its own destiny in the Pac-12 after upsetting Arizona State at the Rose Bowl.
Rick Neuheisel and UCLA are alive
! Just when you thought it was safe to start thinking about who UCLA's next coach was going to be, Neuheisel leads his team into first place in the Pac-12 South after beating Arizona State. If the Bruins win out, they will play in the Pac-12 championship game. And if they win that, they'd go to the Rose Bowl. As it is, Neuheisel now has a signature conference victory. His team, now 5-4 with three to play after winning consecutive games for the first time this season, now appears headed to a bowl game. Neuheisel is not a man who goes away easily, eh?
Utah could finish strong
: When the Utes lost 34-10 at California and fell to 0-4 in Pac-12 play, many dismissed them with knowing smirks: Welcome to a
real
conference. Don't look now, but look at who's won two conference games in a row. And who has a good shot at winning it's next three and finishing 8-4 and 5-4 in conference play? When the Utes protect the football, good things tend to happen to them.
Paul Wulff is in trouble
: Washington State started 3-1, and there was reasonable hope that the Cougars had turned a corner. But after five consecutive losses, including a pounding at Cal on Saturday, most of the early-season optimism is gone. The schedule ahead -- Arizona State, Utah and Washington -- is rugged. The Cougs will be underdogs in each game. But if coach Paul Wulff doesn't produce an upset or two, it's hard to imagine him keeping his job.
Arizona State hasn't arrived:
The way the schedule set up, the Sun Devils looked to be headed to a 10-2 regular season and the Pac-12 championship game. Now they have to win-out and hope UCLA loses at some point. Truth is, there's a good chance that happens: UCLA has a tough schedule ahead, Arizona State does not. But by losing to UCLA, the Sun Devils cost themselves a special season. And a national ranking.
October, 17, 2011
10/17/11
8:58
AM PT
»
Power Rankings
:
ACC
|
Big 12
|
Big East
|
Big Ten
|
Pac-12
|
SEC
If you don't like where you are in the power rankings, play better.
See last week's
power rankings here
.
1.
Oregon
: The Ducks retake the top spot after an impressive win against Arizona State. Need to get healthy.
2.
Stanford
: The Cardinal have an opportunity to notch a quality win against Washington on Saturday, which might help in the beauty contest we call the BCS standings.
3.
Washington
: The Huskies have a chance for a landmark victory against Stanford, one that would reconfigure the North Division race and provide the proverbial, "We're baaaaack!" to the college football nation.
4.
Arizona State
: There was little to suggest from a highly competitive game at Oregon that the Sun Devils can't play with anyone.
5.
USC
: Trojans continue to linger, winning games but not many admirers. But if they win at Notre Dame, national folks will be forced to take notice, though most likely not without giving in to their apparently inexorable urges to tweak Lane Kiffin.
6.
UCLA
: The Bruins play at Arizona on Thursday night after a bye week. And, yes, beating a team that just fired its coach makes this a must-win for Rick Neuheisel. The potential parallel is too difficult to ignore.
7.
Washington State
: In the first half against Stanford, the Cougars showed how much they have improved. In the second half, they revealed how far they still have to go. And beating Oregon State on Saturday is critical for bowl hopes and coach Paul Wulff.
8.
Utah
: The Utes are 0-3 in Pac-12 play but have two of the better nonconference wins -- at BYU, at Pittsburgh -- in the conference. It's cool how coach Kyle Whittingham read the Pac-12 blog last week and then told his players to stop turning the ball over five times per game, as they had done the previous two weeks. Coach, that's the sort of advice you get from an AQ conference blogger.
9.
California
: It feels like the Bears' chances for a successful season might hang on beating Utah at home on Saturday. Neither team wants to start 0-4 in Pac-12 play, but Jeff Tedford and the Bears have been doing this a bit longer.
10.
Oregon State
: At 1-5, salvaging a respectable season is a more reasonable goal than a bowl game. Losing a second consecutive year to Washington State probably wouldn't go over well about the Beavers faithful.
11.
Colorado
: The cold reality has set in: The Buffs don't have enough horses to compete in the Pac-12 at present. One word: Recruiting. Another word: Recruiting.
12.
Arizona
: The Wildcats have had a bye week to digest the sudden termination of coach Mike Stoops. It will be interesting to see how they react against UCLA on Thursday. Will they be energized or will they look uninterested?