USC Trojans:

Auburn Tigers
January, 13, 2014
1/13/14
10:30
AM PT
By
Brett Perrotta, ESPN Stats & Info
| ESPN.com
With the door closed on the 16-year reign of the BCS, we dove into the 72 BCS bowl games to find the 10 most memorable moments of the BCS era.
10. Utah's hook-and-ladder:
The first team ever dubbed a "BCS Buster" was the Urban Meyer-coached and
Alex Smith
-led Utah Utes in 2004. In the 2005 Fiesta Bowl, Utah led Pittsburgh 28-7 late in the third quarter and lined up at the Panthers' 18-yard line. Smith swung it left to Steven Savoy, who lateraled to
Paris Warren
, who ran it in for the score as the Utes completed a 12-0 season.
9. Peerless Price down the sideline:
Tennessee led Florida State 14-9 with 9:29 remaining in the fourth quarter in the 1999 Fiesta Bowl with the first BCS Championship on the line. UT quarterback
Tee Martin
found Price down the right sideline, and Price took it the distance for a 79-yard score. Price had 199 receiving yards for the winning Vols, the most ever in the BCS title game.
8. Ginn's costly return:
Ohio State received the opening kickoff from Florida in the 2007 BCS Championship game, and
Ted Ginn
Jr. wasted no time in getting the game's first score on a 93-yard return. What will always be remembered, however, is that Ginn suffered a foot injury on the ensuing celebration and was out for the rest of the Buckeyes' 41-14 loss.
7. Warrick's juggling score:
Though the championship of the 1999 season was marked by Virginia Tech freshman QB
Michael Vick
, it was Florida State's
Peter Warrick
who was named the most outstanding player. He had a punt return for a touchdown in the second quarter, and his juggling catch on a 43-yard score midway through the fourth served as the dagger.
6. Vince Young, Part I:
Facing Michigan in the 2005 Rose Bowl, Young was responsible for all five Texas touchdowns in a 38-37 win. Though he had runs of 60, 23 and 20 yards, the most impressive was a 10-yard run in which Young escaped the tackle of Michigan lineman Pat Massey before scampering to the right pylon.
5. Dyer isn't down:
Tied at 19 with Oregon with just more than two minutes remaining in the 2011 BCS Championship Game, Auburn running back
Michael Dyer
appeared to be tackled for a short gain at the Auburn 45-yard line. Having rolled over the defender, Dyer was never ruled down, and ended up gaining 37 yards on the play before he was taken down at the Oregon 23-yard line. Auburn would win on a field goal as time expired.
[+] Enlarge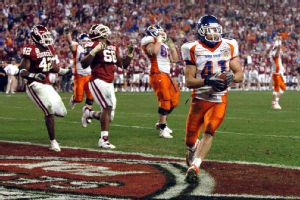 Steve Grayson/WireImageIan Johnson's two-point conversion run in overtime propelled Boise State over heavily favored Oklahoma in the 2007 Fiesta Bowl.
4. Winston to Benjamin:
Trailing Auburn 31-27 in the final BCS Championship Game, Heisman Trophy winner
Jameis Winston
drove the Noles 78 yards in less than a minute to the Auburn 2-yard line. Receiving the snap with 17 seconds left in a wild fourth quarter, Winston threw a perfect pass to
Kelvin Benjamin
, who brought it down for the game-winning score to complete an undefeated season.
3. Was it pass interference?
Some will remember Maurice Clarett's game-saving strip of
Sean Taylor
, but the lasting legacy of the game is the dubious pass interference call in overtime. Miami led 24-17 and Ohio State faced fourth-and-3 from the 5-yard line.
Glenn Sharpe
was called for pass interference, giving the Buckeyes new life in a game they would win 31-24.
2. Boise State's trick plays:
In the 2007 Fiesta Bowl, Boise State trailed heavily favored Oklahoma 35-28 with 18 seconds left and facing fourth-and-18 from the 50-yard line. Jared Zabransky completed a pass to Drisan James just short of the first down, but he lateraled it to Jerard Rabb, who took it the rest of the way for the tying touchdown. In overtime, down 42-35 on fourth down, wide receiver Vinny Perretta completed a 3-yard pass to
Derek Schouman
for a touchdown. Chris Petersen elected to go for two, and Zabransky faked a throw to his right before handing it behind his back to Ian Johnson on the Statue of Liberty play for the winning two-point conversion. Johnson would propose to his girlfriend, a Boise State cheerleader, on the sideline after the game.
1. Vince Young, Part II:
After a Longhorns touchdown and key fourth-down stop, undefeated Texas trailed undefeated USC 38-33 with 26 seconds remaining and faced fourth-and-5 from the 9-yard line, with the 2005 BCS championship on the line. Vince Young dropped back to pass but saw nobody open, and immediately sprinted for the right pylon for the title-winning score in the marquee game of the BCS era.
October, 4, 2013
10/04/13
5:02
PM PT
Any chance every game this weekend can be as interesting as UCLA-Utah?
Welcome to the mailbag. If your life needs just a tad more "oomph,"
follow the Pac-12 blog on Twitter
. It's loaded with oomph, as well as many vitamins and minerals.
To the notes!
Daniel from Pullman, Wash., writes:
Ted-Last Saturday morning I was listening to ESPN Radio and they were debating the match-ups of the Pac-12 North and the SEC West (on neutral fields). I believe their match-ups were Al vs. OR, LSU vs. Stanford, Tex AM vs WA, Ole Miss vs OSU, Auburn vs. WSU, and Miss St or Ark vs Cal. One voted these match-ups 4-2 in favor of the SEC, and the other scored it 3-3. (Note: I think both picked LSU over Stanford.) How would you see these match-ups playing out?
Ted Miller
: The first challenge is matching the seven-team SEC West versus the six-team Pac-12 North. To make things easy, goodbye Arkansas.
Further, we don't really know how each division ultimately will stack up. Our speculation is only slightly educated here, as any would be not even halfway through season.
So start with Oregon-Alabama. This is a potential national title game. There are two ways to look at it. Is this a regular season game with just one week to prepare? I'd give a slight edge to Oregon with that. If it was a national title game, with three weeks to prepare, I'd give the Crimson Tide an edge. For this exercise, we'll go with the Ducks.
I'd pick Stanford over LSU. Just like I'd pick Stanford over Georgia, which just beat LSU. Suspect that Stanford would consistently outflank the Tigers with sophisticated schemes. A few years ago, LSU's team speed would have been an issue. No longer.
I'd take Texas A&M over Washington in a barnburner. I'd take a healthy Oregon State -- as in the Beavers after their off week -- over Ole Miss. The Rebels wouldn't be able to handle
Sean Mannion
and
Brandin Cooks
.
Auburn beat Washington State 31-24 on its home field, but the Cougars outgained the Tigers 464 to 394. In a neutral field rematch, I'd go with the Cougs.
Cal would be able to outscore Mississippi State, though I'd feel better with that one if the Bears didn't have so many injuries on defense.
So there you go: 5-1 Pac-12 North.
End of discussion! Right?
---

Andrew from Phoenix writes:
Ted,Why all the volatility in Arizona State's perception? The last 3 weeks the media and PAC fans have gone from "they're ready for the national stage" to "looks like they're not that good" back to "this team can do some damage." The consensus outside of the biggest ASU homers and UA trolls was ASU would be about 8-4, just in or just out of the Top 25, and needing an upset @UCLA to win the South. I have seen nothing on the field this season that should change that. Bottom line is they demolished a poor team, handily beat (with some blemishes) a mediocre team, played a toe-to-toe in a toss up with a good team, and got their mistakes shredded by an elite team. Why so much drama?
Ted Miller
: It's Kevin. He's the man behind the curtain pulling all these levers that make people crazed with drama.
I don't feel like much has changed about the perception of Arizona State, at least among those who esteemed the Sun Devils in the preseason. This is a good team, probably a top-25 team, one that is moving up in the Pac-12 and national pecking order but is not yet on the Oregon/Stanford level. And, yes, it looks like the best challenger for UCLA in the South Division, particularly after USC imploded.
But there is a logical reason for the volatility: The Sun Devils' schedule. How many teams have played three tough, AQ-conference opponents in their first four games? And with such a variety of results.
Wisconsin, 32-30 win: Controversial ending yes, but the game showed the Sun Devils are top-25 caliber.

Stanford, 42-28 loss: The Sun Devils might be a top-25 team, but they've got a ways to go to move toward the top-10.

USC, 62-41 win: An impressive offensive showing against a previously outstanding defense. More positive evidence that the program is taking steps forward under Todd Graham.
Guess what? There will be more drama on Saturday. A win over Notre Dame will provide another uptick. And a loss will add some skepticism, as well as a second fall from the national polls.
---

Kevin from Reno, Nevada writes:
Why is Ohio State ranked ahead of Stanford? After watching ASU play Wisconsin and then Stanford, it was clear that Stanford is on an entirely different level of physicality and talent than Wisconsin. That same Wisconsin team almost beat Ohio State on the road. Also, Cal was completely over-matched against Oregon, but competed almost respectably against Ohio State. Stanford may be better than Oregon this year.
Ted Miller
: At least we'll get an answer with Oregon-Stanford on Nov. 7.
But I hear you.
Obviously your Pac-12 bloggers agree with you
. I'd comfortably pick Stanford over Ohio State, and I suspect a lot of folks would, too. While it's dangerous to use the transitive property in college football, your point about Wisconsin is at least partially valid.
I suspect the reason most folks who are voting Ohio State ahead of Stanford are doing so is because
they did so in the preseason, and the Buckeyes have yet to lose
.
---

Andrew from Agoura Hills, Calif., writes:
Now that Lane Kiffin is out the door, we've started to hear all the names of potential candidates: Kevin Sumlin (my personal favorite), Jack Del Rio, Jeff Fisher, Steve Sarkisian, Chris Petersen, etc. One name that I haven't really seen included in any of these hypothetical lists is Alabama DC Kirby Smart. Do you think he will be considered by Pat Haden and the USC braintrust? He seems to be on track to eventually be a head coach, and his credentials are very impressive for a young coach. The two problems I see are that he 1) has resisted overtures in the past, possibly because he is in line to follow Saban at 'Bama and 2) is devoid of any head coaching experience. What do you think of Smart as a candidate for the Trojans?
Ted Miller
: There certainly are worse choices.
The other knock, fair or unfair, on Smart is that Saban is the ultimate brains behind the Crimson Tide's defense. Still, working under Saban for an extended period of time should overcome that as a downside. He knows Saban's "Process," which is like learning about the stock market from Warren Buffett.
My impression is Smart is shortly going to get an opportunity in the ACC or SEC. He's a child of the South and probably wants to stay down there.
In fact, if you are looking for a darkhorse candidate for USC, what about Alabama offensive coordinator Doug Nussmeier? He calls Alabama's plays, has time learning from Saban and knows the Pac-12, as he was Steve Sarkisian's offensive coordinator at Washington before heading to the SEC. He also has Big Ten and NFL experience.
While USC is surely going after a big-time name with head coaching experience, many, many great hires have been first-time head coaches, such as John McKay, Bob Stoops, Chris Petersen and Chip Kelly.
---

Saul from Los Angeles writes:
I get it, you hate your former home up there in Seattle. Why you instantly think the Washington head coach job sucks is beyond me and Wilcox would rather go to USC to be an assistant coach when he could be a head coach. You are insufferable.
Ted Miller
: Every week, there are angry notes in the mailbag that make me go, "Huh?" I get that when you write about college football, you will make folks mad. Just part of the job. But what always baffles me is when I get an interpretation of one of my positions that is untethered to any actual position I can ever recall taking.
Saul isn't the only one. It appears many Alabama fans
believed this story
on USC's coaching search implied Pat Haden might hire Nick Saban. That conclusion apparently was based on my typing, "What if USC now hires its Nick Saban? Or, to localize it: Pete Carroll, take two?"
I spent 20 minutes trying to figure out what got Saul's feathers raised. Apparently it is this from my chat Thursday:
Ryan (Baja): Hypothetical: Sark goes to USC. Question: What happens to Justin Wilcox?

Ted Miller: THAT is a big question. I was, in fact, thinking about that today. I'd think Washington would give him a hard look. It's just a matter of time before he's a head coach. It might, in fact, be a matter of just a couple of months. He'll have options, including one to follow Sark to LA and get a big raise.
To be clear: I think Washington would seriously consider Wilcox if Sarkisian left for USC and I'm SURE Wilcox would take the job.
If there is an implication my chat comment that Wilcox would rather be offensive coordinator at USC than head coach at Washington, then I humbly apologize. He would not. What I wanted to suggest is that if Wilcox was offered a head coaching job for a non-AQ program, he still might opt to follow Sarkisian to USC and wait for an AQ job. Such as, you know, a place like Washington.
The big hypothetical here is Sarkisian going to USC. It's possible, by the way, that Sark would say no to USC again, just as he did when it went after him before hiring Lane Kiffin.
And, if it needs to be clarified, there is not a person who has ever talked to me about Seattle who doesn't know how much I love that town.
August, 29, 2013
8/29/13
9:01
AM PT
It's prediction time! Wheeee!

Last year, Kevin and Ted tied at the end of the regular season with 66-25 records. Ah, but then came the bowl season, and -- cough, cough -- by virtue of Ted going 5-3 and Kevin going 4-4, the old guy prevailed by a single game.
Let's hear it for the old guys!
And you know who won it for Ted? Texas! How about that fudge?
Thursday
UTAH STATE at UTAH
Kevin Gemmell
: First game, and I'm already conflicted. This one is scary with
Chuckie Keeton
back at QB for Utah State and all five of his linemen back to protect him. I think Utah is going to be better than it was last season, and the Utes will be looking for revenge from last year's loss. In close games, go with the home team.
Utah 21, Utah State 17
Ted Miller
: This is an interesting one. Utah State changed coaches but has a lot of guys back. The Utes have preseason injury issues -- paging
Brian Blechen
; your defense needs you -- and those issues have made coach Kyle Whittingham grumpy. But you know why I'm picking Utah? Because I think the Utes are angry about how folks have written them off, and angry often translates well in football. And I like the MUSS being loud.
Utah 24, Utah State 21
USC at HAWAII
Kevin Gemmell
: A good chance for both USC quarterbacks to get a lot of work against a nonthreatening opponent. Trojans should roll.
USC 35, Hawaii 14
Ted Miller
: USC is going to win this game, but it would be good for coach Lane Kiffin if the Trojans looked good doing it. Want to be goofy about your QB situation? Fine. You just better look good on offense. The biggest news in this one is which QB starts and, subsequently, who sets himself up to start against Washington State next week.
USC 35, Hawaii 20
Friday
NORTHERN ARIZONA at ARIZONA
Kevin Gemmell
: How many Arizona quarterbacks will we see in this game? I'm putting the over/under at three -- and I'm leaning toward the over.
Arizona 42, NAU 17
Ted Miller
: I actually think
B.J. Denker
is going to be the man for the Wildcats, even if other guys play. The issue is whether he remains that way. I think the only guy who would unseat him is
Jesse Scroggins
, and he has struggled to stay healthy.
Arizona 40, NAU 14
Saturday
NICHOLLS STATE at OREGON
Kevin Gemmell
: The only concern here is that
Marcus Mariota
tweaks a fingernail pulling off his shoulder pads at halftime.
Oregon 48, Nicholls State 7
Ted Miller
: I'm actually afraid for Nicholls State.
Oregon 101, Nicholls State 3
EASTERN WASHINGTON at OREGON STATE
Kevin Gemmell
: Eastern Washington is a pretty good Football Championship Subdivision team. And Oregon State fans know better than to overlook FCS teams. But I see no reason the Beavers don't roll in this one.
Oregon State 35, Eastern Washington 10
Ted Miller
: The Beavers have some nagging injury issues, so they just want to win this one and get out of the game healthy. And they want
Sean Mannion
to justify his winning a high-profile QB competition.
Oregon State 41, Eastern Washington 17
NEVADA at UCLA
Kevin Gemmell
: A good tuneup game for the Bruins against a team that has some bite. I really like what Nevada quarterback
Cody Fajardo
is capable of. But I like
Brett Hundley
better. Should be a decent game, but ultimately not enough to give UCLA a real scare.
UCLA 35, Nevada 17
Ted Miller
: Sitting here making this pick, I realize how Jim Mora has changed things at UCLA in just one year. For a decade or so previous to him, this is exactly the sort of game that you'd pause over, going, "Hmm ... UCLA is better but, man, do the Bruins know how to blow it!" Mora inspires confidence in terms of his team coming out in a businesslike fashion and playing like the superior collection of athletes that it is.
UCLA 40, Nevada 24
BOISE STATE at WASHINGTON
Kevin Gemmell
: Should be one of the closest, most competitive games in the country in Week 1. And in close games, sticking with my personal doctrine, I'll go with the home team.
Washington 24, Boise State 21
Ted Miller
: These teams were tightly contested in the Las Vegas Bowl, and the Huskies look like a better team than they were last season, while the Broncos have a lot of guys to replace. Still, it comes down to Huskies QB
Keith Price
. If he's his 2011 self again, Washington will roll.
Washington 30, Boise State 21
NORTHWESTERN at CALIFORNIA
Kevin Gemmell
: I think the Bears will show a little backbone and
Jared Goff
will gain some confidence. But probably not enough to beat a ranked team in his first career start. However, it'll be closer than people think.
Northwestern 35, California 28
Ted Miller
: Hello, Cal fans. It's me again. I've got bad news. I think you're going to win this game. Of course, that probably means you're going to lose, because the Bears never do what I think they'll do. Or was that just a Jeff Tedford thing? I'm so conflicted. Maybe if someone brought me a
calabrese from Top Dog
I could make sense of it all?
California 27, Northwestern 24
WASHINGTON STATE at AUBURN
Kevin Gemmell
: I got burned by the Cougs in the season opener last year when they were two-touchdown dogs on the road, and it haunts me to this day. Lesson learned.
Auburn 28, Washington State 21
Ted Miller
: Both teams went 3-9 last season, but the Tigers have a lot more size and athletes. I think the Cougars are going to put a scare into Auburn and its fans, but the Tigers' athleticism and, perhaps, the Southeastern humidity will wear WSU down in the fourth quarter.
Auburn 33, Washington State 24
COLORADO STATE vs. COLORADO
Kevin Gemmell
: The Rams bring back nine starters on offense. But
Paul Richardson
is due for a multitouchdown game. Colorado will get a little vengeance from last season. Bring on the Mac attack.
Colorado 27, Colorado State 17
Ted Miller
: I stared at the Colorado depth chart Tuesday and had an interesting reaction that surprised me: maybe. The Buffs should have won this game last season, and I think they're better than in 2012.
Colorado 30, Colorado State 27
May, 22, 2013
5/22/13
12:43
PM PT
The 2013 season will be the final year of the BCS era.
And there was much rejoicing!
So, what have been the Pac-12 highs and lows of this often confounding system? Thanks for asking!
Best
1.
USC drubs Oklahoma for the 2004 national title:
The 55-19 victory over unbeaten Oklahoma was the most dominant display of the BCS era. It was also the pinnacle of the Trojans' dynasty under Pete Carroll. It's worth noting that future Pac-12 member Utah also whipped Pittsburgh in the Fiesta Bowl to finish unbeaten that same year.
[+] Enlarge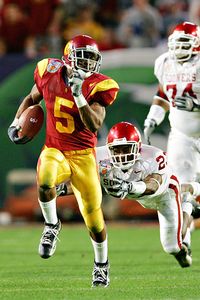 Jamie Squire/Getty ImagesReggie Bush and USC ran away with the 2004 national title.
2.
USC wins "real" national title:
In 2003, USC was No. 1 in the AP and Coaches polls at season's end. If you had eyes and knew anything about football, it was clear the Trojans were the nation's most-talented team on both sides of the football, a notion that was reinforced the following season. Two teams picked by computers played in New Orleans -- most folks outside of Louisiana don't even remember who -- and that forced the Trojans to settle for three-fourths of a national title after dominating Michigan 28-14.
3.
The year of the Northwest:
After the 2000 season, three teams from the Northwest finished ranked in the AP top seven. Washington beat Purdue in the Rose Bowl and finished third. Oregon State drubbed Notre Dame in the Fiesta Bowl and finished fourth. Oregon beat Texas in the Holiday Bowl to finish seventh.
4.
Oregon gets left out but finishes No. 2:
One of the grand faux paus of the BCS era was Nebraska playing Miami for the 2001 national title. Nebraska was coming off a 62-36 loss to Colorado, but the computers failed to notice, and the Cornhuskers were euthanized by the Hurricanes before halftime. The Ducks would whip that same Colorado team 38-16 in the Fiesta Bowl and finish ranked No. 2.
5.
Oregon and Stanford both win:
The 2012-13 bowl season wasn't good to the Pac-12, but Oregon pounded Kansas State in the Fiesta Bowl and Stanford beat Wisconsin in the Rose Bowl. The Ducks finished ranked No. 2 and Stanford was seventh. It was just the second time two Pac-10/12 teams won BCS bowl games in the same season.
Worst
1.
Just one BCS national title, lots of frustration:
No conference has more legitimate gripes with the BCS system than the Pac-12. Multiple seasons saw the conference have teams skipped over, most notably Oregon in 2001 and USC in 2003 and 2008. And ask California fans about how Texas coach Mack Brown gamed the system in 2004, preventing the Bears from playing in the Rose Bowl.
2.
USC's three-peat gets Vince Younged:
It's difficult to look at Texas's epic 41-38 win over USC as anything but great college football art -- perhaps the all-time greatest game -- but Trojans fans don't feel that way. The loss prevented USC from claiming three consecutive national titles and, of course, a second BCS crown for the Pac-10/12.
3.
Oregon falls short versus Auburn:
Oregon looked like a great team and Auburn a team with two great players before the BCS title game after the 2010 season. The Ducks chose a bad time to play one of their worst games of the season, but they still nearly prevailed before being undone by a dramatic game-winning drive from the Tigers.
4.
Make a field goal, Stanford:
Stanford kicker
Jordan Williamson
missed three field goals, including a certain game-winner from 35 yards on the last play of regulation, in the Cardinal's 41-38 loss to No. 3 Oklahoma State in the Fiesta Bowl after the 2011 season. Williamson also missed from 43 yards in overtime, which set the Cowboys up for the win. Stanford dominated the game, outgaining the Cowboys 590 yards to 412, with a 243-13 edge in rushing.
5.
Ducks drop Rose Bowl:
Oregon fell flat in Chip Kelly's first BCS bowl game, with the favored Ducks losing to Ohio State 26-17 in the Rose Bowl after the 2009 season. Buckeyes QB Terrelle Pryor had perhaps the best game of his career -- 266 yards passing, 72 rushing -- and the Ducks offense struggled, gaining just 260 yards.
August, 22, 2012
8/22/12
4:58
PM PT

Robert Nkemdiche committed to Clemson, but that didn't slow down his recruiting. Kipp Adams talks with the nation's top recruit about his recruitment since committing to Clemson, and his goals for the 2012 season.
July, 14, 2012
7/14/12
4:09
PM PT
With a big decision looming Monday, four-star cornerback
Jalen Ramsey
of Brentwood (Tenn.) Academy opted to remain close-lipped over the weekend, hoping complete silence would allow him to focus on his college options.
The fast-rising Ramsey, who last week climbed up 72 spots to No. 57 in the ESPN 150 player rankings, is scheduled to commit at 1 p.m. CT/11 a.m. PT on Monday in his hometown of Smyrna, Tenn. He has seven finalists: Tennessee, Vanderbilt, Ole Miss, Mississippi State, Auburn, USC and Washington.
Ramsey, the nation's seventh-ranked cornerback who raised eyebrows at The Opening, was still wide open heading into the weekend. He had taken two trips to USC recently, including a visit to compete in the Rising Stars Camp.
A pledge from the 6-foot, 190-pound Ramsey would give the Trojans their 15th commitment overall and second cornerback, joining four-star
Chris Hawkins
of Rancho Cucamonga (Calif.). It would leave only three available spots in the 2013 recruiting class, two of which would seemingly go to defensive backs.
January, 10, 2012
1/10/12
5:40
PM PT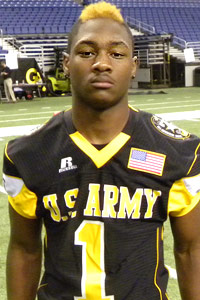 William Wilkerson/ESPN.comStefon Diggs is considering USC, Cal, Florida, Auburn, Ohio State and Maryland.
With signing day less than a month away you would think top wide receiver
Stefon Diggs
(Olney, Md./Our Lady of Good Counsel) would be closing in on making his decision. Diggs, however, says he's nowhere near ready to make a college choice.
"I don't have a leader or top five or anything like that," Diggs said Tuesday night. "I'm wide open, and I'm planning on waiting until after signing day to make my final decision."
Diggs, ranked the No.10 player in the country by the ESPNU 150, will visit Auburn this weekend but said he's not sure what his plans will be in the future.
To continue reading this article you must be an Insider
PAC-12 SCOREBOARD
Thursday, 9/3
Friday, 9/4
Saturday, 9/5