USC Trojans:

Andrew Hendrix
October, 20, 2013
10/20/13
3:00
PM PT
There are some losses that simply hurt more for fans than others and the
14-10 USC defeat
last night in South Bend, Ind., certainly qualifies.
What makes this one so tough is the missed opportunities. This wasn't a game for the ages in the USC-Notre Dame rivalry and it wasn't particularly well played on either side, but it was there for the taking for the Trojans and you hate to lose those opportunities when you have them.
[+] Enlarge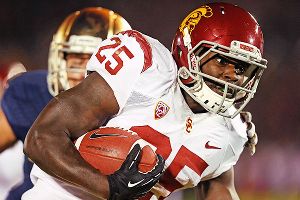 Jonathan Daniel/Getty ImagesTailback Silas Redd rushed for 112 yards vs. Notre Dame but the Trojans offense struggled mightily in the second half.
Things started so well for the Trojans with a
Troy Polamalu
-esque goal line stop on fourth down by
Su'a Cravens
on the opening drive by the Irish. Then the USC offense responded with a beautiful 13-play, 96-yard drive that ended with a
Silas Redd
touchdown to go up 7-0. And that was about it for the SC highlights on the night.
For the remainder of the game, it just seemed as if the Trojans couldn't get out of their own way. Redd ran for 91 yards in the first half and eventually became the first runner this year to go over 100 yards against the Irish. Redd was the one USC player who seemed capable of pounding Notre Dame all night but for some reason his touches in the second half were limited.
Nelson Agholor
was another bright spot -- both as a receiver and punt returner -- but even he could only do so much after
Marqise Lee
had gone out of the game with an injury. Lee had tried to come back from a recent knee injury but he had another key drop, this one on a potential touchdown pass on a well-thrown ball by quarterback
Cody Kessler
.
Kessler had a commendable game, completing 20 of 34 pass attempts for 201 yards. He was under constant pressure from the Notre Dame defensive line and was throwing to a depleted pass-catching group that eventually was missing three of the five scholarship receivers and the top two tight ends.
And we haven't even gotten to the penalties yet. The Trojans committed 11 penalties for 95 yards and so many of them seemed to come at critical times to negate a big play or first down. The biggest came on a holding call that brought back a Kessler scramble down to the Irish 3-yard line late in the game. There was also a non-call against Notre Dame as a pass interference penalty was not called on an Irish defender against
Jalen Cope-Fitzpatrick
on the final USC drive.
There was a big hit by
Lamar Dawson
that knocked Irish quarterback
Tommy Rees
out of the game after Rees had looked sharp throwing the ball, particularly in the direction of USC cornerback
Anthony Brown
. The replacement for Rees,
Andrew Hendrix
, was not able to complete a pass in the game but, once again, the Trojans were unable to take advantage.
Even with all that, the Trojans still had their chances. They had three straight drives in the second half that started on the Irish side of the field and a fourth that began at the USC 48-yard line, yet they were unable to score. There were five USC drives in the second half that went six yards or less. After converting the first two third-down conversions of the game, the Trojans did not convert their next 11 tries. The Trojans also missed a pair of field goals that would have provided a winning margin if successful. It was simply one of those nights.
So where do the Trojans go from here after such a disappointing loss? There are no easy answers for interim coach Ed Orgeron. The momentum had been going in such a positive direction since Orgeron took over but this game magnified the realities of where USC is at for the rest of the season. There are issues with the pass defense, the O-line, penalties and third-down conversions. There are injury issues to key players. There doesn't seem to be a clear identity yet for the offense under Clay Helton and opposing offenses are suddenly having a lot of success against Clancy Pendergast's defense.
One thing Orgeron praised is that the USC players showed fight against Notre Dame. As frustrating as it was to watch the Trojans fail to find a way to pull out the game, it was clear that the effort was there from the team right up until the end. You can't imagine that so many factors are going to go against you in the way that they did against the Irish so if the effort can be maintained, that gives Orgeron something to build on.
The
Utah Utes
are coming to town next week and they are more than capable of putting up a fight. Maybe the Trojans can get Lee back, perhaps
Xavier Grimble
and
Randall Telfer
too. Maybe there are some shake-ups in personnel. Whatever changes need to be made, Orgeron needs to make them. What does he have to lose? The worse thing that could happen to this team is to let the Notre Dame game beat them twice. Chalk up the gut-wrenching loss to the Irish and move on because there is still plenty left to play for this season and it starts next Saturday at the Coliseum.
October, 20, 2013
10/20/13
1:00
PM PT
And now, Pat Haden, USC turns its lonely eyes toward you.
The focus of the Trojans' immediate future will be off the field, not on it. The only thing left to look forward to at this point is the athletic director's eventual choice of a new head coach.
[+] Enlarge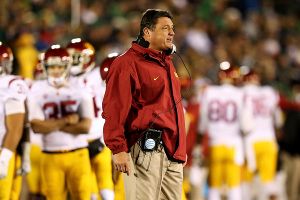 Jonathan Daniel/Getty ImagesEd Orgeron has done an admirable job filling in as USC's interim coach, but it's highly unlikely he will be retained as head coach after the season.
A 2013 season that began disintegrating with horrid performances against Washington State and Arizona State and the inevitable firing of Lane Kiffin somehow managed to perk up momentarily under fun-meister Ed Orgeron.
But on a chilly Saturday night in South Bend, Ind., the Trojans' season quickly plunged back into the depths of mediocrity.
The cold reality is that right now, at this sad point in its history, USC isn't really USC anymore.
Trojans' offensive linemen aren't supposed to get overpowered the way they were by
Stephon Tuitt
and friends at Notre Dame. USC's secondary isn't supposed to be more leaky than your average TMZ report. And USC's overall composure isn't supposed to wilt the way it did in a penalty-infested fourth quarter in Indiana.
The crumbling of the foundation under Kiffin cannot be immediately repaired by Orgeron's gifts of cookies and loud music in the locker room. The cracks run too deep. The ensuing holes are about to grow too wide.
The scary part of what happened in South Bend is that Notre Dame is a decent team, but hardly a great one. The Irish already had lost to two opponents ranked outside the Top 10 in Michigan and Oklahoma. And then, with nine minutes left to play in the third quarter on Saturday, they lost starting quarterback
Tommy Rees
to injury.
When backup
Andrew Hendrix
entered the game, it was clear coach Brian Kelly's team wouldn't score again. All USC had to do was cobble together one touchdown drive, or two field goals, in the final 24 minutes. But the Trojans couldn't do it and lost, 14-10.
When USC quarterback
Cody Kessler
wasn't under fierce pressure, he played like the redshirt freshman he is, appearing tentative after his one interception and limiting himself to check down passes instead of confidently throwing downfield.
It didn't help that star receiver
Marqise Lee
, continuing his strange, injury-marred season, dropped a potential touchdown pass in the second quarter, or that slumping kicker
Andre Heidari
missed two makeable field goals that would have won the game. Or that
Silas Redd
, the night's most effective tailback, didn't seem to get as many carries as he should have in the second half.
October, 20, 2013
10/20/13
5:00
AM PT
LOS ANGELES – A look at the positives and negatives for the Trojans after the
14-10 loss to Notre Dame
on Saturday.
THREE UP


1. Nelson Agholor:
Agholor stepped up for the second consecutive game, showcasing the unique playmaking skills that have had USC coaches and fans buzzing about the sophomore receiver's potential since last season. He hauled in six passes for 89 yards against Notre Dame, while also making a huge impact on special teams, returning four punts for 100 yards. One of those returns, a 48-yarder in the second quarter, set up an
Andre Heidari
field goal.
2. Silas Redd:
For a player who just returned to practice full-time a couple of weeks ago, Redd's outing was more than impressive. Finishing with 112 yards and a touchdown on 19 carries, the senior running back was particularly effective in the first half. Unfortunately for the Trojans, he was left standing on the sidelines for large stretches of time during the final two quarters, his role having been inexplicably diminished.
3. Su'a Cravens:
Cravens has been one of the most consistent performers on defense throughout the season -- a trend that continued on Saturday. He came up clutch early when he stopped running back
Cam McDaniel
on a fourth-down play as the fighting Irish were knocking on the door from inside the USC 1-yard line, and then again in the fourth quarter when he forced a McDaniel fumble and recovered it, returning it to the Notre Dame 34-yard line. Cravens finished with six tackles, including two for a loss.
THREE DOWN
1. Second-half offensive line play:
The Trojans offense had every opportunity to put this game away in the second half, beginning four-straight drives inside the Notre Dame 50-yard line, but they just couldn't move the ball, and the primary reason was the play up front. When members of the offensive line weren't committing penalties -- including two crucial holding infractions each by
Aundrey Walker
and
Max Tuerk
-- they were being out-muscled by the physical Fighting Irish defensive line. As a whole, USC was flagged 11 times, and offensive coordinator Clay Helton didn't appear to help matters on this night, executing a game-plan that appeared to be conservative, while also hiding Redd in the second half.
2. USC pass defense:
Notre Dame quarterback
Tommy Rees
, who came into the matchup with USC having completed just 41.7 percent of his passes over his last three games, looked like a world-beater against the Trojans, going 14 of 21 (67 percent) for 166 yards and two touchdowns in just a little over two quarters of play. Tight end
Troy Niklas
was a particular thorn in the side of the secondary, which struggled tremendously in pass coverage for the third game in a row. The USC defense did improve in the second half, but that likely had more to do with the ineffectiveness of Fighting Irish backup signal-caller
Andrew Hendrix
than anything else.
3. Andre Heidari:
Heidari finished 1 of 3 on field goal attempts, with his two misses serving as the difference between USC and a victory over their intersectional rival. What made those failed attempts -- which both sailed wide-right -- especially disheartening was the fact that each of them were from what most would consider a makeable distance – 40 and 46 yards. Having lost faith in Heidari late, the Trojans completely abandoned the kicking option, choosing instead to go for it on fourth down.
PAC-12 SCOREBOARD
Thursday, 9/3
Friday, 9/4
Saturday, 9/5