USC Trojans:

Amir Carlisle
October, 15, 2013
10/15/13
6:00
AM PT
It's that time of the year when there is little more bounce to the step on the USC practice field, a time of the year known as Notre Dame week.
As it turns out for the Trojans, there is already an increased level of energy thanks to the boost provided by interim head coach Ed Orgeron but Orgeron knows as well as anyone that a heightened level of spirit is only going to get you so far against the Irish.
Orgeron had the pleasure in his early days of getting to know Marv Goux -- the legendary USC D-line coach and master motivator who held a reverence for the rivalry between Notre Dame and his beloved Trojans. Goux liked to call this rivalry "big man on big man football" and Orgeron realizes that kind of game is waiting for his team on Saturday.
It doesn't matter that both teams are 4-2 and out of the national rankings. These are still two very good programs that are meeting up for the 85th time and both teams have a lot to gain with a victory.
[+] Enlarge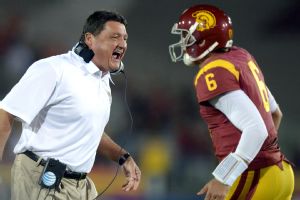 Kirby Lee/USA TODAY SportsEd Orgeron and quarterback Cody Kessler hope the good times continue against Notre Dame.
Notre Dame is just a year away from a trip to the national title game and the Irish are in no hurry to disappear from the national spotlight.
Their hopes for maintaining that high level took a dip this offseason when starting quarterback Everett Golson was declared out for the season but they were fortunate to have an experienced veteran like
Tommy Rees
as a backup option. Rees isn't the most talented quarterback the Trojans will face this year but he's efficient and doesn't make a ton of mistakes.
The Irish feature names familiar to USC fans as part of their offensive attack. Former Trojans tailback
Amir Carlisle
and one-time USC recruit
George Atkinson III
are part of the tailback group while another former recruit,
Troy Niklas
, is a standout at tight end.
The defensive front is the strong suit of the Irish defense, which should make for a physical test against a USC offense looking to establish the run. Notre Dame is led by the talented duo of Stephon Truitt and Louis Nix on the line along with linebacker
Carlo Calabrese
.
Cody backs coach
This will be the first USC/Notre Dame game for
Cody Kessler
as a starter but he took a big step forward in the team leadership department with his impassioned words in support of Orgeron following the victory over Arizona last Thursday.
"No disrespect to the coach who was here before and I'm not getting into that, but you want a coach that you will freaking just go to war for every time [like] this man here to my right. I don't only speak for myself. I speak for the whole team. We would go to war for this guy any day of the week. Any time he needed us we have his back 100 percent.
"When you have a coach that you can see and feel that he cares about you so much and wants you to be the best that you can be and succeed, that's love right there. I couldn't ask for a better head coach. All of us would go to war and put our lives on the line for this man any day of the week."
Talking tailbacks
When you looked at the USC roster coming into the season, the deepest and most talented position group was tailback. By the time fall camp hit the midway point, injuries had depleted the group to the point that there was often only one scholarship back available. Fast forward to this week and the tailback position is once again healthy and looking strong.
There is a little bit of uncertain status with
Tre Madden
, who has been the leading rusher so far this year but who suffered a hamstring issue against Arizona.
Silas Redd
returned in the game against the Wildcats and showed that he is ready to resume his place in the rotation, no matter who else is available. The way Redd closed out the final drive with seven straight carries was impressive.
Justin Davis
has also earned his place at the table with six touchdowns in six games while Buck Allen has done as much in his limited time as he can possibly do.
Ty Isaac
showed a lot of promise with his carries last week too. Don't be surprised if the Trojans continue with the deep rotation of backs in this game to help maintain a fresh and physical presence.
Status of Lee
At the Sunday session,
Marqise Lee
ran wind sprints during practice with a brace on his left knee. That's the first on-field work he's done during a practice since suffering the injury against Arizona State. Orgeron continues to call him "questionable" for the game against Notre Dame but you know this is one that Marqise doesn't want to miss.
Tavai taps in
Not only are the Trojans facing the possibility of playing without their biggest weapon on offense, but their top defensive sack master may miss a second straight game as well. Outside linebacker
Morgan Breslin
sat out the Arizona game with a sore hip and is also described as "questionable" for Notre Dame. Fortunately for the Trojans,
J.R. Tavai
was able to make the move from defensive end and started in place of Breslin at the stand-up OLB spot. Tavai ended up second on the team in tackles with 10 and also added 3.5 tackles for loss.
Corner concerns
For the second straight game a Pac-12 opponent was able to see good success throwing the ball against the Trojans and Orgeron admitted after the Arizona game that he would speak to Clancy Pendergast to look at options, including potential personnel moves. One bit of help could come in the form of
Anthony Brown
, a pre-season starter who has been out of action since the Hawaii game with an ankle issue. Brown was able to practice on Sunday and could see game action against the Irish.
July, 15, 2012
7/15/12
5:00
AM PT
The Trojans will likely see an impact on their roster for the 2012 season due to transfers.
USC gained a transfer in defensive back
Joshua Shaw
from Florida. A talented player who prepped locally at Palmdale (Calif.) High School, Shaw appeared in 10 games as a safety for the Gators in 2011, including one start, and ended the year with 22 tackles, notching a season-high six against Auburn.
Shaw will begin fall camp at strong safety next month but he could also end up seeing time at corner, as he was the No. 3 ranked corner in the ESPN rankings for the class of 2010. It's a deep defensive back group for USC this year so it remains to be seen how much of an impact Shaw will have, but he's certainly good enough to make his mark if presented with an opportunity.
Shaw will be a redshirt sophomore this season with three years of eligibility remaining.
The Trojans also lost several transfers, most notably tailback
Amir Carlisle
, who was on track to be the primary backup to
Curtis McNeal
this season but is now at Notre Dame.
Carlisle ran for 123 yards on 19 carries as a true freshman in 2011 and also added seven catches for 41 yards and a touchdown. His future was considered bright in Cardinal and Gold and his sudden transfer caught many in the program by surprise.
There wasn't as much surprise when fellow tailback
Dillon Baxter
transferred after last season, first to San Diego State and then to Baker University in Kansas. Baxter had a series of off-field issues with the Trojans and his departure had been expected.
Still, the loss of two tailbacks depleted the group and only
D.J. Morgan
returns as a reserve with any experience. That position will be key to watch this year to see how the lost transfers impact the offense.
USC also lost a pair of wide receivers when
Brice Butler
transferred to San Diego State and
Kyle Prater
left for Northwestern. While both came to USC out of high school with outstanding credentials, the production never matched up and both decided to leave rather than battle for playing time in a strong Trojans receiver group.
March, 16, 2012
3/16/12
4:46
PM PT
There has been no ruling from the NCAA on the hardship waiver request filed by Trojans defensive back Josh Shaw.

Shaw transferred to USC from Florida two months ago and enrolled for the spring semester. He applied for a family hardship waiver to move closer to home due to his grandfather's illness. If Shaw is granted the waiver he would be eligible to play for the Trojans in 2012 without having to sit out a year as a transfer.

The NCAA announced Thursday that former USC running back Amir Carlisle was granted the ability to play immediately for Notre Dame, so that should be a sign that a ruling on Shaw could be coming soon. Carlisle announced he would be transferring to Notre Dame on Jan. 7, while Shaw announced he was headed for USC on Jan. 10.
January, 16, 2012
1/16/12
12:01
PM PT
It's not too often that there are as many roster changes in one week in college football team as the
USC Trojans
saw last week.
There were five transfer departures confirmed in RB
Amir Carlisle
, WR
Brice Butler
, WR
Kyle Prater
, DB
T.J. Bryant
and DB
Patrick Hall
. There was also an incoming transfer announced with former Florida safety Josh Shaw, who enrolled at USC in time for the spring semester.
Carlisle was the biggest surprise of the group. There weren't any previously known issues with Carlisle, and his future was thought to be bright within the USC offense. He was a shifty runner with good speed, excellent hands and a surprising amount of toughness in his running style.
To continue reading this article you must be an Insider
January, 12, 2012
1/12/12
10:00
AM PT
By
WeAreSC staff
| ESPN.com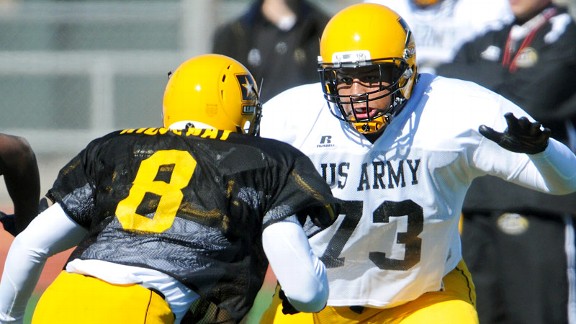 John Albright/Icon SMIZach Banner's size and long-term potential have made him as the top recruit on the board for two of the three panelists.
Give your top five names to fill the remaining spots in the USC recruiting class.
Garry Paskwietz
1.
Zach Banner
– There is just something about Banner that seems to fit with the Trojans. He's a real athletic guy in a real big body, and he would make a huge bookend at tackle if he were to be paired with
Aundrey Walker
some day.
January, 9, 2012
1/09/12
7:18
PM PT
USC wide receiver Kyle Prater announced today via his twitter account (
@DaReal_21
) that he would be transferring.
"I will be transferring. I love my teammates, SC, my fans, athletic staff. Will always respect the coaches. God Bless."
And so the offseason exodus continues. The fact that players are leaving isn't surprising -- there was going to be some roster attrition this offseason if the coaches hoped to meet the 75-man scholarship limit next fall. What was unclear, however, was how the spots were going to open up.
To continue reading this article you must be an Insider
January, 7, 2012
1/07/12
4:32
PM PT
USC running back
Amir Carlisle
has announced that he will transfer from USC to Notre Dame.
This is unusual news.
Players don't usually leave a school after a successful freshman year, especially when they are as well positioned as Carlisle was within the USC backfield. Carlisle clearly has the explosive playmaking ability that Lane Kiffin likes plus he also brings an element of toughness so his future was bright in terms of playing time.
To continue reading this article you must be an Insider
November, 7, 2011
11/07/11
12:07
PM PT
It was an "extra" practice today as the Trojans held a Monday morning session in full pads to prepare for Saturday's game at Washington.
On the injury front, the following players were out or limited: OUT -- DaJohn Harris (ankle), LIMITED – Jawanza Starling, Hayes Pullard, Dion Bailey,
Marc Tyler
,
Marqise Lee
,
Robert Woods
.
George Farmer
got in some light running in full pads.
In a 9-on-7 drill, Lamar Dawson had a nice fill on an
Amir Carlisle
run.
D.J. Morgan
fumbled and it was recovered by Shane Horton.
To continue reading this article you must be an Insider
November, 5, 2011
11/05/11
9:43
PM PT
Trojans head coach Lane Kiffin held a conference call with media members on Saturday following USC's victory Friday night over Colorado. Here's a recap of some of the comments from the coach:
"I was very proud of the players for the way they came out and played a pretty clean game. We had a couple critical penalties on special teams and
Marqise Lee
ran a wrong route on the interception by Barkley. Other than that we played pretty well."
"I liked how many significant plays were made by first- and second-year players. The top three stat guys on offense were Lee, [Robert] Woods and [Amir] Carlisle. All of them are first- or second-year guys. We gotta keep on putting together good classes like that and we'll have a good future here."
To continue reading this article you must be an Insider
November, 5, 2011
11/05/11
1:19
PM PT
Matt Barkley's big night
This is what USC fans were hoping to see from Barkley this year. Coming into the season, the question was "is Matt ready to take the next step as a quarterback?" Through this point in the season, the answer is yes.
The guy who took the field for the Trojans last night is the kind of confident gunslinger folks at USC have been used to seeing over the last decade. The kind of guy who can pick apart the defense at will, who shows no fear of any environment.
To continue reading this article you must be an Insider
November, 4, 2011
11/04/11
9:56
PM PT
Player of the Game
Matt Barkley
. Add another school record to the list for the junior quarterback. Tonight it was the most touchdown passes in a single game, as Barkley threw six. Barkley was previously tied with several others with five in one game, and Lane Kiffin has dropped enough hints about the record to know that it was bound to happen sooner or later. Barkley only completed passes in the game to two wide receivers (
Robert Woods
and
Marqise Lee
) and the rest went to tight ends and backs. For the record, the touchdown catches went as follows – Woods and Lee with two each,
Xavier Grimble
and
Amir Carlisle
each adding one.
Play of the Game
To continue reading this article you must be an Insider
PAC-12 SCOREBOARD
Thursday, 9/3
Friday, 9/4
Saturday, 9/5