March, 14, 2014
Mar 14
5:30
PM PT
Greetings and happy Friday to ya.
Follow the Pac-12 blog on Twitter
.
To the notes!
Shane from Red Bluff, Calif., writes:
Just curious if you have ever written a story on the diversity of Pac-12 offensive schemes vs. those in the B1G and SEC, and the effect on the stats of conference defenses. It seems to me it would be easier for defenses to appear more elite when facing similar offenses throughout the conference slate, i.e. SEC and B1G. For example, in the Pac-12 there is Oregon, Stanford, Wazzu, USC, Zona and Utah. Offenses as unique and different as those must make for different recruiting/scheming practices for the Pac-12 than other conferences.

Ted Miller
: The Pac-12 probably has the most offensive diversity, with six teams averaging more than 190 yards rushing and seven teams averaging more than 250 yards passing in 2013.
You have Arizona, Arizona State, California, Oregon, UCLA and Washington playing really, really fast. You have Cal, Oregon State and Washington State throwing the ball all over the place. You have Oregon State, USC and Stanford running pro-style offenses.
Diversity? You have Utah changing offensive coordinators every single season.
But I think the national trend toward up-tempo, spread offenses has touched every conference, even the Big Ten and SEC.
Former Big 12 teams Texas A&M and Missouri have put to bed the notion of SEC big-boy defenses automatically shutting down the up-tempo, spreads hailing from other regions. Auburn twice won the SEC in the past four years and played for two national titles with an up-tempo spread. Florida under Urban Meyer was dominant with a spread-option, and now he's doing the same thing in the Big Ten at Ohio State, with Northwestern, Indiana, Illinois, Minnesota and Nebraska running spreads or using up-tempo, spread elements.
This article does a good job of pointing out how
the SEC has changed
:
Perhaps no other conference in the land has seen more of a drastic shift in scoring than the SEC, where defense used to be king. In 2005 for instance, only one team (Auburn, 32.2 ppg) averaged over 30 points per game. On the contrary, six teams allowed less than 20 points per game. In 2006, only one team (LSU, 33.7 ppg) averaged more than 30 an outing; eight held their opponents to 20 points or less.

Fast-forward to 2013.

A year ago, the SEC had nine teams that scored 30 or more points per game. Out of those nine, four (Texas A&M, Auburn, Missouri and Ole Miss) are true hurry-up, no-huddle offenses. But unlike the 2005 and 2006 seasons, only Alabama (13.9 ppg) ended last season allowing less than 20 points per game.
And it's not just about spreads. Heck, Georgia averaged 314 yards passing per game last season, making it one of three SEC teams that ranked in the top 25 in passing yards. That top 25 included four Pac-12 teams, two Big 12 teams, two Big Ten teams and two ACC teams.
In total plays, the Pac-12 had five in the top 25, the Big 12 three, SEC three, Big Ten two and ACC three.
But know what I found most fascinating? Yards per play. The SEC had seven teams ranked in the top 25, compared to one for the Pac-12 (Oregon), one for the Big 12, three for the Big Ten and three for the ACC. (It's worth noting Stanford and Washington were tied for 26th).
That means two things: 1. SEC offenses are often highly efficient; 2. SEC defenses are often
not
highly efficient, despite the popular perception.
It will be interesting to see how the SEC and Pac-12 stack up offensively this coming year. While the Pac-12 welcomes back 10 starting QBs, the SEC welcomes back just five, if you include Florida's
Jeff Driskel
, and the attrition includes just about all the A-list guys at the traditional powers.
So, with QB play questionable, we may hear a lot of about super-awesome SEC defenses again in 2014.
---
Lou from Phoenix writes:
Ted, with
the recent legal trouble
of WSU's [
DaQuawn Brown
], we can only assume he's off the team (violating one of Leach's three pillars of accountability). How does this bode for the Cougs already really, REALLY thin secondary, and do you think we can still be competitive in the Pac-12 North?

Ted Miller
: Brown is accused of getting into a fight with a man and a woman at the Washington State campus union, and Cougars coach Mike Leach has long used a one-strike-and-you're-out policy for drugs, stealing and hitting women.
It was, by the way, the Cougars' fourth arrest since the start of February, so the Pullman police are making Leach's offseason long.
Most seem pessimistic about Brown's future with the team, but we should let things play out.
But, yes, cornerback specifically and the secondary in general is a big question for the Cougars, and that's not a good thing in this quarterback-rich conference. Safety
Taylor Taliulu
is the only returning player with starting experience, and he's no sure-thing. Moreover, Brown was a promising CB who played well as a backup last season and even started four games.
Obviously, this puts pressure on youngsters such as redshirt freshman
Charleston White
and freshman
Marcellus Pippins
-- a fortuitous early enrollee -- to grow up quickly. Senior
Tracy Clark
also might want to finally break through this spring.
Three more freshmen arrive in the fall, and there's always the chance of a position change. A player could move over from safety, where the depth is better, or the Cougs coaches could try to convert a running back or receiver.
Does this doom the season? Absolutely. Best to head to The Coug right now and begin drowning future Saturday sorrows. Kevin is buying!
Or maybe one player doesn't make or break a football team, at least in most cases.
Leach has been recruiting pretty well, so I suspect there are speedy players he can insert at CB who can adequately do the job. Is CB a question? Without question. But that doesn't mean there won't be an inspired answer. I'd rate it 50-50 that Kevin or I will be writing a story in November about how much better the Cougs secondary was than we'd thought it would be in March.
With or without Brown, I didn't envision Washington State challenging the Stanford-Oregon hegemony on the Pac-12 North this fall. But I also think this team is trending up and certainly remains a likely bowl team.
---

Josh from Koror, The Republic of Palau writes:
Living exactly 7,251 miles away from Sun Devil stadium in a small, remote island in the South Pacific doesn't afford much opportunity to watch Sun Devil football. So, thank you for helping me stay in touch with my Alma mater. I've always hoped that you living in Scottsdale would make you a little biased towards the Sun Devils, but unfortunately you do your job right. Nonetheless, how could PITT possibly be one spot ahead of ASU in the
best college coach rankings
? The determining factor of which school: ASU v. PITT, is the better coaching job was answered by Coach Graham when he bolted PITT for ASU two years ago. That has to count for something, right?
Ted Miller
: Yes, it counts for something. The only folks who'd say Pittsburgh is a better job than Arizona State are Panthers fans. And most of them would, at least privately, concede the point.
And, well, a publication making a list that knows exactly what it's doing lining up Pittsburgh, Arizona State and Arizona, one after the other.
I think Athlon did a pretty good job with that list, but it's obviously extremely subjective. With that as a cover, the compilers of the list probably saw another chance to tweak Todd Graham, a coach who still has a negative national reputation, despite his two years of success in Tempe, most notably among folks who either have never talked to him or do so rarely.
---
Mark from Phoenix writes:
Wondering what you think of the following power conference breakdown by best food. Pac-12 - best burritos; SEC - best shrimp; B1G - best pizza; Big 12 - best steak. Any missing, any honorable mentions?
Ted Miller
: That's pretty fair. We have to include the ACC, which could alternate with the SEC over shrimp and barbecue.
But, to be real, the Pac-12 would win best food overall by a wide, wide margin.
The Pac-12 would win:
Best high-end cuisine.
Best Asian -- all categories.
Best seafood -- Seattle and San Francisco? Are you kidding me?
Best Mexican.
Best brew pubs.
And most diverse.
One of the great and pleasurable challenges when you cover Pac-12 football is deciding where to eat the Friday night before the game.
January, 7, 2014
Jan 7
1:00
PM PT


The SEC was tops, going 7-3, despite Auburn losing the national title game to Florida State and Alabama losing the Sugar Bowl to Oklahoma.

The Pac-12 was second at 6-3, despite Stanford losing the Rose Bowl to Michigan State.

The ACC went 2-0 in BCS bowl games, but it only finished 5-6 overall. The Big 12 and Big Ten split BCS bowl games, with the Big 12 going 3-3 overall and the Big Ten ranking last among AQ conferences at 2-5.

Of course, a lot of this is matchups. As that the Pac-12 was favored in all nine of its games, that has to factor in how the bowl record is viewed. The Pac-12's only win over a ranked team was USC over No. 20 Fresno State.

Neither the SEC and nor the Pac-12, the two best conferences during the regular season, won a BCS bowl game. But they nonetheless led the AQ conferences in bowl record.
November, 25, 2013
11/25/13
3:00
PM PT
The Pac-12 is what we thought it was back in August --
as deep and as good as it's been
. Probably ever.
Before the season, five Pac-12 teams were ranked. As we head into the final weekend of the regular season, five Pac-12 teams are ranked. Nine Pac-12 teams are bowl-eligible, the most in conference history. That's the same number as the 14-team SEC, which has six ranked teams.
We wrote this on Aug. 26
:
The Pac-12 needs to go at least 2-1 against [Notre Dame] and finish the regular season with a 31-6 nonconference record. That would mean going 29-5 in the first four weeks.
Guess what happens if Stanford beats Notre Dame on Saturday? The Pac-12 would go 31-6 in nonconference games, though 1-2 versus Notre Dame, and 22-5 versus FBS teams and 6-3 versus the AQ conferences.
[+] Enlarge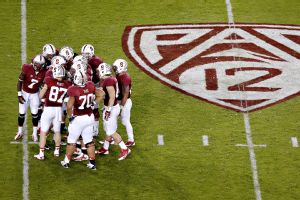 Ezra Shaw/Getty ImagesStanford is among the Pac-12's elite teams, as expected. And while the league was as deep as it's ever been, the Pac-12 is expected to only get one BCS berth.
So excellent for the Pac-12. And there was great rejoicing.
And yet, if you're a big-picture Pac-12 observer, the season feels disappointing.
The Pac-12 is not only out of the national title picture, but it won't get a second BCS bowl team for the first time since 2009. That will cost 12 athletic departments about $500,000, money that most expected to get again this year. The Pac-12 has just one top-10 team: No. 8 Stanford. For just the second time since 2000, the Pac-12 could finish the season without a team ranked in the top five. The Cardinal will need to win out in order to climb that high.
Sometimes being deep and good costs you. That's the often counterintuitive reality of college football, where perception rules the day.
Lots of conferences talk about "cannibalism," which means a conference eats up its own with a brutal conference schedule. But it became the reality in the Pac-12 this year while being a myth in other conferences.
Consider the BCS standings.
Click the schedules of the teams ranked No. 2 through No. 7
, the teams behind Alabama and ahead of Stanford, vying for a spot in the title game. We'll wait here.
Done? Did you notice something? Of course you did.
No. 2 Florida State, No. 3 Ohio State, No. 4 Auburn and No. 7 Oklahoma State each have just one victory over a team that is presently ranked in the BCS standings. No. 5 Missouri and No. 6 Clemson? They have zero wins over currently ranked teams.
Meanwhile, No. 8 Stanford has wins over No. 12 Arizona State, No. 13 Oregon and No. 22 UCLA. Arizona State has wins over No. 15 Wisconsin, No. 23 USC and UCLA. Oregon has a win over UCLA. USC has a win over Stanford.
The Pac-12 grind was like no other conference this year. Utah, for example, was good enough to beat Stanford, Utah State and BYU -- combined record 24-10 -- but enters the final weekend at 1-7 in conference play.
Washington fans were throwing up their hands after consecutive losses to Sanford, Oregon and Arizona State. Of course, those three are each ranked in the top 13. The Huskies' four losses all came to ranked teams.
Washington State is just 6-5 but was good enough to beat USC (which beat Stanford), Arizona (which beat Oregon) and Utah (which beat Stanford). Oh, and the Cougars outgained Auburn 464-394 in a tight, 31-24 road defeat, with the Cougars undone by three turnovers.
Everyone knows what's coming, right? Yep, we're again going to point to the nine-game conference schedule. The Pac-12 and Big 12 play nine conference games. The Big Ten has announced it will start playing nine in 2016. The ACC and SEC have both talked about it, but then have hidden behind excuses for not playing nine games.
The ACC and SEC say they don't want to play nine games because of intraconference rivalry games such as Georgia-Georgia Tech, Clemson-South Carolina and Florida State-Florida. Of course, this is pure disingenuousness. At least they could just be honest and admit they are trying their darnedest to make things as easy on themselves as possible.
The thinking in the ACC and SEC, with the new four-team playoff coming, is to wait and see, to really and truly see how important strength of schedule is going to become.
None of this means any Pac-12 team could beat Florida State, a team I believe is very good. And we'll likely get to see what the Pac-12 champ will do against Ohio State in the Rose Bowl.
In fact, if the Pac-12 flops in its bowl games, there will be plenty of chuckling over this "world's deepest conference" talk. There are no excuses this year, with USC eligible and just one BCS bowl team.
Yet if the four-team playoff began this year, Pac-12 folks can see what's at stake. We don't yet know how much money teams and conferences that earn spots in the playoff will pocket, but it will be north of the $18 million the teams/conferences playing for the final BCS title this year will receive.
If Pac-12 coaches, athletic directors and administrators end up watching as the SEC or ACC pockets an extra, oh, $40 million after placing two teams in the playoff while the Pac-12 gets some nice parting gifts, then perhaps there would be a sense of urgency about making sure that every major conference plays the same number of conference games.
That, above all else, will be the critical issue for the Pac-12 as we make a transition into the playoff era.
November, 5, 2013
11/05/13
11:00
AM PT
The Pac-12 solidified its No. 2 position in the
ESPN Stats & Info's Conference Power Rankings
after a weekend with just four conference games, none involving the top-two teams, Oregon and Stanford.
The Ducks and Cardinal, of course, will play Thursday for the top spot in the Pac-12's North Division.
The No. 1 SEC improved by 0.9 points and the Pac-12 went up 0.8 points. The No. 3. Big 12 fell by 3.7 points and now trails the Pac-12 by 6.1 points. The No. 4 ACC dropped 3.9 points.
That partially explains why most BCS standings gurus believe an undefeated Oregon would eclipse an undefeated Florida State in the final BCS standings, if things come to that.
The big gainer was the Big Ten, which jumped 3.9 points after Michigan State rose six spots in the polls. Still, it's the Pac-12's Rose Bowl partner is a distant fifth, 12.5 points behind the ACC.
October, 16, 2013
10/16/13
8:00
AM PT
Due mostly to Stanford's loss at Utah, the Pac-12 lost ground to the SEC in this week's conference rankings,
compiled by ESPN Stats & Information
.
The rankings will use ESPN's new Football Power Index (FPI) instead of the BCS computers, as it did last year, but the premise of the rankings remains the same. The AP poll will measure the strength of the top schools in the conference and the FPI will measure the depth of the conference.
The Pac-12 lost 3.5 points while the SEC gained 0.7 points, largely on its strength in the AP poll. The SEC is the first conference to have eight top-25 teams in a single poll.
The SEC now leads the Pac-12 by 10.8 points. The third-place ACC gained 4.7 points and is now just 6.2 points behind the Pac-12.
Notes ESPN Stats & Information:
Losses by Georgia and Florida did not significantly impact the SEC in the conference rankings because they lost to other ranked opponents. Therefore, the points that the Bulldogs and Gators lost in the AP poll were accrued by Missouri and LSU, respectively.

In comparison, fifth-ranked Stanford lost 454 points in the AP poll after its 27-21 loss to unranked Utah. The Utes remained unranked and were able to add only 47 points (in the "others receiving votes" section) for the Pac-12 with their win.
It will be interesting to see how the conference rankings react to the UCLA-Stanford game. Both teams figure to remain ranked even with a loss, but it will be interesting to see how much ground the winner gains and the loser falls.
August, 21, 2013
8/21/13
9:00
AM PT
Five Pac-12 teams were ranked in the preseason Associated Press poll. The Pac-12/10/8 has never had five teams ranked in the
final
AP poll, though that would change if new members Colorado and Utah were included in the tabulation.
What that means is the preseason perception of the Pac-12 is strong heading into the 2013 season, perhaps as strong as it has been in a while. The last time as many as four conference teams were ranked in the preseason AP poll was 2006.
Depth? Eight conference teams received votes. National title contenders? Oregon is ranked third and Stanford fourth.
Last year, the general consensus was the SEC was the best conference, and the Pac-12 and Big 12 were candidates for No. 2. This fall, more than a few folks are projecting the Pac-12 as a
contender for best conference
, though dethroning the SEC, which had six teams in the top 12 of the preseason poll, is as much about ending a streak of seven consecutive national titles as overall strength.
However one views the strength of various conferences, there obviously is a perception that the Pac-12 is on the uptick in 2013.
There are season-specific reasons for this. For one, a lot of starters are coming back, particularly among the better teams.
Pac-12 teams average 16.3 returning starters. The average over the past decade was 14.9. Those 2013 numbers are particularly good at the top. The conference's top seven teams from a preseason perspective -- Oregon, Stanford, UCLA, Oregon State, USC, Arizona State and Washington -- average 16.5 returning starters. For the sake of comparison, the SEC's top six teams (Alabama, LSU, Georgia, Texas A&M, Florida and South Carolina) average 12.3 returning starters.
They say defense wins championships, so it's good that an average of 7.4 defensive starters are back. They also say the game is won in the trenches. Only one conference team, Utah, doesn't welcome back at least three starters on its offensive line. Seven teams welcome back four starters, compared to just two (Arizona and USC) a year ago.
Further, of those top seven teams, six welcome back their starting quarterbacks. Among that group, only USC is replacing its 2012 starter.
Arizona is replacing its starting quarterback, Matt Scott, but it nonetheless was among the teams getting votes in the AP poll. Second-year coach Rich Rodriguez said he thinks the conference has more than five Top-25 teams, and he thinks there's a paper trail behind the conference's improving perception.
[+] Enlarge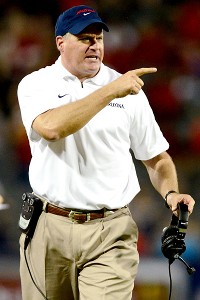 Mark J. Rebilas/US PRESSWIREArizona coach Rich Rodriguez says the Pac-12 is trending toward success, a positive growth unlike any the conference has ever experienced.
"The Pac-12 is deeper now and will be deeper in the next 10 or 15 years than it ever has been," he said. "And that's just because of the money being put into it. You're talking about more money, more facilities and more revenue than any school in our league has ever had. And that's not going backwards."
He then added with a laugh, "I wish it wasn't that way. I wish it was just us. But everybody is kind of moving up."
How much more money are Pac-12 teams taking in? Well, according to the conference's tax filings for 2011-12,
the most recent available fiscal year
, revenues jumped 58 percent over the previous year to $175.5 million. And that doesn't include the $3 billion TV deal with ESPN and FOX, which started last season and will pay members an average of $20.8 million over the next 12 years.
That money is paying for facilities upgrades across the conference. In fact, every conference team has -- or is planning to -- significantly upgraded facilities, whether that's stadiums, weight rooms or football buildings.
California last year completed the most expensive facility upgrades in college sports history -- total cost of $474 million -- and immediately went from having some of the worst facilities in AQ conference football to having some of the best. Oregon's new football building has been
a national sensation
, while the renovation of Husky Stadium will put it on the short list of best college football venues. Arizona, USC and Utah have recently opened fancy new football buildings, while Arizona State's stadium remodel plan is, well,
out of this world looking
.
These facilities, the conventional wisdom goes, will make Pac-12 programs more competitive in recruiting and will provide state-of-the-art support for the athletes already on hand. The Pac-12 has been playing catch-up in the college football arms race, and now it seems it has caught up.
Of course, the Pac-12 continues to have a self-imposed challenge that the SEC, Big Ten and ACC don't face: a nine-game conference schedule. If the Pac-12 played eight conference games, there would be six fewer losses scattered throughout the conference every year, and that would bolster national perception. It particularly would boost perceptions of depth, as more 6-6 teams would be 7-5 and 8-4 teams would be 9-3.
For many Pac-12 coaches, quality depth has been a major factor preventing the conference from playing for more national titles.
"What I like to say about our conference is it's tough every single week," Stanford coach David Shaw said. "You don't have a group at the top and a group at the bottom. You're going to play tough games every single week."
It appears that might be even more true in 2013, at least if preseason polls are to be believed.
But there is a singularly most convincing way for the Pac-12 to distinguish itself in front of the nation this season: Win the final BCS National Championship before the four-team playoff begins in 2014.
August, 2, 2012
8/02/12
10:00
AM PT
USC wasn't eligible for the coaches' poll in 2011 due to NCAA sanctions, but it will start 2012 almost at the top.

The Trojans
are ranked third
, behind No. 1 LSU and No. 2 Alabama, the two SEC teams that played for the BCS national title last season.
The vote at the top was tight. USC, with 19, and Alabama, with 20, actually got more No. 1 votes than LSU (18). That should be your first warning of the "What the heck" nature of the poll. LSU, which welcomes back 15 starters from a 13-1 team and upgraded at quarterback with
Zach Mettenberger
, seems like a clear No. 1 to the Pac-12 blog.
LSU, with 1,403 points, was just ahead of Alabama, at 1,399. USC got 1,388.
It's a little surprising that USC isn't No. 2. Alabama only has 11 position players returning, including just five from last season's outstanding defense. But coaches tend to tip their caps to defending champs, and it's not unlikely that each of the seven SEC coaches in the poll -- the Pac-12 had six -- voted the SEC teams one-two. I also have a hunch a Pac-12 coach -- or two -- didn't vote USC either No. 1 or 2.
And, of course, the coaches poll, though it is unfortunately included in the BCS standings, is the least respected of all polls due to its regional biases, obvious conflicts of interest, lack of transparency and the simple fact that few coaches pay attention to teams they don't play. Oh, and many of the coaches hand off their votes to sports information directors.
Oregon comes in at No. 5, 18 points behind No. 4 Oklahoma. Stanford is 18th, just ahead of the Oklahoma State team that nipped the Cardinal in the Fiesta Bowl.
And that's it for the Pac-12 in the top-25. Washington came in at No. 26 and Utah at 32nd, based on the "others receiving votes" tally.
The SEC led all conferences with seven ranked teams. The Big 12 had six, including new members West Virginia and TCU. The Big Ten had four, the ACC three.
It's also evident that the voters ran out of steam in the top 25. Florida, Notre Dame and Auburn combined for 16 losses in 2011, but were ranked Nos. 23, 24 and 25, respectively.
As we noted, "What the heck!"
Here are the coaches who voted, per USA Today, including the six Pac-12 coaches, who are bolded:
The USA TODAY Board of Coaches is made up of 59 head coaches at Bowl Subdivision schools. All are members of the American Football Coaches Association. The board for the 2012 season: David Bailiff, Rice; Frank Beamer, Virginia Tech; Tim Beckman, Illinois; Bret Bielema, Wisconsin; Terry Bowden, Akron; Art Briles, Baylor; Troy Calhoun, Air Force; Matt Campbell, Toledo; Gene Chizik, Auburn; Dave Christensen, Wyoming; Mark Dantonio, Michigan State; Tim DeRuyter, Fresno State; Dave Doeren, Northern Illinois; Sonny Dykes, Louisiana Tech; Jimbo Fisher, Florida State; Kyle Flood, Rutgers; James Franklin, Vanderbilt; Al Golden, Miami (Fla.); Jim Grobe, Wake Forest; Darrell Hazell, Kent State; Brady Hoke, Michigan; Dana Holgorsen, West Virginia; Skip Holtz, South Florida; Mark Hudspeth, Louisiana-Lafayette; Curtis Johnson, Tulane; Ellis Johnson, Southern Miss; Butch Jones, Cincinnati; Brian Kelly, Notre Dame; Lane Kiffin, Southern California; Mike Leach, Washington State; Pete Lembo, Ball State; Tony Levine, Houston; Mike London, Virginia; Rocky Long, San Diego State; Dan McCarney, North Texas; Mike MacIntyre, San Jose State; Ruffin McNeill, East Carolina; Gus Malzahn, Arkansas State; Bronco Mendenhall, BYU; Les Miles, LSU; George O'Leary, Central Florida; Paul Pasqualoni, Connecticut; Bo Pelini, Nebraska; Chris Petersen, Boise State; Joker Phillips, Kentucky; Paul Rhoads, Iowa State; Mark Richt, Georgia; Mike Riley, Oregon State; Rich Rodriguez, Arizona; Nick Saban, Alabama; Steve Sarkisian, Washington; Frank Solich, Ohio; Steve Spurrier, South Carolina; Rick Stockstill, Middle Tennessee; Bob Stoops, Oklahoma; Dabo Swinney, Clemson; Jeff Tedford, California; Tommy Tuberville, Texas Tech; Kevin Wilson, Indiana.
July, 31, 2012
7/31/12
4:00
PM PT
We've told you about the
preseason Pac-12 media poll
, which projected things as most folks believed it would. But what about all the other media polls out there for teams that cross paths with Pac-12 teams this fall?
Don't worry. We are here to help.

The Pac-12 has dates with the preseason SEC (LSU-Washington) and Big Ten (Wisconsin-Oregon State) favorites, but there also is plenty of mediocrity on the nonconference slate this season. There's only one game between the conference and the ACC (Duke-Stanford) and Big 12 (Oklahoma State-Arizona). There's two between the Pac-12 and SEC because Missouri (Arizona State) switched its affiliation away from the Big 12.
And it's clear the Big Ten, the Pac-12's Rose Bowl rival, is still the chief partner for quality nonconference action. There also are dates with Illinois (Arizona State), Ohio State (California) and Nebraska (UCLA).
There also are seven dates with the Mountain West Conference: Colorado State (Colorado), Fresno State (Oregon, Colorado), Nevada (California), Hawaii (USC), San Diego State (Washington State) and UNLV (Washington State).
BYU and Notre Dame, as Independents, aren't in preseason media polls. FCS teams aren't included
Arizona
: Toledo (first in MAC West Division); Oklahoma State (fourth in Big 12)
Arizona State
: Illinois (fourth in the Big Ten Leaders Division); Missouri (fourth in SEC East)
California
: Nevada (second in Mountain West); Ohio State (second in Big Ten Leaders Division);
Colorado
: Colorado State (eighth in Mountain West); Fresno State (third in Mountain West)
Oregon
: Arkansas State (second in Sun Belt); Fresno State (third in Mountain West)
Oregon State
: Wisconsin (first in Big Ten Leaders Division)
Stanford
: San Jose State (third in WAC); Duke (last in ACC Coastal Division)
UCLA
: Rice (fifth in Conference USA West Division); Nebraska (first in Big Ten Legends Division; Big Ten champs); Houston (first in Conference USA West Division)
USC
: Hawaii (seventh in Mountain West), Syracuse
Utah
: Utah State (second in WAC)
Washington
: San Diego State (fifth in Mountain West); LSU (first in SEC West, SEC champs)
Washington State
: UNLV (ninth in Mountain West)
PAC-12 SCOREBOARD
Thursday, 8/28
Friday, 8/29
Saturday, 8/30