USC Trojans:

120213-Sarkisian-USC
December, 2, 2013
12/02/13
6:22
PM PT
In 2010, USC athletic director Mike Garrett, attempting to maintain the glory days of the Pete Carroll era, hired Carroll's former co-offensive coordinator Lane Kiffin, a head coach of moderate success, to return to Troy.
Four seasons later, replace Garrett with Pat Haden and Kiffin with Steve Sarkisian of Washington, and you have what took place at Deja VuSC on Monday.
There are a few key differences between Sarkisian and his close friend Kiffin. Sarkisian has the people skills that Kiffin lacked, a critical element of Kiffin's downfall. Sarkisian knows how to deal with the Los Angeles media and won't make unnecessary problems for himself the way Kiffin did. Kiffin loved the chess match of X's and O's. Sarkisian, as a better communicator, is known as a good teacher.
By bringing Sarkisian back to USC, Haden is attempting to maintain the connection to the last decade, when the Trojans won consecutive national championships (and played for a third) under Carroll and his band of bright, young assistants.
But Haden also is bringing to mind the desert that Alabama wandered through after the death of Bear Bryant, when the university prized bloodline over performance. It worked well with Gene Stallings, less well with Ray Perkins, and not so well with Mike DuBose and Mike Shula. In selecting Sarkisian, Haden also took the coach who has enjoyed less success than another prominent candidate, Chris Petersen of Boise State.
To continue reading this story,
click here
.
More from ESPN.com on USC hiring Sarkisian:
Arash Markazi:
Sarkisian hire not a "home run"
Mark Saxon:
Sarkisian's to-do list
Travis Haney:
How soon can Sarkisian succeed at USC?

December, 2, 2013
12/02/13
5:00
PM PT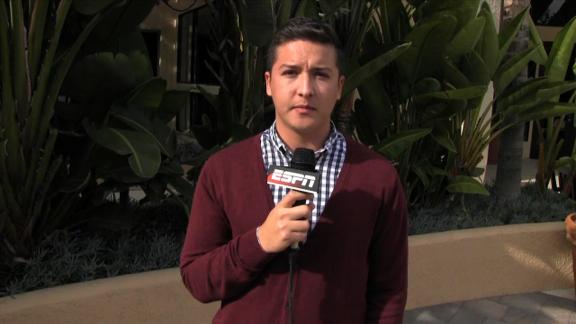 The USC Trojans once again will dip into the past, as former Washington head coach Steve Sarkisian accepted an offer to take over the same position at USC, according to ESPN's Joe Schad. Sarkisian was an assistant coach with the Trojans from 2001-03, and then again from 2005-08.
Born in Torrance, Calif., and having attended West Torrance High School and El Camino Junior College, Sarkisian is very familiar with Southern California, and he recruited it well for both USC and Washington. Now, coming back home, the thought from coaches and recruits alike is that he will hit the ground running on the recruiting trail.
December, 2, 2013
12/02/13
4:48
PM PT
What Pat Haden did, in the end, was settle.
He settled for a safe, known quantity, instead of a hot, new commodity. He settled for a good coach with potential, instead of a great coach with a proven record. He settled for a double down the line, instead of a home run over the center field wall.
The first reaction, upon hearing that Steve Sarkisian
had been hired
as USC's new head football coach, is that the Trojans basically were getting Lane Kiffin with a better personality.
[+] Enlarge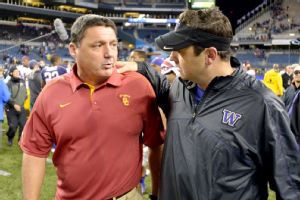 Kirby Lee/Image of Sport/USA TODAY SportsThere's no telling if Ed Orgeron would have been a home run, but Steve Sarkisian feels like a double.
But the more you think about it, you realize that's probably not fair to the man everyone calls "Sark." Yes, he's best friends with Kiffin. Yes, they were co-offensive coordinators under Pete Carroll at USC. Yes, they were the ones directing things on that fateful fourth-and-two against Texas in the BCS title game when Reggie Bush was left standing on the sideline. And yes, they both stubbornly have insisted on calling all offensive plays as the head coach.
The difference, though, is that Sarkisian did something Kiffin never did. He took over a decimated program at Washington and brought it back to respectability. He moved the Huskies several steps in the right direction. It's just that he could never reach those final few steps, the ones leading to a championship level.
Can he do that at USC? Sure, it's possible. He knows the landscape. He builds prolific offenses. He reportedly is bringing Tosh Lupoi, one of the country's best young recruiters, with him. The Trojans definitely could have done a lot worse.
It's just that there's this nagging thought that they also could have done a lot better. Sarkisian went 7-6 three consecutive years in Washington before improving to 8-4 (but only 5-4 in the Pac-12) this season. That is hardly a demonstration of a magical coaching touch.
Maybe what this hiring really speaks to is the fact that USC is no longer viewed as one of the most attractive jobs in the sport. Boise State's Chris Petersen reportedly took his name off Haden's list. Kevin Sumlin apparently preferred an extension at Texas A&M to a new office in the plush John McKay center. Vanderbilt's James Franklin was another sexy name that was thrown around, but he either bailed, or Haden didn't want to gamble on an upcoming, young coach from out of the area.
Did Haden even check with Jon Gruden's agent? How about Pat Fitzgerald at Northwestern? His team struggled in the final weeks of this season, but his credentials over the years are impeccable. Was he even considered a possibility? Jack Del Rio was another supposed candidate, but did his lack of availability until sometime in January or February rule him out?
We'll never know now. Just like we'll never really know how close Ed Orgeron came to getting the gig he so desperately wanted. If USC had beaten UCLA the other night, would all the Coach O fans out there be celebrating at the news he'd signed a contract today?
To continue reading this article you must be an Insider
December, 2, 2013
12/02/13
3:03
PM PT
As that famous movie trailer voice begins, "In a world where truth is stranger than fiction," a storied college football program has reached into a parallel universe and brought back a former assistant coach whose close friend is the former fired USC Trojans football coach.
The hiring of former Trojans assistant Steve Sarkisian as the new University of Southern California head football coach is something that would seem to be a storyline right out of nearby Hollywood, a real docudrama.
[+] Enlarge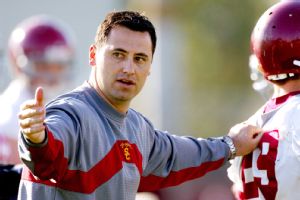 Kirby Lee/University of Southern California/Collegiate Images/Getty ImagesSteve Sarkisian is returning to USC, where he was a key assistant to Pete Carroll.
In fact, the hiring of Sarkisian has left the Trojans masses in stunned disbelief in either uncontrollable enthusiasm, or unabated catcalls. If Pat Haden was looking to unify the USC family, he has really rolled the dice on this one.
Not that Sarkisian is a bad hire. He may turn out to be a great hire. He is completely likeable, a capable offensive coordinator, and he can recruit with the best of them. The truth be told, the "USC Trojans Sark" recruiting the gold mine of the Southland will be even more effective than the "Washington Huskies Sark" mining the same region.
The albatross in hiring Sarkisian is his attachment to Lane Kiffin. Is Sarkisian a more polished version of Kiffin? They both use the Denny's play-calling menu and sunglasses, have toyed with the idea of uniform color changes, use the fade and bubble screen, and run basically the same offense, an offense that was despised by USC fans everywhere.
While Sarkisian was locked into the extremely competitive Pac-12 North Division with the likes of heavyweights Stanford and Oregon, he did bring the Huskies back from the depths of despair upon his arrival and early-on even beat a Pete Carroll USC team.
Is Sarkisian a superstar hire? No, not on the surface with the expectations of most Trojans fans. However, with the vast and plentiful USC resources at his disposal, that doesn't mean he won't blossom into one and therein the intrigue. Time will certainly tell.
The real burden of Sarkisian's hire is on the shoulders of Haden. Trojans fans were expecting home run hire, and you wouldn't call the signing of Sarkisian a tape measure blast. However, maybe the Trojans did get themselves a triple. At least Haden hopes so because if it isn't, he will forever be remembered as an athletic administrator as the one who hired Steve Sarkisian.
By hiring Sarkisian, this is somebody who obviously knows USC, the recruiting strategies, and is well liked by high school coaches in Southern California, a major plus. From a recruiting standpoint, there is nothing not to like.
Then there is the USC assistant coaching staff to be assembled. If Sarkisian elects to bring the likes of Justin Wilcox as his defensive coordinator and even Tosh Lupoi as a defensive line coach, two blockbuster recruiters, then look out.
If reports that Trojans interim coach Ed Orgeron has chosen not to remain part of the program are confirmed, it would be a natural for Lupoi to become the Trojans new defensive line coach and possible recruiting coordinator.
It would seem likely that Sarkisian will name himself offensive coordinator and call the plays. There is no problem there because at least there will be no pretense like Lane Kiffin's folly and there won't be the doubletalk.
So what's the bottom line to this hire?
When Kiffin was hired, the immediate reaction here was the Titanic and that truly turned out to be the case. The hiring of Sarkisian is more of a wait and see perspective. He probably won't be a disaster, but can he make the Trojans a player on the national stage and in the mix in the new College Football Playoff? Of course, he still has to make it to the Pac-12 championship game, something he and the Trojans have never experienced.
And perhaps nobody will be more interested in Sarkisian's success or failure than good friend Kiffin, and that in itself is part of this unexpected hire.
December, 2, 2013
12/02/13
2:21
PM PT
The opportunity to select a new coach for a high-profile program like USC is an important moment that doesn't come along often.
Ever since Trojans athletic director Pat Haden fired Lane Kiffin earlier this season, there has been a lot of talk about the need to make a "home-run" hire or, as Haden put it recently, someone who could lead the program for the next 10-15 years.
[+] Enlarge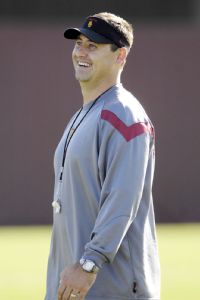 Kirby Lee/Image of Sport/USA TODAY SportsSteve Sarkisian was an assistant at USC under Pete Carroll so he knows the job well.
There were a lot of names tossed around -- from Jon Gruden to Jack Del Rio to Kevin Sumlin and Chris Petersen -- all coaches who brought legitimate credentials to the table. At one point, Steve Sarkisian was on that list of names mentioned, but his candidacy seemed to fade with a mid-season losing streak at Washington while, at the same time, USC interim coach Ed Orgeron's candidacy was rising as the Trojans put together a five-game winning streak that included an emotional win at the Coliseum over then No. 4-ranked Stanford.
In the aftermath of the USC loss to UCLA last weekend there was an avalanche of rumors that centered around Petersen and James Franklin but not a mention of Sarkisian. That could be one reason why the announcement today of
Sarkisian as the next USC coach
has hit in such a surprising fashion.
Make no mistake about it, this choice is a controversial one for many USC fans. Those questioning the hire will point to his overall 34-29 record in five seasons with the Huskies and the fact that he never won as many conference games in a season as Orgeron did this season -- six.
The comparisons to the popular Orgeron are going to be there and it's part of the reason for the mixed reaction today for Sarkisian. What Orgeron did at USC was unique, and he carved out a special place in the hearts of Trojans fans everywhere. Haden and Co. surely knew that reaction would be coming by choosing a different direction. But a closer look at Sarkisian's background and coaching style indicates that there is plenty of substance to the hire.
One area where I think Sarkisian will shine is his temperament and the way he deals with players, alumni and the media. He trained both as a player and a coach under Norm Chow -- which is about as good as it gets if you want to learn offensive football -- and he was at USC as an assistant during a glory period of dominant football. He knows the Southern California recruiting landscape and made it a priority area during his time with the Huskies. And the fact that he had head coaching experience in the Pac-12 was another important factor for Haden.
It will be important to watch which assistants Sarkisian brings with him from Washington. The UW athletic department had stepped up in recent years with big money contracts for defensive assistants such as Justin Wilcox, Tosh Lupoi and Keith Heyward, and when you factor in the news that Orgeron tendered his resignation to USC, it would make sense that Sarkisian would be looking to move his staff with him to USC.
There's no doubt there is an element of "rolling the dice" for Haden with this hire, and judging by the reaction from USC fans on the WeAreSC message boards today the dice are not coming up in Haden's or Sarkisian's favor at the moment. But also remember that Sarkisian has yet to hold a single press conference, hasn't coached a practice or a game and hasn't signed a single recruit. As those things start to take place, the Trojan family is going to see that there is a lot to like about Sarkisian, it just remains to be seen if there is enough to like to make him the "10-15 year guy" that Haden talked about. Only time will tell.
PAC-12 SCOREBOARD
Thursday, 9/3
Friday, 9/4
Saturday, 9/5