USC uses reliable play to jump-start 'O'
September, 23, 2013
9/23/13
10:00
AM PT
LOS ANGELES -- It seems almost as old as Mudd Hall tower, once the tallest building on the University of Southern California campus, but you can count on it being successful nearly every time because it's as reliable as the sun coming up in the east.
After befuddling a Saturday Coliseum crowd of 63,482 early with called first- and second-down passes inside the Utah State 3-yard line -- neither resulting in end zone completions -- the Men of Troy finally decided to dial up old reliable, 28-pitch, or better know in Trojans annals as Student Body Right.
[+] Enlarge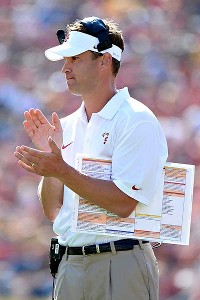 Harry How/Getty ImagesUSC coach Lane Kiffin, who calls the Trojans' plays on offense, hasn't been able to get in much of a rhythm in 2013.
And so sophomore tailback
Tre Madden
, following his pulling linemen, swept right and powered his way into the Aggies' end zone. In one of the few times in the
Trojans' drab 17-10 victory over Utah State
, the Coliseum gathering not only raised their collective vocal cords over the touchdown but for a historic play that should have its own plaque inside the John McKay Center.
Saturday's goal-line call was as if the statue of McKay had stepped off his McKay Center pedestal, stormed into the Coliseum and ordered coach Lane Kiffin to run the football.
Yes, the most symbolic play in modern USC football history -- other than 23-blast, which led to O.J. Simpson's famous 64-yard scoring run to help beat UCLA in the classic 1967 game -- 28-pitch, once again proved timelessly successful, and you could hear the cheers from Mike Garrett to O.J. Simpson to Charles White to Marcus Allen.
How ironic that Trojans All-America tailback legend Anthony Davis, who drove Notre Dame nuts with his relentless Student Body Sweeps into the Irish end zone, would lead the Trojans team out of the famed Coliseum tunnel before the Utah State kickoff.
During the glory coaching years of McKay and later his successor, John Robinson, the Trojans seemed to have only a handful of running plays, all setting the stage for the Cardinal and Gold's famous Student Body Sweep. In terms of running plays under McKay and Robinson, there was off-tackle, the inside blast, a lead draw, and an occasional quick trap to the fullback.
The Trojans' version of a sweep was a thing of beauty, a play McKay reconstructed from legendary Green Bay Packers coach Vince Lombardi's sweep and incorporated into his I-formation. There was the athletic blocking of the tight end, the pulling of the offensive linemen and a bruising fullback leading the way. Of course it didn't hurt to have all those Heisman Trophy tailbacks (and others who almost won the Heisman).
Apparently convinced that ol' 28-pitch still had its relevancy, Kiffin decided to use it again later in the first half against Utah State.
In the second quarter, the Trojans needed an inch for a first down, so Kiffin called on 28-pitch and his offense gained a first down by an additional three yards. As Yogi Berra would say, "Déjà vu all over again."
Based on the season's first four games in 2013, it appears the Trojans' offensive identity is a strong running game and a reasonable and measured passing game.
Add in a terrific effort by defensive coordinator Clancy Pendergast's unit, and thus far the Trojans seasonal record stands at 3-1 with the toughest part of the schedule ahead.
PAC-12 SCOREBOARD
Thursday, 9/3
Friday, 9/4
Saturday, 9/5