DE Maloata's unique journey to USC
May, 15, 2013
May 15
6:00
AM PT
CORONA, Calif. -- Looking out over the pristine turf field at Corona (Calif.) Centennial just prior to the team's recent "College Showcase" -- an amped-up version of spring practice that attracted more than 30 coaches from some of the top football programs in the country – it was easy to notice
Austin Maloata
staring with a sense of wonder.
Having moved to the mainland in March from American Samoa, the Class of 2014 defensive end has undergone a meteoric rise from complete unknown to highly publicized USC pledge. And now, everything – even the artificial playing surface in front of him – can be a lot to take in at times.
[+] Enlarge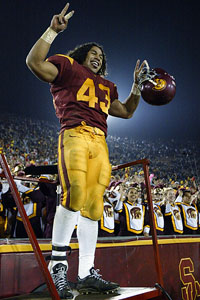 Stephen Dunn/Getty ImagesFollowing in the path of his idol, Troy Polamalu, 2014 DE Austin Maloata has committed to USC.
"Back in Samoa, we don't have turf or any of this stuff," said Maloata, who prepped at Leone High School in Pago Pago prior to his arrival in Southern California. "We play on rocks. There's practices where you get tackled, and you get up and your knee is all bloody. So coming here to Centennial and feeling the turf here, it was shocking. Kids over here, they have all of the sleds, they have all the bags, they have turf … they have everything. In Samoa, we use the actual players themselves as tackling dummies."
To continue reading this article you must be an Insider
Welcome
!
We see that you are not an ESPN Insider. Upgrade today and gain access to our exclusive coverage.
ESPN The Magazine subscribers

Need more information?
WE ARE SC RECRUITING NEWS
USC FB RECRUITING SCORECARD
USC_Athletics USC Trojans
RT @uscwomensvolley: USC def. New Hampshire, 3-0 (25-9, 25-10, 25-12), in the first round of the @NCAAVolleyball tournament #FightOn #vbsco…
38 minutes ago

USC_Athletics USC Trojans
#TBT Then USC offensive coordinator Steve Sarkisian mic'd up for the 2008 Spring Game… http://t.co/tsHy9Vp448 #FightOn #SarkUSC
about 6 hours ago

USC_Athletics USC Trojans
RT @NelsonAgh15: Thanks for the name Nelson Mandela... I will continue to affiliate it with positive things
about 7 hours ago

USC_Athletics USC Trojans
#FightOnForever RT @davidblu: "Sport has the power to change the world…it has the power to inspire." #Mandela
about 7 hours ago

USC_Athletics USC Trojans
Former @USCWomensTennis All-American Danielle Lao (@TheLittleGiant) wrote a book on her college tennis experience. http://t.co/icfNZIgSP9
about 7 hours ago

USC_Athletics USC Trojans
Fun fact: @CoachSark coached @teemartin17 during his one year as the Oakland Raiders QB coach. #SarkUSC
about 7 hours ago

USC_Athletics USC Trojans
On @teemartin17--> RT @spreecast: CLIP: @CoachSark on the key components of assistant coaches + Tee Martin http://t.co/W1oLx76OTB #SarkUSC
about 8 hours ago

USC_Athletics USC Trojans
The @CoachSark @SpreeCast is starting NOW. Come meet the coach in our LIVE video chat---> http://t.co/SKWSjc8PyK #SarkUSC
about 10 hours ago

USC_Athletics USC Trojans
Tweet in your questions for @CoachSark using #SarkUSC, and then join the @Spreecast to see his answer. http://t.co/SKWSjc8PyK
about 10 hours ago

USC_Athletics USC Trojans
ICYMI… Here is @CoachSark on the @dpshow with legendary "Anchorman" Ron Burgundy: http://t.co/5JYQJxTFUa #USC #FightOn #SarkUSC
about 12 hours ago

USC_Athletics USC Trojans
Enjoy your lunch break with @CoachSark as he hosts a @Spreecast today at Noon PT. Join him LIVE---> http://t.co/SKWSjc8PyK #SarkUSC
about 12 hours ago

USC_Athletics USC Trojans
Check out @CoachSark on @dpshow at 8:20 a.m. PT this morning. He will be interviewed by the one and only Ron Burgundy. #Anchorman2 #FightOn
about 14 hours ago

USC_Athletics USC Trojans
RT @teemartin17: It's official! Fight On Forever!
1 day ago

USC_Athletics USC Trojans
Steve Sarkisian is joining an elite fraternity as USC Football's 23rd head coach. Here is the historical tree: http://t.co/oYTFgjx10Z
1 day ago

USC_Athletics USC Trojans
Back to school photos for @CoachSark with @JohnMcGillen and @lubsies: http://t.co/YFGEwlSF0R
1 day ago

USC_Athletics USC Trojans
Here is the complete #SarkUSC presser with @CoachSark and @ADHadenUSC: http://t.co/JLPRpiRkYM #FightOn #USC http://t.co/yWZi1ffUn0
2 days ago

USC_Athletics USC Trojans
RT @MattLeinartQB: In honor of our new USC head football coach, Steve Sarkisian. Congratulations buddy! Let's bring… http://t.co/qesyHA1Sw8
2 days ago

USC_Athletics USC Trojans
USC men's water polo senior Nikola Vavic was named the MPSF Player of the Year for the second consecutive season. #FightOn
2 days ago

USC_Athletics USC Trojans
"It's been a roller coaster ride but today's an exciting day. We embrace him and look forward to playing for him." USC DB Josh Shaw #SarkUSC
2 days ago

USC_Athletics USC Trojans
"Sark is a QB guy and he's coached some of greatest in SC history. I'm excited to play for him." -USC QB Cody Kessler #SarkUSC
2 days ago

USC_Athletics USC Trojans
A packed house for Steve Sarkisian's first USC press conference... http://t.co/qvLDkaFScl
2 days ago

USC_Athletics USC Trojans
Sarkisian will focus on recruiting while team prepares for bowl game. He has to bring in mid-year recruits to max out scholarship numbers.
2 days ago

USC_Athletics USC Trojans
"USC is about being the best. That's why we all chose to be a part of it. I want to be the best." #SarkUSC http://t.co/XlkmvH5A7t
2 days ago

USC_Athletics USC Trojans
Sarkisian: "Our loyal fan base will get a brand of football to make them proud to be Trojans. We will earn their respect." #SarkUSC
2 days ago

USC_Athletics USC Trojans
Sarkisian: "We are here to win championships. I came here to win championships, and so did all these players." #SarkUSC
2 days ago

USC_Athletics USC Trojans
USC head coach Steve Sarkisian: "This is home." #SarkUSC http://t.co/ZCbJl9xz1Z
2 days ago

USC_Athletics USC Trojans
"He is uniquely positioned to have the smoothest, fastest, cleanest transition for our program." -Haden #SarkUSC http://t.co/tYP28FqBsU
2 days ago

USC_Athletics USC Trojans
USC AD Haden calls Ed Orgeron "one of the greatest Trojans of them all." Reiterates Orgeron "chose to leave" to pursue HC opportunities.
2 days ago

USC_Athletics USC Trojans
USC AD Pat Haden confirms that Clay Helton will take over as head coach for the bowl game.
2 days ago

USC_Athletics USC Trojans
Plenty of USC dignitaries in the house including Rodney Peete, Curtis Conway and the entire athletic department staff. #SarkUSC
2 days ago

USC_Athletics USC Trojans
The #SarkUSC Presser is about to begin. Watch LIVE now: http://t.co/nERnXeFZHX #FightOn #USC
2 days ago

USC_Athletics USC Trojans
2 pm (20 minutes from now). Watch here: http://t.co/nERnXeFZHX RT @JohnMcGillen: Ready for the press conference. http://t.co/VkVmuSBnBX
2 days ago

USC_Athletics USC Trojans
Plus, @uscwomensvolley put 4 Trojans on 1st team All-@Pac12: @nataliehagglund, @ebbs_nwabenu, @samybricio and @AlexisOlgard. #USC #FightOn
2 days ago

USC_Athletics USC Trojans
Congratulations to @nataliehagglund who was named the @pac12 Libero of the Year, and @ebbs_nwabenu who is the @Pac12 Freshman of the Year.
2 days ago

USC_Athletics USC Trojans
New USC head coach Steve Sarkisian (@CoachSark) will hold an intro press conference today at 2 p.m. PT. Watch LIVE: http://t.co/nERnXeFZHX
2 days ago

USC_Athletics USC Trojans
RT @ScreamMulahASAP: We will stick through this thing , Thanks Coach O for an amazing 8 weeks we love you man Fight On! Support the new hea…
3 days ago

USC_Athletics USC Trojans
RT @KevinGraf77: Thank you for everything and Fight On Forever! http://t.co/3QAnHds5dQ
3 days ago

USC_Athletics USC Trojans
RT @KirkHerbstreit: "@BFeldmanCBS: Steve Sarkisian will have his first meeting with #USC team tonight at 7 PM." Great hire by SC!
3 days ago

USC_Athletics USC Trojans
RT @TerrellThomas24: Congrats to my recruiter Steve Sarkisian who told me I'll be making a mistake not considering USC. Best decision I've …
3 days ago

USC_Athletics USC Trojans
RT @A_Parsons67: Coach O did a great job while being the interim head coaching job at USC. Sarks gonna do great and I'm stoked for next yea…
3 days ago

USC_Athletics USC Trojans
And we love you Coach. Thank you, #FightOn and good luck! RT @CoachOUSC: GOD BUILT US TO LAST.I LOVE YOU TROJAN NATION.FIGHT ON !
3 days ago

USC_Athletics USC Trojans
RT @MagicJohnson: Congrats to USC for bringing Steve Sarkisian back home as the new head football coach!
3 days ago

USC_Athletics USC Trojans
RT @DevonKennard42: It's important every Trojan understands that we must continue to #FightOn
3 days ago

USC_Athletics USC Trojans
During his 5 years at UW, Sarkisian won 34 games despite inheriting a program which had won only 12 games in the previous five seasons.
3 days ago

USC_Athletics USC Trojans
RT @THEREAL_LENDALE: I knew sark would come home!!! Great job @USC_Athletics @USC #fighton ✌️✌️✌️✌️✌️
3 days ago

USC_Athletics USC Trojans
RT @MattLeinartQB: I think Sark is a great hire. I was with him for 4 of my 5 years at USC. Great recruiter, motivator and teacher! Really …
3 days ago

USC_Athletics USC Trojans
Here is the complete story on Sark's hiring, Orgeron's departure and Haden's comments: http://t.co/MZhMr7gkWq #USC #FightOn
3 days ago

USC_Athletics USC Trojans
USC has officially named Steve Sarkisian (@CoachSark) the new head football coach. #FightOn http://t.co/rNqFSzAtE5
3 days ago

USC_Athletics USC Trojans
RT @uscwomensvolley: http://t.co/EYFZjstzmU: Ebony Nwanebu Wins Record Sixth Pac-12 Freshman of the Week Award - http://t.co/L2DotSoPcD
3 days ago

USC_Athletics USC Trojans
Congratulations to USC C Marcus Martin (@ScreamMulahASAP), DE @LWtrojan94 & ST @somavainuku who were named 1st Team All-@Pac12.
3 days ago
BLOG ARCHIVE:
CATEGORIES: