Kiffin: On Barkley, Ga. Tech, Monte Kiffin
December, 3, 2012
12/03/12
8:18
AM PT
Some selected quotes from Lane Kiffin's Sunday night conference call following the announcement that USC will be playing in the 2012 Hyundai Sun Bowl in El Paso, Texas against Georgia Tech.
Open:
"On behalf of all of USC, we're very excited about this matchup, and coming down there for a New Year's Eve game. And, obviously, we have a very quality opponent who has finished their season very strong down the stretch. They've had a long run of great bowl games and they're extremely well coached. We're excited to get to work and start our preparations this week for the game."
[+] Enlarge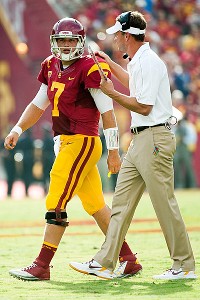 Jonathan Moore/Getty ImagesLane Kiffin expects to have Matt Barkley back for the Sun Bowl on New Year's Eve.
On what has gone wrong for the Trojans in 2012:
"I think that it's been well documented. We turned the ball over too much on offense, and we didn't play very good defense a lot of times. So when you give up the numbers that we did on defense, and then the turnover margin -- the way we turned the ball over the last half of the season -- that's where we're at today. We started the season -- I think we're 6-1, getting ready to go 7-1 -- up 15 at Arizona, and then it went downhill from ther,e and we had five really bad weeks where we went 1-4 in those games."
On playing in a bowl for the first time since 2009:
"It's very exciting, especially for two years of sitting at home and not being able to go to a bowl game. We're excited about a very good bowl and a great matchup."
On whether Matt Barkley is expected to play:
"We anticipate that Matt will play."
On whether Monte Kiffin will coach the bowl game:
"He will, yes."
On whether Georgia Tech has an edge playing in the same bowl in 2011:
"Well, I think that having gone through that as coaches and players, that there is some advantage, but I don't think that it's that big. Every year people go to bowl games, and most of the time they have not been to that bowl game with that current team over the last couple of years. So I don't think that it's that big of an advantage."
On facing Georgia Tech's triple-option offense:
"Yes, it's obviously going to be very different, and they're unbelievable at it. They've done a great job and they understand the adjustments so well. So our video guy got everything cut up today of their whole season, and we'll go to work in the morning."
On how going to the Sun Bowl will help the program:
"Well, it's great first off just because you get more practices for our young players who are our future. You know, to have these practices that we've not had over the last two years."
On whether or not Kiffin has ever faced Georgia Tech's Paul Johnson:
"No, I have not. I just have a lot of respect for the way that his teams have played. I think it's well documented that [they] haven't recruited a bunch of five-star players over the years -- he's done an unbelievable job of making the most out of their players. They've been playing extremely competitive for years."
On the significance of the game for Matt Barkley:
"He hasn't gone to a bowl game over the last couple of years, so it's a chance to go to one and finish off strong – for him and for the senior class. It's a great opportunity for him."
On if Kiffin knows when he plans to hire a new defensive coordinator:
"I do not."
On how many practices USC will use in preparation for the Sun Bowl:
"There will probably be somewhere between 13-15."
On the team's mood after landing in the Sun Bowl:
"I think they're excited because they haven't had a bowl game the last two years. You know, the chance to do that as opposed to sitting at home. I think they're very excited for it."
The team's reaction to Monte Kiffin's resignation:
"Well, I think they're a little bit sad because they've had a lot of experience with him -- some recruits came here partially because of him -- but I know that they respect him for his work ethic and what he's done, and how much energy he put in to try to make them better."
PAC-12 SCOREBOARD
Thursday, 9/3
Friday, 9/4
Saturday, 9/5