Inside the locker room: Notre Dame
November, 25, 2012
11/25/12
9:37
AM PT
LOS ANGELES -- Notes, quotes and anecdotes from the Los Angeles Memorial Coliseum after USC's (7-5, 5-4 Pac-12) 22-13 loss to Notre Dame (12-0).
Lane Kiffin comments:
[+] Enlarge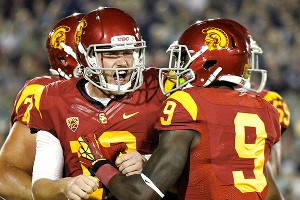 AP Photo/Danny MoloshokMarqise Lee and the Trojans were impressed with Max Wittek's performance in his first start.
On the Irish:
"Notre Dame showed me that they have phenomenal senior leadership. I think Coach Kelly said at the luncheon that they have 28 seniors on the team. You can see those guys understand the game. They play well together; they are very physical. They are not very exotic, but they don't give things up. You can see that today that they went 69 plays without allowing a turnover."
On QB Max Wittek:
"I thought Max did really well under the circumstances. Playing the No. 1 team in the country, I thought he did a good job handling himself."
On what he would tell the fans:
"I am disappointed too. I know those are not our standards here, regardless of the scholarship situation. We have to do better and obviously that starts with me."
Notre Dame coach Brian Kelly comments:
On the victory:
"If you followed us at all this year, that's how we've played. We come up big defensively sometime during the game. We did that again."
On his team's goal-line stand:
"Unbelievable goal line stand. To hold any program, any team, to get inside your two and come up with a goal-line stand. We ran the ball effectively in the fourth quarter when we needed to get those three points on the board. Those were the two critical parts of the game for us."
More notes and anecdotes
Keys to victory:
Notre Dame kicker
Kyle Brindza
booted five field goals (27, 29, 52, 33, 19) to propel the Irish to victory.
Hawaiian warrior:
Reflecting on Notre Dame's goal-line stand, Irish linebacker Manti Te'o said, "On their last drive when they got to our 1-yard line, I told our defense it didn't matter, it didn't matter. As long as they don't cross the goal line, it doesn't matter. Obviously, we don't like being scored upon."
Another view:
Reflecting upon that critical goal-line stand, Trojans tailback
Curtis McNeal
said, "They were just getting after it. They're real big up front and then they bring in their subs for goal line and they are even bigger."
The contest:
Comparing Oregon and Notre Dame, Trojans tailback Curtis McNeal said, "Notre Dame isn't that good. Oregon would kill Notre Dame." LB
Hayes Pullard
said, "I think that Notre Dame is better than Oregon. Notre Dame is the best team in the country. They play all four quarters. They're an electrifying team on offense, defense and special teams."
Rush to defend:
Prior to the Notre Dame game, the Trojans defense was allowing a net total of 150.5 yards rushing per game. Against the Irish, the Trojans allowed 222 rushing yards.
It's offensive:
The Trojans were averaging 467.5 yards per game on offense. Against the Irish, the Trojans had 281 yards on offense.
Max on Max:
Wittek said, "Outside of a few mistakes, I thought I did well in my first game."
Rush hour:
The Trojans were averaging 160.5 yards per game rushing. Against the Irish, the Trojans rushed for 95 net yards.
Another view:
On Notre Dame's great defensive stand near the conclusion of the game, Irish linebacker
Prince Shembo
said, "It was all about the heat of battle and a prayer. I was really praying. USC is a real good team. They played us really hard."
Defensive scoring average:
The Trojans defense allowed 22 points to Notre Dame. The Trojans came in allowing 24.8 points per game.
Given recognition:
Pullard was impressed by the Notre Dame offensive line. The sophomore said, "Their offensive line recognized all our defensive fronts. They were able to block us and get to the second level. I was impressed."
Getting defensive:
Prior to the Notre Dame game, the Trojans were allowing an average of 392.2 total yards on defense. Against the Irish, the Men of Troy allowed 439 total yards.
Lee on Wittek:
Marqise Lee
was impressed by the performance of Wittek. "For a freshman, he did a great job. He had two picks tonight, but by next season he'll be ready to go. Next year, we should have a great connection."
Pass defense:
Prior to the Notre Dame game, the Trojans were allowing 241.7 passing yards per game. Against the Irish, the Trojans allowed 217 yards.
Tackling the issue
: The Trojans defense was led by Pullard with 13 tackles followed with 10 tackles apiece by linebacker
Lamar Dawson
and safety
T.J. McDonald
.
Going bowling:
Wide receiver
Robert Woods
said, "I think going to a bowl game will cap off our season. At this point, I just want another game and don't want to go out with a loss."
Passing fancy:
The Trojans were averaging 307.0 passing yards per game. Against the Irish, the Trojans passed for a total of 186 yards.
A second opinion:
Woods, who must decide whether to head to the NFL or return for his senior year, was positive about Wittek's Trojans future. Woods said, "Max is very bright. I really believe in Max. He has a winning attitude."
Up next:
The Trojans await their bowl destination, which should be announced after the conference championship games.
PAC-12 SCOREBOARD
Thursday, 9/3
Friday, 9/4
Saturday, 9/5