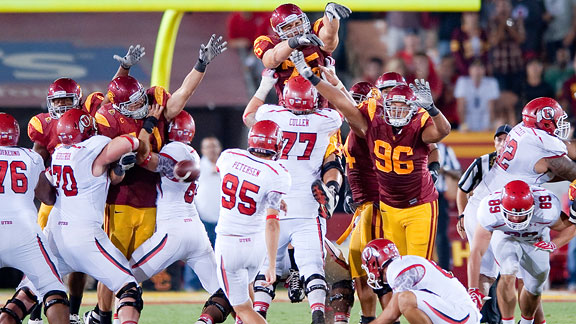 Joe Andras/WeAreSC.comMatt Kalil's block of a game-tying Utah field goal attempt on the last play of the second game of the season helped set the tone for the Trojans the rest of the way.
Give your top three special teams plays from 2011.
Garry Paskwietz
1)
Andre Heidari
tackle on De'Anthony Thomas kickoff return vs. Oregon
To continue reading this article you must be an Insider
Welcome
!
We see that you are not an ESPN Insider. Upgrade today and gain access to our exclusive coverage.
ESPN The Magazine subscribers

Need more information?
WE ARE SC RECRUITING NEWS
USC FB RECRUITING SCORECARD
USC_Athletics USC Trojans
Hey #SCTop10, check out @USC_Hoops Pe'Shon Howard and Julian Jacobs combining on a backboard alley-oop. http://t.co/j4QYVU3nkC
about an hour ago

USC_Athletics USC Trojans
Here are the highlights from @USCWaterPolo's 6th consecutive national championship: http://t.co/PDUjNOUQWt #Sweet6Peat #FightOn #USC
about 2 hours ago

USC_Athletics USC Trojans
Our @LasVegasBowl central page is up. Get your tickets for USC vs. Fresno State now! http://t.co/VlMyz8t8Bp
about 3 hours ago

USC_Athletics USC Trojans
RT @USC_Hoops: FINAL: USC 78, BC 62. Three consecutive dunks close out a solid win for the Trojans who are now 6-3 on the season.
about 3 hours ago

USC_Athletics USC Trojans
USC has accepted a bid to play in the @LasVegasBowl against No. 21 Fresno State on Saturday, December 21. #FightOn #BeatTheBulldogs
about 3 hours ago

USC_Athletics USC Trojans
RT @RegisterUSC: USC moved into the BCS standings at No. 25.
about 3 hours ago

USC_Athletics USC Trojans
USC men's and women's water polo head coach Jovan Vavic has now won 13 national championships, the most all-time by a USC head coach.
about 4 hours ago

USC_Athletics USC Trojans
Final (2OT): @USCWaterPolo 12, Pacific 11. USC wins its 6th consecutive national championship! Sweet 6-Peat!! #FightOn
about 4 hours ago

USC_Athletics USC Trojans
Nikola Vavic! @USCWaterPolo's all-time leading scorer puts the Trojans up 12-11 in double OT. #USC
about 4 hours ago

USC_Athletics USC Trojans
Double OT: @USCWaterPolo 11, Pacific 11. No goals in the first OT as Trojans hit the bar twice. So close… #FightOn #USC
about 4 hours ago

USC_Athletics USC Trojans
Overtime: @USCWaterPolo 11, Pacific 11. Trojans are going to have to work extra time to bring home a 6-peat. #FightOn #USC
about 4 hours ago

USC_Athletics USC Trojans
End of 3: Pacific 8, @USCWaterPolo 7. If the Trojans get their #Sweet6Peat, it will come in dramatic fashion. #FightOn #USC
about 5 hours ago

USC_Athletics USC Trojans
Halftime: @USCWaterPolo 5, Pacific 5. Trojans rally back from 2-goal deficit to tie the NCAA Title Match. #FightOn #USC #Sweet6Peat
about 5 hours ago

USC_Athletics USC Trojans
No. 1 @USCWaterPolo vs. No. 2 Pacific in the NCAA Title Match right now! Watch it LIVE: http://t.co/PU0S8kddA5 #FightOn #USC # Sweet6Peat
about 6 hours ago

USC_Athletics USC Trojans
Touchdown Jordan Cameron! Touchdown Matt Cassel!! Trojans leading crazy endings to the NFL's morning games. #USCtotheNFL
about 8 hours ago

USC_Athletics USC Trojans
RT @USCWaterPolo: NattyChamps GameDay! Playing for the BIG ONE💎, USCvsUOP NCAA Finals 3p. Trojans come in FULL force, be LOUD! FightOn✌RAGE…
about 12 hours ago

USC_Athletics USC Trojans
5-time defending NCAA champs @USCWaterPolo will go for No. 6 Sunday at 3 p.m. after defeating St. Francis 10-3 in the national semifinals.
1 day ago

USC_Athletics USC Trojans
RT @rosebowlgame: Happy 45th Birthday to former USC RB Ricky Ervins, who scored the GW touchdown in the 1990 http://t.co/da3UWZQZgf
1 day ago

USC_Athletics USC Trojans
RT @wearescstaff: Sarkisian, Haden Join College GameDay - ESPN Video - ESPN http://t.co/oDtgyGJYlb
1 day ago

USC_Athletics USC Trojans
USC head coach Steve Sarkisian and AD Pat Haden are about to be LIVE on-set at @CollegeGameDay. Tune-in now!
1 day ago

USC_Athletics USC Trojans
RT @uscwomensvolley: Sixth-seeded USC def. CSUN, 3-0 (25-19, 25-18, 25-18), in the second round of the NCAA championships. #FightOn #vbscor…
1 day ago

USC_Athletics USC Trojans
Here is all the info on @CoachSark's three new assistants Peter Sirmon, Keith Heyward and Johnny Nansen: http://t.co/dKFBYDaQmC #SarkUSC
2 days ago

USC_Athletics USC Trojans
USC head coach Steve Sarkisian has added assistant coaches Johnny Nansen, Keith Heyward and Peter Sirmon who were all with him at UW.
2 days ago

USC_Athletics USC Trojans
RT @LottIMPACTrophy: RT if you feel @DevonKennard42 deserves to win the Lott IMPACT Trophy. @USC_Athletics @USC @uscfootball @pac12 http://…
2 days ago

USC_Athletics USC Trojans
Check out @CoachSark and @ADHadenUSC on @CollegeGameDay tomorrow morning. They will be live on site in Indianapolis. #SarkUSC
2 days ago

USC_Athletics USC Trojans
RT @uscwomensvolley: USC def. New Hampshire, 3-0 (25-9, 25-10, 25-12), in the first round of the @NCAAVolleyball tournament #FightOn #vbsco…
2 days ago

USC_Athletics USC Trojans
#TBT Then USC offensive coordinator Steve Sarkisian mic'd up for the 2008 Spring Game… http://t.co/tsHy9Vp448 #FightOn #SarkUSC
3 days ago

USC_Athletics USC Trojans
RT @NelsonAgh15: Thanks for the name Nelson Mandela... I will continue to affiliate it with positive things
3 days ago

USC_Athletics USC Trojans
#FightOnForever RT @davidblu: "Sport has the power to change the world…it has the power to inspire." #Mandela
3 days ago

USC_Athletics USC Trojans
Former @USCWomensTennis All-American Danielle Lao (@TheLittleGiant) wrote a book on her college tennis experience. http://t.co/icfNZIgSP9
3 days ago

USC_Athletics USC Trojans
Fun fact: @CoachSark coached @teemartin17 during his one year as the Oakland Raiders QB coach. #SarkUSC
3 days ago

USC_Athletics USC Trojans
On @teemartin17--> RT @spreecast: CLIP: @CoachSark on the key components of assistant coaches + Tee Martin http://t.co/W1oLx76OTB #SarkUSC
3 days ago

USC_Athletics USC Trojans
The @CoachSark @SpreeCast is starting NOW. Come meet the coach in our LIVE video chat---> http://t.co/SKWSjc8PyK #SarkUSC
3 days ago

USC_Athletics USC Trojans
Tweet in your questions for @CoachSark using #SarkUSC, and then join the @Spreecast to see his answer. http://t.co/SKWSjc8PyK
3 days ago

USC_Athletics USC Trojans
ICYMI… Here is @CoachSark on the @dpshow with legendary "Anchorman" Ron Burgundy: http://t.co/5JYQJxTFUa #USC #FightOn #SarkUSC
3 days ago

USC_Athletics USC Trojans
Enjoy your lunch break with @CoachSark as he hosts a @Spreecast today at Noon PT. Join him LIVE---> http://t.co/SKWSjc8PyK #SarkUSC
3 days ago

USC_Athletics USC Trojans
Check out @CoachSark on @dpshow at 8:20 a.m. PT this morning. He will be interviewed by the one and only Ron Burgundy. #Anchorman2 #FightOn
3 days ago
BLOG ARCHIVE:
CATEGORIES: