Defensive depth chart predictions
February, 7, 2012
2/07/12
8:24
AM PT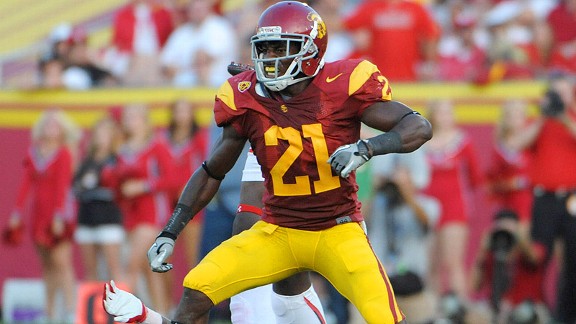 Jonathan Daniel/Getty ImagesNickell Robey is a lock at one of the two starting CB positions, but the other will be up for grabs.
Nothing is set in stone and your job is always on the line when you step on to the practice field, but here is my projected two-deep heading into next season.
DE
Wes Horton
(5th/Sr.) -- Will be the only returning starter on the D-line.
To continue reading this article you must be an Insider
Insider
WE ARE SC RECRUITING NEWS
USC FB RECRUITING SCORECARD
PAC-12 SCOREBOARD
Thursday, 9/3
Saturday, 9/5
USC_Athletics USC Trojans
Uniform numbers for USC spring entrants: #70 @edogawd, #35 @SmithCameron55, #8 @RickyTownQB, #63 @leagueme_roy & #15 @isaacwhitney8 #FightOn
about 4 hours ago

USC_Athletics USC Trojans
All 10 of USC's spring practices on Cromwell Field (track) will be open to the public. Dates: March 3, 5, 7, 12, 24, 26, 28 & April 2, 4, 9
about 4 hours ago

USC_Athletics USC Trojans
The 2015 USC Spring Football guide is out! Practice starts Tuesday. #FightOn http://t.co/NJZQr9hHUx http://t.co/cNLC3LlIXK
about 4 hours ago

USCMensTennis USC Men\'s Tennis
The Trojans play the Stanford Cardinal today at 130 p.m. Come out to David X Marks Tennis Stadium​ for free In-N-Out Burger and great tennis
about 5 hours ago

USC_Athletics USC Trojans
The #TrojanFamily sends its positive thoughts to @Ivan_Maisel and his family. Ivan's son, Max, has been missing since Sunday. #FightOn
about 19 hours ago

USC_Athletics USC Trojans
RT @TheUSCMayor: The only colors you need to know... #CardinalandGold #FightOn http://t.co/Q0FdWFBx58
about 20 hours ago

USC_Athletics USC Trojans
The @USC_Baseball rivalry vs. UCLA takes over Dodger Stadium on March 8 as part of the 2015 College Baseball Classic. http://t.co/PnykpTCuWn
about 21 hours ago

USC_Hoops USC Men\'s Basketball
Saturday's final home game (vs. UW at 7:30pm) is all about our loyal fans. None of you will go home empty handed. http://t.co/8M3ohNOtDn
about 23 hours ago

USC_Athletics USC Trojans
Both @SInow experts have @LWtrojan94 as the No. 1 over #NFLDraft prospect, and @NelsonAgh15 is Top 40. #USCtotheNFL http://t.co/qENxpkOlTs
about 23 hours ago

USC_Athletics USC Trojans
At @USC_Track_Field, Quincy Watts turned electrifying speed into Olympic greatness. http://t.co/k7XG8LjpGX #USCBHM http://t.co/OkP4iYqDb4
1 day ago

USC_Hoops USC Men\'s Basketball
Game day! Two more chances to see USC @TheGalenCenter this season starting tonight vs. WSU at 7pm. #FightOn http://t.co/T7PKZUxbg2
2 days ago

TrojanOutreach Trojan Outreach
Photo recap from Sunday's #DayInTroy http://t.co/X9RYh4SbzY
2 days ago

CoachSark Steve Sarkisian
Register now for the USC Football Coaching Clinic (April 3 & 4 at the John McKay Center on campus). Register online: http://t.co/iOqnpKP0tj
2 days ago

USC_Athletics USC Trojans
Faces of the 40: USC edition! Photos by @nfl/@benliebenberg #NFLCombine #USCtotheNFL http://t.co/fFRzSj7hO5
2 days ago

USC_Athletics USC Trojans
#USCtotheNFL #FightOn MT @Gil_Brandt: DBs I thought helped themselves at the combine:--> Josh Shaw @USC_Athletics
2 days ago

USC_Athletics USC Trojans
Former USC and current @Seahawks head coach @PeteCarroll will receive an honorary @USC degree at the 2015 commencement ceremony. #FightOn
2 days ago

USC_Athletics USC Trojans
USC Football adds Utah St (2016), Western Michigan (2017) & UNLV (2019) to future schedules already featuring Alabama, Texas & BYU. #FightOn
2 days ago

USCTrojansLax USC Women\'s Lacrosse
USC wins it! The final score here at McAllister is USC: 17 Fresno: 6 #FightOn
2 days ago

USC_Athletics USC Trojans
"How many things can you do with a paperclip?" Check out @ThirdEyeSi_'s retro diary on his #NFLCombine experience: http://t.co/QYumdu5CHv
2 days ago

USC_Athletics USC Trojans
Great video on @Jabs_13, a @SwimWithMike scholarship recipient, ready to take USC by storm. #FightOn http://t.co/6OF59zkKS5
2 days ago

USC_Athletics USC Trojans
USC's Lennox & @IngerMiller were the 1st father-daughter duo to earn Olympic medals. http://t.co/k7XG8LjpGX #USCBHM http://t.co/InHr7defRp
2 days ago

USC_Athletics USC Trojans
With the #NFLCombine now over, @Redskins RB @ThirdEyeSi_ gives an inside look at the #USCtotheNFL experience:http://t.co/QYumdu5CHv
2 days ago

USC_Athletics USC Trojans
MT @USCMensGolf: Team win at Jones (-13). No other team under par. @seancrocker11 ties for individual title at -8. -6 today. -5 on back 9!
2 days ago

USC_Athletics USC Trojans
Come out for @USCTrojansLax right now at McAlister Field vs. Fresno St. and get 2 FREE tacos from @Hang10Tacos. #FightOn #BeatTheBulldogs
3 days ago

USC_Athletics USC Trojans
RT @uscrecsports: Health and Wellness week has started. Don't forget to log those Pac-12 Challenge minutes! http://t.co/Skg0QmvSZX
3 days ago
BLOG ARCHIVE:
CATEGORIES: