July, 28, 2014
Jul 28
9:00
AM PT
ESPN writers and analysts put together a ranking of the top 100 football players nationwide. The #CFBrank reflects how certain players are seen on a national level as writers who cover every conference participated in the vote. But, at the Pac-12 blog, we decided to break it down further and rank our top 25 Pac-12 players. The #4pac put together this list and will be counting down our top 25 guys this week. But make sure you pay close attention -- we know that how players are viewed nationally aren't quite how they're viewed in the conference, so our top 25 doesn't necessarily follow the same pecking order as the 20 conference players who ended up on the nation's top 100 list.
Now, on to the list. Drum roll, please.
No. 25:
Stanford DE Henry Anderson
2013 Stats:
19 tackles, 4 tackles for a loss, 3 sacks
Why he's ranked here:
For as much as we keep talking about how this season is "The Year of the Pac-12 Quarterbacks," it also could prove to be the year for pass-rushers to really prove themselves, and Anderson is in that spot. Players such as Anderson will have ample opportunity to get to first- and second-round NFL draft picks every single weekend, which will undoubtedly help their own draft stock. He has flown under the radar a bit throughout his career, but we think he's on track for a huge senior season. He finished with three sacks in 2013, but with pass-rushers such as
Trent Murphy
(23.5 TFL, 15 sacks) gone, the Cardinal will be looking for someone else to step up in the scheme. That will likely be Anderson.
At Pac-12 media days last week, Stanford coach David Shaw said that he thinks defensive coordinators "will have their hands full all year accounting for the combination of these schemes and [how] they're intricate and difficult and different." But Shaw's defensive coordinator, Lance Anderson, will have a much easier time of it with his 6-foot-6, 295 pound pass-rusher up front. Yes, Stanford will have to face UCLA, Oregon, Oregon State and USC, but
Brett Hundley
,
Marcus Mariota
,
Sean Mannion
and
Cody Kessler
will have to face Anderson.
No. 24: Utah WR Dres Anderson
2013 Stats:
53 catches, 1,002 receiving yards, 7 receiving touchdowns, 8 carries, 30 rushing yards, 1 rushing touchdown
Why he's ranked here:
Last year, Anderson became just the seventh Ute to ever have a 1,000-yard receiving season. This year, he'll likely put up much bigger numbers. Assuming quarterback
Travis Wilson
-- who was medically cleared recently -- is truly back and ready to go, Anderson is going to be a guy who will be able to stretch defenses and test players in one-on-one situations. He's the son of former NFL receiver Willie "Flipper" Anderson (who was on the Los Angeles Rams when Utah coach Kyle Whittingham's father was a coach for the Rams as well, so Whittingham has known about the Anderson pedigree even before Dres was born).
Anderson is the conference's returning leading receiver (at 87.7 yards/game). Last year, Oregon State's
Brandin Cooks
, Colorado's
Paul Richardson
and Oregon's
Josh Huff
all impressed and gained national recognition. Could this be the year for Anderson to do so? Wilson is a returning starter, though not one that's usually mentioned in the top group of the Pac-12 QBs, but a great receiver can make his signal-caller very, very good. We have a feeling that Anderson could be a player that raises that level for Wilson.
No. 23:
USC S Su'a Cravens
2013 Stats:
52 tackles, 1.5 tackles for a loss, 4 interceptions, 1 pass break up, 5 passes defended, 1 forced fumble, 1 fumble recovery
Why he's ranked here:
Cravens earned a starting spot in the USC secondary as a freshman last season after enrolling early. He's one of just two sophomores to make this list (we're guessing you know who the other one is). Cravens recorded four interceptions in 2013 and finished eighth on the team in total tackles, and even with that kind of a year he has admitted that he allowed the crowds to get to him and that he was nervous at times. That's not surprising for a freshman, but if last year was Cravens being affected by fans and stadiums, what could a 2014 version look like in which he's older, more mature and not affected by the bright lights? That's what puts him at No. 23 on this list. He was already named to watch lists for the Jim Thorpe Award, the Bronko Nagurski Trophy and the Bednarik Award. He's on track to having an excellent career at USC, but his next step will be having a stellar, consistent sophomore season. And we have a feeling he's on his way to that.
No. 22: Oregon RB Byron Marshall
2013 Stats:
168 carries, 1,038 rushing yards, 14 touchdowns, 13 catches, 155 receiving yards
Why he's ranked here:
Marshall was the Ducks' leading rusher in 2013 and is back and looking at an even bigger season in 2014. With Marcus Mariota back, defenses are going to have to be cautious up front because of the mobile threat he provides. Even if defenses are able to stop Mariota's feet, they're still going to need to worry about Marshall and his feet. In fact, defenses are going to have to worry about the whole gamut of Duck rushers. Mariota averaged 7.4 yards per carry last year while Marshall and running back
Thomas Tyner
(who is putting up a fight for the starting spot in Eugene) both averaged 6.2 yards per carry. Past those two, offensive coordinator Scott Frost is still high on several other players in the running backs' meeting room. But if Marshall can build on his experience, he could be the lead back for the Ducks in what could be a very, very big season for them.
No. 21: Arizona WR Austin Hill
2013 Stats:
DNP ... 2012 stats: 81 catches, 1,364 yards, 11 touchdowns
Why he's ranked here:
In 2012, Hill was a Biletnikoff Award semifinalist after putting up 11 touchdowns and 1,364 yards -- good enough for second-best in the Pac-12 -- as a sophomore. But he sat out last season as he rehabbed a torn ACL and had to spend the year on the couch, watching the Wildcats lose five games, including three by a touchdown or less. "Missing a season after coming off a good season, it was really rough," Hill told the Pac-12 Networks at Pac-12 media days. "But, I made it through." And now that he's on the other side, and after an impressive spring season, he's looking to have a huge impact on Arizona football in 2014. One thing that could keep him from that is the fact that Arizona is once again in a quarterback quandary and Hill doesn't know exactly who the ball will be coming from. At Pac-12 media days he said he was working to build chemistry with every QB that comes through, but that he's hoping one begins to really separate himself as the season inches closer, so that he can work to just get on the same page with that guy. If he is able to find that relationship, there's a good chance we see a bigger, better version of the 2012 Austin Hill.
July, 28, 2014
Jul 28
6:30
AM PT
Over the past few weeks, ESPN writers and analysts sat down to rank the top 100 football players in the country based on their own predictions of the kind of contribution -- both quantitatively and qualitatively -- they'd make to their team in this upcoming season.

We perused about 460 different players who hailed from each position group and conference across the country and ranked those players on a scale of 0-10. If we thought a player would be a "stellar contributor," we ranked him somewhere in the 8-10 range.

A "solid contributor" earned a 4-7 ranking and a "contributor" (meaning, he'll certainly contribute but not to the level of the others who were listed on the voting sheet) was given a 0-3. Their averages were found and then ranked and we were left with the top 100 players.

Twenty players from the Pac-12 made their way on to the list, including two players in the top 10 (both of which are from the same team -- can you guess whom?). This week, we'll be counting down those 100 players. Keep your eyes here as we begin our march toward the 2014 season.
July, 26, 2014
Jul 26
9:49
PM PT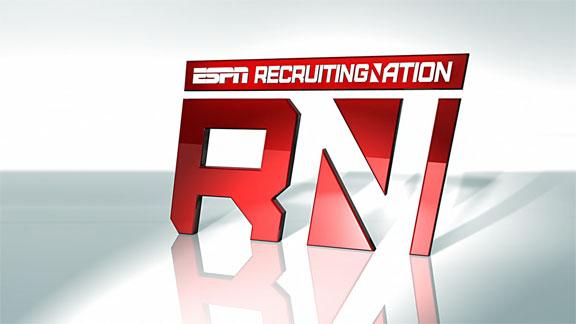 If there was any doubt that the
USC Trojans
have the ability to recruit coast to coast under Steve Sarkisian, those questions have quickly been answered in the 2016 class with Michigan two-way standout
Daelin Hayes
committing to the Trojans on July 26
following a two-day unofficial visit to Los Angeles.
July, 26, 2014
Jul 26
4:37
PM PT
July, 25, 2014
Jul 25
7:00
AM PT
Steve Sarkisian and the Trojans feel the need for speed.
If you're looking for signs of where the new USC coach is going to make his biggest imprint this fall, it would be a good idea to look at the up-tempo offense that the Trojans will utilize.
Huddling? That's a thing of the past, the Trojans will be too busy hustling to the line of scrimmage for the next play. And don't expect to see the quarterback under center much either,
Cody Kessler
will line up primarily in the shotgun with a single back. That means USC, the home of the modern I formation, will not use a full-time fullback and will run a lot of three-receiver sets.
To continue reading this article you must be an Insider
July, 24, 2014
Jul 24
7:45
PM PT
Some thoughts, observations and musings about Day 2 of media days from the Pac-12 blog's Kevin Gemmell, Kyle Bonagura and Chantel Jennings.
Biggest football-centric takeaway?
Gemmell:
I think it's pretty notable that Stanford wide receiver
Ty Montgomery
-- a guy on the Biletnikoff watch list and a guy coach David Shaw called one of the most explosive players in college football -- probably won't play in Week 1. Shaw identified it as an "arm" injury for Montgomery, who didn't participate in spring ball. Shaw said it's likely they will take it slow for fall camp and might keep him out of Week 1. Translation: "We're playing UC Davis and should be fine without him." Because a week later they play USC. And they will need him for that game.
Jennings:
There were plenty of good nuggets that came out of Day 2, but I was particularly interested to hear that UCLA linebacker
Myles Jack
, the reigning Offensive/Defensive Freshman of the Year, put on 15 pounds of muscle during this offseason. That's a lot of weight for a kid who already hit (and ran) pretty darn well. It'll be interesting to see how a bigger and stronger Jack does in Year 2 with Jim Mora and the Bruins.
Bonagura:
For a media day, it was actually pretty quiet. The big news was clearly Washington coach Chris Petersen's decision to suspend projected starting quarterback
Cyler Miles
for the Huskies' opener against Hawaii, but even that will have little impact on the season. No one is expecting that to be much of a game regardless of who's under center for Washington. If anything, the move could end up helping the Huskies from a football standpoint because they'll get much-needed game experience for whoever ends up being the backup and give Miles extra time to digest the new coaching staff's system after missing every practice and meeting during spring ball.
Biggest nonfootball takeaway?
[+] Enlarge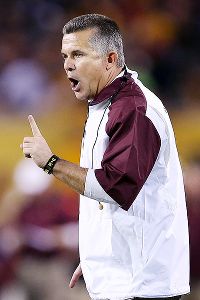 Christian Petersen/Getty ImagesHow long does Todd Graham have to stay in Tempe for rumors about a departure to subside?
Gemmell:
Todd Graham caught a lot of flak -- I mean A LOT of flak -- when he jumped from Pitt to Arizona State. He had a reputation as a program hopper always looking for the best opportunity. When most jobs became available, Graham was always rumored (usually unsubstantiated) as wanting to move on. Well, he's not, and he addressed that Thursday. Coming into his third year (a longer tenure than five other Pac-12 coaches, mind you) he says he's committed to ASU for the "long haul" and could see himself retiring in Tempe. His house is paid off, he's got pretty good continuity with his staff and he's winning. Sounds like the makings of a long and happy relationship. But if he does leave on his own, is three years fair? Five? Time to let the "Todd Graham is gonna jump ship" storyline go.
Jennings:
Cue the campfire and Kumbaya, please. Everyone is becoming bff's.
Not only is this year going to hold one of the deepest crops of quarterbacks in a single conference ever, this could also be one of the closer groups of quarterbacks ever. So many of these guys attended the Manning Passing Academy together --
Sean Mannion
and
Brett Hundley
roomed together at the camp. And through the two media days, there just seemed to be so much bromance. You've got the guys in other conferences who say, "Yeah, he's a good player and I respect him" but it felt like this group genuinely could become fraternity brothers or something. Sure, they're going to take the field and try to destroy each other's teams, but I also feel like -- if given the chance -- most of them would sit down for a dinner together the next day.
Bonagura:
UCLA quarterback Brett Hundley is ready for the spotlight. And maybe he's been ready, but it's going to be brighter this year. This was my first chance seeing Hundley handle a throng of media attention, in person, and he came off like a seasoned pro. Other players were similarly impressive, but with the festivities being held in Southern California, Hundley drew the most attention and it didn't faze him. Forget the fact that he's one of the most exciting players to watch in the country, there are plenty of reasons why he's an easy player to root for.
Best quote of the day?
Gemmell:
I asked Colorado defensive end
Juda Parker
, of the 10 returning quarterbacks which one does he most want to sack. He responded with this gem: "The one I WILL sack is Oregon's
Marcus Mariota
. He's my classmate and we went to high school together. I'm looking forward to it. I'll probably give him an extra nudge and say, 'We'll talk about this after the game.'"
Jennings:
I was walking by a group of men when one of them announced, "That's why you don't raise raccoons." I should've stopped and completely put myself into the conversation because, let's be serious, this could've been one of the most interesting points of the day. But I was on a mission and decided to find coffee that it was easier to just input my own thoughts as to why they were talking about that. I'd like to imagine it was something like, "We need to achieve world peace and ... that's why you don't raise raccoons."
However, I would also like to imagine that at one point in time Mike Leach attempted to raise a raccoon.
[+] Enlarge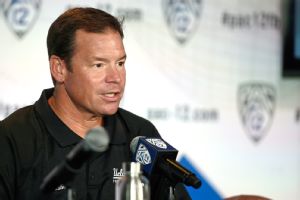 Kelvin Kuo/USA TODAY SportsJim Mora's not budging from UCLA if he has any say in it.
Bonagura:
UCLA coach Jim Mora was asked about his commitment to the school and after a long-winded answer, he finished with: "I'm staying there until they kick me out. That might be tomorrow, who knows. I've been kicked out before. But I'm staying until they kick me out."
Going to go out on a limb and say UCLA is not going to fire Jim Mora tomorrow. So modest, Jim.
Which player made a good impression on you?
Gemmell:
I've known Stanford safety
Jordan Richards
for a while. We've talked a lot and done several videos together over the years. And I'm always impressed with his poise and confidence. I love how much he loves football. A lot of defensive players I talked to over the last couple of days admitted they have a tough road ahead with all of the offensive talent in the league. Richards shrugs it off and says it's the quarterbacks who have to prove themselves worthy of all the praise. I like that.
Jennings:
I'm going to give some major props to Stanford quarterback
Kevin Hogan
here. One reporter asked Hogan about Mariota and Hogan went on a diatribe about how great of a person and player Mariota is. I'd imagine there are a lot of players out there who get sick of their same-position guys being talked about constantly (and having questions pitched to them about said guys), but Hogan couldn't say enough good things about Mariota. And yes, that says plenty about Mariota, but I think it says even more about the type of person Hogan is.
Bonagura:
Relative to the rest of the players who were brought to Hollywood over the past two days, Juda Parker was one of the players I knew the least about. About 30 seconds into a chat with him, it became clear he's headed for big things. Time will tell if that's in professional football -- he's got a chance -- or in something else, but he expressed how important it was to develop skills during his time at Colorado that'll help both on the football field and "in a cubicle." It was obviously more detailed than that, but let's just say he served as an impressive ambassador for Colorado.
Cornhole was one of the activities available for the players and coaches at Pac-12 media days. If you could pick a threesome to play corn hole with, who would you pick and why?
Gemmell:
Isn't this one obvious? Brett Hundley, Sean Mannion and
Cody Kessler
. Leave the coaches out of it. Stick with the three of the four most accurate quarterbacks in the Pac-12 from last year. Hundley led the conference with a 66.8 completion percentage. Mannion was second with 66.3 and Kessler was fourth at 65.4 (Keith Price was third at 66.2). The name of the game is accuracy. I want the guys who aren't going to miss.
Jennings:
I'd pick Hundley as my teammate, because he and
Eric Kendricks
swept their competition -- 7-0, according to the leaderboard -- and I'm going to assume that the Heisman-contending QB was a big part of that. And for the competition, I'm going to pick Steve Sarkisian and Mark Helfrich -- the two coaches that are likely going to battle Hundley the most for the top spot in the south division and the championship game. Overall, there'd be plenty of real rivalry happening and I love some good trash talk (which I'm hoping there'd be some of). Plus, if we lost, I'd convince Hundley to just walk around throwing footballs at people and saying it was because he's the Campus Enforcer.
Bonagura:
For my teammate, I'm choosing Sean Mannion. If his 68 career touchdown passes aren't reason enough, I'm putting a lot of stock in his
recent victory in the Air-It-Out Challenge
at the Manning Passing Academy. That event showcased his accuracy against several of the nation's best quarterbacks including USC's Cody Kessler and Oregon's Marcus Mariota, both of whom were also in Hollywood this week. As for who we're playing against, I want Mike Leach on my side of the pit (is it a cornhole pit?) purely for entertainment value and Sonny Dykes on the other to provide a reunion for the close friends.
July, 24, 2014
Jul 24
11:12
AM PT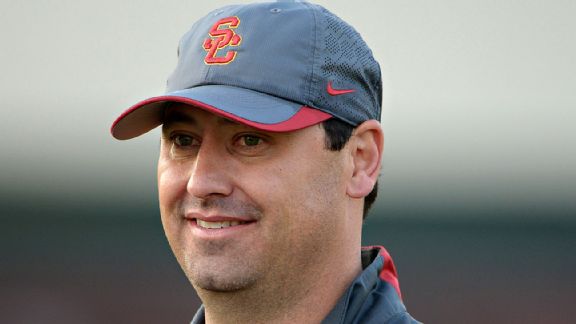 Kirby Lee/USA TODAY SportsSteve Sarkisian has high expectations going into his first season at USC.
As we count down 50 days until the start of the 2014 college football season, ESPN Insider Travis Haney is answering at least one big question a day until South Carolina and Texas A&M's kickoff on Aug. 28.

Heisman contenders, breakout freshmen, conference winners -- it will all be covered as part of Insider's Ultimate Season Preview.
Today's questions: Will the new coaching staff's familiarity give USC a fighting chance in the Pac-12 race? And how much better is Trojans QB Cody Kessler than he was a year ago?
UCLA is the favorite in the Pac-12 South, and USC's players and first-year coach acknowledged this week that it's only logical since the Bruins have won two in a row in the series.
But is there a false perception that the lingering scholarship handicaps could prevent USC from competing in 2014 for the division and maybe even the conference?
Those issues are a hindrance, sure, but they aren't wholly preventive because of the program's top-level talent -- and because of the newfound coaching stability.
To continue reading this article you must be an Insider
July, 24, 2014
Jul 24
8:30
AM PT
LOS ANGELES --
Leonard Williams
didn't seem to have a moment to himself at Paramount Studios on Wednesday, when the first of two Pac-12 Football media mays was held. Surrounded by reporters and cameras from the moment he arrived, the USC defensive lineman looked remarkably at ease in the situation for a player entering his junior campaign.
Then again, if there is one thing that Williams has had the opportunity to grow accustomed to, it's attention. A 2013 ESPN.com first-team All-American, he was recently named to preseason watch lists for the Bednarik, Lombardi, Nagurski, Outland and Lott Impact awards.
[+] Enlarge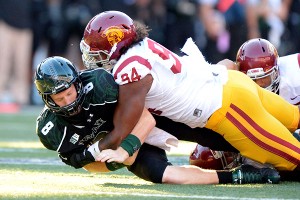 Kirby Lee/USA TODAY SportsLeonard Williams made 74 stops with a team-high 13.5 tackles-for-loss last season for USC.
And if all of that wasn't enough, he has also been pegged by numerous media outlets as a potential Top 5 pick in the 2015 NFL draft -- if he chooses to make himself available. ESPN's Todd McShay, in fact, currently projects him as the No. 1 overall selection.
To continue reading this article you must be an Insider
July, 23, 2014
Jul 23
5:42
PM PT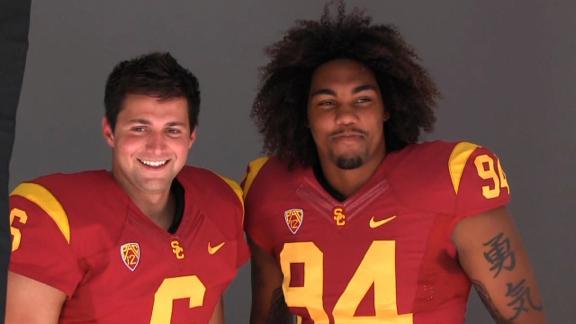 LOS ANGELES -- Pete Carroll had envisioned Steve Sarkisian eventually taking over for him at USC whenever he decided to step down.
On a staff littered with future college head coaches, Carroll had targeted Sarkisian as his successor and even went so far as to try to get the administration to guarantee Sarkisian would be USC's next coach when Carroll left.
What had been a fairly well-known story inside Heritage Hall for years was confirmed by Carroll when he returned to USC in February to speak after winning the Super Bowl with the Seattle Seahawks. As much as he liked Lane Kiffin, Sarkisian was the coach he thought was best suited to lead the Trojans after his departure.
Four years later, and in the aftermath of the sanctions that rocked the program Carroll had built, Sarkisian will look to build it back up, but don't look for him to dust off the same old blueprint Carroll used when he first arrived at USC.
"When I left for the University of Washington six years ago, my final meeting with Pete was actually at the Rose Bowl," Sarkisian said at Pac-12 media day on Wednesday. "We just got done playing Penn State. His final words to me walking out there were, 'Go be you. Because when adversity strikes, the real you is going to come out anyway.'
"I've always held on to that. I really feel like I have. Pete and I are different people. We're very different people. Do I hold on to some of the philosophies I learned from him? Sure I do. But we are definitely different people and that won't change here. You have to be yourself. I think I can be and by doing it the right way, I think we'll be successful."
It's easy to look at the Sarkisian hire as another attempt by USC to re-create the glory days of the Carroll era at USC. There's no doubt Carroll continues to cast a large shadow over the program he returned to national prominence a decade ago.
July, 23, 2014
Jul 23
8:31
PM PT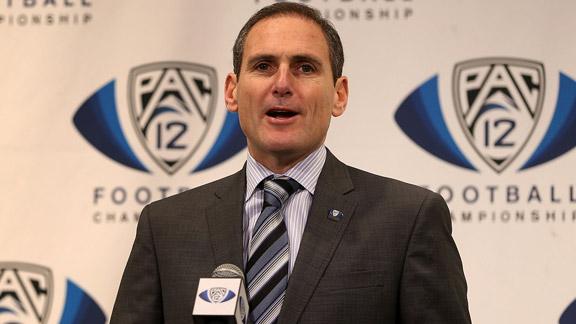 HOLLYWOOD, Calif. -- Big 12 commissioner Bob Bowlsby pursed his lips at college football on Monday and announced that "cheating pays." He warned his quaking audience of reporters that NCAA "enforcement is broken." His conference made a mistake by not including ominous organ music to punctuate his remarks.
A week before, SEC commissioner Mike Slive, after quoting Muhammad Ali, Winston Churchill and Nelson Mandela, among others, sternly informed the media that the NCAA better provide the Big Five conferences autonomy so they can do what they want.
Or else.
ACC commish John Swofford went with snark. Hey, NCAA, he said, "The good ship Status Quo has sailed." If embattled NCAA president Mark Emmert were on stage, Swofford, the likely winner if the Big Five commissioners competed in a cage fight, would have given him a wedgie.
[+] Enlarge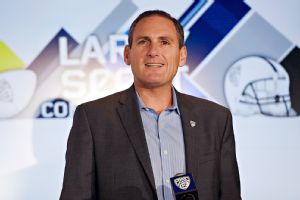 Kelvin Kuo/USA TODAY SportsPac-12 commissioner Larry Scott was all sunshine and smiles as he opened the Pac-12 media days Wednesday.
You can be sure when the Big Ten's maestro of dour, Jim Delany, takes the stage Monday, he will opt for a most vigorous finger shake at the NCAA after he references several important historical figures, so as not to yield any highfalutin ground to Slive and the SEC.
Ah, but out here on the lovely West Coast, we are more sunny. In contrast to his Grinch-like colleagues, Pac-12 commissioner Larry Scott was positively ebullient as he addressed his gathered media throng. The Pac-12, he told us, is ... awesome. Pac-12 football? It's awesome, too. College football in general? While there are important challenges and changes ahead, it's, well, awesome!
"While I understand the concerns of my colleagues that have been expressed -- we've heard some doomsday and some threats over the last week," Scott said. "I am very confident and optimistic about where college sports is going and some of the recent reforms that we are seeing."
Curiously, the Big Five commissioners are pretty much on the same page and are almost certain to get what they want when the NCAA votes on granting them more autonomy in August. There is a general agreement among the Big Five on goals and how things will move forward. This contrast, then, was more about style and presentation. While other commissioners glowered, Scott and the Pac-12 went with the, to borrow a phrase from "Monty Python and the Holy Grail," "let's not bicker and argue about who killed who ... this should be a happy occasion," approach.
Of course, Scott has reasons to be cheerful as he lauded his conference in Hollywood, "the entertainment capital of the world," and celebrated its new neutral site conference championship game at sparkly Levi's Stadium in Silicon Valley, "the innovation capital of the world."
His conference welcomes back 10 starting quarterbacks and an average of 15 starters per team. Several teams are worthy of a preseason rankings, including national-title contenders Oregon and UCLA. Further, there is an impressive handful of Heisman Trophy contenders, led by Ducks quarterback
Marcus Mariota
.
"We had a record nine teams qualify for bowl games last season, the most in our history," Scott said. "Put simply, our conference has never been stronger or deeper than it is today, and that's why I'm filled with so much optimism as we look forward to the upcoming season."
Scott's address, which featured 4,400 words according to the official transcription, didn't mention the Pac-12 Network's inability to strike a deal with DirectTV. Scott was all about the positive. That included celebrating 10 new national titles -- though none in revenue-producing sports -- and lauding the conference's academics and programs for student-athlete welfare, noting the conference would invest $3.5 million in research aimed at improving the health and safety of athletes.
Scott's jauntiness was not without motive, which was notable as he gently chided the media to "resist the temptation to oversimplify these issues" brought to the public eye by the Ed O'Bannon versus the NCAA trial. He and the other commissioners, after all, are trying to pacify an athletic revolt, a storming of the NCAA's Bastille, if you will. While excited about potential reforms to college sports, Scott also again expressed concern about "radically changing the collegiate model into a professional model."
"From my vantage point, college athletics is working exceedingly well," said Scott, who is the highest paid conference commissioner, hauling in over $3 million in 2011-12, according to
The Wall Street Journal
.
Did Scott mention that the Pac-12 won 31 nonconference games, most in conference history, and went 6-3 in bowl games? But of course he did.
Scott was followed to the podium by Arizona coach Rich Rodriguez, who immediately made the typically grumpy media feel right at home again.
Said Rodriguez, "I could be like every other coach in America and tell you how excited I am to be here, but that would be lying. Truth is, I'd rather still be on vacation or meeting with my coaches."
Rodriguez apparently didn't get the memo that everything, including Pac-12 media days, is awesome.
July, 23, 2014
Jul 23
8:57
PM PT
Some thoughts, observations and musings about Day 1 of Pac-12 media days from the Pac-12 blog's Kevin Gemmell, Kyle Bonagura and Chantel Jennings.
Biggest football-centric takeaway?
[+] Enlarge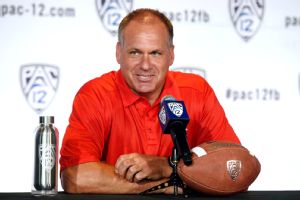 Kelvin Kuo/USA TODAY SportsRich Rodriguez said on Wednesday that he hasn't determined who will start at QB for Arizona this fall.
Kevin Gemmell
: Arizona still doesn't have a quarterback. Not that that's shocking. We knew it was going to take awhile for Rich Rodriguez to find the right guy to run things in 2014. But with a really talented stable of wide receivers ready to break out and get all freaky on secondaries, you'd think he'd be at least a little bit closer to whittling down his pecking order. You'd be wrong: "Even if I knew who the starter was, I wouldn't tell you all. Why would I tell you and tell our opponents? I really don't know who not just No. 1 is, but I don't know who No. 1, 2 or 3 is." Maybe it's a lot of coachspeak and he knows exactly what the offense will look like. Maybe he really doesn't know. Feel like we've been here before …
Chantel Jennings
: I knew there was a high interest in USC this year, but I guess I didn't realize how high. The reporter crowd around Steve Sarkisian was about three times as large as for any other coach who attended today (including Mark Helfrich, whose team is the favorite for the Pac-12 title). Obviously, it's USC and by nature, people will care. But with the program being back on track, a new coach, some exciting players and a new offensive scheme, the Trojans are going to be in a complete pressure cooker. Quarterback
Cody Kessler
talked about how last year -- and the amount of change and adversity they faced -- will help them this season. Yes, certainly the whole "what doesn't kill you makes you stronger" argument is valid. But how much stronger is USC? And are the Trojans strong enough to put up a fight in the South? Are they strong enough to handle the growing pains under a first-year coach? Are they strong enough to handle the increasingly high expectations of the public?
Kyle Bonagura
: When it comes to quarterback play, believe the hype. And while, by nature, these types of events exist almost primarily to generate hype, everyone seemed to be in agreement that the quarterbacks have a chance to be considered one of the best conference groups in college football history. That's not hyperbole, either. There have been comparable years if you take a look at the top five or six, maybe, but to have 10 returning quarterbacks — and so many decorated players among that group — might be unmatched.
Biggest nonfootball takeaway
Gemmell
: Oregon and Washington fans might not like this, but the chances their bitter rivalry will grow frostier are slim. When asked about his relationship with new Washington coach Chris Petersen, Oregon coach Mark Helfrich offered this: "My relationship with Pete will be great forever. I'm going to hate him on certain days and some days he'll hate me, whether it's recruiting or on game day. But the guy is a lifelong friend of mine and that won't change. I know that's going to make both of our fan bases very unhappy." But it's oh-so bromantic.
Jennings
: The event today had a few different activities set up for the players, including a game of corn hole (for you non-Midwesterners, you'll know this as "the game with the angled boards with holes in them that you try to get bean bags in"). I, myself, am a connoisseur of the sport and will challenge anyone. However, I wasn't too impressed with some of the guys and coaches playing today. Especially some of the QBs. You can throw a football 60 yards, but you can't toss a bean bag 20 feet? C'mon.
Bonagura
: The conference's new buzzword is "innovation." Commissioner Larry Scott used it nine times in his lengthy opening remarks to begin the day and seems focused on using the conference's home near Silicon Valley to help aid the use of technology in as many ways as possible. He specifically referred to a partnership with AT&T, Sporting Innovations and Stanford that includes the development of an app that will supposedly make more information — videos, stats, etc. — more accessible to fans while in attendance. I'll take a wait-and-see approach on how innovative this innovation ends up being, but long term it's not a bad thing.
Best quote of the day
Gemmell
: Had a nice little chat with WSU linebacker
Darryl Monroe
about the fallout from the bowl game and what he thinks when he hears someone use the expression, "Coug'd it": "For me, Coug'd should mean you just went out there and dominated. I don't understand where this impression of 'Coug'd it' means you did something in a negative light. Maybe the Urban Dictionary should think about rewriting that definition to 'Coug'd it means completely dominated your opponent.'"
Jennings:
Can we just insert Mike Leach's news conference transcript here? (Follow up: Can we just give Mike Leach a reality TV show?) But really, to give you the full experience … I walked up to the media scrum midway through Leach's news conference. This is the exact moment I walked in. Enjoy.
"The gnats rarely got too hot, I guess. And then finally this one high school coach, as I'm recruiting there, he says, 'Try this.' Now I have big, old fat lips, so it didn't work very good. But he could fire up a little pucker, kind of blow the gnats off, then they had Skin So Soft [lotion], which is big. And I don't know what that is, but evidently gnats don't like it. They rub that all over [their faces]. But it looked kind of oily, you know? What I think is the gnats don't care about it, but it probably puts a little sheet of oil on there so it's harder to bite you. You don't feel the bite. That's just one guy's theory. I'm sure I'm wrong."
Bonagura
: "We've got a brand-new facility that's great, but everybody's got new stuff. Oregon changes it out like Porta-Potties. Like every four or five years like we need a new this, and they go do it." --
Arizona coach Rich Rodriguez on the facilities arms race in the conference
A couple of things to address here: (1) He's right. As a whole, the conference has done a great job upgrading its facilities across the board. It's nearly impossible to get a sense of how each construction project has helped each individual school — mainly from a recruiting standpoint — because it's about keeping up with the Joneses as much as anything. (2) Who knew RichRod had a working knowledge of Porta-Potty lifespans?
[+] Enlarge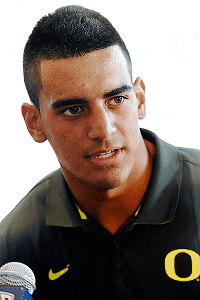 Kelvin Kuo/USA TODAY SportsMarcus Mariota, a topflight NFL prospect, said he isn't sure if he will turn pro after this season.
Best lie of the day
Jennings
:
Marcus Mariota
said he hasn't made his mind up on whether or not he'd leave for the NFL after this season. Now, I will say that this is a hard case because it's a "damned if you do, damned if you don't" situation. If he came in and said, "Yep, no matter what happens, I'm out," then he'd be criticized. So I'm not necessarily criticizing him for this -- he's saying what he needed to say and that's the right thing to do. But the moment it came out of his mouth, all the reporters silently went, "Riiiiiiiiiiiight."
Bonagura
: Agree wholeheartedly with Jennings. When asked if this will be his final year at Oregon, Mariota simply replied: "I'm not sure." He sounded sincere, too, but it's tough to envision a scenario in which he's not beginning training camp with an NFL team at this time next year. Seeing one of the best talents in college football pass up potentially becoming the No. 1 overall pick in the NFL draft back-to-back seasons doesn't happen.
Gemmell
: Have to agree with my colleagues. It was nice for Mariota to say there is a chance he could come back for another season. And everyone in emerald land just got all giddy at the prospect of maybe seeing Mariota rocking the "O" beyond 2014. But I think we all know it ain't going to happen. He took out an insurance policy for a reason. Enjoy him while you can for now, Oregon fans. Because he's as good as gone.
Which player made a good impression on you?
Gemmell
: I've long been a fan of
Connor Halliday
's play. Is he reckless sometimes? Sure. Does he throw too many interceptions? Yeah. But I also like a guy who will throw a pick and then on the next drive make the exact same throw for a 60-yard touchdown. I like the moxie. And I thought that confidence came through during his podium session. He fielded all of the questions about turnovers and bowl games and still had time to crack wise about his head coach. You need poise to play for Mike Leach. And Halliday showed me a little of that today.
Jennings
: Utah WR
Dres Anderson
isn't a guy who has had a ton of media training or been in too many situations in which he's crowded by the media. But even so, he handled it very gracefully. He was energetic, funny and engaging without seeming disingenuous (which some players do when they're so over-the-top). He told anecdotes without needed to be asked, "OK, do you have any examples of that?" by reporters. He was a player who it seemed was really just having a bunch of good conversations with strangers.
Bonagura
: Cal quarterback
Jared Goff
was in a tough spot last year getting thrown into the fire as a true freshman on a historically bad team, but you wouldn't have known that based on his demeanor today. Goff was polished, personable and said all the things you'd want your team's starting quarterback to say. If there were any doubts about how well he'd evolve into a leadership role, there shouldn't be. With 10 returning starters at the position, Goff might fly under the radar in the conference, but he's as talented a young quarterback as there is in the country and has a chance to compete statistically with the nation's best.
And of course, no recap would be right without a series of Leach tweets:
Swing your snow cone. pic.twitter.com/yDxek7JqH4

— Kevin Gemmell (@Kevin_Gemmell) July 23, 2014
Mike Leach playing corn hole? Mike Leach playing corn hole. pic.twitter.com/mQAOdu7XBT

— JB Long (@JB_Long) July 23, 2014
My heart is so full pic.twitter.com/5E82c8hSXi

— Sarah Kezele (@SarahKezele) July 23, 2014
July, 23, 2014
Jul 23
8:10
PM PT
By
ESPN.com staff
| ESPN.com
The Pac-12 introduced some silliness to its media days, as players and coaches took a reprieve from media questioning to have some fun with the props and costumes in the league's selfie photo booth.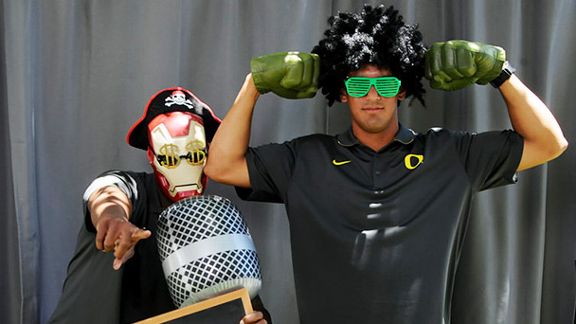 Courtesy of the Pac-12 Conference via Life of the Party PhotoboothsOregon's Derrick Malone and Marcus Mariota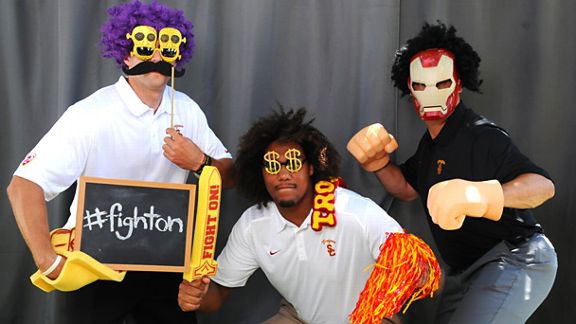 Courtesy of the Pac-12 Conference via Life of the Party PhotoboothsUSC's Cody Kessler, Leonard Williams and Steve Sarkisian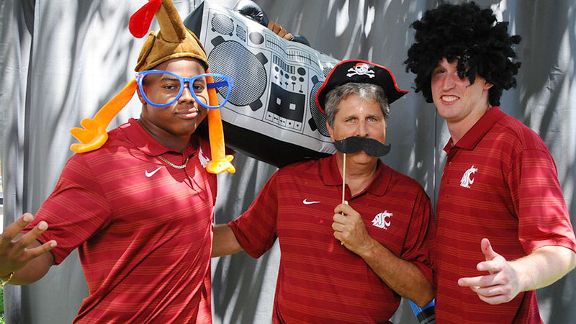 Courtesy of the Pac-12 Conference via Life of the Party PhotoboothsWashington State's Darryl Monroe, Mike Leach and Connor Halliday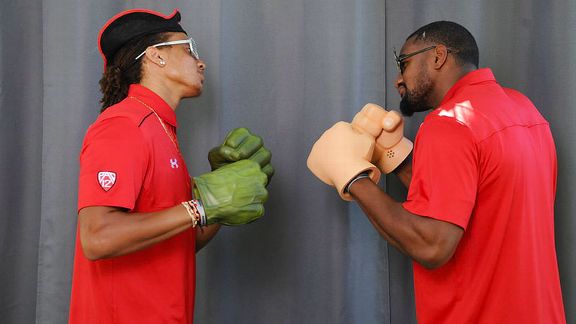 Courtesy of the Pac-12 Conference via Life of the Party PhotoboothsUtah's Dres Anderson and Nate Orchard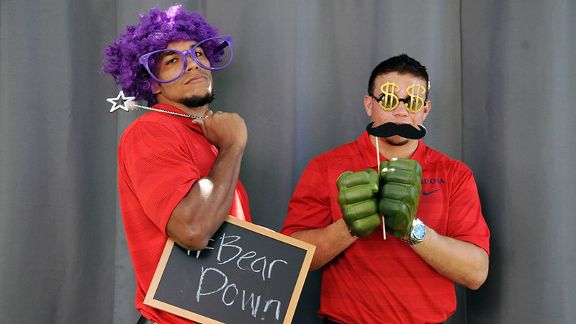 Courtesy of the Pac-12 Conference via Life of the Party PhotoboothsArizona's Austin Hill and Jared Tevis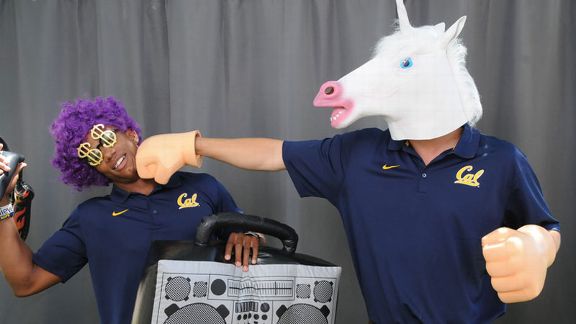 Courtesy of the Pac-12 Conference via Life of the Party PhotoboothsCal's Stefan McClure and Jared Goff
July, 23, 2014
Jul 23
2:13
PM PT
USC Trojans
first-year head coach Steve Sarkisian met the national media Wednesday in the Paramount Theatre Lobby of Hollywood's Paramount Studios, and on Day 1 of Pac-12 media days, he gave an upbeat and optimistic assessment of his 2014 team.
"I really like this football team," said Sarkisian, whose Trojans were the media's preseason pick for second in the Pac-12's South Division behind favorite UCLA.
Some of Sarkisian's excitement stems from the fact that his predecessor and good friend, current Alabama offensive coordinator Lane Kiffin, didn't exactly leave the cupboard empty when he was unceremoniously fired by USC athletic director Pat Haden after last season's Arizona State debacle.
To continue reading this article you must be an Insider
PAC-12 SCOREBOARD
Thursday, 8/28
Friday, 8/29
Saturday, 8/30