November, 22, 2014
Nov 22
11:47
PM PT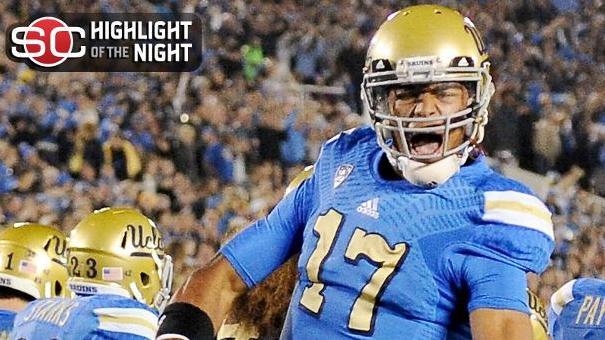 UCLA eliminated USC from the Pac-12 South race with a lopsided
38-20 win
at the Rose Bowl. It marks the first three-game winning streak in the series for the Bruins since 1996-98.
How the game was won:
After USC (7-4, 6-3 Pac-12) took a 7-0 lead, UCLA (9-2, 6-2) basically did whatever it wanted. The Bruins led 24-14 at halftime and extended the lead to 38-14 in the third quarter before coasting to the win.
Game ball goes to:
UCLA quarterback
Brett Hundley
finished 22-of-31 for 326 yards three touchdowns passes to move to 3-0 in his career against the Trojans -- the first Bruins quarterback since Cade McNown with such a record. Hundley also rushed for a touchdown and passed McNown to become UCLA's career leader in total offense.
What it means:
UCLA can lock up the Pac-12 South with a win against Stanford next week at home. It would be the Bruins' third appearance in the title game since it was introduced in 2011 -- the most of any Pac-12 team. USC could have clinched the division on Saturday with a win and an Arizona State loss to Washington State, but instead are no longer in contention.
Playoff implication:
UCLA is a serious threat for a playoff berth. If the Bruins win out, they would be 11-2 (including a potential revenge win against Oregon). Would that be enough to convince the committee they deserve a shot? Who knows, but they would have to be seriously considered. Their résumé would include five wins against teams that are currently ranked by the committee and both losses are also to ranked teams. That compares favorably to, say, Ohio State, which has one bad loss (Virginia Tech) and counts Minnesota as one of its best two wins.
Best play:
UCLA's
Thomas Duarte
caught a 57-yard pass from Hundley in the first quarter, which set the tone for the type of night it would be.
What's next:
UCLA hosts newly bowl-eligible Stanford (6-5, 4-4) next week and USC will host reeling Notre Dame (7-4).
November, 22, 2014
Nov 22
8:33
PM PT
Associated Press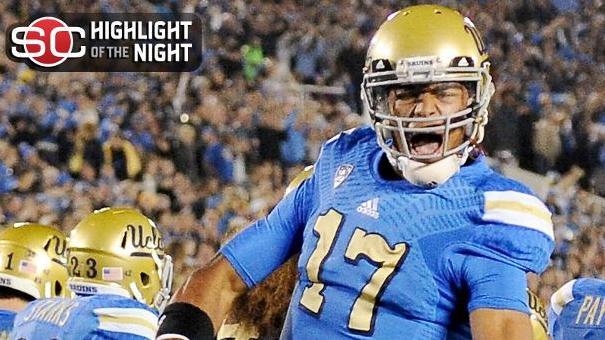 PASADENA, Calif. -- Brett Hundley passed for 326 yards and three touchdowns and rushed for another score, leading No. 11 UCLA past No. 24 Southern California 38-20 on Saturday night for the Bruins' third straight victory in the annual crosstown showdown.
Devin Lucien, Thomas Duarte and Eldridge Massington caught scoring passes as the Bruins (9-2, 6-2 Pac-12) confirmed their Los Angeles supremacy and closed in on the Pac-12 South title with a one-sided romp over their biggest rivals at a festive Rose Bowl.
Paul Perkins rushed for 93 yards and a score for UCLA, which hadn't won three straight over USC since 1998.
After five consecutive wins down the stretch of a slow-starting season, UCLA can advance to the Pac-12 title game with a victory over Stanford on Friday.
Cody Kessler passed for 214 yards for the Trojans (7-4, 6-3), who struggled mightily against UCLA's inspired defense.
November, 22, 2014
Nov 22
5:33
PM PT
November, 22, 2014
Nov 22
11:13
AM PT
By
ESPN.com staff
| ESPN.com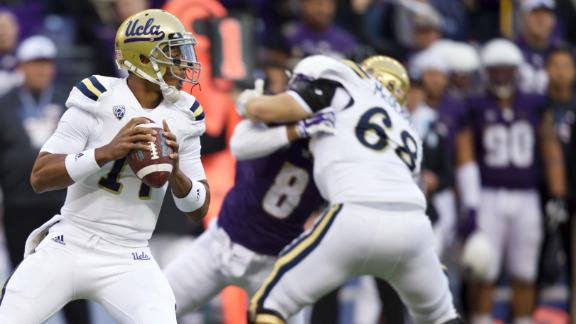 As UCLA prepares for its rivalry game with USC, Bruins quarterback
Brett Hundley
sits down for a little one-on-one with former USC receiver Keyshawn Johnson.
November, 21, 2014
Nov 21
6:00
PM PT
Happy Friday.
Follow me on Twitter
. It's the first step toward making your life into an epic poem.
To the notes?
Luke from Tucson, Ariz., writes:
Thank you to Kevin Gemmell for writing the following: "This league's coaches rarely talk about what's good for the conference. They want what's best for their own team -- national perception and conference pride be damned. And for the record, this fifth of the Pac-12 blog is just fine with that." I find a lot of writing in the blog is around the narrative of the Pac-12 winning a national championship. This seems reasonable considering it is the Pac-12 blog. However, I pose the question: How many people read this blog because they are fans of the conference and how many people read because they are fans of a team in the conference? I'd argue the latter is a much larger portion. The narrative pretending their is some sort of overall conference strategy where we all pull the rope to win a national title is a little silly. I'm an Arizona fan. If Oregon makes it to the playoff will I cheer for them? Yes. Is Oregon winning a national title one of my goals as an Arizona fan coming into the season? Absolutely not. Fans from 10 other teams in the conference feel the same way.
Buffs fans don't care if OSU "flipped the script" and now ASU doesn't get to be part of a de facto playoff game against Oregon. Buffs fans want a conference W, and go to your blog for insight on how they get there. Same with me. If the Ducks win a national title I'll be happy for them and happy for the conference. But that's it, slightly happy.
Ted Miller
: Interesting point, and this is a position I've heard before from Pac-12 fans. It's pretty much a big-city, pro-sports attitude, where a team has no notable, vested interests in the success of, say, its league or division. It also tends to mean you're a not an obsessive college football fan, in that obsessive college football fans follow the entire game nearly as much as their own team, see the constant trolling that goes on between the ESPN.com conference blogs.
I'm not going to tell you how to be a sports fan. That's entirely your call, and we appreciate you visiting ESPN.com. I do, however, have a position on this, which I'm sure shocks you.
First off, I think what Kevin is noting is that Pac-12 teams don't have any intention of laying down to further a rival's national title hopes, which should surprise no one. We both talk to coaches all the time about what's "good" for the conference. What these coaches want is the Pac-12 to receive the same deference as the SEC, and they'd prefer themselves and not their top rivals to be the conference's bell cow.
Of course their overwhelming interests are their own teams, which sign their paychecks, but they also understand a shared interest. That would include, for example, the Pac-12 playing a nine-game conference schedule while other conferences play only eight. Just about every Pac-12 coach believes that is a problem because it ensures the conference has six more losses in its collective standings every season, though it's more front and center for coaches whose teams presently have a national outlook compared to coaches who are just trying to win a conference game.
And you better believe there's shared interests in a conference with revenue sharing. When the Pac-12 got two BCS bowl teams, each team pocketed an additional $500,000, plus or minus, so Pac-12 rivals tend to be frenemies. That won't change in the College Football Playoff, when the Pac-12 getting left out will cost every conference team big money.
I view it as no coincidence that you got your feathers up, Luke, when an Arizona State loss at Oregon State was bemoaned as a lost opportunity for the conference to stage a Pac-12 championship game as a play-in contest for the inaugural College Football Playoff between a pair of highly rated teams. Of course, your emotional reaction to any sympathy for the Sun Devils, whose misfortune you surely were rejoicing about on Saturday, colors your position.
But this also comes down to a pretty straightforward cost-benefit analysis, something the SEC and its rabid rivalries picked up on before the rest of the nation: A rising (Crimson?) tide lifts all ships. While your emotions are almost entirely invested in loving your team and hating your top rivals, there's also the practical shared interest within Power 5 conferences of wanting to distinguish the conference as a whole, to look better top to bottom than the other four major conferences, to be first among so-called equals. Without the purity of an extensive playoff, as there are in pro sports, there's still a beauty contest going on every year in college football, and it's all about regional perceptions.
For example, Alabama fans were in a quandary when Auburn played Oregon for the national title. How could they possibly root for Auburn -- ever?! Many couldn't bring themselves to do it. But many did in the name of SEC solidarity. And the many who couldn't still salved their feelings when the Tigers won the title by saying, "Well, at least the SEC kept the national championship streak going."
I expect that to be the same for many in the Pac-12. Many Washington and Oregon State fans surely couldn't root for the Ducks to win a national title, but if that had happened there would have been a part of them that recognized the Pac-12 taking down the SEC as a good thing for the Pac-12 and, by extension, themselves.
This doesn't mean you begin every season rooting for your team and the Pac-12 in general on equal footing. But there is unquestionably a shared interest.
Let's say Arizona is approaching the end of the 2015 regular season and is ranked No. 6 in the college football rankings. You turn on the TV and see a pundit saying, "Arizona has looked great this year, but the Pac-12 is down. That's why you have to give the edge to a second SEC team getting into the playoff."
You'd probably find your self becoming more of a collectivist.
Caleb from Astoria, Ore., writes:
If Utah wins out, UCLA beats USC, Stanford beats UCLA, and Arizona beats Arizona State, this leaves all five teams at 6-3 in Pac-12 play. Who would go to the Pac-12 Championship game?
Ted Miller
: Utah.
Tiebreaker: The Utes and UCLA, with 3-1 records against the other four, would eliminate Arizona, Arizona State and USC. Then the Utes would win out because of their head-to-head win over UCLA.
Spencer from Indianapolis writes:
This year the Pac 12 bowls have a new selection process. Do you feel like some of the better teams might slip to a lower bowl because of fan base, location, and so on? I feel like my Utes might slip down because they are not as big of a draw as others. I also feel like some other teams may slip down as well. Just wondering your thoughts on the process this year.
Ted Miller
: If you are talking about major bowls outside the playoff -- the Peach, Fiesta, Cotton and Orange bowls -- the selection committee is also placing teams in those games based on its rankings, which means those old, annoying considerations -- such as selling hotel rooms -- won't play a predominant role in picking teams. That's unquestionably a good thing.
As for the Pac-12's existing bowl partnerships, those will be mostly the same. While the SEC, ACC and Big Ten have taken more control over the bowl selection procedure, the Pac-12 still has a rule that allows bowls to pass over a team as long as there is no more than a one-game difference in conference record.
So the, say, Alamo Bowl could pass over Utah in favor of USC, even though the Utes beat the Trojans as long as USC is no more than one-game behind the Utes in the conference standings.
But that's no different than any other year.
Aaron Tigard, Ore., writes:
Hey PAC, Sad days here. With Marcus Mariota's latest transgression, how does this impact the team and his draft prospects? Based on the coverage, I have to imagine that Coach Helfrich has no option other than removing him from the team, posthaste. Will the CFP committee take this into account? As for "Menace" Mariota, is there an NFL team out there who will be willing to take a chance on a player who clearly has off-the-field issues? Should he even declare for the draft or should he transfer to Portland State for a year to rehab his image?
Ted Miller
: Mr. Subtle immediately picked up on your facetiousness here. And I get it. Most folks speed -- ranging between sometimes and all of the time. Mariota is unquestionably a high-character guy, not in the sense that he's a great football player who hasn't been arrested and handles the media well but in the sense that he'd be viewed as a paragon of what a young man should be even without football. There are no naysayers to this. And snarky me has looked for them.
Yet let's not make light of driving 80 mph in a 55 mph zone. That's a bad thing. You'd feel differently if there had been an accident and someone who was obeying traffic laws had been injured. Considering that speeding occurs in 33 percent of all fatal accidents, this is not something to sniff at. Aggressive speeding is selfish and stupid and dangerous.
Of course, part of this is me being 45 and having two children. I've become a militant slow driver -- as in I never go over 10 miles above the speed limit. I also take a passive-aggressive joy in making tailgating speeders lives miserable. Pull up to my bumper to show me I'm going too slow for you? Well, I'll show you slow.
When you're in your 20s, you often think you're immortal and bad things only happen to other people. Or you are above the rules. After all, your life is so important and you are in a hurry and everybody needs to just get out of your way because you are late and that isn't your fault it's these slow drivers!
Mariota is a fine young man. He also needs to slow the freak down.
November, 21, 2014
Nov 21
9:49
AM PT
The USC-UCLA rivalry is an emotional series that brings back memories for players who took part in the game. Here are thoughts from four former Trojans who had mixed on-field results against the Bruins.
Mike Lamb: Offensive line (1979-83)
: "My memories of the rivalry are that it was back-and-forth every year. One year people were talking about Terry Donahue getting fired because we beat them 49-14, the next year we lost when Jeff Fisher went for the pick and Freeman McNeil went the other way. The next year George Achica tips the field goal, and the year after that Karl Morgan gets the sack. It was as back-and-forth and emotional as you could possibly get; the very definition of a rivalry. It was an absolute roller-coaster for anybody who was part of it."
John Jackson: Wide receiver (1985-89) on the 25th anniversary of the 1989 game
: "That game is a horrible memory. The tide had turned in favor of SC when we faced them in 1989. They had a window in 1987-88 when they had Troy Aikman, Ken Norton and those guys and we beat them both years, and when we played them in '89 we were already locked into the Rose Bowl so that wasn't on the line. It wasn't the reason the game ended in a tie but that was one of those games where we felt in control but the scoreboard never said it. We were driving for the winning score and we fumbled, they turned around and had their best/only drive of the day and had a shot to win at the end but the field goal attempt hit the upright. The plays were there to be made for us but something went wrong all day long."
Jeremy Hogue: Offensive line (1991-95)
: "My memories aren't very good because I played when things were on the wrong side, despite having what I still believe were the better teams. In those games, it just didn't matter. My senior year is probably the one that sticks with me the most because the week before we had clinched the Pac-10 title and the berth in the Rose Bowl to play Northwestern. There was nothing else to play for against UCLA except the fact that it was UCLA. For me and my teammates it was more than enough but for UCLA it was all they were playing for. They came at us, we didn't play as well as we could and we ended up losing the game. I'll never forget doing a volunteer clinic the next offseason and it was at UCLA, I walked in the door and there was a big sign saying "City Champs." I remember thinking that we had won the Rose Bowl, we were the conference champs but all they cared about was being City Champs, and there's something to be said for that."
Darrell Rideaux: Cornerback (1999-2002)
: "The memory that sticks out to me is in 1999, when I was a true freshman filling in for an injured Antaun Simmons. I had to go up against Fast Freddie Mitchell, they didn't call him Fast Freddie because of his speed, they called him Fast Freddie because he ran his mouth the whole game. He would talk all the time between plays, "Man, I've got shoes taller than you." There was a moment in the third quarter, he was running a fade up the sideline, I got underneath him and deflected a pass. It was a moment that made me feel as if I had arrived because it was a play that stopped a key drive."
November, 21, 2014
Nov 21
7:25
AM PT
[+] Enlarge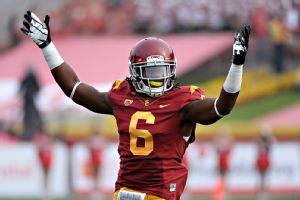 Robert Hanashiro/USA TODAY SportsJosh Shaw, who can play both cornerback and safety, has six interceptions during his USC career.
The USC Trojans are getting a potentially valuable reinforcement ahead of this weekend's massive clash against the UCLA Bruins.
Coach Steve Sarkisian said cornerback Josh Shaw, who missed the first 10 games of the season after lying about how he sprained both of his ankles, would be available Saturday in some role for the Trojans (No. 19 CFP, No. 24 AP).
Sarkisian didn't indicate just how much he expects Shaw to play against the Bruins (No. 9 CFP; No. 11 AP), but he did note that the fifth-year senior has not appeared rusty in his first week back at practice.
"He's an experienced guy, he's played a lot of football, so he's able to grasp things quickly," Sarkisian told the Los Angeles Times. "His muscle memory of how to align or how to move out of a certain break isn't as difficult for somebody who is new to doing it."
PAC-12 SCOREBOARD
Friday, 11/28
Saturday, 11/29