December, 10, 2014
Dec 10
5:25
PM PT
With the regular season over, several Pac-12 players with remaining NCAA eligibility are mulling decisions regarding whether or not to declare for the NFL draft. Here are some of the key decisions awaiting players from the Pac-12 South. This features some football-only evaluations from ESPN scout Steve Muench. Keep in mind that other factors also influence players' choices.
For our earlier look at Pac-12 North players,
click here
.
QB Brett Hundley, UCLA
[+] Enlarge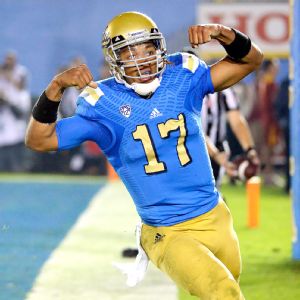 Richard Mackson/USA TODAY SportsBrett Hundley has a lot of traits that NFL scouts like.
The Bruins' dual-threat quarterback has another year of eligibility remaining, but he has indicated that he'll likely declare for the 2015 NFL draft. The professional scouting community has offered mixed takes on Hundley. His size and athleticism are unquestioned, but his pocket passing presence has been questioned throughout his time in Westwood. A couple weeks ago, Stanford coach
David Shaw
noted that "it has all come together" for Hundley this season.
Muench's take
: "You hear that he drops his eyes when he's under pressure, which is a huge no-no for a quarterback. I personally think that flaw is way overdone and inflated... When you go back and watch tape, you can tell he's often waiting for his receivers to get separation. That being said, he does have to work on his accuracy. If you put him with the right QB coach, he'll be OK; he just has to develop his footwork with regard to accuracy... His upside is big."
WR Jordan Payton, UCLA
The 6-foot-1, 213-pound junior has enjoyed a true breakout season for UCLA, catching 63 passes for 896 yards and seven touchdowns. Scouts have raved about the strength of his hands and his ability to win one-on-one battles. The consensus is that Payton is an intriguing prospect who has the potential to contribute in some capacity when it comes to the NFL.
Muench's take:
"When I watched [Payton] run after the catch in the ASU game, I was very impressed. He has good size, particularly strength, for a receiver. He's a big, physical guy that can use his hands to separate. ... He still needs to work on his route running, but there's enough there to be intrigued about what he can do."
WR Jaelen Strong, Arizona State
"Aptly named" might be the best way to describe this 6-foot-3, 215-pound receiver, who frequented highlight reels with a steady dose of sensational catches in 2014. Strong is a redshirt junior, so he can still return to Tempe for one more season, but scouts generally speak of him as a second-round NFL draft pick, so there's a potentially promising NFL future here. Along with Payton, he led the Pac-12 in reception average among receivers with more than 50 catches (14.2 per catch). Strong's versatile teammate
DJ Foster
is also a player to watch.
Muench's take:
"One thing that's interesting to me about Jaelen Strong: At least once a game, he makes a catch that causes me to say, 'Dear Lord, how did he do that?'... He has the ability to make unbelievable catches. He is a little inconsistent with his ball skills, and I don't know what he's going to run yet. ... But he's another big receiver that does make outstanding, highlight-reel catches."
WR Cayleb Jones, Arizona
This redshirt sophomore transferred to Arizona from Texas before the 2013 season, and he certainly impressed in 2014, racking up 65 catches for 902 yards and nine touchdowns. The 6-foot-3, 215-pound Jones features prototypical NFL size, so his successful campaign certainly grabbed the attention of folks at the next level, who have noted that he uses his size well to shield defenders.
Muench's take
: "I put on
Austin Hill
tape, but the entire time I'm watching it, I'm thinking Cayleb Jones is the one truly jumping out. He's a developing route-runner, but he's good -- it's hard to see a guy his size who can make that crisp out-cut, and he can. ... He's a bigger target, and right now a little bit lean. But he's a good route-runner, he catches the ball well, and he's good enough to stretch the field."
DL Leonard Williams, USC
[+] Enlarge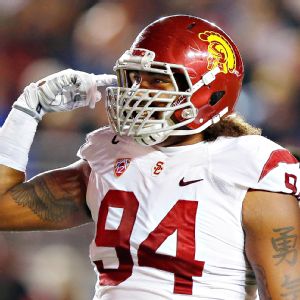 Winslow Townson/Getty ImagesUSC junior Leonard Williams could be a top-five pick in the 2015 NFL draft, should he declare.
Simply put, Williams is one of the most talented defensive players in the country. At 6-foot-5 and 300 pounds he's a physical beast, and the combination of that and his football instincts will make him a very coveted player whenever he declares for the NFL draft. There's a very good chance that will be coming soon, as some mock drafts have listed the junior as a top-five selection following a disruptive season, even in the face of double teams. Williams says he's still on the fence regarding his decision.
Muench's take:
"He's the top prospect on our board overall. Obviously, Marcus Mariota will challenge him for that first overall pick, because he's been outrageous. But Williams can play inside or outside, and he has great hands and speed for a player his size. There's no such thing as a lock, but he's one of the safer picks of this draft just because of how destructive he is. And he's really solid against the run."
RB Javorius Allen, USC
It's odd that a USC running back could fly under the radar, but that was the case with Buck Allen, who tacked on 442 receiving yards onto a rock-solid running resume: 1,337 yards (5.3 per carry) and nine touchdowns. Some analysts have drawn comparisons between the 6-foot-1, 220-pound Allen and former Washington running back Bishop Sankey. Allen has the size-speed combination that's appealing to the NFL; he said he'll base his decision on the draft grade that he receives.
WR Nelson Agholor, USC
The 6-foot-1, 190-pound junior developed explosive chemistry with Kessler this season, approaching the century mark in receptions (97) for 1,223 yards. He also hauled in 11 touchdowns and continued in his role as a dangerous punt returner, taking two of those kicks for touchdowns. Scouts have indicated that Agholor would fit in perfectly as a No. 3 wide receiver in the NFL. He has yet to announce his 2015 intentions.
Muench's take:
" I love his ability to accelerate. He's smooth route-unner in and out of the break. The biggest concern for me is that his ball skills are a bit inconsistent. He doesn't field the ball cleanly all the time... He has some big play ability, but doesn't have a great frame to win one-on-one battles... I see him as a No. 3 slot receiver who can make plays in the NFL, but not as a star on the next level."
QB Cody Kessler, USC
Kessler is in a similar boat as Allen: After an impressive season statistically, he's waiting to hear his draft grade before making a decision regarding 2015. The redshirt junior lit up the scoreboard in several Trojans games this past season. He finished with 36 touchdown passes and four interceptions, becoming the only quarterback in the nation to attempt more than 400 passes while throwing fewer than five interceptions.
Muench's take
: "Kessler has had a much better year than last year; he's made a huge jump. That TD-to-INT ratio is outstanding. He's making better decisions and is quicker getting the ball out of his hand. At 6-foot-1, he doesn't have a great frame. There could be a lot of buzz surrounding him heading into next year if he sticks around."
RB Devontae Booker, Utah
Booker was extremely productive in his first season on the field in Salt Lake City. His 1,350 rushing yards were good for second in the Pac-12. His 5-foot-11, 203-pound frame is able to generate some power on top of his solid speed, so "dynamic" is a word that's been used to describe him. He's a junior, but there's been some talk of Booker being a mid-round pick. One NFL scout
compared him
to Houston Texans running back Arian Foster.
PAC-12 SCOREBOARD
Saturday, 12/20
Monday, 12/22
Tuesday, 12/23
Wednesday, 12/24
Friday, 12/26
Saturday, 12/27
Monday, 12/29
Tuesday, 12/30
Wednesday, 12/31
Thursday, 1/1
Friday, 1/2
Saturday, 1/3
Sunday, 1/4
Monday, 1/12