December, 4, 2013
Dec 4
12:47
PM PT
By
ESPN.com staff
| ESPN.com
On Wednesday, WeAreSC reporter Garry Paskwietz stops by to
chat some USC football
. Paskwietz is the Publisher of WeAreSC and has been covering the Trojans since 1997. Send your questions now and join Paskwietz every Wednesday at 2 p.m. PT!
December, 4, 2013
Dec 4
2:30
PM PT
This wasn't the person he'd thought he was, or would have chosen to be if he'd been free to choose, but there was something comforting and liberating about being an actual definite someone, rather than a collection of contradictory potential someones.
December, 4, 2013
Dec 4
2:00
PM PT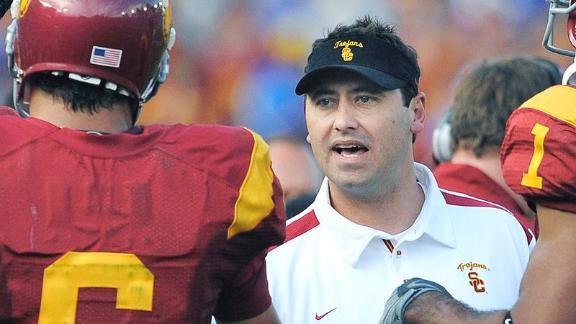 There was some good news for the Pac-12 in the updated
class rankings
released on Wednesday as Arizona, Arizona State and Oregon all moved up. The Wildcats maintained their grip on the top class in the conference and now sit at No. 18 overall. The Sun Devils jumped two places -- from No. 24 to No. 22 -- largely on the strength of a commitment from four-star running back
Demario Richard
(Palmdale, Calif./Palmdale), and in doing so, leapt Stanford for the No. 2 spot in the Pac-12. The Cardinal slid two spots, down to No. 25 overall, while Oregon remains the fourth conference team among the top 40, up to places to No. 30 overall. Here's a look at the
conference's rankings.


Trending up:
In the 2013 class, Arizona State didn't sign and enroll a single four-star high school prospect. With Richard's commitment on Monday, the Sun Devils now have eight in their 2014 class. While Richard is the first commitment since mid-November, Arizona State's on-field performance has recruits buzzing about the future of the Sun Devils and with a win this weekend, coach Todd Graham will have an opportunity to close out this class in a big way.
To continue reading this article you must be an Insider
December, 4, 2013
Dec 4
8:01
AM PT
LOS ANGELES -- When
Cody Kessler
went through the recruiting process, the Bakersfield (Calif.) Centennial product found himself being wooed by big-name college coaches from Lane Kiffin to Nick Saban to Dave Wannstedt. But none was more fervent in his pursuit than Washington's Steve Sarkisian.
[+] Enlarge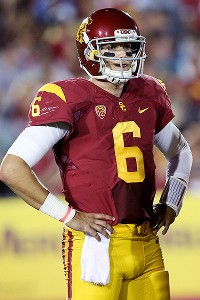 Stephen Dunn/Getty ImagesCody Kessler will soon be pressed into learning Steve Sarkisian's up-tempo, spread offense.
"Me and Sark were very close," Kessler said. "I can honestly say that he probably did the best job of recruiting me. He was real and he was straight-up."
Having fallen in love with the tradition at USC, however, on top of a desire to play close to home, Kessler ultimately opted to become a Trojan.
It's a decision that Kessler – who has passed for over 2,600 yards this season as USC's starting signal caller – doesn't regret one bit.
But now, with the arrival of Sarkisian as the Trojans' new head coach, the two are together. That fact wasn't lost on either of them as they came face-to-face after an introductory team meeting held Monday night.
"It was kind of funny," Kessler said following Sarkisian's press conference on Tuesday. "The first time that I saw him yesterday after the meeting he just kind of laughed and said, 'Here we are now.'"
Before compiling a record of 34-29 at Washington, Sarkisian was known as a quarterback guru who blossomed as a Trojans assistant, playing a major part in the development of Carson Palmer, Matt Leinart, John David Booty and Mark Sanchez.
"Coach Sark is a quarterback guy," Kessler said. "When you have a guy that has that experience, and knows what he's doing, and has a resume that's second to none when it comes to getting guys to the NFL, you're very excited about it."
Still, like most of his teammates, Kessler's excitement has been tempered by a heavy heart that has come with the departure of Ed Orgeron. Taking over as USC's interim coach following the dismissal of Lane Kiffin, the boisterous Louisiana native guided the Trojans to victory in six of the team's final eight games. More than that, he fostered an atmosphere marked by enthusiasm and energy that helped unify the team.
Not surprisingly, when Kessler and his teammates were informed by Orgeron on Monday that he had resigned to pursue other head coaching opportunities following Sarkisian's hire, they were overcome with emotion, with many players being brought to tears.
"It was crazy," Kessler said. "Guys were freaking out and it was just unreal. And that's something you expect when that happens. When you lose someone that you care about so much."
But in his first crucial move as head coach of the Trojans, Sarkisian would some calm during his first team meeting.
"For Coach Sark to walk in and face this thing head on and attack it right away like he did, and settle everyone down, was awesome," Kessler said. "The way he addressed the team, he was just real. He told us, 'this is home for me. It may seem like I abandoned my team when I left Washington, but this is home. This is where I've always wanted to be. This is where I started out, and we're going to do great things.'"
[+] Enlarge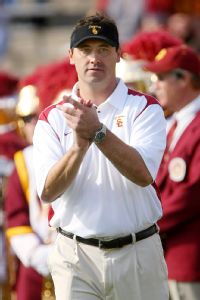 Stephen Dunn/Getty ImagesTrojans QBs should benefit from Sarkisian's tutelage.
Kessler now looks forward to learning the ins and outs of Sarkisian's offense. Hoping to install a similar run-first, up-tempo, spread attack to the one that has helped Washington rack up an average of 514.3 yards per game -- the No. 8 mark in the FBS -- this season, Sarkisian has already made a point of bracing the team for a major change that lies ahead.
"One thing he told us is that we're going to have to condition a lot more, and we're going to start running a lot more in practice," Kessler said. "But when you can go all four quarters and not slow down, teams are going to be slower, they're going to be breathing hard, they're going to need to substitute and they won't be able to."
Looking past that obvious difference, Kessler says that Sarkisian's offense actually shares some traits with the Trojans' current system -- something that could speed up the transition.
"I watched a little when we watched other teams' defenses against Washington, they had a lot of the same concepts, but I was talking to him yesterday after the meeting and he told me that there's a lot of different verbiage," Kessler said. "It's kind of shortened down because there's no huddle [and] you don't have time to call long plays, but he says it's the same concepts. Maybe different formations and stuff like that, but it's the same schemes that he's taken from Coach [Pete] Carroll and from this offense, and he's kind of put his own stuff into it."
Kessler has little time to dive into his future with Sarkisian as the QB will have to prepare for the Trojans' yet-to-be-determined bowl game and help the Trojans remain focused after a roller coaster week.
And beyond that, with Sarkisian at the helm, he believes that brighter days most certainly lie ahead.
"Coach Sark is our coach now and I'm so grateful for that," Kessler said. "I really feel like this team is going in the right direction."
December, 4, 2013
Dec 4
6:38
AM PT
When I wrote in an Insider article two years ago that the Pac-12 had an opportunity to close the gap between it and the SEC as the top college football conference in the country (an article that drew its fair share of discussion), Pac-12 commissioner Larry Scott was still in the formative and visionary process of building up the league. He had brokered the richest television deal in college sports, and the conference was taking shape with its new members and new direction.
Two years later, the conference continues to close the gap, and while its 12 members cannibalized their own chances at a BCS title in 2013, the vision continues to look very promising. Here are four reasons the Pac-12 continues to pose a long-term threat to the SEC in terms of college football supremacy.
To continue reading this article you must be an Insider
December, 3, 2013
Dec 3
5:41
PM PT
December, 3, 2013
Dec 3
3:35
PM PT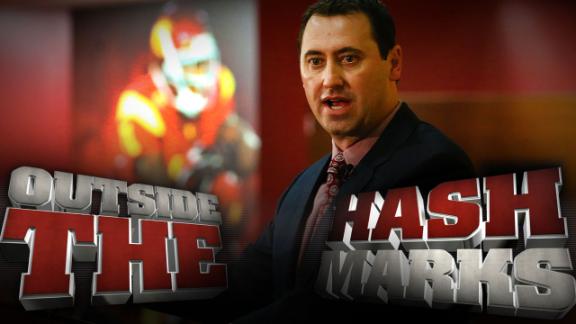 LOS ANGELES -- Steve Sarkisian was introduced Tuesday as the new head coach at USC.
"This is home," Sarkisian said in a news conference at the John McKay Center. "I'm proud and honored to be the head coach of this team."
Sarkisian has a strong history at USC from his time as a freshman baseball player in the early 1990's to multiple stints as an assistant coach under Pete Carroll during one of the team's most successful runs.
"I watched the USC vs. UCLA game as a freshman in my dorm room and to think I'm here now as the head coach is surreal," Sarkisian said. "As a coach, we went to the Rose Bowl in five of the seven years I was here. It was an unprecedented run. To think of all the great former players who have been a part of the program, it is humbling and inspiring for me right now."
Sarkisian becomes the 23rd coach in USC history, following a season in which Lane Kiffin was fired and Ed Orgeron was not retained after serving as interim coach for the final eight games of the year.
"I was looking for a person with energy and passion for this job," USC athletic director Pat Haden said. "I believe Steve is uniquely qualified and he offered the chance for the smoothest, fastest and cleanest transition to lead our program."
Sarkisian, who went 34-29 in five years at Washington, was one of two candidates Haden interviewed on Sunday following the Trojans' loss to UCLA.
"There were two things that stood out to me about his tenure at Washington," Haden said. "He inherited an 0-12 team and had them in a bowl game in his second season. Also, in the previous 21 years at Washington, only three previous teams had eight wins and that's what Sark had this year."
December, 3, 2013
Dec 3
5:30
PM PT
Pushed the mailbag back a few hours to field some questions on Steve Sarkisian, the all-league teams and more. Plenty to talk about with only two teams playing this week.

Tim in Atlanta writes:
Is there really any justification for
Josh Huff
being left off
the 2nd team all-Pac team this year
? He had 200 more yards than montgomery and 57% more TD than Strong. Standings shouldn't matter in this, and the fact that Huff is the first WR in years to have 1000 yards in Oregon's spread-it-around system should say a lot. Seems like voters punished him for Oregon's offensive firepower instead of rewarding a guy for standing out on a team full of offensive talent... or maybe they didn't the game on friday.
Kevin Gemmell
: Well, the voters are the coaches. And having talked to the coaches over the last couple of years, I can tell you this isn't something they farm out to assistants. The ones I've spoken with about the process take it pretty seriously.
The stats are there, no question. And I was sitting in a bar in Pasadena Friday night watching the Civil War feeling very happy for Huff to have that kind of a game. He's taken a lot of heat over the last month -- some of it was deserved, some of it wasn't.
But I think that also could have played a factor. Coaches are bias, just like everyone else who votes. They have their favorites. And perhaps Huff's Rose Bowl comments didn't sit well with the coaches. I'm just speculating, but I don't think it's too far of a reach.
A lot of questions and speculation about the Pac-12's Rose Bowl partner
– including questions from Kelly in Bend, Ore., Josh in Mesa, Ariz., and Greg in San Francisco. So I'll lump them all together into one answer. It breaks down to this: Could Alabama play in the Rose Bowl Game presented by VIZIO.
Kevin Gemmell
: Short answer: yes, with an if. And no, with a but.
The winner of the Pac-12 championship game heads to the Rose Bowl no matter what, since neither Stanford nor Arizona State are under consideration for the VIZIO BCS National Championship game.
The Big Ten is a different story since Ohio State is now in play for the title game. If Ohio State beats Michigan State, chances are it goes to the BCS championship game and therefore the Big Ten forfeits its entry into the Rose Bowl. That leaves a void.
The obvious solution is Michigan State to Pasadena. The kicker, however, is whether Michigan State is still in the top 14 of the BCS rankings. If Michigan State wins, it will go to the Rose Bowl. If it loses and falls out of the top 14, a replacement team needs to be found.
The optimal solution is for either Michigan State to win or Ohio State to win, but Michigan State puts up a good enough fight that it stays within the top 14. There is nothing the Rose Bowl committee wants more than a Pac-12-Big Ten matchup for the 100th game. Preserving that tradition is important to them.
But it might be out of their control.
Assuming Florida State goes to the championship game, the Discover Orange Bowl would have the first pick at filling its spot. It's hard to imagine Alabama slipping through. However, if for some reason it does, then I wouldn't be shocked for the Rose Bowl to snatch up Alabama. But a few things need to happen for that scenario to play out.
John in Los Angeles writes
: A case for [Jim] Mora being Coach of the Year. First, let me say I don't know much about the other teams in the conference. Being in LA I of course know the saga of Southern Cal, and I do think Coach Orgeron has done a great job. That having been said, here are my points (in no particular order save point 1).
The death of a player: You have brought this up a few times and it likely goes without saying how this impacted the team. Some might say kids this age are resilient and there is some truth to that notion. However I still think Mora did a great job in handling the situation.
Replacing Franklin: I don't really remember seeing this mentioned much other than at the start of the season. Franklin not only became the schools leading rusher he was a team leader. That is a tough combination to replace.
Replacing the secondary: This job became even harder when Riley had to retire. I don't know how young we were back there but IIRC it was fairly young all season.
Injuries along the offensive line: This one is pretty well documented.
Freshman punter: I don't think people appreciate how good Jeff Locke was last year in terms of field position. Then to have to replace him with a true freshman to boot (pun intended).
With all of those things UCLA was one poor half away from winning the South. Like I said, I don't know much about the other teams and what they had to go through this year. But I think going 9-3 with 2 of the three losses coming on the road to (then) top 5 teams in back to back weekends and the only other loss to a top 20 team with having to deal with all the stuff above, Mora deserves some serious consideration for Coach of the Year.
Kevin Gemmell
: This one came in on Sunday, before the coach of the year was named, but I still think everything John just mentioned is worth addressing, because everything he says is correct. And I don't know what the totals were in terms of voting for coach of the year. I have to imagine Mora got a few votes.
But it's tough to ignore the job Todd Graham has done at Arizona State. Before the season, most people didn't expect the Sun Devils to win the South (outside of the Pac-12 blog) and they started the year unranked. When you look at the schedule they played and the way they won games down the stretch -- home and away, blowouts and come-from-behinds -- I would have voted for Graham also.
Mora did a fantastic coaching job this year. And winning at the Coliseum last week was obviously a huge step forward for the program. But they had a chance to seize control of the division at home and couldn't get it done.
From where ASU started the season -- unranked -- to where it is now, Graham was the right choice.
The Heisman Committee in New York writes
: Kevin, you told us recently that the Pac-12 would send 1 Heisman finalist and it would be
Marcus Mariota
? Should Carey go? Should he take Mariota's place? Is there any chance we invite both? Do either have a chance of beating Winston and the field given Winston's legal troubles? We're so overwhelmed by this season that we could really use all the help we can get.
Kevin Gemmell
: Pretty sure I told you that in October during a chat. Chat answers are obviously gut feelings at the time, and at the time Mariota seemed like a safe choice.
Have the circumstances changed? Absolutely. I think when all is said and done, it should either be
Ka'Deem Carey
or
Bishop Sankey
who represents the Pac-12 in the Heisman voting.
I made a case earlier today
for one of the two Pac-12 backs winning the Doak Walker. And I think if the Heisman doesn't go to a quarterback, then it should go to one of the two backs. And I'd be a Carey lean simply because of the consistency every week.
Yes, Sankey supporters, I know he sat out a lot of the Idaho State and Colorado games. Carey missed time too. Both are phenomenal backs and regular Pac-12 blog readers know that I've been high on Sankey for a very long time.
But his performances in the ASU and UCLA games are the sort of showing that haunt players when it comes to postseason awards. If I were a voter, my main focal point would be consistency and complete body of work. And Carey showed that against the toughest competition he played his best ball.
Emily in LA writes
: Well, I guess you can ignore my last question now that it's completely irrelevant after today's news. I'll withhold judgment on Sarkisian (and learn to spell his name) after I see how he does, but I'm still sad about Coach O leaving.
Kevin Gemmell
: Emily submitted a question on Sunday showing support for Ed Orgeron and questioning whether the UCLA loss should play a major factor in Pat Haden's decision. It can still be answered despite the changes, because we now have the benefit of hindsight.
I'm pretty sure it didn't rest on that one game -- though it probably made it easier. No doubt, Orgeron did a magnificent job. He tapped into something special with his players and rode it for as long as he could.
For kicks, let's say he were named the head coach. A lot of the inspiration he had this season -- that nothing-to-lose attitude -- would be gone. That's not to say he couldn't get the job done. But these past seven weeks have been a pretty exceptional situation.
Haden is thinking about the long-term health of the program. It can't just be five weeks from now. It has to be five years from now. And it's tough to separate the emotion of what went on the last few weeks with what the future is going to hold.
Keep in mind though the two games Orgeron did lose -- Notre Dame and UCLA. Those are rivalry games. USC fans expect their team to beat Cal and Utah and yes, even Oregon State in Corvallis. But they also expect wins over rivals. And that's something Orgeron failed to provide.
Don't get me wrong. The Pac-12 blog was very impressed with what Orgeron was able to do. And there is obviously a level of disappointment in him leaving.
But he had to go. Sark needs a clean slate to start with, and Orgeron's presence, while probably wanted by the players, would have been more of a distraction to the new administration.
It's like breaking up with your girlfriend, but tagging along with her on dates so you can tell her new man her likes and dislikes. It's uncomfortable and awkward.
December, 3, 2013
Dec 3
4:30
PM PT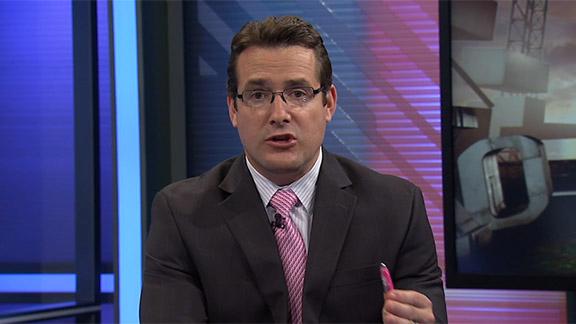 Several junior college prospects made immediate impacts in the Pac-12 this season, including
Jaelen Strong
at Arizona State,
Steven Nelson
at Oregon State and
Vince Mayle
at Washington State. The 2014 crop of junior college standouts will undoubtedly reveal a number of instant-impact players in the conference. Looking at the
ESPN JC 50
, five prospects stand out as important targets for conference teams.
1. DT Alfonso Hampton (Chula Vista, Calif./Southwestern College):
The No. 10 overall prospect and No. 3 defensive tackle is only just tapping into his potential, as this is only his second year playing football. Hampton won't be a mid-year enrollee, so a number of schools are waiting to offer until they are sure that he will be academically ready to leave next spring. Arizona State, Oregon and USC have expressed interest and it wouldn't be surprising to see that interest turn to offers in the coming weeks.
To continue reading this article you must be an Insider
December, 3, 2013
Dec 3
2:30
PM PT
I've heard another rumor, that you were bitten by a king cobra?
Yeah, I was. But after five days of agonizing pain, the cobra died.
December, 3, 2013
Dec 3
1:00
PM PT
Some Pac-12 numbers for your review.
Number to the left is national rank.
Scoring offense
5. Oregon, 46.8 points per game
8. Arizona State, 43.3
18. Washington, 38.5
24. UCLA, 36.5
Total offense
3. Oregon, 573.0 yards per game
8. Washington, 514.3
21. Arizona State, 473.3
25. Oregon State, 468.1
Rushing offense
9. Oregon, 278.3 yards per game
12. Arizona, 265.8
14. Washington, 243.1
Passing offense
3. Oregon State, 382.1 yards per game
5. Washington State, 364.5
11. California, 331.4
20. Oregon, 294.7
25. Arizona State, 285.4
Note
: Here's a guess that USC athletic director Pat Haden saw these numbers as a reason to hire away Steve Sarkisian from Washington. Sarkisian called the plays for the Huskies, who showed great balance this year in their hurry-up attack.
Scoring defense
13. Stanford, 19.0 points per game
23. USC, 21,3
19. Oregon, 21.6
Total defense
15. Stanford, 341.3 yards per game
16. USC, 341.5
24. Arizona State, 351.0
Yards yielded per play (FBS foes only)
9. Oregon, 4.61 yards per play
16. Stanford, 4.82
22. Washington, 4.99
26. USC, 5.03
Pass-efficiency defense
11. Washington
13. Oregon
21. USC
27. Arizona State
Note
: It will be interesting to see where USC defensive coordinator Clancy Pendergast lands. He's a proven Pac-12 coordinator.
[+] Enlarge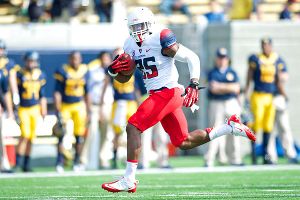 Matt Cohen/Icon SMIArizona's Ka'Deem Carey finished the regular season ranked second among FBS schools at 156.0 yards per game.
Rushing
2.
Ka'Deem Carey
, Arizona, 156.0 yards per game
3.
Bishop Sankey
, Washington, 147.9
10.
Tyler Gaffney
, Stanford, 123.8
Note
: Carey and Sankey are both Doak Walker Award finalists, and Carey should win the trophy because he's the best running back in the nation. Suffice it to say, Gaffney's return from pro baseball was successful.
Pass efficiency
6.
Marcus Mariota
, Oregon
17.
Keith Price
, Washington
19.
Brett Hundley
, UCLA
25. Kevin Hogan, Stanford
Note
: Mariota is No. 2 in the nation in ESPN.com Stats & Information's total QBR rating. Arizona State's Taylor Kelly, 37th with the NCAA measure, is 16th in QBR,
Receiving yards per game
1.
Brandin Cooks
, Oregon State, 139.2 yards per game
6.
Paul Richardson
, Colorado, 111.9
Note:
It was pretty easy to figure out who were the two first-team All-Pac-12 receivers. Richardson is headed to the NFL. Will Cooks, also a junior, follow?
Sacks per game
2.
Trent Murphy
, Stanford, 1.1
T16.
Anthony Barr
, UCLA;
Hau'oli Kikaha
, Washington, 0.8
Note
: Barr ranks fourth in the nation in tackles for a loss per game (1.70) and Murphy is sixth (1.60).
Random notes
UCLA QB Brett Hundley led the Pac-12 and ranked 12th in the nation with a .678 completion percentage.

UCLA OLB Anthony Barr tied for second in the nation with 0.42 forced fumbles per game. He's tied for fifth in fumble recoveries with 0.33 per game.

Arizona State's Robert Nelson, Oregon State's Steven Nelson and Oregon State's Rashaad Reynolds are tied for fifth in the nation with six interceptions.

Oregon State QB Sean Mannion's 36 TD passes ranks second in the nation.

Stanford is eighth in the nation in third-down conversion percentage at .523. The Cardinal is 13th in the nation in third-down defense, with foes converting just 32.6 oercent of its third-down attempts.

USC is tied for fourth in the nation with five blocked kicks. The Trojans are tied for second with three blocked punts.

UCLA didn't allow a blocked punt or kick this year.

Arizona State ranks third in the nation with just 28.5 yards in penalties per game.

Washington State ranked 122nd in the nation with 23 interceptions thrown by its QBs.
December, 3, 2013
Dec 3
9:39
AM PT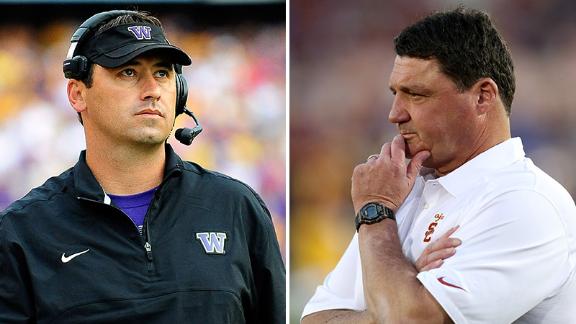 The clip sounds bad when you play it back now. Steve Sarkisian, in a previously scheduled radio appearance Monday morning with KJR in Seattle, is asked whether a breaking news story that he's interviewed with USC is accurate. Sarkisian deflects as best he can, saying that he had a conversation with USC, but wouldn't call it an interview, then goes on to say how much he loves coaching at Washington and downplays the seriousness of USC's interest.
An hour later he accepted the job as the new head coach of the Trojans. So yeah, not the most graceful exit.
It's hard to know exactly where the negotiations with USC and Washington stood at exactly that moment, but it's not hard to imagine that Sarkisian may have been in the final stages of negotiating with USC on the framework of a new contract, and figuring out his $1.5 million buyout with the Huskies.
What if the deal had collapsed or hit a snag? What if Washington had come back with a counteroffer at that moment that compelled him to stay? He wouldn't have been able to take any of what he said back. So instead he deflected and chose self-interest over full disclosure. Would it have been better if he'd simply come clean and said all that? Sure. Honesty and transparency are always admirable qualities in a leader. But since when did we start expecting that from head football coaches?
If anything, being media savvy and ethically nimble are positive traits for a football coach. The job requires that you project different images to different groups of people. Recruits need to see and hear from one guy, boosters from another. Players want to hear passion, the media wants to see poise. Sometimes a coach needs to close ranks and protect his players publicly, other times he needs to bare his soul. There are five hats a head football coach has to wear in a day and six costume changes. That's the job.
December, 3, 2013
Dec 3
11:00
AM PT
The SEC remains a strong No. 1 with
ESPN Stats & Info's conference rankings
, but both the Pac-12 and Big 12 gained ground on it this past weekend.
While the SEC lost nearly a point, the Pac-12 gained 1.9 points and the Big 12 gained 4.5 points. Still, the No. 2 Pac-12 is 11.9 points behind the SEC. The Big 12 trails the Pac-12 by 5.2 points.
Of course, a lot can change during the bowl season.
From ESPN Stats & Information:
It appears the Pac-12 and Big 12 will be on the outside looking in on the national title debate despite ranking second and third respectively in ESPN's Conference Power Rankings. Both conferences have depth, but their biggest issue is that there is no "elite" team at the top.

Keep an eye on the bowl matchups announced next Sunday to see how conference strength plays into bowl selections. In the last three seasons, the SEC has the best record in bowl games among the five major conferences (17-11) while the Big Ten has the worst record (9-16).
The Big 12 is 8.1 points ahead of the No. 4 Big Ten, which will be matched with the Pac-12 in the Rose Bowl.
December, 3, 2013
Dec 3
6:57
AM PT