February, 16, 2015
Feb 16
10:00
AM PT
The
Ultimate ESPN 300
is RecruitingNation's ranking of the best prospects since we began evaluating high school athletes in 2006. That means there are many names on the list known to college football and recruiting fans since coming out of high school. The list can also provide glimpses of which states have been top producers since 2006 and which teams have done the best and worst jobs of evaluating prospects and producing players.
Here are 15 things to know about the Ultimate ESPN 300:
15.
Some classes turn out better than others, and that is true of the 2009 class. There are 45 players from the class in the Ultimate ESPN 300, the most of any class, including 15 that became first-round NFL draft selections. That includes four who signed with Alabama:
Trent Richardson
,
Dre Kirkpatrick
,
D.J. Fluker
and
Chance Warmack
.
14.
Bob Stoops recruited and coached 13 players on the list. Of the 13, four were first-round NFL draft selections led by Pro Bowl defensive tackle
Gerald McCoy
and 2008 Heisman Trophy winner
Sam Bradford
. Nine of the 13 were also members of the Sooners team that lost to Florida for the 2009 BCS National Championship.
13.
The teams that played for the 2012 BCS National Championship, Alabama and LSU, were supremely talented. There are 22 players from those rosters in the Ultimate ESPN 300, including 14 for the Crimson Tide.
12.
Quite possibly the most important part of the recruiting process for coaches is keeping the best at home. Well, only 137 of the Ultimate ESPN 300 stayed in state to play college football. One important aspect of this stat is that not every player on the list had the option to stay in state.
11.
The teams from the 2014 BCS title game are well represented on the list. Twenty-three players from Florida State and Auburn make the list, with the Seminoles accounting for 18.
10.
NCAA FBS single-game-rushing record holder
Samaje Perine
enters the list after a freshman season of 1,713 yards and 21 touchdowns for the
Oklahoma Sooners
. His 427 yards against Kansas in 2014 broke the record a week after
Melvin Gordon
had set a new mark.
9.
The 2011 class is special. That class has 41 players in the Ultimate ESPN 300, including 12 first-round NFL draft picks with more possible, including
Marcus Mariota
,
La'El Collins
and
Shane Ray
. The Sunshine State led the way in the 2011 class with first-round picks:
Sammy Watkins
,
Teddy Bridgewater
,
Ryan Shazier
,
Ha Ha Clinton-Dix
and
Kelvin Benjamin
with more possible to be added to the list.
8.
As expected, the state of Florida leads the way with 52 players on the list. Texas is second with 35, and California third with 28. Georgia follows with 18. Only 23 of the 52 from the Sunshine State stayed in state for college, but 19 of those players left college with national championship rings.
7.
There are 15 players who signed with USC on the list, including
Jarvis Jones
, who would later transfer to Georgia. That's the most from a school on the list that hasn't won a national championship since 2006. Notre Dame is second on that list with 12.
6.
There are six quarterbacks from the state of Texas in the Ultimate ESPN 300, and only one was recruited heavily and offered early by the University of Texas:
Matthew Stafford
. The five who weren't offered or recruited as quarterbacks by the Longhorns:
Andrew Luck
,
Robert Griffin III
,
Johnny Manziel
,
Ryan Mallett
and
J.T. Barrett
.
5.
There are 17 players on the list recruited by Urban Meyer. The impressive list includes Tim Tebow and
Percy Harvin
, along with
Joey Bosa
,
Ezekiel Elliott
and
J.T. Barrett
from 2015 national champion Ohio State.
4.
St. Thomas Aquinas in Fort Lauderdale, Florida, is the high school with the most players on the list with six. That includes NFL running backs
Gionvani Bernard
and
James White
, who were members of the same backfield.
3.
Nick Saban has recruited 25 players to Alabama on the prestigious list. Of those 25, 11 have been first-round NFL draft selections, with that number to hit 13 in a couple of months with
Amari Cooper
and
Landon Collins
projected to be 2015 first-rounders.
2.
South Florida's Dade and Broward counties are the two most talented counties in the country that neighbor each other. To illustrate that fact, 22 members of the Ultimate ESPN 300 are from the otherworldly talented counties, including five NFL first-round draft picks, with that number expected to jump to seven or eight in April. Add in Palm Beach County, which neighbors Broward, and that number jumps to 29 of the 300, including seven first-round picks, with that number sure to hit double digits in two months. If one is a Miami (Fla.) fan, time to turn away, as only four of the 22 from Dade and Broward counties played for the Hurricanes.
1.
How do you win three national championships in six years? Jimmys and Joes are where it must begin, and Alabama has the most of any school on the list with 27. More than half of the 27 have been or will be first-round draft selections after this year's draft. Both Florida and Florida State have 18 apiece on the list.
February, 13, 2015
Feb 13
7:52
AM PT
In each of the past six years, during the offseason, I have come up with a projected top 10 of the preseason AP poll on my website. I do this by taking several different factors into account:
• Most AP voters usually look at a couple of criteria when they evaluate a team for the upcoming season. First, they look at the number of returning starters the team has coming back, particularly at the offensive skill positions. A team that returns its starting quarterback and a combination of its running backs and wide receivers, for example, is often more highly regarded than a team that loses its starting quarterback but returns its entire offensive line. Similarly, a team that returns most of its starters on offense but loses a lot of its defensive playmakers is usually more highly regarded than a team that returns a majority of its defensive starters but loses its skill-position players on offense.
• Another factor weighed heavily is the performance of the team in its bowl game, which is undoubtedly the lasting image voters carry with them during the offseason. A team coming off a huge bowl win is usually more highly regarded than a team that is coming off a bowl loss, regardless of what its schedule looks like for the upcoming season.
• Also weighed heavily is where the teams finished the previous year. Naturally, teams that finished somewhere in the rankings (top 25) have a much better chance of being preseason top 10 than a team that finished unranked last year.
Using these factors -- and a few others, such as strength of schedule -- I project the preseason AP top 10 every year at the start of February, which in most cases is six months in advance of the poll's release. Now, as you all know, a lot can happen between February and August, including injuries, suspensions and transfers. But over the past six years, I have been very successful using this method, correctly projecting 56 of 60 teams (93.3 percent), including a perfect 10-for-10 again in 2014.
Before I go into the rankings, it is important to make the point that this is NOT my preseason top 10 for next season, but rather what I am projecting the AP top 10 will look like to start the season. If you're familiar with my college football preview magazine, you will know that every year I tend to go out on a limb for a couple of teams in my top 10, and this year will be no different.
Now, let's take a look at this year¹s projected preseason AP top 10 teams.

1. Ohio State Buckeyes

February, 13, 2015
Feb 13
5:13
AM PT
Here's a look at some of the top players on the defensive side of the ball that USC head coach Steve Sarkisian and his staff are targeting from the Class of 2016.
Defensive Line
Commits
:
Isaac Garcia
(Bellevue, Wash./Bellevue)
Offers
:
Oluwole Betiku
(Gardena, Calif./Serra),
Breland Brandt
(Los Angeles, Calif./Windward),
Derrick Brown
(Sugar Hill, Ga./Lanier),
Chris Daniels
(Euless, Texas/Trinity),
Rashan Gary
(Paramus, N.J./Paramus Catholic),
Josh King
(Darien, Ill./Hinsdale South),
Dexter Lawrence
(Wake Forest, N.C./Wake Forest),
Rashard Lawrence
(Monroe, La./Neville),
Janarius Robinson
(Panama City, Fla./Bay),
Rahshaun Smith
(Towson, Md./St. Frances Academy)
USC did a nice job of shoring up the defensive line in the most recent recruiting cycle, but with Chris Wilson's group set to lose six scholarship players to graduation following this upcoming season, the Trojans will likely still want to add three or four more prospects here this time around. Garcia, who committed to USC last September, is a fantastic all-around athlete who could wind up at rush end or tight end. Betiku has emerged as a big-time national prospect after racking up 24 tackles for loss and 11.5 sacks in 11 games this past season, and the Trojans are certainly among those in hot pursuit. At 6-foot-3 and 235 pounds, he's another potential rush end in USC's 3-4 defensive scheme.
Boss Tagaloa
(Concord, Calif./De La Salle) -- perhaps the top in-state interior prospect in this class -- Evan Weaver (Spokane, Wash./Gonzaga Prep),
Garrett Rand
(Chandler, Ariz./Hamilton), Bryson Young (Clovis, Calif./Buchanan) and two-way star Jonah Williams (Folsom, Calif./Folsom) are some others on the Trojans' radar. Brandt was offered early but has since committed to UCLA.
Linebackers
Commits
:
Daelin Hayes
(Ann Arbor, Mich./Skyline),
Mique Juarez
(Torrance, Calif./North Torrance)
Offers
: Krystopher Barnes (Bakersfield, Calif./Liberty),
Brendan Ferns
(Saint Clairsville, Ohio/Saint Clairsville),
Darrian Franklin
(Downey, Calif./Downey), Dele' Harding (Elkton, Md./Eastern Christian Academy),
Caleb Kelly
(Fresno, Calif./Clovis West), Curtis Robinson (Santa Ana, Calif./Mater Dei),
Lokeni Toailoa
(Rialto, Calif./Carter),
Lyndell Wilson
(Montgomery, Ala./Carver)
Having signed a deep and talented group of linebackers in the recent class, USC will probably bring in no more than three from the Class of 2016. The Trojans have two verbal commits here in Hayes and Juarez, although Juarez is versatile enough that he could also wind up at a number of other spots. Hayes, a Michigan native who played at Ventura (Calif.) St. Bonaventure for a portion of the 2014 season but is now back in the Wolverine State, will be at USC next week on an unofficial visit and appears to be solid in his commitment to the Trojans. Kelly already holds over 20 offers, and his stock continues to soar this offseason, and Toailoa, Franklin, Barnes and Robinson are other in-state stars who USC has set aside as priorities. Lawson Hall (Harbor City, Calif./Narbonne),
Blake Walls
(Gardena, Calif./Serra) and
Bryce Youngquist
(Rancho Cucamonga, Calif./Los Osos) don't have offers at this time, but are among those who have received attention from USC.
Cornerbacks
Offers
:
Isaiah Gilchrist
(Bellevue, Wash./Bellevue),
Byron Murphy
(Scottsdale, Ariz./Saguaro), Jordan Parker (Pittsburg, Calif./Pittsburg),
Trevon Sidney
(La Puente, Calif./Bishop Amat),
Levonta Taylor
(Virginia Beach, Va./Ocean Lakes)
The Trojans probably only need one or two cornerbacks in this class, and they've already offered a solid group of prospects. Gilchrist, Murphy, Parker, Sidney and Taylor are all two-way standouts who likely project at cornerback on the next level. Sidney, in particular, has already built up a solid relationship with the Trojans coaching staff.
Treyjohn Butler
(Etiwanda, Calif./Etiwanda) and Tre Webb (Anaheim, Calif./Servite) are two other prospects who were at USC's Elite Junior Day event, so they're certainly worth keeping an eye on as well.
Safeties
Offers
:
Deontay Anderson
(Manvel, Texas/Manvel),
Brandon Burton
(Gardena, Calif./Serra),
Brandon Jones
(Nacogdoches, Texas/Nacogdoches), C.J. Pollard (Gardena, Calif./Serra),
Shurod Thompson
(Pittsburg, Calif./Pittsburg).
The Trojans could probably use a couple of safeties from the Class of 2016, and Sarkisian & Co. look to be in solid position with two Serra standouts here in Burton and Pollard. Burton is a multitalented athlete who could just as easily wind up on offense at wide receiver. Pollard, whose father Marvin played at USC, is an extremely versatile defensive back who can also line up at cornerback. Thompson, a big and physical safety, is the most recent prospect to receive an offer here. The Texas duo of Anderson and Jones received offers from USC early in the process, so they're obviously high on the wish list of the Trojans coaches as well, while
Marquel Dismuke
(Calabasas, Calif./Calabasas),
David Long
(Los Angeles, Calif/Loyola), D.J. Morgan (Bellflower, Calif./St. John Bosco), Leni Toailoa (Rialto, Calif./Carter), Chacho Ulloa (Corona, Calif./Centennial) and Chris Wilcox (Corona, Calif./Roosevelt) were all at USC's Junior Day event.
February, 12, 2015
Feb 12
5:00
PM PT
Signing day has come and gone. The combine list is (basically) set. The coaching carousel is slowing down. All of which adds up to one thing ... we've reached mock draft season.
ESPN draft analyst Mel Kiper Jr. released his
second mock draft of 2015

, and after reviewing all-star game film his top 10 has a strong Pac-12 flavor to it. Led by USC defensive lineman
Leonard Williams
at No. 2, Kiper projects five Pac-12 players to be tabbed among the draft's first 10 selections.
Here is the Pac-12 representation in Kiper's mock draft:
No. 2 Tennessee Titans -- Leonard Williams, DE, USC
No. 6 New York Jets -- Marcus Mariota, QB, Oregon
No. 7 Chicago Bears -- Danny Shelton, DT, Washington
No. 8 Atlanta Falcons -- Arik Armstead, DE, Oregon
No. 10 St. Louis Rams -- Andrus Peat, LT, Stanford
No. 20 Philadelphia Eagles -- Marcus Peters, CB, Washington
A year ago, only three Pac-12 players were drafted in the first round (UCLA's
Anthony Barr
, Oregon State's
Brandin Cooks
and WSU's
Deone Bucannon
), and if six were to go this year, it would equal the conference's most since 2008, when USC accounted for four of them (Sedrick Ellis,
Keith Rivers
,
Sam Baker
and Lawrence Jackson).
February, 12, 2015
Feb 12
9:00
AM PT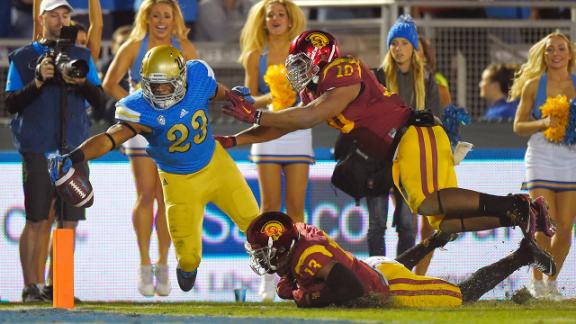 The Pac-12 landed six top-30 recruiting classes and 47 ESPN 300 prospects as every program brought in potential immediate, impact players capable of making an impression on the 2015 season. Here, we take a look back at the recruiting cycle and signing day, and hand out some superlatives for the 2015 recruiting class.
To continue reading this article you must be an Insider
February, 12, 2015
Feb 12
5:04
AM PT
LOS ANGELES -- It's doubtful that new
USC Trojans
offensive line coach and run game coordinator Bob Connelly, formerly of Oklahoma State, ever figured he'd be in the crosshairs of such intense Internet chatter and media speculation before he even stepped onto Howard Jones Field for spring practice.
Leading up to the day Connelly was hired, there were nearly 6,000 WeAreSC message board views and close to 100 responses concerning the Trojans' new offensive line coach, clear evidence that Cardinal and Gold fans take their offensive line coach very seriously. It's been a while since an assistant coach position has gotten that much attention without his title being offensive or defensive coordinator.
Like many well-traveled assistant coaches, Bob Connelly's 20-year career has been one with many stops. His last one was in Stillwater, Oklahoma, for head coach Mike Gundy and his Cowboys, and in 2013 he was coaching the offensive line at Gilbert (Ariz.) High, not exactly an exhilarating positive footprint as determined by a large number of Trojans fans.
Judging Connelly based on him coaching a season of high school ball less than two years ago and being well traveled would clearly be unfair. Who knows, maybe Steve Sarkisian's choice of offensive line coach turns out to be the right fit for the right time. In fact, one of the keys to Connelly's hire, according to Sark, is that his new coach is "very versatile, as he has coached various offensive styles in his career."
Being the fourth Trojans offensive line coach in four years (Have you already forgotten James Cregg, Mike Summers and Tim Drevno?), Connelly has his work cut out. The Texas native is replacing a very well respected, one-season predecessor, Tim Drevno, who did wonders with a very young but talented group of inexperienced players in 2014 before moving on to join Jim Harbaugh at Michigan.
You can bet that returning Trojans starters like Freshman All-America tackle
Toa Lobendahn
, freshmen guards
Viane Talamaivao
and
Damien Mama
, first-year sophomore starter
Zach Banner
, and junior All-Pac-12 center
Max Tuerk
will be mighty curious as it pertains to their new O-line instructor. And you can also add to that group the return of sophomore starting left tackle
Chad Wheeler
, who missed the final five games of last season with torn right knee ligaments.
No doubt the returning Trojans offensive linemen have also heard or read about the Connelly concerns, and then there will be their own early, unavoidable comparisons of Connelly to Drevno. However, expect the returning Trojans offensive linemen to be open-minded given the recent history of offensive line coach turnover.
Naturally, Connelly's first order of business will be to form relationships with his new unit and begin the long process of gaining trust and respect, which can be further endowed with a successful 15 days of spring ball, which begins on March 3.
The Trojans not only have a storied history of offensive linemen such as Ron Yary, Marvin Powell, Brad Budde, Bruce Matthews, Pat Howell, Tony Boselli, and Sam Baker but offensive line coaches, as well.
Legendary offensive line coach Hudson Houck (1976-82), who was also the mastermind behind those great Dallas Cowboys offensive lines in the 1990s, is the type of coach that most USC fans want to see directing their O-line. Being a Texas native, Connelly is no doubt well aware of one Hudson Houck.
Connelly, 44, will need to overcome the perception by some that he isn't the best choice as Trojans offensive line coach if you go by the firestorm on social media. The naysayers say that his track record as an offensive line coach won't bring back memories of Houck. Only time and the 2015 season will sort this issue out.
However, Trojans fans should not overlook that Connolly was the Alabama assistant coach who mentored NFL tackle
Andre Smith
, who became a unanimous All-American, won the Outland Trophy in 2008, and was a first-round draft pick by the
Cincinnati Bengals
.
Let's also not forget Connolly tutored guard
Evan Mathis
, a two-time NFL All-Pro, and center-guard Antoine Caldwell, who became a consensus All-American. During Connelly's stay at Alabama, the Tide had a 10-2 season in 2005 and played in the 2004 Music City Bowl, 2006 Cotton Bowl and 2006 Independence Bowl.
And finally, fans shouldn't overlook that Connelly was former Washington State head coach Mike Price's offensive line coach during the Cougars' dominance of the Pac-10 and accompanied Price when his WSU boss was named the head coach of Alabama.
As a recruiter, Connelly -- a former Lone Star All-Conference offensive guard as a junior and senior at Texas A&M-Commerce, senior male athlete of the year, and three-time Academic All-Conference selection -- has been considered elite in the past as judged by nationally respected scouting services.
So, now the question begs: Who is Bob Connelly?
The Internet, social and mainstream media, and Trojans fan base will be watching.
February, 11, 2015
Feb 11
12:53
PM PT
LOS ANGELES -- After posting a message on his Twitter account on Monday night that read
"Proud to be a Trojan! #FightOn!,"
Bob Connelly was officially announced as USC Trojans' new offensive line coach on Wednesday through the school's athletics website. Connelly fills the vacancy created when Tim Drevno left USC in early January to join Jim Harbaugh's staff at Michigan. Connelly will also carry the title of run game coordinator with the Trojans.
A veteran assistant with 19 years of college coaching experience under his belt, Connelly has worked all over the map, with USC now serving as his 12th stop. He arrives at USC after having spent the past year at Oklahoma State. Before his stint with the Cowboys, he worked on staffs at Arizona State (2012), UTEP (2008-11), UCLA (2007), Alabama (2003-06), Washington State (2001-02), San Jose State (2000), Cal State Northridge (1999), Texas A&M (1998), Cisco Junior College (1996-97) as well as at his alma mater, Texas A&M Commerce (1995).
Possessing significant experience working in no-huddle, up-tempo offensive systems, his specialty has been the offensive line throughout his career, and he also served as the associate head coach at Arizona State and UTEP.
"We are delighted to have Bob join our staff," said USC coach Steve Sarkisian. "He is a great fit for what we do. He is very familiar with Pac-12 and West Coast football, and he is also very versatile as he has coached various offensive styles in his career."
Among those whom Connelly has coached are 2008 Outland Trophy winner Andre Smith, as well as Justin Smiley, Evan Mathis and Antoine Caldwell. All four of those players were selected in the first three rounds of the NFL draft, with Mathis going on to earn a Pro Bowl selection in 2013.
In 2014, Connelly's offensive line unit at Oklahoma State had its ups as well as its downs, giving up a total of 40 sacks -- tied for the sixth most in the FBS -- but also reportedly making strides down the stretch of the schedule.
At USC, Connelly takes the reins of an extremely young, but talented offensive line corps that featured as many as three true freshmen starters this past season. Also, the line is headlined by senior center
Max Tuerk
, a 2014 First-Team All-Pac-12 honoree.
February, 11, 2015
Feb 11
4:27
AM PT
With USC's stellar signing haul of 2015 now in the books, here's a look at some of the top Class of 2016 offensive targets who are on the Trojans' radar.
Quarterback
Offers:
K.J. Costello
(Coto de Caza, Calif./Santa Margarita Catholic),
Malik Henry
(Bradenton, Fla./IMG Academy),
Shea Patterson
(Shreveport, La./Calvary Baptist Academy),
Khalil Tate
(Gardena, Calif./Serra)
The Trojans just added two signal-callers in the most recent class, so it's a virtual certainty that Steve Sarkisian and his staff will take no more than one this time around. Topping the list looks to be Patterson, the No. 28 overall ranked player in the ESPN Junior 300. A strong-armed, mobile passer, he has unofficially visited the USC campus on at least two separate occasions, and he is also considering Ole Miss and LSU among others. Also right there is the 6-foot-5 Costello, who passed for over 3,100 yards this past season, and whose recruitment appears to be turning into a USC-Stanford battle. Henry, meanwhile, committed to FSU back in November. Tate is another quarterback who has an offer, although he's being recruited as an athlete.
Running back
Offers:
None
Three highly touted tailbacks were a part of the Trojans' recruiting class of 2015, so the coaches are obviously taking their time in evaluating prospects at the position, but they are still likely to take one or two more in this class. No running back holds an offer at this time, but
Beau Bisharat
(Carmichael, Calif./Jesuit),
Zion Echols
(Covina, Calif./Charter Oak), Freddie Holly (Riverside, Calif./Norte Vista) and athletes
Damian Alloway
(Fontana, Calif./Summit) and
Demetric Felton
(Temecula, Calif./Great Oak) were all invited to USC's Elite Junior Day event, so there is certainly interest there.
Chase Lucas
(Chandler, Ariz./Chandler),
Bryson Denley
(Cibolo, Texas/Byron P. Steele II) and
Sean McGrew
(Bellflower, Calif./St. John Bosco) are others to watch. Additionally, this could be where someone such as Tate projects, as well as potentially
Isaiah Gilchrist
(Bellevue, Wash/Bellevue), although he's more commonly thought of as a defensive back. With
Jahleel Pinner
and
Soma Vainuku
both heading into their final seasons at USC, it will be interesting to see if Sarkisian targets any fullbacks in this class.
Wide receiver
Offers:
Sam Bruce
(Fort Lauderdale, Fla./Saint Thomas Aquinas),
Nate Craig-Myers
(Tampa, Fla./Tampa Catholic),
Dylan Crawford
(Coto de Caza, Calif./Santa Margarita Catholic),
Theo Howard
(Westlake Village, Calif./Westlake),
N'Keal Harry
(Tempe, Ariz./Marcos De Niza),
Collin Johnson
(San Jose, Calif./Valley Christian),
Jackie Jones
(Long Beach, Calif./Poly),
Mykel Jones
(Patterson, La./Patterson),
Javon McKinley
(Corona, Calif./Centennial),
Steffon McKnight
(San Diego, Calif./Mira Mesa),
Darian Owens
(Fresno, Calif./Clovis West),
Michael Pittman
(Westlake Village, Calif./Oaks Christian),
Dredrick Snelson
(Plantation, Fla./American Heritage),
Tyler Vaughns
(La Puente, Calif./Bishop Amat)
No position is more loaded this year than wide receiver, particularly in Southern California, and with USC likely to want up to four prospects at the position, the timing couldn't be more perfect for Sarkisian and his staff. The Trojans' coaches have done a nice job of already building up solid relationships with elite playmakers like Vaughns, often pointed to as the arguable jewel of the crop, as well as McKinley, Jackie Jones, Crawford, Howard, Owens and Pittman. With so much talent at wide receiver, the Trojans figure to be in good shape no matter who they ultimately sign from the group that they've offered.
Simi Fehoko
(Salt Lake City, Utah/Brighton) and
Dymond Lee
(West Hills, Calif./Chaminade) are a couple of other prospects who were at the recent Junior Day.
Tight end
Commits:
Isaac Garcia
(Bellevue, Wash./Bellevue)
Offers:
Devin Asiasi
(Concord, Calif./De La Salle),
Isaac Nauta
(Bradenton, Fla./IMG Academy)
While the Trojans did land ESPN 300 tight end
Tyler Petite
this past signing day, as well as another strong prospect in recruited walk-on Caleb Wilson, this is still a position low on depth, so USC will likely take at least two players here. Garcia, originally from Fontana (Calif.), is a nice start for the Trojans, but he could easily wind up on the defensive side of the ball at rush end. With over 15 offers to his credit, Asiasi is arguably the top in-state tight end target for the Trojans. He's an outstanding two-way star who even took some reps at quarterback this past season due to need. Nauta has a USC offer, but is currently committed to Florida State.
Offensive Line
Offers:
Greg Little
(Allen, Texas/Allen),
E.J. Price
(Lawrenceville, Ga./Archer)
Counting Clayton Johnston, who will arrive in August as a blueshirt, USC has taken nine offensive linemen over the past two years, but it still wouldn't be a surprise to see them sign three or four more this time around. So far, they've only offered two offensive linemen in national prospects Price and Little, the latter of whom is a Texas A&M commit, but closer to home
Frank Martin II
(Santa Ana, Calif./Mater Dei) has been getting a lot of interest. He, as well as
Alex Akingbulu
(Harbor City, Calif./Narbonne) were both invited to USC's recent Junior Day event. Honolulu (Hawaii) Kaiser's
Michael Eletise
is also on the Trojans' radar, and some others to watch include Tremayne Anchrum Jr. (Powder Springs, Ga./McEachern),
Andrew Boselli
(Jacksonville, Fla./Episcopal),
Tucker Scott
(San Clemente, Calif./San Clemente),
Luke Wattenberg
(San Juan Capistrano, Calif./JSerra) and
Sean Wheeler
(Santa Monica, Calif./Santa Monica).
February, 10, 2015
Feb 10
5:00
PM PT
Way back in mid-November
we proclaimed 2014 the "Year of Close" in the Pac-12
. At that point -- two weeks remaining in the regular season -- 34 games had been decided by eight or fewer points, which was already more than the 28 from the year before.
The final tally? Forty-three games were decided by eight or fewer points, which is a lot. There were a lot of close games in 2012, and the final number then was 36.
While there's certainly debate among statistically-minded analysts about what close wins and losses mean, most poop on the party and call it happenstance that will even out over the years. If your team won a lot of close games last year, it figures to see a drop in that number the next fall as it regresses to the mean. And vice versa.
College football observer and magazine publisher Phil Steele is
a big believer
that teams that lose a lot of close games one year are headed for a turnaround the next. And vice versa.
So, yeah, it seems like reviewing the "Year of Close" might be worthwhile.
We're defining "close" as a win or loss by eight or fewer points (a one-possession game). And we're starting with the South Division.
Arizona
Record in close games
: 6-2
Interpretation
: Not all close games are created equal. The Wildcats beat California and Washington on the final play of the game, and lost to USC on what amounted to the final play. There's no question that the Wildcats had a charmed season, though, and Steele in the preseason noted Arizona as a team that had a net two close losses in 2013, so it was due for a bump in the positive direction in 2014. On the negative side of that, Steele's research also found that 81 percent of teams that have a net four close wins are weaker or the same the next season. Of course, Steele had the Wildcats' good friends in Tempe, Arizona State, due for a tumble in 2014 after being net two with close wins in 2013, and that didn't happen. It's also possible that having QB
Anu Solomon
with a year of experience after his redshirt freshman season will yield a more consistent four-quarter performance. While stat-minded folks smirk at things like poise and experience, there is something to be said for the Wildcats' 13 returning starters who will understand what big fourth-quarter moments feel like.
Arizona State
Record in close games
: 3-2
Interpretation
: The Sun Devils beat USC on a "Hail Mary" -- or perhaps a "Jael Mary" to WR
Jaelen Strong
-- and benefitted from Utah's first-team All-Pac-12 kicker missing a field goal in overtime. Their offense faltered and cost them potential rallies against Oregon State and Arizona, but they held tough in a bowl win over Duke. Those fourth-quarter offensive failures are most notable because they came over the final three weeks of the regular season and cost the Sun Devils the South Division. You, by the way, will begin to notice a common theme among every South team. Things very easily could have spun in myriad other directions, if just a play here or a play there had been different. Heck, if Arizona State had found a way to come back at Oregon State, it would have entered the College Football Playoff discussion.
Colorado
Record in close games
: 1-4
Interpretation
: As previously noted, teams that lose a lot of close games one year tend to become less fortune's fool the next season. So Colorado, which lost a pair of double-overtime games this fall, is due. More than due. I mean, Colorado is really, really due for some good fortune. Take the UCLA game. The Bruins squandered a 17-point fourth-quarter lead as the Buffs surged, showing resolve. Wonder how things might have felt in Westwood if the Bruins had gone down in Boulder? Such an upset could have been transformative for Colorado. Take the double-OT loss to Cal, which didn't have much meaning in the conference race. The Buffaloes nearly took that one on the road, with both teams throwing seven touchdown passes, but all of the sudden imploded on the goal line. According to Steele, teams that suffered a net three close losses have a 79.6 chance of being better or the same the next year. While the South again will be a brutal slog, particularly for a team just trying to become competitive again, that is reasonably substantial grounds for hope.
UCLA
Record in close games
: 6-1
Interpretation
: Talk about a team that found ways to win in 2014. It's also interesting that the Bruins' best wins weren't that close: Arizona State (62-27), Arizona (17-7), Washington (44-30) and USC (38-20), and you could make a case that the bowl win over Kansas State was only kind of fluky close. Of course, two of their three defeats weren't close, either: Oregon (42-30, and not even that close) and Stanford (31-10). It would be reasonable to wonder if the Bruins often played down to the competition and then scrapped and clawed through tough fourth quarters to win. Guessing that's something Jim Mora and his staff are pondering this offseason. As for this fall, statistical analysis supports a potential regression -- 81 percent chance -- and that number might seem more worrisome because clutch QB
Brett Hundley
is off to the NFL.
USC
Record in close games
: 4-3
Interpretation
: When USC lost a close one, it didn't mess around, a big reason so many fans weren't happy with coach Steve Sarkisian's first season -- at least until national signing day. There was the uninspired effort and abortive comeback at Boston College. There was the Hail Mary loss to Arizona State, in which the Trojans yakked up a nine-point lead in the final three minutes via a pair of long passes. There was the Trojans yielding a game-winning TD pass to Utah with eight seconds remaining. Still, they did win some close ones against quality foes (Stanford, Arizona and Nebraska). Many are projecting USC as a 2015 national title contender. While there was no statistical outlying in 2014, particularly based on how things went in the Pac-12 in 2014, it's likely the Trojans will have to learn to win close games -- or get some good fortune -- to win the South and become a national contender.
Utah
Record in close games
: 5-2
Interpretation
: The Utes suffered a stinging defeat in their first Pac-12 game, blowing a 17-point halftime lead and dropping what would have been a game-winning TD pass in a 28-27 loss to Washington State, but they ended up smiling after close games more often than not. After going down to the Cougars, they gutted out a 30-28 win at then-No. 8 UCLA, the first of three consecutive victories by six or fewer points. They got some of their own medicine via unexpected kicking woes at Arizona State, 19-16 -- suffering a heartbreaking loss to the Sun Devils for a second consecutive year -- then beat Stanford, 20-17, in double overtime. They then struggled mightily before prevailing, 38-34, at, er, arch-rival Colorado. Utah playing close games shouldn't be much of a surprise because it leaned on its running game and defense and was inconsistent at best passing the ball. Steele's previously noted analysis points to a potential slip in 2015, but the Utes probably feel good about welcoming back 16 starting position players as well as their first-team All-Pac-12 kicker and punter.
February, 10, 2015
Feb 10
7:12
AM PT
If you'd been asked at this time last year to predict the participants in the inaugural New Year's Six bowl games, like me, you probably wouldn't have included TCU, Georgia Tech, Mississippi State and Arizona (all unranked in the preseason). Having a Cinderella or two is common, but having four climb that high is unusual.
Another surprise was that the four playoff teams were all preseason front-runners. Alabama, Oregon, Florida State and Ohio State were all picked to win their respective conferences, and all were ranked in the AP preseason top five. But as I wrote last August, the top four at the end of the regular season usually features a couple of risers from outside the preseason top 10. In other words, if you're going to attempt to pick the next group of New Year's Six teams -- as I'm about to do here -- using last season's blueprint is probably not a good idea. Therefore, I'm utilizing four other reference points as predictors -- quarterback play, recruiting, returning starters and schedule.
Quarterback play
It's no secret that football -- at all levels -- has become more quarterback-driven in recent years. Look no further than the Heisman Trophy, which has been won by a quarterback 13 times in the past 15 seasons. Great quarterback play is almost a prerequisite for being a playoff contender. There are still instances in which a team can manage to be top-10 caliber with average efficiency and production from the QB, but those have become outliers in today's game.
"Defense wins championships" is a saying that has been true for most of the sport's history, but we seem to have reached a point where even the best defenses can't stop a good offense; they can only hope to slow it down.
Because 12 teams will reach the New Year's Six bowls, and 10 or 11 of them figure to come from the selection committee's final top 12, to the right is a look back at the committee's dandy dozen at the end of the regular season and how those teams stacked up statistically in two key areas: Total QBR and opponents' Total QBR.
What this shows is that high-level QB play correlated much more with being a New Year's Six team than did the ability to defend the other team's quarterback well. Nine of those 12 teams were in the nation's top 20 for Total QBR at the end of the regular season, but only four of them ranked in the top 20 for QBR defense (also known as opponents' Total QBR).
This is also true for Boise State, which won the Fiesta Bowl and was the only New Year's Six team not on this list. The Broncos entered the bowl season ranked 18th in Total QBR and 37th in opponents' Total QBR.
So I have my eye on teams that should produce quality quarterback play in 2015. But that's not the only predictor of success.
Recruiting
Oregon is the poster child for why recruiting rankings don't mean everything. Despite not having a signing class ranked any higher than 14th from 2007 to 2014, according to ESPN RecruitingNation, the Ducks have reached the national championship game twice with players from those classes.
But for every Oregon, I can give you three teams like Alabama, Florida State and Ohio State that have had great success on the recruiting trail and seen it translate to on-field results. Having great talent doesn't guarantee championships, but it sure makes them more attainable.
From 2011 to 2014, the best average recruiting class rankings in the nation belonged to the Crimson Tide, Seminoles and Buckeyes. It's no coincidence that they were all part of the inaugural College Football Playoff.
Composite recruiting rankings from 2012 to 2015 therefore will be another big part of my analysis. But as important as talent may be, having experienced talent is an even bigger deal.
Returning starters
(Returning starter numbers come from Phil Steele)
I've already mentioned the importance of quarterback play, but having solid players around the quarterback is also worth a lot in college football. Exhibit A: Eight of the past 12 teams to reach the national championship game had a first-year starter at QB, and five of those teams won the title.
In other words, a team doesn't need experience at quarterback to get quality production from that position. Having him surrounded by talented players who know what they're doing can help a new QB through some growing pains.
And while having a lot of starters back on either side of the ball is certainly an asset, I place the most importance on the number that return in the trenches, especially on the offensive line.
Schedule
We often overreact to perception of a schedule prior to a season, because the truth is that some teams on that schedule won't be as good as we thought, and others will be better. Much also depends on when and where you play teams. We think we know a lot, but we don't know nearly as much about the difficulty of a schedule now as we will by mid-October.
That said, having too many games against good teams (or at least teams we expect to be good) is a major hurdle for potential contenders, especially when most of those are on the road, as we saw with Auburn and Kansas State last season.
I'm more likely to downgrade teams with schedules that seem too difficult than I am to elevate teams with schedules that look easy. As I've heard ESPN "College GameDay" host Rece Davis say for about 15 years: "If you're not good enough, a loss will find you." Not to mention, the selection committee's job is to identify the best teams, and that's not necessarily the ones with the fewest losses.
So after much deliberation -- way more than I should've given to a prediction this far ahead of the season -- here's how I combined the four factors, with a little intuition.
To continue reading this article you must be an Insider
February, 9, 2015
Feb 9
10:06
PM PT
LOS ANGELES -- During Steve Sarkisian's recruiting press conference last Wednesday, the Trojans head coach said that while his first recruiting effort, the class of 2014, was important, the class of 2015 was his target class, and it certainly lived up to his high expectations and hopes.
Sark's class of 2015 gave renewed hope for the future of
USC Trojans
football, and it could be argued that the Men of Troy are now on the precipice of returning to the national picture, something that is already taking place if you believe some of the very early preseason rankings for 2015.
The only thing that could derail the drumbeat of unrestricted momentum would be a disappointing 2015 regular season, which could handicap another expected recruiting bonanza, as it pertains to the class of 2016. Right now, Steve Sarkisian's program is on that proverbial roll.
A big 2015 season would validate Steve Sarkisian's boundless optimism and enthusiasm, and that would be heard loud and clear by the best of the nation's football recruits.
Imagine if the Trojans could win the Pac-12 South Division, the conference championship game, and a major bowl game. That, however, is a lot to ask even for a veteran team like the Trojans and just ask crosstown rival UCLA and head coach Jim Mora about high expectations.
Speaking of UCLA, the Trojans managed to out-recruit their local rivals for the recruiting class of 2015 despite riding a current three-game losing streak to the sons of Westwood. Although the Bruins more than held their own in the recent recruiting wars, don't think that the Trojans fanfare of recruiting success doesn't irk the Bruins faithful.
The tension, anticipation, and expectations for the 2015 regular season is still seven months away, so Sarkisian and staff are smartly taking advantage of the current "lull" before the opening of spring practice on March 3 by turning their immediate attention to the recruiting class of 2016.
It certainly doesn't hurt to pound your program's chest into the ears and eyes of the upcoming recruiting class of 2016 after season-ending victories over brand names like Notre Dame and Nebraska and highly acclaimed recruiting class of 2015.
Sark and staff recently completed what was acknowledged as a very successful Junior Day, which brought to the Trojans campus many of the targeted prospects for the class of 2016. The gathering right before signing day provided a warm and fuzzy feeling for all the attendees inside the confines of the John McKay Center. It was smiles all around.
You can bet that the upcoming class of 2016 is very aware of the Trojans' recently announced recruiting haul, and you can also bet that the class of 2016 is well aware of 2015 signees like
Iman Marshall
,
Rasheem Green
,
John Houston
,
Osa Masina
,
Porter Gustin
, and
Ronald Jones
ll. Yet, sometimes such a dynamic class can be imposing for the following year's prospects.
Sark and staff must now convince the wide-eyed recruits of 2016 that there is more than enough room for them to be incorporated into the program. To offset the fears and potential insecurities of the Trojans 2015 roster, Sark will sell "competition and opportunity" to offset any blue-chip fears.
Thus far, the Trojans have already managed to lay a promising foundation for the class of 2016, but you can bet that schools like UCLA, ASU Alabama, Ohio State and Oregon are going to do their best to derail the Trojans momentum before, during, and after the season.
It figures that although the Trojans already have a verbal commitment from Michigan linebacker
Daelin Hayes
(Ann Arbor, Mich./Skyline) -- who played briefly at Ventura (Calif.) St. Bonaventure in 2014 before moving back to the Wolverine state -- new Michigan coach Jim Harbaugh will put as much pressure as possible in the coming year to flip Hayes. There is a lot on the line here for Harbaugh because Hayes is considered by many to be the state of Michigan's No. 1 prospect.
Then there is the gifted local SoCal quarterback/linebacker
Mique Juarez
(Torrance/Calif./ North). Anybody who thinks the usual national suspects aren't going to try and dislodge his Trojans verbal hasn't followed recruiting very long. Nothing in recruiting seems to be as easy as it appears.
The third member of Trojans commits for the Class of 2016 is defensive end/tight end
Isaac Garcia
(Bellevue, Wash./Bellevue), who will try and fend off the
Washington Huskies
, another program desperately trying to keep its local talent in-state. In building his Washington program, ya think that Huskies head coach Chris Petersen wants to see one of his local best head down south?
So, while momentum leading into the 2015 season, both on the field and in recruiting, is clearly in the Trojans' favor, the upcoming season will be a golden opportunity for Sarkisian and staff to end all the naysayers and doubters, which would be in itself a another successful benchmark.
February, 9, 2015
Feb 9
4:00
PM PT
On signing day in 2014, USC coaches set their sights on closing out their class by going four-for-four with targets still on the board. Cornerback
Lamont Simmons
was the first shot fired by the Trojans, followed by three cannon blasts in the form of
Damien Mama
,
Adoree' Jackson
and
JuJu Smith
.
The haul signaled a massive victory for head coach Steve Sarkisian, who was only two months into his tenure as USC head coach. He beat out crosstown rival UCLA, as well as a number of national programs, for all three Southern California recruits.
One year later, Sarkisian topped his 2014 performance, as he and the USC coaches closed what could be a program-altering 2015 recruiting class by going six-for-six with its final targets. Five of them were ESPN 300 prospects, including the No. 4 overall recruit, as well as a local high three-star.
To continue reading this article you must be an Insider
February, 9, 2015
Feb 9
12:00
PM PT
How resilient was your defense in 2014?
Last Thursday, we looked at the teams in the Pac-12 and how well they produced points after turnovers.
This was the South Division
, and
here was the North
. Now, we look at the flip side.
It can be frustrating when, after a big defensive stand, the offense coughs it up and gives the ball right back. Time for the defense to take the field again, be it inside their own red zone, the 50 or the opponent's 1-yard line. (Or if you're
Shaq Thompson
, just run it back 100 yards.)
Just like offensive points off of turnovers, there are exceptions. Sometimes a team gets a turnover at the end of the half or a game, so the defense doesn't have to make a stand. So these numbers aren't completely cut-and-dried. But rather it's a measuring stick.
We'll start with South and look at the North later today. If you're curious how your team did in 2013, here are the numbers
for the South
and the numbers
for the North
.
Arizona
Turnovers committed: 18
Opponent scores vs. opportunities: 10-18 (55 percent)
Total points allowed after turnovers: 53
Games without committing at least one turnover: 3
Games without allowing points after turnovers: 5
Arizona State
Turnovers committed: 13
Opponent scores vs. opportunities: 10-13 (76 percent)
Total points allowed after turnovers: 62
Games without committing at least one turnover: 6
Games without allowing points after turnovers: 0
Colorado
Turnovers committed: 21
Opponent scores vs. opportunities: 16-21 (76 percent)
Total points allowed after turnovers: 104
Games without committing at least one turnover: 2
Games without allowing points after turnovers: 0
UCLA
Turnovers committed: 16
Opponent scores vs. opportunities: 13-16 (81 percent)
Total points allowed after turnovers: 82
Games without committing at least one turnover: 2
Games without allowing points after turnovers: 3
USC
Turnovers committed: 12
Opponent scores vs. opportunities: 6-12 (50 percent)
Total points allowed after turnovers: 42
Games without committing at least one turnover: 5
Games without allowing points after turnovers: 4
Utah
Turnovers committed: 16
Opponent scores vs. opportunities: 9-16 (56 percent)
Total points allowed after turnovers: 55
Games without committing at least one turnover: 4
Games without allowing points after turnovers: 3
February, 9, 2015
Feb 9
10:30
AM PT
Who needs the NFL, Los Angeles? With the way USC and UCLA are going, the city is just fine when it comes to football.
The Trojans and Bruins lead our look at programs trending up following the end of the season, the coaching carousel and signing day.
1. USC
The Trojans just signed their first full recruiting class since 2011, when they were hit by NCAA penalties. Finishing behind only Alabama and Florida State in ESPN RecruitingNation's rankings, it wasn't just a matter of quantity for USC. Among the 16 ESPN 300 prospects signed, it added the country's No. 1 cornerback, running back and inside linebacker. The Trojans are stockpiling at this point.
Beyond recruiting, quarterback
Cody Kessler
-- the country's most underrated passer -- is back. So are sophomore stars-in-the-making cornerback
Adoree' Jackson
and wide receiver
JuJu Smith
.
Pac-12 coaches always believed the Trojans had as much talent as anyone in the country, not just the league. With the numbers bouncing back, now they have the depth to counter any rash of injuries.
Given all that, and the Holiday Bowl win against Nebraska, this is why a number of people -- myself, included -- see USC as a playoff-type team in 2015. The talent is there. Can Steve Sarkisian coach the Trojans to that level?
To continue reading this article you must be an Insider
PAC-12 SCOREBOARD
Thursday, 9/3
Friday, 9/4
Saturday, 9/5