July, 17, 2014
Jul 17
8:40
AM PT
LOS ANGELES -- With the recent season-ending ACL injury to
Kenny Bigelow
, a talented redshirt freshman defensive tackle, it makes a
USC Trojans
fan ponder which players on offense and defense head coach Steve Sarkisian cannot afford to lose?
Here is our list of the top five offensive and defensive players the Trojans need the most in 2014:
Offense
July, 16, 2014
Jul 16
5:30
PM PT
It's possible that your team's backup quarterback will be completely irrelevant this season. It's also possible he will become your team's most important player.
Just like the vice president isn't that important until he is, so is the backup QB. He could rescue or ruin your season.
So how do Pac-12 teams stand at backup QB? Let's take a look, starting with the South Division.
(Obviously, if your team hasn't yet named a starting QB, this is a bit of an either-or exercise).
Arizona
: The above disclaimer was written for the Wildcats, who have a wide-open competition heading into fall camp between four guys: senior
Jesse Scroggins
, sophomore
Anu Solomon
, junior Jerrard Randall and sophomore
Connor Brewer
. The good news is all four flashed capability during spring practices, so there's little worry on Rich Rodriguez's staff whether he can find at least two guys with whom he can win. Further, the backup situation sets up things for next year (if Scroggins prevails, and he's a slight frontrunner, then it will be competition-on again).
Arizona State
: Starter
Taylor Kelly
is one of the nation's best returning QBs. His big-armed backup,
Mike Bercovici
, is likely one of the nation's best backup QBs. While Kelly is the clear starter, there isn't a Sun Devil player or coach who'd panic if Bercovici were forced into action. During spring practices, he looked like a co-starter, though he's not the runner Kelly is. The redshirt junior could have transferred searching for playing time when he lost out to Kelly in 2012, but he'll get his shot in 2015 while owning a strong knowledge of Mike Norvell's offense.
Colorado
: When you asked coach Mike MacIntyre to
list things that pleased him this past spring
, he was quick to note how
Jordan Gehrke
played, establishing himself as
Sefo Liufau
's backup. That's good because, due to attrition, backup QB was a big concern entering spring practices. No QB on the roster besides Liufau, a true sophomore, has taken a snap in an FBS game.
UCLA
: The Bruins have very few questions, but backup QB is one of them. That is a significant concern for two reasons: 1. The drop-off from
Brett Hundley
appears steep; 2. Hundley likes to run, which puts him at greater risk for injury (Hundley needs to remember to slide -- just because he's built like a linebacker doesn't mean he needs to try to run over one). The chief competitors for the backup job are
Jerry Neuheisel
, the 2013 backup, and redshirt freshman
Asiantii Woulard
, with Woulard being the guy with the most future upside.
Some obscure QB recruit has committed
, but he won't be around until 2015.
USC
: New coach Steve Sarkisian named
Cody Kessler
his starter during spring practices, but there's no question redshirt freshman
Max Browne
is talented. While he's seen no game action, he's got an NFL arm and flashed a nice touch during spring practices. It's probably good the Trojans have a clear pecking order. And it's good they have a guy like Brown waiting in the wings.
Utah
: Whether you're a bird in the hand person --
Travis Wilson
is healthy, experienced and ready to rock a third year as a starter! -- or a two-in-the-bush sort -- Oklahoma transfer Kendal Thompson was once a touted recruit! -- Utes fans surely are breathing easier about their QB situation. If Thompson -- or
Conner Manning
or
Adam Schulz
-- is good enough to beat out Wilson, then that means the Utes should be solid at QB this fall.
July, 16, 2014
Jul 16
3:00
PM PT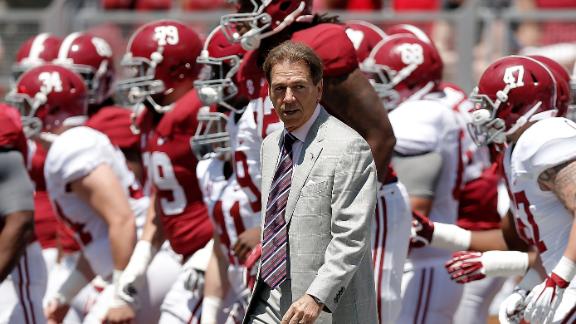 You want controversy? You want regional bias? You BCS-raised, college football young'uns don't know squat. Consider Exhibit A: USC and Alabama in 1978.
USC went to Legion Field in Birmingham, Alabama, on Sept. 23, 1978, and whipped the top-ranked Crimson Tide 24-14 in front of 77,313 fans who didn't appreciate West Coast cool rolling over their southern-fried team like an army of deranged surfers.
The technical term for that in college football parlance is a "head-to-head victory." That the win was accomplished on the road provided it even more gravity as an objective and seemingly insurmountable measure of two teams. Ergo, when the season ended with both USC and Alabama winning New Year's Day bowl games following one-loss seasons, it was obvious who should be ranked No. 1. That would be the Trojans, of course.
[+] Enlarge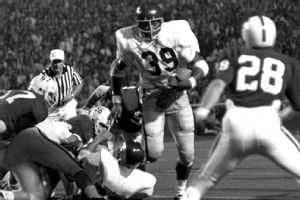 University of Southern California/Getty ImagesUSC fullback Sam Cunningham turned in a big performance in the Trojans' 1970 victory over the Crimson Tide.
Au contraire. The Associated Press poll voted the Crimson Tide No. 1 after they nipped regular-season No. 1 Penn State in the Sugar Bowl. USC had to settle for the UPI -- coaches' poll -- national title after beating No. 5 Michigan in the Rose Bowl.
Even today, if you throw this Apple of Discord onto a bar table between Tide and Trojans adherents over 50, spittle will fly, veins will bulge, and the unique righteous indignation of college football fans will thunder forth like water over Niagara Falls.
That just begins the story of USC-Alabama, which might have the most storied seven-game all-time series in college football history. Or is that Alabama-USC?
So if we are overbrimming with joy at the prospect of the Crimson Tide and Trojans opening the 2016 season in
the eighth annual Cowboys Classic at AT&T Stadium in Arlington, Texas, in a Labor Day weekend, neutral-site game
, please forgive us.
This, my friends, is what we've all been craving. If this is the luscious fruit brought forth by the new College Football Playoff demanding more challenging scheduling, then let's give the sport's powers-that-be a collective fist bump. They have, rightfully, been taking a lot of grief lately, most notably in the courts. If we can, for a moment at least, block off consideration of the monstrosity of the cash flow certain to gush from this one. Let's instead awash ourselves in the anticipation of the game itself.
Alabama and USC are without question two of college football's preeminent powers. They might be college football's
two
preeminent powers. They have combined for 26 national championships (11 by USC, 15 by Alabama), 66 bowl victories (32 USC, 34 Alabama), seven Heisman Trophy winners (6 USC, one Alabama), 272 first-team All-Americans (161 USC, 111 Alabama), 797 NFL draftees (483 USC, 314 Alabama), 52 College Football Hall of Fame players (31 USC, 21 Alabama) and such legendary coaches as USC's Howard Jones, John McKay, John Robinson and Pete Carroll and Alabama's Wallace Wade, Frank Thomas, Bear Bryant and current head coach Nick Saban.
Whew. While Notre Dame and Michigan fans are jumping up and down, waving their arms, this matchup is about as special as it gets, particularly when you project forward that both are likely to be top-10 teams to start 2016.
As for the series itself, Alabama leads 5-2. The Tide's biggest wins came in the 1946 Rose Bowl and in the Coliseum in 1971 and 1977, a decade in which both teams were dominating their respective regions. USC's other victory, a 42-21 blowout in 1970 in Birmingham, is often credited with pushing forward the integration of college football in the South, as the Trojans' African-American players, particularly fullback Sam Cunningham, tailback Clarence Davis and quarterback Jimmy Jones, turned in big performances. That game has been the subject of
many stories and documentary films
.
When those iconic helmets are standing opposite each other, there might be a few goose bumps from the old-timers that prove contagious to those who don't recall much from the pre-BCS age.
As for the present, the plot is also pretty thick. For one, the SEC and Pac-12 are the top two conferences in college football, and there's little reason to believe that will change much over the next three seasons. This game, therefore, could operate as a season-long measuring stick for both leagues. CFP committee members might be willing to apply the transitive property if they should be forced to make distinctions between Pac-12 and SEC teams that didn't play -- as in, "Well, UCLA beat USC and USC beat Alabama and LSU lost to Alabama, so UCLA should eclipse LSU."
Finally, there's the Lane Kiffin angle. Kiffin, you might have heard, was fired five games into the 2013 season as USC's head coach. He is now Alabama's offensive coordinator, a pairing with Saban that seems, well, interesting. Kiffin might be somewhere else in 2016, but it certainly would be a notable sidebar to the game if he is not.
By the way, Saban will be 65 in 2016. He might not be atop the Crimson Tide when this game rolls around.
Hmm. Lane Kiffin, Lane Kiffin. Hmm.
Ah, there is a lot to ponder with this one. Plenty of topics that will percolate. And ferment. Perhaps it's good we have two full seasons between now and this showdown to hone our hyperbole.
July, 16, 2014
Jul 16
2:30
PM PT
This is Butkus, Klahn's bodyguard. He is tough and ruthless. This is Kwong, Klahn's chauffeur. He is rough and toothless.
July, 16, 2014
Jul 16
9:16
AM PT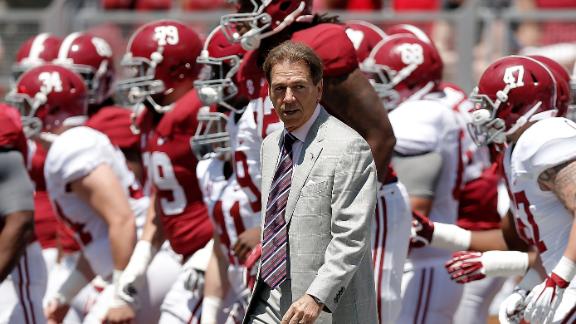 Alabama and USC will launch their 2016 seasons on Sept. 3 at AT&T Stadium in Arlington, Texas.
The Cowboys Classic will mark the eighth meeting between the programs. Alabama got the best of USC the last time the teams met, winning 24-3 in the 1985 Aloha Bowl.
The game against the Trojans is the latest of the Crimson Tide's high-profile neutral-site openers. Alabama will play West Virginia in Atlanta this season and Wisconsin in Arlington in 2015.
By adding the nonconference tilt with USC, Alabama fulfills its new obligation from the SEC to begin scheduling at least one nonconference game against a Big Five conference opponent starting in 2016.
Last summer, Alabama canceled a previously scheduled home-and-home series with Michigan State for 2016 and '17. Tide athletic director Bill Battle said at the time that the move was done because of "the uncertainty of conference football schedules in those years."
But according to coach Nick Saban, he tried and failed to persuade the Spartans to move the game to a neutral site.
The 2016 game between Alabama and USC could feature an interesting storyline. Lane Kiffin, who was fired by USC last fall, joined the Crimson Tide as offensive coordinator in January.
Alabama won the last time it played at AT&T Stadium, beating Michigan 41-14 to kick off the 2012 season.
July, 16, 2014
Jul 16
11:00
AM PT
Gas up the family station wagon and hit the
Holiday Road
. The Ultimate Road Trip is back! Over the next couple of weeks we're going to look at each week during the 2014 season and pick the can't-miss game (and maybe for Thursday/Friday games, we'll work in two).
Start planning accordingly. The Ultimate Pac-12 Road Trip continues.
Welcome to Week 3
Saturday, Sept. 13
Wyoming at Oregon
Illinois at Washington
Army at Stanford
Portland State at Washington State
USC at Boston College
UCLA vs. Texas (at AT&T Stadium, Arlington, Texas)
Arizona State at Colorado
Nevada at Arizona
Byes: Cal, Oregon State, Utah
My choice
: UCLA vs. Texas
Why:
What an incredible Week 2 that was. Oregon made a national statement with its convincing win against Michigan State and I can't believe Stanford-USC ended in another last-minute field goal! That had to be one happy team from the state of California.
For Week 3, let's take a step out of our comfort zone and travel to a place not normally frequented by the Pac-12 faithful during the regular season -- Texas.
Let's be honest. Texas isn't what it used to be. The Longhorns are trying to get back there under new head coach Charlie Strong. But it might take a while.
However, the Texas brand still carries a ton of name value. And a win against the Longhorns at a neutral site (only by name), would be a huge boost for a UCLA program trying to make a splash on the national stage. The Bruins will likely be a top 10 team to start the season. And barring an unbelievable mishap at Virginia or home against Memphis, they will be a team the playoff committee is keeping an eye on when this game rolls around.
From an individual standpoint, this game could also be a big boost for quarterback
Brett Hundley
and his Heisman candidacy. Voters were already eyeing
Marcus Mariota
and his five-touchdown performance against Michigan State last week (three in the air, two on the ground). They aren't going to care much what Hundley does against Virginia or Memphis. But if he goes into Texas and has a huge game, that will definitely give him a boost.
There are also, of course, the rumors that circulated about UCLA head coach Jim Mora when the Texas job became available. Whether those were substantiated or legitimate are irrelevant. They were out there -- and that adds an element of intriguing to this game.
This is a game UCLA should win, thus making it a must-win. If the Bruins want to go to where they hope they will, they have to win this game convincingly. If they do, they will get the benefit of beating a brand-name team, even if the Longhorns are currently re-branding.
Nevada at Arizona has some intrigue because it's a rematch of the thrilling 2012 New Mexico Bowl. And Illinois' trip to Washington is another Pac-12-Big Ten showdown. But as far as national interest goes, UCLA-Texas is the game to see this week.
You can see the rest of the road trip
here
.
July, 16, 2014
Jul 16
7:50
AM PT
By
ESPN.com staff
| ESPN.com
On Wednesday, WeAreSC reporter
Garry Paskwietz will be chatting
about
USC Trojans
football. Paskwietz is the publisher of WeAreSC and has been covering the Trojans since 1997. Send your questions now and join Paskwietz every Wednesday at 2 p.m. PT.
July, 15, 2014
Jul 15
5:30
PM PT
We conclude our position reviews with punter, where nine starters return.
Here's how they stack up.
GREAT SHAPE
Tom Hackett, Utah
: Utah led the Pac-12 in net punting and Hackett led the conference with an average of 43.4 yards per punt, burying 27 kicks inside the 20. He won first-team All-PAC-12 honors and is an All-American candidate.
[+] Enlarge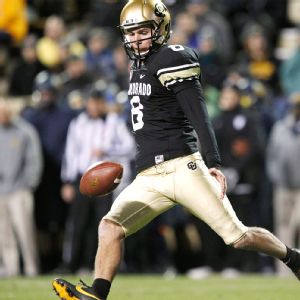 AP Photo/David ZalubowskiDarragh O'Neill was a consistent performer for the Buffaloes in 2013, averaging 40.5 yards per punt.
Ben Rhyne, Stanford
: Rhyne ranked second in the conference with 42.9 yards per punt. He had 12 kicks of 50-plus yards and put 15 inside the 20.
Sean Covington, UCLA
: As a freshman, Covington ranked fourth in the conference with an average of 42.6 yards per punt, but the Bruins also ranked second in the league in net punting.
Darragh O'Neill, Colorado
: O'Neill averaged 40.5 yards per punt last year and pinned 22 of 56 boots inside the 20.
Keith Kostol, Oregon State
: Kostol averaged 40.5 yards per punt -- same as O'Neill -- and pinned 23 of 67 boots inside the 20.
Cole Leininger, California
: Leininger tied for second in the conference with a 42.9-yard average, and his 14 punts of more than 50 yards ranked second in the conference. The Bears, however, did rank 10th in the league in net punting.
GOOD SHAPE
Kris Albarado, USC
: While Albarado ranked 12th in the conference with a meager 37.1 yards per punt average, he did kill 27 of 64 inside opponent's 20 yard line, a better rate than Hackett. He doesn't have a big leg -- just four punts over 50 yards -- and the Trojans still ended up 11th in net punting.
Drew Riggleman, Arizona
: Riggleman ranked eighth in the conference with a 40.1 yard average. He did rank tied for third with 12 punts of 50 or more yards and killed 18 inside the 20. The Wildcats ranked sixth in net punting. There could be a challenge from the incoming Josh Pollack.
WE'LL SEE
Matt Haack, Arizona State
: The Sun Devils struggled in the punt game last year, and
Alex Garoutte
lost his job to Haack, who was strong during spring practices. Both, however, averaged under 39 yards per kick, and the Sun Devils were last in the conference in net punting.
Washington
:
Korey Durkee
has some experience, averaging 36.9 yards on 15 punts in 2012 as a true freshman, so he's the frontrunner to replace the valuable Travis Coons. Incoming kicker/punter Tristan Vizcaino could be a factor.
Washington State
: Wes Concepcion took over the job last year from Michael Bowlin and averaged just 36.2 yards per punt.
Oregon
:
Matt Wogan
is expected to handle both the punting and kicking duties after just kicking last year. He was solid punting during the spring.
Other position reviews:
July, 15, 2014
Jul 15
2:30
PM PT
My name is John Johnson. But everyone here calls me Vicki.
July, 15, 2014
Jul 15
1:00
PM PT
Seven Pac-12 players were named to the 2014
Biletnikoff Award Preseason Watch List
.
The Biletnikoff Award annually recognizes the outstanding receiver in college football. Any player, regardless of position (wide receiver, tight end, slot back and running back) who catches a pass is eligible for the award.
Here are the Pac-12 players on the list.
July, 15, 2014
Jul 15
11:00
AM PT
Gas up the family station wagon and hit the
Holiday Road
. The Ultimate Road Trip is back! Over the next couple of weeks we're going to look at each week during the 2014 season and pick the can't-miss game (and maybe for Thursday/Friday games, we'll work in two).
Start planning accordingly. The Ultimate Pac-12 Road Trip continues.
Welcome to Week 2:
Thursday, Sept. 4
Friday, Sept. 5
Washington State at Nevada
Saurday, Sept. 6
Sacramento State at California
Fresno State at Utah
Eastern Washington at Washington
USC at Stanford
Michigan State at Oregon
Arizona State at New Mexico
Memphis at UCLA
Oregon State at Hawaii
Colorado at UMass (at Gillette Stadium, Foxborough, Massachusetts)
My choice
: Michigan State at Oregon
Why
: After a rather uneventful Week 1, which saw the conference go 11-1 (with Cal taking Northwestern to nonuple overtime but coming up short) Week 2 ramps up with two of the best games in the country -- making it nearly impossible for the Pac-12 blog to make a compelling case for one over the other.
On one hand, you've got the Rose Bowl Champions, Michigan State, coming into Autzen for a clash of what should be top-10 teams (we're giving Oregon and Michigan State the benefit of the doubt over South Dakota and Jacksonville State, respectively). On the other, the first Pac-12 game of the season that will feature two top-25 teams in Stanford and USC.
Literally, I flipped a coin.
Both games will likely have significant ramifications as we look ahead to the College Football Playoff. All four teams feel they have a good shot at one of those four spots. Yet two of those four will have some work to do by the end of Week 2.
The Stanford-USC games the past few years have been epic, from last-minute field goals and triple overtimes to shocking upsets. Last year was no exception as the Trojans snapped a four-game skid to the Cardinal on the strength of Andre Heidari's last-minute field goal. And while the Steve Sarkisian-David Shaw verbal jousting over faking injuries seems to be water under the bridge from last year's Stanford-Washington game, it still adds a sprinkle of thermite to an already heated rivalry.
And yet, the Oregon-Michigan State matchup has huge national appeal because of its potential impact on the postseason. It's been deemed by many as the top nonconference game in college football in 2014. This is one of those games that can make or break a season in Week 2. The winning coach will say "it's just another game." But we know it's not. The losing coach will say "it's just another game." But we know it's not. Of course, the winner won't get an automatic bid to the playoff with a win in Week 2. But it will surely strengthen their resume. Just as the losing team won't completely be eliminated. But it will be a stain on theirs.
Couple all of that with the sheer difference in style and personality of the two teams, their approaches to the game and the Pac-12-Big Ten connection and you have a thrilling matchup that should play just as well in Week 2 as it would on New Year's Day.
But if you told me you were going to Palo Alto instead, I wouldn't hold it against you.
You can catch the rest of the road trip
here
.
July, 15, 2014
Jul 15
9:00
AM PT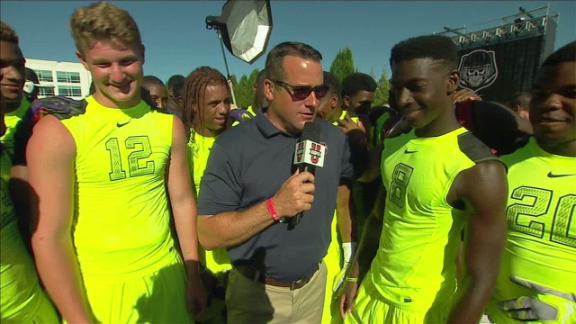 After reviewing performances at
The Opening
last week, here are a few quick hits on how each
Elite 11
quarterback performed:
To continue reading this article you must be an Insider
July, 14, 2014
Jul 14
4:53
PM PT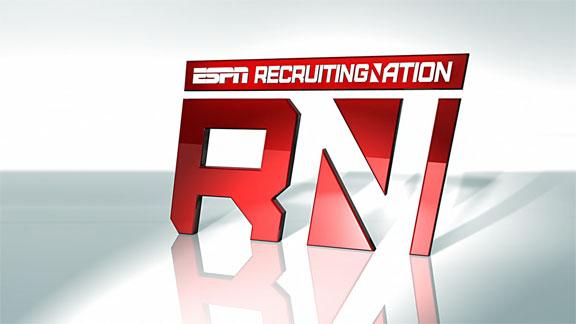 Mission Hills (California) Bishop Alemany wide receiver
Desean Holmes
gave the
USC Trojans
a commitment on Monday.
To continue reading this article you must be an Insider
PAC-12 SCOREBOARD
Thursday, 8/28
Friday, 8/29
Saturday, 8/30