April, 15, 2014
Apr 15
2:30
PM PT
I'm an early bird and I'm a night owl, so I'm wise and have worms.
April, 15, 2014
Apr 15
10:00
AM PT
As
the Trojans
prepare to wind down spring ball drills, there won't be a clear-cut answer on whom will be starting at right guard in the fall.
Khaliel Rodgers
has been working with the first unit throughout spring and has done a solid job. The redshirt freshman is known for his tenacious and aggressive nature, and he has made progress adjusting to USC's new up-tempo offense.
[+] Enlarge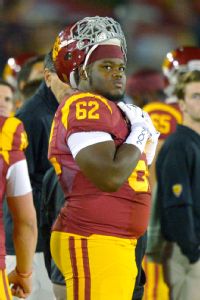 AP Photo/Mark J. TerrillRedshirt freshman Khaliel Rodgers, a former ESPN 300 recruit, could start in 2014 for the Trojans.
By the time fall camp rolls around, however, there will be competition in the form of experienced senior
Aundrey Walker
. With 18 career starts under his belt -- including 10 last season at right guard -- Walker has to be considered a legitimate option, but he will also be coming off a broken ankle suffered in the regular season finale. That injury has forced him to sit out spring ball, which includes an important adjustment period to the speedy pace of play.
Walker has never been known as a player with a great work ethic so it will be interesting to see where his strength and conditioning is when he returns to practice. The fact that his injury is an ankle has prevented him from keeping up with conditioning, and there will be no real way to substitute for that until the ankle is ready. Walker is a big guy, listed on the USC roster at 6-foot-6 and 300 pounds, and that kind of frame will need some time to catch up to the work the other players are doing right now in order to get through 120 high-paced plays per day.
Of course, this is the final year of college eligibility for Walker, the last chance to impress the pro scouts for his potential career. Perhaps that will be the kind of carrot that will motivate him to show up ready to go from the moment fall camp arrives.
If Walker isn't ready to go -- either with conditioning or with mental knowledge of the playbook -- Rodgers is continuing to make the coaches more and more comfortable with the thought of putting him on the field. That previous starting experience will be important for Walker, though, and you know the coaches will factor that into the equation, too.
WeAreSC caught up with Rodgers to get his thoughts as spring ball enters the final week:
Q:
How is spring practice going so far?
A:
It's going great. Everyone is adjusting and doing great so far.
Q:
What's your weight at right now?
A:
About 300 pounds.
Q:
Is that the weight you've been trying to maintain through the spring?
A:
Yeah, it's been up and down a lot, been in the [200s], back up to [300], 310 but I'm 300 even right now.
Q:
What's it been like with [offensive line] Coach [Tim] Drevno?
A:
It has been an awesome experience. He's one of the greatest coaches to come out of the NFL. From the technique he teaches and overall, he's a team coach and a great coach overall.
Q:
How has moving around at guard been?
A:
I've always been a guard, so moving me from left to right hasn't been a major difference.
Q:
You've been playing a lot with the first team, you feel pretty comfortable with that?
A:
Yeah, me and the guys are gelling well. I took a lot of reps with them, with the first team, last year at practice. We were able to gel back then, so we are definitely gelling now.
Q:
There was a lot of talk of you coming in and playing center, was that something you kind of wanted to do, or do you like it at guard better?
A:
Whatever position Coach [Steve Sarkisian] wants me to be at, I'll play.
Q:
How much more prepared do you think you are with the redshirt year under your belt?
A:
I'm more prepared just knowing the game, sitting back for a whole year and just watching how the game's being played. Just football knowledge, I gained a lot of football knowledge.
Q:
What's the scheme been like for you? How different has it been with Sark in there?
A:
It is totally different, but it is a scheme that will win games for sure, so we are definitely adjusting.
Q:
For you specifically, what has been the difference for you? The protections, the calls, is all that different?
A:
Wider splits, up tempo, fast, you've got to think faster. Everything is fast, that's how you've got to win games now. Football is evolving and we got to be fast.
Q:
Do you like the up-tempo style?
A:
Definitely. It kills the morale of the defense.
Q:
Is there any issues with conditioning for you as far as the up tempo goes?
A:
We all have to get used to it as a team, but we are almost to the end of spring, so we are starting to get used to it now.
Q:
You guys are running about 120 plays during practice, do you feel pretty good afterwards or are the last few plays hard?
A:
It is definitely a lot of work put in so it's not a bad feeling, but just to know that you can say you ran 120 plays, that's a great accomplishment in practice.
Q:
What do you think the quarterbacks have looked like back there?
A:
All of my QBs are great. They've done an excellent job this whole spring.
Q:
Max Browne
came in with you in your class, what do you think of him so far?
A:
Max, he works hard, he's a work horse, in the film room especially. He's always in the film room and the weight room, he always puts the extra time in. He's a great guy.
Q:
And you came in with
Kenny Bigelow
too, you get to face off against him. From the same high school, do you guys talk a lot about that?
A:
Nah, high school is done with, it's just like same ol' same ol', we go against each other all the time.
April, 14, 2014
Apr 14
7:00
PM PT
ESPN's Todd McShay released his
Mock Draft 4.0

on Friday, but unlike the first three, this one included projections for the second round to go along with the first.

If things were to play out how McShay envisions, the Pac-12 would account for just three first-round picks. The surprise there is not the amount, but who is not included -- UCLA OLB/DE
Anthony Barr
.
After projecting Barr at No. 7 in his first mock draft in December, McShay had him at No. 11 in versions 2.0 and 3.0. This time? All the way to the second round at No. 36 to the
Oakland Raiders
.
It's long been assumed the UCLA pass rusher was the obvious candidate to be the first Pac-12 player taken, but the torch -- at least in this instance -- has been passed to Oregon State receiver
Brandin Cooks
at No. 18 to the Jets. McShay's previous forecast had USC receiver
Marqise Lee
in that spot, but now he has Lee joining former Oregon coach Chip Kelly in Philadelphia at No. 22.

McShay notes:
Lee did some serious damage to Chip Kelly's Oregon teams in 2011 and 2012, with a combined 20 catches for 344 yards and three touchdowns.
UCLA offensive guard
Xavier Su'a-Filo
is tagged for former USC coach Pete Carroll and the Super Bowl champion Seahawks at No. 32.
Seven players from the Pac-12 were projected to go in the second round, and a notable running back from the conference is on the board after the first two rounds.
April, 14, 2014
Apr 14
12:00
PM PT
So much has been expected from
USC
defensive lineman
Kenny Bigelow
, you'd think his name should already have been etched alongside such former Trojans D-line greats as Shaun Cody, Sedrick Ellis and Mike Patterson.
A mountain of a man at 6-foot-4 and 315 pounds, Bigelow came to Troy in the spring of 2013 with "Conquest" blaring and projections of greatness, having graduated a semester early from Elkton (Md.) Eastern Christian Academy.
A household name in recruiting circles for years, Bigelow was expected to step right in as a freshman and contribute, but sometimes those projections from the recruiting gurus don't come to fruition.
To continue reading this article you must be an Insider
April, 14, 2014
Apr 14
2:30
PM PT
I remember the stupid things, the mood rings, the bracelets and the beads, the nickels and dimes, yours and mine. Did you cash in all your dreams?
April, 14, 2014
Apr 14
10:00
AM PT
REDONDO BEACH, Calif. -- At first,
John Houston Jr
. got a good laugh out of the fake Twitter account using his name.
The ESPN 300 linebacker was flattered, in a sense, knowing someone out there thought highly enough of him to pretend to be him. An impersonation meant all of his work on the field had earned him enough recognition.
Then, when the fake account suddenly announced a March 24 commitment to USC, Houston had a problem.
To continue reading this article you must be an Insider
April, 11, 2014
Apr 11
2:43
PM PT
USC coach Steve Sarkisian anticipates incoming freshman
Adoree' Jackson
will get looks on both sides of the ball when he arrives for fall camp.
"I think he's going to get some [reps] at both, quite honestly," said Sarkisian after practice on Thursday when asked if Jackson would line up on offense or defense.
Jackson, who was ranked as the No. 3 cornerback in the nation by ESPN for the Class of 2014, compiled six interceptions -- three of which were returned for touchdowns -- as a senior at Gardena (Calif.) Serra. But Jackson also averaged more than 21 yards per catch on offense, gaining more than 1,450 all-purpose yards while scoring 12 touchdowns.
During the early part of his recruitment, Jackson stated that he wanted to play wide receiver if he ended up playing for the Trojans. He had developed a good relationship with USC receivers coach Tee Martin and had watched as
Robert Woods
and
Marqise Lee
-- who both graduated from Serra -- had a lot of success at the position.
As explosive as he can potentially be on offense, Jackson is also considered to be an elite talent at cornerback. His ESPN scouting report included the following line:
"Cover corners are hard to come by, but he has the speed and skill set to develop into a fine one at the college level if he can continue to add strength and polish his technique."
Jackson will compete with starters
Josh Shaw
and
Kevon Seymour
as well as with
Chris Hawkins
-- who is working with the first unit this spring while Shaw sits out with a foot injury -- for a spot in the cornerback rotation in preseason camp. There is also opportunity on offense, as
Nelson Agholor
is the only established returner at wide receiver.
April, 11, 2014
Apr 11
8:00
AM PT
Heading into the spring, USC outside linebacker
Jabari Ruffin
knew that he had a golden opportunity, and he was determined to seize it. A third-year sophomore with 22 tackles and one start to his credit, as he saw it, this was his time to emerge from relative obscurity into a key contributor for the Trojans.
After all, not only did he feel that he was physically prepared to take on an increased role, but a brand new 3-4 scheme was set to be unveiled by defensive coordinator Justin Wilcox, and the SAM linebacker spot that he was slated to play was wide open for the taking.
All he had to do was prove himself on the field.
And through 11 practices this March and April, that's just what he has done.
[+] Enlarge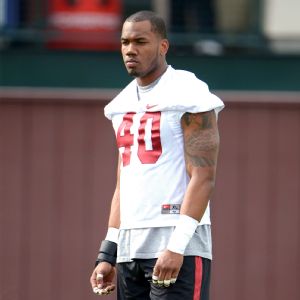 Kirby Lee/USA TODAY SportsSophomore linebacker Jabari Ruffin believes USC's new 3-4 scheme fits him well.
Beginning spring camp running with the No. 2 defensive unit behind
Quinton Powell
, Ruffin began impressing USC coach Steve Sarkisian and Co. with his play on a daily basis, so much so that over the course of the last week he actually has been lining up ahead of Powell with the No. 1 group for much of the time.
"We're seeing him really grow as the days go," Sarkisian said. "So, as much as we're looking at the grand scheme of things right now, there's individuals like a Jabari who you say, 'Man, he's starting to get it a little bit more, and a little bit more.'"
A big, rangy athlete who, in addition to starring at linebacker on the high school level at Downey (Calif.), also excelled as a wide receiver, Ruffin believes he has found the perfect match for his unique skill-set in the SAM linebacker position in USC's new system.
"Not only do we get to rush off the edge, get a little blitzing going -- which is what I did last year in the old system -- but I get to cover receivers and use my speed in space," Ruffin said.
Sarkisian agrees.
"He's really what you're looking for at that SAM linebacker position for us," Sarkisian said. "He's 6-3 and change, 240 pounds. He was a high school wide receiver that is extremely athletic for a big man, but yet he's violent at the point of attack."
Quick to credit USC strength and conditioning coach Ivan Lewis for the strides he has made physically over the course of the last few months, Ruffin also says he has come a long way in terms of his mental maturity -- another factor that he believes has contributed to his emergence this spring.
"I definitely changed up my work habits," Ruffin said. "I'm taking everything slow and paying attention to detail, whether it's studying film, or just a simple false step. So I'm definitely taking kind of a different, mature approach this season, and I feel the effects."
Of course, it certainly doesn't hurt to have a player like Powell competing with him, either. The talented sophomore has played an important role in helping to raise Ruffin's game to another level, not just because he too, has shown tremendous promise this spring, but also due to the fact he's one of Ruffin's closest friends.
"We definitely push each other," Ruffin said. "We hang out off the field a lot so when I'm on the field, I see a friend as well as a competitor, so it makes us both strive even more. And we're out there on each other because at the end of the day I want to see him succeed, and he wants to see me succeed. It's a good relationship and it's friendly competition."
Immersed in that ever-constant atmosphere of competition, Ruffin certainly isn't having any trouble maintaining focus on his ultimate goal -- making a name for himself in 2014.
"It's safe to say that this is my big season to break out here at USC," Ruffin said. "Every day I'm just trying to get better, and obviously looking forward to a big season once fall comes, and the start of the school year, and the start of the season with Fresno State. I'm just real excited about that, and it's just motivating me every day to work."
April, 10, 2014
Apr 10
2:30
PM PT
And I said "What about Breakfast at Tiffany's?" … Well, that's the one thing we've got.
April, 10, 2014
Apr 10
10:00
AM PT
By
WeAreSC staff
| ESPN.com
USC coach Steve Sarkisian said he expects to name a starting quarterback before the end of spring ball. There were other position battles that took place on the field this spring, as well, and the WeAreSC staffers give their thoughts on the following competitions and who they would name as the starter.
WR opposite Nelson Agholor
Garry Paskwietz:
I'll go with
Darreus Rogers
right now, but I'm not going to rule out
George Farmer
being the starter by the season opener. Rogers has all the tools and flashes them often, but the one thing Sarkisian has noted is his inconsistency. Farmer, on the other hand, has been steadily consistent as he continues to come back from a knee injury. He is looking strong and mature right now and if his health holds up, he could make a push for the spot.
[+] Enlarge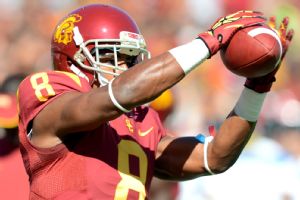 Harry How/Getty ImagesCould former five-star prospect George Farmer be in play as a starting wide receiver?
Johnny Curren:
While the performance of Farmer as of late makes this decision more difficult than anticipated, I would still give the nod to Rogers. With his combination of size, athleticism and sure hands, he really adds a unique dimension to the offense. He's especially dangerous in the red zone -- something he showed last Thursday when he hauled in three touchdowns with the offense in close.
Greg Katz:
Although Farmer and
Victor Blackwell
have made strides, the vote here goes to Rogers, who has made some standout plays and continues to improve on his consistency and concentration.
DE opposite Leonard Williams
GP:
The Trojans have a pair of veteran options to replace
George Uko
in
Delvon Simmons
and
Claudeson Pelon
. Both are big, strong bodies in the middle who will contribute this year, but if I have to name a starter I will choose Pelon. He got praise from Sarkisian this week for the way his conditioning seems to be paying off, and looks to be an impressive run stuffer.
JC:
Simmons is the choice here. Not only does he possess 6-foot-6, 300-pound size, but what has impressed me most this spring is his quickness, and perhaps most of all, his stamina -- something Pelon and
Kenny Bigelow
appeared to struggle with at times. When you throw Simmons into a lineup that will also include Williams and an improved
Antwaun Woods
, there's reason to believe that the Trojans will have one of the nation's most formidable starting defensive line units in 2014.
GK:
Simmons is the choice, having shown his experience of having already played for two seasons at Texas Tech. Simmons, while still striving for consistency on a play-by-play basis, is big and talented and has shown the most progress, which hasn't been entirely unexpected.
SAM linebacker
GP:
There are two really good options with a lot of upside in
Quinton Powell
and
Jabari Ruffin
. I would have said Powell at the start of spring, and while he didn't do anything to lose the spot in my mind, Ruffin has showed me a little more. Any way you look at it, the Trojans are fine here.
JC:
This is the toughest one to choose because Powell and Ruffin have each been stellar this spring. Still, if I have to pick one, it's Powell. An explosive athlete with strong football instincts and the length that the USC coaches look for at SAM linebacker, Powell is really the total package. I think he has the potential to develop into a difference-maker down the line, and I can't wait to see what he does in 2014.
GK:
With
Scott Starr
having been moved to rush end, it's a battle between Powell and Ruffin. Powell has the quickness and the attitude, but as Sarkisian recently pointed out, Ruffin is one heck of an athletic who really brings a physical game. I'll go with Powell for the moment, but the way Ruffin is improving, Powell better do the same if he wants to hold on to the position.
CB opposite Josh Shaw
GP:
Kevon Seymour
is the choice, and he should be, but I don't think you can rule out the possibility of
Adoree' Jackson
making a run in the fall.
Chris Hawkins
has stepped up his game to the point where he is in the mix too.
JC:
A more refined and physically mature Hawkins certainly proved himself to a certain extent this spring, but I'd still give the edge to Seymour here. Not only has he had a solid spring, but with 11 starts under his belt, he has the undeniable edge in experience. I'd need to see more of Hawkins in fall camp before I'd be comfortable putting him ahead of Seymour, who is coming off the best performance of his career in the Las Vegas Bowl against Fresno State.
GK:
There is no reason not to start Seymour, who had an outstanding performance in the Las Vegas Bowl. However, like Ruffin and Powell, the competition gap is closing, and look for Hawkins to continue his quest to unseat Seymour.
PAC-12 SCOREBOARD
Thursday, 8/28
Friday, 8/29
Saturday, 8/30