October, 19, 2014
Oct 19
2:33
AM PT
Some things we learned in Week 8 of the Pac-12.
The streak continues
: The Ducks beat Washington. Again. It was by more than 17 points. Again. Make it 11 in a row for Oregon over the Huskies. For obvious reasons, you tip your cap to Ducks running back
Royce Freeman
for his 169 rushing yards and four touchdowns in the
45-20 Oregon victory
. But a little credit also goes to
Marcus Mariota
's wide receivers. From
Darren Carrington
's tip-toe catch inside the 5 to
Dwayne Stanford
's phenomenal touchdown, the receivers came up big for their quarterback. Oh yeah, still no interceptions. The Ducks look every bit the part of a playoff team.
[+] Enlarge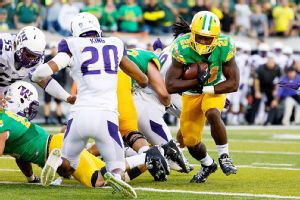 AP Photo/Ryan KangOregon's Royce Freeman had 29 carries for 169 yards and four touchdowns against Washington.
Huskies have to pick up the pieces:
Washington isn't
that
bad. It just seems like whenever it plays Oregon, whatever can go wrong will. Whether it's a quarterback throwing his first interception of the season, a shotgun snap when said quarterback isn't ready or the opposing quarterback getting a lucky bounce off a fumble, the wheels seem to come off for the Huskies when these teams meet, and the breaks never go their way. No need to panic yet about bowl eligibility. The defense is good enough that there are at least two wins out there, and probably three or four. But having dropped two of three, the last thing the Huskies need to do is hit the panic button. They got whooped. It happens. Move on. It'll be interesting to see how Chris Petersen's team looks with ASU coming to town. Speaking of which ...
... ASU inching toward elite status
: What was the big knock on Todd Graham? He still hadn't won the big one. Despite Stanford's offensive inefficiencies (add special teams to those inefficiencies after Saturday night), the Cardinal were still the two-time defending conference champs. Their
26-10 win
over the Cardinal brings ASU up a notch, as it knocked off one of the league's top-tier teams. They did it convincingly and by dictating the game. Graham has already said
Taylor Kelly
is his guy when he's ready to play. But you can't overlook the 2-1 record
Mike Bercovici
has put up in relief.
Stanford loses its elite status
: Elite teams don't look like Stanford did Saturday night. They don't fumble on kickoff returns and muff punts. They don't lose the turnover battle and rush for 76 yards when rushing is what they do. With two conference losses, the Cardinal aren't out of it yet. They could still run the table and get to the Pac-12 championship game. But a three-loss team, no matter how good the other three opponents or how close the losses, isn't getting into the playoffs.
Utah has their back, just not their quarterback:
Devontae Booker
is certainly making his case for newcomer of the year. He was one of the few offensive bright spots for the Utes, as he rushed for 229 yards and three touchdowns in their
29-23 double-overtime win
at Oregon State. Now, the quarterback is once again a question, with USC coming to town next week.
Travis Wilson
was 5-of-10 for 45 yards.
Kendal Thompson
, who started and played the first half, was 4-of-8 for 17 yards and an interception. There are some decisions to make (again) this week for Kyle Whittingham and Co.
Bears down
: You can make plenty of arguments about whether UCLA's
Marcus Rios
possessed the ball on that game-changing interception in the Bruins'
36-34 win
at Cal. But you first have to question the play call on first down, and you also have to go back through the game and look at Cal's tackling, which was not good. There were plenty of other places where Cal lost that game. The questionable replay, because it came at such a critical juncture in the game, will be highly debated. But Cal knows there was a lot more to that game than just that call.
The Bruins continue to defy logic
: UCLA was on the road. UCLA hadn't won in Berkeley since 1998. UCLA lost the turnover battle. Cal scored 21 points off turnovers. I'm not sure what the exact metric is, but logic says that's a game UCLA should not have won. Yet the Bruins overcame themselves and managed their first win at Cal after seven previous losses. The Bruins totaled 567 yards of offense, so moving the ball wasn't an issue. If they can cut the turnovers, there's no reason to think they still couldn't win the South.
Beavers bowl window is shrinking
: We talked in the past about the Week 8 showdown with Utah being a swing game for Oregon State. At 4-2, the Beavers have six opportunities left to find two wins. None of those opportunities are particularly appealing. Cal and Washington State can put up crazy points. They are at Stanford and at Washington while getting ASU and Oregon at home. Their only saving grace is that four of the six are at Reser … but given the way the league has shaped up, that probably doesn't mean much.
Colorado regressed
: Maybe it's a one-week deal. Maybe not. Either way, the
56-28 loss
to USC was ugly and worthy of the Pac-12 blog's "Dude?" status. The Buffs surrendered 56 points (all from the USC offense -- no special teams or defensive touchdowns) and yielded 532 yards. That wasn't the Colorado team we've seen in previous weeks. Which leads us to …
… USC has explosive potential
: Steve Sarkisian has said the past couple weeks that he wants to see his offense be more explosive. Remember
Nelson Agholor
? Hadn't heard his name in a while. Sure, he had 42 catches coming into this week, but he had only four receiving touchdowns and just 67.5 yards per game. He had a fairly monstrous day and caught six balls for 128 yards and three touchdowns. Of course, someone has to throw them. Agholor's day was made possible by
Cody Kessler
, who set a school record with seven touchdown passes.
October, 18, 2014
Oct 18
11:11
PM PT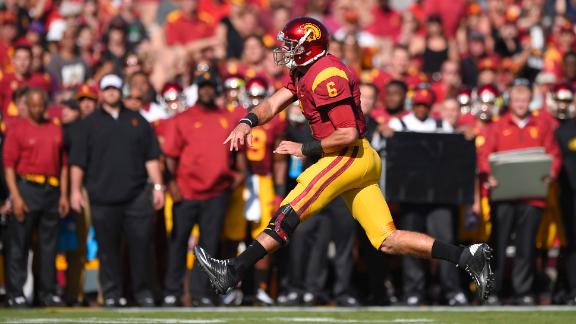 Former USC and Tennessee Titans running back LenDale White was escorted from Los Angeles Memorial Coliseum on Saturday after the Trojans' 56-28 win against Colorado.
He immediately took to Twitter, where, in a series of tweets, he blamed USC athletic director Pat Haden for the ejection and called him a "coward."
On the sideline in the fourth quarter, USC sports information director Tim Tessalone said White got into a "very loud and heated disrespectful conversation with Pat. Pat was trying to calm him down and make sense of what he was saying" but that Haden did not have White removed from the stadium.
"I spoke with Pat Haden, and he didn't see LenDale after the game," Tessalone said. "He didn't tell anybody to kick [White] out and never saw him in the tunnel."
White didn't see it that way.
The ejection occurred after the USC players had returned to the locker room, in which White was not allowed. Video from USCFootball.com shows White being slowly escorted out of a tunnel at the Coliseum by police and security personnel.
White spent the game on the sideline despite a series of very critical tweets last week aimed at the USC coaching staff and defensive coordinator Justin Wilcox in particular.
In three years at USC, White rushed for 3,159 yards and 52 touchdowns. The 57 total touchdowns he scored ranks No. 2 all time in conference.
He was drafted in the second round of the 2006 NFL draft by the Titans and rushed for 2,349 yards and 24 touchdowns in four seasons. He has not appeared in an NFL game since 2009.
October, 18, 2014
Oct 18
9:02
PM PT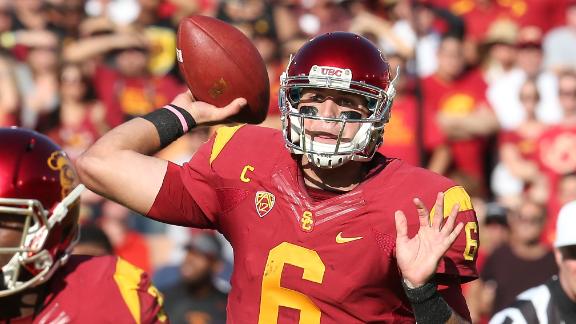 LOS ANGELES -- Cody Kessler knew what the single-game record for touchdowns was at USC.
He was on the sideline when Matt Barkley passed for six touchdowns three times during his career -- twice against Colorado and once against UCLA.
Kessler didn't need to be reminded, but it was hard not to hear about it after he passed for a school-record four touchdowns in the first quarter Saturday as USC jumped out to a quick 28-0 lead on -- who else -- Colorado.
"I'd be lying if I said I didn't know," Kessler said. "That wasn't my focus. Someone on the sideline made a joke that I only needed one or two more, and I cut them off before he finished because I didn't want to make it about that."
It was hard for Saturday's 56-28 win over Colorado -- which was effectively over before the end of the first quarter -- not to be about that, though. The game was a coming-out party of sorts for Kessler, who has quietly put together one of the best seasons by a USC quarterback.
It has been a season largely overshadowed by losses to Boston College and Arizona State, but USC's troubles this season have had very little to do with Kessler, who has come into his own as the team's leader and signal-caller.
Kessler has completed 162 of 233 pass for 1,884 yards this season, including 18 touchdowns and one interception. His completion percentage of 69.5 is on pace to break Barkley's record of 69.1 set in 2011. Kessler's career percentage is also on pace to break the record set by Matt Leinart.
Last week, Kessler's streak of 190 consecutive passes without an interception was snapped against Arizona, but it ended up being more liberating than debilitating.
October, 18, 2014
Oct 18
9:44
PM PT
By
ESPN.com staff
| ESPN.com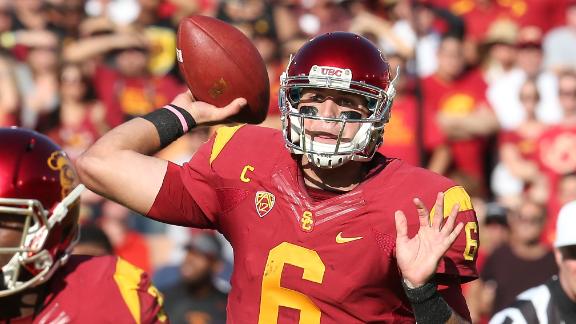 Cody Kessler
threw for a USC record seven touchdowns in the Trojans' 56-28 win over Colorado
October, 18, 2014
Oct 18
6:40
PM PT
Associated Press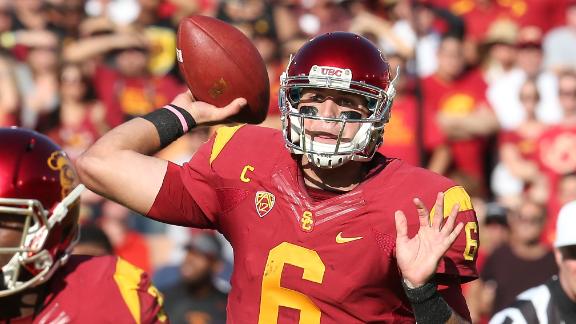 LOS ANGELES -- Cody Kessler set a school single-game record with seven touchdown passes, throwing five in the first half of No. 22 Southern California's 56-28 victory over Colorado on Saturday.
Nelson Agholor caught three TD passes from Kessler, who broke the mark previously held by Matt Barkley. He passed the record on a 24-yard TD pass to Steven Mitchell, who made a diving catch in the third quarter of a blowout victory for the Trojans (5-2, 4-1 Pac-12).
Kessler also became the first Pac-12 quarterback to throw seven TD passes in the first three quarters of a game, and the junior tied the conference record for TD passes in a non-overtime game. He finished 17 of 24 for 318 yards.
Nelson Spruce and Shay Fields each caught TD passes for Colorado (2-5, 0-4).
PAC-12 SCOREBOARD
Friday, 10/24
Saturday, 10/25