March, 11, 2014
Mar 11
8:35
PM PT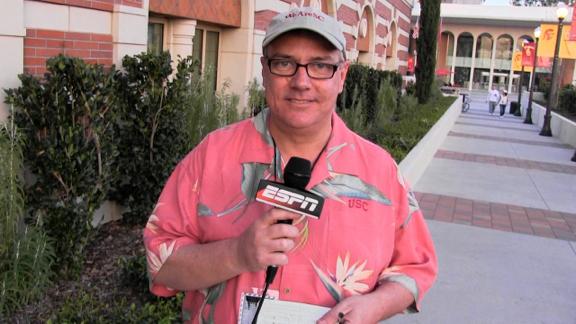 LOS ANGELES -- The
USC Trojans
returned to the practice field for the opening day of spring practice, and coach Steve Sarkisian said the impact of the up-tempo style was evident throughout the day.
"I really liked the energy and focus that our players and coaches showed," Sarkisian said. "We were by no means perfect, and there is plenty to learn from, but it was just awesome to get on the field finally with these guys.
"It's such a long process after you get hired, you need to fill the staff and finish off the recruiting season, so it was nice to walk through Goux Gate and onto the practice field. We ran 120 plays today, which was similar to what we ran on the first day at Washington when we installed the up-tempo system. I thought the players responded really well to that, we only had one time period where we didn't meet our quota of plays."
[+] Enlarge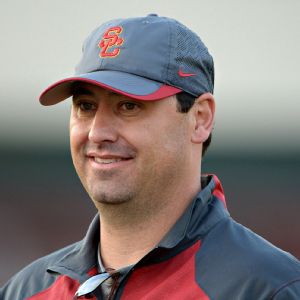 Kirby Lee/USA TODAY SportsSteve Sarkisian said the Trojans weren't perfect in their first spring practice, but he liked what he saw.
Sarkisian also noted one change from his time as an assistant at USC under Pete Carroll, as his offices are now in the John McKay Center as opposed to Heritage Hall.
"It's a much shorter walk to the field now," Sarkisian said with a smile. "I didn't really have time to think too much about anything. I left the locker room and went up the All-American walk, made a right and, boom, I was at the field."
Once he got to the field, there was plenty to note about the performance of his team during the first practice session of the spring.
The Trojans have an opening at center, which will be critical to fill on the offensive line, and
Max Tuerk
was working with the first unit. Tuerk has started games for USC at left tackle, right tackle and left guard and he was projected to move to RT this year to take over for
Kevin Graf
. Instead, Tuerk will get a look at center, where he played in limited action last spring before being moved back to guard due to struggles with the center/quarterback exchange.
"Max is a very bright young man and talented," Sarkisian said. "There is a lot of work to be done on the line and we will take a look at options to see how things develop. It was a good day though, he didn't snap the ball over anyone's head and there were no grounders."
Notes:
Leonard Williams
(shoulder) and
Josh Shaw
(stress fracture) were among those who did not participate on the defensive side of the ball. ... On offense,
Justin Davis
,
George Farmer
and
Steven Mitchell
all received limited work in walk-through sessions as they return from injury. ...
Max Browne
made an early impression in the quarterback competition with a pair of deep passes, including a touchdown to
George Katrib
. …
Chris Hawkins
had an interception and a pass break-up. ... Among the guests in attendance were
Adoree' Jackson
,
Damien Mama
,
Ricky Town
,
Rahshead Johnson
and former USC tailback
Justin Fargas
.
Q&A with Max Tuerk
Q: When were you told you'd be taking reps at center?
A:
I was told by Coach [Tim] Drevno a little bit before we started meetings, probably about a month ago.
Q: What are your thoughts on the move?
A:
Whatever is best for the team. I'm a big team player. I've moved around a lot in the last two years, so moving to center is a new, awesome thing that I can do.
Q: Is it better to not have the quarterback under center?
A:
Yeah, I like the shotgun better.
Q: Is this a permanent move to center?
A:
Whatever the team needs. If they need me to play center, then yes I will play center.
Q: Is the comfort level more than a year ago when you tried to play center? How is it different?
A:
Yes, definitely. I just have a lot more confidence. We are all picking up the offense pretty good. It's good to learn the offense and then start at center. It's a little harder to start at a different position and then re-learn the offense at center.
Q: Is there one position you like better than the other in terms of blocking people?
A:
I like them all.
Q: How was the speed today with the no huddle?
A:
It was a lot of plays. It was good though.
Q: Was it easier to make the move when you saw how Marcus Martin flourished at this spot the last few years?
A:
Yeah I definitely learned from Marcus. Marcus was a great player. He's competing in pro day tomorrow so I'm gonna go watch him. He's an awesome guy, awesome leader, so anything I can do to be like he was.
March, 11, 2014
Mar 11
2:22
PM PT
March, 11, 2014
Mar 11
2:30
PM PT
The hubris it must take to yank a soul out of non existence, into this, meat. And to force a life into this, thresher. Yeah so my daughter, she uh, she spared me the sin of being a father.
March, 11, 2014
Mar 11
12:00
PM PT
Our look at position groups in the Pac-12 concludes with punters.

Arizona
:
Drew Riggleman
is back after handling all of the punting responsibilities last season. He averaged 40.1 yards per kick, pinned 18 inside the 20 and had 12 kicks of 50-plus yards. He ranked eighth in the conference -- though the difference between first (Utah's
Tom Hackett
) and Riggleman was an average of 3.4 yards.

Arizona State
: Punting was one of ASU's biggest issues last season.
Matt Haack
started to come on strong at the end of the season and will likely challenge
Alex Garoutte
, who averaged 38.8 yards per kick last season. Should Haack win the job, Garoutte is always an option with his rollout style. Quarterback
Taylor Kelly
has also been known to offer the occasional boot. He punted six times last season, once for 50-plus, and had three downed inside the 20.

California
:
Cole Leininger
is back after a very solid season for the Golden Bears, where he was tied for second in the conference with an average of 42.9 yards per kick. Cal has four punters on the roster in addition to Leininger. And while he's mostly unchallenged, there are plenty of backup options.

Colorado
: Third-team all-conference punter
Darragh O'Neill
returns and was a midseason Ray Guy candidate last season. He averaged 40.5 yards per punt last year and pinned 22 inside the 20.

Oregon
:
Alejandro Maldonado
handled the punting duties last season and made a couple of appearances as a kicker before the job went to
Matt Wogan
. Expect Wogan to handle all kicking responsibilities, though some walk-ons will also get looks.

Oregon State
:
Keith Kostol
is back as a third-year starter. He finished last season tied for fifth in the conference with an average of 40.5 yards per punt. He also put 23 kicks inside the 20.

Stanford
:
Ben Rhyne
returns to handle the punting duties for the Cardinal. He was one of the best in the conference last season with an average of 42.9 yards per kick -- just half a yard behind Hackett. He had 12 kicks of 50-plus yards and put 15 inside the 20.

UCLA
:
Sean Covington
is back after having a very solid season, where he posted an average of 42.6 yards per punt. Do-it-all quarterback
Brett Hundley
punted once last season, but it's safe to assume that Convington's job is secure.

USC
:
Kris Albarado
didn't post an impressive yards-per-punt average (37.1), but he was very good at pinning opponents, with 27 kicks inside the 20. And of his 64 kicks, almost half were fair-caught.

Utah
: Hackett was last season's first-team all-conference punter, so expect some preseason All-American hype for him. As noted earlier, he led the conference with an average of 43.4 yards per punt and buried 27 kicks inside the 20.

Washington
:
Travis Coons
pulled double-duty last season. In addition to nailing 15 of 16 field goal attempts, he also averaged 40.4 yards per punt and had eight kicks of 50-plus yards to go with 23 inside the 20.
Korey Durkee
did some punting in 2012 before Coons won the job, so he'll get the first look in 2014. Newcomer
Tristan Vizcaino
could also get looks at kicker and/or punter.

Washington State
:
Wes Concepcion
was the starter in the final two games as punter last season. With
Mike Bowlin
gone, he should be the favorite to handle punting duties full time. Concepcion punted 12 times last season for an average of 36.2 yards. Eight of those 12 were fair catches and three were inside the 20.
Previous positions
Kicker
Safety
Cornerback
Linebacker
Defensive end
Tight end
Quarterback
Running back
Receiver
Offensive line

Defensive tackle
March, 11, 2014
Mar 11
7:00
AM PT
By
ESPN.com staff
| ESPN.com
It's already that time of year, folks. Spring practices are sprouting up across the country and we'll be there covering it all.
Our ESPN College Football Spring Tour begins in the City of Angels, where Pac-12 reporter Kevin Gemmell will be bringing you the sights and sounds from USC today. Keep this page open from noon to 4 p.m. ET as Kevin provides insight, pictures and videos from Trojans camp.
March, 11, 2014
Mar 11
6:00
AM PT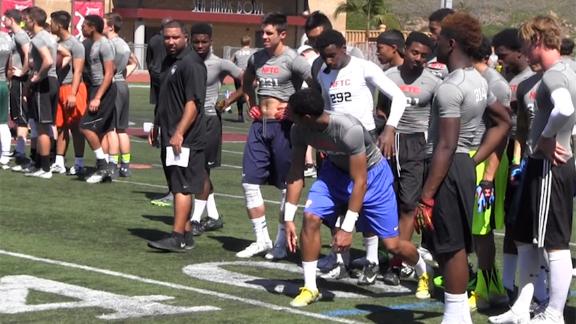 Highly-coveted wide receiver
Cordell Broadus
' desire to play against stiffer competition should be quenched following his transfer to powerhouse Las Vegas Bishop Gorman, but it could carry underlying recruiting implications as well.
USC and UCLA used to be about a one-hour drive from Broadus when he was at Diamond Bar (Calif.), where he burst onto the spotlight two years ago after transferring from Long Beach (Calif.) Poly. Now both coaching staffs, like others across the country, will likely have to hop on a plane to see him this fall.
To continue reading this article you must be an Insider
March, 11, 2014
Mar 11
9:00
AM PT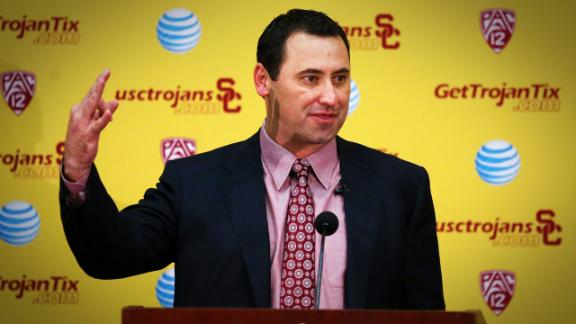 When Steve Sarkisian left
USC
to become the head coach at
Washington
in 2008, he did so facing an uphill climb. Without any head-coaching experience and at an unfamiliar place, he was tasked with turning around a once-proud program that had gone
0-12
the season before.
Moderate improvement was the realistic goal and an accepted expectation -- at least early in his tenure. Five years and four bowl games later, the Huskies are in a better place and Sarkisian is back home, ready to do it all over again at USC.
This time, however, there won't be mixed opinions about how a seven- or eight-win season should be viewed. At USC, that's failure, and Sarkisian knows it.
[+] Enlarge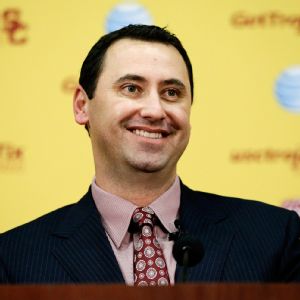 AP Photo/Jae C. HongNew USC coach Steve Sarkisian isn't in a rush to name a starting quarterback.
"We will not shy away from the expectations that USC football embodies, we will embrace them," he said. "I came here to win championships and so did all of our players."
The Trojans return eight starters apiece on offense and defense from a team that went 10-4 and finished ranked No. 19, but they'll be without five players who left early for the NFL. Those departures will keep USC below 70 scholarship players as it enters the last of a three-year period in which the NCAA capped its scholarship total at 75.
"We're not worried about who we don't have on the roster or what our numbers are," said Sarkisian. "What we do know is we have a roster of very talented football players who are hungry to do well."
Having taken over a new program once before, Sarkisian is undoubtedly more prepared to begin his reign at Troy.
"You just have a better understanding of what's coming your way," he said. "There's so much going on. Turning on that fire hose and spraying water ... you can get overwhelmed.
"Whatever we're doing, we'll focus on doing that well and then it'll be on to the next thing. You can't try to do it all at once. Focus is much better the second time around; we feel good where we're at."
The Trojans begin spring practice Tuesday with Sarkisian set to place a heavy emphasis on walkthroughs and meetings. That's partially because the new staff needs to implement its schemes, but also because nearly 20 players will be either sidelined or limited throughout the spring due to injury.
With so many players unable to practice, Sarkisian admitted the staff won't get a full gauge of the roster. Regardless, he and his staff are set to begin evaluating on Day 1.
"We're going in with an open mind and a clear slate for every player," he said. "I don't want to go out there with preconceived notions ... rather them show me who they are. That's the mindset."
The biggest question facing the Trojans before their opener against Fresno State on Aug. 30 is at quarterback, where returning starter
Cody Kessler
will see competition from highly touted redshirt freshman
Max Browne
and early enrollee
Jalen Greene
. Sarkisian said the timetable for when a starter is named will depend on what plays out on the field.
"There's no deadline," he said. "When you make a deadline you tend to wait. We don't want to do that. When it feels right, we'll [name the starter]. If it's one, two, three days or into fall ... I don't think it'll be something that'll linger."
The Trojans will have three practices this week, all of which are open to the public. USC will then take a week off for spring break and practice three times a week until the spring game on April 19 at the Los Angeles Memorial Coliseum.
March, 10, 2014
Mar 10
5:15
PM PT
The Trojans get back to the field on Tuesday afternoon for the initial spring ball session of the Steve Sarkisian era. Here is a guide of what to expect.
Practice dates:
March 11-13-15-25-27-29, April 1-3-5-8-10-12-15-17-19
Spring game:
Saturday, April 19, Los Angeles Memorial Coliseum
Returning starters:
Cody Kessler
,
Javorius "Buck" Allen
,
Soma Vainuku
,
Nelson Agholor
,
Randall Telfer
,
Chad Wheeler
,
Aundrey Walker
,
Max Tuerk
,
Leonard Williams
,
Hayes Pullard
,
Su'a Cravens
,
Anthony Sarao
,
Kevon Seymour
,
J.R. Tavai
,
Antwaun Woods
,
Andre Heidari
,
Kris Albarado
.
Key players expected to sit out because of injury:
Williams, Walker,
Justin Davis
,
Lamar Dawson
,
Jordan Simmons
Areas to watch:
Installation of new schemes on both sides of the ball

Up-tempo, no-huddle offense

Ability to replace early departures to NFL draft, particularly along interior of both lines at center and defensive tackle.
---
Position battles
QB:
Kessler is the incumbent starter, coming off the kind of solid season that usually would guarantee job security. But a new coaching staff is promoting competition, and with a talented backup in redshirt freshman
Max Browne
, it could create an interesting position battle this spring. Early enrollee
Jalen Greene
will get plenty of reps as the third quarterback in the mix.
[+] Enlarge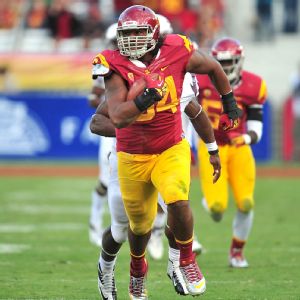 Gary A. Vasquez/USA TODAY SportsWith Leonard Williams sitting out this spring, it opens up some playing time for unproven players to assert themselves.
RB:
It will be a chance for Sarkisian to see three of his talented tailbacks in action with Allen,
Tre Madden
and
Ty Isaac
. Davis and
D.J. Morgan
are expected to be out with injuries. It will also be a glimpse in to how Sarkisian plans to use fullbacks Vainuku and
Jahleel Pinner
.
WR:
Agholor is set as the top playmaker and most USC fans expect
Darreus Rogers
to settle in at the other starting spot. It would be nice to see where
George Farmer
and
Steven Mitchell
are at in terms of their rehab from injuries, but both are likely to be limited in action.
Victor Blackwell
will look to secure a role in spring before several flashy freshmen arrive in the fall.
TE:
Telfer is the clear starter and
Jalen Cope-Fitzpatrick
will be the only scholarship reserve. Sarkisian likes to use the tight ends, so those two should expect plenty of work.
OL:
This will be one of the real areas to watch in the spring. There are two starting spots to fill, and the new coaching staff will likely experiment with different combinations. Tuerk, for instance, started last season at left guard, could get a look at right tackle and it wouldn't be a huge surprise if he sees time at left tackle, too, with Wheeler taking reps at both spots as well. Those are the kind of things new coaches do in spring.
DL:
An All-American, Williams is one of the most dominant players in the country, but he won't be showing it this spring as he will sit out to continue to rehabilitate a shoulder injury that nagged him last season. There is a lot left to settle outside of Williams, however, and not a lot of experience. Woods returns as a part-time starter and Tavai has proven that he can be a versatile contributor, but guys such as
Delvon Simmons
,
Kenny Bigelow
,
Greg Townsend
,
Cody Temple
and
Claude Pelon
will each be looking to establish themselves this spring. There's a lot of potential in this group.
LB:
Pullard returns as a four-year starter and the clear leader of the defense. Pullard will be invaluable this spring as a "coach on the field" to help install a new defense that will include multiple looks and personnel groups. Sarao and
Michael Hutchings
will also be available at interior LB spots in the spring. It will be interesting to see how the coaches use players such as
Jabari Ruffin
,
Quinton Powell
and
Scott Starr
as outside linebackers who could also be utilized as rush ends. And, of course, there is also the possibility of Cravens getting a look at OLB, much like this staff used
Shaq Thompson
last season at Washington.
DB:
The secondary could be in flux this spring. Cravens is a returning starter at safety, but there is a chance he could get moved closer to the line of scrimmage.
Josh Shaw
was a settling force for the Trojans last year at cornerback, but there is a chance he could get moved back to safety. There is also the matter of replacing
Dion Bailey
as the nickel slot corner, a role that is so important these days against spread offenses. Seymour returns at the other corner spot, and other options include
Chris Hawkins
,
Anthony Brown
,
Devian Shelton
and
Ryan Henderson
.
Leon McQuay
made a start last season at safety and is capable of moving into the lineup full-time.
Gerald Bowman
returns after sitting out last season as a redshirt because of injury.
Special teams:
The primary special-teams players all return: Heidari at kicker, Albarado at punter and long snappers
Peter McBride
and
Zach Smith
.
March, 10, 2014
Mar 10
5:30
PM PT
Our look at position groups in the Pac-12 continues with place-kickers.

Arizona
:
Casey Skowron
,
Bret Miller
and
Michael Unzicker
are all in the mix this spring to replace
Jake Smith
, who converted 12 of 19 kicks (63.2 percent) last season, including a long of 53. The 12 converted field goals were the lowest in the conference, as was the conversion percentage.

Arizona State
: No team in the Pac-12 attempted more field goals in 2013 than the Sun Devils -- and
Zane Gonzalez
was one of the few bright spots for an otherwise dismal ASU special teams unit. The freshman All-American converted 25 of 30 attempts (83.3) and had a streak of 18 straight.

California
: With
Vincenzo D'Amato
gone (he was 17 of 20 last season), it's looking like
James Langford
,
Noah Beito
and
Matt Anderson
will all get looks. Langford might have the edge as the kickoff guy with Beito a potential early frontrunner for field goals.

Colorado
: Senior
Will Oliver
is back after converting 17 of 24 kicks last year (70.8 percent). He was perfect inside the 30 (7 of 7) and missed just once inside of 40 yards. Three of his misses came from 50-plus (2 of 5). He's a potential All-American candidate. Strong-legged
Diego Gonzalez
from Guadalupe, Mexico, is waiting in the wings.

Oregon
: Oregon's kicking adventures weren't as interesting in 2013 as they've been in the past. While the Ducks attempted the fewest field goals in the conference,
Matt Wogan
was a solid 7 of 9, and
Alejandro Maldonado
was 3 of 5 for a combined 71.4 percent -- seventh in the conference. Wogan returns and should be considered the frontrunner to handle all kicking duties, including punting.

Oregon State
:
Trevor Romaine
returns as a fourth-year starter after converting 14 of 20 attempts last season. He was mostly money inside of 40 yards, converting 11 of 13 attempts. But struggled on the longer kicks, converting just 2 of 5 between 40-49 yards and 1 of 2 beyond 50.

Stanford
:
Jordan Williamson
is back after connecting on 18 of 22 kicks in 2013, including a long of 48. Of his four misses, two of them came from 50 yards or longer, where he was 0 for 2. He was automatic inside the 30 and 15 of 16 inside of 40 yards. Time to finally put the 2011 Fiesta Bowl to rest. He's one of the league's most consistent kickers.

UCLA
:
Ka'imi Fairbairn
returns after a hit-and-miss year where he connected on 14 of 21 kicks with a long of 48. He had a stretch where he converted on eight in a row. But also had some inconsistent games (2 of 4 against Nebraska, 2 of 4 against ASU).

USC
:
Andre Heidari
had an up-and-down season. He struggled greatly in the 40-49 yard range, converting on just 3 of 8 kicks. Overall, he was 15 of 22, and his 2013 will most likely be remembered for his 47-yard game-winner against Stanford. Heidari also handled almost every kickoff, though punter
Kris Albarado
is available if needed.

Utah
: "Automatic"
Andy Phillips
returns after making quite the splash in his first season of football. The former skier became a household name -- well, at least a name in Pac-12 households -- after converting on the first 11 field goals of his career. He's got a big leg, converting on 9 of 11 from 40 yards or longer.

Washington
: No easy task replacing
Travis Coons
, who handled kicking and punting for the Huskies. He was the Pac-12's most accurate kicker in 2013, converting on 15 of 16 attempts.
Cameron Van Winkle
handled some kickoffs before an injury set him back, and
Tristan Vizcaino
comes in this fall and should be in the mix.

Washington State
: Strong-legged
Andrew Furney
is gone.
Wes Concepcion
and
Erik Powell
are the kickers on the roster. Powell was a walk-on, but the coaching staff is high on him. Concepcion likely will handle punting but could kick if needed.
Previous positions
Safety
Cornerback
Linebacker
Defensive end
Tight end
Quarterback
Running back
Receiver
Offensive line

Defensive tackle
March, 10, 2014
Mar 10
2:30
PM PT
Word to your moms, I came to drop bombs;
I got more rhymes than the Bible's got psalms.
March, 10, 2014
Mar 10
11:00
AM PT
LOS ANGELES -- Tuesday marks the beginning of the Steve Sarkisian era on Howard Jones/Brian Kennedy Fields. It will be a festive day and you expect the following on the opening of spring ball:
" While the rest of the nation attempts to thaw out, it will be 72 degrees and sunny in L.A., making the switch to Daylight Savings Time that much better. Did we mention shorts were the order of the day?
" Upon entering Goux Gate, new head coach Steve Sarkisian will have a smile on his face as wide as the distance from Seattle to Los Angeles.
" A fan will remark that Sarkisian never ages and looks more like an altar boy than a football coach.
To continue reading this article you must be an Insider
March, 10, 2014
Mar 10
8:00
AM PT
REDONDO BEACH, Calif. -- The defensive end that can dunk effortlessly appears to be stepping off the hardwood for foreseeable future, which could be a scary thought for the area's offensive linemen.
ESPN 300 prospect
Keisean Lucier-South
(Orange, Calif./Lutheran), who punched his ticket to The Opening on Sunday at the Los Angeles NFTC, has been a two-sport standout throughout his prep career. Yet with his potential on the gridiron seemingly untapped, the four-star athlete intends to focus entirely on honing those skills in the coming months. In past years, Lucier-South has juggled football and basketball in the offseason.
To continue reading this article you must be an Insider
March, 10, 2014
Mar 10
10:15
AM PT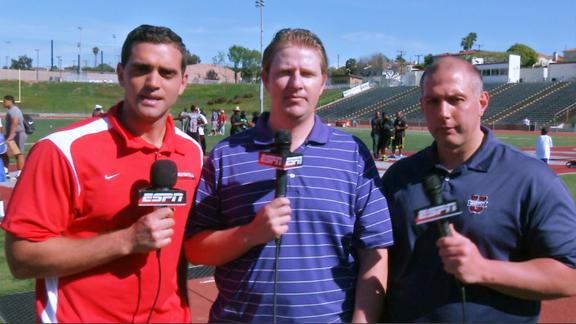 REDONDO BEACH, Calif. -- A new season of the Nike Football Training Camp circuit got kicked off this past weekend in Los Angeles with a strong showing. It was a large turnout and had some good prospects, including several in the ESPN Junior 300. It is a strong year for quarterbacks out West, and that was on display at Redondo Union High School. The wide receivers and linemen also featured a good deal of talent. Here are the Recruiting Nation NFTC Awards, highlighting the top performers.
To continue reading this article you must be an Insider
PAC-12 SCOREBOARD
Saturday, 12/21
Monday, 12/23
Tuesday, 12/24
Thursday, 12/26
Friday, 12/27
Saturday, 12/28
Monday, 12/30
Tuesday, 12/31
Wednesday, 1/1
Thursday, 1/2
Friday, 1/3
Saturday, 1/4
Sunday, 1/5
Monday, 1/6