October, 27, 2014
Oct 27
9:00
AM PT
LOS ANGELES -- There is no delicate way to sugarcoat it, the USC Trojans (5-3, 4-2 Pac-12) could be in legitimate danger of not being bowl eligible. The Trojans must get to at least six victories to become bowl eligible and the Men of Troy have four games left to win just one more, but none of the opponents could be classified as a gimme.
For Trojans first-year head coach Steve Sarkisian, these are trying times and with Washington State, Cal, UCLA, and Notre Dame remaining, there is dramatic uncertainty that the Trojans or its legion of fans will be attending a major bowl game or any bowl game for that matter.
Ironically, the Trojans' next opponent, Washington State (2-6, 1-4 Pac-12) in Pullman this Saturday afternoon, must win out to become bowl eligible.
Saturday night's
gut-wrenching loss at Utah
, which prevented instant bowl eligibility, pretty much sums up a season that started with so much fanfare, thanks in part to the repeated message dispensed by Sarkisian.
The Sarkisian message: The 2014 Trojans are talented and of championship caliber.
Nobody argues with Sark's preseason and ongoing assessment, but as of this point in time, the record shows they are painfully fading in the championship caliber category.
Now 4-2 in the Pac-12 with two difficult South Division losses to ASU and Utah, respectively, Sarkisian will need to dig deep into his physiological playbook to make sure he his team doesn't collapse from the weight of the current "situation."
In their past six games, the Trojans are 3-3. Not what loyal fans of Tommy Trojan had in mind. In their three losses, the Trojans have been clipped by a physical rushing defeat at Boston College, a passing onslaught and last second Hail Mary from Arizona State, and, of course, Saturday night's latest losing fourth-quarter fiasco on the next-to-last play of the game in Salt Lake City.
To be honest, even in earlier Trojans' victories against challenging foes such as Stanford and Arizona, it's been hold-your-breath until the final ticks of the scoreboard clock.
Realistically, a shot at the College Football Playoff is now a distant memory, a chance to play in the Pac-12 championship game is all but mathematically extinguished, but the final coup de grace would be bowl birth elimination. It's one thing to be NCAA sanctioned out of bowling, it's quite another to play your way out of postseason play.
The Trojans finished 10-4 in 2013 and returned a number of returning players for 2014. Even with the absurd coaching drama of last season, the Trojans still managed to make it to the Royal Purple Las Vegas Bowl and finished with a resounding and
upbeat win against Fresno State
.
Now a 10-win season is also in major jeopardy. Yet, if the Trojans can produce an improbable four-game sweep of its remaining games and win a bowl game, they'll have at least equaled last season's record.
Nobody is more aware of all the current scenarios than Sarkisian, who still has some of the aforementioned carrots to entice his team. He has been telling his team lately that every game is a championship game.
Sark, however, now needs to re-word his message by saying that every game now could be a bowl eliminator, and maybe by looking at last season's enthusiastic rebound, this season's Trojans can resurrect a positive conclusion to this season.
October, 27, 2014
Oct 27
8:03
AM PT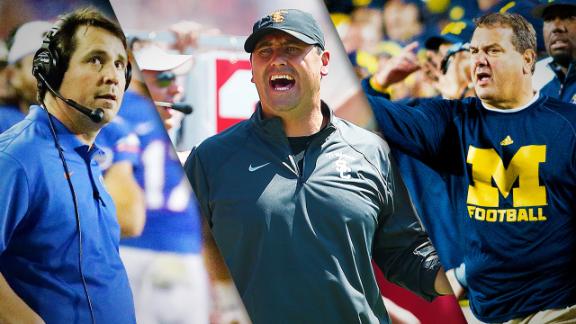 National signing day, Feb. 4, is just 100 days away. Here's a look at 100 things to watch for leading up to the big day.
Questions that will shape signing day
100. Who will coach the Florida Gators next year? The Gators entered the season hoping to rebound on the field with a shot at the No. 1 class. Amid another season of turmoil, Florida is in a fight just to keep committed prospects on board.
99. Will Michigan make a move? With that seeming likely, a number of Wolverines commits are making official visits. Assuming there will be a change, the new coach will have the difficult task of keeping the class together.
98. Can Virginia Tech or Virginia keep the best at home? While a pair of in-state five-stars from the 2014 class chose Virginia, the top four in 2015 remain uncommitted. Only one prospect in the top 10 is committed to an in-state program after eight of the top 15 signed with the Hokies or Cavaliers in 2014.
97. Can UCLA win any big battles late? The Bruins were ranked No. 7 in the preseason Associated Press poll and were a playoff contender. UCLA is 6-2, but the season hasn't lived up to those lofty expectations. That has provided rival USC the opportunity to have more success selling Steve Sarkisian's vision without the Bruins taking the headlines and winning the perception battle.
96. How many prospects will flip? To date, over 35 prospects in the ESPN 300 have decommitted or flipped their commitments. With more than 30 committed prospects still making official visits or planning to make visits, that number could reach as high as 70, considering both the Florida and Michigan jobs may open, which could start a chain reaction depending on future hires. There is no doubt that 2015 is the class of flips, and it has only just begun.
October, 27, 2014
Oct 27
6:00
AM PT
If it happens once, you can forgive it. If it happens twice, you begin to wonder. If it happens three times, it becomes an alarming trend.

Meet USC's 2014 Trojans, masters of The Fourth Quarter Fade.


October, 27, 2014
Oct 27
8:00
AM PT
And I'm going down to Hollywood;
They're gonna make a movie from the things that they find crawling 'round my brain.
Leading off
The Pac-12 lost one of its ranked teams this week when the
Utah Utes
came from behind in the final two minutes to knock off the
USC Trojans
at home. With the win, the Utes climbed from No. 19 to No. 18 (seemed like a light bump for beating a ranked team), and the Trojans went spiraling out of the rankings. As always, Kyle Bonagura has the breakdown of
what it means
for the conference.
Here is where things stand in both polls heading into Week 10. The AP ranking is listed first, followed by the ranking coaches poll.
Oregon 5-6
Arizona 14-15
Arizona State 15-14
Utah 18-18
UCLA 25-25
And if you're curious on how some of the folks who cover the conference voted, here is a sampling:
Has Utah arrived?
It would seem so. Now 6-1 with conference wins over the LA schools, the Utes find themselves as major players in the South Division heading into this week's showdown with ASU. Kyle Goon of the Salt Lake Tribune writes the biggest difference is Utah has been able to finish.
From his story
:
Many of the things Utah fans sought before the season have been achieved. Bowl eligibility: Check. Sweep over Southern California schools: Check. Winning on the road: Check. National ranking: Check. Beating nationally ranked teams: Check. But Utah's coaches and players are tearing up the checklist. Although they may not have expected as much early success, they're starting to embrace the idea that bigger, better things are still at stake.
Aside from Saturday being Utah's second win over a ranked team this season, the win also makes Utah bowl eligible for the first time since 2011.
News/notes/practice reports
Just for fun
What does the Utah locker room look like after beating USC?
Click here and find out
.
October, 26, 2014
Oct 26
6:37
PM PT
Associated Press
LOS ANGELES -- Southern California left tackle Chad Wheeler will miss the rest of the season with a torn ligament in his right knee.
USC coach Steve Sarkisian disclosed the extent of Wheeler's injury Sunday.
Sarkisian says Wheeler tore the ACL in his knee on the third play of USC's 24-21 loss to Utah on Saturday night, but stayed in the game for several more plays.
Wheeler is a 6-foot-7 redshirt sophomore from Santa Monica who has started all 22 games for USC (5-3, 4-2 Pac-12) over the past two seasons. He won the starting job on the thin offensive line and emerged as a leader this fall.
Aundrey Walker took over at left tackle. He will remain at the spot this week, Sarkisian says.
October, 26, 2014
Oct 26
12:45
PM PT
There is something missing in the USC Trojans football program right now.
Whether you want to point to player execution, coaching decisions or a combination of both, it's clear after another close loss -- this one a 24-21 defeat at Utah -- that something is preventing this team from getting over the hump and doing the little things that can often make the difference between winning and losing.
It's not like the Trojans didn't have a chance to win the game. They had put themselves in a very good position at the end of the fourth quarter to seal the victory, and that has been the case in several games this year. A few times the balls have bounced their way (Stanford and Arizona) but this is the third time now where the key play was not made or an in-game strategy did not work and it resulted in a loss.
Nelson Agholor
had a career day in terms of pass receptions, but then narrowly stepped out of bounds on a fourth-down play that likely would have sealed the game.
Darreus Rogers
caught what could have been the game-winning touchdown, but earlier in the day had failed to jump on a dropped pass that was ruled a lateral, a play that allowed the Utes to take an early 7-0 lead.
Cody Kessler
had a a very good game for much of the game but failed to connect with an open
JuJu Smith
downfield for a potential score.
[+] Enlarge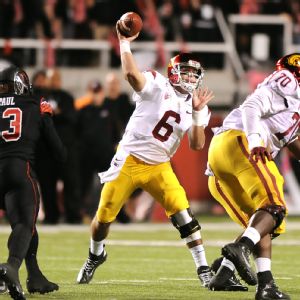 Gene Sweeney Jr/Getty ImagesCody Kessler made some nice plays against Utah, but a stalled offense in the third quarter ended up hurting the Trojans.
The Trojans were aggressive on offense early in the game and Kessler had 166 passing yards in the first half. In the third quarter, however, it seemed as if the rhythm of the USC offense changed and the Trojans had five consecutive three-and-outs, which helped Utah to hang around and stay in the game. Even with that, the Trojans had a third-and-2 situation late in the fourth quarter when a first down would have basically sealed the game. USC coach Steve Sarkisian was aggressive in trying to finish things off, but a pass play was incomplete and Agholor went out of bounds on fourth down just short of the marker. Not only did the Trojans not get the first down, the clock was stopped twice, a key factor in allowing Utah to have enough time at the end to drive down the field to win the game.
It's easy sometimes to sit back in hindsight and point to each decision that is made, but that kind of self-evaluation is needed when these familiar patterns pop up multiple times in a season. This wasn't the first time an opposing offense threw their way down the field with the game on the line. The decision to try to close out the game can be admired, but it can be questioned why
Buck Allen
was not on the field, especially for an offense that is looking to build an identity around a physical run game. If the Trojans have two opportunities to run Buck to get two yards, I think most USC fans would take their chances on that one.
Would any of these specific moments have made the difference in the game? It's hard to tell. But the reality of the loss certainly takes away from some individual performances that put the Trojans in position for the win.
The moxie shown by Kessler on the fourth-quarter scoring drive that ended in the Rogers touchdown was simply terrific. The defensive effort from guys like
Su'a Cravens
,
Leonard Williams
and
J.R. Tavai
was what you need to see in a tough road environment. And that's not even to mention
Adoree' Jackson
. If the Trojans had been able to win this game, it would have been highlighted as the night that Jackson broke out and showed what a special talent he can be.
Which play was more special? The 100-yard kickoff return, which Jackson actually fielded about six yards deep in the end zone, or the tackle and strip at the goal line that turned the ball over to the Trojans? Each play was an example of his unique combination of athleticism and surprising fundamentals for a freshman. In the end, however, the performance gets buried a bit in the discussion of the gut-wrenching loss in such a familiar fashion.
This is a big test for Sarkisian in terms of where he takes this team because there is plenty to point to that has gone right, but there is also something -- call it a killer instinct or sense of urgency -- that has been missing at critical times. It cost the Trojans another game on Saturday.
October, 26, 2014
Oct 26
2:00
PM PT
October, 26, 2014
Oct 26
9:00
AM PT
Saturday featured our first full slate of Pac-12 action in a while -- there were no byes for any of the league's teams -- so there's a whole load of helmet stickers to distribute. If you thought this was entertaining, just wait for next Saturday: To begin, we have Stanford-Oregon, Utah-ASU, and Arizona-UCLA on the docket. But for now, recognition time:
Marcus Mariota, QB, Oregon:
In a game that saw 100 total points, Mariota was again the offensive centerpiece. His explosive 18-for-30, 326-yard, five touchdown effort also featured some valuable scrambling and charged Oregon's
59-41 win
over Cal. Mariota did throw his first pick of the season. Still, that 24:1 touchdown-to-interception ratio isn't too shabby.

Charles Nelson, WR, Oregon:
So many different Ducks created offensive fireworks against Cal's helpless defense. See
Royce Freeman
(22 carries, 112 yards),
Byron Marshall
(four catches, 133 yards), and
Dwayne Stanford
(six catches, 103 yards). But Nelson's 58-yard punt return for a touchdown was the most electrifying Oregon play of them all. It'll be fun to see him in a game also featuring
Ty Montgomery
(honored below) next week.
Michael Adkins II, RB, Colorado:
No UCLA players earned helmet stickers for their
40-37 double overtime
squeak-by at Colorado (the Bruins just could not put Colorado away), but the Buffs deserve some recognition for their fight. They scratched and clawed their way back from 17-0 and 31-14 deficits to push this one beyond regulation, and Adkins II delivered 107 yards on 17 carries in that effort.
Ty Montgomery, WR, Stanford:
The Cardinal's offensive strength actually comes through its combination of size and athleticism on the perimeter this season, and Montgomery is Exhibit A of that change. Aside from delivering an electrifying 50-yard punt return for a score (his second of the season), Montgomery caught six critical passes from
Kevin Hogan
in Stanford's
38-14 win
.
Blake Martinez, LB, Stanford:
David Shaw's defense continues to amaze with its suffocating ways. On Saturday, they held Oregon State's first string to a measly 2.5 yards per play. One reason the Cardinal isn't skipping a defensive beat: Martinez is blossoming in Shayne Skov's former inside linebacker role. He delivered 2.5 tackles for loss as nearly half of the Beavers' plays resulted in no gain or worse.
Scooby Wright, LB, Arizona:
You can call him a beast, or a machine, a whatever you please. Simply put, Wright produces. He forced three -- yes, three! -- fumbles in Arizona's
59-37 win
at Washington State to go along with a trio of sacks. The gives Wright five forced fumbles this year. No Arizona player has forced more in a single campaign since 1973.
Anu Solomon, QB, Arizona:
Washington State's defense never had a chance against Solomon's 26-for-38, 294-yard, five touchdown performance. It would also be unfair to discount an excellent rushing performance from
Terris Jones-Grigsby
: 13 attempts, 107 yards (8.2 per carry). The Wildcats offense was a buzzsaw in the Palouse.
Travis Wilson, QB, Utah:
Many were saying that Utah didn't have the quarterback play necessary to be a true contender in the Pac-12 South. Think again on that front. Wilson's offense took over down four points to USC with 2:08 remaining, 73 yards away from paydirt. A great sequence in Ute football history ensued, as Wilson led the home team downfield. He followed his dramatic 18-yard run with a one-yard touchdown pass to
Kaelin Clay
. That came with eight seconds remaining; it sealed the
24-21
win. Clutch. Oh, and Wilson still hasn't thrown a pick. He fits with Utah's run-heavy, strong-defense formula.
Devontae Booker, RB, Utah:
It's tough to run against USC: The Trojans hadn't allowed over four yards per carry in four straight games, and they had held opposing ground attacks to fewer than three yards per rush in three of those games. Booker's gritty 26-carry, 102-yard effort was a staple of the Utes' massive win, which was hard-fought until the very end.
Cody Kessler, QB, USC:
This will be forgotten because of USC's heartbreaking loss, but Kessler was nails in the face of a ferociously aggressive Utah pass rush for much of this game. He hung in the pocket, took hits, and managed to finish 24-for-32 for 264 yards and a pair of touchdowns in this physical war. Kessler's one interception did prove costly, but that was a solid performance against a sturdy defense on the road.
Taylor Kelly, QB, ASU:
Yes, the stats here are far from impressive (14-for-25, 180 yards, two touchdowns, and a costly pick -six). But it's important to consider the rainy, windy Seattle conditions while also acknowledging that Kelly -- coming off a prolonged absence due to injury -- gutted this one out to make the plays when he absolutely needed to. The best example came on the game-winning touchdown toss, when Kelly withstood a vicious hit to find
Gary Chambers
in the end zone.
ASU beat Washington 24-10
.
Laui Moeakiola, LB, ASU:
Sure, the Sun Devils picked on a back-up quarterback of the Pac-12's least efficient offense in terrible weather conditions, but this was still a great effort from an improving ASU unit. Moeakiola led the way with 10 tackles, 2.5 for loss, a pair of sacks, and a pass break-up. He forced a
Troy Williams
fumble on one of his vicious takedowns deep in Washington territory.
October, 26, 2014
Oct 26
2:44
AM PT
Some things we learned about the Pac-12 in Week 9:
[+] Enlarge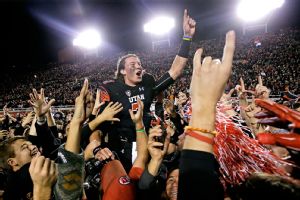 AP Photo/Rick BowmerWith the win over USC, Travis Wilson and the Utes have finally erased any notion that they don't belong in the Pac-12.
Utah arrives
: Utah beat USC
24-21
with a late touchdown, improving to 6-1 and 3-1 in the Pac-12. The Utes, already bowl eligible after two consecutive losing seasons, have now beaten Stanford, UCLA and USC as Pac-12 members. In fact, the Utes have wins over eight of their 11 Pac-12 rivals over the past three-plus seasons in the conference. Any residual sense of Utah being a "Junior Member" of the conference is done. Gone. And the heat on Kyle Whittingham cools quite a bit in suddenly ebullient Salt Lake City. Just imagine where the Utes might be if not for that unfortunate fourth quarter against Washington State. (Sorry for bringing that up again, Utes).
Muddled South picture should clear this week (maybe)
: Arizona, Arizona State, UCLA and Utah won this weekend. The Wildcats, Sun Devils and Utes have one conference loss, while UCLA and USC have two. Utah has wins over UCLA and USC, so its visit to Arizona State on Saturday is a biggie. Arizona, which lost to USC, will visit UCLA on Saturday. The winners of those two games take a big step forward toward the division crown and the Pac-12 title game. If Utah beats the Sun Devils, the visit from Oregon on Nov. 8 suddenly becomes an unexpected national matchup. If both Arizona schools win, well, the Territorial Cup on Nov. 28 could become epic. Of course, there are likely plenty of plot twists remaining.
It's a big story when Marcus Mariota makes a mistake, which tells you a lot about how good he is
: Mariota passed for 326 yards and five touchdowns in a
59-41 win
over California but the biggest news for the Heisman Trophy candidate was he threw his first interception of the season -- his first in 253 passes extending back to last season's Civil War versus Oregon State, in fact. That was the factoid lead, but the substance is Mariota is playing well -- and, apparently healthy -- as he prepares to lead the Ducks against Stanford on Saturday. For all he has accomplished, Mariota is 0-2 versus the Cardinal. He needs to win that game to punch his ticket to New York for the Heisman ceremony.
UCLA doesn't like making things easy
: UCLA led Colorado 17-0, 24-7 and 31-14 entering the fourth quarter, but the Buffaloes didn't quit and forced overtime. While the Bruins prevailed
40-37 in double-OT
, it was a slog of a win that should have been a dominant one. The Bruins are 6-2 and, at 3-2 in conference play, are solidly in the South Division hunt. But six of their eight games have been decided by eight or fewer points, including three by a field goal or less. This is a flawed team that often looks sloppy on both sides of the ball, but it's still hanging on, figuring out ways to survive and fight another day.
Stanford's offense shows signs of life
: Stanford outgained Oregon State 438 yards to 221 in a dominant
38-14 win
, and there's no question the 438 and 38 are the most important numbers for the Cardinal, which have paired a dominant defense with an anemic offense much of this season. But coach David Shaw shook things up a bit, using tempo and being more aggressive in the passing game and the plan worked against a solid Beavers defense. The timing for the offense shaking off its woes couldn't be better with a trip to Oregon coming up.
Pac-12 reveals a bottom
: Colorado and Washington State both fell to 2-6, which means both need to win out to become bowl eligible. So big longshot. Every other Pac-12 team has at least four wins, and nine or 10 bowl teams doesn't seem unrealistic. Yet while the Buffs and Cougs appear to be the bottom teams in the South and North, respectively, it's notable that Washington State beat Utah and Colorado has pushed UCLA, Oregon State and California to the brink. Neither is a gimme, and it wouldn't be shocking if one or the other posts a major upset.
October, 26, 2014
Oct 26
2:05
AM PT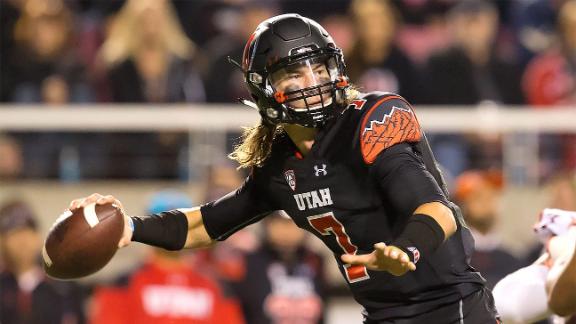 The MUSS was out in full force in Salt Lake City for a critical South Division showdown between Utah and USC. The Utes pulled off the
24-21 win in dramatic fashion
. Here's how it all went down at Rice-Eccles.
How the game was won
: With a lot of sweat and soon-to-be-sore muscles. It was a physical game with four lead changes. But it was the last one that stuck.
Travis Wilson
engineered an 11-play, 73-yard touchdown drive in the final two minutes that ended with a 1-yard touchdown pass to
Kaelin Clay
with eight seconds left.
Game ball goes to
: The Pac-12 blog believed that if the Utes got "marginal" quarterback play, they would have success against USC. It's why the blog
unanimously picked Utah to win
. Well, they got marginal quarterback play for most of the game and outstanding quarterback play out of Wilson on Utah's final drive. He finished the game 18-of-32 for 193 yards and the one touchdown pass. But his poise and athleticism were on display during his 18-yard scramble that set up first-and-goal and the game-winner.
What it means
: The Utes are in control in the Pac-12 South, but they have a vicious schedule looming. With win No. 6, Utah is now bowl eligible after missing the postseason the last two years. For USC, which already has a loss to ASU in the South, its chances of winning the division have taken a serious hit.
Playoff implication
: The Utes are still in the conversation. The Pac-12 blog firmly believes a one-loss league champion will be one of the four teams in the College Football Playoff. Win out, and the Utes will be there. But given the schedule ahead, that's easier said than done.
Play(s) of the game
: There were a lot of big little moments. Third down conversions, fourth-down stops, etc. Steve Sarkisian's decision to go for it on fourth-and-2 late in the game will be highly debated. But for as much flak as Utah's quarterbacks have taken over the last couple of weeks, you have to say the combination of Wilson's run and subsequent game-winning touchdown qualify.
Adoree' Jackson
's 100-yard kick return does not go unnoticed.
Up next
: Both teams are on the road. The Utes, who are a perfect 3-0 away from home, make the trip to Tempe, Arizona, to face the Sun Devils. That has South drama written all over it. The Trojans make the trip to Pullman, Washington, to face the Cougars, where they'll try to avenge last season's 10-7 loss to WSU in Los Angeles.
October, 25, 2014
Oct 25
11:00
PM PT
Associated Press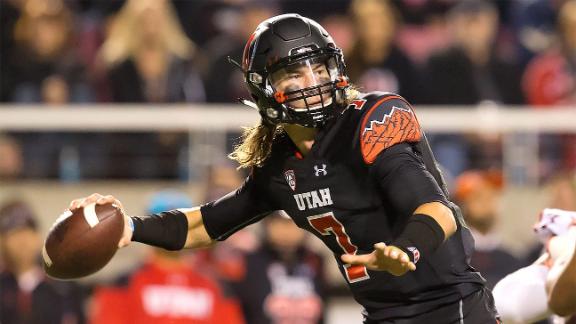 SALT LAKE CITY -- Travis Wilson threw a 1-yard touchdown pass to Kaelin Clay with 8 seconds left to give No. 19 Utah a 24-21 victory over No. 20 Southern California on Saturday night.
Wilson put the Utes (6-1, 3-1 Pac-12) in position for the winning touchdown when he was flushed from the pocket and scrambled 19 yards, diving as he approached the goal line. The play was initially ruled a touchdown, but was overturned on review -- giving Utah the ball a foot from the end zone.
Devontae Booker was stopped just short on the next play before Wilson's touchdown pass on a sprint out to the right side -- a catch that also was reviewed before it was confirmed.
After Adoree' Jackson returned the kickoff to the USC 28, the Trojans' last-gasp effort was snuffed when Cody Kessler was sacked by Nate Orchard and Hunter Dimick on the final play.
Black-clad Utes fans streamed onto the field around some of the Trojans players, who stood motionless, stunned at another last-second loss.
Southern California dropped to 5-3 overall and 4-2 in the Pac-12.
October, 24, 2014
Oct 24
10:46
AM PT
Elimination game: Both teams already have a loss in the conference so another loss in this game would mean a tough road ahead for a team looking to stay alive for a berth in the Pac-12 title game. USC coach Steve Sarkisian has been telling his players that every week is a championship week from here on out.
Continue offensive momentum: The Trojans offense seemed to find a groove last week against Colorado by adding elements of a downfield passing game that had been missing earlier in the year. Not only did Cody Kessler set a school record with seven touchdown passes in the game but several of those throws were for long gains that should help open things up even more for the run game. The ability to throw downfield against the Utes' secondary could be a key difference in the outcome.
Utah special teams: A quick check of the Utes' special teams shows that they are pretty solid across the board. Tom Hackett averages over 47 yards per punt and leads the conference. Place-kicker "Automatic" Andy Phillips has hit 13 of 15 field goals and is perfect on extra points; he leads the conference in scoring, too. And return man Kaelin Clay has returned three punts and one kickoff for scores. Utah coach Kyle Wittingham takes an active role in overseeing special teams and that kind of emphasis shows on the field.
USC O-line vs Utah D-line: The marquee matchup on paper is the Utah defensive front, which leads the nation in sacks and tackles for loss, against a Trojans line that is young but has made strides in recent games. Will USC be able to protect Kessler long enough to allow the downfield passing game to develop? Or will Nate Orchard & Co. be able to apply the kind of pressure that allowed them to get 10 sacks in one game against UCLA?
Battle of the running backs: Buck Allen leads the conference with 909 rushing yards and eight touchdowns, while also topping the position list for all-purpose yardage. Devontae Booker of Utah has been a force lately; over the last three games he's averaged 30 carries per contest and 187.7 yards, including a 229-yard, three touchdown effort in a double-OT win over Oregon State. Both backs are tough, physical runners who help set the identity for their teams, so fans of tailback play should get ready to sit back and enjoy watching these two in action.
October, 24, 2014
Oct 24
9:00
AM PT
We're still a week away from the in-season megavisit that will take place when Oregon hosts Stanford, but there are more than a few intriguing visitor lists in the Pac-12 this weekend. It's a weekend that could provide clarity in the Pac-12 South, and recruits will be on hand as Utah hosts USC and the Arizona schools travel to the state of Washington. Elsewhere, Stanford hosts Oregon State and important ESPN 300 prospects as we look at the top three visit weekends in the Pac-12.
USC at Utah
The Utes are scheduled to host at least three official visitors this weekend, led by Utah wide receiver commit
Donzale Roddie
. Also on hand will be safety
Tyson Cisrow
and defensive end
Simitali Moala
. Cisrow is another in a long line of Florida standouts the Utes are chasing in this 2015 class. Utah already holds commitments from three Florida preps and is well on its way to matching the five Sunshine State prospects signed in the 2014 class. This will be an important visit for Roddie as well, as the three-star recruit is being chased by Colorado and has said in the past that he'll continue to listen to other schools despite his verbal commitment.
To continue reading this article you must be an Insider
October, 24, 2014
Oct 24
8:00
AM PT
Happy Friday!
Leading off
We've got football tonight! And in true Pac-12 fashion, it features the top two scoring offenses in the conference and the league's most efficient passers. Oregon ranks No. 1 in the Pac-12, scoring an average of 43.6 points per game. Cal is No. 2, averaging 41.6 points per game. Oregon quarterback Marcus Mariota ranks first in the league in quarterback efficiency, and Cal's Jared Goff is No. 2. The weather in Santa Clara tonight calls for 75 degrees and partly cloudy, so don't expect an monsoons like last season in Eugene.
Here's what some folks are saying about tonight's showdown:
As noted, the quarterbacks will take center stage in the showdown. Here's a statistical breakdown of Mariota and Goff.
Looking forward to #CalvsOregon Friday at @LevisStadium featuring #2ofTheBest #GoBears #BeatOregon #foxsports1 pic.twitter.com/lGZ0Q4QSgK

— Cal Football (@CalFootball) October 24, 2014
Pick 'em
As always, the Pac-12 blog
presents its picks on Thursday morning
. And each Friday we bring some picks from national writers and folks who cover the conference. Perhaps the most interesting aspect is that all the Pac-12 blog writers picked Utah to beat USC. And we all know what happens when the Pac-12 blog agrees (gulp).
But we're not the only ones. Stewart Mandel from Fox Sports
is also a Utah believer
:
The Trojans are the more talented team, but this is not the most favorable matchup for them. RB Buck Allen has sprung for at least 115 yards in all but one game but the Utes boast the nation's sixth-best rushing defense. And Utah star Devontae Booker is fully capable of exploiting an average USC rushing defense. The Trojans admittedly have a huge edge at quarterback with Cody Kessler, but if Utah prevents too many long throws downfield, it should survive.
News/notes/team reports
Just for fun
What does Super Mariota
really look like?
This doesn't qualify as "fun," but more of a tip of the cap to Colorado, UCLA, Navy and San Jose State, who will honor Houston offensive lineman David Quessenberry,
who is battling cancer
.
Yesterday was media day for Pac-12 basketball. Here's
an interesting comparison
between Pac-12 hoops and football. Unlike football, basketball has a little bit of
DIS
parity.
Good to see this guy up and moving.
Cal WR Trevor Davis on giving the crowd a thumbs up after his injury last week https://t.co/Y4PDis6uVE

— Mike Vernon (@M_Vernon) October 23, 2014