July, 18, 2014
Jul 18
2:48
PM PT
USC Trojans
coach coach Steve Sarkisian added yet another solid recruiting piece to his 2015 class after San Clemente quarterback
Sam Darnold
committed to USC on Friday.
July, 18, 2014
Jul 18
12:44
PM PT
LOS ANGELES -- USC fourth-year junior quarterback
Cody Kessler
made the trek to Thibodaux, Louisiana, last weekend to take part in the Manning Passing Academy, where he not only served as a camp counselor to the throng of high school players in attendance, but also to interact with and compete against a host of other top-notch college quarterbacks, including Florida State's
Jameis Winston
, UCLA's
Brett Hundley
and Oregon State's
Sean Mannion
among others.
"It was a great experience," said Kessler, who started all 14 games for the Trojans in 2013. "There were a lot of other great quarterbacks there which was really cool -- You know, getting to throw against guys from across the country."
[+] Enlarge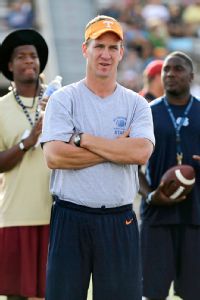 AP Photo/Gerald HerbertUSC QB Cody Kessler (not pictured) got pointers from Peyton Manning himself at the Manning Passing Academy.
And it's safe to say that Kessler, who completed 65.4 percent of his passes for 2,968 yards and 20 touchdowns with seven interceptions last season, more than held his own. In the main event of the camp, the Air-It-Out Challenge on Saturday night, Kessler advanced all the way to the semifinals. Mannion eventually won the competition.
To continue reading this article you must be an Insider
July, 18, 2014
Jul 18
2:30
PM PT
July, 18, 2014
Jul 18
11:00
AM PT
Gas up the family station wagon and hit the
Holiday Road
. The Ultimate Road Trip is back! Over the next couple of weeks we're going to look at each week during the 2014 season and pick the can't-miss game (and maybe for Thursday/Friday games, we'll work in two).
Start planning accordingly. The Ultimate Pac-12 Road Trip continues.
Welcome to Week 5.
Thursday, Sept. 25
Saturday, Sept. 27
Oregon State at USC
Colorado at California
Washington State at Utah
Stanford at Washington
Byes: Arizona, Oregon
My choice
: UCLA at Arizona State and Stanford at Washington
Why
: For the first time this year, we have a full set of just conference games. And that's exciting, because there are some good ones. And because of the Thursday-Saturday scheduling, we've got ourselves a 2-fer.
Oregon State at USC is going to be fun with Manning Academy quarterbacks
Sean Mannion
and
Cody Kessler
squaring off. Colorado at Cal is intriguing for power ranking purposes, as is Washington State at Utah.
But on the first leg of our two-game Week 5 trip, we're making our first stop in Tempe to see the game that has essentially determined the Pac-12 South division the last couple of years. And it might be the swing game again this season.
The Sun Devils are the defending South champs after taking it from UCLA, which won the division in 2012. The Bruins are the likely favorites this year and looking to take it back.
And the last two meetings have been thrillers. In 2012, it was
Taylor Kelly
who drove the Sun Devils 56 yards in six plays to give ASU a 43-42 edge with 1:33 left to play. Then
Brett Hundley
returned the favor, moving UCLA 60 yards in 12 plays to set up
Ka'imi Fairbairn
's 33-yard field goal that lifted the Bruins to a 45-43 win as time expired.
Last year, with the Bruins trailing 38-33 and 3:21 left, Hundley wasn't able to duplicate the magic as the Sun Devils defense stifled him on the final drive. Of course, that was after ASU had built up a 35-13 lead at halftime and almost gave it up in the second half. But a win is a win.
When the preseason media poll is revealed next week, chances are UCLA will be picked to win the South, most likely followed by USC and then ASU. The Sun Devils aren't going to give up their crown without a fight.
And speaking of critical intra-division games, we're going to hop on a flight Friday morning up to Seattle, grab dinner at El Gaucho, and then watch Washington host the Cardinal on Saturday. (Or you could drive it … 1,428 miles from stadium to stadium).
Recent history isn't always great precedent, but given how the last two games have gone, this one could be equally thrilling. The 2012 showdown at the CLink was one of the most deafening games I've ever covered -- pro or college. And it was the game that launched Bishop Sankey from backup-turned-starter into a bona fide playmaker.
And of course there were the controversies of last year's game -- the allegations of fake injuries, a critical replay, Austin Seferian-Jenkins' dropped pass on third down, Ty Montgomery's monster returns etc. And though Washington's coaching staff has changed, this meeting has turned into a stellar North matchup the last couple of seasons and worthy of a spot on the road trip.
You can catch the rest of the road trip
here
.
July, 17, 2014
Jul 17
2:30
PM PT
Ah! well a-day! what evil looks
Had I from old and young!
Instead of the cross, the Albatross
About my neck was hung.
July, 17, 2014
Jul 17
1:00
PM PT
It's possible that your team's backup quarterback will be completely irrelevant this season. It's also possible he will become your team's most important player.
Just like the vice president isn't that important until he is, so is the backup quarterback. He could rescue or ruin your season.
So how do Pac-12 teams stand at backup quarterback? Let's take a look. We started with the
South Division on Wednesday
. Today, it's the North.
(Obviously, if your team hasn't yet named a starting quarterback, this is a bit of an either/or exercise.)
California
: With
Zach Kline
leaving the program, which further established sophomore Jared Goff as the starter,
Austin Hinder
is the backup. He's a senior with limited experience.
Oregon
: The battle behind
Marcus Mariota
didn't produce decisive results this spring, but
Jake Rodrigues
' decision to transfer established sophomore
Jeff Lockie
as the heavy favorite to be the backup. He was ahead of Rodrigues last year, though Rodrigues was a bigger physical talent.
Morgan Mahalak is a touted incoming freshman, and the competition figures to be heated to replace Mariota in 2015.
Oregon State
: With Alabama transfer Luke Del Rio -- he was a walk-on for the Crimson Tide, not a touted recruit -- immediately eligible, he will join the battle between sophomore
Brent VanderVeen
and redshirt freshman
Kyle Kempt
to back up
Sean Mannion
, a senior. Obviously, the winner becomes the front-runner to win the starting job in 2015. None of the three has played in a college game.
Stanford
:
Evan Crower
, a redshirt junior, was
Kevin Hogan
's backup last season and might be the favorite to hold onto that perch behind the third-year starter again this fall. That said, redshirt freshman
Ryan Burns
and incoming freshman
Keller Chryst
are both touted recruits. Crower completed 1
0 of 15 passes for 141 yards and one touchdown last year.
Washington
: If sophomore
Cyler Miles
emerges from Chris Petersen's doghouse and becomes the starter -- he certainly looked the part in limited work last year, which included a winning effort in a start at Oregon State -- then the battle to back him up is between sophomore
Jeff Lindquist
and redshirt freshman
Troy Williams
. They were the only two quarterbacks throwing passes during spring drills, but neither asserted himself.

Washington State
: The Cougars backup QB situation has gone from good to worrisome since the end of the 2013 season. First,
Austin Apodaca
opted to transfer, probably because he heard footsteps from redshirt freshman
Tyler Bruggman
. Then Bruggman also bolted, perhaps because he didn't like getting outplayed by walk-on
Luke Falk
during spring practices. As it is, the Cougs would prefer for
Connor Halliday
to stay healthy.
July, 17, 2014
Jul 17
8:40
AM PT
LOS ANGELES -- With the recent season-ending ACL injury to
Kenny Bigelow
, a talented redshirt freshman defensive tackle, it makes a
USC Trojans
fan ponder which players on offense and defense head coach Steve Sarkisian cannot afford to lose?
Here is our list of the top five offensive and defensive players the Trojans need the most in 2014:
Offense
To continue reading this article you must be an Insider
July, 16, 2014
Jul 16
5:30
PM PT
It's possible that your team's backup quarterback will be completely irrelevant this season. It's also possible he will become your team's most important player.
Just like the vice president isn't that important until he is, so is the backup QB. He could rescue or ruin your season.
So how do Pac-12 teams stand at backup QB? Let's take a look, starting with the South Division.
(Obviously, if your team hasn't yet named a starting QB, this is a bit of an either-or exercise).
Arizona
: The above disclaimer was written for the Wildcats, who have a wide-open competition heading into fall camp between four guys: senior
Jesse Scroggins
, sophomore
Anu Solomon
, junior Jerrard Randall and sophomore
Connor Brewer
. The good news is all four flashed capability during spring practices, so there's little worry on Rich Rodriguez's staff whether he can find at least two guys with whom he can win. Further, the backup situation sets up things for next year (if Scroggins prevails, and he's a slight frontrunner, then it will be competition-on again).
Arizona State
: Starter
Taylor Kelly
is one of the nation's best returning QBs. His big-armed backup,
Mike Bercovici
, is likely one of the nation's best backup QBs. While Kelly is the clear starter, there isn't a Sun Devil player or coach who'd panic if Bercovici were forced into action. During spring practices, he looked like a co-starter, though he's not the runner Kelly is. The redshirt junior could have transferred searching for playing time when he lost out to Kelly in 2012, but he'll get his shot in 2015 while owning a strong knowledge of Mike Norvell's offense.
Colorado
: When you asked coach Mike MacIntyre to
list things that pleased him this past spring
, he was quick to note how
Jordan Gehrke
played, establishing himself as
Sefo Liufau
's backup. That's good because, due to attrition, backup QB was a big concern entering spring practices. No QB on the roster besides Liufau, a true sophomore, has taken a snap in an FBS game.
UCLA
: The Bruins have very few questions, but backup QB is one of them. That is a significant concern for two reasons: 1. The drop-off from
Brett Hundley
appears steep; 2. Hundley likes to run, which puts him at greater risk for injury (Hundley needs to remember to slide -- just because he's built like a linebacker doesn't mean he needs to try to run over one). The chief competitors for the backup job are
Jerry Neuheisel
, the 2013 backup, and redshirt freshman
Asiantii Woulard
, with Woulard being the guy with the most future upside.
Some obscure QB recruit has committed
, but he won't be around until 2015.
USC
: New coach Steve Sarkisian named
Cody Kessler
his starter during spring practices, but there's no question redshirt freshman
Max Browne
is talented. While he's seen no game action, he's got an NFL arm and flashed a nice touch during spring practices. It's probably good the Trojans have a clear pecking order. And it's good they have a guy like Brown waiting in the wings.
Utah
: Whether you're a bird in the hand person --
Travis Wilson
is healthy, experienced and ready to rock a third year as a starter! -- or a two-in-the-bush sort -- Oklahoma transfer Kendal Thompson was once a touted recruit! -- Utes fans surely are breathing easier about their QB situation. If Thompson -- or
Conner Manning
or
Adam Schulz
-- is good enough to beat out Wilson, then that means the Utes should be solid at QB this fall.
July, 16, 2014
Jul 16
3:00
PM PT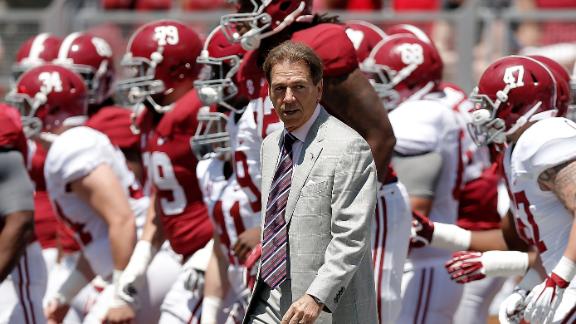 You want controversy? You want regional bias? You BCS-raised, college football young'uns don't know squat. Consider Exhibit A: USC and Alabama in 1978.
USC went to Legion Field in Birmingham, Alabama, on Sept. 23, 1978, and whipped the top-ranked Crimson Tide 24-14 in front of 77,313 fans who didn't appreciate West Coast cool rolling over their southern-fried team like an army of deranged surfers.
The technical term for that in college football parlance is a "head-to-head victory." That the win was accomplished on the road provided it even more gravity as an objective and seemingly insurmountable measure of two teams. Ergo, when the season ended with both USC and Alabama winning New Year's Day bowl games following one-loss seasons, it was obvious who should be ranked No. 1. That would be the Trojans, of course.
[+] Enlarge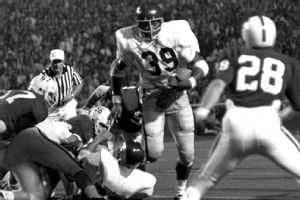 University of Southern California/Getty ImagesUSC fullback Sam Cunningham turned in a big performance in the Trojans' 1970 victory over the Crimson Tide.
Au contraire. The Associated Press poll voted the Crimson Tide No. 1 after they nipped regular-season No. 1 Penn State in the Sugar Bowl. USC had to settle for the UPI -- coaches' poll -- national title after beating No. 5 Michigan in the Rose Bowl.
Even today, if you throw this Apple of Discord onto a bar table between Tide and Trojans adherents over 50, spittle will fly, veins will bulge, and the unique righteous indignation of college football fans will thunder forth like water over Niagara Falls.
That just begins the story of USC-Alabama, which might have the most storied seven-game all-time series in college football history. Or is that Alabama-USC?
So if we are overbrimming with joy at the prospect of the Crimson Tide and Trojans opening the 2016 season in
the eighth annual Cowboys Classic at AT&T Stadium in Arlington, Texas, in a Labor Day weekend, neutral-site game
, please forgive us.
This, my friends, is what we've all been craving. If this is the luscious fruit brought forth by the new College Football Playoff demanding more challenging scheduling, then let's give the sport's powers-that-be a collective fist bump. They have, rightfully, been taking a lot of grief lately, most notably in the courts. If we can, for a moment at least, block off consideration of the monstrosity of the cash flow certain to gush from this one. Let's instead awash ourselves in the anticipation of the game itself.
Alabama and USC are without question two of college football's preeminent powers. They might be college football's
two
preeminent powers. They have combined for 26 national championships (11 by USC, 15 by Alabama), 66 bowl victories (32 USC, 34 Alabama), seven Heisman Trophy winners (6 USC, one Alabama), 272 first-team All-Americans (161 USC, 111 Alabama), 797 NFL draftees (483 USC, 314 Alabama), 52 College Football Hall of Fame players (31 USC, 21 Alabama) and such legendary coaches as USC's Howard Jones, John McKay, John Robinson and Pete Carroll and Alabama's Wallace Wade, Frank Thomas, Bear Bryant and current head coach Nick Saban.
Whew. While Notre Dame and Michigan fans are jumping up and down, waving their arms, this matchup is about as special as it gets, particularly when you project forward that both are likely to be top-10 teams to start 2016.
As for the series itself, Alabama leads 5-2. The Tide's biggest wins came in the 1946 Rose Bowl and in the Coliseum in 1971 and 1977, a decade in which both teams were dominating their respective regions. USC's other victory, a 42-21 blowout in 1970 in Birmingham, is often credited with pushing forward the integration of college football in the South, as the Trojans' African-American players, particularly fullback Sam Cunningham, tailback Clarence Davis and quarterback Jimmy Jones, turned in big performances. That game has been the subject of
many stories and documentary films
.
When those iconic helmets are standing opposite each other, there might be a few goose bumps from the old-timers that prove contagious to those who don't recall much from the pre-BCS age.
As for the present, the plot is also pretty thick. For one, the SEC and Pac-12 are the top two conferences in college football, and there's little reason to believe that will change much over the next three seasons. This game, therefore, could operate as a season-long measuring stick for both leagues. CFP committee members might be willing to apply the transitive property if they should be forced to make distinctions between Pac-12 and SEC teams that didn't play -- as in, "Well, UCLA beat USC and USC beat Alabama and LSU lost to Alabama, so UCLA should eclipse LSU."
Finally, there's the Lane Kiffin angle. Kiffin, you might have heard, was fired five games into the 2013 season as USC's head coach. He is now Alabama's offensive coordinator, a pairing with Saban that seems, well, interesting. Kiffin might be somewhere else in 2016, but it certainly would be a notable sidebar to the game if he is not.
By the way, Saban will be 65 in 2016. He might not be atop the Crimson Tide when this game rolls around.
Hmm. Lane Kiffin, Lane Kiffin. Hmm.
Ah, there is a lot to ponder with this one. Plenty of topics that will percolate. And ferment. Perhaps it's good we have two full seasons between now and this showdown to hone our hyperbole.
July, 16, 2014
Jul 16
2:30
PM PT
This is Butkus, Klahn's bodyguard. He is tough and ruthless. This is Kwong, Klahn's chauffeur. He is rough and toothless.
July, 16, 2014
Jul 16
9:16
AM PT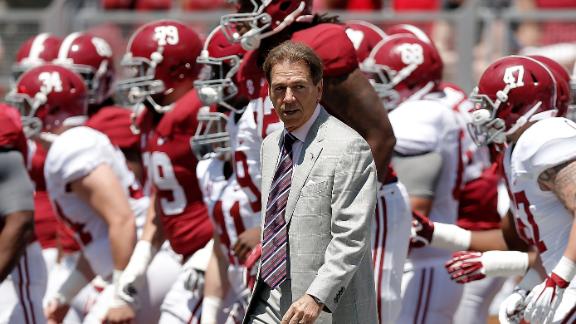 Alabama and USC will launch their 2016 seasons on Sept. 3 at AT&T Stadium in Arlington, Texas.
The Cowboys Classic will mark the eighth meeting between the programs. Alabama got the best of USC the last time the teams met, winning 24-3 in the 1985 Aloha Bowl.
The game against the Trojans is the latest of the Crimson Tide's high-profile neutral-site openers. Alabama will play West Virginia in Atlanta this season and Wisconsin in Arlington in 2015.
By adding the nonconference tilt with USC, Alabama fulfills its new obligation from the SEC to begin scheduling at least one nonconference game against a Big Five conference opponent starting in 2016.
Last summer, Alabama canceled a previously scheduled home-and-home series with Michigan State for 2016 and '17. Tide athletic director Bill Battle said at the time that the move was done because of "the uncertainty of conference football schedules in those years."
But according to coach Nick Saban, he tried and failed to persuade the Spartans to move the game to a neutral site.
The 2016 game between Alabama and USC could feature an interesting storyline. Lane Kiffin, who was fired by USC last fall, joined the Crimson Tide as offensive coordinator in January.
Alabama won the last time it played at AT&T Stadium, beating Michigan 41-14 to kick off the 2012 season.
PAC-12 SCOREBOARD
Thursday, 8/28
Friday, 8/29
Saturday, 8/30