April, 16, 2014
Apr 16
7:00
PM PT
What is your team's best quarter? Worst? And what does it mean?
While it's probably a mistake to read too much into how a team does quarter by quarter -- the final score is what counts -- it might provide some tidbits of insight.
The baseline, of course, is this: Good teams are going to win most every quarter and bad teams will lose most every quarter. But what does it mean if your team starts fast or slowly? Or owns the third quarter? Or sputters in the second?
The conventional wisdom is teams that do well in the third are good at making halftime adjustments, but coaches often snort at such talk.
Former Arizona State coach Dirk Koetter once painstakingly walked reporters through the halftime process to help them understand the small window for making significant schematic changes. Former Oregon coach Chip Kelly was at his snarky best -- even as he was being flattered -- when asked about "halftime adjustments."
Kelly, however, would admit that the occasional slow start by his offense was due to a feeling out period, where he and his assistants were taking the measure of what a defense was trying to do. That's the nature of football -- punching and counterpunching, reading and reacting.
Still, you probably shouldn't read too much into these numbers. While it's interesting that UCLA and Washington were very good in the third quarter last year while Arizona State -- curiously -- was not, the salient fact is the Sun Devils beat both.
Arizona, Oregon, UCLA and Washington were the only Pac-12 teams to win every quarter.
California was the only Pac-12 team outscored in all four quarters. The Bears gave up 181 points in the first quarter, the worst defensive quarter in the conference.
The highest scoring quarter belonged to Arizona State, with 192 points in the second. Washington had 184 points in the third and Oregon 182 points in the first.
The best defensive quarter was USC in the first, holding foes to 37 points. Washington yielded 44 in the first and UCLA gave up 44 in the third.
Arizona State was dominant in every quarter, other than the third, when it was outscored 109-99.
Stanford was dominant in every quarter other than the fourth, which it lost 85-92, suggesting the Cardinal didn't fight for a large margin of victory.
Oregon was dominant in all four quarters and, despite that, posted the best fourth-quarter margin of 78 points (137-59), suggesting the Ducks enjoyed producing a large margin of victory.
Stanford yielded 60 or fewer points in each of the first three quarters. Oregon did so in the third and fourth (47 points and 59 points). Only three other teams produced even a single quarter with 60 or fewer points: UCLA in the third (44), USC in the first (37) and Washington in the first (44).
Colorado was outscored in the first three quarters but won the fourth decisively, 130-70. That suggests Mike McIntyre's team didn't quit.
USC won 10 games last year despite being outscored in both the third and fourth quarters. Only Cal and Washington State matched that dubious distinction.
Utah was outscored only in the fourth quarter. Oregon State was outscored only in the first.
Washington's 119-point margin (184-65) in the third was the largest for any quarter. Oregon's 109-point margin in the first quarter was second (182-73). Arizona State had the largest second-quarter margin at 77 points (192-115).
April, 16, 2014
Apr 16
2:30
PM PT
It is a truth universally acknowledged, that a single man in possession of a good fortune, must be in want of a wife.
April, 16, 2014
Apr 16
2:00
PM PT
By
ESPN.com staff
| ESPN.com
April, 16, 2014
Apr 16
10:30
AM PT
The spring evaluation period kicked off Tuesday, and the
USC Trojans
didn't have to leave campus to recruit two of their top 2015 targets.
To continue reading this article you must be an Insider
April, 16, 2014
Apr 16
11:45
AM PT
This recruiting cycle represents a huge year for talent in California, which means the Pac-12 should be able to put together some very healthy recruiting classes. In looking at the top five targets for the conference in the
2015 ESPN 300
, it's no surprise that three come from Southern California. But if the Pac-12 wants to have a better overall finish in the recruiting rankings next year -- USC at No. 14 overall was the highest finish in 2014 -- the conference will need to reel in several out-of-area standouts, which is why the first two names on the list are here.
To continue reading this article you must be an Insider
April, 15, 2014
Apr 15
7:26
PM PT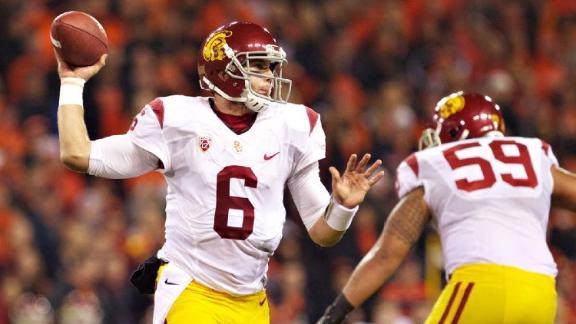 It wasn't a dramatic decision accompanied by great fanfare, but it was still notable that USC coach Steve Sarkisian named
Cody Kessler
the
Trojans' starting quarterback
after Tuesday's practice.
[+] Enlarge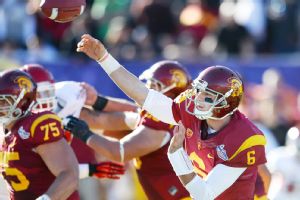 Ethan Miller/Getty ImagesCody Kessler, who threw for 2,968 yards and 20 TDs last season, will once again be running the USC offense after being named the starter on Tuesday.
Sarkisian had said last week that he was getting close to a decision and would likely make the announcement before the end of spring practice. There had been hints throughout the spring that Kessler would be keeping the job he held for the 2013 season, including when Sarkisian said that Kessler was improving at a faster pace than the top challenger, redshirt freshman
Max Browne
.
Considering that Kessler was the incumbent starter, if he was improving at a more rapid rate than Browne it was a fairly clear sign that Kessler was in the lead position to be named the starter. Still, until the actual word came down from Sarkisian there was always going to be a slight bit of uncertainty.
It wasn't a huge surprise that Sarkisian made the announcement at this time. Even though the Trojans coach was clear to say that the players will still compete throughout the summer and into fall camp, Sarkisian has long stated a preference to have his starting quarterback in place by the end of spring, in large part to help that player transition into the leadership role in summer workouts.
For Kessler, being named the starter now is a contrast to what happened last year when Lane Kiffin didn't name a starter until the third game of the season. Both Kessler and
Max Wittek
later admitted that was difficult for both quarterbacks.
One of the variables in the competition this spring was that the quarterbacks were learning a new up-tempo system that Sarkisian was installing, one that could run up to 120 plays each day in practice. Both players had worked out of the shotgun in similar systems in high school so there was some familiarity, but Sarkisian wanted to see them on the field with no preconceived expectations.
Kessler, who was told of the decision early Tuesday by offensive coordinator Clay Helton, went out and had one of his best practices of the spring later in the day. Sarkisian mentioned several reasons he chose Kessler, ranging from decision-making to his presence in the locker room to his strong arm.
It was the natural choice to make as Kessler is simply more advanced than Browne is at this point, although it's clear that Browne has a bright future. For now, though, Browne will have to continue to wait his turn as Kessler will hold on to his job as the starting quarterback of the Trojans.
April, 15, 2014
Apr 15
6:44
PM PT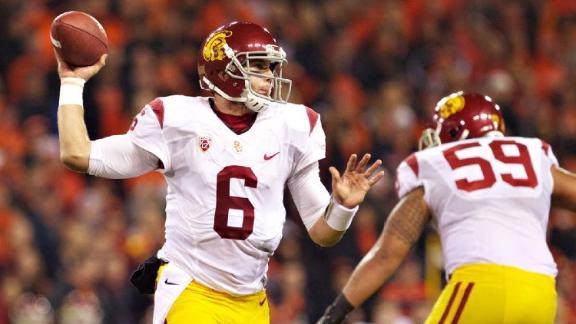 LOS ANGELES -- Cody Kessler, USC's incumbent starting quarterback, needed just 12 practices to convince new coach Steve Sarkisian that he should keep his job.
Prior to spring practice No. 13 on Tuesday, Sarkisian met with Kessler and backups Max Browne and Jalen Greene to inform them that Kessler would be the starter.
"I think he's extremely decisive from where he was in Week 1 in a new system to where he performed today," Sarkisian said. "He knows where he's going with the football. Are there some fundamentals and techniques we're going to continue to work on? Sure. But I think he's got a great deal of confidence. I love his leadership in the locker room with the players. He can throw the deep ball extremely well and he has enough athleticism to buy himself some time to create some plays down the field."
Kessler was locked in a quarterback competition in 2013 that spilled into the regular season before he finally claimed the job over Max Wittek. Kessler completed 236 of 361 passes for 2,968 yards with 20 touchdowns and seven interceptions. He posted a raw QBR of 59.7 with an adjusted QBR of 66.7 in guiding the Trojans to a 10-4 record and a victory in the Las Vegas Bowl, where he was named the game's MVP.
"I went in knowing that I have a year of experience and I know what it takes in big games to win and be successful," Kessler said. "I used that confidence and applied it to practice and treated every practice like a game."
April, 15, 2014
Apr 15
11:30
AM PT
April, 15, 2014
Apr 15
2:30
PM PT
I'm an early bird and I'm a night owl, so I'm wise and have worms.
April, 15, 2014
Apr 15
10:00
AM PT
As
the Trojans
prepare to wind down spring ball drills, there won't be a clear-cut answer on whom will be starting at right guard in the fall.
Khaliel Rodgers
has been working with the first unit throughout spring and has done a solid job. The redshirt freshman is known for his tenacious and aggressive nature, and he has made progress adjusting to USC's new up-tempo offense.
[+] Enlarge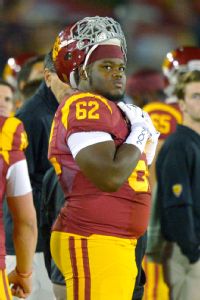 AP Photo/Mark J. TerrillRedshirt freshman Khaliel Rodgers, a former ESPN 300 recruit, could start in 2014 for the Trojans.
By the time fall camp rolls around, however, there will be competition in the form of experienced senior
Aundrey Walker
. With 18 career starts under his belt -- including 10 last season at right guard -- Walker has to be considered a legitimate option, but he will also be coming off a broken ankle suffered in the regular season finale. That injury has forced him to sit out spring ball, which includes an important adjustment period to the speedy pace of play.
Walker has never been known as a player with a great work ethic so it will be interesting to see where his strength and conditioning is when he returns to practice. The fact that his injury is an ankle has prevented him from keeping up with conditioning, and there will be no real way to substitute for that until the ankle is ready. Walker is a big guy, listed on the USC roster at 6-foot-6 and 300 pounds, and that kind of frame will need some time to catch up to the work the other players are doing right now in order to get through 120 high-paced plays per day.
Of course, this is the final year of college eligibility for Walker, the last chance to impress the pro scouts for his potential career. Perhaps that will be the kind of carrot that will motivate him to show up ready to go from the moment fall camp arrives.
If Walker isn't ready to go -- either with conditioning or with mental knowledge of the playbook -- Rodgers is continuing to make the coaches more and more comfortable with the thought of putting him on the field. That previous starting experience will be important for Walker, though, and you know the coaches will factor that into the equation, too.
WeAreSC caught up with Rodgers to get his thoughts as spring ball enters the final week:
Q:
How is spring practice going so far?
A:
It's going great. Everyone is adjusting and doing great so far.
Q:
What's your weight at right now?
A:
About 300 pounds.
Q:
Is that the weight you've been trying to maintain through the spring?
A:
Yeah, it's been up and down a lot, been in the [200s], back up to [300], 310 but I'm 300 even right now.
Q:
What's it been like with [offensive line] Coach [Tim] Drevno?
A:
It has been an awesome experience. He's one of the greatest coaches to come out of the NFL. From the technique he teaches and overall, he's a team coach and a great coach overall.
Q:
How has moving around at guard been?
A:
I've always been a guard, so moving me from left to right hasn't been a major difference.
Q:
You've been playing a lot with the first team, you feel pretty comfortable with that?
A:
Yeah, me and the guys are gelling well. I took a lot of reps with them, with the first team, last year at practice. We were able to gel back then, so we are definitely gelling now.
Q:
There was a lot of talk of you coming in and playing center, was that something you kind of wanted to do, or do you like it at guard better?
A:
Whatever position Coach [Steve Sarkisian] wants me to be at, I'll play.
Q:
How much more prepared do you think you are with the redshirt year under your belt?
A:
I'm more prepared just knowing the game, sitting back for a whole year and just watching how the game's being played. Just football knowledge, I gained a lot of football knowledge.
Q:
What's the scheme been like for you? How different has it been with Sark in there?
A:
It is totally different, but it is a scheme that will win games for sure, so we are definitely adjusting.
Q:
For you specifically, what has been the difference for you? The protections, the calls, is all that different?
A:
Wider splits, up tempo, fast, you've got to think faster. Everything is fast, that's how you've got to win games now. Football is evolving and we got to be fast.
Q:
Do you like the up-tempo style?
A:
Definitely. It kills the morale of the defense.
Q:
Is there any issues with conditioning for you as far as the up tempo goes?
A:
We all have to get used to it as a team, but we are almost to the end of spring, so we are starting to get used to it now.
Q:
You guys are running about 120 plays during practice, do you feel pretty good afterwards or are the last few plays hard?
A:
It is definitely a lot of work put in so it's not a bad feeling, but just to know that you can say you ran 120 plays, that's a great accomplishment in practice.
Q:
What do you think the quarterbacks have looked like back there?
A:
All of my QBs are great. They've done an excellent job this whole spring.
Q:
Max Browne
came in with you in your class, what do you think of him so far?
A:
Max, he works hard, he's a work horse, in the film room especially. He's always in the film room and the weight room, he always puts the extra time in. He's a great guy.
Q:
And you came in with
Kenny Bigelow
too, you get to face off against him. From the same high school, do you guys talk a lot about that?
A:
Nah, high school is done with, it's just like same ol' same ol', we go against each other all the time.
April, 14, 2014
Apr 14
7:00
PM PT
ESPN's Todd McShay released his
Mock Draft 4.0

on Friday, but unlike the first three, this one included projections for the second round to go along with the first.

If things were to play out how McShay envisions, the Pac-12 would account for just three first-round picks. The surprise there is not the amount, but who is not included -- UCLA OLB/DE
Anthony Barr
.
After projecting Barr at No. 7 in his first mock draft in December, McShay had him at No. 11 in versions 2.0 and 3.0. This time? All the way to the second round at No. 36 to the
Oakland Raiders
.
It's long been assumed the UCLA pass rusher was the obvious candidate to be the first Pac-12 player taken, but the torch -- at least in this instance -- has been passed to Oregon State receiver
Brandin Cooks
at No. 18 to the Jets. McShay's previous forecast had USC receiver
Marqise Lee
in that spot, but now he has Lee joining former Oregon coach Chip Kelly in Philadelphia at No. 22.

McShay notes:
Lee did some serious damage to Chip Kelly's Oregon teams in 2011 and 2012, with a combined 20 catches for 344 yards and three touchdowns.
UCLA offensive guard
Xavier Su'a-Filo
is tagged for former USC coach Pete Carroll and the Super Bowl champion Seahawks at No. 32.
Seven players from the Pac-12 were projected to go in the second round, and a notable running back from the conference is on the board after the first two rounds.
PAC-12 SCOREBOARD
Thursday, 8/28
Friday, 8/29
Saturday, 8/30