August, 31, 2014
Aug 31
8:00
AM PT
LOS ANGELES -- Notes, quotes, and anecdotes from the Coliseum after the Trojans (1-0, 0-0 Pac-12) defeated Fresno State (0-1, 0-0 MWC).
USC head coach Steve Sarkisian comments:
Happy days are here again:
"That was fun. What a game by these guys, the whole group. I had a staff meeting this morning before we started our preparation, and I was saying I don't even think I need to speak to the team. I don't think they need motivation to play. They are hungry. I felt they practiced great, prep was really good this week, and ultimately we executed well in all three phases (offense, defense, special teams)."
Freshmen pass first test:
"We needed them to come in and contribute to have success, knowing they'd have some mistakes but would ultimately help. I am not surprised. We've challenged them and put them in with the 1s, and they've all stepped in and played well."
Offensive line review:
"For them to perform and protect Cody (Kessler) the way they did, I was proud of them. Coach Drevno got them ready to play. We tried to keep them fresh. When you get fatigued, that's where mistakes are made, so we tried to keep them as fresh as we could. For the most part, it worked out."
Fresno State head coach Tim DeRuyter comments:
Overall assessment:
"We got out-coached and out-played. You also have to give them a lot of credit. I'm disappointed but not discouraged. We're not ready at this point to compete against a team like USC."
Respecting the Trojans defense:
"They are excellent on defense. They are very physical and really talented. They're big up front, their linebackers are physical and their secondary played well."
Physically dominated:
"Our guys got worn down a bit in the second halt. It's partly due to who you're going against. Those are some big bodies. It's hard to keep pressure off the quarterback and give him time to throw."
More notes and anecdotes
Key(s) to victory:
Trojans junior quarterback
Cody Kessler
threw for touchdowns of 10 and 5 yards and scored on a 1-yard touchdown run in an impressive 21-0 first quarter barrage, and the Men of Troy cruised to a
52-13 victory
over Fresno State.
The thermometer:
It was 82 degrees at kickoff in the Coliseum at kickoff.
The offensive above scoring average:
The Trojans scored 52 points against Fresno State on Saturday. In last season's Royal Purple Bowl in Las Vegas against the Bulldogs, the Trojans scored 45 points.
Cody connects:
For the game, Trojans junior quarterback Cody Kessler threw for four touchdowns, ran for another, was 25-of-37 through the air for 394 yards, and rushed for 28 yards. Just has important, he did not throw an interception.
Defensively speaking:
The Trojans defense allowed 13 points to Fresno State on Saturday. In last season's Royal Purple Bowl in Las Vegas against the Bulldogs, the Trojans allowed 20 points.
Defensive evaluation:
Junior All-America tackle
Leonard Williams
said, "We had great energy in executing what we've been working on. We stopped the run. There's a lot we still have to work on on the goal line."
Getting offensive:
The Trojans had 701 yards in total offense against the Bulldogs on Saturday. The Trojans had 499 yards in total offense against Fresno State in last season's Royal Purple Bowl in Las Vegas.
Whew:
The Trojans established a Pac-12 record on Saturday by running 105 offensive plays.
From the trenches:
On the newness and effectiveness of the inexperienced offensive line, first-year starting sophomore right tackle
Zach Banner
said, "It's really amazing. We have three freshmen offensive linemen and somebody new like myself and we give up no sacks. We did good up front. We still need to fix some technical errors, and when we play Stanford, they're a whole different team with different schemes."
Defense stars:
Against Fresno State on Saturday, the Men of Troy allowed 317 total yards. In last season's Royal Purple Bowl in Las Vegas against the Bulldogs, the Trojans allowed 253 total yards on defense.
In defense:
Regarding the Trojans defensive performance, junior linebacker
Anthony Sarao
said, "As a first game, I thought we played pretty well. However, overall we didn't play all that well. I am looking forward to playing Stanford and getting back to smashmouth football. In these spread offenses, I hate chasing bubble screens. It's petty to me."
Below the rush:
Against Fresno State on Saturday, the Trojans rushed for 277 yards. In last season's Royal Purple Bowl in Las Vegas against the Bulldogs, the Trojans rushed for 154 net yards.
Rush hour:
Trojans junior tailback
Javorius Allen
led the Trojans tailbacks with 133 yards, the fifth time "Buck" has gained at least 100 yards -- all within the last seven games.
Rushing wall:
Against Fresno State on Saturday, the Men of Troy allowed 157 net yards rushing. In last season's Royal Purple Bowl in Las Vegas against the Bulldogs, the Trojans defense allowed 37 yards rushing.
The Millionaire:
On his thoughts after he scored his first USC touchdown on an 18-yard reception from Cody Kessler in the second quarter, freshman
Adoree' Jackson
said, "When I caught the ball in the end zone, it was just like I picked up a million dollars off the ground."
Passing the test:
On Saturday against Fresno State, the Trojans passed for 424 yards. In last season's Royal Purple Bowl in Las Vegas against the Bulldogs, the Trojans passed for 345 yards.
Fresno perspective:
On the Trojans controlling the ball, Fresno State safety
Derron Smith
said, "We couldn't get off the field in the first half. There were a lot of times where we just couldn't make a tackle or get a stop."
Z for victory: In honor of the late Trojans Olympian and World War II hero Louis Zamperini, the Trojans wore a "Z" on the back of their helmet.
Air raid:
On Saturday, the Trojans defense allowed 160 passing yards. In last season's Royal Purple Bowl in Las Vegas against the Bulldogs, the Trojans allowed 216 passing yards.
The flag is up:
On Saturday, the Trojans were penalized nine times for 76 yards. In last season's Royal Purple Bowl in Las Vegas against the Bulldogs, the Trojans were penalized 10 times for 101 yards.
Top tacklers:
Senior linebacker
Hayes Pullard
led the Trojans defense with eight tackles followed by junior All-America tackle with seven tackles.
The meat wagon:
The lone serious Trojans injury reported afterward was tight end
Chris Willson
(broken foot).
Sock it to me:
The Trojans wore black socks against Fresno State.
Freshman flutters:
Describing his emotions of playing in the Coliseum for his first college football game, freshman offensive guard
Viane Talamaivao
said, "To say I had birds in my stomach is an understatement. I was scared to death. Once you're in it, you become use to it."
Counting the house:
Game attendance was 76,037.
The NFL draft:
Pro scouts in attendance included the Lions, Panthers, Cardinals, Chargers, Chiefs, Browns, and Jets.
Next game:
The Trojans open the 2014 Pac-12 Conference season next Saturday at Stanford (12:30 p.m. PDT).
August, 31, 2014
Aug 31
8:00
AM PT
Football is back. That means helmet stickers are back! Here's who gets one of college football's most coveted honors for Week 1.
Kaelin Clay, KR, Utah
: The Pac-12 blog is always hesitant to dole out too much praise for victories in FCS games. But Clay went above and beyond in Utah's
56-14 win
over Idaho State. He returned a punt 46 yards for a touchdown in the second quarter and a kickoff 100 yards for a touchdown.

Anu Solomon, QB, Arizona
: Not a bad night for the new guy. He threw for 425 yards and four touchdowns in his first career start (also adding 50 yards on the ground) as the Wildcats totaled a school record 787 total yards in their
58-13 win
over UNLV.
Connor Halliday, QB, Washington State
: This is getting to be a troubling trend. Halliday has a monster game, but the Cougs lose in the fourth quarter. Sort of how we ended last year. Still, he threw for 532 yards and five touchdowns against a Big Ten team, a
41-38 loss
to Rutgers. That has to count for something.
UCLA's defense:
While the offense significantly underwhelmed, the defense kept the Bruins alive with three defensive touchdowns in the second quarter, which was ultimately the difference in their
28-20 win
at Virginia. Interception returns by
Ishmael Adams
and
Eric Kendricks
, with a
Randall Goforth
fumble return in between, gave the Bruins a big enough lead.
Jalen Jefferson, LB, Cal:
Been a while since we tapped a Cal defensive player for a helmet sticker. Feels weird. Feels good. Jefferson led all players with 16 tackles, including 1.5 for a loss and a critical 11-yard sack on Northwestern's penultimate offensive play of the game. On the final play, it was Jefferson who snagged an interception, sealing a
31-24 win
. He was Eh-vre-where.
Cody Kessler, QB, USC:
I know, I know. We could do three or four quarterbacks every week. And just an FYI, we probably will, because they're that good this year. Kessler picked up where he left off against Fresno State last year and posted a career high 394 yards on 25-of-37 passing with four touchdowns and no interceptions in the
52-13 win
over the Bulldogs.
August, 31, 2014
Aug 31
2:55
AM PT
We never know. We learn.
We have ideas of what teams will look like, and we project based on returning talent, talking with coaches, watching practices and making educated guesses. But we never
really
know until we see what's on the field.
We're smarter Saturday night than we were Thursday morning -- mostly. The first week of Pac-12 Football 101, which saw the league go 10-2 in nonconference play, was chock-full of intellectual goodies.
Perhaps the team that enlightened us the most was the California Bears, who snapped a 16-game losing streak to FBS teams by going into Ryan Field and notching a
31-24 victory
over the
Northwestern Wildcats
.
[+] Enlarge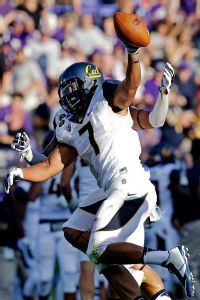 AP Photo/Nam Y. HuhJalen Jefferson celebrates his interception that essentially sealed the game for Cal.
It's not that it was the first FBS win of the Sonny Dykes era, or that the offense looked balanced and explosive. It's the fact that they had a 31-7 lead and won 31-24. Dykes liked the idea that his team had to tip-toe through a little bit of fire to pick up the win. He watched his team evolve from soft to salty.
"I never got the feeling from one player or one coach of 'here we go again,'" Dykes told the Pac-12 blog via telephone after the game. "The guys really believed in each other. And the reason they did is because they have worked so hard. They were prepared. And they knew someone would make a play to give us a chance to win the ball game."
As it turned out, someone made two. On Northwestern's final drive,
Jalen Jefferson
notched a critical sack on second-and-6 for a loss of 11 yards. On the next play, Jefferson snagged an interception that essentially closed out the game.
"It's been a long few months for us, but we're a tighter team than we were last year," Jefferson said. "A lot of those breaks we weren't getting last year, we got them. We can feel things changing for the better."
Added quarterback
Jared Goff
: "I think we learned about resiliency. We knew they would fight back and we didn't give up ... we learned how to finish a game."
It was educational, for sure.
We learned some things haven't changed -- at least not yet. While the Bears were protecting the fourth quarter from a Big Ten team, the
Washington State Cougars
were yielding the fourth quarter to another. And UCLA? Well,
Brett Hundley
is still getting sacked, and his offensive line still looks leaky. If not for three defensive touchdowns, the Bruins would be staring at 0-1.
We didn't learn much from the FCS games -- other than it was good to see Utah's
Travis Wilson
back on the field and that Oregon State seems to makes those games sketchier than they probably should be. We don't know a ton more about ASU's defense or Oregon's offense. We didn't learn much about Stanford's rushing attack.
Ty Montgomery
is really good. But we already knew that.
We learned USC still has the ability to hit the mute button on the outside noise. If there's one team that knows a little something about turmoil, it's the Trojans -- for what they went through last year. That's a team with scary potential.
We learned not very good is sometimes good enough. See Washington and UCLA, whose fans are crawling into bed at this moment feeling both relieved and probably a little jolted.
And the rest of the Pac-12 probably learned a little something about the Bears.
"We're capable of being pretty good, I think," Dykes said. "We have to execute better. We're good in spurts. We have to be good consistently and close people out."
Next week Cal gets FCS Sacramento State with a chance to start 2-0 for the first time since 2011. The schedule ramps up with a pair of high-profile games, including Michigan State at Oregon and USC at Stanford.
Looking forward to what we'll know by this time next Saturday.
August, 30, 2014
Aug 30
11:24
PM PT
LOS ANGELES -- The text popped up on
Su'a Cravens
phone as he prepared to leave for the Los Angeles Memorial Coliseum to play Fresno State on Saturday.
It was from
Josh Shaw
, one of Cravens' best friends on the team and the player he thought he would be lining up beside in the defensive backfield this season.
"He just told me to be a leader," said Cravens, a sophomore starting safety at USC. "Just be a leader and take over the secondary."
Three days after Shaw, a USC senior cornerback, admitted to lying about how he suffered two high ankle sprains the past weekend and was suspended indefinitely, USC took the field for their season opener and a break from off-the-field distractions in one of the wildest weeks the program has ever experienced.
It began Monday when the team revealed that Shaw, one of the team's captains, had injured himself while jumping from the second story of an apartment complex to save his 7-year-old nephew, who was struggling in the pool. Shaw said his nephew did not know how to swim.
On Wednesday, Shaw hired a criminal defense attorney and admitted to team officials the story was a complete fabrication. Meanwhile,
the Los Angeles Police Department is eyeing Shaw
for a potential role in a domestic dispute.
[+] Enlarge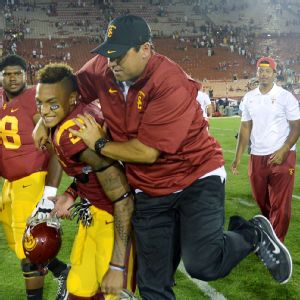 Kirby Lee/USA TODAY SportsUSC safety Su'a Cravens, who was jumped by Trojans coach Steve Sarkisian after Saturday's convincing win, said this week's off-field issues "didn't compare at all to [last season]."
"I wasn't expecting it," Cravens said. "I'm pretty sure nobody on the team was expecting it. We all thought he was a hero at one point. It's unfortunate what happened, but we have to keep going."
The Trojans did more that keep going. They took a week's worth of frustration and anger out on Fresno State during a 52-13 blowout, which could have been worse if the Trojans hadn't taken out their starters before the start of the fourth quarter.
USC set a Pac-12 record by running 105 offensive plays in the no-huddle offense Steve Sarkisian unveiled during his head-coaching debut with the Trojans. USC also totaled 704 yards and 37 first downs, the most the Trojans have had since 2005, when USC was riding a 34-game winning streak and Sarkisian was the assistant head coach.
It felt like old times at USC. The Trojans were dominant from opening kickoff and scored 52 points before the end of the third quarter. USC hadn't scored that many in a game at the Coliseum since Pete Carroll was the coach.
As much as USC would like to turn back the clock to that time, it was the struggle of the past season -- when USC went through three head coaches -- and dealing with the sanctions and bowl bans the previous three campaigns that planted the seeds for a team that could persevere through controversy and outside distractions.
Most of the players in USC's locker room are used to being punished for the mistakes of others and being asked about issues out of their control. In the big scheme of things, this week should not be that entirely shocking for them.
So Shaw concocted an elaborate lie about how he suffered his injury that lasted less than 24 hours. So USC senior running back
Anthony Brown
quit the team and decided to call Sarkisian a "racist" a week later on social media before deleting his post and making his account private hours after it became public.
It's certainly embarrassing but perhaps not quite as distracting for a team as having your coach fired in the middle of the night at an airport, and then, less than three months later, watch his replacement quit just before your bowl game.
"It didn't compare at all to [the past season]," Cravens said. "We got a completely different coaching staff five games into the season. Of course, it sucks what happened to Josh, and it's unfortunate what A.B. said in the press. But we got bigger things to handle. That was the game today. And next week we got Stanford, and that's all we're thinking about."
These Trojans might not be as talented as the national championship squads Sarkisian coached a decade ago, but they have proven themselves to be perhaps the most resilient group the school has ever seen.
After Lane Kiffin was essentially fired outside an airport tarmac, the Trojans responded by beating Arizona the following week and winning six of their next seven games. When Ed Orgeron quit after not being named the permanent head coach, they beat Fresno State in the Las Vegas Bowl.
On Saturday, they ushered in the Sarkisian era with one of the most dominating offensive performances the school has ever had, after one of the most difficult weeks the school has ever experienced.
"I think when everybody is talking bad about SC and saying it's a clown college, or they're so distracted, and it's a joke at this school, we just laugh," Cravens said. "We're going to play our game no matter what happens.
"People may think they know what's going on at SC, [but] what they don't know [is] it's a band of brothers getting ready to play the game. Think what you want. We're SC. We're the SC that y'all have known. We're the SC that's ready to fight against everybody we play every weekend. I think we showed that today."
Cody Kessler
, who passed for a career-high 394 yards and four touchdowns and ran for another score, shook his head when asked if the distractions got to the team. So did
Leonard Williams
, who had seven tackles and an interception.
"You saw last year that we went through so much, and we're tight because of it," Kessler said. "Coach Sark makes it about us. And we practice Monday through Friday and never once did these guys get rattled, and it showed tonight."
Sarkisian saw what last year's team went through when he was named the team's head coach before the bowl game. He knew how tight the team was and only felt the need to bring up the Shaw and Brown incidents twice before returning the focus back to football.
"I don't know if it brought us closer, but it reinforced what we're about," Sarkisian said. "They went through a lot last year with the transition, and there were moments where these guys had to cling together. And ultimately, it showed."
The focus on Saturday finally returned to football at USC. If the Trojans continue to play the way they did against Fresno State, it might actually remain that way for a while.
August, 30, 2014
Aug 30
11:02
PM PT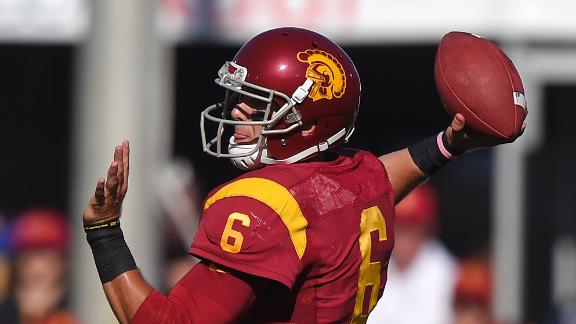 LOS ANGELES -- While most
USC
players tried to change the subject when the names of
Josh Shaw
and
Anthony Brown
were brought up after Saturday's 52-13 victory over Fresno State, starting safety
Su'a Cravens
admitted he was thinking of both seniors and how their final seasons could have been different if they had handled their situations another way.
"I know [Brown] probably regrets saying what he said," Cravens said of the running back who
quit the team
Aug. 21 and later called coach Steve Sarkisian "racist" in social-media posts since deleted. "It's unfortunate. I know Sark personally, and Sark is a great coach, and there's no way shape or form it's true what [Brown] said. I think he was just upset with the situation. If he could rethink that whole thing, he wouldn't have said it. It's the frustration of being in your senior year and really not playing. A.B. is my friend, and it's unfortunate what he said."
"[Shaw] apologized publicly to the coaching staff and to the entire football team and administration," Cravens added. "We all know what kind of guy Josh is, and he doesn't need to apologize to us for us to know that he's sorry for what he did."
What exactly happened with Shaw continues to be a mystery to most outside of the team -- the cornerback
has been suspended
after he admitted to lying about how he suffered a pair of ankle sprains -- and as much as Cravens would like to see the one-time defensive captain return, he understands that's out of his hands.
"We got to see what happens legally, and if Coach Sark lets him back onto the team," Cravens said. "We don't know what happened. I'm sure if some guys did know what happened, they wouldn't say because they might have to be witnesses in a courtroom. I don't know. As far as I see it, he fabricated his story, and that's all I know."
August, 30, 2014
Aug 30
8:31
PM PT
Associated Press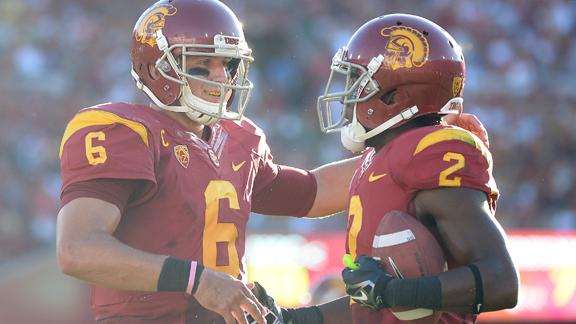 LOS ANGELES -- Cody Kessler threw for 394 yards and four touchdowns and No. 15 Southern California ended a trying week with a 52-13 win over Fresno State in Steve Sarkisian's debut as the Trojans' head coach.
The Trojans ran a school- and Pac-12 record 105 plays while racking up 37 first downs and 702 yards of total offense to Fresno State's 16 first downs and 315 yards.
In all, 10 different Trojans caught passes in Sarkisian's up-tempo offense.
For USC, the victory comes at the end of a distracting week for Sarkisian, punctuated by a tale of heroism by suspended defensive captain Josh Shaw that turned out to be a lie. Backup running back Anthony Brown also quit the team and called Sarkisian a racist, an allegation the coach and other players vehemently denied.
For the Bulldogs, the loss was their third straight in the series to USC.
August, 30, 2014
Aug 30
11:25
PM PT
By
ESPN.com staff
| ESPN.com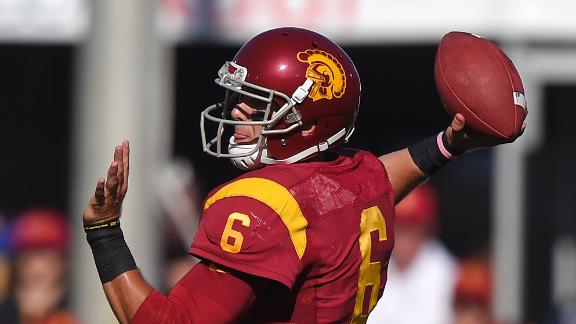 Cody Kessler
threw for 394 yards and four touchdowns in the
USC Trojans'
52-13
win against the
Fresno State Bulldogs
.
August, 30, 2014
Aug 30
12:35
PM PT
By
ESPN.com staff
| ESPN.com
USC Trojans
coach Steve Sarkisian addresses the accusations made by senior running back
Anthony Brown
, calling Sarkisian a racist man after quitting the team.
PAC-12 SCOREBOARD
Thursday, 9/4
Friday, 9/5
Saturday, 9/6