December, 17, 2014
Dec 17
8:00
AM PT
By
WeAreSC staff
| ESPN.com
In these bowl practice sessions Steve Sarkisian has given a lot of work so far to younger players to see where they're at in their development, give one player on offense and one on defense who you think can shine with extended practice reps.
Garry Paskwietz
Offense: I'm interested to see what
Ajene Harris
can do when healthy. He made quite an impression during summer workouts and fall camp in his transition from high school quarterback to college receiver, and was on his way to early playing time before nagging injuries slowed his first-year progress. Steve Sarkisian has shown that he likes to utilize the slot receiver role in a variety of ways and the versatile Harris could end up being a dependable option.
Defense:
Jonathan Lockett
is a guy who continues to impress when I see him on the practice field and I think he's going to start to emerge for a larger role in the cornerback rotation. Lockett is one of those guys who is always around the football and this offseason could also be important for him to add some bulk in preparation for a larger workload.
Johnny Curren
Offense: I was pleasantly surprised by what I saw out of offensive lineman
Chris Brown
over the course of the last two weeks. He's been hidden to a certain extent throughout much of the season on the scout team, but at 6-foot-5 and 295 pounds, he moves pretty well, and it looks like he has a little mean streak to him. He's been spending his time at guard, but with fellow freshmen
Viane Talamaivao
and
Damien Mama
already entrenched at those spots, I'd like to see what he can do at tackle.
Defense: I continue to be impressed with cornerback Jonathan Lockett. He just has a nose for the ball, and he made two interceptions this past weekend that were really impressive. I think he still needs to add just a little more bulk to his frame, but he appears to have the tools and instincts to become a real contributor down the line.
Greg Katz
Offense: I would point immediately to offensive lineman Chris Brown, the former Los Angeles Loyola stud. During summer workouts and into fall camp, there was nothing to indicate that Brown couldn't be a major player at offensive tackle with a year to mature. It would appear that it was a good move by Steve Sarkisian and offensive line coach Tim Drevno.
Defense: The thought here is cornerback
Lamont Simmons
from Jacksonville, Florida. Simmons has drawn recent praise from Sarkisian during bowl practices. Given the fact that
Adoree' Jackson
has made the expected impact that he has and the return of
Kevon Seymour
and the return of
Josh Shaw
, redshirting Simmons has been ideal in order let him mature and adjust to college life and the challenges of college football in general.
Of the USC players who missed all of the season, or most of the season, due to injury, who are you most looking forward to seeing return to the line-up in 2015?
GP:
It seems like the "promise" of
Kenny Bigelow
has been around for so long and USC fans have yet to see him deliver that potential on the field. Bigelow has been keeping a good attitude as he rehabbed the knee injury this fall and was around the team quite bit, if he can get back to form and provide a quality option in the middle of the D-line it would be a welcome bonus for the Trojans defense.
JC:
The player that I'm most looking forward to seeing return to the field is tailback
Tre Madden
, especially with the potential loss of Buck Allen to the draft. A tough ball carrier, Madden really was looking good in fall camp before he suffered his turf toe injury, and being the workaholic that he is, I'm confident that he's going to return to form in a hurry. He's also one of those lead-by-example players who will have a very positive influence on the Class of 2015 running backs who will be arriving on campus.
GK:
There are a number of candidates like defensive lineman Kenny Bigelow, but I am really looking forward to seeing the return of outside linebacker
Jabari Ruffin
. I think the Trojans really missed his physicality and nastiness to his game. There is the thought here that maybe mobile quarterbacks might not have found the edge as many times in crucial situations as they did if Ruffin would have been able to go.
December, 17, 2014
Dec 17
8:00
AM PT
Because you know I'm all about that bass, 'bout that bass.
Leading off
A few more All-America teams were announced Tuesday, and the usual Pac-12 suspects continue to rake in the honors. Here's the latest breakdown.
First up is the
Associated Press All-America team.
First-team offense: Marcus Mariota, QB, Oregon, Shaq Thompson, AP, Washington.
First-team defense: Danny Shelton, DT, Washington, Scooby Wright III, LB, Arizona, Hau'oli Kikaha, LB, Washington, Ifo Ekpre-Olomu, CB, Oregon, Tom Hackett, P, Utah.
Second-team offense: Andrus Peat, OT, Stanford, Hroniss Grasu, C, Oregon
Second-team defense: Nate Orchard, DE, Utah, Leonard Williams, DT, USC, Eric Kendricks, LB, UCLA
Third-team offense: Jake Fisher, OT, Oregon, Nelson Agholor, WR, USC.
Third-team defense: Su'a Cravens, S, USC.
Next up is the
Sports Illustrated All-America team
.
First-team offense: Mariota, Grasu, Peat.
First-team defense: Orchard, Wright III, Thompson, Kendricks, Ekpre-Olomu.
Second team offense: Jaelen Strong, WR, Arizona State.
Second team defense: Williams, Kikaha
Second team special teams: Hackett
Here's the
Fox Sports All-America team
.
First-team offense: Mariota
First-team defense: Williams, Wright III, Kikaha, Ekpre-Olomu,
First-team special teams: Hackett, Kaelin Clay, KR, Utah
Second-team offense: Agholor
Second-team defense: Orchard, Shelton, Thompson, Kendricks
Also, USA Today put together its
Freshman All-America team
. Included on that list from the Pac-12 are:
Offense: Toa Lobendahn, OL, USC, Jacob Alsadek, OL, Arizona
Defense: Lowell Lotulelei, DL, Utah, Adoree' Jackson, CB, USC, Budda Baker, S, Washington.
Finally, Bruce Feldman of Fox breaks down the most impressive freshmen.
Jackson and Baker are on his list.
News/notes/team reports
Just for fun
In case you missed it (and it would have been pretty hard to miss it if you follow Pac-12 football), here's the full presentation of Marcus Mariota
reading the Top 10
on the "Late Show with David Letterman."
December, 16, 2014
Dec 16
1:02
PM PT
Ronald Jones:
The talented running back from Texas recently de-committed from Oklahoma State following an official visit to Notre Dame. Jones had also taken an official visit to USC the previous week. It's unclear at this point if Jones is favoring the Irish or the Trojans, so it could be shaping up as an old-fashioned recruiting battle between the two schools. Jones is certainly a prized target, the 6-foot, 185-pound speedster is ranked as the No. 56 player in the ESPN 300 and the No. 5 running back overall. USC already has verbal commitments from a pair of tailbacks in
Aca'Cedric Ware
and
Dominic Davis
, although Davis is expected to also see time as a slot receiver. Jones would provide a gliding, natural runner at the position, one who also brings a lot of explosive ability.
State Bowl matchups are set:
There will be several USC prospects taking part in state bowl games this weekend. On Saturday, USC verbal commit tight end
Tyler Petite
will lead Campolindo in the California Division 3 game against El Capitan. A pair of 2016 players with Trojan offers, De La Salle tight end
Devin Asiasi
and Centennial wide receiver
Javon McKinley
, will face off in the Open Division game to cap off the trio of Saturday games at the Stub Hub Center. McKinley received his USC offer last weekend during a campus visit. Ware will lead his Cedar Hill team in the Texas 6A Division 2 state title game against Katy. Cedar Hill won the 5A Division 2 state title last year with a victory over Katy. USC has also offered Cedar Hill wide receiver
DaMarkus Lodge
.
Familiar name:
With a father (John) and two uncles (Norm and Kurt) who played for the Trojans, along with a mother who graduated from USC and two brothers who currently attend the school, it shouldn't have come as much surprise when St. John Bosco offensive lineman
Matt Katnik
gave a verbal commitment to USC this week. The surprise comes when Katnik -- who played on the state title team for Bosco in 2013 and was a key senior this year -- will come to USC on a track scholarship rather than the gridiron. Katnik competes in the shot put, where he is one of the leading athletes in the nation. He also carries a 4.4 GPA, and was recently awarded the Jim Staunton Champions for Character Award by the CIF-SS.
December, 16, 2014
Dec 16
3:00
PM PT
Has this been the greatest season in Pac-12 history? The jury is still out on that front, as the league's bowl slate remains to be played, and Oregon is tasked with carrying the conference flag into a playoff battle with the nation's big boys. But after a captivating regular season, the conference is undoubtedly in strong position entering this final foray.
The 2014 ride -- usually unpredictable, frequently stunning, always entertaining -- has been bathed in a downright surreal aura throughout (see #Pac12AfterDark). We want to commemorate the Paction, so we've assembled a list of the top 15 moments that defined this bizarre Pac-12 campaign while impacting its eccentric, memorable course.
We'll be counting down in increments of three throughout this entire week. Here's the second installment:
No. 12 -- Shaq Thompson scoring a 99-yard fumble return TD against Cal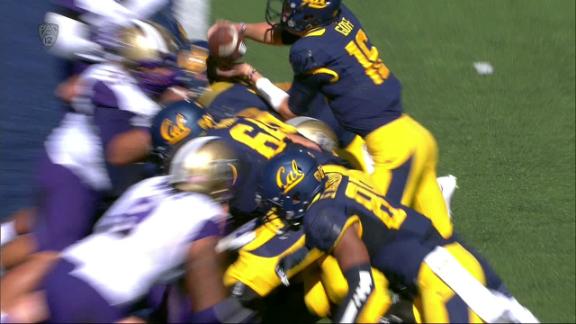 With the
Washington Huskies
backed up into the end zone on second-and-goal and with the score tied at 0, linebacker Shaq Thompson -- who had made his original verbal commitment to Cal -- made one of his loudest plays of the Pac-12 season against what was then the second-highest scoring offense in the nation.
As Cal quarterback
Jared Goff
attempted to go over the top, the ball came loose and Thompson took off, returning the ball the length of the field, outrunning a few Bears en route.
It gave Washington the early lead (the Huskies would go on to win 31-7) and the game would end up being Chris Petersen's first conference win at Washington, after having given up a 20-13 decision to Stanford two weekends before. It also rewrote the history books for UW as the program's longest fumble return TD -- the previous was 77 yards, which was set by Jim Noe in 1953.
No. 11 -- Washington Coug'n it against Arizona
Yep, sorry, UW, but you definitely pulled a Wazzu and Coug'd it like the best of 'em with that late game performance against Arizona.
The Huskies had a five-point lead heading into the fourth quarter at then-No. 14 Arizona when everything fell apart. Seriously, everything. Washington had four drives. This is how they played out:
1. Three plays, 9 yards, punt.
2. Three plays, -5 yards, punt.
3. Four plays, 2 yards, punt.
4. Seven plays, 25 yards, lost fumble.
Not exactly offensive efficiency. Not even in the same zipcode as it.
The Husky defense -- though not exactly stout as it gave up 504 yards of total offense that game -- did give Washington a chance at the end. Freshman defensive back
Sidney Jones
intercepted Arizona quarterback
Anu Solomon
at the 17-yard line with about four and a half minutes remaining. Certainly that could've been enough time for UW to pull something together. Or in reality, just don't mess up. Hold the ball long enough, make enough movement and walk this thing out.
But on the ensuing drive, running back
Deontae Cooper
fumbled and lost the ball and the Husky defense allowed the Wildcats to get into field goal range.
Casey Skowron
nailed the 47 yarder to give Arizona its eighth win of the season. The following week, the Wildcats moved from No. 15 to No. 11 in the College Football Playoff committee rankings.
The complete breakdown from Washington sparked something in the Huskies as they finished out the season with two more wins, combining to beat Oregon State and Washington State 68-26.
No. 10 -- Arizona missed field goal vs. USC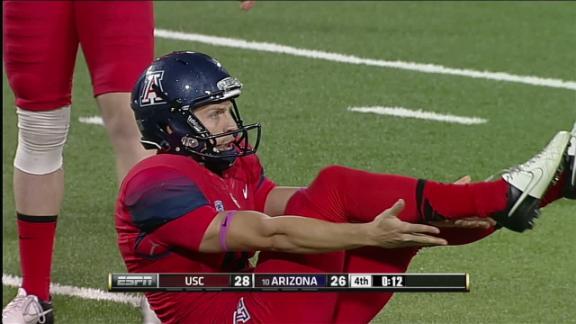 Oh, the South Division race. We knew you'd be good early on. So much #Pac12AfterDark.
With USC leading by two with 17 seconds remaining, Casey Skowron lined up for a 36-yard field goal attempt. Steve Sarkisian called a timeout to ice the kicker. He had done so earlier and
Claude Pelon
had blocked Skowron's kick. What works once could work twice, right?
It was pretty evident that Skowron's kick was wide right from the moment it left his foot. But even so, he tried to get a roughing the kicker call to no avail. The Trojans held on for their fourth win of the season while also handing the Wildcats their first loss of the season.
There are so many moving parts throughout the entirety of a season, but had Skowron made this field goal, there's a chance that the Pac-12 South race wouldn't have lasted as long as it did. If USC had another loss under its belt instead of Arizona, the Wildcats would've been in the driver's seat most of the way, leaving that late-season drama out.
But, for the sake of #Paction and #Pac12AfterDark, let's just say we're glad that everything always seemed to go down to the wire. Including this game. Including this season.
Other defining moments:
December, 16, 2014
Dec 16
10:00
AM PT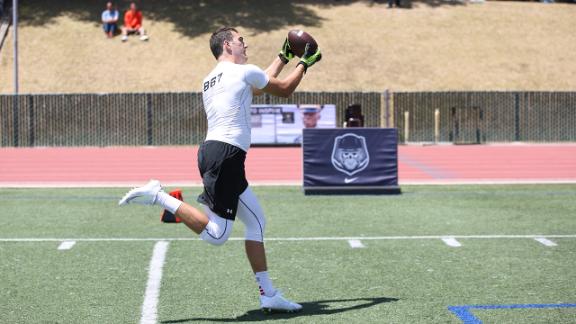 It was a busy weekend in the Pac-12, with commitments, offers, visits and awards touching nearly every team in the conference, including Stanford, USC and Washington reeling in big commitments and UCLA hosting impact prospects. Here is a look at some of the more impactful events of the past few days, as well as a glimpse of what this week could hold in the Pac-12.
December, 16, 2014
Dec 16
5:08
AM PT
USC concluded the second week of National University Holiday Bowl practices this past Sunday, and with the Trojans now set to transition into planning mode for Nebraska, here is a look at five things that stood out from those initial six sessions.
No lack of enthusiasm
Carrying the momentum over from the big
49-14 victory
over rival Notre Dame, the entire Trojans' team was incredibly upbeat throughout the first two weeks of practice. Never was this more evident than during last Friday's session. The rain was pouring and it was cold, but that didn't seem to bother any of the players. In fact, they seemed to feed off the unusual Southern California weather, with a number of Trojans sliding on the turf, and freshman wide receiver
JuJu Smith
kicking practice off with an impromptu dance in the middle of Cromwell Field.
That kind of scene is a testament to the closeness of this year's USC squad, as well as to its leadership, and it reflects a general mood that stands in stark contrast to how things were at this point last year, when the team was reeling following the emotional departure of Ed Orgeron.
Let's get physical
With USC coach Steve Sarkisian and staff having not yet installed any elements of the game plan for the bowl, the name of the game throughout the first six workouts was competition, and it resulted in some of the most physical practices of the fall. Each session featured a heavy dose of 11-on-11 work marked by impassioned effort, as well as a number of big hits.
This past weekend, however, that physicality might have caught up with the Trojans as a number of players went to the sideline with injuries, although all indications point toward none of those being serious.
Youngsters make noise
Heading into the opening bowl workouts Sarkisian emphasized just how important these practices were going to be in regard to the development of the younger players on the team, and it's safe to say that those less experienced members received plenty of chances to show what they were made of.
Taking advantage of the increased opportunity, in particular, was a quartet of freshmen in cornerbacks
Rahshead Johnson
and
Lamont Simmons
, defensive lineman
Malik Dorton
and offensive lineman
Chris Brown
-- all of whom were singled out by Sarkisian at varying points in time for their play.
Another player who drew praise from the USC head coach was redshirt freshman quarterback
Max Browne
, who took some limited reps with the No. 1 offense.
JuJu vs. Adoree'
Speaking of younger players, Smith and cornerback/receiver
Adoree' Jackson
have played more like seasoned veterans this fall than the true freshmen that they are, and it was their head-to-head battles during the early bowl practices that quickly developed into one of the overwhelming highlights each day.
Smith and Jackson -- who was recently named Pac-12 Defensive Freshman of the Year -- have gone toe-to-toe plenty this season, but the competition between the two seemed to reach a new level over the past two weeks, and even Sarkisian brought it up on more than one occasion. Lining up opposite each other throughout what seemed like a majority of each practice session, from the early one-on-one drills, to 7-on-7s and on into the 11-on-11 periods, both traded one big play after another, with each refusing to back down even for a second.
Uniquely talented and competitive players, it's going to be fun to watch both Smith and Jackson develop over the next few years. And with each of them there to continue pushing one another, there is little doubt that they're only going to get better and better.
Hawkins makes a move
The surprise of the early bowl game practices took place on Day 1, when, with
Leon McQuay III
sidelined, second-year freshman
Chris Hawkins
made a surprise switch from his normal cornerback position to safety. He remained there until this past Sunday when an ankle injury to
Kevon Seymour
forced Hawkins to slide back to the outside.
While at safety, Hawkins looked remarkably comfortable at the spot considering he hadn't lined up there since early in his high school career, and he came up with a highlight-reel pick-six in just his second day at the position. With the team lacking depth there, coupled with the fact he lost his starting spot at cornerback to Jackson early on this season, it potentially looks like a good move all-around.
It remains to be seen if Hawkins will remain at safety in the long-term, but both he and Sarkisian appear to be open to the possibility. The Trojans' head coach said that if they do decide to keep Hawkins at the position, a big emphasis this offseason will be placed on having him bulk up.
December, 16, 2014
Dec 16
8:00
AM PT
Bye bye Li'l Sebastian;
Miss you in the saddest fashion.
Bye bye Li'l Sebastian;
You're 5,000 candles in the wind.
Leading off
Where they heck have you all been on the weekends? We've been at games. What's your excuse?
According to a report by Jon Solomon of CBS Sports,
attendance has been down in college football
across the country. And the Pac-12 is no exception, experiencing a 2-percent drop across the board. Solomon breaks it down by conference. Here's what he had to say about the Pac-12.
Crowds dropped 2 percent to 52,758 and they are down 10 percent since peaking in 2007. Pac-12 attendance leader UCLA ranked 19th nationally. Only four of 12 conference schools had an increase: UCLA, Arizona, Utah and Washington State. A couple of schools' decreases were very minor.
Solomon has attendance numbers for all FBS schools on a chart. It's worth a look to see who is trending up and down.
Future looks bright
At ESPN, we love lists. And we know you love them too. That makes the end of the year like, well, like Christmas. Here's another list for you -- the ESPN.com
True Freshman All-America team
.
A trio of frosh from the Pac-12 are on the team -- including Oregon running back
Royce Freeman
:
Freeman started the season by beating out both junior Byron Marshall and sophomore Thomas Tyner for the starting running back spot at Oregon. He finished the regular season by leading the Pac-12 in rushing touchdowns (16) and racking up 1,299 rushing yards, becoming the first Oregon freshman to have a 1,000-yard-rushing season.
Also on the list were USC offensive lineman
Toa Lobendahn
and USC's
Adoree' Jackson
.
News/notes/team reports
Just for fun
Good one, Kyle.
#Pac12refs have been entrusted with Alabama vs. Ohio State. What could go wrong?

— Kyle Bonagura (@BonaguraESPN) December 15, 2014
Pretty sweet.
Look who's big time #GoDucks #mahalomarcus pic.twitter.com/mQa1dKQQom

— Andy McNamara (@McNamaraUO) December 15, 2014
December, 15, 2014
Dec 15
1:33
PM PT
A look at USC's opponent in the 2014 National University Holiday Bowl
Record:
(9-3 overall, 5-3 in Big Ten)
Key wins:
Miami, Iowa
Notable losses:
Michigan State, Minnesota, Wisconsin
Common USC opponent:
Fresno State (USC won 52-13, Nebraska won 55-19)
Bowl history:
51st total appearance, 25 bowl wins, 4th Holiday Bowl (lost to Steve Sarkisian and Washington in 2010)

Series record with USC:
0-3-1 (most recent game, 2007)
Head coach:
Barney Cotton is the interim coach after the firing of Bo Pelini. Cotton is a longtime fixture in the Cornhuskers program (he played at Nebraska, has been an assistant coach and also has a son on the team). Mike Riley is the new full-time coach of the team, but will not coach in the bowl game. Riley is also a former USC assistant coach.
[+] Enlarge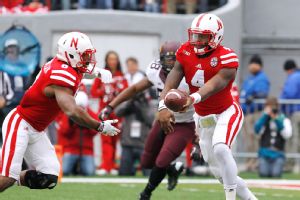 Bruce Thorson/USA TODAY SportsQB Tommy Armstrong Jr. and running back Ameer Abdullah provide big-play potential for Nebraska.
Team Outlook:
Nebraska opened the season with a 5-0 record, including a promising victory against Miami, but then suffered a tough loss on the road against Michigan State in a game that saw the Cornhuskers make a comeback attempt after being down 27-3. The team appeared to get back on track with three conference wins, but then came back-to-back losses to Wisconsin and Minnesota. The Badgers rolled up over 600 total yards, scored 56 unanswered points, and Wisconsin tailback
Melvin Gordon
set an NCAA record with 408 rushing yards. It was a stunning defeat for a proud program, and it was followed by a less-than-inspiring final home-game loss for the seniors against the Gophers. Not even an OT victory in the finale against Iowa, which guaranteed a seventh straight nine-win season, was enough to save Pelini's job.
Offense:
Nebraska runs multiple schemes with elements of read-option and spread at various times. It is ranked in the top 20 nationally in rushing and scoring, with a very productive duo at I-back and wide receiver.
Ameer Abdullah
ranks as the second-leading rusher in Cornhuskers history behind 1983 Heisman Trophy winner Mike Rozier, and he is No. 1 overall in all-purpose yardage. He is considered a hard-runner with good change-of-direction skills. Abdullah (5-foot-9, 195 pounds) had four 200-yard rushing games this season (1,523 total rushing yards and 18 TD's) and he ranked in the top 15 nationally in rushing yards, all-purpose yards and scoring. Abdullah suffered a knee injury on Nov. 1 which slowed his production over the final month of the season, but he is expected to be healthy for the bowl game.
Kenny Bell
is an athletic target who is the leading receiver in school history, bypassing another Cornhusker Heisman winner in Johnny Rodgers. Bell (6-foot-1, 185 pounds) was named first team All-Big-Ten this season after catching 40 passes with five touchdowns, he is also known as a very good blocker. The quarterback is
Tommy Armstrong Jr.
, a dynamic leader who can run and throw the deep ball, but can be inconsistent with his mid-range passing. Armstrong (6-foot-1, 220 pounds) had 2,314 passing yards and 664 rushing yards, with 24 combined touchdowns. If the Nebraska offense is going to do any damage to the Trojans, it's likely to come from one of these three players. The offensive line, long a strength of the program, never really came together this season in a manner that Huskers fans had hoped to see.
Defense:
The Cornhuskers run a 4-3 defense and feature a strong front line, led by All-Big-Ten performer
Randy Gregory
, a long and fast defensive end who is projected to join USC's
Leonard Williams
as a high draft pick if they decide to enter the NFL. Gregory has battled a knee injury all season but has played through it, with a particularly good performance against Miami when he had seven tackles and two sacks. Gregory has 10 tackles for loss this season.
Maliek Collins
is a disruptive force in the middle with a bright future.
Zaire Anderson
is the leading tackler on the defense at linebacker, but this is not a particularly strong group by Nebraska standards.
Nate Gerry
led the way in the secondary with five interceptions and, though there is a lot of promise for the future of the defensive backfield, this should be an area where the Trojans can make an impact with their balanced offensive attack and overall set of weapons. The Huskers defense struggled in their losses this season, and USC should bring more firepower than anybody Nebraska has seen yet.
Special Teams:
An overall strength of the team. Freshman
De'Mornay Pierson-El
led the nation in punt-return yardage (589 yards on 33 returns, a 17.8 yard average) and returned three punts for touchdowns. Punter
Sam Foltz
and placekicker
Drew Brown
are very good. Kickoff returns showcase Abdullah and Bell.
Intangible:
It's always hard to know how a team will respond after the firing of a coach, especially one like Pelini who had such a strong faction of support within the Nebraska community. Of course, the Trojans know that story all too well, after playing in the Las Vegas Bowl last season following the announcement that beloved interim coach Ed Orgeron would not be retained. USC responded with a focused effort under interim coach Clay Helton in that game, and the Cornhuskers will be looking to follow a similar script this year.
December, 15, 2014
Dec 15
3:00
PM PT
Has this been
the greatest season
in Pac-12 history? The jury is still out on that front, as the league's bowl slate remains to be played, and Oregon is tasked with carrying the conference flag into a playoff battle with the nation's big boys. But after a captivating regular season, the conference is undoubtedly in strong position entering this final foray.
The 2014 ride -- usually unpredictable, frequently stunning, always entertaining -- has been bathed in a downright surreal aura throughout (see #Pac12AfterDark). We want to commemorate the Paction, so we've assembled a list of the top 15 moments that defined this bizarre Pac-12 campaign while impacting its eccentric, memorable course.
We'll be counting down in increments of three throughout this entire week. Here's the first installment:
No. 15 -- Mannion sets conference passing record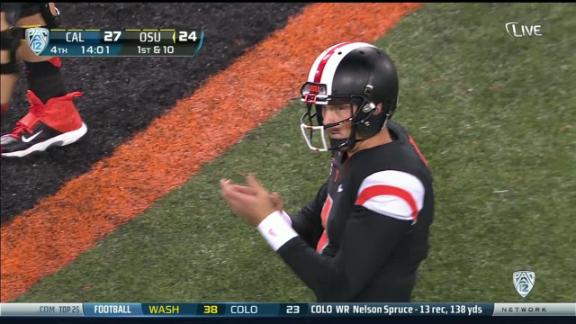 Oregon State's season -- and Mike Riley's tenure in Corvallis -- ended in a 5-7 disappointment. That means senior quarterback
Sean Mannion
has reached the end of his prolific collegiate journey. But the Beaver certainly didn't exit with a whimper. Aside from setting every single career passing mark in the Oregon State record books, Mannion also etched his name into conference history. With a 15-yard fourth quarter pass to
Connor Hamlett
on Nov. 1 against California, Mannion surpassed USC's Matt Barkley to become the top passer in Pac-12 history.
This individual accomplishment did not alter the wild conference race in any way, but it did provide a powerful symbol of just how much talent the league has amassed in its meteoric rise, particularly at the quarterback position. Heading into 2014, there was a heavy dose of hype regarding what was anticipated to be Year of the Signal-caller in the Pac-12. Between
Marcus Mariota
's Heisman exploits,
Connor Halliday
's absurd statistical production, and the fine campaigns of players such as
Brett Hundley
,
Cody Kessler
, and
Jared Goff
, there was plenty to enjoy in the 2014 aerial show. Mannion is the one who grabbed the lasting career mark.
Of course, Mannion's record likely won't last forever -- Goff may have a great shot to break it if he sticks around Berkeley for a full four years -- but it was a testament to a steady, accurate, and poised Pac-12 passer in a season that featured a true gold mine of talent at the position.
No. 14 -- Wazzu missed field goal against Cal ruins Halliday's record night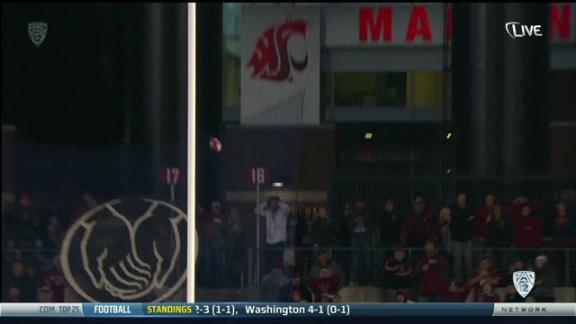 It seemed as if Halliday couldn't catch a break over the course of his tragic Washington State career, but he kept fighting until he could fight no more, and that valiant effort left him with a place in the national record book. Halliday's injury-riddled career in Pullman included a game played with a lacerated liver and finished with a gruesome leg break this season against USC. The misfortune that may best encapsulate his tough luck, though, came on Oct. 4 against Cal.
In a dizzyingly precise passing display, Halliday shredded the Bears' defense to the tune of an NCAA single-game record 734 yards. He completed 49 of his 70 passes and tossed six touchdowns without a single interception. With the Cougars trailing 60-59 as time wound down, Halliday even led his team on a 68-yard drive to the California 2-yard line. With only 19 seconds remained, Washington State was an extra point-length field goal away from winning on Halliday's historic night.
But kicker
Quentin Breshears
missed the 19-yard attempt, and Halliday looked on in dazed, losing disbelief on the night during which he had made history. Football can be a cruel sport, and Halliday got a particularly vicious dose of it. This was a truly stunning dichotomy. Halliday was the victim of one of the Pac-12's 2014 Twilight Zone finishes -- one that featured a mind-numbing seizure of defeat from the jaws of victory.
No. 13 -- USC stuffs Stanford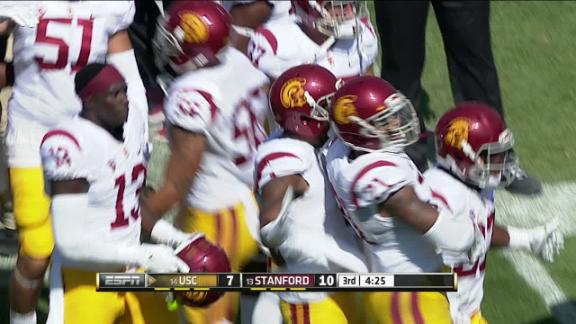 Stanford entered 2014 having won back-to-back Pac-12 titles, but it didn't take long for alarms to sound on the Farm. The first disturbing exhibit of offensive decay came in Week 2, when a short-handed USC defense delivered a bend-but-don't-break performance for the ages. The Cardinal reached scoring territory (at least the Trojans' 35-yard line) on all nine of their possessions, but managed to score only 10 total points throughout all of those chances. USC
won the game 13-10
, delivering a psychological gut punch that Stanford's offense never fully recovered from. The Cardinal's 119th-place national finish in red zone efficiency was a primary culprit in their tumble to 7-5, and this was the game that set them firmly on that disappointing course.
The slide's seminal moment might have arrived late in the third quarter on Sept. 6. Stanford led 10-7, and they faced a fourth-and-one from the USC 3-yard line. In the championship years of the past, this is where the Cardinal had always brutally asserted their control of the proceedings.
Not this time.
Without Toby Gerhart, Stepfan Taylor, or Tyler Gaffney to hand off to,
Kevin Hogan
fed true freshman
Daniel Marx
the ball, and USC stuffed him short of the first down marker behind an excellent torpedo play from
Su'a Cravens
. The tables had turned: The Cardinal were not the bullies up front they used to be. They could no longer stomp on their opposition the old-fashioned way, and the resulting Pac-12 power shift was in full effect.
December, 15, 2014
Dec 15
12:00
PM PT
LOS ANGELES -- When it comes to bowl games, few universities have done it better and with more flair and dramatics than the USC Trojans. Come Dec. 27 in San Diego's 37th National University Holiday Bowl, the Trojans break new ground in a bowl game they've have never been a participant.

The Trojans own an impressive bowl record, having the nation's fourth highest winning percentage (.667) among the 83 schools that have made at least 10 bowl appearances. USC has 32 bowl victories behind Alabama's 34.

For the record, the Trojans will be appearing in their 14th different bowl game, having also appeared in the Rose, Orange, Sun, Liberty, Bluebonnet, Fiesta, Aloha, Florida Citrus, John Hancock, Freedom, Cotton, Las Vegas, Emerald, and the overlooked Christmas Festival of 1924 against Missouri in the Coliseum.

Obviously, the Trojans have appeared in the Rose Bowl the most number of times (32) and have long considered Pasadena's Granddaddy as an addendum to their regular season. Since the Trojans began playing in postseason bowl games in 1923, the Rose Bowl against Penn State, lifetime memories for players, coaches, and fans have come in abundance.

Everybody has his or her top 5 Trojans bowl games, so here is our in-person, personal favorites -- win or lose:

5. 2006 Rose Bowl (USC vs. Texas): Probably the most devastating loss in USC bowl history, but also one of the greatest college football bowl games ever played. Although the final score was a wild and dramatic Texas victory, culminating with UT quarterback Vince Young's eight-yard scoring dash on 4th-and-five with 19 seconds left to play, there were so many highs and lows for both sides that the game almost defied description.
Final score: Texas 41, USC 38

4. 1973 Rose Bowl (USC vs. Ohio State): Historically, the 1972 team of USC coach John McKay is arguably the greatest college football team of all-time. Who better to present your case as the greatest-ever than against the highly respected Buckeyes of Ohio State, and its legendary coach Woody Hayes? McKay's Trojans had it all on both sides of the ball, and the game will forever be remembered for the four diving touchdowns by storied USC fullback Sam "Bam" Cunningham into the Buckeyes' end zone. Hayes later said the 1972 Trojans were the best team he had ever seen.
Final Score: USC 42, Ohio State 17.

3. 2005 Orange Bowl (USC vs. Oklahoma): Using the season long motto "Leave No Doubt" this game was the Pete Carroll era at its zenith. The Sooners scored on their opening drive but the Trojans looked like an NFL team after that, and didn't take long for Sooners fans to know this was a mismatch. The 2004 Trojans names are legendary: Leinart, White, Bush, Tatupu, Cody, Jarrett, Smith, Grootegoed, and on and on. When the annihilation was heading into the final quarter, Sooners fans were departing like in the midst of the great dust bowl. The BCS title game was more than a championship; it was a coronation of the Carroll gridiron monstrosity.
Final Score: USC 55, Oklahoma 19.

2. 1963 Rose Bowl (USC vs. Wisconsin): Lasting memories of a great Trojans insurmountable Trojans 42-14 fourth quester nearly evaporated, as the Badgers and white-hot quarterback Ron VanderKelen turned the fourth quarter into an almost Nightmare on Elm Street for the Trojans defense. Even worse, there were no lights at the Rose Bowl and darkness during the fourth quarter was eating up whatever light there was from sunset. You don't forget the drama, the chilling weather, and the Arroyo Seco darkness.
Final score: USC 42, Wisconsin 37.

1. 1975 Rose Bowl (USC vs. Ohio State): Without question, the most brutal and physically demanding game of the aforementioned bowl memories. I won't soon forget Trojans All-America guard Bill Bain physically attacking the Buckeyes defensive front. The fourth quarter was Ali vs Frazier. The physicality of both teams was simply stunning. It all came down to the final minutes, and one of the greatest Rose Bowl endings ever. Trojans quarterback Pat Haden threw a 38-yard TD strike to receiver J.K. McKay with just 2:03 remaining in this classic slugfest. To top off the drama, after the Haden-to-McKay heroics, John McKay elected to go for two-point conversion. Haden was rushed on the two-point conversion attempt and threw an off-balance completion to receiver Shelton Diggs for the winning tally. Watching Woody Hayes head back up the Rose Bowl visitor's tunnel, if looks could kill, Hayes will have been sentenced to life.
Final score: USC 18, Ohio State 17
December, 15, 2014
Dec 15
11:29
AM PT
The USC Trojans had another busy recruiting weekend, hosting three highly touted official visitors in USC offensive line commit
Roy Hemsley
(Los Angeles, Calif./Windward), athlete
Ykili Ross
(Riverside, Calif./Poly) and tight end/defensive end
T.J. Wheatley Jr.
(Buffalo, N.Y./Canisius). Neither of the two uncommitted prospects reportedly gave a verbal pledge to the Trojans on the trip.
[+] Enlarge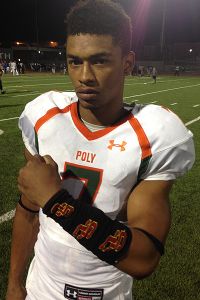 Johnny Curren/ESPN.comESPN 300 athlete Ykili Ross has been a regular at USC home games this fall.
USC does, however, appear to be in a good position to potentially land Ross. A fantastic two-way star, he has said that the Trojans are looking at him as a 'hybrid cornerback/safety' type who might also see time at receiver. Ross has been a regular at USC home games this fall, and he's also considering Notre Dame, Oregon, Oklahoma and Arizona State. Ross will announce his decision on Jan. 3 at the U.S. Army All-American Bowl.
Wheatley, who is the son of former Michigan and NFL running back Tyrone Wheatley Sr., is more of a wild card. He has played his recruitment extremely close to the vest throughout the summer and fall. When it comes to the Trojans, what is known is that he holds a strong relationship with tight ends coach Marques Tuiasosopo, and he also unofficially visited the USC campus this past spring. He is also considering Alabama, UCLA, Oregon and Michigan among others.
Hemsley is a 6-foot-6, 300-pound offensive tackle who committed to USC in May. A mid-year graduate, he has already signed a financial-aid agreement with the Trojans, and he will arrive on campus this January.
Trojans land Petite
The Trojans scored a huge pledge this past Friday from tight end
Tyler Petite
(Moraga, Calif./Campolindo), who flipped from Duke. The verbal commit is big for USC head coach Steve Sarkisian and staff, not only because he's a highly sought prospect ranked No. 133 in the ESPN 300, but because tight end is a glaring position of need in this year's recruiting class for the Trojans.
With USC set to lose fifth-year senior Randall Telfer following this season, the Trojans have only two returning scholarship tight ends on the roster --
Jalen Cope-Fitzpatrick
and
Bryce Dixon
.
Sarkisian, Tuiasosopo and the rest of the USC coaching staff deserve a ton of credit here for refusing to ease up in their pursuit of Petite after he committed to the Blue Devils last July.
News and notes
December, 15, 2014
Dec 15
12:00
PM PT
Oregon's
Marcus Mariota
won the Pac-12's first Heisman Trophy since 2005, and he did so in historically dominant fashion. A record 95.16 percent of voters listed Mariota on their Heisman ballots, and heading into Saturday's presentation, there wasn't much of a question that the Duck would take home college football's most hallowed hardware.
Though he still has a year of college eligibility remaining, Mariota will almost certainly declare for the 2015 NFL draft, so the Pac-12 will have to look elsewhere to repeat the Heisman feat. Here are some early 2015 candidates. Key word here is "early," as we have yet to finish 2014 and some of the players below are still deciding if they will be back next year. Keep that in mind as we quickly imagine the potential future.
Scooby Wright, LB, Arizona
Aside from Mariota, the only Pac-12 player to finish in the top 10 of Heisman balloting was this dominant desert stud. Wright earned four second-place votes and 13 third-place votes, and it would be tough to argue with either of those evaluations based on his absurd 2014 production. Wright's numbers in tackles, sacks, tackles for loss and forced fumbles were all either at or near the top of the nation; he was the only player who averaged over two TFL per game, and that race wasn't remotely close. It's clear that Arizona has an absolute machine working the middle of its defense. Yes, the Heisman Trophy has a clear bias toward the offensive side of the football, but Wright was awesome enough to earn 17 votes at linebacker -- as a sophomore.
Royce Freeman, RB, Oregon
This 230-pound bruiser did his best to give new meaning to the term "true freshman" in 2014. Aside from displaying remarkable vision, Freeman physically pounded opposing defenses like a battle-hardened senior. He supplied Oregon's rushing attack with an irreplaceable dose of physicality. The first-year statistical returns are as eye-popping as they were pad-popping: 1,299 yards, 5.6 yards per carry, 16 touchdowns. With Mariota almost certainly moving on, the Ducks' offense may center more on this young tank in 2015, and that focus could thrust Freeman into Heisman contention.
Cody Kessler, QB, USC
Kessler was the only quarterback in the nation to attempt over 400 passes and throw fewer than five interceptions in 2014. In the not-so-distant past, those kinds of numbers would automatically thrust a USC quarterback into the midst of the Heisman Trophy discussion. Kessler, however, flew under the radar throughout the entire campaign. If he decides to return to USC for his senior season, expect him to generate a big amount of preseason hype. Related note: Running back
Javorius Allen
and wide receiver
Nelson Agholor
also have eligibility remaining. If those two are back in Troy next year, include them as possible big-time award candidates too.
Paul Perkins, RB, UCLA
Statistically, 2014 was an excellent campaign for this Bruin, who is a redshirt sophomore. He led the Pac-12 in rushing, racking up 1,378 yards on a league-best 6.0 yards per carry. Perkins will have to score more touchdowns to generate more Heisman hype. He found pay dirt only nine times this season, but 2015 will likely present an opportunity to enter the end zone more often, as touchdown machine
Brett Hundley
has indicated that he will likely be moving on to the NFL. That means that Perkins may become the centerpiece of UCLA's offense. More touches, more glory.
Jared Goff, QB, California
Goff's statistical output was impressive in 2014 (3,973 yards, 35 touchdowns, 7 interceptions), but any hype surrounding him was quickly extinguished by memories of the Bears' nightmarish 2013 campaign (1-11). Cal improved to 5-7 this season, but it still failed to earn a postseason berth. Given the upward trajectory of Sonny Dykes' program, that likely won't be the case in 2015. There's a strong chance that Goff will be the quarterback of a winning team. If he continues to post gaudy numbers under that scenario (also likely), this talented gunslinger will arrive on the radar for major postseason awards. Don't sleep on him.
D.J. Foster, RB/WR, Arizona State
If wide receiver
Jaelen Strong
returns to ASU for his final year of eligibility, keep an eye out for him. But that seems unlikely, so the top Sun Devil to watch will probably be the versatile Foster, who was the only Pac-12 player to finish with more than 1,000 rushing yards and 500 receiving yards in 2014. Foster's 59 catches were second to only Strong in Tempe, and his explosiveness makes him a prime sizzle candidate if he decides to stay in school for one more season. Side note: Don't forget freshman running back
Demario Richard
, who averaged 5.7 yards per carry as a 17-year-old this season.
Nick Wilson, RB, Arizona
If you enjoy watching impressive freshman running backs, Wilson is a good player to follow. He delivered an awfully dynamic inaugural campaign in Rich Rodriguez's system, delivering 5.9 yards per carry and more than 100 ground yards per game. Wilson's 15 rushing touchdowns were second among Pac-12 running backs, so second-year improvement would absolutely make him a contender for some major hardware in 2014.
December, 15, 2014
Dec 15
8:00
AM PT
As you know Robbie's shining moment this year was when he set a school record for cursing in an eighth grade English class.
Let's get the week started off right. I'm guessing it was a tough weekend for a lot of people. After all, it was our first weekend without Pac-12 football in months. Don't worry, it's coming back soon enough. But, at least there was really good news for the Pac-12 this weekend. Let's start with a Mr. Marcus Mariota who won the Heisman this past Saturday.
First, let's give some major props to this MahaloMarcus.com video because it's very much worth your time and you can view it
right here
. It has some classic 8-year-old Mariota footage meshed with some current footage, some emotional music and quotes from Oregon coach Mark Helfrich and the gang. Well done to the edit staff. Well done to Mariota for all these plays.
If four minutes of Mariota on video isn't enough for you ... well, lucky you, everyone and their mother reacted to this news, so we'll give you a breakdown of some writer's reactions.
The state of Oregon just doubled down. And the ghosts of this state's football programs just doubled over. Anyone who has regularly seen Mariota operate the heavy machinery that is the Ducks' offense this season knows he's the best player in America, but it really is something to see the rest of the country see it, too.
And finally, props to Oregon State for recognizing Mariota as well. The Beavers bought a full page ad in The Oregonian's special section for Mariota.
Other awards:
It wasn't just Mariota who picked up a big award this weekend. UCLA linebacker Eric Kendricks
won the Lott IMPACT Trophy
. Kendricks follows in the footsteps of Anthony Barr, who won the award last year. Jack Wang wrote that Kendricks is the latest in what could be a
long line of linebacker lineage
at UCLA.
And look at how cordial everyone was about Kendricks' win. But would you assume anything else? Never. Especially not from the Lott IMPACT guys.
Congratulations to UCLA's Eric Kendricks, winner of the 2014 @LottIMPACTrophy

— UW Football (@UW_Football) December 15, 2014
Congrats to @UCLAFootball's Eric Kendricks' on winning the @LottIMPACTrophy. Big hug from David Helton pic.twitter.com/dV1IPyJQXZ

— Duke Football (@Duke_FB) December 15, 2014
Also, Washington linebacker Shaq Thompson
won the Hornung Award
, given to college football's most versatile athlete. The Pac-12 Blog agrees.
All right. Here's a quick rundown ...
December, 13, 2014
Dec 13
6:10
PM PT
Marcus Mariota
made history Saturday night, becoming the first player from the University of Oregon to win the Heisman Trophy.
Of course, there wasn't a whole lot of suspense heading into the ceremony, held at the Best Buy Theatre in New York City. With the outstanding year that the fourth-year junior quarterback has had on the field this season, it was practically a forgone conclusion that he was going to come away with the award, and perhaps least surprised of all was USC head coach Steve Sarkisian.
Sarkisian did not face Mariota this season, but he did twice when he was head coach at Washington, and he came out on the losing end both times. He also actively recruited the prolific passer when he was a Class of 2011 prospect at Honolulu (Hawaii) St. Louis.
"I won't be surprised at all," Sarkisian said on Saturday morning when asked about the possibility of Mariota winning the honor. "Marcus is a fantastic player, and he's got a great demeanor about him. He's a very calm customer. He's very level headed. He's an extremely accurate passer and he understands their system, and he's the fastest player on the field every snap."
So far this season Mariota has passed for 3,783 yards and 38 touchdowns, while rushing for 669 yards and 14 more scores, all while leading Oregon into a College Football Playoff semifinal matchup with Florida State on Jan. 1.
"I'm happy for Marcus," Sarkisian said. "I'm happy for everything he's getting. He's a really good person. I recruited him hard coming out of high school, and that kid deserves everything he gets."
PAC-12 SCOREBOARD
Monday, 12/22
Saturday, 12/20
Tuesday, 12/23
Wednesday, 12/24
Friday, 12/26
Saturday, 12/27
Monday, 12/29
Tuesday, 12/30
Wednesday, 12/31
Thursday, 1/1
Friday, 1/2
Saturday, 1/3
Sunday, 1/4
Monday, 1/12