August, 18, 2014
Aug 18
6:14
AM PT
As I wrote on Sunday, recent history tells us that at least half of the playoff teams are likely to come from outside the preseason AP top 10.
So which teams ranked Nos. 11-25 are most likely to finish in the selection committee's top four? Let's use ESPN's Football Power Index (FPI) to identify the strongest candidates.
---

There's nothing surprising about this pick. The highest-ranked SEC team outside of the top 10 is an obvious place to start.
August, 18, 2014
Aug 18
8:00
AM PT
Good morning. You might have noticed a little change in the way we've been doing links the last couple of weeks. Ted gave you a quick
heads up in his mailbag last week
that things would be changing. From here on out, they'll be right there waiting for you when you wake up in the morning.
But on the Pac-12 blog, we're going to add a twist. Moving forward, I'll be manning the links in a column format, tossing in some opinion and analysis of stories the Pac-12 community will be talking about. This is a work in progress,
so tweet at me
with what you'd like to see: quote of the day, tweet of the day, etc. Do you want me to keep the literary and pop culture quotes? Let me know your thoughts.
Without further ado, to the links:
Leading off
The big news over the weekend was obviously
the release of the preseason AP Top 25
. Half of the teams in the league are ranked: Oregon (3), UCLA (7), Stanford (11), USC (15), ASU (19) and Washington (25).
The exact same six
ended last season
ranked: Oregon (9), Stanford (11), UCLA (16), USC (19), ASU (21) and Washington (25).
We all expected Oregon and UCLA to be in the top 10. And with the considerable hype Marcus Mariota and Brett Hundley have received, the Pac-12 blog wouldn't have been shocked if both were top five.
Washington should be pleased to be ranked, considering it lost its starting quarterback, running back and Mackey Award-winning tight end. That ranking is a clear reflection of Chris Petersen's presence, because a Pac-12 team losing that much offensive firepower usually doesn't get the benefit of the doubt with voters.
ASU should feel pretty good about being in the top 20 -- especially after the way
it closed out last season
and the departure of nine starters on defense.
Doug Haller offers
an interesting perspective
on the Sun Devils:
This marks the first time since 2008 that the Sun Devils have made the preseason poll.

Certainly, nothing stinks about that except ... This isn't always a good thing for the Sun Devils. The last six times they made the AP preseason poll -- a stretch dating to 1998 -- they didn't finish in the final AP Top 25 poll.
The Trojans should also feel pretty good about their spot at No. 15. Voters don't appear to be taking a wait-and-see approach to the Steve Sarkisian era. Sounds like a lot of folks are buying in.
And as for the Cardinal, this is just more fodder for head coach David Shaw to play up the nobody-believes-in-us card, which his team often embraces.
Practice reports
Nice/interesting reads
A little fun
The Beavers closed out their scrimmage over the weekend with a little
slip-and-slide action
. Don't see Mike Riley on the tarp. I'm guessing if there was a double-double at the other end, he'd be sliding.
And finally, for everyone who has been to San Bernardino or covered a UCLA camp, we can all relate to Ryan Kartje.
Fall camp in San Bernardino is officially over, and UCLA beat writers rejoice!

— Ryan Kartje (@Ryan_Kartje) August 16, 2014
August, 17, 2014
Aug 17
11:30
PM PT
It was quite the scene at USC practice on Sunday night when kicker
Andre Heidari
hit a 30-yard field goal to set off a wild celebration that brought an early end to practice.
Trojans coach Steve Sarkisian had told the players that if Heidari made the kick he would cut short practice, which would spare the players a 20-minute team drill in the hot August sun. With teammates lining both sides of the ball and shouting encouragement it was probably the most pressure Heidari has faced since his game-winner against Stanford last year.
"Obviously you saw the excitement from the players to get a little bit of an extra break," Sarkisian said with a smile.
It brought an end to one of the best practices of camp for the Trojans, which Sarkisian noted is not always easy to do when the players know they have a scrimmage coming up the next day.
"It can be really easy to just kind of survive a practice at this point in camp," Sarkisian said. "They know they have double-days tomorrow and a scrimmage at night in the Coliseum but I thought they came out today with great energy and competed from the moment they walked on the field. I was really proud of that.
"I think it shows we have a pretty good sense of who we are right now. We're focused on the details. Today we worked on some goal-line stuff, tomorrow will be 4-minute offense, we've done 2-minute scenarios, we've done special teams with our punt team backed up or practicing returns after safeties. It's not about implementing schemes or any of that stuff anymore, it's about the little things."
Freshmen making an impression
Sarkisian took the time to address the fact that his freshman class has been doing some good things on the practice field so far in camp, and it's not just a few guys either. One of the more notable things about this group is just how many of them are showing well in their first real opportunities as Trojans, something that certainly bodes well for the future.
"I thought we had signed a really good class but you never really know," Sarkisian said. "But there are a lot of guys doing quality work. I look up front and I see Toa, Damien and Viane, that's really impressive what they are doing.
Bryce Dixon
,
Ajene Harris
,
JuJu Smith
and Adoree' when he was on offense, we're just getting some great work out of them. Uchenna and Olajuwon have really improved and we've got some great young defensive backs like Lockett and Plattenburg.
"I've been very impressed by their work ethic as a group, the way they listen to the leaders, they've left a good impression on their teammates, their coaches and you guys (media), I know you've noticed."
Injury update
The first big news of the day was that Damien Mama and J.R. Tavai -- who both suffered ankle injuries on Saturday -- came out on Sunday in full pads and went through the entirety of practice. Justin Davis, who also rolled his ankle one day earlier, was dressed out as well, but he made it through just the warm-up period before heading to the sideline for the day.
Also in full pads were a couple of key performers on the defensive line -- Leonard Williams (shoulder) and Antwaun Woods (elbow). Both players looked to be moving well through the early drills, and they even came out and ran with the No. 1 defense during the first 11-on-11 period of the day. Sarkisian opted to hold them both out of a late, more physical goal-line session.
To continue reading this article you must be an Insider
August, 17, 2014
Aug 17
2:10
PM PT
Six Pac-12 teams, led by Oregon at No. 3, were ranked in the preseason AP poll released Sunday.
The Ducks received one first-place vote and were followed by No. 7 UCLA, No. 11 Stanford, No. 15 USC, No. 19 Arizona State and No. 25 Washington.
This is the fourth year in a row year the Ducks have been ranked in the preseason top five and seventh straight year they've appeared in the preseason AP poll.
The same six teams were also ranked in the
USA Today Coaches Poll
, in nearly the same places. The only differences being Oregon is one spot higher in the AP poll and Arizona State is one spot lower.
The College Football Playoff committee, responsible for selecting the four teams to play in this year's inaugural playoff, will release its first top-25 rankings Oct. 28 on ESPN.
August, 17, 2014
Aug 17
12:45
AM PT
In two weeks the
USC Trojans
will be playing the
Fresno State Bulldogs
and Steve Sarkisian asked his team after a Saturday practice in the Coliseum if they were ready.
"When I gathered the team together I asked them two questions," Sarkisian said. "I told them to look in the mirror and ask themselves, 'Am I ready to play a game in two weeks?,' and, if not, what are the issues preventing you from being ready?"
If the Saturday session is any indication there is still plenty of work to be done, it was one of those grind-it-out days following a physical practice Friday night and the mood wasn't helped after three USC players left the practice due to ankle injuries.
"It was a challenging day," Sarkisian said. "It's just the sheer fact of being in the second week of camp, guys are mentally and physically sore and beat up. They are fatigued. But I liked the way our leaders responded today and as coaches we didn't need to back off to make it a light practice. It was a warm one today and guys fought through it, which is good because we don't have the luxury of holding guys out."
Sarkisian did say that he thinks his team is "really close but not there yet" and he referenced a good performance Friday night by the offense as an example of how things are coming together in a positive way. Cody Kessler had one of his best performances of camp by hitting long touchdown passes to George Farmer and JuJu Smith, and those weren't the only highlights of the night.
"We saw a lot of weapons last night," Sarkisian said. "It's not just putting multiple personnel groupings on the field, it's guys who can be real weapons. We've got guys who can establish the run game, which opens up one-on-one opportunities outside and if we execute there it softens up the defense for the run again. We've accomplished a lot in two weeks but there is more work to do, that's why camp is four weeks instead of two."
Su'a at SAM
One of the big questions in the offseason for the Trojans involved Su'a Cravens and the possibility of him moving to outside linebacker in a role similar to the one played by Shaq Thompson at Washington. With similar size and athletic ability the comparison between the two players seemed natural.
With the season-ending injury to Jabari Ruffin last week those questions came up again and Saturday was the first time that Cravens took reps at the strongside (SAM) linebacker spot. Up until this point Sarkisian had said the coaches planned to keep Cravens at safety while moving closer to the line in nickel situations, but now they might look at switching him from different positions depending on the opponent.
"Against teams that play four-wides, Su'a could be at SAM in our nickel and dime packages," Sarkisian said. "Against more traditional offensive teams like Stanford where we are playing man-to-man and blitzing, he could play back at safety. He likes to make plays and be around the ball and we're trying to find ways to do that."
Injury update
Three important players for the Trojans went down with ankle injuries during the team's helmets and shoulder pads practice Saturday -- tailback Justin Davis, offensive lineman Damien Mama and rush end J.R. Tavai. Davis suffered his injury during a kick-return drill, but Sarkisian noted that it is not a reoccurrence of the ankle injury that he suffered midway through last season. Mama, who has been taking reps with the No. 1 unit at right guard, went down during an 11-on-11 period. Tavai, who is in a battle with Scott Felix for the starting rush end job, hurt his ankle during a one-on-one session.

And while Davis and Mama appeared to spend the majority of the day in the trainers' tent with ice on their ankles, Sarkisian said that, at least initially, it doesn't look like any of the players will be out for too long.

"We had three guys roll ankles -- the first reports are none of which are serious, but we'll obviously re-evaluate just to make sure," Sarkisian said. "But we think that these guys will be back with us in no time."


The list of those who sat out practice included Antwaun Woods (elbow), Cody Temple (concussion), Lamar Dawson (knee), Ryan Dillard, Jordan Simmons (knee) and Anthony Brown (elbow).


Leonard Williams suited up for the first time in almost a week after injuring his shoulder, and while he only participated in early non-contact drills and warm-ups, Sarkisian believes he's on the verge of making a complete return.

"We saw a lot of Leonard today compared to what he's been doing," Sarkisian said. "I think we'll see a lot more in the next two days."


Another player who has missed extensive time recently, Adoree' Jackson, was able to participate in the entirety of practice. Having lined up at both wide receiver and cornerback early on in camp, the talented freshman lined up solely on the defensive side of the ball Saturday as a precautionary measure.

"He was a little rusty out there, but all in all his athleticism was great," Sarkisian said. "We saw him on a couple kickoff returns. He's exactly what we saw early on, but technique-wise, when you don't practice that long you can be a little rusty, so we've got to get him back going again."


Aundrey Walker (knee) also appeared to go through the whole practice session, although he still wore a yellow jersey. With Mama out, he saw time with the No. 2 unit at right guard. Chris Brown also took reps with the second unit at the same position.
August, 15, 2014
Aug 15
11:40
AM PT
The Trojans held a light practice on Friday morning that focused on specific end-of-game scenarios, and they will return to the field tonight for a more physical session.
"When it comes to double-day practices, we like to split things up," coach Steve Sarkisian said. "We want to have one practice be physical and one mental. Originally we were going to go hard this morning, but we switched it up. We wanted to work a lot on special situations where the offense is behind at the end of a game, or if the defense is ahead. Those kinds of drills on specific situations are so important right now. You will see that in our scrimmages from here on out, we won't just be calling plays, everything will be done with a specific scenario in mind."
The day ended on a high note when kicker
Andre Heidari
hit a 49-yard field goal on the final play to "win" the day for the offense.
Following a scrimmage Wednesday night at the Coliseum, he team had Thursday off and spent part of the time going bowling and playing arcade games.
"The players are so appreciative of a day off, and I like to do a team activity to keep spirits up," Sarkisian said. "At first the players were dragging a little from the scrimmage the night before, but once the bowling and pop-a-shot started, you started to see them battle. We've got some real competitors on our team and that's the kind of kid we look for in recruiting."
O-line update
The offensive line was one of the key areas to watch coming into fall camp with so many moving pieces and injuries to deal with in terms of finding a starting five. The situation has yet to resolve itself through this point in camp. But there have been signs of improvement.
"We're not quite there yet on the line," Sarkisian said. "I like the leadership of guys like
Max Tuerk
and
Chad Wheeler
, they have been awesome, and I like the way some of the young players continue to improve. We would like to have everyone healthy, but that hasn't been the case all the time with
Aundrey Walker
,
Jordan Simmons
or
Nico Falah
. The good news is that we've been running the ball better, and I think coach [Tim] Drevno has done a great job of communicating with the guys. We're not perfect, but we're better now than we were at the start of camp."
Special players on special teams
Sarkisian was asked whether it's a risk to have special teams drills featuring starters such as
Buck Allen
,
Hayes Pullard
and key reserves such as
Tre Madden
. The roster is limited in scholarships so there is concern about key players getting injured on special teams.
"We're trying to find balance in that area," Sarkisian said. "You don't want to wear your best players out but, at the same time, they are your best players so it stands to reason that they would be the best on special teams as well. If you look at Buck last year, he was really good on special teams so we want to take a look at that. Hayes isn't a guy who traditionally had been on special teams before but we are doing it now. It's something we will continue to evaluate."
August, 15, 2014
Aug 15
8:00
AM PT
Because, she's your lobster. ... You can actually see old lobster couples walkin' around their tank, you know, holding claws.
August, 14, 2014
Aug 14
8:26
PM PT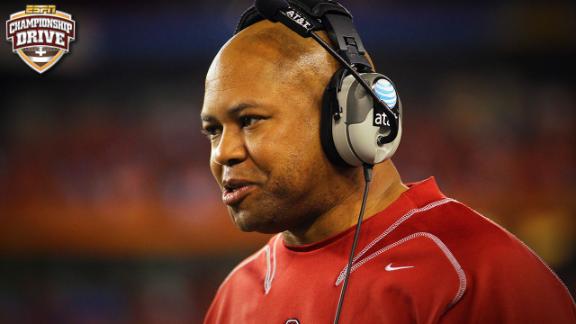 Not even West Virginia athletic director Oliver Luck knows what the ideal nonconference schedule should look like in the new era of the College Football Playoff -- and he's on the selection committee.
Here's a good start: Alabama versus USC. LSU versus Wisconsin. Michigan versus Oklahoma. Notre Dame at Texas. Clemson at Auburn.
A plethora of blockbuster matchups have been scheduled for coming seasons, and while it would be faulty to assume they are all a product of the playoff, there's no question programs across the country are strategically beefing up their lineups with the intent of impressing the selection committee. "Strength of schedule" is a phrase fans are going to hear ad nauseum in the College Football Playoff era, as it will be one of the factors the 13-member selection committee considers when choosing the top four teams in the country.
Just how heavily it will be weighed, though, remains to be seen.
"I don't know if I want to give it a percentage," Luck said. "Everybody, they may view it a little bit differently on the committee, but I certainly believe it's important. ... I do think it's something that matters. There are years you may not face the conference heavyweight, or conference powerhouses. In those cases, it will be important to look at what a team has done with its nonconference scheduling."
Virginia Tech, for example, does not play defending national champ Florida State this fall -- and will see the Seminoles only twice through 2024 -- but the Hokies will travel to Ohio State for a nationally televised game in Week 2, and they've scheduled games against Wisconsin (2019-20), Michigan (2020-21), West Virginia (2021-22), Penn State (2022-23) and Purdue (2023). Tennessee, though, has Alabama as its permanent crossover partner, and the SEC has implemented a rule requiring all schools to schedule at least one opponent from another Power Five school in their nonconference schedule.
August, 14, 2014
Aug 14
3:40
PM PT
USC athletic director Pat Haden and Stanford professor Condoleezza Rice, both members of the College Football Playoff selection committee, have been
recused from voting for their respective schools
, the committee announced Thursday.
Seven other members of the 13-member selection committee will be barred from voting or discussing schools they are affiliated with. They will, however, be permitted to answer factual questions relating to their respective schools.
Former Stanford, Washington and Notre Dame coach Tyrone Willingham was not recused. Willingham recently served as a volunteer assistant coach with the Stanford women's golf team, but has not done so the past two seasons.
When the selection committee was named last year, Stanford coach David Shaw spoke to both Willingham's and Rice's objectivity and character.
"No offense to either one of those, [but] if I was going to pack the jury, I wouldn't pick them because they're going to be unbelievably unbiased," Shaw said. "I would love to have some biased people on there, but those are two people that I don't think you can question their integrity. They're going to do and fight for what they believe is right."
Rice and Willingham aren't the only two with Stanford ties. West Virginia athletic director Oliver Luck has a daughter attending Stanford, and his two older children are former Stanford student-athletes and graduates. Luck is permitted to discuss and vote on Stanford, but not West Virginia.
The committee will be responsible for ranking 25 teams throughout the season and is ultimately responsible for selecting the four teams to take part in the first College Football Playoff in addition to the six bowl games on New Year's Day. The committee met for three days this week in Colorado Springs, but won't convene again in person until Oct. 27-28. From there, they will meet every Monday and Tuesday for the rest of the year.
The first rankings for the playoff will be revealed Oct. 28 on ESPN.
August, 14, 2014
Aug 14
10:30
AM PT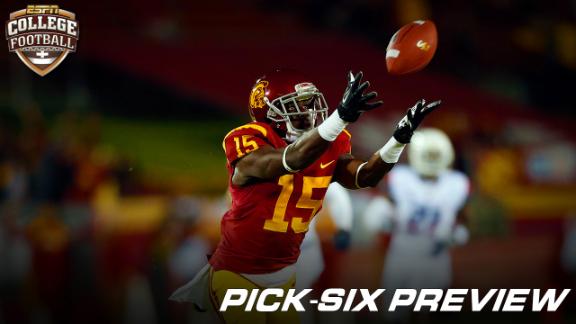 »
More team previews:
ACC
|
Big 12
|
Big Ten
|
Pac-12
|
SEC
Previewing the 2014 season for the
USC Trojans:
2013 record:
10-4, 6-3 Pac-12; beat
Fresno State 45-20
in the Las Vegas Bowl.
Final grade for 2013:
: B-minus. That might seem high for a season in which the Trojans lost to Notre Dame and UCLA and fired their head coach, but the Trojans showed mental toughness instead of imploding, winning 10 games, a bowl game and achieving a final top-25 ranking.
[+] Enlarge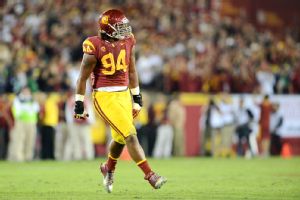 Allen Kee/ESPN ImagesCan Leonard Williams and the Trojans' defense beat ASU and Arizona in back-to-back weeks in 2014?
Key returnees:
WR
Nelson Agholor
, QB
Cody Kessler
, RB
Javorius Allen
, DT
Leonard Williams
, LB
Hayes Pullard
, CB
Josh Shaw
.
Key losses:
WR
Marqise Lee
, C
Marcus Martin
, OLB
Devon Kennard
.
Projected win percentage (ESPN.com Stats & Information):
0.711
Chances to win the conference (ESPN.com Stats & Information):
: 10.8 percent
Instant impact newcomers:
OG
Toa Lobendahn
, WR/DB
Adoree Jackson
, WR
JuJu Smith
, DT
Delvon Simmons
.
Most important game:
Nov. 22 at UCLA. The Bruins have won two in a row in the series. New coach Steve Sarkisian could endear himself to fans by ending that streak.
Biggest question mark:
Depth. If the Trojans trot out their best 22, they can play with anyone. But they are still working with substantial depth issues due to the residual effects of NCAA sanctions. Two major injuries on defense, season-enders for OLB
Jabari Ruffin
and talented DT
Kenny Bigelow
, already have put a damper on preseason camp.
Best-case scenario for 2014:
11-1
Worst-case scenario for 2014:
7-5
Over-under win total (
Bovada
):
9
Upset special:
Oct. 11 at Arizona. The Trojans are going to want a piece of Arizona State on Oct. 4, as the Sun Devils humiliated them in Tempe a year ago. That might leave them emotionally spent before a tough trip to Tucson.
They said it:
"I don't look at the stat box. I look at who won. Most of the time, if you look at who won, I can tell you how the quarterback played." -- USC QB Cody Kessler on whether he compares his numbers with the other Pac-12 QBs.
August, 14, 2014
Aug 14
7:00
AM PT
LOS ANGELES -- As
USC Trojans
starting junior center
Max Tuerk
knows full well, executing a shotgun snap to his quarterback, is more than meets the eye. It's tantamount to playing the old game of Blind Man's Bluff.
"It takes repetition," said Tuerk, previously a former two-year Trojans starter at either guard or tackle. "The more repetition you have in a live drill against a live defense the better.
To continue reading this article you must be an Insider
August, 14, 2014
Aug 14
7:00
AM PT
For four years at USC,
George Farmer
has been an elusive butterfly of potential, flitting toward a shard of the spotlight here, fluttering toward the edge of darkness there.
He arrived as the most touted of all Serra High prospects, faster than
Robert Woods
, bigger and stronger than
Marqise Lee
. He was an eye-popping package of five-star talent and Trojans fans could hardly wait for him to burst upon the scene back in 2011.
Except now it is 2014, and everyone is still waiting.
To continue reading this article you must be an Insider
PAC-12 SCOREBOARD
Thursday, 8/28
Friday, 8/29
Saturday, 8/30