September, 28, 2014
Sep 28
2:00
PM PT
September, 28, 2014
Sep 28
1:08
PM PT
Pac-12 programs loaded up on visitors this weekend and the conference delivered three thrilling finishes on Saturday. The only weekend game in the conference decided by more than one score was USC's blowout win against Oregon State, which came at a perfect time for the Trojans, as they were able to bounce back in front of a number of important recruits.
Stars are out at USC
The USC Trojans put more than a few eggs into Saturday night's basket, bringing committed recruits Chuma Edoga and Aca'Cedric Ware, along with ESPN 300 wide receiver DaMarkus Lodge in on official visits, and also loading up on unofficial visitors. With a convincing 35-10 victory, the strategy appeared to pay off.
Cedar Hill (Texas) High School was very well represented, as 2016 women's basketball prospect Joyner Holmes made the trip alongside Ware and Lodge.
USC ??????. with my 2 favorites @DaMarkusLodge18 @ware_ced pic.twitter.com/uAvryPtiCl

— Joyneeer (@JoynerTooTall) September 28, 2014
Five-star cornerback Iman Marshall, the No. 8 overall prospect in the nation, made his way to the game and took a photo alongside Edoga and quarterback Caleb Wilson, the son of USC defensive line coach Chris Wilson.
??Fight On ?? pic.twitter.com/XrSO1QmXnF

— Biggie (@iman_marshall8) September 28, 2014
Quarterback K.J. Costello, the No. 61 prospect in the 2016 ESPN 300, snapped a shot of the pregame from the sideline.
Sweet Atmosphere tonight!!! Fight on?? pic.twitter.com/e6eu8Uar9R

— kj costello (@kj_costello) September 28, 2014
Utes host big weekend despite loss
Like USC, Utah put plenty of effort into bringing in a number of recruits this weekend. Despite the loss to Washington State, the Utes were able to feature wide receiver Kaelin Clay, a junior college receiver, which might have been the perfect recruiting pitch considering they were hosting a trio of junior college receivers in Dede Westbrook, Kyle Fulks and Kinte Hatton.
?????? pic.twitter.com/915sczeX2L

— Kinte (@KeepLiving_5) September 27, 2014
Recruits see power of Bear Raid
Prospects in Berkeley were treated to an offensive explosion between Cal and Colorado, where the Golden Bears were able to put on an offensive show in front of official visitor, junior college wide receiver Isaac Whitney.
At the airport getting ready to take my official visit to the University of Cal Berkeley! ???? #D1Bound #Blessed

— Isaac Whitney (@isaacwhitney8) September 26, 2014
It was also an intriguing game for local 2016 prospect Camilo Eifler, who holds early offers from both Cal and Colorado, and caught up with former Bishop O'Dowd receiver De'Zhon Grace.
Great win from Cal and good to see my bro and bishop Odowd alum Dezhon pic.twitter.com/nlN0PXlOqk

— Swaggy C (@_miloeifler) September 28, 2014
Huskies on hand
Washington hung tough with Stanford for four quarters and did so in front of several committed recruits, including wide receiver Isaiah Renfro and 2016 ESPN 300 athlete Brandon Wellington.
Renfro gave future Washington official visitors a glimpse of what they can expect upon arrival to Seattle.
UW hooked your boy up pic.twitter.com/YkgcDIerkU

— Isaiah Renfro (@WaveGodZay) September 26, 2014
Wellington, meanwhile, looked to get a hashtag going, likely on the heels of linebacker Shaq Thompson's third defensive touchdown of the season.
September 28, 2014
September, 28, 2014
Sep 28
6:25
AM PT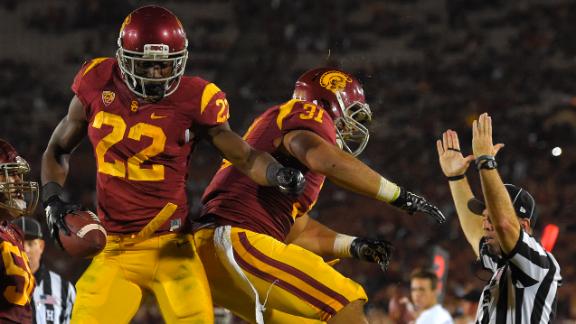 LOS ANGELES -- Notes, quotes and anecdotes from the Coliseum after the No. 18
USC Trojans
(3-1, 2-0 Pac-12) defeated the
Oregon State Beavers
(3-1, 0-1 Pac-12) 35-10.
USC head coach Steve Sarkisian comments:
On the game:
"We knew it would be hard. Oregon State is a good football team; they're physical and their quarterback is a heck of a player and Mike (Riley) would have them ready to go. I'm proud of these guys after what they had to hear about for the last week. Our D held those guys to 180 yards and held (
Sean Mannion
) to 123 yards passing. To do what they (the USC offensive line) did in the run game, I'm proud of what they did."
On the Trojans' offense:
"We kept hunting and pecking.
Cody (Kessler)
had some tremendous plays tonight, the Hail Mary, to hit that one, and a big third-down conversion in the fourth. And to keep running the ball, we're not abandoning that. We're going to keep running. It's who we are and it helps, and it helps the defense. We're still learning and gaining an attitude about it."
On controlling the OSU offense:
"It's about doing your job on every snap, being disciplined with your eyes. Oregon (State) is great with a fly sweep. All in all, our discipline was really good and we executed the right plays at the right times. All in all, we had bodies on their receivers. We were tight and we did enough to make them uncomfortable in the pocket."
On the Hail Mary at the end of the first half:
"Initially, I didn't want Oregon State to call timeout and for them to have all that clock. We put the offense on the field to make it look like we were going to go, and the plan was to run it down to two seconds, take the timeout and run the Hail Mary. We've been practicing it all week, and you never know when you're going to use it. But when you do use it, you want to make sure you're going to execute it, and it was well done."
Oregon State head coach Mike Riley comments:
On the game:
"I thought the story of the game, we never really responded by scoring points or controlling the ball and our defense wore out. But I thought we played a lot of good defense and special-team play. But we couldn't put points on the board, and had we done that our defense could've maintained a better game."
On the Beavers' offense:
"We never really established anything. Early on, we ran the ball a little, but we never really complemented it with anything down the field of any substance. The coverage was tight and good and the pressure at other times was good. I would say we were probably disrupted. That's probably the best way to put it."
On the Hail Mary:
"It looked like we got too many guys deep down the field. It didn't look like we had guys on the goal line but drifted down past it and nobody in front to make a play."
On the effects of the Hail Mary:
"I thought our team was pretty good at the half, knowing they (USC) had completed (the Hail Mary) and some did some things really well. Even though we weren't doing much on offense, our defense had played good for a long time, and at one point the only thing they (the Trojans) had really done is intercept a pass and run it back. Our team had some confidence we could do some stuff."
More notes and anecdotes:
Key(s) to victory:
Aided by a 48-yard Hail Mary touchdown pass at the end of the first half from junior quarterback
Cody Kessler
to sophomore wide receiver
Darreus Rogers
and a first-quarter 31-yard touchdown interception return by sophomore linebacker
Su'a Cravens
, the USC defense managed to contain the passing of Oregon State senior quarterback Sean Mannion (123 yards) to preserve the Pac-12 victory.
The streak:
With Saturday's defeat, Oregon State has now lost 23 straight games in the Coliseum, dating back to 1960.
Above the average:
The Trojans scored 35 points against Oregon State on Saturday. The Men of Troy came into the OSU game averaging 32.0 points per game.
Hail Mary from Kessler:
On the Hail Mary TD pass to finish the first half, Kessler said, "We wanted to run the clock down and it was either going to be a touchdown or an interception. Like Sark said, we do practice it two or three times a week in case we get those scenarios. Darreus made a great play. I think that sparked us for the second half and got the crowd pumped up."
Rogers and out:
On being the recipient of the Hail Mary touchdown reception, Rogers said, "I was hungry for the ball, and it's my job to catch it. I was going to attach my hands to it. The size of my hands is my biggest strengths. When I caught the ball, I just wanted to know where the end zone was. It was a great feeling."
Below the mean:
The Trojans defense allowed 10 points to Oregon State on Saturday. The Men of Troy were allowing 20.0 points per game prior to the OSU game.
Secondary's success:
The key to the secondary, according to Cravens, was "the coaches calling the right plays at the right time and everybody executing. I'm really proud of the DBs."
Offensive surplus:
The Trojans had 461 yards in total offense against Oregon State on Saturday. The Men of Troy were averaging 443.0 yards per game prior to the OSU game.
On spreading the offense:
According to Sarkisian, "I loved that. I think nine different guys caught passes today. We wanted to get
Justin (Davis)
more involved and split carries with
Buck (Allen)
. Both ran well.
Ajene Harris
showed up on a huge third-down catch. All in all, there's a little better flow to what we're doing that way."
Defensive dominance:
Against Oregon State on Saturday, the Trojans defense allowed 181 total yards. Prior to playing OSU, the Trojans were allowing 412.0 yards per game.
The All-American:
On containing OSU standout quarterback Sean Mannion, Trojans junior All-America defensive tackle
Leonard Williams
said, "If we can disrupt him and make him feel uneasy in the pocket, that was a key along with stopping their run game."
Cardinal and Gold rush:
Against Oregon State on Saturday, the Trojans rushed for 200 yards. Prior to the BC game, the Men of Troy were averaging 151.0 yards rushing per game.
Walker returns:
Senior offensive tackle Andre Walker, who had not played for various issues, performed for the first time this season and said, "Things happen for a reason. You just have to overcome it. You have to turn negatives into positives. I want to help the team win games."
Immoveable object:
Against Oregon State on Saturday, the Trojans defense allowed 58 net yards rushing. Prior to the OSU game, the Men of Troy were allowing 245.7 rushing yards per game.
Third downs:
After the game, OSU safety
Ryan Murphy
said the Beavers couldn't stop the Trojans on third down. Murphy said, "It's on us. They converted a couple later on in the game that helped shift the momentum."
Passing game:
On Saturday against Oregon State, the Trojans passed for 261 yards. Prior to the OSU game, the Trojans were averaging 292.0 passing yards per game.
Air defense:
On Saturday against Oregon State, the Trojans defense allowed 123 passing yards. Prior to the OSU game, the Trojans pass defense was allowing 166.3 yards passing per game.
Mannion speaks:
Regarding the Trojans defense, Mannion said, "They're a good team with great athletes. They're well coached and will play good football. I think for portions of the game we played good football. I thought our offensive line did a good job and were really tough at the line of scrimmage. I think (USC) adjusted just as we do."
Flagorama:
On Saturday against Oregon State, the Trojans were penalized 14 times for 124 yards. Prior to the OSU game, the Trojans were averaging 61.0 yards in flags per game.
Strong Pac-12 start:
The Trojans are 2-0 to start Pac-12 play for the first time since 2007.
Top tacklers:
Cravens led the Trojans defense with six tackles, followed by senior middle linebacker
Hayes Pullard
with five tackles.
Rocky Balboa:
Apparently the glitz and Hollywood are back, with actor Sylvester Stallone on the Trojans sideline.
The meat wagon:
No major injuries were reported.
Counting the house:
Coliseum attendance was announced as 74,521.
Scouting the talent:
NFL representatives assessing the potential draft picks on Saturday night included the Steelers, Seahawks, Giants and Jets.
Next game:
The Trojans will host Arizona State (3-1, 1-1 Pac-12) next Saturday, Oct. 4, in the Coliseum with kickoff time to be announced.
September, 28, 2014
Sep 28
9:00
AM PT
Remember when everyone looked at week 5 on their college football calendar and thought to themselves, "Yeah, might not be a very exciting weekend"? Ha.

Let's give out some helmet stickers to guys who made the weekend in Pac-12 football very, very exciting.
Su'a Cravens, S, USC:
The sophomore finished with six tackles, one sack, one TFL and a 31-yard pick 6 in the Trojans'
35-10
win over Oregon State. It was a great defensive performance from the Trojans defense, and Cravens was a much-needed standout for a group that needed one.
Jared Goff, QB, California:
Goff threw for 449 yards and seven scores in the Golden Bears' 59-56 double-overtime win over Colorado while completing 23 of 41 passes. He threw just one interception, but was able to lead the Bears to victory, snapping the Bears' 15-game Pac-12 losing streak. Goff looked like a veteran and continues to impress with the strides he has made between years 1 and 2 under Sonny Dykes.
James Langford, K, Cal:
He was 8 of 8 on extra points, but that's not going to get a kicker on this list. But Langford -- who missed a 42-yard field goal attempt in the fourth quarter -- calmly hit a 34-yard FG in double overtime. Calm. Cool. Collected. Helmet Stickered.
Sefo Liufau, QB, Colorado:
Normally, a player who's on a team that lost doesn't get on this list. But when you throw for seven touchdowns and 449 yards (if that stat line looks familiar, it's because it's the EXACT SAME as Goff's, though his QBR was slightly higher) then you get on this list. He also added 72 rushing yards on 10 carries. The sophomore didn't look like a sophomore and did everything he could to get the 'W' for the Buffaloes.
Brett Hundley, QB, UCLA:
Injured? His play certainly didn't look like it. Hundley threw for four touchdowns and 355 yards in a
62-27
win over Arizona State on Thursday. He completed 18 of 23 passes and led his team into a pretty intimidating atmosphere and made the Sun Devils look like the team that was playing on an opponent's field.
Ishmael Adams, DB, UCLA:
A 95-yard interception return for a touchdown would probably get a player a helmet sticker. Add a 100-yard kickoff return for a score to that and you're a shoo-in for a Pac-12 helmet sticker.
Peter Kalambayi, OLB, Stanford:
The redshirt freshman was a big reason why the Stanford defense held Washington to 2.6 yards per play in the Cardinal's
20-13
victory. He sacked
Cyler Miles
three times and finished with six tackles.
September, 28, 2014
Sep 28
1:58
AM PT
September, 28, 2014
Sep 28
12:57
AM PT
LOS ANGELES -- The reaction was as subdued as the introduction.
During halftime of Saturday's
USC
-
Oregon State
game, Pete Carroll's name was quickly read along with the seven other USC Hall of Fame inductees who were unable to the game. It was so quick that the response when his name briefly echoed throughout the Coliseum was nonexistent.
Carroll wasn't on the field for the halftime ceremony, but nothing should be read into that. Carroll had always planned to spend the
Seattle Seahawks
' bye week in Miami with his son, Brennan, who is an assistant coach for the
Miami Hurricanes
, daughter-in-law, Amber, and grandchildren, Dillon and Colbie.
Throughout Carroll's coaching career, he has always dedicated bye weeks to his children, and this was the one chance he was going to get to see his son and grandchildren, who are 3 and 1, for six months.
Carroll had been told the halftime ceremony for the 16 inductees would be brief and slightly rushed with the late kickoff and he had already committed to attending the formal induction ceremony on campus in May. Each inductee ended up getting about a 20-second introduction for the six-minute, on-field ceremony.
[+] Enlarge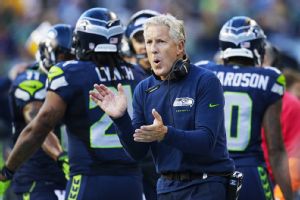 AP Photo/Scott EklundCarroll abdicated his USC post right before the NCAA levied sanctions, but he claims he would've stayed had he known how severe the Trojans' penalty would be.
If his son were a quarterback in the game (as was the case with Jack Del Rio, a fellow 2015 Hall of Fame inductee, whose son Luke is a backup quarterback with the Beavers), he would have been there.
Whatever ill will that existed between Carroll and USC fans after the coach's departure five months before the school was hit with crippling sanctions has long since faded away.
September, 28, 2014
Sep 28
3:12
AM PT
Some things we learned about the Pac-12 in Week 5:
UCLA and QB Brett Hundley are what we thought they'd be:
UCLA answered a variety of questions in its
62-27
win over Arizona State, starting with Hundley's health and continuing with whether this team was overrated in the preseason. While it wasn't a perfect performance -- the defense needs to play better -- it was a dominating one on the road against a ranked team. As for Hundley, he might return to the Heisman picture after completing 18 of 23 passes for 355 yards with four touchdowns, no interceptions and a 97.7 QBR. Perhaps its time to ease up on nitpicking the Bruins over their lack of style points. Is
your
team 4-0?
Arizona State's young defense is going to be a problem:
The preseason story with the Sun Devils was veteran, explosive offense paired with a completely rebuilt defense. Sometimes preseason stories don't hold up as young players step up. Sometimes they do. This one did. The Sun Devils are likely to improve on defense this season, but they're likely going to win a bunch of shootouts to be a factor in the South Division. Against UCLA, they yielded 580 yards -- a stunning 10 yards per play -- and gave up eight plays of more than 20 yards.
[+] Enlarge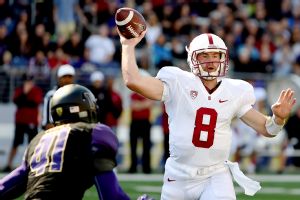 Steve Dykes/Getty ImagesKevin Hogan pulled out a victory for Stanford, but the Cardinal offense still has significant red-zone problems.
Stanford's defense has replaced key 2013 pieces; offense hasn't
: Stanford again looks to have the Pac-12's best defense, despite losing stars such as LB
Shayne Skov
, OLB Trent Murphy and safety
Ed Reynolds
, among others. The Cardinal held Washington to 179 yards and 15 first downs in a
20-13
victory after similarly dominating USC (291 yards). Yet the offense, which has replaced four offensive linemen and RB Tyler Gaffney from the 2013 unit, has been sputtering, particularly in the red zone. Stanford scored one touchdown in five red zone trips against USC and scored two touchdowns in five red zone trips against the Huskies, including a late touchdown run from QB
Kevin Hogan
that proved to be the game-winner. The good news is the offensive problems, including missed field goals from veteran kicker
Jordan Williamson
, are solvable. Not to use a coaches' cliche, but it's purely a matter of execution.
Washington is not ready for prime time
: Washington was inconsistent during a 4-0 run through a weak nonconference schedule. At times, the defense or offense looked good, but often not at the same time and certainly not for four quarters -- or even three. There was some thought everything might come together in front of a raucous crowd Saturday against Stanford. Nope. While the defense played well, pressured Hogan consistently and contained the Cardinal running game, the offense was abysmal. Yes, Stanford is good on defense, but the Huskies have one of the nation's most experienced offensive lines and a good corps of receivers. The Huskies had just one sustained drive and averaged 3.4 yards per pass and 2.1 yards per run. The Huskies' problem under Steve Sarkisian was getting past Stanford and Oregon in the Pac-12 North. It seems unlikely that will happen this year, either, in season one under Chris Petersen.
California has moved out of the Pac-12 basement
: Cal and Colorado are both trying to move out of the bottom of the Pac-12 and become at least competitive. Last year, Cal didn't win a Pac-12 game, and Colorado's only conference win was over Cal. Both have looked much improved in the early going this season. But Cal's thrilling
59-56
win in double-overtime provides the Golden Bears a big boost. For one, the Bears, at 3-1, can legitimately entertain bowl hopes. In a game in which QBs
Sefo Liufau
and
Jared Goff
both threw for 449 yards and seven touchdowns, the Bears found a way to win, which is particularly meaningful after they suffered a heartbreaking loss at Arizona the week before via a Hail Mary. That might be enough, at the very least, to ensure they don't end up at the bottom of the conference by season's end.
Utah wilted; Washington State stepped up
: Utah led 21-0 after one and 24-7 at halftime, but the Utes offense never got untracked -- one TD came from the defense, another from special teams -- while Washington State refused to yield on the road. The end result was a critical
28-27
victory for the Cougars, who couldn't afford to lose if they wanted to retain bowl hopes. It seemed as though the Utes tried to sit on the lead. That was a mistake. It might turn out to be meaningful that Cougars coach Mike Leach called a special first-quarter time out and gathered his team for a pep talk. Utah's Pac-12 woes continue, and the Cougs can hope this serves as a springboard for the rest of the season.
We were deceived by early USC, Oregon State results
: USC's
35-10
win over Oregon State seemed to make two things clear: 1. The Beavers' 3-0 start against a weak nonconference schedule was meaningless in terms of projecting forward against good Pac-12 teams. 2. USC's shocking loss at Boston College was probably an anomaly. While it's premature to count Oregon State out of the North Division hunt, it's difficult not to see the defeat at USC as a bit of an exposure. And USC has enough on both sides of the ball to become a factor in the South race.
September, 28, 2014
Sep 28
2:20
AM PT
LOS ANGELES -- Coming off the bye week, the
USC Trojans
turned in a strong defensive showing in a
35-10
win over the visiting
Oregon State Beavers
. Here's how it went down at the Coliseum.
How the game was won
: The Trojans pulled ahead in the first half on big plays. Safety
Su'a Cravens
opened the scoring with a pick-six and
Cody Kessler
connected with
Darreus Rogers
on a 48-yard Hail Mary as time expired on the first half. A 16-yard
Justin Davis
touchdown reception was sandwiched in between. The offense picked up steam in the second half, capitalizing on touchdown runs from Davis and
Buck Allen
. But the real story was the USC defense, which stifled Oregon State all night.
Game ball goes to
: The USC defense. After an embarrassing performance two weeks ago against Boston College, where the Trojans yielded 452 yards on the ground, they rebounded after the bye week and kept the Beavers to just three offensive points (OSU's lone touchdown was a kickoff return), 181 total yards and 58 rushing yards while limiting OSU to just 1-of-10 on third down. They also forced a pair of
Sean Mannion
interceptions; the aforementioned pick-six and tip-drill, tip-toe job by
Leon McQuay
in the corner of the end zone after the ball was deflected by
Adoree' Jackson
.
What it means
: For the Beavers, who haven't won at USC since 1960, it's back to work. After beating a pair of Mountain West teams and an FCS squad, this was their first real test of the year. Others needs to step up around Mannion. For the Trojans, it should be a slight confidence boost heading into next week's home showdown with Arizona State -- a team that thumped them pretty good last year.
Playoff implication:
The Boston College loss will no doubt be a stain on USC's résumé come playoff time. The saving grace is that it was early in the season and it's a nonconference game. A Pac-12 championship would go a long way toward helping the committee forget about the shortcomings at Chestnut Hill.
Best play
: It's starting to feel like if there
isn't
a Hail Mary in the Pac-12 at least once a week, something is off. The Trojans provided this week's when Kessler connected with Rogers on a 48-yard chuck-it-and-pray pass as the first half came to a close. Rogers came out end zone to catch the ball at the 1-yard line, and then spun back in to give USC a 21-10 lead at the break.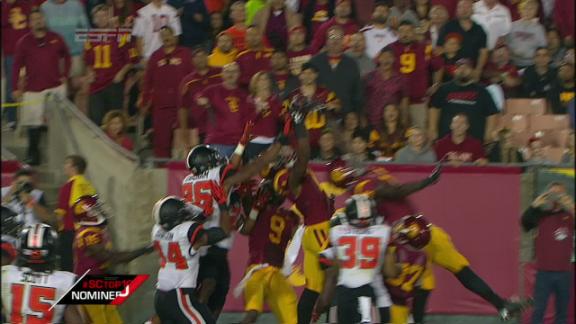 What's next:
The Trojans host a battered ASU team that was rocked on Thursday by UCLA. Recall, it was the ASU game last year that was the ultimate nail in Lane Kiffin's coaching coffin. If the Trojans want to keep pace with the Bruins in the South Division, that's a must-win game. For the Beavers, it's a trip to Colorado, where the Buffs are sure to be salty after scoring 56 points -- and losing!
September, 27, 2014
Sep 27
11:19
PM PT
Associated Press
LOS ANGELES -- Cody Kessler passed for 261 yards and two touchdowns, and Su'a Cravens returned an interception 31 yards for another score in No. 18 Southern California's 35-10 victory over Oregon State on Saturday night.
Darreus Rogers caught a 48-yard Hail Mary touchdown pass at the halftime gun as the Trojans (3-1, 2-0 Pac-12) rebounded smartly from their first loss with solid defense and another stellar game from Kessler, who went 24-for-32 while leading a 461-yard offensive performance.
Justin Davis caught a 16-yard TD pass and rushed for a fourth-quarter score for the Trojans. Javorius Allen added 115 yards rushing and a touchdown.
Ryan Murphy returned a kickoff 97 yards for a TD for Oregon State (3-1, 0-1), which struggled in its first serious test of the season.
PAC-12 SCOREBOARD
Thursday, 9/25
Saturday, 9/27