September, 14, 2014
Sep 14
2:40
PM PT
It was a night to forget for the Trojans after going into Boston College and getting outplayed and outcoached by an Eagles team that wasn't expected to do either.
That's why they play the games, however, because on any given night this can happen, especially to a USC team that appeared undermanned and underprepared as opposed to the hosts, who came out fired up and ready to play.
The game actually started off well for the Trojans with an early lead after a
Cody Kessler
to
George Farmer
touchdown pass, but then there was a dropped pass by
Bryce Dixon
that surely would have been a score and the Trojans had to settle for a field goal and a 10-0 lead at the start of the second quarter.
[+] Enlarge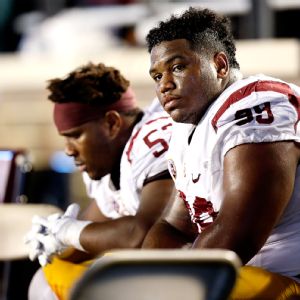 Winslow Townson/Getty ImagesUSC's defenders could only look at the stats in disbelief after surrendering 452 rushing yards to Boston College.
The Eagles answered with a touchdown but missed the extra point, and after Kessler hit
Javorius Allen
with a short pass that he took for a 51-yard touchdown, the score was 17-6 and it looked like the Trojans were well on their way to another big night. From that point on, however, the game belonged to the Eagles, who answered with two touchdowns before half to go into the locker room with a 20-17 lead.
What was puzzling at that point was that Boston College seemed to be controlling both sides of the line of scrimmage, something that wasn't anticipated coming into the game. Sure, the Eagles had five graduate students on the offensive line, but USC was countering with All-American
Leonard Williams
and several upperclassmen around him. To see the halftime rushing totals showing Boston College with 197 yards and USC with 24 was truly astounding, and nothing changed in the second half. When all was said and done, the Eagles piled up 452 yards on the ground and the Trojans had 20 (72 actual yards gained but 52 lost).
There is a lot of attention being paid on Sunday to the adjustments, or lack thereof, by the USC coaches. On offense, the run game clearly wasn't working and the offensive line was allowing a lot of pressure from Boston College, which sacked Kessler five times. Kessler did have 317 yards and four touchdowns on 31-of-41 passing, and it seemed as if the passing game could have done even more if given the chance. Defensively, the Trojans had a lot of issues with maintaining assignments and covering the read-option with Eagles quarterback
Tyler Murphy
, who ran for 191 yards on 13 carries (14.7 yards per attempt) but threw for only 54 yards.
After the game there were plenty of mea culpas from the coaching staff on down, and this one will stick for an extra week as the Trojans have a bye next Saturday. There is a train of thought that says it would be best to get back on the field to get the bad taste from this game out of their mouths but this is also a USC team that could stand to take a break right now, get a little healthy, and regroup as much as possible before the
Oregon State Beavers
come to town in two weeks.
Notes from the sidelines
It was the third time in the past four games that Kessler has thrown four touchdowns. …
Hayes Pullard
sat out the first half and ended the game with five tackles and a pass breakup. His leadership and knowledge of the defense certainly could have been a benefit in the first half to prevent BC from gaining critical momentum. …
Gerald Bowman
has been playing well lately and led the Trojans with seven tackles, but it's not usually a good thing when a safety leads your team in tackles.
Extra points
When Farmer opened the scoring for the Trojans with an 8-yard catch it was the first touchdown of his USC career.

There was another first as well when cornerback Chris Hawkins nabbed his first interception as a Trojan in the second quarter.

USC punter Kris Albarado got a full night's work with 10 punts for 375 yards, including a brilliant effort to get a good kick after an errant snap.
Game plan
To see the Eagles dominate on both sides of the line of scrimmage is not what the Trojans had in mind. The Eagles defense had given up 213 yards to a Pitt runner the previous week and broke a 15-year old BC record for most rushing yards allowed in a game. Naturally, the Trojans figured a big rushing day was in their future, but that didn't turn out to be the case. It doesn't help when USC running backs get only 22 carries, but they could have doubled the rushing attempts and it probably wouldn't have helped. The young Trojans offensive line had too many miscommunications to think things would have been much different. On the defensive side of the ball, a read-option quarterback continued to give the Trojans fits as time after time the Eagles ball carriers seemed to have too many yards before initial contact. It helped BC that they had five graduate students forming a veteran offensive line but it doesn't begin to explain all that went wrong for the Trojans.
Final thoughts
OK, so much for talk of an undefeated season, and the early season top 10 ranking goes away as well. If that's the reality right now, so be it. A 2-1 start is likely a record that most USC fans would have accepted; the loss just didn't come to the expected opponent. Now the bigger questions turn to the issues that were exposed against Boston College. 1) What is the identity of the USC offense? The uptempo offense that was so touted produced 59 plays last week, 70 this week, while the opponents ran 68 plays in each. 2) What can be learned to face future read-option teams that will look at this game and smile? You know that future opponents will look at the BC game plan that gained over 500 total yards and attempt to do similar things. Is it a matter of getting a few key injured guys back? Is it a matter of trust between coaches and players? This is still a staff that has only been in place at USC for three games so it stands to reason that there is plenty of learning curve left to go. Whatever it is, it better be in place quickly because Oregon State, Arizona State and Arizona are three teams with offensive-minded coaches who can get very creative.
September, 14, 2014
Sep 14
3:01
PM PT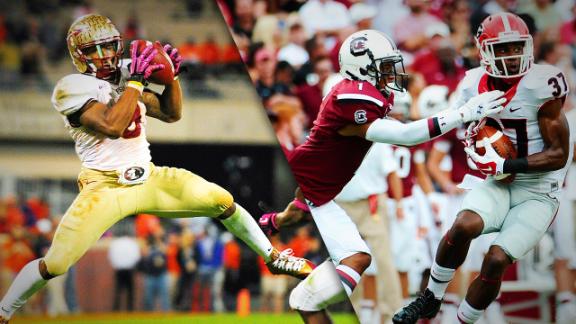 Oregon strengthened its hold on the No. 2 spot in the
fourth AP poll of the season
, but the Pac-12 is without two top-10 teams for the first time this season.
The Ducks picked up an additional first-place vote and are six points closer to top-ranked Florida State (42 behind) compared to last week.
USC took the biggest fall, dropping eight spots to No. 17 following its
37-31 loss
to Boston College and is now one spot behind Stanford, which the Trojans beat on the road last week.
UCLA remains at No. 12 after squeaking out a win against reeling Texas, but was jumped by both Ole Miss and Michigan State. Through three games, UCLA remains undefeated, but none of its wins have done much to impress voters.
Next up for the Bruins is No. 15 Arizona State in Tempe on Sept. 25. The Sun Devils jumped Stanford this week -- largely because USC's loss to Boston College devalued the Cardinal -- after opening conference play with a
38-24 win
against Colorado.
Washington (14) and Arizona (3) also received votes.
September, 14, 2014
Sep 14
2:00
PM PT
September, 14, 2014
Sep 14
11:00
AM PT
Week 3 reminded us just how wild and unpredictable college football can be. Boston College shocked No. 9 USC. Virginia Tech lost at home to East Carolina one week after a monumental upset at Ohio State. Kentucky pushed Florida to three overtimes. South Carolina stunned No. 6 Georgia. Virginia knocked off No. 21 Louisville.
Did we mention USC lost to Boston College?
The playoff picture is as cloudy as the skies over Williams-Brice Stadium, but every game affects it in some way. Here's a quick rundown of what we learned after Week 3:
[+] Enlarge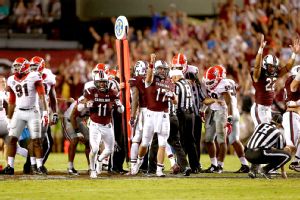 Streeter Lecka/Getty ImagesSouth Carolina is once again pointing forward in the playoff picture thanks to a big win over No. 6 Georgia.
Who helped themselves the most:
South Carolina. Had the Gamecocks lost to Georgia, they would've been written off in this space. Gone. Kaput. Better luck next year. Instead, they kept their playoff hopes alive by reasserting themselves in the SEC East race. Make it to the SEC title game and you've got a shot at the College Football Playoff. Win the SEC and you've got a ticket.
Once again, Georgia is looking up at the Head Ball Coach, but don't give up on the Bulldogs. Remember, the last two times South Carolina beat Georgia, it was Georgia that went on to win the division. South Carolina's win didn't guarantee anything except longer life in the playoff race.
Who was hurt the most?
The city of L.A. Sure, UCLA won and backup quarterback
Jerry Neuheisel
was hoisted onto the shoulders of his teammates like he just beat, well, USC. But it was at unranked Texas, a beleaguered team that had just gotten smacked around by BYU the previous week. And with starter
Brett Hundley
injuring his elbow in the game, there are plenty of questions surrounding the Bruins moving forward.
UCLA is now 3-0 for the third straight season under Jim Mora, but if you're going by that ever-scientific eyeball test, you've seen that UCLA hasn't looked great in any of those wins. Now the Bruins have to go beat a ranked Arizona State team.
No. 9 USC, meanwhile, was -- get this -- outgained by Boston College on the ground
452-20
! Was the defense in the stands? BC quarterback
Tyler Murphy
ran for 191 yards and a touchdown
on 13 carries
. So, there's that. But hey, the Trojans beat Stanford.
Injury impact:
The College Football Playoff's 13-member selection committee will consider injuries as it determines the top four teams in the country, and there were two injuries of note Saturday night. Arizona State quarterback
Taylor Kelly
injured his right foot in a 38-24 win over Colorado, and Hundley also left early with his elbow injury. No timeline has been set for either quarterback's return, and the teams will face each other on Sept. 25.
Biggest trap game:
Virginia Tech. It was just a week ago that the Hokies were being considered a dark horse for the national title. With what appeared to be a manageable schedule -- no Florida State, no Clemson in the regular season -- and a chance to beat a ranked opponent in the ACC title game, the Hokies had a shot.
Clearly, it was a mirage. East Carolina went into Blacksburg and beat the Hokies 28-21. Even more defeating was the fact that Virginia Tech was in position to overcome a 21-point deficit for what would have been the biggest comeback ever under Frank Beamer. Instead, ECU quarterback
Shane Carden
scored a rushing touchdown with 16 seconds left in the game. Before you start snickering, Ohio State fans, the Hokies' loss now makes the Buckeyes' home loss to Virginia Tech look even worse. Speaking of Ohio State ...
The beat goes on:
The Big Ten beat, that is. The conference is now 1-9 against opponents from Power 5 conferences. Iowa lost at home to Iowa State, Maryland lost at home to West Virginia, Minnesota was beaten by TCU and Illinois was pummeled by Washington. Surprised? Don't be. According to Vegas, Big Ten teams were favored to win in just four of those nine losses.
If only it ended there.
The Hoosiers lost to another pesky MAC team, Bowling Green. It was the league's third loss to a MAC team in the past two weeks.
There are only four spots in the College Football Playoff. The Big Ten doesn't look like it wants one.
September, 14, 2014
Sep 14
6:43
AM PT
By
Chris Morris
| ESPN.com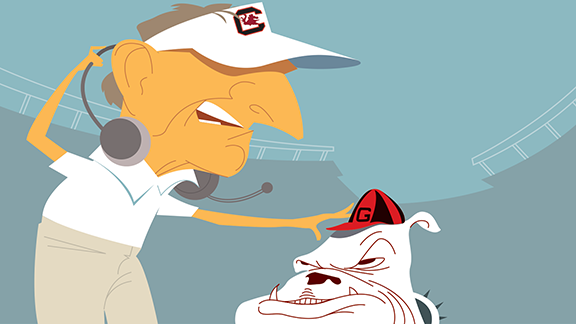 Chris Morris for ESPN
Each Sunday during the season, ESPN.com will highlight four storylines that had an impact on the College Football Playoff race.
"I think I may be the winningest coach against Georgia here at South Carolina," said Steve Spurrier, who has now won more games than any other coach against Georgia, including four victories in five tries with South Carolina.
---
In its "red bandanna" game honoring Welles Crowther, a Sept. 11 victim and hero, Boston College shocks USC for its first victory over a top-10 team in a decade.
---
UCLA backup quarterback Jerry Neuheisel, subbing in for an injured Brett Hundley, threw a 33-yard TD pass with three minutes left to rally past upset-minded Texas in Arlington, Texas.
---
A week after upsetting Ohio State, Virginia Tech is toppled by East Carolina after Pirates quarterback Shane Carden threw three touchdown passes and scored a rushing TD with 16 seconds left.
September, 14, 2014
Sep 14
2:20
AM PT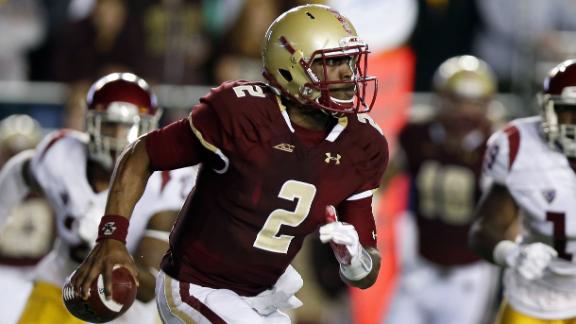 CHESTNUT HILL, Mass. -- This is not the way the No. 9 team in the nation is supposed to lose. This is not the way the Glamour Guys from USC go down. This is not the team that should be beating the Trojans, with their Hollywood profile and grand tradition.
The USC locker room is filled with four- and five-star recruits. And then there's the Boston College locker room, a sweatier, and -- early Sunday morning -- happier version of the Island of Misfit Toys.
Quarterback
Tyler Murphy
is a fifth-year refugee from Florida. Two of the running backs,
Myles Willis
and
Tyler Rouse
, haven't made it to 5-foot-10 yet, and both of them tower over 5-6 freshman
Sherman Alston
, whose 54-yard misdirection touchdown run late in the first half gave the Eagles a 20-17 lead they never lost.
[+] Enlarge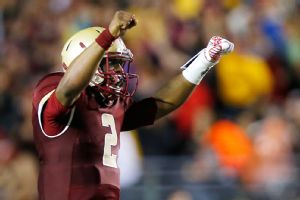 Winslow Townson/Getty ImagesThough he finished with just 54 yards passing, Boston College signal-caller Tyler Murphy had 191 rushing yards and a touchdown vs. USC.
"We're probably not your ideal top college football program as far as looks," said Murphy, who started six games at Florida before transferring after last season. "Whatever it takes to win. Whether the guys are 5-2 or 7-8, we'll find a place for them and we'll find what they excel at and we'll get them the ball."
Murphy rushed for 191 yards, including a 66-yard fourth-quarter touchdown, on only 13 carries, to lead the Eagles over the Trojans,
37-31
. Boston College hadn't beaten a ranked team in six seasons or a top-10 team in a decade.
Boston College outgained USC on the ground 452 yards to 20. The Trojans haven't given up that much on the ground since 1977. The running game worked because the Eagles' offensive line, one of only two in the nation that starts five graduate students, won the battle on the line of scrimmage. And the running game worked because Murphy's sleight of hand on the zone-read kept a fast Trojans defense moving in the wrong direction.
If you are looking for a mental picture of how Boston College won the game after spotting USC a 17-6 lead, think of a Trojans defender, sprawled on the ground, or turning the wrong way, lurching in vain toward an Eagles ball carrier. Suffice it to say it will be a long video session this week for USC cornerback
Chris Hawkins
. And he's not the only one.
The Eagles' defense sacked
Cody Kessler
five times and refused to afford him time to throw downfield. Kessler threw for 317 yards, but completed only one pass longer than 20 yards. Linebacker
Josh Keyes
made five-and-a-half of his eight tackles behind the line.
USC hoped it could come east, get ahead early and rest its starters. When you travel with 54 available scholarship players -- and that includes linebacker
Hayes Pullard
, who sat out the first half after a targeting penalty last week -- you look to ease the load when you can. When the Trojans flipped field position on the Eagles early in the game and started two possessions inside the BC 40-yard line, they grabbed a 10-0 lead in the first quarter.
On the other side of the ball, The Eagles went three-and-out on their first three possessions and gained a net total of minus-2 yards. By the time they moved their total yardage into the plus column, the Eagles trailed 10-0.
"We grouped up together on the sideline and we said, 'That ends now. We've got to start playing up to our potential,' I think we turned the tide then," center
Andy Gallik
said.
[+] Enlarge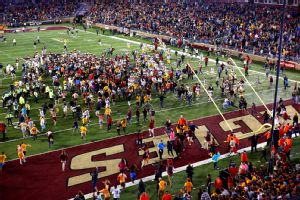 Greg M. Cooper/USA TODAY SportsDespite an early 17-6 deficit, Boston College stormed back to upset USC. The Eagles' fans stormed the field after the win.
On the Eagles' next snap, a first-and-10 at the BC 22, Willis got a big hole in the left side of the line, and then used great downfield blocks to race 52 yards to the USC 26. The Eagles scored six plays later.
"I thought we played our best football early in the game," USC coach Steve Sarkisian said. "Our execution was good. But for whatever reason, we lost it. And that's the part I have to figure out. They hit the one long run and things started to go the other direction on us."
All upsets are emotional for the winners, but this one left a warm feeling throughout Alumni Stadium. Before the game, the parents of Welles Crowther, a Boston College lacrosse player who
died a hero in the South Tower of the World Trade Center
in the Sept. 11 attacks, were introduced.
After the game, Eagle coach Steve Addazio gave them a game ball.
"We talked a lot about Welles Crowther," Addazio said after the game. "We talked a lot about who he was and what it takes to be a BC man. Our guys really dug deep on this."
Pete Frates, the former Boston College baseball player whose
fight against ALS prompted the Ice Bucket Challenge
that raised more than $100 million to fight the disease, attended the game and was shown on the video boards at halftime, to the delight of the crowd of 41,632.
Football teams don't live on emotion. They live on execution, and if that's fueled by emotion, all the better. This Boston College team is a motley crew. But on Saturday night, the Eagles didn't play that way. They looked like five-star recruits, every one of them. Ask the five-star guys they beat.
September, 13, 2014
Sep 13
11:15
PM PT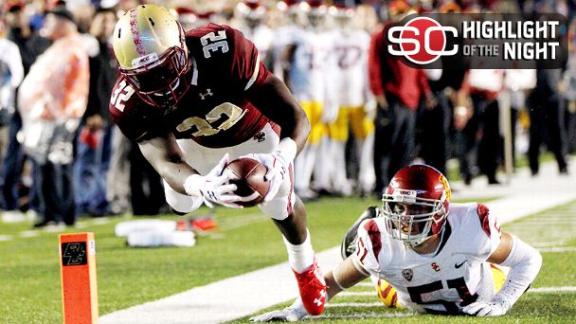 CHESNUT HILL, Mass. -- Notes, quotes, and anecdotes from Alumni Stadium after Boston College (2-1, 0-1 ACC) upset the No. 9 Trojans (2-1, 1-0 Pac-12) 37-31.
USC head coach Steve Sarkisian comments:
The game assessment: "I'll start by saying a lot of credit to Boston College. Their coaches, their players played a heck of a game. They outplayed us. They beat us in all three phases. They controlled the line of scrimmage on both sides of the ball and the end result was we didn't get it done."
Taking the blame: "It starts with me. Coaching and it goes to everybody in that locker room right now. We need to improve. Again, credit to Boston College. We did not play a very good football game tonight. We didn't execute the things that we are capable of doing. And again, that's directly on my shoulders. We have to do a better job. I don't think it was for a lack of effort."
On BC's success rushing to the outside: "For whatever reason, we didn't tackle very good tonight. We had been tackling the first couple ball games, but we didn't tackle good tonight. And then it's like anything, when you are running the ball well, it kind of feeds itself. The (BC) quarterbacks got confident running it, the running backs got confident running it and in turn we started to lose confidence that we were going to make that play and inevitably, it didn't work out."
Boston College head coach Steve Addazio comments:
The game assessment: "It's a great, great night for our team, for the players. They played really hard. There were big plays made by a lot of people. We sacked them. We harassed them. We played relentlessly on defense. That's a good football team (USC).
Now it can be told: "I said to our team going into the game that all I ask is that we play with relentless effort that we play really, really hard. That's what we talked about and to have faith, faith in each other. They did that."
The inspiration: In reference to fallen hero Welles Crowther who was a NYC fireman and former BC lacrosse player who died in 9/11 trying to save lives in Tower 2 and was honored at halftime, "We talked a lot about Welles Crowther. We talked a lot about who he was and what it takes be a BC man. Our guys really dug deep on this. We were proud to give one of the games balls out to the Crowther family after the game."
More notes and anecdotes
Key(s) to victory:
Boston College shocked the favored Trojans by physically dominating them on both sides of the line of scrimmage. Boston College outgained the Men of Troy in total yardage (506-337), recorded five sacks, and never looked back after taking a 20-17 halftime lead after being down 10-0 after the first quarter.
The streak:
The Trojans are now 4-1 against the Eagles. The last time BC beat a Top 25 opponent was against No. 20 Florida State in 2008.
Scoring average:
The Trojans scored 31 points against Boston College on Saturday. The Men of Troy came into the BC game averaging 32.5 points per game.
Cody comments:
On why the offense sputtered after jumping out to a 10-point first quarter lead, Trojans junior quarterback
Cody Kessler
said, "We lost rhythm. We weren't winning our one-vs-ones both in the perimeter and the backfield and up front. That's all football is. We had a lot of missed assignments. At the end of the day, I have to take the blame for that, I have to get the ball out quicker and give people a chance."
Sad sacks:
Boston College sacked Trojans quarterback Cody Kessler five times while the Trojans could only record one sack on BC quarterbacks.
Defensively speaking:
The Trojans defense allowed 37 points to Boston College on Saturday. The Men of Troy were allowing 11.5 points per game prior to the BC game.
Quarteback contain:
On the obvious problem of trying to contain BC's graduate quarterback
Tyler Murphy
(191 yards rushing), Trojans sophomore strong safety
Su'a Cravens
said, "He just beat us with his skill. We were anticipating him to run the ball and that's what they did. We knew he liked to scramble and we just didn't execute. Third downs came up, and he was running all over the field."
Offensive blackout:
The Trojans had 337 yards in total offense against Boston College on Saturday. The Men of Troy were averaging 496.0 yards per game prior to the BC game.
Frank Farmer:
Although he had an 8-yard TD reception in the first quarter, junior receiver
George Farmer
was astonished on what happened Saturday night. Farmer said, "I am very shocked. You can't predict what's going to happen. This will make us a better team and we'll be stronger."
Defensive downer:
The Trojans defense allowed 506 total yards. Prior to playing BC, the Trojans were allowing 365.0 yards per game.
Miscommunication:
On the Trojans defensive problems, Su'a Cravens said, "Well, a lot of it was miscommunication on the defensive side with the high and low calls, and when we're supposed to tackle or dive, or or when we're supposed to go to the quarterback."
Below the rush:
The Trojans rushed for just 20 yards. Prior to the BC game, the Men of Troy were averaging 216.5 yards rushing per game.
Banner bantering:
On the offensive line's performance, sophomore offensive tackle
Zach Banner
said, "It was a tough game, 3,000 miles away from home. It wasn't anything we hadn't seen before. They're a Division I school and we just have to execute."
Hole in the wall:
The Trojans allowed a whopping 452 net yards rushing. Prior to the BC game, the Men of Troy were allowing 142.5 rushing per game.
What a rush:
The last time BC recorded 400-plus yards was against NC State in 2013.
The return:
Trojans senior linebacker
Hayes Pullard
returned in the second half after being held out of the first half as part of his Pac-12 punishment for head-to-head contact in last week's Stanford game. Hayes had five tackles in the second half.
Hayes speaks:
On his team's defensive lack of being able to contain the BC offense, Hayes Pullard said, "Boston College came out and played with great character, they had a great plan. You just can't win on raw talent. They did have great execution, they had their stadium, their emotions, and hit us in the mouth."
Passing the test:
On Saturday against Boston College, the Trojans passed for 317 yards. Prior to the BC game, the Trojans were averaging 279.5 passing yards per game.
Air raid-less:
On Saturday against Boston College, the Trojans defense allowed just 54 passing yards. Prior to the BC game, the Trojans pass defense was allowing 222.5-yards per game.
No. 1:
Redshirt freshman corner
Chris Hawkins
second-quarter interception was the first of his career.
The flag is up:
On Saturday against Boston College, the Trojans were penalized just three times for 20 yards. Prior to the BC game, the Trojans were averaging 81.5 yards in flags per game.
The red bandana:
In honor of former BC lacrosse player Welles Crowther who gave his life as a fireman saving lives in the South Tower of the World Trade Center, Boston College wore Crowther's signature red bandana on their helmets, cleats and gloves. The Eagles also passed out 6,000 red bandanas to students, and the coaching staff wore gear featuring the red bandana pattern.
Top tacklers:
Trojans strong safety
Gerald Bowman
led the Trojans defense with seven tackles followed by
J.R. Tavai
and
Delvon Simmons
with six tackles each.
The meat wagon:
There were no reported Trojans injuries.
Counting the house:
Alumni Stadium attendance was announced as 41,632.
The thermometer:
It was 64 degrees and cloudy at kickoff in Alumni Stadium.
Celebrity sightings:
Trojans greats Marcus Allen and Rodney Peete were in attendance along with entertainer and USC alumni Will Ferrell.
Bowl evaluators:
Representatives from the Florida Citrus Bowl were in attendance.
The NFL:
Checking out the talent were scouts from the Eagles, Dolphins, Titans, Steelers, Ravens, Chiefs, Chargers, and CFL Roughriders.
Next game:
After next weekend's bye, the Trojans will return to action on Saturday, Sept. 27, hosting Oregon State in a Pac-12 game.
September, 13, 2014
Sep 13
8:36
PM PT
Associated Press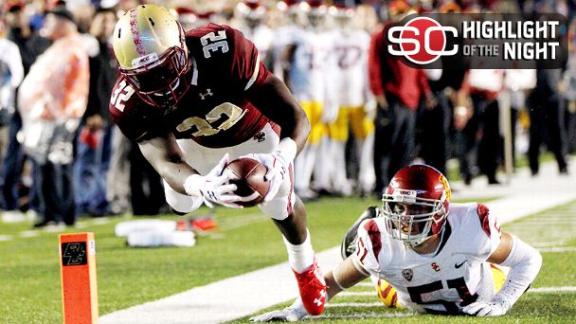 BOSTON -- Boston College quarterback Tyler Murphy rushed for 190 yards, breaking free for a 66-yard touchdown with 3:30 to play on Saturday night as Boston College beat No. 9 Southern California 37-31 -- the Eagles' first victory over a top 10 team in a decade.
Jon Hilliman ran for 89 yards and two touchdowns, and Myles Willis and receiver Sherman Alston each broke off runs of 50-plus yards to help BC (2-1) amass 464 rushing yards.
USC (2-1) was coming off an emotional victory over Pac-12 rival Stanford that moved the Trojans up five spots in The Associated Press Top 25. Cody Kessler completed 31 of 41 passes for 317 yards and four touchdowns, but he was also sacked five times.