November, 24, 2014
Nov 24
8:00
AM PT
So, Mr. Haden, how exactly would you assess the direction of the USC football program now?
As much as we'd all like to ask Pat Haden that question today, chances are the Trojans' athletic director won't be making any public comments for a while.
Can you blame him?
Haden, after all, is the one who hired Steve Sarkisian, and in light of what transpired at the Rose Bowl on Saturday night, that decision has a chance to rank right up there with Mike Garrett's frantic rush to name Lane Kiffin the coach after Pete Carroll left for the NFL.
When you really think about it, that's how USC's embarrassing 38-20 mauling of a loss to UCLA can best be described -- it was pure Kiffin-esque.
[+] Enlarge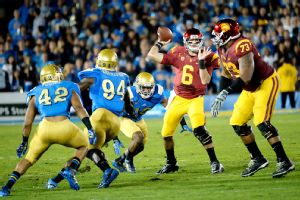 Richard Mackson/USA TODAY SportsCody Kessler passed for only 214 yards and one touchdown with one interception against UCLA.
The Trojans were outplayed and outcoached in every facet. And please, spare me the tired line about sanction limitations. Line up the 22 starters on each team and allow NFL evaluators to take their pick, and considerably more USC players would be selected.
No, this game wasn't about lack of talent. It was about lack of A) Good decision-making (going for it on fourth-and-2 at the 5 instead of taking the field goal early? Really?) B) Poise, C) Discipline and D) The ability to make adjustments at halftime. And all of that reflects directly on the underachieving guy being paid somewhere between $3 million and $4 million a year to be the head coach.
Sarkisian not only oversees the entire operation, he also calls the offensive plays. And in the chess match that played out in Pasadena on Saturday, UCLA offensive coordinator Noel Mazzone consistently came up with daring, creative calls, while Sark never could seem to solve a Bruins defense that had been something less than spectacular for most of the season.
Ironically, Jim Mora's team repeatedly bruised the Trojans with bubble screens, blocking them beautifully and executing them better than bubble screen-crazy USC ever has. Live by the bubble screen and die by the bubble screen, huh, guys?
As much criticism as Sarkisian will get for this performance, he certainly wasn't the only one who failed miserably.
" Quarterback
Cody Kessler
looked rattled and uncomfortable from the start, and things only deteriorated from there once USC's blockers up front were completely overrun by the Bruins' defensive line. Kessler regularly lights it up against the marshmallows on the schedule, but he has yet to win a big-time game and is now 0-3 against UCLA and Notre Dame.
"
Nelson Agholor
fumbled one punt to set up a Bruins'touchdown and failed to hold on to what appeared to be a catchable 25 yard pass in the end zone. He spent the rest of the evening surrounded by blue-clad defenders who limited him to three receptions for 24 yards.
" Defensive coordinator Justin Wilcox seemed so consumed with stopping UCLA's brilliant
Brett Hundley
from hurting the Trojans with his runs, he opened up all sorts of passing lanes for the Bruins' underrated receivers. And then Hundley topped it off by faking
Su'a Cravens
out of his cleats to score unmolested on a 17-yard read-option sprint for UCLA's final touchdown.
"
Leonard Williams
was something less than his usual overpowering self, and he and
Gerald Bowman
were called for consecutive 15-yard personal fouls on the Bruins' last touchdown drive. Sure, they were frustrated, but Jim Carrey and Jeff Daniels can relate. It was strictly a case of being dumb and dumber.
Recruiting-wise, this was a game bound to turn the late momentum toward Westwood. All of those blue-chip kids who were vacillating between USC and UCLA have to know that the Bruins, not the Trojans, are the team on the rise nationally. And the only LA coach who has proven himself at this point is Mora.
So now USC, at 7-4 -- hmmmm, does that record sound familiar to you longtime Sark watchers out there? -- gets to play Notre Dame in a game featuring two teams teetering on the precipice of disastrous seasons. Brian Kelly's lurching Irish have lost three in a row and four of their last five.
It is difficult to remember when a matchup in this once-storied series ever came up feeling more empty and irrelevant.
After that, a Trojans team that conceivably could be 7-5 will be invited to one of those low-level postseason events. The game will have some sort of commercial label to it, but rest assured, no one will be fooled.
Call it the You-Get-What-You-Deserve Bowl.
PAC-12 SCOREBOARD
Friday, 11/28
Saturday, 11/29