April, 17, 2014
Apr 17
12:00
PM PT
By
WeAreSC staff
| ESPN.com
WeAreSC staffers offer up three things USC fans should look for during the spring game on Saturday at the Coliseum.
Garry Paskwietz
1. Depending on the format, here's hoping the fans are able to get a good look at the up-tempo offense in action. There has been a lot of work on installing the plays but few chances for the players to put those plans into scrimmage-type action so you know they would love to show off the system for the fans.
[+] Enlarge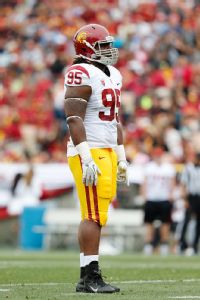 Ric Tapia/Icon SMIKenny Bigelow and the rest of the defensive line -- which is huge and deep -- is one thing to watch at the USC spring game.
2. The sheer size of the interior of the defensive line. It's not often that the Trojans are this big and deep in the middle, although they will be without
Leonard Williams
on Saturday, who has been sitting out this spring while rehabbing a shoulder injury. There is still plenty of bulk in action, however, led by
Antwaun Woods
,
Claude Pelon
and
Delvon Simmons
, with
Kenny Bigelow
and
Greg Townsend Jr.
playing key depth roles.
3. Some players the fans may not have seen before who are now running with the first unit. Be prepared for an offensive line that features
Zach Banner
,
Khaliel Rodgers
and true freshman
Toa Lobendahn
in the starting lineup.
Scott Starr
and
Jabari Ruffin
have been waiting their turn and it looks like the time has come. In the secondary, keep an eye on
Chris Hawkins
and
Gerald Bowman
, both have performed well this spring.
Johnny Curren
1. A strong showing from the USC defensive front. The performance of the USC defensive front has been one of the real highlights of the spring so far, and I'd expect that trend to continue on Saturday in a live setting. Even with Williams standing on the sideline, the Trojans possess an extremely formidable group on the interior with guys like Woods, Simmons, Pelon, Bigelow and Townsend in the fold. On the outside, the development of Starr and Ruffin, in particular, has been exciting to watch. Both players are fast and physical, and you can be sure that they'll each be looking to deliver some big hits. Expect a standout day from this entire group up at the line of scrimmage.
2. Highlight plays from
Nelson Agholor
. It seems like a day hasn't been able to go by this spring without Agholor coming up with at least one highlight play that has caught everyone's attention. Coming off a season in which he made 56 receptions, he's performed with a greater level of consistency this spring, showcasing game-breaking speed and sure hands on a daily basis. He's waited his turn behind
Robert Woods
and
Marqise Lee
, and with what he's shown, he just might have what it takes to make his mark as the next great USC wide receiver.
3.
Cody Kessler
. To no surprise, Kessler was declared the starter -- at least for now -- at quarterback on Tuesday, and he responded by putting together his best outing of the spring. Now it will be interesting to see if he can keep that level of play up. A fierce competitor and undisputed leader of the team, he's appeared poised and comfortable while directing USC head coach Steve Sarkisian's new up-tempo offense throughout a majority of the spring, and now that he has that added boost of confidence, maybe this is when he's able to really take a giant step forward in terms of his development.
Greg Katz
1. Aside from the fascination of the new up-tempo, no-huddle offense, fans should scrutinize the rebuilt offense line because there are a number of interesting storylines. Junior
Max Tuerk
will make his debut before a live audience and will be executing those critical shotgun snaps to his quarterback and roommate Kessler. Then there is sophomore starting right tackle Banner, who has begun to dominate in late spring since his hip surgery. Finally, there are the two rookie offensive guards in true freshman Lobendahn and redshirt freshman Rodgers. Both these guys will be in the mix to start when training camp begins in early August and both bring a highly competitive spirit to their craft.
2. OK, if you thought the offensive line was interesting, the defensive line provides some new wrinkles in formation, philosophy and talent. With Williams limited due to his recovery from shoulder surgery, Simmons is getting his audition and he has the makings of a dominant performer. Another D-linemen is JC transfer Pelon, who has really come on recently. A tremendous talent, Pelon (6-foot-5 and 295 pounds), like Simmons (6-6, 300 pounds), is huge, and they both have some get-up-and-go. Lastly, focus on junior nose tackle Woods and redshirt freshman Bigelow, who is pushing Woods. Their nose tackle battles with center Tuerk should be quite entertaining on Saturday.
3. For those that love competition battles, take some time and focus your binoculars on outside sophomore linebackers
Quinton Powell
and Ruffin. Each brings a different style of game and their competition for the starting spot has, at times, been spectacular. Powell is cat-quick with a great skill set while Ruffin is very physical and a real athletic presence. Fans can make their own judgments regarding how they see both players fitting into the grand scheme of things for 2014.
April, 17, 2014
Apr 17
2:30
PM PT
Love is a burning thing, and it makes a fiery ring;
Bound by wild desire, I fell into a ring of fire.
April, 17, 2014
Apr 17
10:00
AM PT
LOS ANGELES --
USC Trojans
fans will be flocking to the Los Angeles Memorial Coliseum on Saturday for not only a controlled spring game, but a first-hand look at head coach Steve Sarkisian's breathless no-huddle offense and new multiple-scheme defense.
In addition, attendees will also have an opportunity to scrutinize the individual progress of the returning quarterbacks, the promised power-running attack, the monster-sized defensive line, and the general intrigue of a new program.
What fans of the Men of Troy won't be seeing is a finished offensive line product due to a couple "X-factors." One of those X-factors is returning senior starter
Aundrey Walker
, who is still recovering from a broken ankle and won't play on Saturday.
However, there is a perhaps a more captivating X-factor, a young player who could have a major impact in both the offensive line's immediate future and down the road.
To continue reading this article you must be an Insider
April, 17, 2014
Apr 17
10:00
AM PT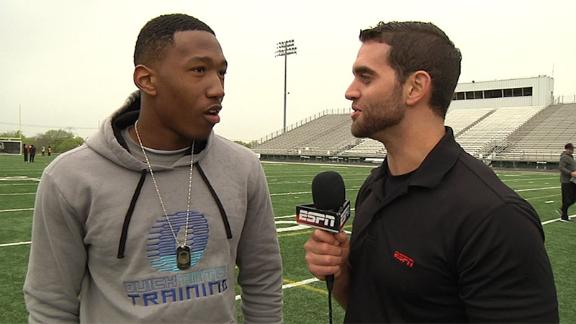 Throughout this recruiting cycle, RecruitingNation will profile a number of ESPN 300 prospects in the 2015 class, including an inside look at the prospect, his recruitment, a scouting report and what college program could benefit when he ultimately makes his decision
.
DESOTO, Texas -- With all the multiple camps, combines and special events happening each spring,
DaMarkus Lodge
chooses not to be a regular on the circuit.
It's not that Lodge is against them, or that he thinks he's above them. The ESPN 300 receiver has simply prioritized his life as a student-athlete. The camp circuit happens to be a middle-of-the-pack priority.
To continue reading this article you must be an Insider
April, 16, 2014
Apr 16
7:00
PM PT
What is your team's best quarter? Worst? And what does it mean?
While it's probably a mistake to read too much into how a team does quarter by quarter -- the final score is what counts -- it might provide some tidbits of insight.
The baseline, of course, is this: Good teams are going to win most every quarter and bad teams will lose most every quarter. But what does it mean if your team starts fast or slowly? Or owns the third quarter? Or sputters in the second?
The conventional wisdom is teams that do well in the third are good at making halftime adjustments, but coaches often snort at such talk.
Former Arizona State coach Dirk Koetter once painstakingly walked reporters through the halftime process to help them understand the small window for making significant schematic changes. Former Oregon coach Chip Kelly was at his snarky best -- even as he was being flattered -- when asked about "halftime adjustments."
Kelly, however, would admit that the occasional slow start by his offense was due to a feeling out period, where he and his assistants were taking the measure of what a defense was trying to do. That's the nature of football -- punching and counterpunching, reading and reacting.
Still, you probably shouldn't read too much into these numbers. While it's interesting that UCLA and Washington were very good in the third quarter last year while Arizona State -- curiously -- was not, the salient fact is the Sun Devils beat both.
Arizona, Oregon, UCLA and Washington were the only Pac-12 teams to win every quarter.
California was the only Pac-12 team outscored in all four quarters. The Bears gave up 181 points in the first quarter, the worst defensive quarter in the conference.
The highest scoring quarter belonged to Arizona State, with 192 points in the second. Washington had 184 points in the third and Oregon 182 points in the first.
The best defensive quarter was USC in the first, holding foes to 37 points. Washington yielded 44 in the first and UCLA gave up 44 in the third.
Arizona State was dominant in every quarter, other than the third, when it was outscored 109-99.
Stanford was dominant in every quarter other than the fourth, which it lost 85-92, suggesting the Cardinal didn't fight for a large margin of victory.
Oregon was dominant in all four quarters and, despite that, posted the best fourth-quarter margin of 78 points (137-59), suggesting the Ducks enjoyed producing a large margin of victory.
Stanford yielded 60 or fewer points in each of the first three quarters. Oregon did so in the third and fourth (47 points and 59 points). Only three other teams produced even a single quarter with 60 or fewer points: UCLA in the third (44), USC in the first (37) and Washington in the first (44).
Colorado was outscored in the first three quarters but won the fourth decisively, 130-70. That suggests Mike McIntyre's team didn't quit.
USC won 10 games last year despite being outscored in both the third and fourth quarters. Only Cal and Washington State matched that dubious distinction.
Utah was outscored only in the fourth quarter. Oregon State was outscored only in the first.
Washington's 119-point margin (184-65) in the third was the largest for any quarter. Oregon's 109-point margin in the first quarter was second (182-73). Arizona State had the largest second-quarter margin at 77 points (192-115).
April, 16, 2014
Apr 16
2:30
PM PT
It is a truth universally acknowledged, that a single man in possession of a good fortune, must be in want of a wife.
April, 16, 2014
Apr 16
2:00
PM PT
By
ESPN.com staff
| ESPN.com
April, 16, 2014
Apr 16
10:30
AM PT
The spring evaluation period kicked off Tuesday, and the
USC Trojans
didn't have to leave campus to recruit two of their top 2015 targets.
To continue reading this article you must be an Insider
April, 16, 2014
Apr 16
11:45
AM PT
This recruiting cycle represents a huge year for talent in California, which means the Pac-12 should be able to put together some very healthy recruiting classes. In looking at the top five targets for the conference in the
2015 ESPN 300
, it's no surprise that three come from Southern California. But if the Pac-12 wants to have a better overall finish in the recruiting rankings next year -- USC at No. 14 overall was the highest finish in 2014 -- the conference will need to reel in several out-of-area standouts, which is why the first two names on the list are here.
To continue reading this article you must be an Insider
April, 15, 2014
Apr 15
7:26
PM PT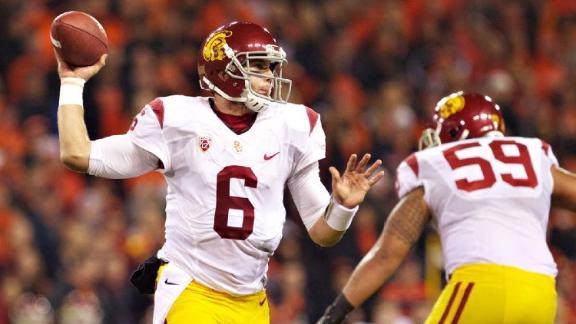 It wasn't a dramatic decision accompanied by great fanfare, but it was still notable that USC coach Steve Sarkisian named
Cody Kessler
the
Trojans' starting quarterback
after Tuesday's practice.
[+] Enlarge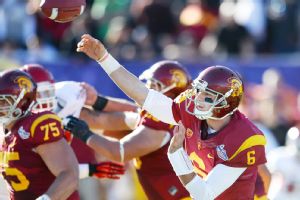 Ethan Miller/Getty ImagesCody Kessler, who threw for 2,968 yards and 20 TDs last season, will once again be running the USC offense after being named the starter on Tuesday.
Sarkisian had said last week that he was getting close to a decision and would likely make the announcement before the end of spring practice. There had been hints throughout the spring that Kessler would be keeping the job he held for the 2013 season, including when Sarkisian said that Kessler was improving at a faster pace than the top challenger, redshirt freshman
Max Browne
.
Considering that Kessler was the incumbent starter, if he was improving at a more rapid rate than Browne it was a fairly clear sign that Kessler was in the lead position to be named the starter. Still, until the actual word came down from Sarkisian there was always going to be a slight bit of uncertainty.
It wasn't a huge surprise that Sarkisian made the announcement at this time. Even though the Trojans coach was clear to say that the players will still compete throughout the summer and into fall camp, Sarkisian has long stated a preference to have his starting quarterback in place by the end of spring, in large part to help that player transition into the leadership role in summer workouts.
For Kessler, being named the starter now is a contrast to what happened last year when Lane Kiffin didn't name a starter until the third game of the season. Both Kessler and
Max Wittek
later admitted that was difficult for both quarterbacks.
One of the variables in the competition this spring was that the quarterbacks were learning a new up-tempo system that Sarkisian was installing, one that could run up to 120 plays each day in practice. Both players had worked out of the shotgun in similar systems in high school so there was some familiarity, but Sarkisian wanted to see them on the field with no preconceived expectations.
Kessler, who was told of the decision early Tuesday by offensive coordinator Clay Helton, went out and had one of his best practices of the spring later in the day. Sarkisian mentioned several reasons he chose Kessler, ranging from decision-making to his presence in the locker room to his strong arm.
It was the natural choice to make as Kessler is simply more advanced than Browne is at this point, although it's clear that Browne has a bright future. For now, though, Browne will have to continue to wait his turn as Kessler will hold on to his job as the starting quarterback of the Trojans.
April, 15, 2014
Apr 15
6:44
PM PT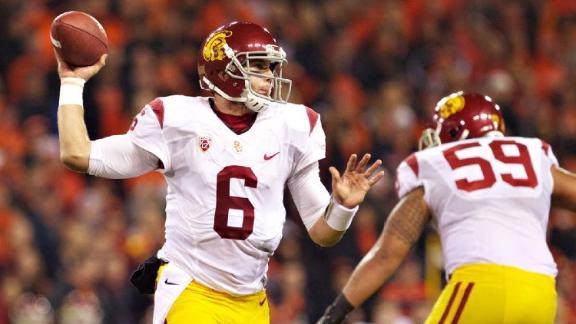 LOS ANGELES -- Cody Kessler, USC's incumbent starting quarterback, needed just 12 practices to convince new coach Steve Sarkisian that he should keep his job.
Prior to spring practice No. 13 on Tuesday, Sarkisian met with Kessler and backups Max Browne and Jalen Greene to inform them that Kessler would be the starter.
"I think he's extremely decisive from where he was in Week 1 in a new system to where he performed today," Sarkisian said. "He knows where he's going with the football. Are there some fundamentals and techniques we're going to continue to work on? Sure. But I think he's got a great deal of confidence. I love his leadership in the locker room with the players. He can throw the deep ball extremely well and he has enough athleticism to buy himself some time to create some plays down the field."
Kessler was locked in a quarterback competition in 2013 that spilled into the regular season before he finally claimed the job over Max Wittek. Kessler completed 236 of 361 passes for 2,968 yards with 20 touchdowns and seven interceptions. He posted a raw QBR of 59.7 with an adjusted QBR of 66.7 in guiding the Trojans to a 10-4 record and a victory in the Las Vegas Bowl, where he was named the game's MVP.
"I went in knowing that I have a year of experience and I know what it takes in big games to win and be successful," Kessler said. "I used that confidence and applied it to practice and treated every practice like a game."
PAC-12 SCOREBOARD
Thursday, 8/28
Friday, 8/29
Saturday, 8/30