USC Trojans:

Utah State Aggies
September, 21, 2013
9/21/13
7:00
PM PT
LOS ANGELES -- Notes, quotes, and anecdotes from the Coliseum after the Trojans (3-1, 0-1 Pac-12) defeated Utah State (2-2, 1-0 MWC) by a score of 17-14.
USC head coach Lane Kiffin
Opening statement:
"We knew it was a really good team we were going to play. Anytime you have a great player at quarterback (
Chuckie Keeton
) like they do, it's going to be hard to take him out of the game. Their defense has played really tough and really physical."
September, 21, 2013
9/21/13
6:29
PM PT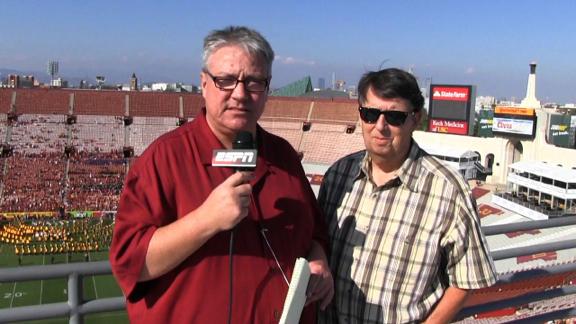 LOS ANGELES -- USC was hoping to use the game against Utah State as a way to build some positive momentum, but the 17-14 victory over the Aggies showed that the Trojans still have a long way to go.
Make no mistake, it's always nice to get the win but this is a game where the Trojans had a huge advantage in field position and also got the usual solid game from the defense. Unfortunately, the USC offense couldn't take advantage of the opportunities to put the game away in the second half and, if not for some special teams miscues by Utah State, the result could have been very different.
"It was a very hard fought game today," USC coach Lane Kiffin said. "Very much like what we anticipated. I felt like there was a rhythm early on when we were able to run the ball, but obviously we wanted to finish better in the second half."
USC started off strong with a
Tre Madden
touchdown run on the second series of the game to go up 7-0. The Trojans defense put good pressure early on Utah State quarterback
Chuckie Keeton
, primarily with defensive linemen
Leonard Williams
and
George Uko
as well as outside linebackers
Devon Kennard
and
Morgan Breslin
. USC dodged a bullet when Utah State clanged a first-quarter field goal off the upright, a miss that would loom large.
[+] Enlarge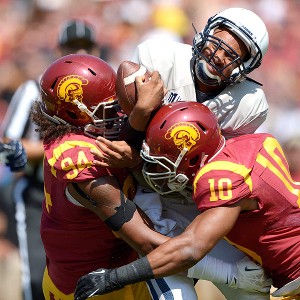 Kirby Lee/USA TODAY SportsLeonard Williams (left) and the USC defense put the crunch on Utah State on Saturday.
Each team added a touchdown in the second quarter, and as the second half started it was clear it was anyone's ball game.
The Trojans had their chances with the Aggies playing an eight-man front, leaving the USC receivers against man coverage. Normally, that would spell a big day for
Marqise Lee
and/or
Nelson Agholor
, but there were some dropped passes and some pressure on
Cody Kessler
which prevented the Trojans from capitalizing. Lee ended the day with six catches for 72 yards, while Agholor had two catches for 38 yards. Neither player reached the end zone.
"I missed some throws and we had some drops, but they are things we can fix," Kessler said. "Thanks for the job our defense did, we were able to come away with the win."
The USC defense is rapidly becoming known as the side of the ball which will win games for this team. Williams led the team in tackles with eight and added three tackles for loss. Uko had five tackles and a sack, Breslin had two sacks and Kennard added a sack. They did a terrific job of limiting Keeton -- who came into the game completing 78 percent of his passes -- to a rather pedestrian stat line of 21-of-39 passing for 179 yards and a pair of scores. Good numbers to be sure, but not enough to get it done against the Trojans.
"We had a good game plan from Coach O (Orgreon) the whole week," Uko said. "We just wanted to angle in and rush tight and keep them in the box"
The battle for field position really started to impact the game in the second half, as the Trojans' average starting field position was the Utah State 45, while Utah State started at its own 16. It didn't help the Aggies that their punter had a shanked 12-yard kick at the end of the third quarter that led directly to a 25-yard
Andre Heidari
field goal, which proved to be the winning margin. There was also a strange fake punt from the Aggies on a fourth-and-11 from their own 34-yard line in the fourth quarter, resulting in an incomplete pass from tight end
D.J. Tialavea
.
If you're looking for bright spots for the Trojans, look no further than punter
Kris Albarado
, who pinned five punts inside the Aggies' 20-yard line to help win the field position battle. Little things like that are big on a day when the two teams are basically even in total yards (285 for USU to 282 for USC).
Madden fell short in his bid for a fourth-straight 100-yard rushing day but did run for 93 yards on 24 carries and a touchdown. Kessler completed 13 of 27 passes for 164 yards and a touchdown, but he was also sacked three times and took several big hits.
Now the Trojans turn their attention to a big road game next week in Tempe against Arizona State. There was hope that things would be clicking after a four-game opening stretch that included three games at home but at this point the offense can best be described as a work in progress. Thankfully the Trojans have their defense, a unit which once again put the team on their shoulders to come away with a tougher-than-expected win.
September, 19, 2013
9/19/13
3:16
PM PT
The dominating performances put on by the USC defense through the first three weeks of the season have been the undeniable highlight so far for a Trojans team that currently sits at 2-1 and looks to be headed in the right direction after an impressive 35-7 bounce-back victory against Boston College last weekend.
With
Hayes Pullard
, a team captain with 28 starts and 201 career tackles to his credit, serving as the leader at middle linebacker, the entire unit has taken off in their first year playing in new defensive coordinator Clancy Pendergast's aggressive 5-2 scheme.
[+] Enlarge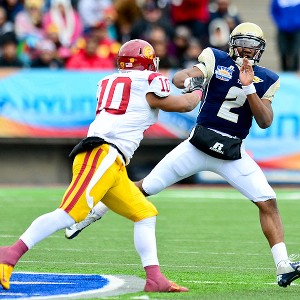 Matt Kartozian/US PresswireMiddle linebacker Hayes Pullard has taken a leadership role on USC's aggressive defense.
A fast and swarming bunch, the first-team Trojans defense has yet to give up a touchdown in 2013 and currently ranks in the top 10 nationally in a slew of categories, including No. 2 in rushing defense (allowing 43.7 yards per game), No. 3 in sacks (four per game), No. 6 in passes intercepted (six) and No. 4 in total defense (allowing 212.3 yards per game).
"I give all the credit to Coach Pendergast, coach [Ed] Orgeron and coach [Mike] Ekeler," said the 6-foot-1 and 230-pound Pullard, who has compiled 13 tackles in 2013. "They put us in the position to be able to play fast. I'm enjoying it so much. It's spread around where people are making plays on the perimeter, in the middle, we're forcing turnovers. ... It's just a fun atmosphere when we're out there. Everybody is just focused on doing their assignments and doing everything they can to achieve our goal -- to be a dominant defense."
And so far at least, it's mission accomplished. But neither Pullard nor his teammates have yet to face an offense this season that resembles anything close to what Utah State (2-1) will bring to the Coliseum this Saturday. The Aggies average a whopping 49.3 points and 550.3 total yards per game, and it's their dual-threat Heisman candidate at quarterback,
Chuckie Keeton
, who engineers it all. Running USU's spread offense to perfection this season, the 6-2, 200-pound junior has completed 78.1 percent of his passes for 923 yards and 12 touchdowns with just one interception, while also leading the team with 187 rushing yards.
"I guess the closest thing would be Oregon as far as how they can hurt you in all aspects," said USC head coach Lane Kiffin earlier this week when asked if there is another team that showcases an offense similar to Utah State's. "They run the ball really well, [Keeton] throws the ball really well, and then he takes off and runs it. So, I guess that would be the closest. ... It's a little bit of a different style, but at the same time they're really explosive, and they have really good players around him, too. ... Good receivers [and] a very veteran offensive line that returns five starters. This is a top-25 team."
And Kiffin isn't alone in his line of thinking, particularly when it comes to Keeton, who led the Aggies to a breakthrough 11-2 record in 2012.
"Oh my gosh, watching him on film, he's a great player," Pullard said. "He can pass, he loves to run [and] he loves to attack defenses. I can't say anything bad about him."
But if there is a defense out there that appears to have the potential to contain Keeton -- which according to Pullard, is all you can hope to do -- it just might be USC. After all, on top of the talent the Trojans have, Pendergast has made a name for himself as an architect of defenses that are geared to shut down uptempo, spread attacks.
And while it remains to be seen exactly how the USC defense does, in fact, plan to slow Keeton and the rest of the Utah State offense down, so long as Pullard and his teammates perform at the same high level that they have all season long up to this point, while also staying disciplined and following the game plan put in place by Pendergast, there's little reason to doubt that they'll be more than up for the challenge.
"We talked about it on Monday, and everybody is taking the initiative, and everybody is being accountable for themselves," Pullard said. "It's just about being responsible for your duty when you're out there and making sure that you do your assignment, and then we'll go from there."
September, 19, 2013
9/19/13
10:30
AM PT
The WeAreSC staff answers questions heading into the Trojans' game vs. Utah State


Which USC defensive player will be most important to help slow Utah State quarterback Chuckie Keeton?
Garry Paskwietz:
Leonard Williams
. I think it's safe to say that any plan to slow Keeton will need to start with pressure. The Aggies quarterback has put up impressive numbers so far this year and his versatility will offer a key matchup for a USC defense that has played well in the first three games. The quickest way the Trojans are going to be able to get to Keeton and disrupt his timing will be from Williams. The sophomore defensive end was consistently applying pressure last week to thwart the Boston College run game, the strength of the Eagles' offense, and now his attention will be shifted to slowing the quarterback for Utah State.
Johnny Curren:
Morgan Breslin
. The USC defense will need to have a constant presence in the Utah State offensive backfield right from the get-go, and it would be ideal for the Trojans if that pressure came from the front level so they don't lose anything in terms of their coverage. After all, Keeton is incredibly accurate, completing 78.1 percent of his passes this season, so he certainly appears to have the ability to pick a gambling defense apart. With that in mind, I think that Breslin, the Predator linebacker on the edge, could play a pivotal role. Possessing outstanding pass-rush skills to go along with the speed and athleticism to hang with Keeton, he'll need to hit the Aggies' passer early and often, thereby getting in his head and preventing him from finding his groove. If Breslin pressures Keeton on a consistent basis, and the rest of the defense plays disciplined and is able to contain him in the pocket, it could be a long day for the talented USU signal caller.
To continue reading this article you must be an Insider
September, 19, 2013
9/19/13
10:00
AM PT
LOS ANGELES -- Maybe it's just the fact that when the name "Chuck E." or "Chucky" is mentioned in these parts, thoughts to turn either a famous pizza chain or that devilish little critter from nearby Universal Studios.
Come Saturday afternoon, Lane Kiffin's
USC Trojans
(2-1) won't be eating a cheese pizza or having a fright night at the movies, but they will be served a steady diet of spread option evil, compliments of Utah State's own version of Chuckie.
[+] Enlarge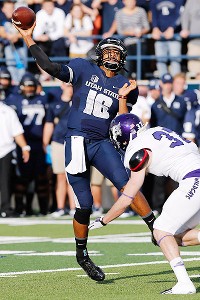 Chris Nicoll/USA TODAY SportsUtah State QB Chuckie Keeton has USC's attention and has drawn comparisons to Seattle Seahawks QB Russell Wilson
Meet Aggies junior quarterback
Chuckie Keeton
, a first-team All-WAC selection in 2012, who has a nefarious ability to run or pass in the dreaded spread option.
To continue reading this article you must be an Insider
September, 18, 2013
9/18/13
8:00
AM PT
USC (2-1 overall, 0-1 Pac-12) will host on Saturday a dangerous Utah State (2-1 overall, 1-0 MW) team. After losing to Washington State in Week 2, Lane Kiffin's Trojans squad bounced back with an impressive 35-7 victory over Boston College last weekend. Meanwhile, the Aggies -- led by first-year head coach Matt Wells -- dominated Weber State 70-6, thanks in part to another outstanding performance by one of college football's most exciting players, quarterback
Chuckie Keeton
. USU has won 18 of its last 22 games, and the Aggies have 18 returning starters back from last season's 11-2 team.
Offense
[+] Enlarge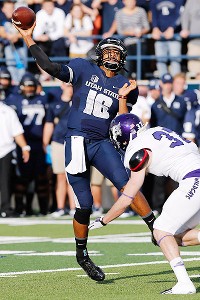 Chris Nicoll/USA TODAY SportsUtah State signal-caller Chuckie Keeton has 12 touchdowns and just one interception this season, and is completing 78 percent of his passes.
Scoring:
49.3 points per game (No. 1 MW, No. 8 overall)
Rushing:
219 yards per game (No. 3 MW, No. 37 overall)
Passing:
331.3 yards per game (No. 2 MW, No. 15 overall)
Total:
550.3 yards per game (No. 1 MW, No. 12 overall)
Quarterback:
No. 16 Chuckie Keeton (6-foot-2, 200 pounds, Jr.)
A Heisman candidate, Keeton is a dual-threat dynamo who directs the Aggies' prolific spread attack, and he'll present a unique test for a USC defense that ranks No. 4 nationally. Averaging 370 yards of total offense per game -- the No. 7 mark in the FBS -- he has completed 78.1 percent of his passes this season for 923 yards and 12 touchdowns with just one interception, while also leading Utah State with 187 rushing yards.
Running Back:
No. 32
Joe Hill
(5-11, 190, Jr.), No. 28
Joey DeMartino
(5-11, 200, Sr.), No. 27
Robert Marshall
(6-0, 219, Sr.)
The Aggies haven't received the same level of production out of this group that they did from Kerwynn Williams -- now with the Indianapolis Colts -- in 2012, but they do appear to be coming around. DeMartino is coming off a strong outing versus Weber State in which he ran for 105 yards and three touchdowns on just eight carries.
Wide Receiver:
No. 7
Travis Van Leeuwen
(6-3, 195, Sr.), No. 9
Bruce Natson
(5-7, 151, So.), No. 8
Travis Reynolds
(5-11, 180, Sr.)
The Utah State offense has received some solid play from the wide receiver corps despite the fact it lost its top three performers from last season's squad. Van Leeuwen and Reynolds are the veteran leaders of the group, while Natson has a team-best 19 catches.
Tight End:
No. 91
D.J. Tialavea
(6-4, 260, Sr.), No. 22
Keegan Andersen
(6-2, 231, Jr.)
Tialavea leads this unit with seven receptions for 50 yards and two touchdowns -- both of which came in the Aggies' most recent contest. Anderson also had a 56-yard touchdown grab in that game.
Offensive Line:
LT No. 74
Kevin Whimpey
(6-5, 295, Jr.), LG No. 54
Jamie Markosian
(6-2, 292, Sr.), C No. 58
Tyler Larsen
(6-4, 312, Sr.), RG No. 73
Kyle Whimpey
(6-6, 310, Sr.), RT No. 66
Eric Schultz
(6-4, 300, Sr.)
Returning all five starters from 2012, the Aggies' offensive line has been a definite strength of the team in 2013, allowing just three sacks and paving the way for the nation's No. 12 offense (550.3 yards per game). It will be interesting to see how they match up against a talent-laden USC defensive front seven.
Defense
Scoring:
18.7 points per game (No. 3 MW, No. 36 overall)
Rushing:
138 yards per game (No. 2 MW, No. 49 overall)
Passing:
148 yards per game (No. 1 MW, No. 13 overall)
Total:
286 yards per game (No. 1 MW, No. 13 overall)
Defensive Line:
DE No. 99
B.J. Larsen
(6-5, 275, Jr.), NG No. 56
AJ Pataiali'i
(6-3, 307, Sr.), DE No. 40
Connor Williams
(6-3, 278, Sr.)
Running out of a 3-4 set, the Utah State defensive line is a physical group that likes to eat up space to allow the linebackers to come in and make a majority of the stops. The leader of the group, Williams, has yet to play this season due to a foot injury, but
Paul Piukala
(6-5, 265, Sr.) has played well in his place.
Linebacker:
OLB No. 9
Kyler Fackrell
(6-5, 245, So.), ILB No. 51
Jake Doughty
(6-0, 234, Sr.), ILB No. 53
Zach Vigil
(6-2, 232, Jr.), OLB No. 12
Terrell Thompson
(6-1, 220, Sr.)
The Aggies possess a pair of sturdy playmakers on the inside in Doughty, a 2012 first-team All-WAC selection, as well as Vigil. Doughty leads the team with 30 tackles after finishing last season with 109 stops. Fackrell is the one to watch on the outside.
Cornerback:
No. 4
Tay Glover-Wright
(6-0, 175, Sr.), No. 1
Nevin Lawson
(5-10, 186, Sr.)
While the Utah State defense currently ranks No. 13 against the pass, the secondary has had its fair share of lapses in the coverage department, and they have yet to record a single interception this season. Glover-Wright has flashed at times, but this could be a position group that USC quarterback
Cody Kessler
and Co. try to exploit.
Safety:
No. 21
Brian Suite
(6-3, 205, Jr.), No. 5
Maurice Alexander
(6-2, 212, Sr.)
Suite and Alexander have made plays all over the place, and they're both currently third on the team with 17 tackles each. Alexander also leads the Aggies with 1.5 sacks.
Special Teams
Punter:
No. 38
Jaron Bentrude
(6-1, 209, Jr.)
Bentrude averages 41.1 yards per punt this season.
Kicker: No. 93
Nick Diaz
(5-8, 182, Jr.), No. 36
Jake Thompson
(6-0, 200, Fr.)
Nick Diaz has connected on 3 of 3 field goal attempts in 2013, and 13-of-16 in his career. Handling kickoff duties is Thompson, who has recorded 15 touchbacks on 26 kicks.
Kick returner:
No. 8 Travis Reynolds (5-11, 180, Sr.), No. 4 Tay Glover-Wright (6-0, 175, Sr.)
Utah State ranks No. 15 nationally averaging 27.8 yards per kick return.
Punt returner:
No. 9 Bruce Natson (5-7, 151, So.)
Natson ranks No. 2 in the Mountain West conference with a punt return average of 11.2 yards.
September, 16, 2013
9/16/13
8:00
AM PT
LOS ANGELES - - USC sophomore quarterback
Cody Kessler
might not be Texas A&M's
Johnny Manziel
at the moment, but his impressive performance in a critical 35-7 victory over Boston College brought much-needed hope, if not temporary sanity, to the legions of Trojans fans.
After the previous week's Washington State disaster, the Trojans, thanks to Kessler -- who was supported by standout performances from his tailbacks and an impregnable defense -- looked more like the
USC Trojans
of yesteryear.
But will it last?
To continue reading this article you must be an Insider
January, 10, 2013
1/10/13
1:06
PM PT
The USC Trojans 2013 schedule has been released with the Trojans playing seven home games, a pair of Thursday night games and one Friday night game.

The Trojans open the season in Hawaii with a road trip to the islands that is always popular with USC fans. The next three games are at home in the Coliseum against Washington State, Boston College and Utah State. For a USC team that will be breaking in a new quarterback, this initial stretch of the season offers a tremendous opportunity to get things started on a good note. Both Hawaii and WSU struggled last year with new coaches, while BC and Utah State will both be breaking in new coaches in 2013.

The Arizona schools are next -- first comes a road game in Tempe against Arizona State and then the Trojans host Arizona before the annual trip to South Bend to face the Fighting Irish. It's safe to say that the Notre Dame rivalry game will be a high-profile matchup.

The Trojans then come home to face Utah and then hit the road for back-to-back games against Oregon State and California. The game against the Beavers will be a rare Friday night contest, while the Cal game means a continuation of the Northern California weekender experience.

Next up is Stanford at the Coliseum for Homecoming weekend, and that should be quite a setting. The Trojans will then hit the road one final time for a matchup against Colorado before returning home for the regular season finale against UCLA.

The Pac-12 title game will be held on Saturday, December 7 at the stadium of the division winner with the best conference record.

2013 USC FOOTBALL SCHEDULE

Aug. 29 (Thurs.): at Hawaii
Sept. 7: Washington State
Sept. 14: Boston College
Sept. 21: Utah State
Sept. 28: at Arizona State
Oct. 10 (Thurs.): Arizona
Oct. 19: at Notre Dame
Oct. 26: Utah
Nov. 1 (Fri.): at Oregon State
Nov. 9: at California
Nov. 16: Stanford
Nov. 23: at Colorado
Nov. 30: UCLA
PAC-12 SCOREBOARD
Thursday, 9/3
Friday, 9/4
Saturday, 9/5