October, 29, 2014
Oct 29
3:38
PM PT
LOS ANGELES -- The
USC Trojans
took part in a two-hour practice session on Wednesday in shorts, shoulder pads and helmets, following which USC head coach Steve Sarkisian said that he was pleased with the way that his players have worked this week coming off a crushing loss at Utah, where they struggled down the stretch – a common theme for the team this season that he hopes to see corrected.
"I've just really tried to challenge the guys on coming out here with a great attitude, with great energy, and to their credit, they did it again," Sarkisian said. "And I've made it a real clear point to them about actually how well we've played, but we have to finish better, and we have to be confident in our ability to finish, to make the plays at the critical moments. Because we're plenty capable of doing it."
[+] Enlarge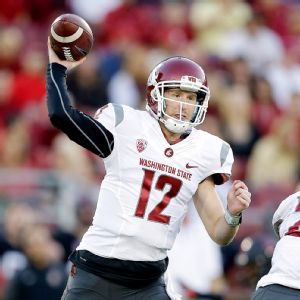 Ezra Shaw/Getty ImagesWashington State quarterback Connor Halliday has 3,833 passing yards and 32 touchdowns this season, but also has thrown 10 interceptions in eight games.
The Trojans are set to face a Washington State team this Saturday that, while sitting at the bottom of the Pac-12 North Division with a record of 1-3 in conference and 2-6 overall, features an extremely dangerous passing offense.
Directing Mike Leach's Air Raid passing attack, quarterback
Connor Halliday
ranks No. 1 nationally in both passing yards (3,833) and touchdowns (32), and the Cougars throw the ball almost 65 times per game.
Sarkisian said he wouldn't be surprised if Washington State puts the ball in the air 85 times on Saturday, and that above all else, it's going to be important for the Trojans to be patient on defense.
"We can't get hung up if they complete some balls – they're going to," Sarkisian said. "If you throw the ball 85 times – I don't care if there's 85 players out there – you're going to complete some passes. We're going to have to live with that. The key is trying to pressure the quarterback some, disguise our coverages, get our hands on footballs, create some turnovers, create short fields and just try to make it hard on them so that it's not just pitch and catch all day long."
Lobendahn remains at left tackle
With
Chad Wheeler
out for the season after tearing his ACL this past weekend,
Toa Lobendahn
, who has started every game this season for the Trojans at left guard, lined up with the No. 1 offense at left tackle for the second consecutive day.
Aundrey Walker
ran with the No. 2 offense at that spot.
Having had a chance to go over film from Tuesday's practice session, Sarkisian said he was impressed with what he saw from Lobendahn at tackle, and he inferred that the freshman will start there Saturday.
"He looked really good," Sarkisian said. "He looked athletic. You know, we've always felt like his strength was his feet at guard. And at tackle, I thought it really showcased his feet, especially on film. And not just in the team settings, but when you watch the one-on-one stuff, pass rush … he really has good feet. That, quite honestly, for his future might be more of a natural position for him. So, that looks like the direction we're going to go in."
Damien Mama
, meanwhile, did not participate in practice after injuring his knee on Tuesday, so
Khaliel Rodgers
ran exclusively at left guard with the No. 1 offense. Sarkisian said that they will see if Mama will be able to do more on Thursday.
More on injuries
News and notes
With Washington State passing the ball so much, Sarkisian said this could be a game in which we see more of outside linebackers Charles Burks and Quinton Powell. "Charles, he's a natural pass rusher, as Quinton Powell is," Sarkisian said. "That's what they did in high school. And this game lends itself to them being able to play to their strengths."

For the second straight day there was a spirited one-on-one period featuring the wide receivers against the defensive backs. A few highlights of note:
-
Cody Kessler
tried to hit
JuJu Smith
down the sideline, but
Adoree' Jackson
had great coverage and the pass fell incomplete.
-
Max Browne
hit
George Farmer
deep against
Jonathan Lockett
.
-
Nelson Agholor
jumped high to snag a Browne pass out of the air over
Kevon Seymour
.
-Browne connected with Smith deep against
Leon McQuay
III.
-Browne tried to hit
Steven Mitchell
over the middle, but Bowman broke it up.
Agholor, Smith and Mitchell each hauled in long touchdown passes during service-period work.

Former USC wide receiver Keyshawn Johnson was among those in attendance.
PAC-12 SCOREBOARD
Saturday, 12/27
Saturday, 12/20
Monday, 12/22
Tuesday, 12/23
Wednesday, 12/24
Friday, 12/26
Monday, 12/29
Tuesday, 12/30
Wednesday, 12/31
Thursday, 1/1
Friday, 1/2
Saturday, 1/3
Sunday, 1/4
Monday, 1/12