September, 15, 2014
Sep 15
10:51
AM PT
LOS ANGELES -- Still trying to figure it all out after a 37-31 upset loss at Boston College on Saturday night, the USC Trojans are now faced with picking up the pieces, and a bye week couldn't have come at a better time.
When a team like USC gets off to such a promising start to the season (2-0) and a No. 9 national ranking, there is always the question of whether a bye week comes at a good time. With the unexpected turn of events like what happened in Chestnut Hill, the loss at Boston College basically welcomes a bye week throughout the program.
[+] Enlarge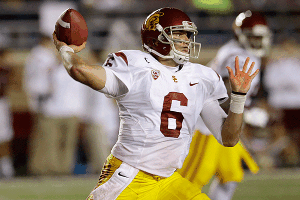 AP Photo/Stephan SavoiaCody Kessler said his confidence is high when it comes to USC's resiliency.
So, just how important is this week's bye in the eyes of some of those that participated in Saturday's Boston bummer?
"It's very important, said sophomore wide receiver
George Farmer
, who score his first touchdown of the season on a 8-yard reception from quarterback
Cody Kessler
.
"We're kind of glad this happened to us now that we can use this bye week to prepare for Oregon State," Farmer added.
"We can clean up on all the areas that we didn't do so well on this week. This bye week is really critical. We're going to do everything we can to clean up everything we can."
For senior co-captain and inside linebacker
Hayes Pullard
, emotions turn to philosophical analysis. Pullard echoes Farmer's statement on the urgency of the bye week.
"It's very important," Pullard said. "We can't look at this as a loss but as a game. When we see a quarterback run on us like that, this is what the Pac-12 is bringing to the table – this option stuff. We got a little taste of it."
Of course, there is also ability now to sit down this week and break down where the deficiencies are and how to correct them.
Sophomore starting right tackle
Zach Banner
tried to put the bye week and the loss to Boston College in perspective.
"We have to get it back," Banner said of the momentum that had been built after the opening victories over Fresno State and Stanford. "After a hard loss like this, Coach told us there are things that we could have controlled during that game. We have to look at the film and we have to never do this stuff again."
Speaking of the head coach, Steve Sarkisian had his thoughts regarding the bye week after the loss.
"I really believe we'll bounce back and we'll do it in great fashion," Sarkisian said. "It's back to the drawing board for the bye week, which is probably coming at a good time for us."
Kessler couldn't agree more.
"It's going to be a big week for us to bounce back coming into the bye week," Kessler said. "I'm not worried. This team knows how to fight back."
The Trojans now have two weeks to get the bitter taste of the Boston College defeat out of their system before Oregon State comes to the Coliseum on Sept. 27.
And you can be sure of one thing: Beavers coach Mike Riley will test the Trojans and see how much they have learned and corrected themselves. Indeed, this is a critical bye week for the Men of Troy.
PAC-12 SCOREBOARD
Thursday, 9/25
Saturday, 9/27