USC Trojans:

Maryland Terrapins
November, 1, 2013
11/01/13
10:50
AM PT
Senior cornerback
Jalen Tabor
(Washington, D.C./Friendship Collegiate Academy) was presented his honorary game jersey at his school on Thursday, during the American Family Insurance Selection Tour for the 2014 Under Armour All-America High School Football Game. The event was part of the three-month tour.
Tabor, is one of 90 players selected to compete in the seventh-annual Under Armour All-America Game presented by American Family Insurance, a nationally televised competition spotlighting the country's top high school seniors. The 2014 Under Armour All-America Game is set for 4 p.m. ET on Jan. 2 at Tropicana Field in St. Petersburg, Fla., and will be televised on ESPN.
"Thank all of y'all for coming out," Tabor said. "It's truly a blessing for me. I want to thank my parents, coach [Aazar Abdul-]Rahim, all the coaches … this is just a very special moment. I want to thank God. I want to thank all my teammates, y'all come in every day and fight with me."
Abdul-Rahim says his star player's work ethic sets him apart.
"What makes Jalen special is one, he has God given ability," the coach explained. "He's got great ball skills. And the main thing and most important thing is his work ethic. He's a tireless worker. He's been a consistent worker on and off the field. From weight training to individual DB work to work on his own."
Tabor is always looking to test himself, and selecting the UA Game was the best way for him to do that.
"I decided to accept the invitation to the Under Armour All-America Game because I definitely wanted to play against the best kids from around the country, to test my skills, and to let the whole world know who I am," Tabor said. "In the game, it's definitely playing against all the best kids. Every snap, you have to be on your 'A' game. Definitely to test myself, that's going to be the best thing I'm looking for in the game is to see where I'm at. It's definitely a blessing to be invited to this game.
"You got Julio Jones, A.J. Green and guys who are top-10 receivers in the NFL, and that's what I want to be one day … a top-10 corner in the NFL. I can't wait to go to Florida and see everyone, and to be on national television each day of the week. I'm looking forward to showing the whole country who I am and what I can do on the football field."
The 6-foot, 188-pound Tabor is the No. 15-ranked prospect overall, and the No. 5 corner in the class. He is considering Maryland, Florida, Alabama, Arizona, Florida State and possibly USC.
March, 14, 2013
3/14/13
6:05
AM PT
ATHENS, Ga. -- Outside linebacker
Jacob Pugh
(Tallahassee, Fla./Godby) isn't exactly sure of how many offers he has. The 6-foot-3, 220-pound junior has not counted them. Once he had received over 30 offers to the top programs in the nation, there really seemed no point in doing so. Pugh is more concerned about the five that he has on top.
To continue reading this article you must be an Insider
February, 17, 2013
2/17/13
9:05
AM PT
With more than two dozen offers,
Jonathan Hilliman
(Jersey City, N.J./St. Peter's Prep) has the attention of schools all over the country. He knows some point over these next few months he will have to begin whittling his list down.
To continue reading this article you must be an Insider
November, 14, 2012
11/14/12
3:42
PM PT
Early playing time, fantastic facilities and long-standing traditions are nice.
Paul Harris
prefers relationships.
The receiver from Upper Marlboro (Md.) Douglass has cited his relationships with Tennessee's coaches as the primary reason he committed to the Vols in July. Harris is all too aware that those relationships may soon be in jeopardy.
With a 4-6 record (0-6 in the SEC), Tennessee's football program could soon face a transition if third-year head coach Derek Dooley is not retained. From afar, Harris has seen the issues facing the program. They prompted him to ask some tough questions of his lead recruiter, receivers coach Darin Hinshaw.
To continue reading this article you must be an Insider
November, 6, 2012
11/06/12
10:39
AM PT
If
Wilton Speight
is as patient in the pocket as he is in recruiting, he'll be just fine.
The ESPN Watch List quarterback prospect from Richmond (Va.) Collegiate still doesn't have his first scholarship offer despite several recruiters telling him he's toward the top of their recruiting board. And Speight just takes it in stride.
"I'm remaining patient and trusting that if I keep doing what I am doing things will fall into place nicely," the 6-foot-5, 220-pound junior said.
To continue reading this article you must be an Insider
April, 6, 2012
4/06/12
12:32
PM PT
LOS ANGELES -- Maryland offensive line transfer
Max Garcia
(6-foot-4, 310 pounds) was on USC's campus yesterday and stopped by USC practice.
To continue reading this article you must be an Insider
February, 1, 2012
2/01/12
6:10
PM PT
High four-star athlete
Stefon Diggs
(Olney, Md./Good Counsel), ranked No. 13 in the ESPNU 150, stuck to his plan and did not sign Wednesday.
Diggs took official visits to California (Dec. 2), Auburn (Jan. 13), Florida (Jan. 20) and Ohio State (Jan. 27). Other programs including USC, Maryland, Virginia and Virginia Tech could still be in the mix.
To continue reading this article you must be an Insider
January, 13, 2012
1/13/12
9:50
AM PT
Florida State will entertain ESPNU 150 prospects
Nelson Agholor
,
Ronald Darby
and
Leonard Williams
this weekend.
Agholor (Tampa, Fla./Berkeley Prep), the nation's 41st-ranked prospect, has said that the Seminoles are part of his top group of schools with Notre Dame, Florida, USC and Oklahoma.
This is his fourth official visit, with the final one expected to be USC.
To continue reading this article you must be an Insider
January, 12, 2012
1/12/12
9:16
PM PT
Clearly Notre Dame can't be pleased with
Ronald Darby's
new position.
Once a commitment to the Fighting Irish, the four-star athlete from Oxon Hill (Md.) Potomac decommitted from Notre Dame earlier this week, but that doesn't mean the divorce is final. For now, it's more like a separation.
"I'm still considering them," Darby said of the Fighting Irish just before he participated in a school track meet on Thursday evening.
To continue reading this article you must be an Insider
January, 10, 2012
1/10/12
5:40
PM PT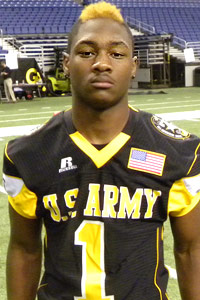 William Wilkerson/ESPN.comStefon Diggs is considering USC, Cal, Florida, Auburn, Ohio State and Maryland.
With signing day less than a month away you would think top wide receiver
Stefon Diggs
(Olney, Md./Our Lady of Good Counsel) would be closing in on making his decision. Diggs, however, says he's nowhere near ready to make a college choice.
"I don't have a leader or top five or anything like that," Diggs said Tuesday night. "I'm wide open, and I'm planning on waiting until after signing day to make my final decision."
Diggs, ranked the No.10 player in the country by the ESPNU 150, will visit Auburn this weekend but said he's not sure what his plans will be in the future.
To continue reading this article you must be an Insider
January, 7, 2012
1/07/12
4:41
PM PT
Kevon Seymour
(Pasadena, Calif./Muir) -- The biggest highlight on the day for Seymour was his verbal commitment to USC. The speedy two-way athlete found his way to the ball to help make a couple of tackles and was flagged for pass interference, which led to an East touchdown.
Ellis McCarthy
(Monrovia, Calif./Monrovia) -- The big defensive tackle just knocked the air out of the Trojans coaching staff. McCarthy looked to be leaning towards USC, but announced that he will be taking his talents to California. But all is not lost for the Trojans, because they'll have one more shot at McCarthy when he takes his official visit to USC in the next couple of weeks. McCarthy started the game at defensive tackle, and was moved to defensive end on the next series and would rotate at both positions throughout the game. He didn't make any big-time plays and at times seemed to have trouble getting off blocks, but he did do enough to disrupt some reads by the running backs and was stout at the point of attack.
Max Tuerk
(Rancho Santa Margarita, Calif./Santa Margarita) -- The only USC commit on the offensive line, some see Tuerk battling for the left tackle job next fall, but he played right guard for the West the whole game. Tuerk looked comfortable at times lining up inside at guard and if he doesn't get a starting role this season, he could very easily be competing for the utility man job on the line. Tuerk at time had trouble blocking up on the second level, but did make up for it at times with his physical play.
To continue reading this article you must be an Insider
January, 7, 2012
1/07/12
2:08
PM PT
It was a big day for the Pac-12, as programs throughout the conference received a good look at some future players during the West's 24-12 victory over the East in the Army All-American Bowl.
For the USC Trojans, the big news came in the form of a verbal commitment from cornerback
Kevon Seymour
(Pasadena, Calif./Muir). The Trojans had been in a battle with Oregon, California, Washington and UCLA for the talented two-way athlete, but USC solidified its lead over the past few weeks and landed a player with the size and speed capable of making an impact early in his USC career. Seymour was in on a few tackles during the game and was flagged for pass interference on a deep ball.
The Trojans received a big blow when it came to the defensive line, however. Defensive tackle
Ellis McCarthy
(Monrovia, Calif./Monrovia) committed to the California Golden Bears -- one of three California commits on the day -- putting USC in a very difficult position to land arguably the top defensive lineman in the state. McCarthy will officially visit USC in the coming weeks and the Trojans will still have a chance to sign him, but California has to be considered the heavy favorite at this point. USC will also face an uphill battle for defensive end
Tyriq McCord
(Tampa, Fla./Jefferson), who committed to Miami during the game. McCord is scheduled to visit USC on Jan. 20, but pulling him away from home could be difficult.
To continue reading this article you must be an Insider
January, 6, 2012
1/06/12
12:19
PM PT
Nearly a dozen USC recruiting targets will take the field Saturday afternoon for the 2012 Army All-American Bowl (10 a.m. PT, NBC). WeAreSC offers a primer for USC fans wanting to check out the potential future Trojans.
East
No. 1 - WR
Stefon Diggs
(Olney, Md./Good Counsel)
To continue reading this article you must be an Insider
January, 5, 2012
1/05/12
1:07
PM PT
Stefon Diggs
(Olney, Md./Good Counsel) has been a difficult read when it comes to recruiting, and it doesn't sound as if things will get any easier for those hoping to guess where the No. 10 ranked player in the ESPNU 150 will sign. In fact, Diggs doesn't plan to sign anywhere when Feb. 1 rolls around, opting to prolong the process and choose a school either the following week or even later.
ESPN HornsNation's William Wilkerson caught up with Diggs at the Army All-American Bowl practices and was able to grab a top-six list from the offensive star of the week to this point. Diggs listed USC, California, Florida, Auburn, Ohio State and Maryland as his top choices. As for official visits, Diggs will head to Auburn on Jan. 13 and then to USC the following weekend.
Diggs is certainly looking for a school where he can contribute early on the offensive side of the ball, and of the Trojans, he said, "I feel like my first year I will play. I won't start, but it would be a learning experience. There are some very talented guys down there. I'd probably start the following year or at least get on the field a lot more."
It will be interesting to follow Diggs' recruitment over the following weeks. There are plenty of people who feel his mother is a fan of him attending Florida, and the Gators could be tough to beat. The fact that he will wait until after signing day is going to make life interesting for USC and head coach Lane Kiffin. If Kiffin is adamant about taking 15 recruits in this class, could he afford to stay with 14 on signing day, in the hopes of landing Diggs a week later? Diggs is good enough where it might make sense, but this is yet another example of the realities this staff is facing with the scholarship limitations.
To continue reading this article you must be an Insider
PAC-12 SCOREBOARD
Thursday, 8/28
Friday, 8/29
Saturday, 8/30