USC Trojans:

California Bears
November, 14, 2012
11/14/12
2:00
PM PT
HOUSTON -- As his team prepares for the Texas state playoffs, Houston Alief Taylor defensive end
Torrodney Prevot
is focusing on getting better.
Coming into the season, the ESPN 300 prospect knew that he had a target on his back, being a highly-ranked prospect committed to USC. He has taken it in stride.
"It's been cool dealing with that," Prevot said. "Really the target on my back, teams try not to come to my side, so I still make my plays so that's pretty good."
To continue reading this article you must be an Insider
October, 17, 2012
10/17/12
9:15
AM PT
The major preseason stories in the Pac-12 were four new coaches, the return of
Matt Barkley
, the nation's leading Heisman Trophy candidate, and USC and Oregon apparently headed for a showdown with national-championship implications on Nov. 3.
The major midseason stories are a little different.
USC and Oregon could still be an epic clash, just not as epic because USC already has lost. Also, Barkley's middling numbers for an offense that hasn't been consistently in sync have diminished the national perception of the Trojans. The Ducks are now the Pac-12 team at the center of the national discussion.
As for the four new coaches, three have gotten off to great-to-solid starts in year one. But how will they finish? And will Mike Leach get Washington State on track?
Will Arizona State maintain its fast start, or are the Sun Devils headed for a tough dose of reality as the schedule firms up, starting with Oregon on Thursday?
Speaking of fast starts: Oregon State. The Beavers have surged, and coach Mike Riley has moved from the hot seat to the throne of a national-coach-of-the-year candidate. Oregon and Oregon State are the only two unbeaten teams in the conference, so it's not inconceivable that the Civil War could be for the North Division crown, a spot in the Pac-12 title game and, perhaps, a chance to play for the national title.
It could become the season's true epic clash.
As for hot-seat talk, as distasteful as it is, nearly all of such focus will be on California coach Jeff Tedford. The Bears have won two in a row after a 1-4 start, but it remains in the air whether this team can be consistent enough to earn a bowl berth. A losing record wouldn't be good for Tedford.
[+] Enlarge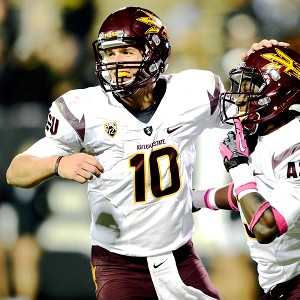 Ron Chenoy/US PresswireTaylor Kelly (10) and Arizona State could make a loud statement with Oregon coming to town.
Finally, in terms of individual awards, it will be interesting to see if any Pac-12 player emerges as a true Heisman Trophy contender. Might Barkley turn it up during the second half? Will Oregon's
De'Anthony Thomas
start to fill up "SportsCenter" with highlights? Is there a potential dark-horse candidate?
Ultimately, midseason reviews don't mean much. Teams and players can reverse course -- positively or negatively -- at any moment.
But what it is fair to say is there are plenty of rich plot lines heading into the season's second half, even if those were not the stories that advanced the season.
Bold prediction
: The conference will fill all seven of its bowl obligations, plus one. Oregon is already in; Oregon State, Arizona State, USC and UCLA are all one win from being bowl-eligible. If you follow the Sunday zaniness that is
our weekly bowl projections
, you know your bloggers project Oregon to the national championship, which opens up one more spot. We see Stanford and Washington bowling. That's seven right there. The eighth spot is up for grabs, with Arizona and Cal the likely candidates. Cal could get to .500 this week, then would need two more wins with Utah, Washington, Oregon and Oregon State remaining. If Arizona takes care of Colorado and Utah in the second half, that leaves it looking for one more win over from among Washington, USC, UCLA and Arizona State.
Looking forward to
: The race in the Pac-12 South. Once thought to be gift-wrapped for the Trojans, the recent inconsistent play of USC opens up the possibility of someone else as the South's representative in the title game. The Trojans are still the favorite, but Arizona State and UCLA aren't going to make it easy. Both of UCLA's losses have come to North Division teams, USC's loss was to Stanford and ASU's was out of conference. It's more wide-open than we ever could have imagined in August.
Top five games (by date, not importance):
Oct. 18, Oregon at Arizona State
: Time to find out if the Sun Devils are for real. They have the conference's No. 1 scoring defense facing Oregon's top-ranked scoring offense. The Sun Devils rank second in scoring. Both teams are getting phenomenal quarterback play and both like to work fast.
Oct. 27, UCLA at Arizona State
: This is a pivotal game in the aforementioned race for the South Division title. It features two explosive offenses and two of the league's brightest young quarterbacks. Some pretty good players from both defenses as well.
Nov. 3, Oregon at USC
: This is still the big one. An Oregon win gives the Ducks some much-needed national credibility, while a USC victory puts the Trojans back in the BCS championship hunt. Might be a last-gasp Heisman run for Thomas and/or Barkley.
Nov. 17, USC at UCLA
: A new chapter in this historic rivalry begins with Jim Mora at the helm for the Bruins. He has made them a player in the Pac-12 South, and lest we forget, coordinator Noel Mazzone's offense put up 43 points on USC last year when he was with ASU. This one could decide the South champion.
Nov. 24, Oregon at Oregon State
: The stakes could be stratospheric -- as in national championship implications for both schools. If the Ducks take care of business Nov. 3 and Oregon State can navigate a second-half schedule that includes Stanford and ASU, then all of Oregon will show up for what could conceivably be the Pac-12 game of the year.
September, 23, 2012
9/23/12
9:00
AM PT
One fantastic upset, one cool, calm quarterback performance and three defensive standouts highlight this week's helmet stickers.

September, 23, 2012
9/23/12
6:00
AM PT
By
Johnny Curren
| ESPN.com
LOS ANGELES -- A look at the positives and negatives from the Trojans' 27-9 victory over California on Saturday.
THREE UP
1. USC ground game:
USC relied heavily upon a running game that exploded for 296 yards against the Golden Bears. Both tailbacks thrived in their increased rolls, with
Silas Redd
rushing for 158 yards and
Curtis McNeal
racking up 115 yards. Credit also needs to be given to an offensive line that looked rejuvenated with
Khaled Holmes
back in the lineup.
To continue reading this article you must be an Insider
September, 21, 2012
9/21/12
3:30
PM PT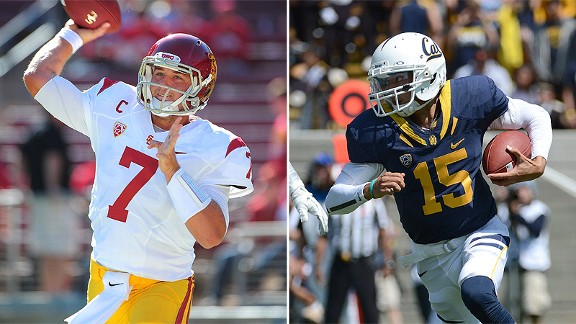 Kyle Terada/US PresswireUSC's Matt Barkley and Cal's Zach Maynard are both aiming to get back to winning on Saturday.
California's visit to USC on Saturday features two quarterbacks looking for redemption. Bears QB
Zach Maynard
wants to redeem himself for a three-interception performance in last season's 30-9 loss to the Trojans.
And Trojans QB
Matt Barkley
? He's looking to redeem a more recent performance.
You might have heard: The then-No. 2 Trojans went down 21-14 at Stanford last weekend, with Barkley throwing a pair of interceptions and no touchdown passes while getting sacked four times.
You could make a case it was the worst performance of his career, but he had a lot of help. Or, rather, little of it. His offensive line was overwhelmed by the Cardinal, so he had no support from a running game and little time to pass. A Stanford defender seemed to be in his face just about every play.
"No matter how great the quarterback is, that will affect you," USC coach Lane Kiffin said.
You also might be able to at least partially excuse Maynard for his woeful performance against the Trojans last year. Cal rushed for just 35 yards -- 1.3 yards per carry -- amid a flurry of five total turnovers.
And Maynard is not the same QB he was last year. In fact, at sixth in the Pac-12, he ranks just one spot behind Barkley in pass efficiency at present.
"I think he feels the speed of the game a little bit better," Cal coach Jeff Tedford said when asked about how Maynard is different this season. "I think he manages the game better."
USC has won eight straight against California, the Bears last winning a triple-overtime classic in 2003. They haven't won in Los Angeles since 2000. And just about all of those games were much like last year: Blowouts.
There is pressure on Tedford as the Bears try to avoid a 1-3 start. Many fans in Berkeley are frustrated with the recent mediocre turn of the program. And there is pressure on Kiffin as he tries to right a team that a week ago was viewed as the top potential foil for the SEC to win a seventh consecutive national title. Kiffin showed his stress this week when he stomped out of a post-practice news conference, apparently peeved over an innocuous question.
Health -- the improving variety -- is notable for each. It appears the Trojans will get back starting center
Khaled Holmes
, who sat out the Stanford loss with an ankle injury. Cal certainly should benefit from the potential return of right tackle
Matt Summers-Gavin
, tight end
Richard Rodgers
and defensive end
Mustafa Jalil
.
While Cal's recent history in this rivalry, particularly on the road, isn't good, the Trojans shouldn't feel safe by any stretch. The Bears showed they can go toe-to-toe on the road with an A-list foe at Ohio State last weekend, a game that included a breakout performance from speedy RB
Brendan Bigelow
. Further, the Bears have a tough front seven, particularly if Jalil is indeed ready to go.
If it's close, it will be interesting to see how things might stack up at kicker. USC's
Alex Wood
, the Trojans' backup, has yet to be allowed to attempt a field goal, while Cal's
Vincenzo D'Amato
missed all three of his attempts last weekend.
September, 21, 2012
9/21/12
1:00
PM PT
The
USC Trojans
head home this week to face a Cal team that almost pulled off an upset against Ohio State. Saddled with their first loss of the season, the Trojans look to bounce back against the Bears. USC safety
T.J. McDonald
took some time to chat with the Pac-12 blog for our Friday Q&A. (Warning: There are zero questions about
Matt Barkley
and the Heisman.)
I suppose the first and most obvious question is how has the team responded this week?
T.J. McDonald
: We're responding well. We're anxious to get this taste out of our mouth, and the only way we can do that is to have good practices and play Trojan football -- the only way we know how. We have to give our best effort every play and make sure after this next game we have a better taste in our mouth.
Every time you and I have talked, you've always talked about "bigger goals" for this team. Are those goals still within reach?
TM
: Definitely they are still within reach. We still have a lot that we can accomplish. We still have more to accomplish than we've had here in our recent history and the last few years. I told the defense, there are only two types of football players: those who have been beat and those who will be beaten. We're not going to win every game this year. The only thing we can do is respond and still try to accomplish all those goals we set out to accomplish before the season.
[+] Enlarge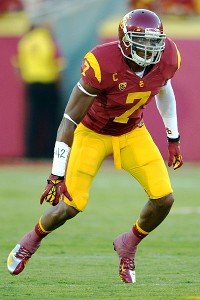 Kirby Lee/Image of Sport/US Presswire"When you lose a game," USC safety T.J. McDonald said after falling at Stanford, "you can never say you played good."
Assess your own performance against Stanford?
TM
: I felt like I played OK. I played pretty good. But there are a lot of things I can do to get better. I'm never going to be satisfied, no matter what. Even if I had a four-interception game, I still would look for ways to get better. When you lose a game, you can never say you played good. I know that I gave my best effort, but there is still stuff I want to get better at and there were plays left out there I need to make.
After two weeks on the road, how good is it to be back at home?
TM
: It feels good to be back on our field and back in front of our home crowd, and hopefully we go out there and play Trojan football the way we know how and get our fans rocking with us again. We've got a lot of support from our fans. That's always what you want, and you want to put on a good show for them.
You guys have a fairly veteran defense, but you're still the leader. How important was it for you to set an example this week and keep the guys on track?
TM
: Very important. We just have to make sure that all the young guys know what to do. All of this stuff happened so fast to us. As far as getting all of the hype and being rated so high -- it all happened so fast. We weren't even in the AP polls before because of probation. Just because of one bad game, not a lot of guys know how to respond. The only way I know how is to come back and go even harder for the rest of the season and make sure that we know what it feels like and to never feel like that again. The only way to do that is to go out, play our butts off, and make sure that we fly to the ball and we take everything from the practice field and transfer it to the field on Saturday.
Cal was a few missed field goals away from beating Ohio State. What did you learn about them from watching the Ohio State game?
TM
: They have a lot of fight in them. It was good for them because for them to come out to the Horseshoe and respond against a team like Ohio State and that atmosphere, we know they aren't going to be intimidated coming to the Coliseum. We just got to make sure we play our best game. As long as we are on our A-game -- and like I said before -- we transfer everything from the film room and everything from the practice field to the field on Saturday and play Trojan football, we'll be OK.
September, 20, 2012
9/20/12
9:00
AM PT
By
Johnny Curren
| ESPN.com
8: Games in a row that California has dropped to USC
The Golden Bears haven't defeated the Trojans since a 34-31 triple-overtime thriller in 2003. California has averaged just 10 points per game in the eight consecutive losses.

40: Brendan Bigelow's average yards per carry against Ohio State
The sophomore running back had a coming-out party against the Buckeyes, racking up 160 yards and two touchdowns on just four carries. Bigelow also had 74 yards on kickoff returns.

3-4: The style of defense primarily employed by California
Similar in look to the Stanford defense that USC faced last week, the Golden Bears' defensive line is a big and physical group that's primary duty is to get a push up front and tie up the offensive linemen so that the linebackers can roam free and make plays. The Trojans will also see a 50 front at times.

85: Ranking of California's pass defense
The Golden Bears have given up an average of 257 yards a game through the air, and they've been especially susceptible to the big play, evidenced by Ohio State's game-winning 72-yard scoring strike last weekend.

27: Games in a row in which Keenan Allen has had at least one reception
The Golden Bears' most dangerous and reliable weapon, the junior wide receiver has caught at least one pass in all 27 games that he's played in at California, a streak that ranks tied for eighth nationally and tied for first in the Pac-12.
August, 22, 2012
8/22/12
9:00
AM PT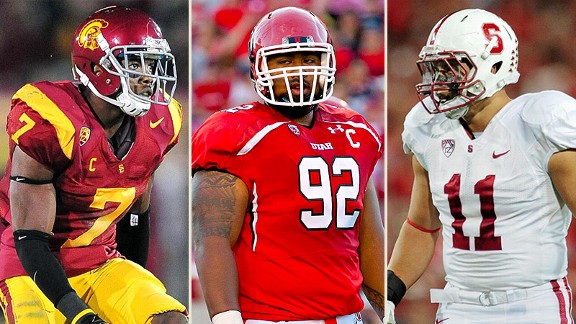 US PresswireThe Pac-12 boasts some of the best defensive talent in the country: USC safety T.J. McDonald, Utah defensive tackle Star Lotulelei and Stanford linebacker Shayne Skov.
In the depths of their offices, some of the best offensive minds in college football are grinding.
Chip Kelly is pondering how to get 10 more plays per game out of his offense.
Rich Rodriguez and Mike Leach are re-re-revolutionizing their attacks.
David Shaw is trying to figure out how to get nine offensive linemen, five tight ends and three fullbacks on the field at once.
Lane Kiffin has more offensive toys than an FAO Schwarz display.
"Option, option spread, I, heavy-I, pistol, triple-backs, full house, triple tights; it's something new every week," said Oregon linebacker
Michael Clay
. "It makes every week pretty interesting."
The Pac-12 is widely regarded as the conference of offenses. And they are only getting better. Prior to 1990, only twice has a team led the conference with a scoring average of more than 40 points. Since 1990, it's happened nine times -- including USC's conference best of 49.1 points per game in 2005.
That means being a defensive player in the Pac-12 is awfully difficult.
[+] Enlarge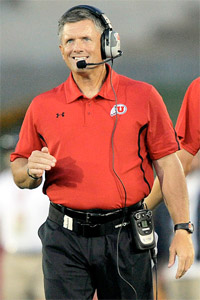 AP Photo/Mark J. TerrillKyle Whittingham says his defense must be able to adapt to the different offenses in the Pac-12.
"You get Andrew Luck one week and then
Matt Barkley
the next," said USC safety
T.J. McDonald
. "The preparation is on a whole other level compared to other conferences. There are great quarterbacks and great receivers and running backs. But the culture of this conference has changed. They've forced defenses to get better."
As the spread offense became chic and more teams were stretching defenses, they were forced to respond in kind. Gone are the days of everyone lining up in a base 4-3 and slugging it out. Now defenses are evolving into multiple fronts, exotic and disguised coverages and zone blitzes.
Utah coach Kyle Whittingham should know. He and UCLA coach Jim Mora are the only head coaches in the conference with a defensive background.
"We're definitely the minority," Whittingham said with a laugh. "It's a broad spectrum. Defensively, in this day and age, you have to be able to defend it all anyways. When the spread became en vogue 10-12 years ago it caught on like wildfire. Now almost everyone has a version of it. You have to be equipped to deal with whatever you come across week in and week out and have a scheme that is flexible enough and adaptable enough that you can cover all of your bases.
"Things go in cycles. The spread becomes en vogue and takes a while for the defense to catch up. Then the zone blitz was giving offenses fits and the offenses had to catch up to that. I think everything in football is cyclical and if offense has the upper hand right now, it won't be too further down the road where that role is reversed."
And that time might be coming sooner than later. Utah, California, USC, Oregon and Stanford all have defenses that are very good and bordering on elite. But the numbers don't always add up because in this conference, you are going to give up yards and you are going to give up points.
"Part of it is innovation," Shaw said. "Part of it is Chip Kelly and Mike Leach and Rich Rodriguez. The thing is, you can use the word 'spread' offense for half the teams in our conference, but they are all different. You can say 'pro-style' offense, which is what you would say about us and USC, but they are so different. The hard part of playing defense in our conference is every single week, you are playing against something you didn't see the week before.
"Cal has a pro-style offense. But their passing is different than our pass game and their running is different than our running game. And theirs is different from USC's. You are going to play a nine-game conference schedule and every single offense you play is going to be completely different. Defensive coordinators -- and we've got a really good group in this conference -- defensive coordinators and players have to flush a lot of what you watched the week before and study film hard the next week because you're going to see a different animal."
The conference also has the players to back up the defensive hype. Stanford linebackers
Chase Thomas
and
Shayne Skov
are projected as two of the best at their positions. Utah defensive tackle
Star Lotulelei
is regarded as the best defensive tackle in the nation and McDonald is a returning All-American.
And while perception might never really change nationally since the conference keeps chugging out A-list offensive players, Washington quarterback
Keith Price
says he's seen the difference.
"The difference between us and some of those other conferences is the defensive linemen," Price said. "We've always had good skill players. They say the trenches is what separates the SEC from the other conferences. But you can see now that our conference is starting to get there. When you look at teams like Cal and Utah, their defensive lines are really tough."