USC Trojans:

Boston College Eagles
September, 16, 2013
9/16/13
8:00
AM PT
LOS ANGELES - - USC sophomore quarterback
Cody Kessler
might not be Texas A&M's
Johnny Manziel
at the moment, but his impressive performance in a critical 35-7 victory over Boston College brought much-needed hope, if not temporary sanity, to the legions of Trojans fans.
After the previous week's Washington State disaster, the Trojans, thanks to Kessler -- who was supported by standout performances from his tailbacks and an impregnable defense -- looked more like the
USC Trojans
of yesteryear.
But will it last?
To continue reading this article you must be an Insider
September, 14, 2013
9/14/13
8:45
PM PT
3 up, 3 down: USC 35, Boston College 7
LOS ANGELES -- A look at the positives and negatives from the Trojans' bounce-back victory at home over Boston College on Saturday.
THREE UP
1. Cody Kessler
This was the Cody Kessler that everyone remembered from back in the spring. Named as the Trojans' full-time starting quarterback this past Monday after a dismal performance by the USC passing offense against Washington State, the 6-foot-1 redshirt sophomore completed 15 of 17 passes for 237 yards and two touchdowns. Directing an offensive attack that appeared to have been opened up to a certain degree by Trojans head coach Lane Kiffin, he connected on 14 consecutive pass attempts at one point, providing hope that the Trojans could be headed in the right direction.
2. USC tailbacks
While the USC passing game took a while to get going this season, the rushing attack has been effective from the get-go thanks in large part to some stellar running by the Trojans' tailback corps. Leading the way on Saturday, once again, was
Tre Madden
, who rushed for 102 yards -- his third straight game over the century mark -- and one touchdown, while also adding three receptions for 32 yards and another score. Freshman
Justin Davis
was just as stellar, if not more so, amassing 96 yards and one touchdown on just 10 carries.
Javorius Allen
and
Ty Isaac
impressed as well.
3. USC team defense
Led by another phenomenal effort by the front seven, the Trojans' defense limited standout Boston College tailback
Andre Williams
-- who had rushed for 100-plus yards in each of the Eagles' previous two games -- to just 38 yards on 17 carries. The USC defense also harassed Eagles quarterback
Chase Rettig
all day, holding him to 11-of-24 passing for 83 yards, and Boston College wasn't able to put any points on the board until the Trojans reserves came in late.
THREE DOWN
1. Penalties
While the Trojans showed improvement in a number of areas -- most notably the passing attack -- they took a step back in the penalty department. Having committed a total of 12 penalties on the season heading into the game, USC was flagged 10 times on Saturday for 100 yards -- compared to one penalty for 5 yards for the Eagles.
2. Pass blocking
The Trojans offensive line continued to open up huge lanes for the USC running backs just as they have all season, but their pass protection was still largely inconsistent, with the group missing blocks and blowing assignments on occasion. They wound up allowing only two sacks, but Boston College pressured Kessler off and on throughout the day. If not for a few nifty scrambling efforts by the USC signal caller, that number would have been greater.
3. Home attendance in the Coliseum
Coming off a stunning upset loss a week earlier, just 62,006 showed up for the game -- the lowest attendance at the Coliseum since Oct. 19, 2002, when 52,961 showed up for a clash with Washington. Fortunately, those that were on hand on Saturday showed enthusiasm right from the outset, cheering loudly after Kiffin elected to open the game with a deep toss to
Marqise Lee
-- even after it fell incomplete.
September, 13, 2013
9/13/13
9:00
AM PT
During
Devon Kennard
's initial four years at USC things didn't exactly go to plan. Arriving as one of the most highly decorated members of the Trojans' signing class of 2009, the Phoenix (Ariz.) Desert Vista product's career had been stymied by injuries -- including a torn chest muscle that forced him to miss the entire 2012 campaign -- as well as a constant series of position changes that saw him go from defensive end, to strongside linebacker, to middle linebacker, and back again to defensive end.
But with Clancy Pendergast and his attacking 5-2 defense in place at USC, a now-healthy Kennard is finally living up to expectations after finding a home at SAM linebacker -- a hybrid end/outside linebacker position -- where his skill set has proven to be a perfect fit.
[+] Enlarge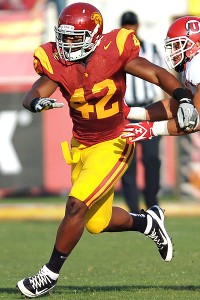 Cal Sport Media via AP ImagesSenior defensive end Devon Kennard has taken a vocal role in helping his fellow Trojans to move past last week's loss to Washington State.
Having amassed nine tackles, two sacks and three pass-breakups through the team's first two games, the fifth-year senior captain has emerged as a key component in a USC defensive unit that currently ranks No. 1 nationally in sacks (11) and rushing defense (allowing 15 ypg).
"I definitely feel comfortable in this defense," said Kennard, who has now compiled 144 tackles in his career. "It puts me, as well as all of my teammates in position to make plays, and that's all you can ask for as a player. We're working together. The DBs cover well. ...
Josh Shaw
and
Dion Bailey
have been making a lot of plays for us, allowing us to get pressure on the quarterback. And we've helped them, too."
Possessing a 6-foot-3 and 255-pound frame to go along with strong pass rushing skills, a nose for the ball and an aggressive brand of play, Kennard is coming off an impressive outing against Washington State in which he recorded five tackles, half a sack and one pass breakup, while also setting up a
Cody Kessler
touchdown run with a fumble recovery and 14-yard return that he nearly took back for six himself.
"I was hoping to end up in the end zone, but there was a running back in the flat and nobody saw him," Kennard said. "It's OK though, we still scored on that drive."
But that would be the extent of the points put up by the Trojans. So despite a staunch effort by a USC defense that limited the Cougars to just 7 yards on the ground while also forcing a total of three turnovers, they would fall at home in an upset, 10-7. And while it would be easy for him to point to an anemic USC passing attack as the primary cause for the defeat, according to Kennard, there was plenty of blame to go around on both sides of the ball, with the defense playing a part, in particular, with a momentary lapse in production on Washington State's game-winning field-goal drive.
"You win and lose as a team," Kennard said. "There's no finger pointing going on. There are things that we could have done on defense. One thing that sticks out in my head from last week is that 49-yard run (on a pass reception) they had in the fourth quarter. If we could have found a way to stop them, they wouldn't have been in field goal position."
Coming off such a disheartening loss, job No. 1 for Kennard and the other veterans has been to make sure that the Trojans get back on track, starting with the approaching matchup with Boston College. And while the rumored players-only meeting that made headlines earlier this week was later revealed to be nothing more than a casual conversation amongst a few teammates during the team's training table on Sunday, Kennard -- who has taken on more of a vocal role as a leader this season -- did voice his opinion that day to the small group, and he's encouraged by what he's seen from the team as a whole.
"When I talked to guys it was just like, 'We've got to have a great week of practice, we can't let this loss linger on into our Monday and Tuesday practice, and we have to move on. It's early in the season and we have an opportunity to bounce back,' " Kennard said. "It starts with practicing hard. You've got to come out and have a good day of practice. I'm really proud of my team and everybody involved because we've had a great week of practice so far, and we've really bounced back from that standpoint."
But the Trojans will have to prove just how far they've come this weekend against a BC squad that has shown vast improvement under first-year head coach Steve Adazzio. Going up against a hard-nosed Eagles offensive attack featuring 227-pound tailback
Andre Williams
, the USC defense could be in for a real battle. But with their sights zeroed in on the task at hand, and away from last Saturday's defeat, Kennard and Co. appear ready for whatever might come their way.
"Everybody has moved on," Kennard said. "I like the mentality of the team coming back from a loss. Everybody came back, and our focus is on beating BC. I've watched a lot of film on them and they're very physical. We know they're going to come at us, and we're preparing for it. It's a great challenge."
September, 12, 2013
9/12/13
10:00
AM PT
It's not often that the storied
USC Trojans'
tailback tradition is upstaged or distracted by an opponent's running back, but it could happen in the Coliseum this Saturday afternoon when Boston College comes to the City of Angels with its own hard-running tailback, senior
Andre Williams
.
In Williams, a native of Schnecksville, Pa., undefeated Boston College (2-0) is bringing USC its first real physical running back challenge of 2013, and the first legitimate rushing-attack challenge for Trojans first-year defensive coordinator Clancy Pendergast and his revitalized front seven.
Last week against ACC foe Wake Forest, the 6-foot, 227-pound Williams pounded out 204 yards on 35 carries in helping BC to a 24-10 win over the Demon Deacons. The physical Williams seemed to take control as the game wore on, and BC's first-year head coach, Steve Addazio, kept feeding him the ball in the second half.
To continue reading this article you must be an Insider
September, 12, 2013
9/12/13
9:45
AM PT
Fresh off a stunning 10-7 defeat to Washington State, USC (1-1 overall, 0-1 Pac-12) will try to get back on track this Saturday when it plays host to a Boston College (2-0 overall, 1-0 ACC) squad that has shown signs of improvement under energetic first-year head coach Steve Addazio. Featuring a rejuvenated, attacking defense and a more-balanced offense, the Eagles took down Wake Forest 24-10 last Friday, and they've already matched last year's win total in the first two weeks of the 2013 season.
Offense
Scoring: 24 points per game (No. 10 ACC, No. 83 overall)
Rushing: 159.5 yards per game (No. 8 ACC, No. 69 overall)
Passing: 204 yards per game (No. 9 ACC, No. 80 overall)
Total: 363.5 yards per game (No. 8 ACC, No. 83 overall)
[+] Enlarge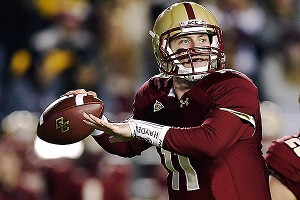 AP Photo/Winslow TownsonWith a strong running game, Boston College is relying less on senior QB Chase Rettig this season.
Quarterback: No. 11 Chase Rettig (6-foot-3, 206 pounds, Sr.)
Rettig, a San Clemente (Calif.) product, has started 34 consecutive games and is coming off a junior campaign in which he threw for more than 3,000 yards. But with Addazio searching for more balance, Rettig hasn't been asked to carry quite as much of the load this season. Last week he put the ball in the air only 14 times, connecting on seven for 123 yards and two touchdowns with one interception.
Running Back: TB No. 44 Andre Williams (6-0, 227, Sr.), No. 26 Dave Dudeck (5-11, 190, So.), FB No. 82 Jarrett Darmstatter (6-2, 251, Jr.), No. 36 Bobby Wolford (6-2, 233, RS Fr.)
With more of an emphasis on the ground game, the physically imposing Williams has flourished, toting the ball 58 times for 318 yards and two touchdowns. Wolford, a fullback, made six receptions for 84 yards and one touchdown in the team's opener against Villanova.
Wide Receiver: No. 83 Alex Amidon (6-0, 182, Sr.), No. 18 Dan Crimmins (6-5, 222, So.), No. 7 Spiffy Evans (6-0, 184, Jr.)
Amidon is a dangerous weapon that the USC secondary will have to be mindful of. Having set single-season school records for catches (78) and receiving yards (1,210) last fall, he has hauled in 18 of the team's 30 total receptions in 2013.
Tight End: Y No. 87 C.J. Parsons (6-6, 253, Jr.), No. 88 Michael Giacone (6-5, 260, So.), Louie Addazio (6-3, 253, So.), H No. 89 Mike Naples (6-4, 237, Sr.)
Serving a significant function in the rushing attack, Boston College frequently will use offensive sets with multiple tight ends. A unit filled with sturdy blockers, they haven't been utilized in the passing game too often so far, with Parsons standing as the only member to record a reception.
Offensive Line: LT No. 77 Matt Patchan (6-6, 300, Sr.), LG No. 76 Bobby Vardaro (6-5, 310, Jr.), C No. 59 Andy Gallik (6-3, 302, Jr.), RG No. 64 Harris Williams (6-3, 298, Jr.), RT No. 62 Ian White (6-5, 302, Sr.)
Allowing a total of 36 sacks while spearheading a rushing attack that averaged just 93 yards per game, the performance of the BC offensive line was a definite weak point in 2012. Under the new regime, however, this unit appears to have made tremendous strides, particularly in terms of its run blocking, but the Eagles will face a prolific USC defense this weekend that leads the country in sacks (11) and rushing defense (allowing 15 ypg).
Defense
Scoring: 12 points per game (No. 5 ACC, No. 20 overall)
Rushing: 138.5 yards per game (No. 9 ACC, No. 54 overall)
Passing: 182 yards per game (No. 6 ACC, No. 43 overall)
Total: 320.5 yards per game (No. 7 ACC, No. 37 overall)
Defensive Line: DE No. 96 Kaleb Ramsey (6-3, 285, Sr.), LT No. 45 Mehdi Abdesmad (6-7, 278, Jr.), RT No. 90 Connor Wujciak (6-3, 300, So.), DE No. 91 Kasim Edebali (6-3, 246, Sr.)
Lining up in a 4-3 alignment, the Boston College defensive line helped limit the Demon Deacons to just 55 rushing yards on 39 carries last week. Last year, BC surrendered an average of 215.3 yards per game on the ground. Edebali leads this group with 10 tackles and 1.5 sacks, and as a team the Eagles have compiled six sacks, equaling the number that the BC defense collected in all of 2012.
Linebacker: No. 24 Kevin Pierre-Louis (6-1, 225, Sr.), No. 49 Steele Divitto (6-2, 237, Sr.), No. 52 Steven Daniels (6-0, 249, So.)
A fast and aggressive bunch who have taken off in the new system, Pierre-Louis, Divitto and Daniels each recorded at least 10 tackles last week versus Wake Forest. Pierre-Louis is pacing the entire defense with 23 stops.
Safety: SS No. 47 Spenser Rositano (6-1, 208, Jr.), FS No. 19 Sean Sylvia (6-0, 208, Jr.)
An emotional leader, Sylvia anchors a Boston College secondary that, while it hasn't faced the stiffest of competition, has proven to be extremely opportunistic, collecting four interceptions as a group for an Eagles team that is plus-5 in turnover margin -- No. 7 nationally.
Cornerback: No. 21 Manuel Asprilla (5-11, 177, Jr.), No. 17 Bryce Jones (6-1, 166, So.)
Jones, the reigning ACC Defensive Back of the Week, was all over the field against Wake Forest, making two solo tackles, one interception, one pass breakup and one fumble recovery. Still, USC wideout
Marqise Lee
could present a daunting challenge for this unit, so long as the Trojans are able to get what has been an anemic passing game going.
Special Teams
Punter/Kicker: No. 85 Nate Freese (5-11, 192, Sr.)
A Lou Groza Award candidate, Freese has connected on 52-of-63 career field goal attempts (82.5 percent). He also has punted 13 times this season for an average of 39.2 yards.
Kickoff/Punt Returner: No. 7 Spiffy Evans (6-0, 184, Jr.)
Evans is averaging 16 yards per kick return in 2013, and 10.3 yards per punt return.
June, 27, 2013
6/27/13
1:15
PM PT
At least three teams are safe to make it through final cuts for tight end
Ryan Izzo
(Sparta, N.J./Pope John XXIII).
To continue reading this article you must be an Insider
April, 11, 2013
4/11/13
1:50
PM PT
Basketball brought
Thomas Holley
(Brooklyn, N.Y./Abraham Lincoln) to California first. Football could bring him back.
To continue reading this article you must be an Insider
February, 24, 2013
2/24/13
8:51
PM PT
Morgan Mahalak
(Kentfield, Calif./Marin Catholic) will be one of the more interesting recruits to watch in the West region this spring and summer.
To continue reading this article you must be an Insider
January, 10, 2013
1/10/13
1:06
PM PT
The USC Trojans 2013 schedule has been released with the Trojans playing seven home games, a pair of Thursday night games and one Friday night game.

The Trojans open the season in Hawaii with a road trip to the islands that is always popular with USC fans. The next three games are at home in the Coliseum against Washington State, Boston College and Utah State. For a USC team that will be breaking in a new quarterback, this initial stretch of the season offers a tremendous opportunity to get things started on a good note. Both Hawaii and WSU struggled last year with new coaches, while BC and Utah State will both be breaking in new coaches in 2013.

The Arizona schools are next -- first comes a road game in Tempe against Arizona State and then the Trojans host Arizona before the annual trip to South Bend to face the Fighting Irish. It's safe to say that the Notre Dame rivalry game will be a high-profile matchup.

The Trojans then come home to face Utah and then hit the road for back-to-back games against Oregon State and California. The game against the Beavers will be a rare Friday night contest, while the Cal game means a continuation of the Northern California weekender experience.

Next up is Stanford at the Coliseum for Homecoming weekend, and that should be quite a setting. The Trojans will then hit the road one final time for a matchup against Colorado before returning home for the regular season finale against UCLA.

The Pac-12 title game will be held on Saturday, December 7 at the stadium of the division winner with the best conference record.

2013 USC FOOTBALL SCHEDULE

Aug. 29 (Thurs.): at Hawaii
Sept. 7: Washington State
Sept. 14: Boston College
Sept. 21: Utah State
Sept. 28: at Arizona State
Oct. 10 (Thurs.): Arizona
Oct. 19: at Notre Dame
Oct. 26: Utah
Nov. 1 (Fri.): at Oregon State
Nov. 9: at California
Nov. 16: Stanford
Nov. 23: at Colorado
Nov. 30: UCLA
October, 1, 2012
10/01/12
7:03
PM PT
Class of 2014 ESPN Watch List defensive end
Andrew Williams
(McDonough, Ga./Eagles Landing Christian Academy) received a phone call from his high school coach Monday and immediately did a double-take.
Williams was offered by USC, and it was nothing short of surprising.
"It means a lot, it really does," the 6-foot-4, 231-pound Williams said. "I was really surprised. I didn't think USC recruited guys down here. I've been watching them a lot this year and I've been impressed. The tradition and the way they run their defense, I'm really interested."
To continue reading this article you must be an Insider
September, 25, 2012
9/25/12
1:59
PM PT
ESPN 150 defensive lineman
Maquedius Bain
(Davie, Fla./University School) will be taking a trip to Norman, Okla., this weekend to visit the Sooners pending some ACT paperwork.
"I just needed to get a couple of things in hand and I'll be visiting Oklahoma this weekend," Bain said. "They reached out to me back in July and I'm looking forward to the visit."
The 6-foot-3, 285-pound Bain, who committed to Florida State as a junior and re-opened his recruitment earlier in the year, appears to be leaning towards a future playing outside of the Sunshine State.
To continue reading this article you must be an Insider
June, 4, 2012
6/04/12
7:31
PM PT
Two more California standouts will be on their way to The Opening next month, as wide receiver
Darren Carrington
(San Diego/Horizon) and offensive tackle
Nico Falah
(Bellflower, Calif./St. John Bosco) received their official invitations on Monday evening.
It has been a phenomenal spring for Carrington -- the son of former NFL player Darren Carrington -- who attends a small school in San Diego, but made a big statement on the camp circuit. Carrington holds BCS offers from Arizona, Arizona State, Boston College, California, Colorado, Northwestern, Vanderbilt and Washington State among others, and has been hearing from other programs such as Oregon and USC.
"It means a lot," Carrington said of the invite. "For me to go there to compete with the best in the country means that I'm considered one of the best. It's very, very, very exciting."
To continue reading this article you must be an Insider
PAC-12 SCOREBOARD
Thursday, 8/28
Friday, 8/29
Saturday, 8/30